DoTERRA deep blue essential oil has so many great benefits when used topically. Learn how to use doTERRA deep blue, the many deep blue essential oil uses, and make your very own deep blue rollerball recipe.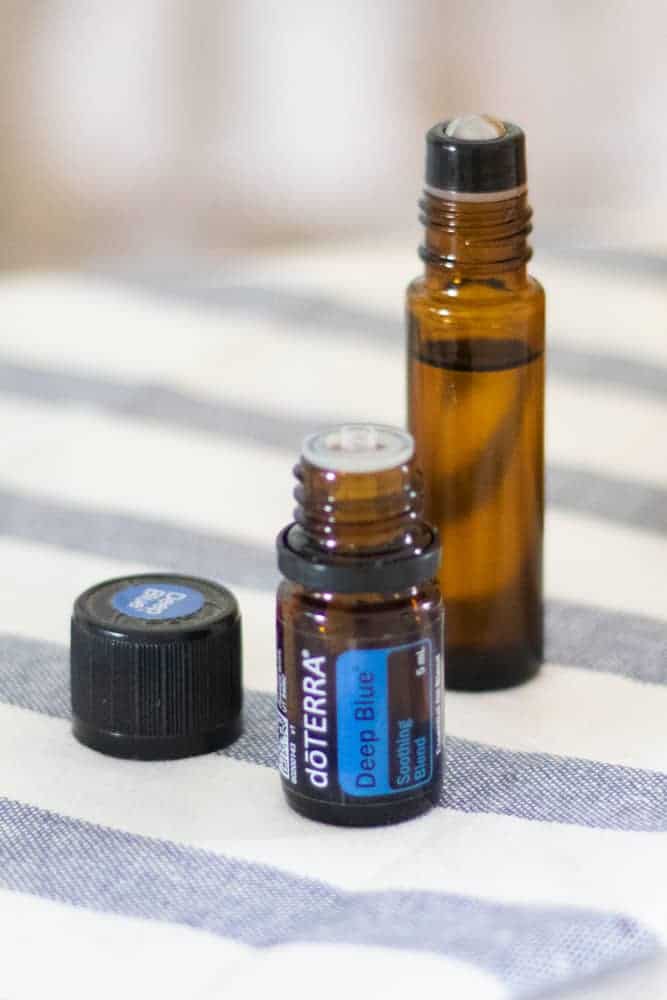 DoTERRA has an extensive line of premade blends to increase the benefits as well as characteristics of its essential oils. And deep blue is one of the more popular blends. Deep blue essential oil can be used topically for muscle and joint discomfort, help with head tension, and respiratory support.
I love making my own essential oil rollerball recipes, but sometimes it is nice to have a premade blend on hand. DoTERRA has several blends of essential oils to help with different ailments.
Some of the most popular doTERRA blends include; onguard, breathe, and deep blue. DoTERRA's onguard blend is perfect for boosting the immune system, breathe is focused on respiratory support, and deep blue is known as the soothing blend.
PIN IT FOR LATER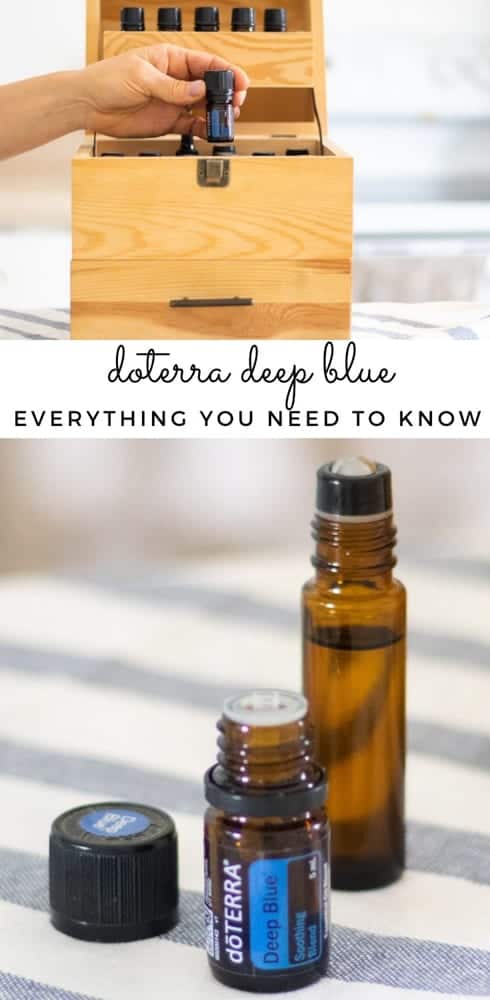 DEEP BLUE ESSENTIAL OIL BENEFITS
The main use for doTERRA deep blue essential oil blend is for soothing muscle and joint discomforts. It can also be helpful in promoting a healthy respiratory and digestive system.
muscle, back, and joint discomfort
muscle tension
soothe sore muscles pre and post-workout
growing discomforts
head and neck tension
bruises
opening up airways
promotes healthy breathing
soothes digestive issues
soothing massage
DEEP BLUE ESSENTIAL OIL USES
Deep blue essential oil has many uses. It is best used topically; however, it can be used aromatically as well. To avoid skin sensitivity, it is best to dilute deep blue before applying it to the area of concern.
Deep blue can be diluted in a roller bottle, lotion, salve, or cream. Once diluted, apply to the area of concern.
If the area of discomfort is a larger surface area, I suggest adding a few drops of deep blue to a lotion or cream. If it is a smaller area, then you can make a roller bottle for easy application.
Deep blue has a cooling effect on the skin and works similar to icy hot. When rubbed onto the skin, the cooling effects of the oil will be felt almost immediately.
This post contains affiliate links, which means I make a small commission at no extra cost to you. Get my full disclosure here.
DEEP BLUE ROLLERBALL RECIPE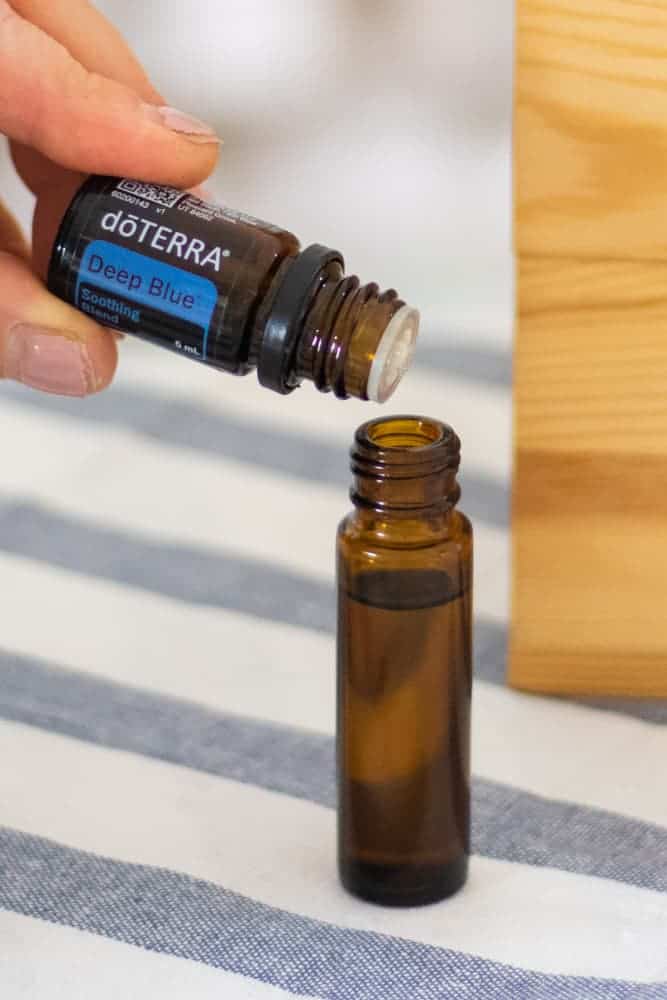 INGREDIENTS
INSTRUCTIONS
Add the essential oil to the roller bottle.
Top off with carrier oil.
Secure rollerball top and lid. Shake well.
Apply to area of concern.
RECIPE NOTES:
If you make this roller bottle for a child or someone with sensitive skin, you can further dilute the roller bottle. I recommend using 5-10 drops for anyone under the age of 13. If making this for a toddler, use 1-5 drops total of essential oil.
WHAT IS IN DOTERRA DEEP BLUE?
Deep blue is a blend of wintergreen, camphor, peppermint, ylang ylang, helichrysum, blue tansy, blue chamomile, and osmanthus.
HOW CAN I MAKE DOTERRA DEEP BLUE?
If you do not have doTERRA deep blue blend, you can make a similar blend using the essential oils listed above. In an empty essential oil bottle or roller bottle (just be sure you mark the rollerball as "not diluted"), you can add equal drops of each essential oil into the blend. Secure the lid and shake well.
DEEP BLUE RUB DOTERRA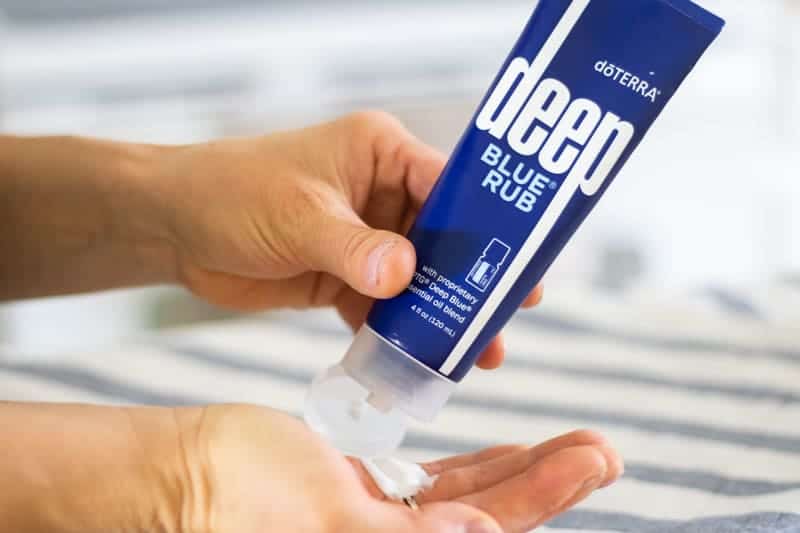 DoTERRA has a product known as deep blue rub. This is essentially a lotion that has the deep blue blend in it. It is one of doTERRA's most popular products and loved by so many customers.
This is a great option if you have chronic back discomfort or a large area that needs to be addressed. My husband uses this blend of essential oil for sore muscles.
You can make a similar product at home by adding deep blue oil to lotion or making your own lotion with deep blue. If you want to make your own deep blue rub, I would recommend adding 15 drops of essential oil to 1/4 cup lotion.
You can use this blend the same way you use deep blue. It should be diluted before applied to the skin to avoid any skin sensitivities.
If you do not have wintergreen, you can substitute that with spearmint or peppermint essential oil and still see similar results.
CAN YOU DIFFUSE DOTERRA DEEP BLUE ESSENTIAL OIL?
Deep blue has a fresh, invigorating aroma that can benefit you when used aromatically. The amount of essential oil you diffuse will depend on the room's size and personal preference. I suggest starting with 4-6 drops of essential oil in the diffuser.
Diffusing deep blue will promote clear, healthy breathing, can give you a natural boost of energy, and support a healthy immune system.
DOTERRA DEEP BLUE RUB SIDE EFFECTS
It is important to note that deep blue should be diluted before applied topically to the skin. After using deep blue essential oil or deep blue rub, you should wash your hands to avoid it getting into your eyes or mouth.
If deep blue gets on the skin undiluted, apply a carrier oil to the area. No essential oil should be put near or in the eyes, nose, or ears. If you get deep blue in your eyes, flush with clean, warm water. Applying a carrier oil around the eyes may help too.
CAN YOU PUT DOTERRA DEEP BLUE IN THE BATH?
Adding deep blue to the bath is a great way to relieve muscle and joint discomfort. This would be a great thing to do after a long day at work or after a workout. I like to make bath salts with essential oils to add to my bathwater.
Salts can be added to a warm bath to help with skin irritations, muscle aches and to detox the body. The minerals found in salts will absorb through the skin and get into your body to help with these things. Soaking in warm water alone can help to relax muscles and loosen joints. Adding in essential oils will add even more benefits for your muscles, joints, and skin.
If you don't want to make a bath salt, you can simply add 3-5 drops of deep blue essential oil to warm bathwater. For best results, soak for at least 20 minutes.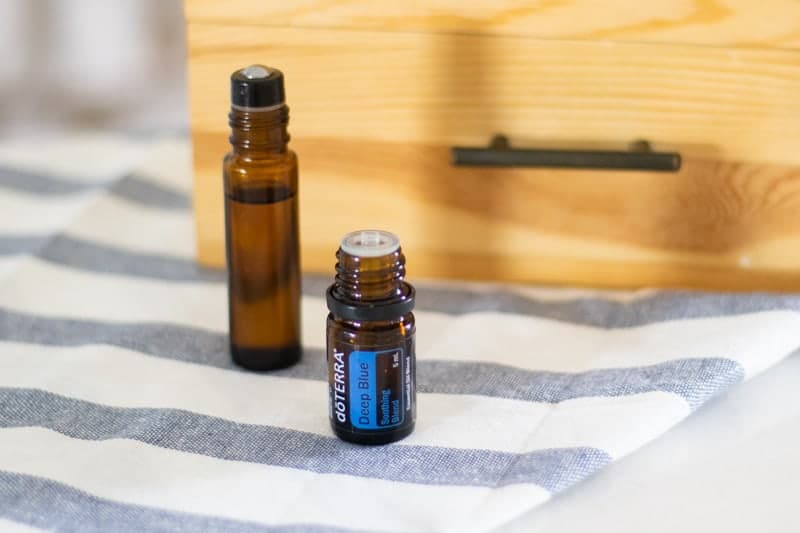 DEEP BLUE ESSENTIAL OIL RECIPES
DEEP BLUE BATH SOAK
INGREDIENTS
1/2 cup epsom salt
1/2 cup coarse pink salt
15-20 drops deep blue
INSTRUCTIONS
Combine the ingredients in a large mixing bowl. Stir until well combined.
Slowly add in the essential oils, stirring about halfway through.
Store in an airtight container. I put mine in a glass mason jar and keep it underneath the bathroom sink.
Add 1/8 to 1/4 of a cup per bath.
HOMEMADE DEEP BLUE LOTION
INGREDIENTS
1/2 cup mango butter
1/4 cup coconut oil
1/4 cup sweet almond oil
1 tablespoon arrowroot powder
15 drops deep blue essential oil
INSTRUCTIONS
Cut mango butter into small chunks.
Melt mango butter and coconut oil in a double boiler.
After the mixture is melted, place the bowl in the freezer until it is set up a bit. You don't want it to be solid, just soft.
Add carrier oil, essential oils, and arrowroot powder to the bowl.
Using a hand mixer or stand-up mixer, whip the ingredients together.
Store in an airtight container.
DEEP BLUE SOOTHING SALVE
INGREDIENTS
1/2 cup coconut oil
2 tablespoons beeswax
2 tablespoons pure aloe vera gel
1 teaspoon vitamin E oil
15 drops deep blue essential oil
INSTRUCTIONS
Melt coconut oil and beeswax in a double boiler.
Remove from heat, pour into a storage container, and let cool slightly.
Stir in aloe vera, vitamin E oil, and deep blue essential oil.
Store in an airtight container
DEEP BLUE DOTERRA USES
Deep blue essential oil can be used to soothe muscles, joints, and tension.
Deep blue essential oil should be diluted in a carrier oil, lotion, or salve before being applied to the skin.
DoTERRA's deep blue can be purchased as a pure essential oil, roller bottle, or rub.
You can use deep blue in a roller bottle, bath soak, lotion, or salve.
MORE POSTS YOU MAY ENJOY: