Myrrh is most known as being one of the 3 gifts brought to Jesus after his birth, but what most people don't know is how amazing Myrrh is. Let's discuss the top benefits of Myrrh essential oil.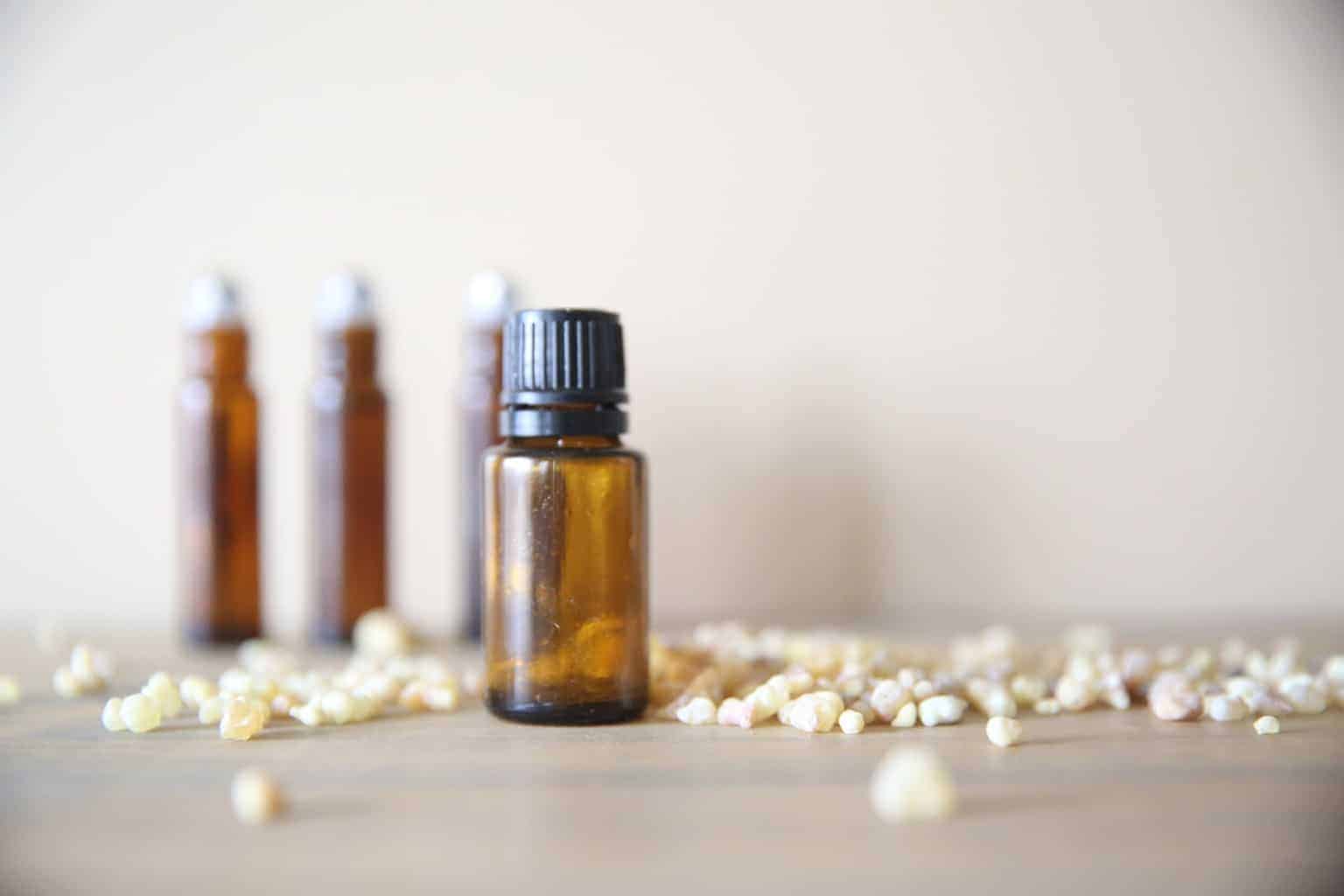 Before getting into essential oils, I only knew about myrrh from the Christmas story! Now that I know what myrrh and frankincense are (I always knew gold was an awesome gift!), I realize why our Savior received these as gifts.
Myrrh essential oil gives off a woodsy aroma that is loaded with antioxidants immune-boosting properties and can do wonders for the skin.
I am going to explain what myrrh is, a little history, exactly how to use myrrh essential oil and the many benefits of doing so.
WHAT IS MYRRH ESSENTIAL OIL?
Similar to frankincense, myrrh is the sappy residue that comes from the Commiphora tree. The Commiphora tree is native to Africa and can grow to be 13 feet tall. It is sometimes known as the African Myrrh.
Myrrh is one of the most used essential oils around the world. It has been used in beauty products and as a fragrance for many years.
Myrrh is steam distilled from the tree, and its main constituents include Furanoedudesma 1, 3-diene, curzerene.
HOW CAN YOU USE MYRRH ESSENTIAL OIL?
Myrrh essential oil can be used aromatically and topically.
AROMATIC USE
Myrrh has a dry woodsy scent that is sometimes described as smoky. When used aromatically, it can promote feelings of peace and help to calm the nervous system.
You can add 4-6 drops of myrrh to an essential oil diffuser to reap the benefits of myrrh. If you do not have a diffuser, you can simply add 1-2 drops of myrrh to the palm of your hand, rub your hands together, and cuff over the nose.
TOPICAL USE
Because of its antioxidant properties, myrrh has terrific benefits for both the skin and anti-aging. Apply it topically to the area of concern. It is always suggested to dilute essential oils before applying them topically because they are very concentrated.
The best way to dilute essential oils for topical use is by making a roller bottle. Add 15-20 drops of myrrh essential oil to a 10mL roller bottle and top it off with a carrier oil. My favorite carrier oil is fractionated coconut oil. You could also use grapeseed oil, almond oil, jojoba oil, or avocado oil.
If you don't want to make a roller bottle, another option is to add a few drops of myrrh essential oil to a body lotion, face moisturizer, or carrier oil before applying it onto the skin. If you have sensitive skin, apply it to the bottom of the feet first to check sensitivity.
BENEFITS OF MYRRH ESSENTIAL OIL
Diffuse Myrrh essential oil to promote a calming and relaxing environment. Add to the diffuser blend at night time for better night sleep.
Apply topically to the skin or add to your daily skincare routine to reduce the appearance of fine lines and wrinkles. Get my anti-aging roller bottle recipe here!
Myrrh can help ease the stomach of digestive issues. Add one drop to 4 ounces of water or add one drop to a tablespoon of honey and take as needed.
Use myrrh to boost the immune system and help you feel better when not feeling your best. Apply topically to the bottom of the feet, and down the spine.
Apply myrrh to skin imperfections to help cleanse and purify that spot. It is especially handy to have if you have kids! Apply to the area of concern diluted in a carrier oil.
Use myrrh to moisturize dry, cracked skin.
Apply myrrh to the chest to potentially open airways and promote clearer breathing. Try applying myrrh essential oil to the big toe before bedtime to help with snoring.
Use myrrh for a soothing back massage after a long day at work or after a workout. Myrrh essential oil can help to relieve tension within the body.
Boil a pot of water on the stove and add in a couple of drops of myrrh essential oil. Carefully stand over the pot and inhale the steam to break up mucus and clear the sinuses.
MY FAVORITE DIFFUSER BLENDS USING MYRRH
BEDTIME BLEND
4 drops lavender essential oil
2 drops myrrh essential oil
1 drop Roman chamomile essential oil
OPEN AIRWAYS
4 drops peppermint essential oil
3 drops eucalyptus essential oil
2 drops myrrh essential oil
IMMUNE SUPPORT
3 drops on guard essential oil (On guard is a DoTERRA blend, learn more about it here.)
2 drops frankincense essential oil
2 drops myrrh essential oil
OTHER WAYS TO USE MYRRH ESSENTIAL OIL
CLEANING
Myrrh has powerful cleansing and purifying properties. Therefore it can be used in your daily cleaning routine. Add 8 drops of myrrh essential oil, 15-20 drops of lemon essential oil, and 1/4 cup vinegar to a 16-ounce glass spray bottle. Top it off with water and use it as an all-purpose spray. Learn all about cleaning with essential oils here.
PERFUME
Myrrh is found in a lot of beauty products and perfume because it is widely loved for its fragrance! Add myrrh to a roller bottle or a glass spray bottle to make a body mist. Pair myrrh with a floral essential oil, like lavender or patchouli, for a beautiful homemade perfume. I shared several women's perfume recipes here.
SOOTHING BATH SOAK
Add a few drops of myrrh essential oil and some epsom salt to a warm bath to soothe sore muscles and calm feelings of stress and anxiety.
Do you have a love for myrrh essential oil? What are some ways you like to use it? Please share your thoughts in the comments below; I love hearing from you!
SHOP THIS POST
This post contains affiliate links, which means I make a small commission at no extra cost to you. Get my full disclosure here.
PIN IT FOR LATER

Resources
https://www.webmd.com/diet/myrrh-oil-health-benefits
https://pubmed.ncbi.nlm.nih.gov/19995243/
https://draxe.com/essential-oils/myrrh-oil/