It's high time we make a natural house cleaner. Using natural cleaning products is a great way to save money, reduce hazardous environmental waste and is a much safer choice than using cleaners with potentially harmful chemicals. This simple 3 ingredient DIY all-purpose house cleaner uses only safe and sustainable ingredients.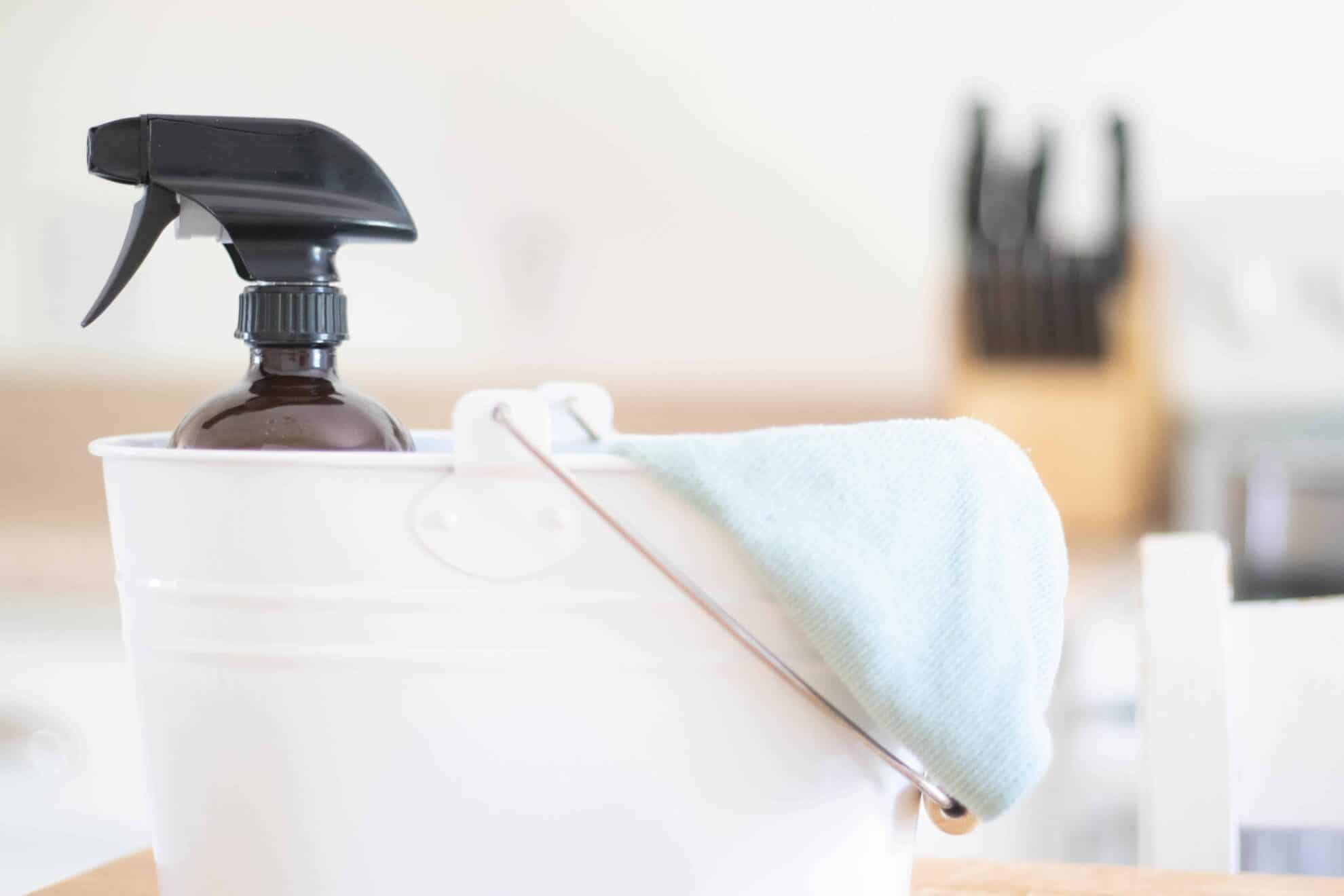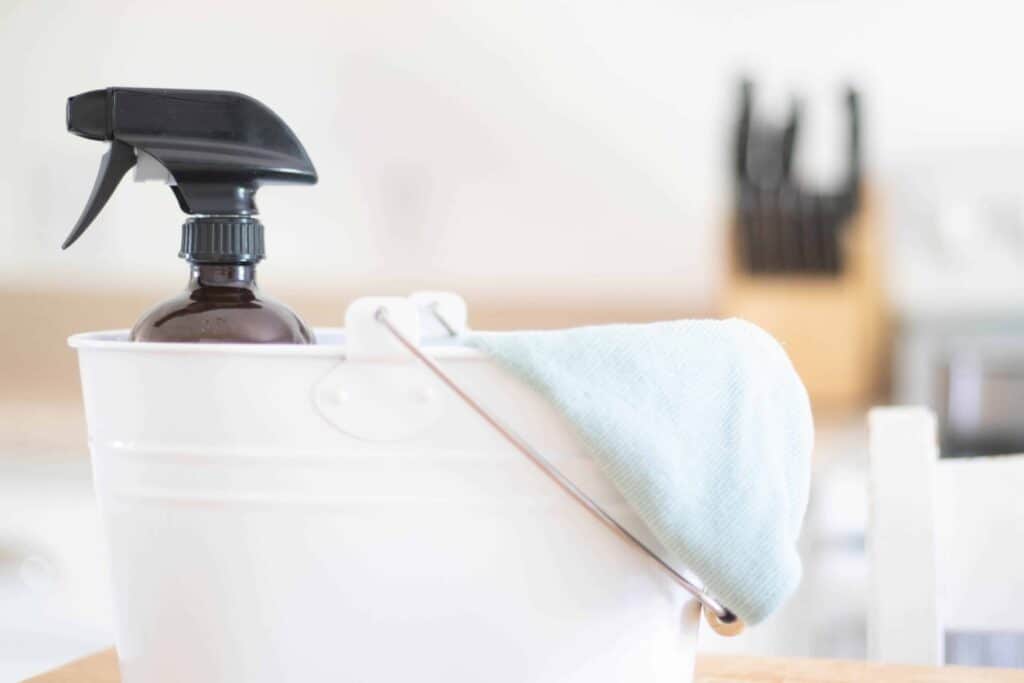 This post was originally published in August 2019
It has been over nine years since I began incorporating natural products into my home and daily routine. Starting with laundry soap and moving on to making shampoo, conditioner and even body wash.
The goal was to totally rid my home of toxic products. However, it was a bit overwhelming when I would think about how many cleaning products, skincare, haircare, and beauty care products there were in one house.
But slowly, one item at a time, I finally met my goal! This homemade all-purpose cleaner recipe is one of the most simple DIYs to make and use if you're just starting out.
Do natural cleaners work
The simple answer is yes, natural cleaners work. There may be a time or two where you'll need to put a little extra elbow into the project you are on, but the trade-off is entirely worth it, which begs the question, "why use natural products?"
Why use natural cleaning products
Natural cleaning products are safe for the environment and do not contain any harmful chemicals. The chemicals found in many cleaners can affect the environment, leading to land and water pollution.
A homemade cleaning product is also less likely to cause harm if ingested. Most conventional cleaners contain highly toxic chemicals that can be extremely harmful if swallowed.
Homemade all-purpose cleaners can be gentle on most household surfaces, safe around children, and are very economical.
PIN IT FOR LATER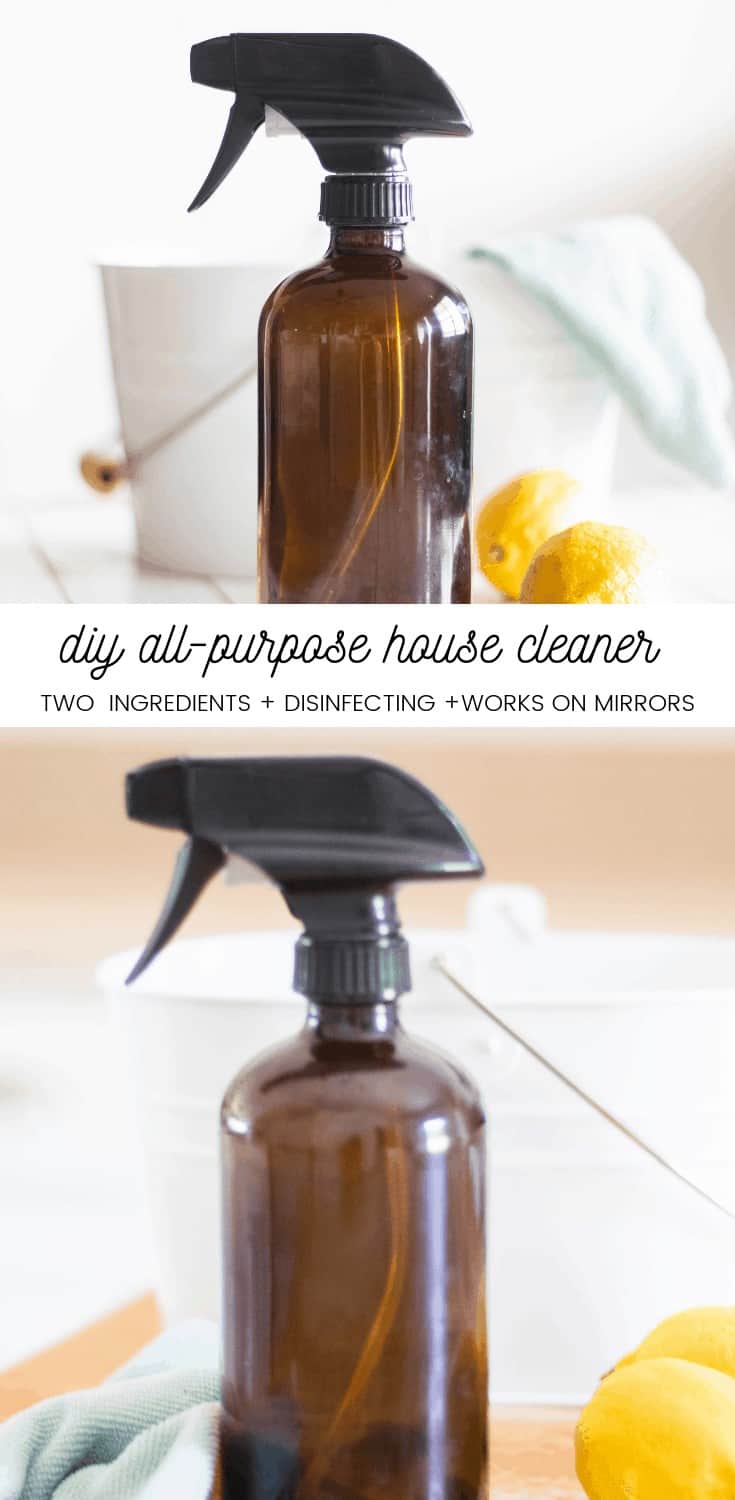 This post contains affiliate links, which means I make a small commission at no extra cost to you. Get my full disclosure HERE.
Whats in this cleaner
Vinegar
Vinegar is an excellent cleaner. The acidity in vinegar can dissolve soap scum, hard water stains, mineral deposits, and detergent residue.
With a number of different kinds of vinegar out on the market, I would suggest sticking with white vinegar for cleaning. It doesn't contain any coloring agents and has a slightly higher acidic level than any other vinegar.
Vinegar shouldn't be used on every surface, such as granite and marble. It can ruin natural stone, so be careful with this. Use a cleaner specific for granite instead.
Lemon essential oil
Lemon oil is found in many cleaners, from cleaning wipes to toilet bombs. It is a natural cleansing agent that wipes away stains and cleanses surfaces. Feel free to stick with lemon in this cleaner, or see the list below for other recommendations.
For a 16-ounce spray bottle, I use up to 25 drops of essential oils. You can adjust this according to the amount of cleaner you are making.
Water
Water is crucial for many DIY products. In fact, it is found in most conventional products as well. The water in this recipe is necessary to dilute both the vinegar and essential oils properly.
Distilled water is best for this all-purpose cleaner; it will last longer by cutting down on bacteria growth. However, be aware if you have hard water, it may leave white streaks on the surfaces being cleaned.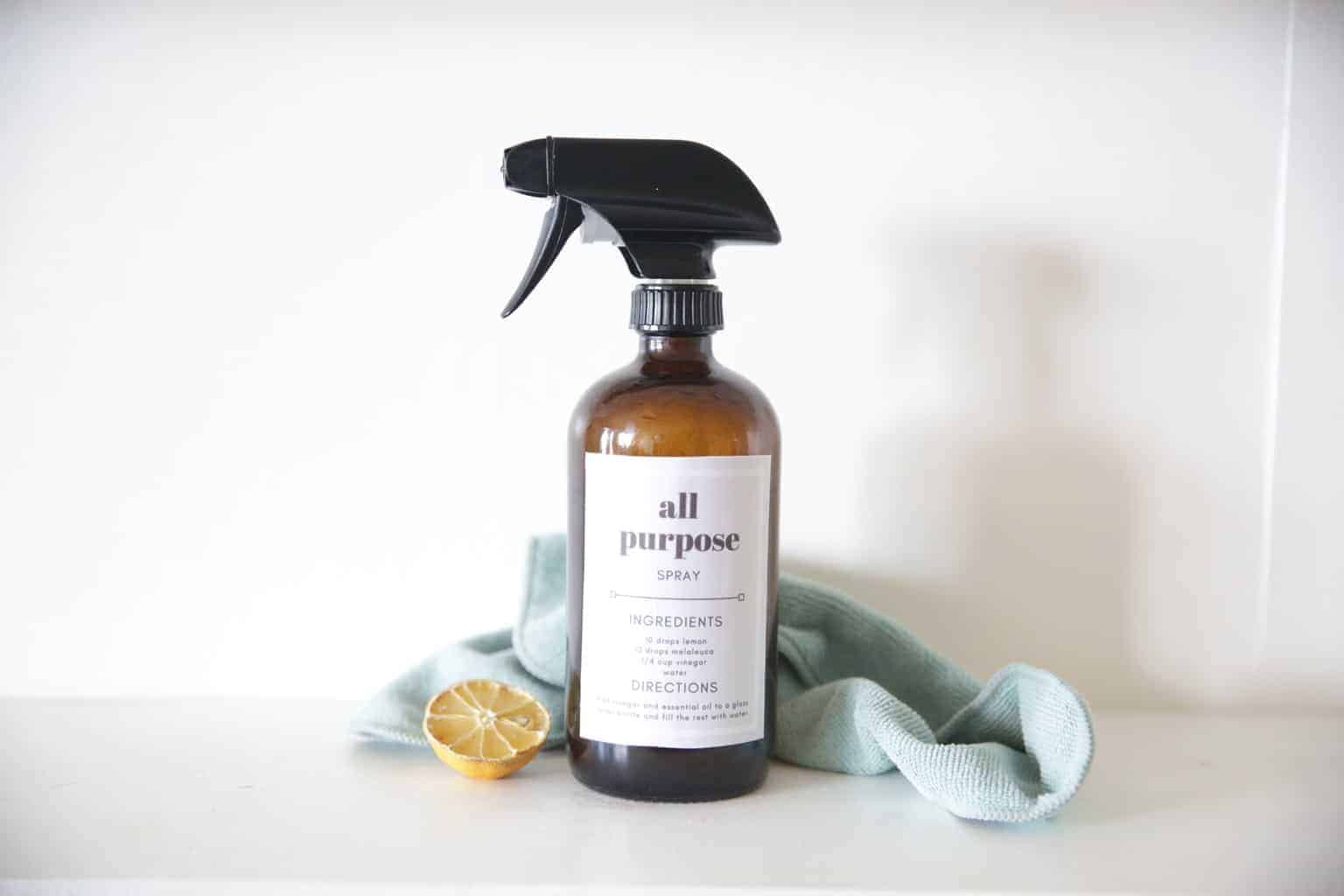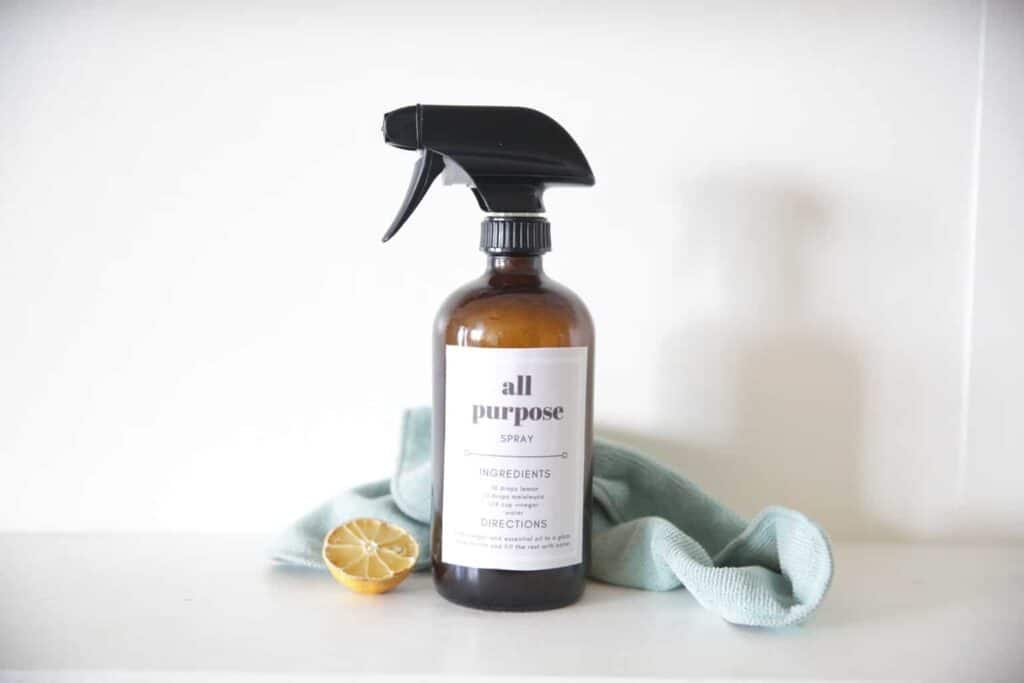 All-purpose cleaner recipe
Add the desired amount of lemon essential oil, or blend of choice to a 16 oz glass spray bottle.
Fill the bottle halfway with vinegar and the rest of the way with water.
Shake well and you're ready to start cleaning!
Essential oils for cleaning
Typically, citrus oils are my go-to for cleaning because of their purifying properties and refreshing scent.
Each of the following oils makes a great DIY all-purpose house cleaner:
Lemon
Lime
Wild Orange
Grapefruit
Thyme
Rosemary
Cinnamon
Clove
Tea Tree
Lavender
Peppermint
These essential oils are cleansing and purifying with excellent cleaning properties.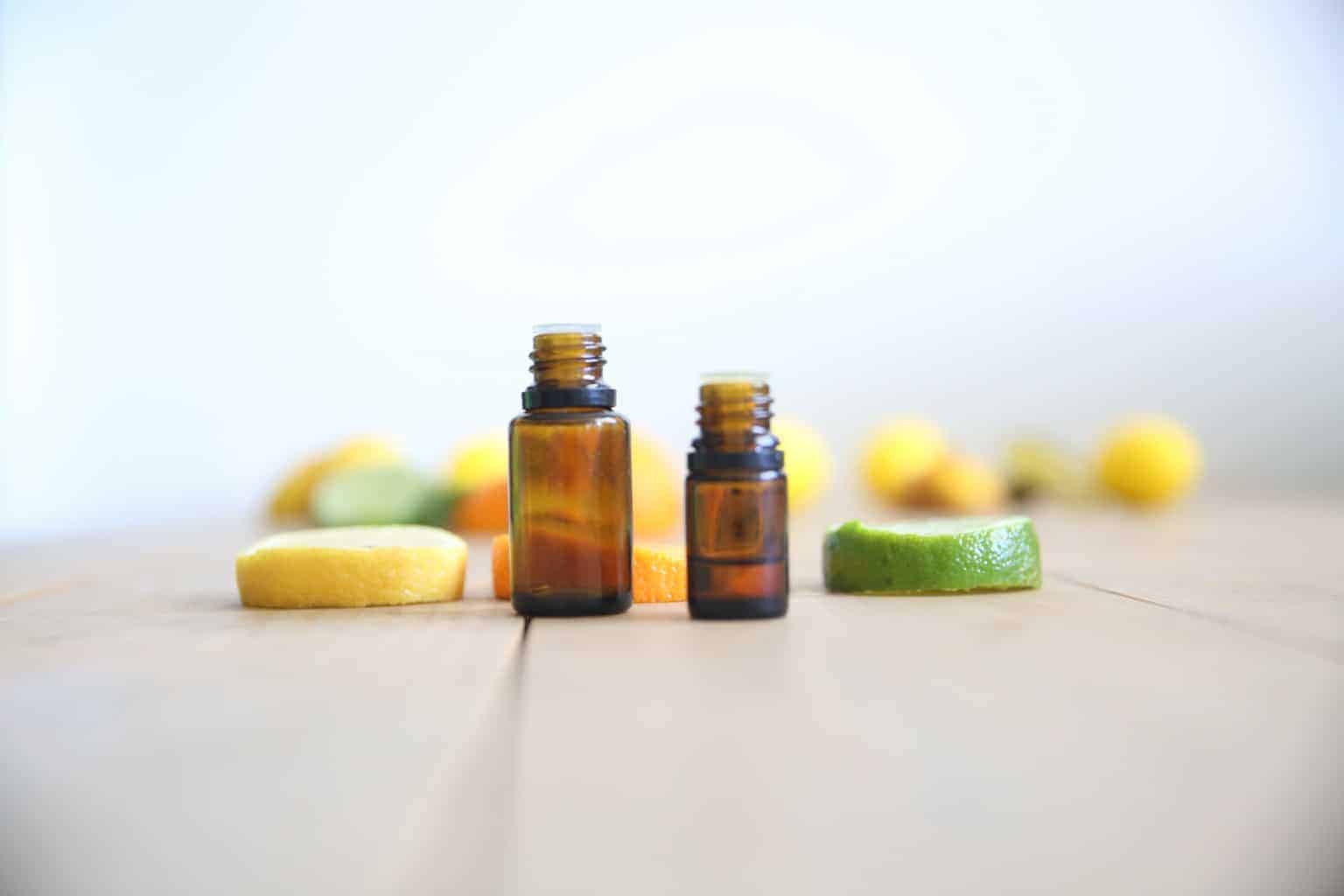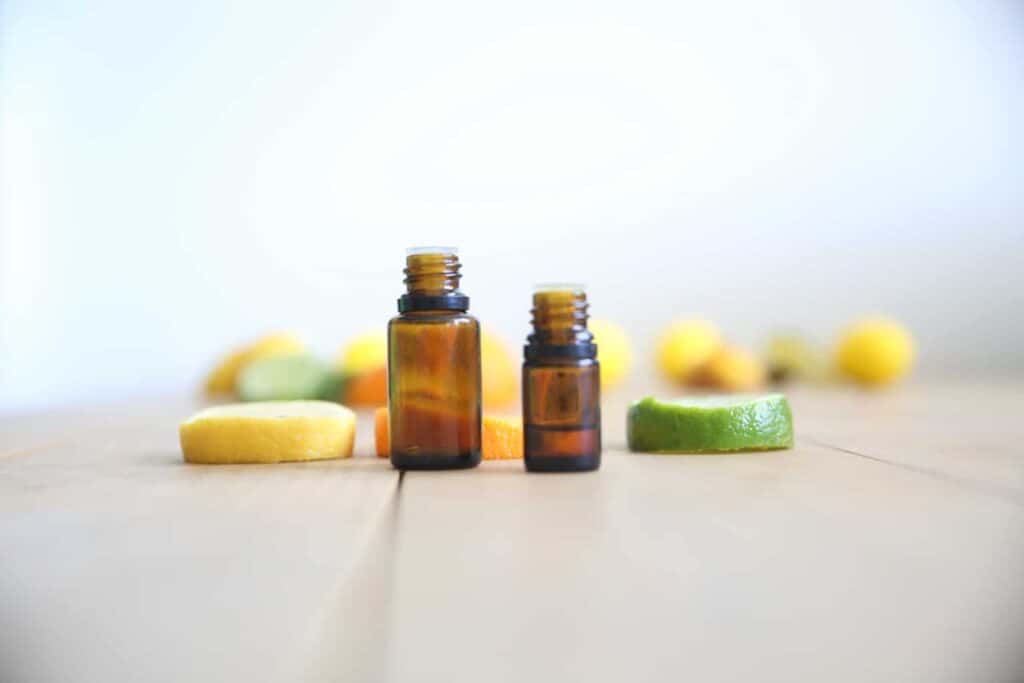 Essential oil blends for cleaning
I'll be the first to tell you nine times out of ten; I'll reach for the lemon essential oil when making this all-purpose vinegar spray. It covers up the vinegar scent quite nicely! But, occasionally, I will mix and match; below are a few of my favorite blends.
Wild orange, lemon, lime
Rosemary and lemon
Thyme, lemon, lime
Lime, lavender, clove
Cinnamon, clove, wild orange
Tea tree, lavender, lemon
Thyme and lemon
Peppermint and lemon
Lavender and peppermint
Use equal parts of each oil in each blend.
Always give your cleaner a good shake before each use.
How to use your DIY all-purpose cleaner
Mist cleaner onto any soiled surface such as countertops, bathroom vanities, mirrors, windows and floors. DO NOT use on any natural stone such as marble or granite since the vinegar can weaken and penetrate the protective sealant.
This stuff really is all-purpose. I use it for almost all my cleaning and it even works great on vehicle windshields and mirrors, leaving no streaks.
For heavily soiled surfaces, soap scum, or hard water stains. Allow the mixture to sit for several minutes before wiping with a clean microfiber towel.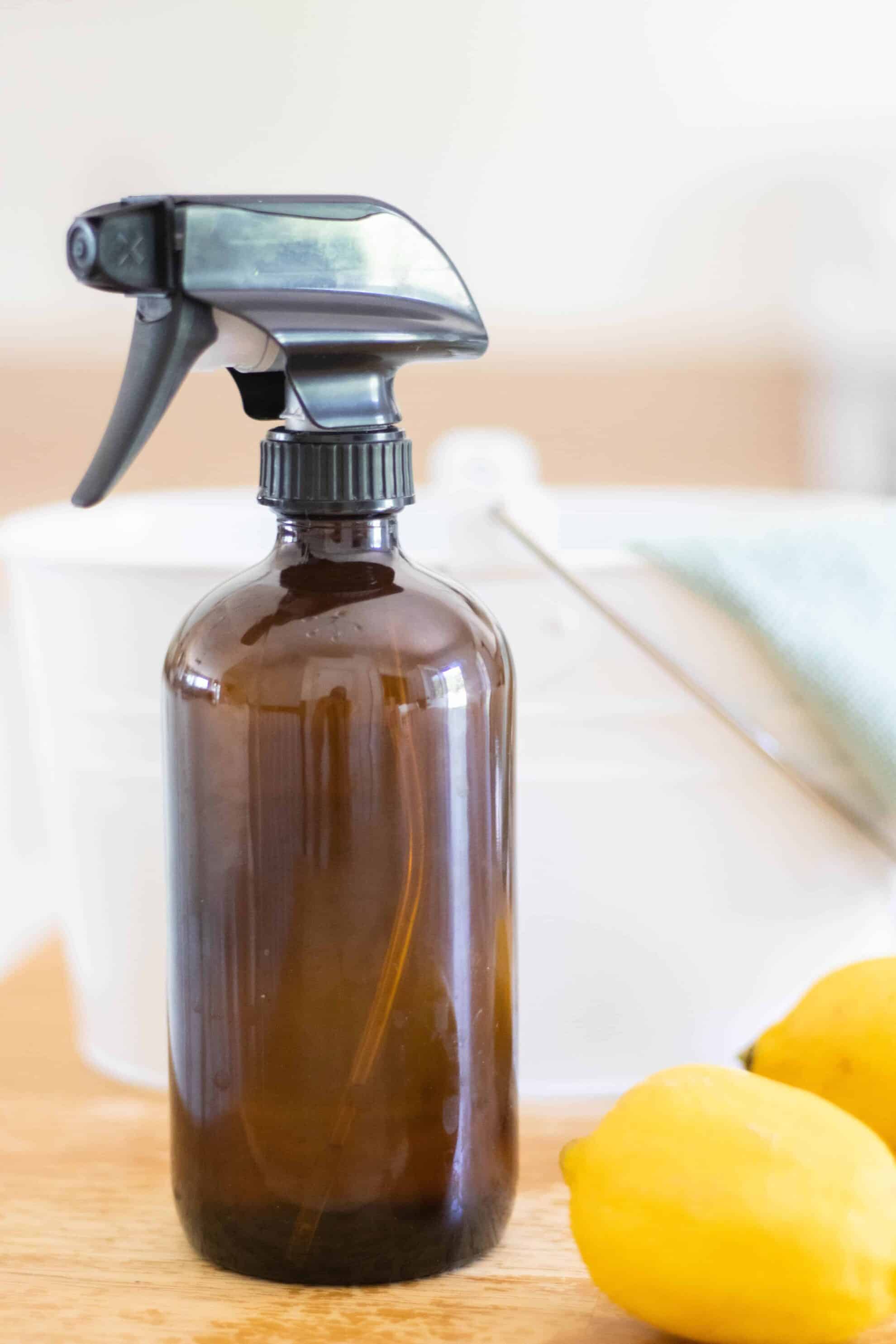 Tips for making the switch to natural cleaners
Begin by making a list of items you want to replace, then begin with one at a time. Don't think you have to make this switch overnight or worry about all the conventional products still in the home.
Set a goal, maybe it's just one a week, but over the course of several months, you can easily have nearly every item swapped out.
How to store your natural cleaners
Glass bottles! Any cleaner, beauty product, body scrub, you name it, if it has essential oils in it, it should be stored in a glass container. Over time, essential oils can break down plastic and pull the toxins from the plastic.
In addition to glass, store out of direct sunlight and in amber or blue-colored bottles. Essential oils can lose potency when stored in clear bottles in direct sunlight.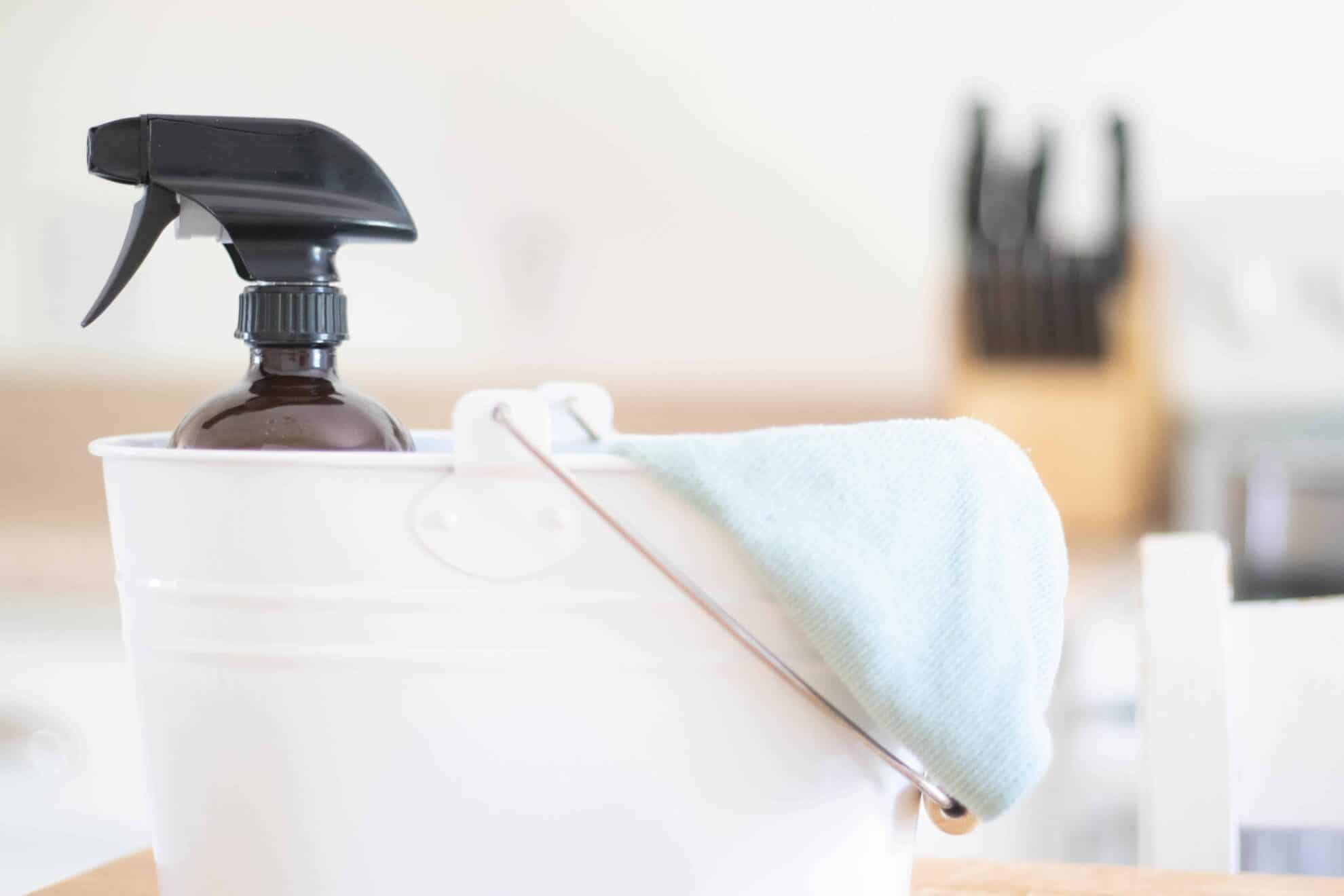 All-purpose cleaner
Step into a healthier, more sustainable lifestyle by making this all-natural house cleaner spray. With its natural cleansing properties, it is an all-around perfect cleaner to naturally reduce odor, cleanse and purify.
FOR MORE HOUSE CLEANING TIPS
Yield: 16 ounces
DIY All-Purpose House Cleaner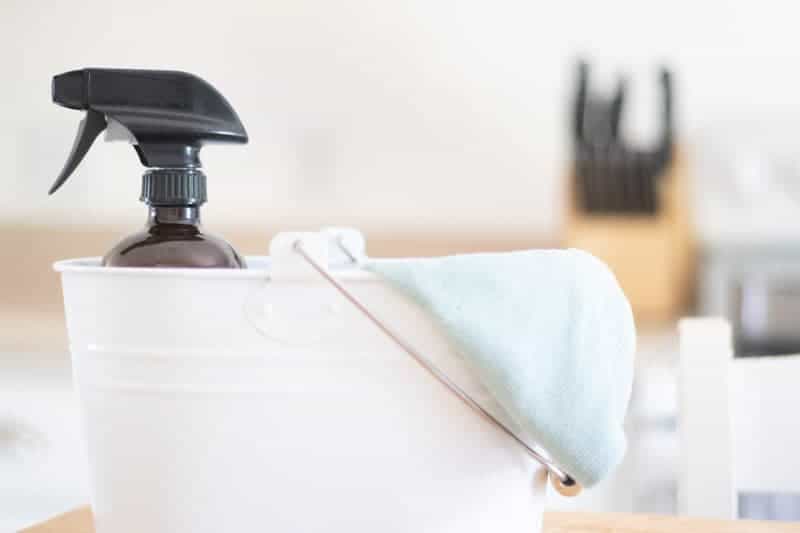 Reduce waste with this reusable, natural all-purpose house cleaner.
Instructions
Add lemon oil to the spray bottle.
Fill halfway with vinegar and the rest of the way with water.
Secure sprayer top and shake well.
Notes
Shake well before each use.