Natural cleaning can be easy and inexpensive when you make your own. This DIY all-purpose house cleaner only requires 2 ingredients and works so well. Replace all your conventional cleaning products with this simple natural house cleaner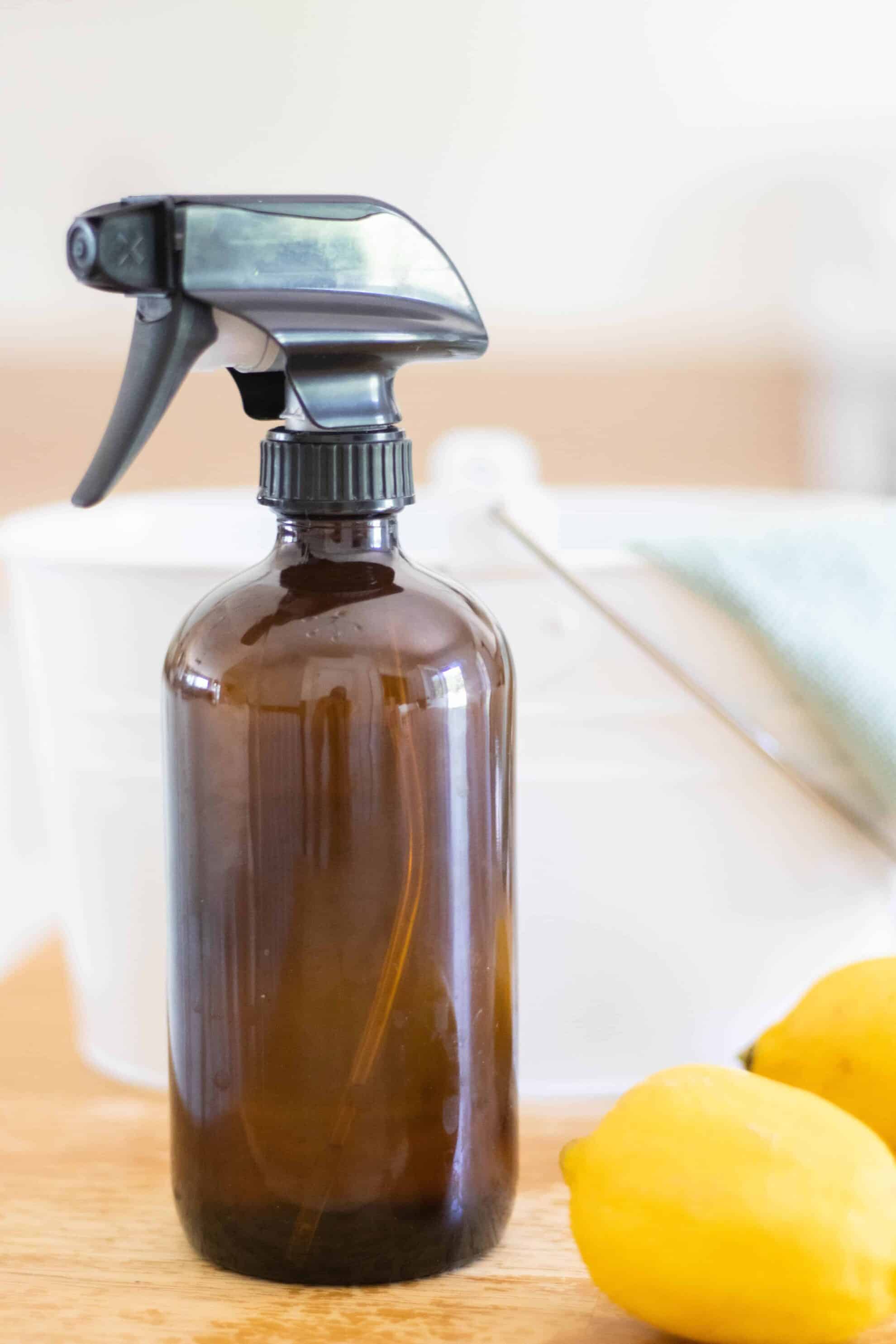 Six years ago, I bought my first set of essential oils with one main goal in mind. I wanted to get toxic products out of my home. I planned to replace them with homemade products such as this DIY all-purpose house cleaner.
Throughout the years, I have learned to make toothpaste, laundry soap, shampoo, conditioner, body wash, baby wash, cleaners, and so much more! Fair warning: It is addicting! 😉
I did one thing at a time, and slowly, I met my goal. Out of all of my DIY recipes, I find that I use this all-purpose house cleaner the most. It is so simple, and I am amazed at how well it works.
PIN IT FOR LATER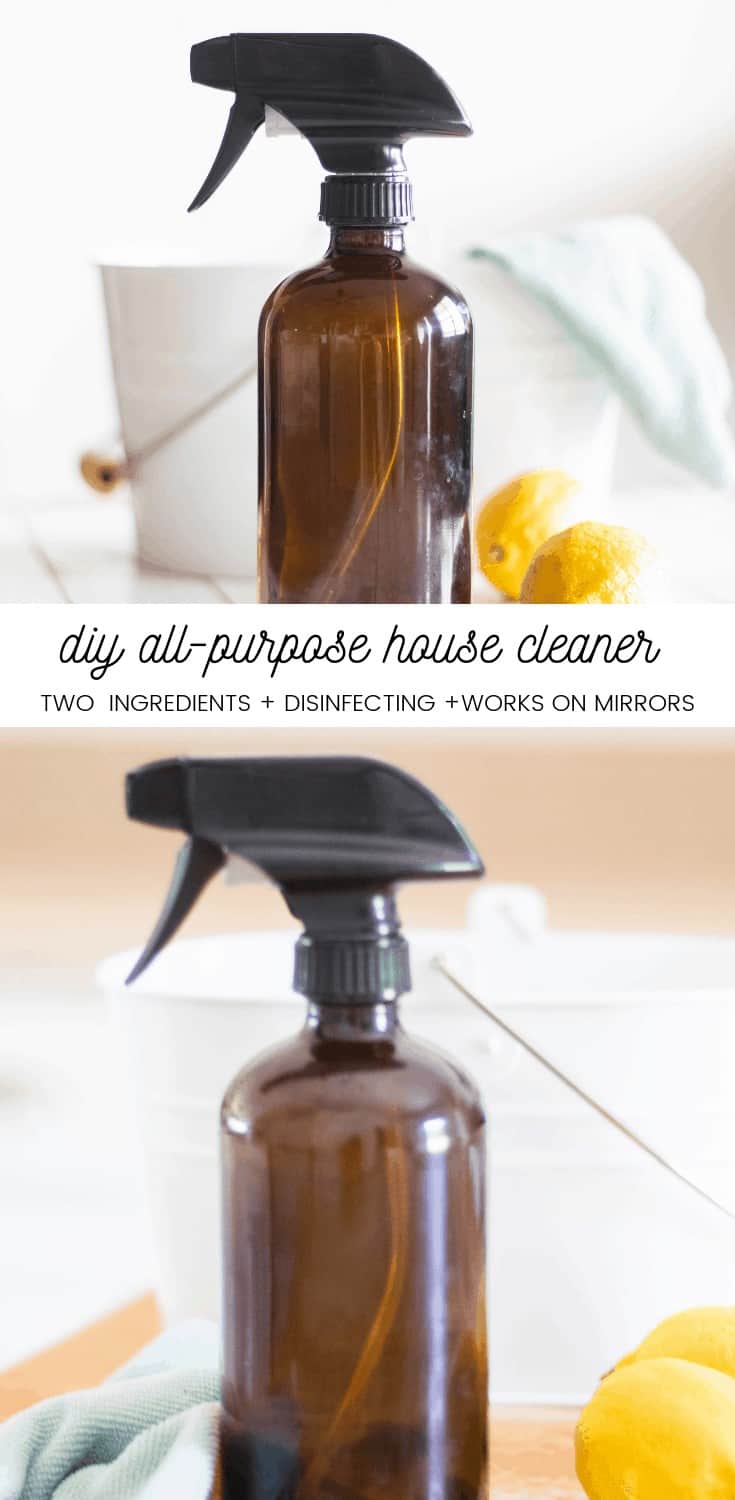 This post contains affiliate links, which means I make a small commission at no extra cost to you. Get my full disclosure HERE.
HOW TO MAKE NATURAL CLEANERS
Find natural ingredients that have antibacterial, antiseptic, and anti-viral properties. Look for products that remind you of that fresh, clean smell you love; for me, this is lemon.
Think about products that naturally reduce odor, cleanse, and purify.
I have found that several essential oils, baking soda, vinegar, coconut oil, and castile soap fit the bill. If you have these ingredients on hand, you will be able to make almost all the products I listed above. I told you it was simple.
WHICH ESSENTIAL OILS ARE BEST FOR CLEANING?
Typically, citrus oils are my go-to for cleaning because of their purifying properties and because of their scent.
The following oils are great ones to use in your DIY all-purpose house cleaner:
Lemon
Lime
Wild Orange
Grapefruit
Thyme
Rosemary
Cinnamon
Clove
Tea Tree
Lavender
Peppermint
These essential oils can be used to disinfect, cleanse, purify, kill germs, and have antibacterial properties.
MY FAVORITE ESSENTIAL OIL BLENDS FOR CLEANING
Typically, I just reach for the lemon essential oil when I am whipping up homemade cleaners; other times, I get fancy and use several oils. Here are a few I have tried and love!
Wild orange, lemon, lime
Rosemary and lemon
Thyme, lemon, lime
Lime, lavender, clove
Cinnamon, clove, wild orange
Tea tree, lavender, lemon
Thyme and lemon
Peppermint and lemon
Lavender and peppermint
So many combos to try!
MY TIPS FOR REPLACING CONVENTIONAL CLEANERS WITH NATURAL CLEANERS
Start by making a list of things you want to replace and begin with one thing at a time. You don't have to make the switch overnight; rather do this over the course of a couple of months. It is less overwhelming this way.
Always give your cleaner a good shake before each use.
If adding essential oils into your cleaner, be sure to use glass spray bottles. Over time, essential oils can break down plastic and pull the toxins from the plastic. I have a few glass spray bottles and mason jars that I use for all my DIY products and refill them when they are empty.
Use amber or blue-colored bottles for storage. When clear bottles of essential oils are in direct sunlight, they can lose potency.
WHAT WILL I NEED FOR AN ALL-PURPOSE HOUSE CLEANER?
I wasn't kidding when I said this recipe is 2 ingredients, 3 if you count water.
VINEGAR
The acidity of the vinegar is what makes it so good for cleaning. It can dissolve soap scum, hard water stains, mineral deposits, and detergent residue.
There are several different types of vinegar, but for cleaning, it is best to use white vinegar as it is the most acidic and potent.
Vinegar shouldn't be used on every surface, such as granite and marble. It can ruin natural stone, so be careful with this. I do find it to work very well as a daily shower cleaner.
ESSENTIAL OILS
You can choose which essential oil(s) you want to use in your cleaner. Check out the list from above for which oils are best. For a 16-ounce spray bottle, I use 25 drops of essential oils. You can adjust this according to the amount of cleaner you are making.
WATER
Water is crucial for all my DIY products. In fact, it is found in most of the conventional products you find too. It keeps everything properly diluted. You can use tap water straight from the sink, or you can use distilled water.
When you use distilled water or water that has already been boiled, it will last longer in storage as that cuts down on bacteria growth.
SPRAY BOTTLES
As I mentioned earlier, it is best to use spray bottles that are glass and dark in color. You can find spray bottles at your local convenient store, or you can order them on amazon.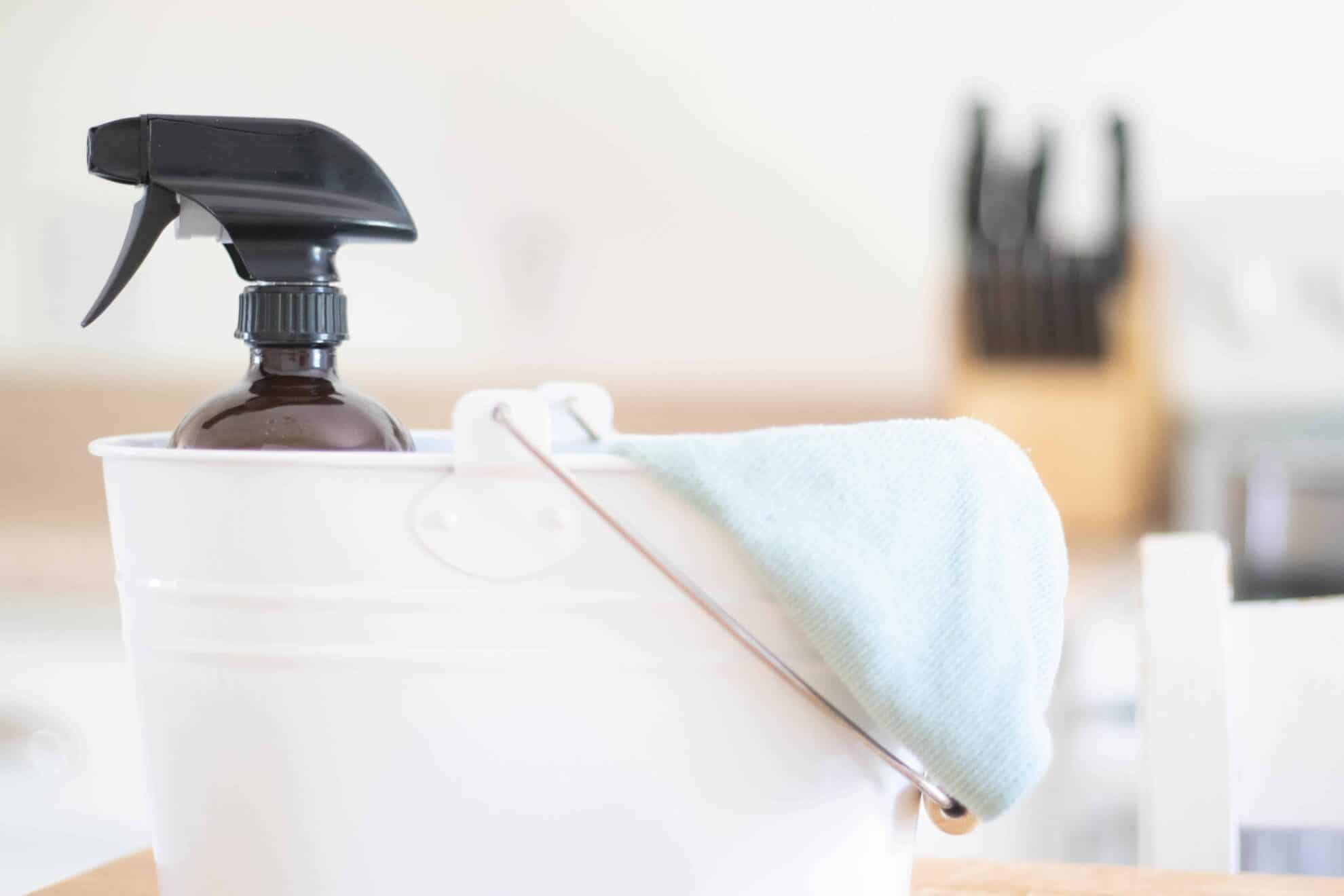 WHAT CAN I USE MY DIY ALL-PURPOSE CLEANER ON?
This stuff is really all-purpose. I use it for almost all my cleaning. It even works great on mirrors, leaving no streaks.
Spray on countertops, bathroom vanities, mirrors, windows, floors, and other surfaces that are soiled. Wipe off with a clean cloth. If you are cleaning something that is heavily soiled, has soap scrum, or hard water stains. Allow the mixture to sit for several minutes before wiping clean.
FOR MORE HOUSE CLEANING TIPS
Yield: 16 ounces
DIY All-Purpose House Cleaner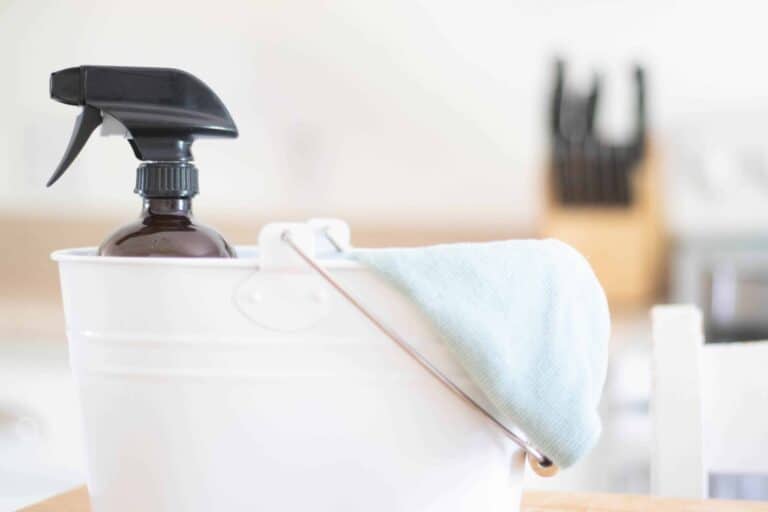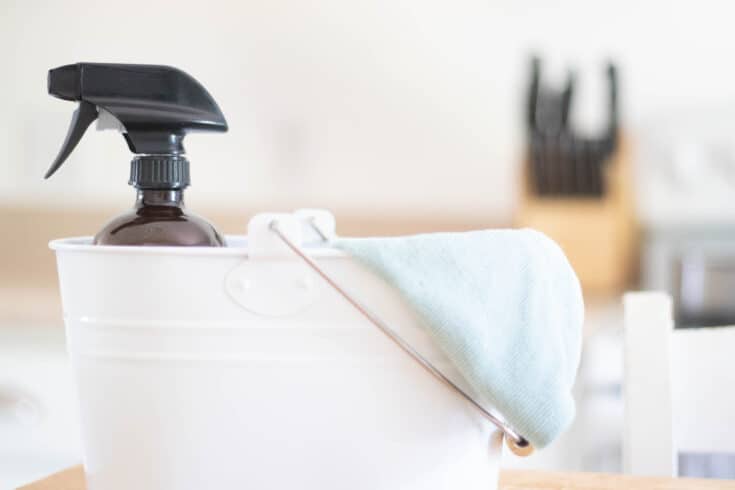 This DIY all purpose house cleaner only requires 2 ingredients and works so well. Replace all your conventional cleaning products with this simple natural house cleaner. 
Ingredients
16-ounce glass spray bottle 
8 ounces vinegar 
20-25 drops lemon essential oil 
Instructions
Pour the ingredients into the glass spray bottle.
Fill the bottle with water and shake well.