Learn how to reduce chlorine exposure this summer while swimming. After swimming, detox spray and protecting lotion recipes included.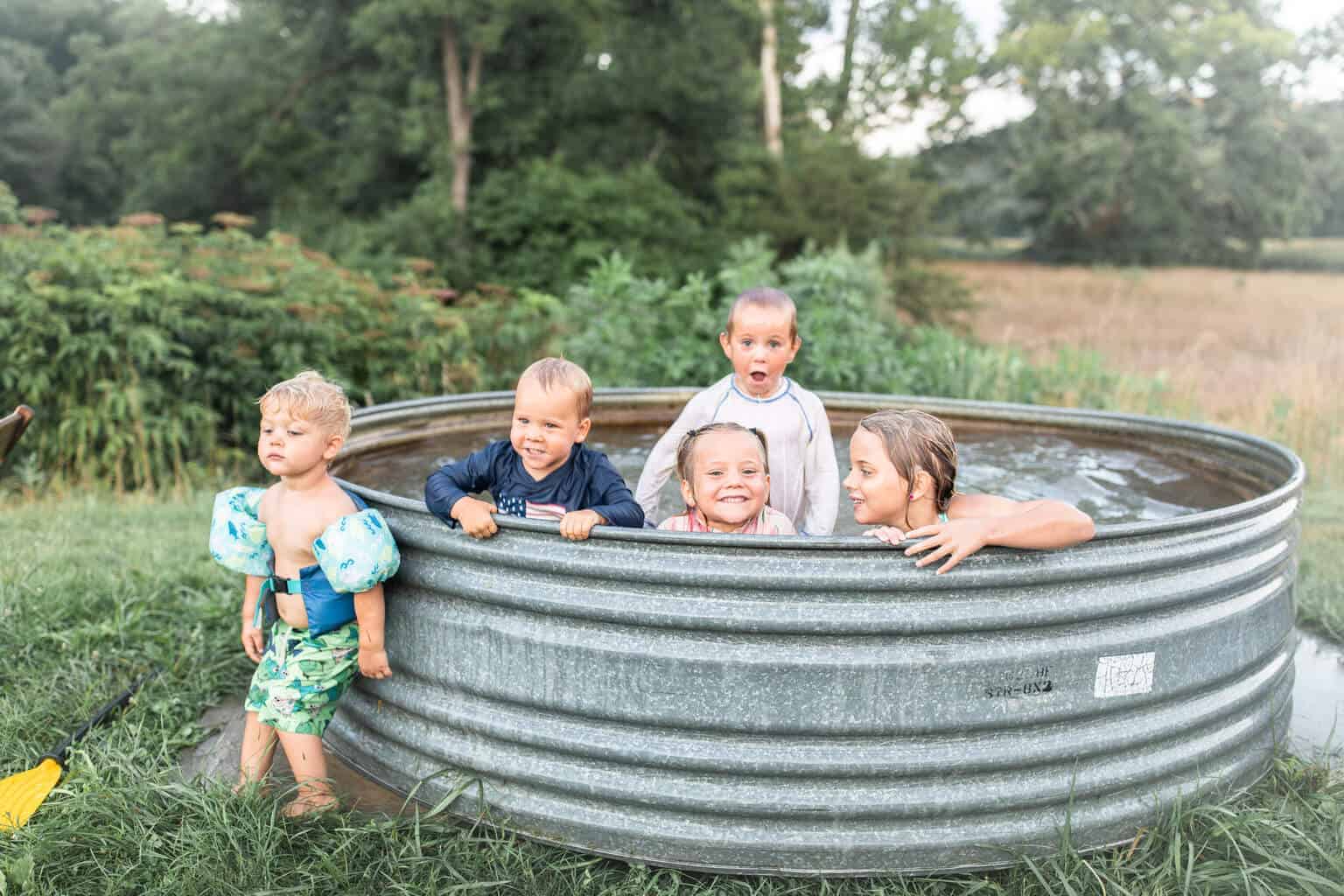 Do you spend a lot of your summer in the pool? I know we do! Sounds harmless, right? Well, not exactly! Most pools are full of chlorine, and overexposure can be harmful.
In my home, I work hard to minimize the amount of chlorine we are exposed to. We use a Berkey water filter for our drinking water and a crystal ball bath dechlorinator for our bathwater. So it made me wonder, what could I do to help with the chlorine we are exposed to in the pool?
Before you go drain the pool or cancel the pool membership, let me tell you the good news! There are several ways you can protect yourself and reduce chlorine exposure this summer.
PIN IT FOR LATER
This post contains affiliate links, which means I make a small commission at no extra cost to you. Get my full disclosure HERE.
WHAT IS CHLORINE?
Chlorine is a chemical most commonly found in pools and hot tubs to kill off bad bacteria. It is often found in drinking water too. It is used around the world to keep the water clean and safe for drinking. However, it doesn't come without side effects.
HOW DOES THE BODY ABSORB CHLORINE?
The human body absorbs chlorine through inhaling, swallowing, and through skin. At low levels, chlorine is known to cause skin irritation, sore throat, and red eyes. At higher levels of exposure, chlorine can cause asthma attacks, wheezing, and tightening of the chest.
Have you ever left the pool with red itchy eyes or a mild cough? This is most likely due to the chlorine in the pool.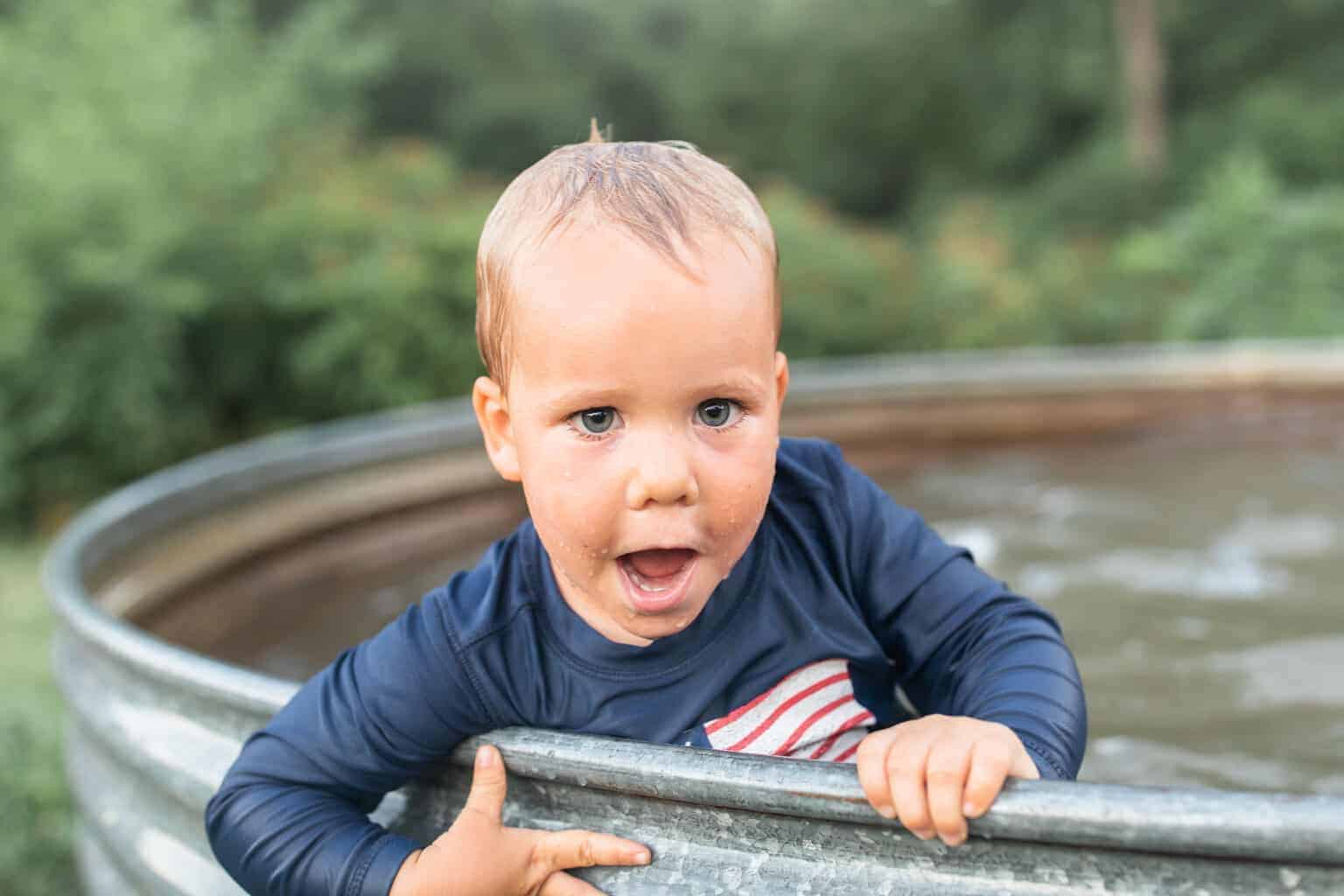 HOW TO REDUCE CHLORINE EXPOSURE
BEFORE SWIMMING
Before getting into a chlorine water pool, get your hair and skin wet. This will make it harder for the chlorine to absorb into the skin.
Use a protective layer of oils or lotion to block the absorption of chlorine before getting into the pool. I share my lotion recipe below. It is similar to my homemade lotion but with added vitamin C and different detoxing essential oils.
Take a vitamin C capsule.
DURING SWIMMING
Swim with googles and a swimming hat when possible. This will reduce the amount of chlorine entering through the head and will protect the eyes.
Keep your mouth shut and eyes closed when swimming underwater to keep chlorine out of the body. This one seems obvious but maybe a good reminder to younger swimmers.
AFTER SWIMMING
As soon as you get out of the pool, rinse your body and hair to get the chlorine off. If possible, use natural soap and wash the body.
Use the after swimming detox spray generously over the body and hair. Follow the recipe below to make it.
OTHER OPTIONS
Swimming in fresh bodies of water is the best option; however, I know it isn't always possible. If you have access to creeks, rivers, or better yet, an ocean, try swimming there instead of pools.
Saltwater can be very beneficial for the skin and the body when absorbed. Unlike swimming in a chlorine pool, I wouldn't suggest rinsing ocean water off the skin right after swimming.
WHAT IF YOU OWN A POOL?
There are several non-chlorine options for keeping your pool clean that can be much healthier. Consider saltwater or other minerals to keep the bacteria at bay.
Saltwater pools are the most popular option, next to chlorine. Maintaining a saltwater pool can be cheaper than using chemicals, and it is much better for the skin.
If you don't already have a pool but are considering one, there are several non-chlorine filters available on the market. These filters are similar in price to a chlorine filter and require similar maintenance.
If you often swim in chlorine water, be sure to follow the guidelines above to reduce the risk of overexposure to chlorine.
DETOXING SPRAY RECIPE
INGREDIENTS
1 cup filtered water
2 tsp organic apple cider vinegar
1 tsp fractionated coconut oil
5 drops tangerine essential oil
2 drops cilantro essential oil
2 drops rosemary essential oil
INSTRUCTIONS
Add all the ingredients to a spray bottle and shake until well combined. Remember, it is always best to use a glass spray bottle when using essential oils, as they can break down plastic over time.
Shake well before each use to make sure the oils are incorporated.
PROTECTING LOTION RECIPE
INGREDIENTS
INSTRUCTIONS
Melt equal parts of each ingredient (except essential oils and vitamin C) in a double boiler. I make my own double boiler by placing a bowl over a pot of boiling water.
After the mixture is melted, place the bowl in the freezer until it's set up a bit. You don't want it to be solid, just firm.
Add essential oils and vitamin C.
Using a hand mixer or stand-up mixer, whip the ingredients together.
Store in an airtight container.
NOTE: I make this recipe by using a 1/2 cup of equal parts. For that amount of lotion, I do 20 drops of essential oils and 1 tablespoon of vitamin C powder.
BEST DETOXING ESSENTIAL OILS
Rosemary
Tangerine
Cilantro
Geranium
Lavender
Tea Tree
Lemongrass
Clove
Frankincense
Myrrh
NOTE: When choosing essential oils to use, remember that most citrus essential oils are photosensitive. You will want to avoid those oils when in direct sunlight.
WHY VITAMIN C?
Vitamin C can help neutralize chlorine and allow the body to recover from overexposure. Check out this article to see more information on how vitamin C can be used to protect you against chlorine.
Taking a capsule of vitamin C before or after swimming can also help the body. Applying vitamin C lotion before and after swimming will be very helpful too.
MORE DIY NATURAL PRODUCTS FOR SUMMERTIME
HOW TO REDUCE CHLORINE EXPOSURE SUMMARY
Swim in fresh bodies of water when available.
Rinse the body and hair before getting in the pool.
Lather body with protecting lotion before swimming.
Take a vitamin C capsule and spray body with detox spray after swimming.

How to Reduce Chlorine Exposure This Summer

Ingredients

Coconut oil
Olive Oil
Shea Butter
Cocoa Butter
Essential oils (I list my favorites below)
Vitamin C powder 
Mason Jars (for storage)

Instructions

Melt equal parts of each ingredient (except essential oils and vitamin C) in a double boiler. I make my own double boiler by placing a bowl over a pot of boiling water.

After the mixture is melted together, place the bowl in the freezer until it's set up a bit. You don't want it to be solid just firm.

Add essential oils and vitamin C.

Using a hand mixer or stand up mixer whip the ingredients together.

Store in an airtight container.

Notes

NOTE: I make this recipe by using a 1/2 cup of equal parts. For that amount of lotion, I do 20 drops of essential oils and 1 tablespoon of vitamin C powder. 

BEST DETOXING ESSENTIAL OILS 

Rosemary 
Tangerine 
Cilantro 
Geranium
Lavender 
Tea Tree 
Lemongrass 
Clove
Frankincense 
Myrrh