LEARN HOW TO MAKE ALL NATURAL SHAMPOO WITH THIS SIMPLE RECIPE AND VIDEO TUTORIAL.  WITH SEVERAL ESSENTIAL OIL BLENDS TO MAKE THE SCENT YOU WANT! 
Ready to get toxins out of your home?  Grab my FREE ebook with my favorite DIY all natural products.
Making your own shampoo can be a very simple DIY project.  You can customize the recipe to making it even more beneficial for your hair type.  Essential oils can be added for scent and for added benefits.
After trying a few natural shampoos I decided to make my own because it is a whole lot cheaper! If you aren't a DIYer you can most definitely find natural recipes that work great, but not without a price tag.  Once you start DIYing things within your home, you may get addicted,  just saying.
I am excited to share this all natural shampoo recipe with you!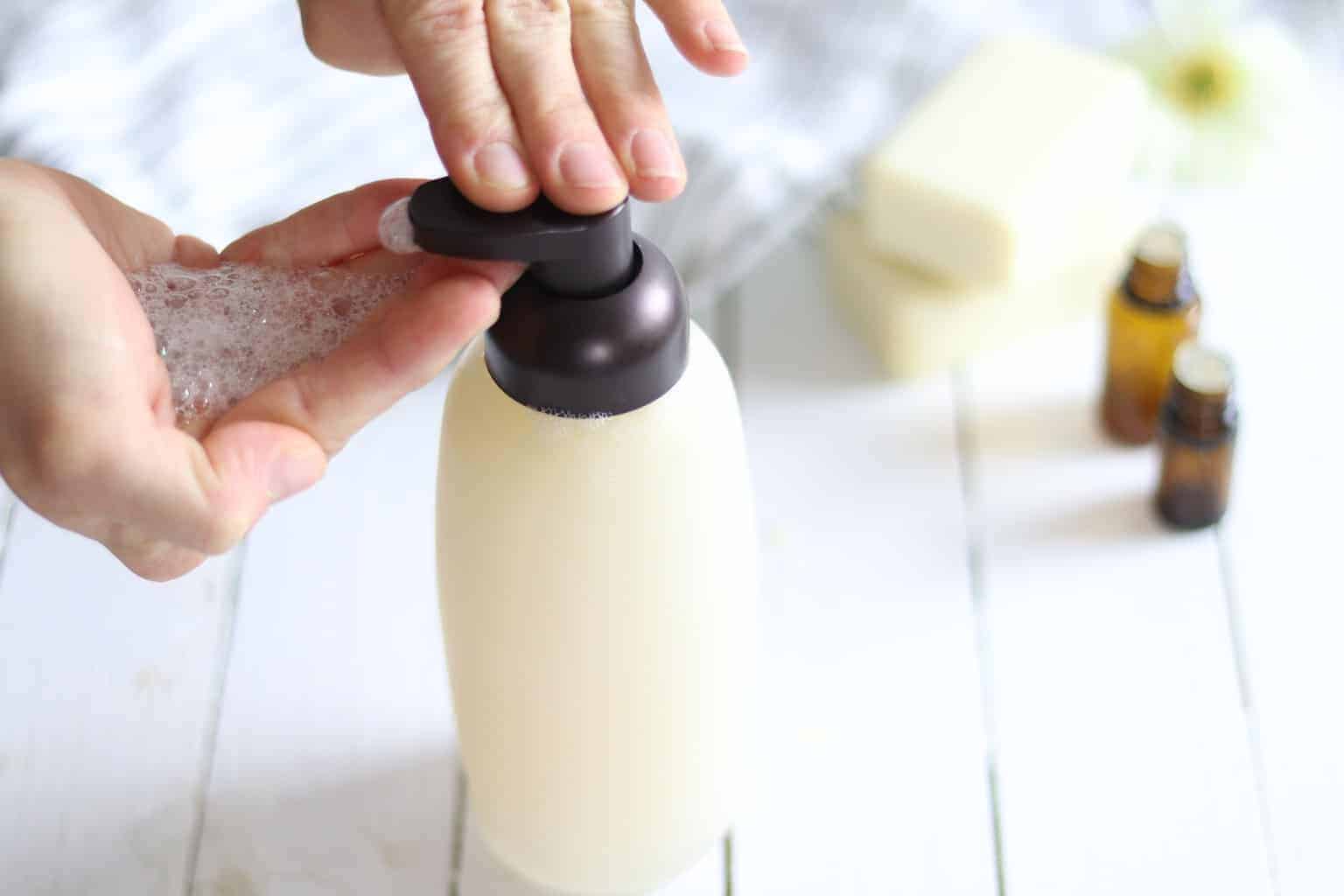 This post contains affiliate links, which means I make a small commission at no extra cost to you. Get my full disclosure HERE.
HOW TO MAKE ALL NATURAL SHAMPOO VIDEO TUTORIAL 
HOW TO MAKE ALL NATURAL SHAMPOO
ALL NATURAL SHAMPOO INGREDIENTS 
HOW TO MAKE ALL NATURAL SHAMPOO 
Mix all the ingredients together in a storage container.  You can use an old shampoo bottle, foaming soap disperser, or a mason jar.
After getting hair wet, apply a quarter size amount to the hair, and lather in.  This shampoo is thinner than the typical shampoo, but it does lather up a ton!
This shampoo will last for a month when stored in an air tight container.
ESSENTIAL OILS FOR ALL NATURAL SHAMPOO 
MY FAVORITE SCENT
6 drops wild orange essential oil
5 drops lime essential oil
4 drops bergamot essential oil
2 drops peppermint essential oil
BLEND FOR HAIR LOSS
6 drops rosemary essential oil
5 drops lavender essential oil
4 drops thyme essential oil
2 drops peppermint essential oil
BEST SCENT FOR MEN
6 drops lemongrass essential oil
4 drops sandalwood essential oil
4 drops melaleuca essential oil
2 drops bergamot essential oil
BEST SCENT FOR CHILDREN
5 drops lavender essential oil
3 drops roman chamomile essential oil
2 drops wild orange essential oil
Get my baby shampoo and body wash recipe here.
WHY HOMEMADE SHAMPOO?
Traditional shampoos are made up of a lot of ingredients you will want to avoid.  Ingredients that have been known to mimic estrogen, which will cause hormone imbalances.  Ingredients that are known carcinogens, and ingredients that can cause severe allergic reactions.
MORE ON THE INGREDIENTS IN THE ALL NATURAL SHAMPOO 
CASTILE SOAP
Castile soap is a very concentrated, vegetable based soap.  It is typically made out of olive oil or coconut oil. It has natural antibacterial properties that can help kill infections on the skin and it is known to help with skin imperfections, like acne.
Castile soap is a gentle soap that can be used on sensitive skin, and it is very good for the face. You can buy scented or unscented castile soap, I prefer unscented so I can scent it how I want with my essential oils.
JOJOBA OIL
Jojoba oil is very moisturizing and can protect the scalp against dry flaky skin and dandruff.  It is rich in vitamin and minerals like: vitamin A, the B vitamins, vitamin C, and zinc.  All of which are amazing for the hair.  If you have greasy hair you can leave this out of the recipe.
BEST ESSENTIAL OILS FOR HAIR
DURING THE TRANSITION 
If you are used to a conventional shampoo you may not like this shampoo in the beginning. It takes some getting use to for you and your hair.  When you first start using a natural shampoo you may notice your hair seems greasy or flat or fluffy or just not quite right.  Here is the thing:  Regular shampoos and over washing your hair can mess up the natural oil balance and pH levels in your scalp.   Your scalp produces oils, this is a good thing.  The oils help your hair to remain smooth, keeps your hair from drying out, and breaking off.  When you wash your hair you remove these oils and your scalp produces more oils, so the more you wash the more oils your going to produce.
The less you wash your hair and as your hair gets use to the new shampoo, your oil levels will balance out.  Promise!  I use to be one of those people that had to wash my hair daily and by the end of the day it was already looking greasy.  Now I only wash my hair twice a week and it never gets greasy.  It's amazing!
DRY SHAMPOO 
While you are "training" your hair dry shampoo can be your best friend!  I shared a very simple DIY DRY SHAMPOO on the blog already, trust me you will need it.  This stuff only requires two ingredients and it works.
PIN IT FOR LATER
Follow along with our oily house:
Thanks for stopping by our oily house!