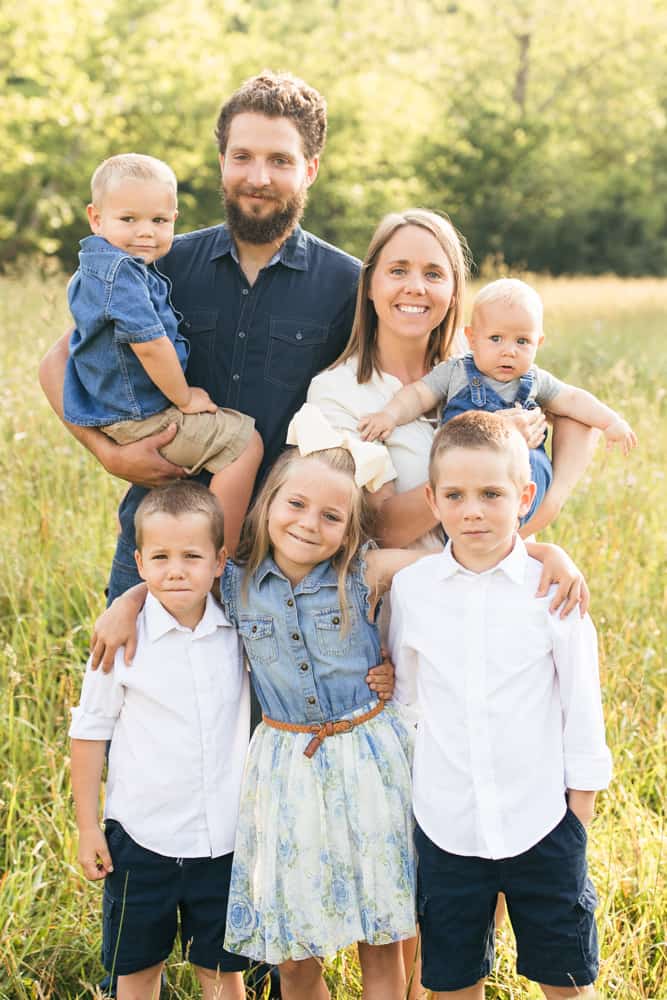 I am a wife and a mother of 5.  I have one girl and four boys ages 8 and under, so needless to say, it's busy around here!  I am a stay home mom with a passion for: natural living, essential oils, and all things homemade.
I was first introduced to essential oils over nine years ago when a friend invited me to a class. I was a new mom at the time and was excited to learn about natural remedies and removing toxins from our home. I started using my essential oils right away and quickly couldn't imagine life before oils. I use my oils daily in my home. They have taken over my medicine cabinet, and I love it!  With my love for oils, I became a wellness advocate, which means I educate others about essential oils.  I started this blog to compile my research and share my recipes.
I am passionate about feeding my family wholesome meals and love to create new recipes.  I spend a lot of time in the kitchen, usually with a baby in tow and a toddler on the counter.  Most nights, we eat a home-cooked meal of grass-fed meat, vegetables, and something fermented.  Here on the blog, I share my healthy and simple recipes for you to enjoy!
I am so glad you are here, and I am excited to share our essential oil journey and natural living with you!  Thank you for following along with me!
Tid Bits
I am one of 4 girls, and I absolutely love it! I am very close to all my sisters. We all hang out at least once a week.
I am 100% extroverted, and my husband is 100% introverted, we learned how to make this work.
I grew up on 400 acres.  We lived on our family's own racetrack and raised elk.  I have VERY fond childhood memories.
I have been sky diving. This was before kids, though it was super fun I would never do it again now that I am a mama!
I love to water ski and snow ski.
I LOVE sushi, and you will find my husband and I at our favorite local sushi joint on all of our date nights.  I mean, why fix what isn't broken?!