LEARN ALL ABOUT GINGER ESSENTIAL OIL: USES, BENEFITS, ROLLER BOTTLE RECIPES, AND DIFFUSER BLENDS. FREE PRINTABLE LABELS AND RECIPE CARDS.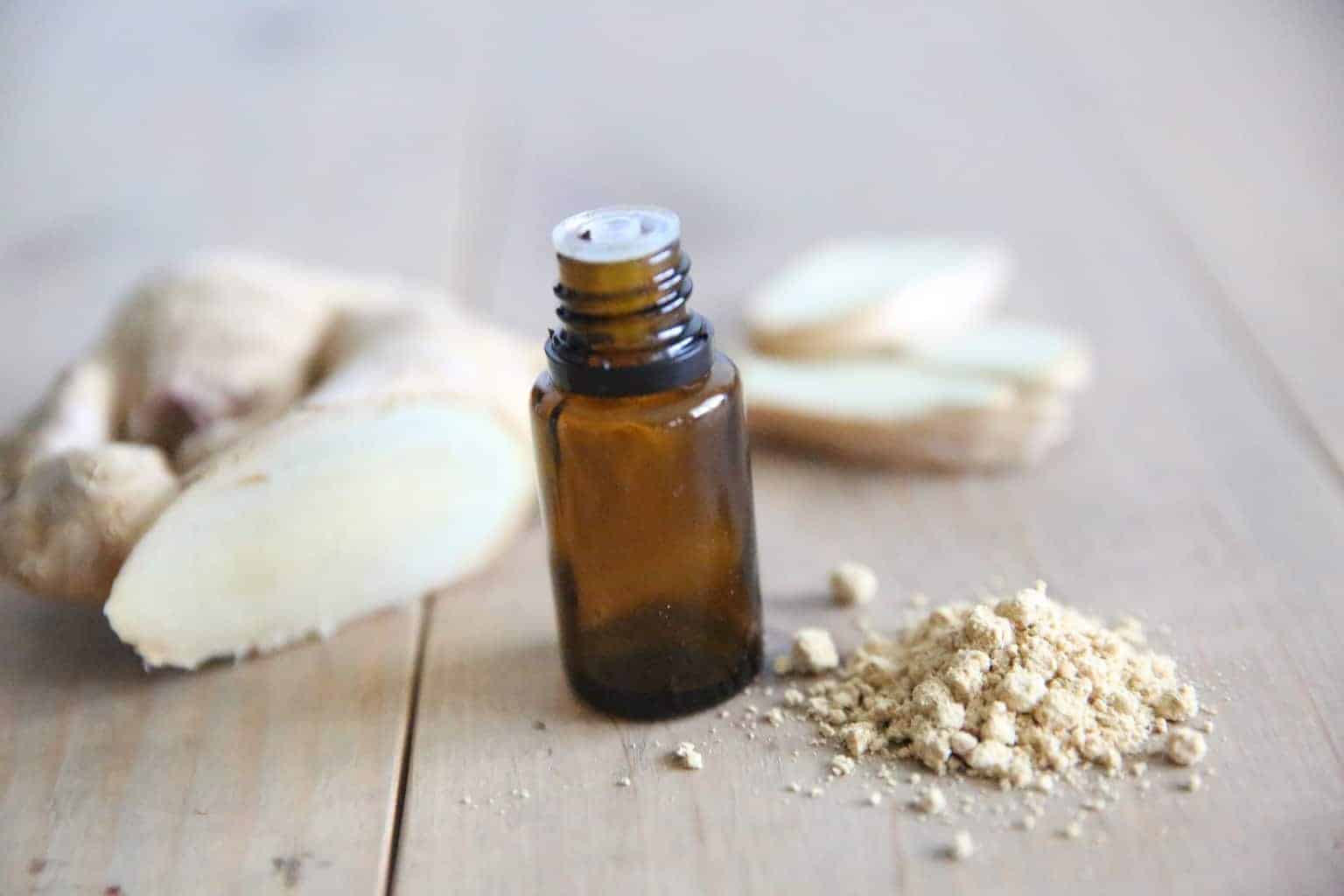 Ginger essential oil makes it into a lot of my roller bottle and diffuser blends. Therefore, I thought it was time to devote a whole post to this wonderful essential oil.
Above all, ginger is known for its benefits on the digestive system, but it also can boost the immune system, calm the nervous system, and so much more! This post will explain it all, plus I will share my favorite blends using this oil.
Get access to my online resource library here for your free printable label and diffuser blend recipe card.
WHAT IS GINGER ESSENTIAL OIL?
Ginger comes from a knotted underground stem called a rhizome. The essential oil is steam distilled from the stem of the ginger plant.
Ginger can either be used fresh, dried, or as an essential oil. Ginger is very popular in Asian culture. As a result, it makes it into most of their dishes. Also, ginger has been used as a remedy for digestive issues for hundreds of years.
There are many ways to use it as a natural remedy, such as in a tincture, capsule, tea, or extract.
HOW DO YOU USE GINGER ESSENTIAL OIL?
Ginger can be used topically, aromatically, or internally.
FOR TOPICAL USE: Dilute 1 drop in 1 tsp of a carrier oil, apply to the stomach, bottom of feet, or across the bridge of the nose. For topical use, make it into a roller bottle. (ginger roller bottle recipe below)
FOR AROMATIC USE: Use a diffuser by adding 4-6 drops and topping off with water. Or add a couple of drops to the hands, rub together, and cuff over the nose. Just inhaling ginger can help to relieve nausea.
FOR INTERNAL USE: Add 1-2 drops of ginger essential oil to a veggie capsule and swallow when dealing with any digestive issue. Put 1-2 drops of ginger under the tongue, hold it there for 30 seconds, and then swallow. Or add 1-2 drops of ginger to 4 ounces of water, drink to soothe the stomach.
GINGER ESSENTIAL OIL TOP USES
SETTLES THE STOMACH
Ginger has an antiemetic effect on the body and is a great carminative, which helps eliminate extra gas from the intestinal tract. Some studies have shown ginger to be more effective than Dramamine!
It is especially good for helping with certain types of nausea, upset stomach, and also great for babies.
Apply ginger to the stomach, take internally, or use aromatically when feeling nauseous, bloated, experiencing stomach cramps, or dealing with abnormal digestion.
Learn more about using essential oils with babies in this post.
PROMOTES FEELINGS OF RELAXATION
Another great benefit of ginger is its ability to help calm and relax you. As a result, it is very effective at reducing stress and anxious feelings. It also has stimulating properties that can help with sadness, anger, and restlessness.
Use topically on the pulse points and diffuse before bed to promote a healthy night's sleep.
PROTECTS AGAINST ENVIRONMENTAL THREATS
Ginger has the ability to work as an antiseptic agent and can kill infections, especially those in the digestive system. It can be effective in those things by taking it internally and applying it topically to the stomach.
Ginger essential oil can be used to boost the immune system and fight off environmental threats before you catch them. Use ginger topically on the bottom of the feet and down the spine for extra immune support.
HELPS WITH RESPIRATORY ISSUES
Another way to use ginger is to help break up mucus in the chest and lungs. Ginger promotes clear airways and healthy breathing.
Add 1-2 drops of ginger to a mug of steamy water, lean over the mug, and breathe in. This will help with congestion and removing unwanted mucus. This is a very effective remedy for blocked sinuses.
SOOTHES JOINT AND MUSCLE DISCOMFORT
Ginger is a good source of antioxidants and can relieve discomfort. Take ginger internally or use it topically on the area of concern.
Ginger has several properties and components that make it very effective for relieving tension within the body. Studies show that ginger essential oil can reduce the number of prostaglandins in the body, which are compounds associated with pain.
SOOTHING WARM MASSAGE
Finally, ginger can be used for an aromatherapy massage.
Add several drops of essential oil to coconut oil, homemade whipped body butter, or lotion and use it for a massage. Due to its chemical makeup, ginger has a nice warming effect and makes for a soothing back massage.
GINGER ESSENTIAL OIL ROLLER BOTTLE
Using roller bottles are my favorite way to apply an essential oil topically. Roller bottles are very convenient and great for travel. I have a few roller bottles in my diaper bag at all times in case of emergencies.
How to make an essential oil roller bottle with ginger
Add 15-20 drops of ginger essential oil to a 10mL roller bottle.
Top the roller bottle off with a carrier oil. Learn more about carrier oils here.
Shake the roller bottle, and it is ready for use.
How to use your ginger roller bottle
Apply to stomach, chest, the bottom of feet, or bridge of the nose. Applying it to the bridge of the nose allows you to get aromatic benefits as well.
GINGER ESSENTIAL OIL ROLLER BOTTLE RECIPES
TUMMY TAMER
8 drops ginger essential oil
5 drops peppermint essential oil
3 drops fennel essential oil
2 drops frankincense essential oil
2 drops lemon essential oil
CONGESTION RELIEF
8 drops ginger essential oil
5 drops peppermint essential oil
3 drops eucalyptus essential oil
2 drops frankincense essential oil
2 drops lime essential oil
RELAXATION AND CALMING
6 drops ginger essential oil
5 drops frankincense essential oil
4 drops bergamot essential oil
3 drops copaiba essential oil
5 drops lavender essential oil
GINGER ESSENTIAL OIL DIFFUSER BLENDS RECIPES
SWEET APPLE PIE
3 drops clove essential oil
2 drops cinnamon essential oil
2 drops ginger essential oil
1 drop of bergamot essential oil
CLEANSE THE AIR
3 drops wild orange essential oil
2 drops lemon essential oil
2 drops ginger essential oil
1 drop of melaleuca essential oil
NAUSEA RELIEF
3 drops peppermint essential oil
2 drops ginger essential oil
2 drops fennel essential oil
1 drop of frankincense essential oil
COOKING WITH GINGER ESSENTIAL OIL
Essential oils can be used in the kitchen for their delicious flavor and benefits. Remember that essential oils are very concentrated and a little goes a long way.
Heating essential oils up will make them lose some of the therapeutic benefits; as a result, try to add them in at the end of the recipe.
1 drop of ginger can be replaced with 1 tablespoon of dried ginger in a recipe
Add 1-2 drops of ginger essential oil to an herbal tea to relieve nausea.
Ginger oil can be used in baked goods like ginger snaps, banana bread, pies, and cookies.
What are some of your favorite ways to use ginger essential oil? Share with us in the comments!
PIN IT FOR LATER
MORE ESSENTIAL OIL HIGHLIGHTS
Follow along with our oily house: