What are dryer sheets? Why do we use them and what is the importance of making your own? We cover all that and more with this simple homemade dryer sheets recipe using just two ingredients.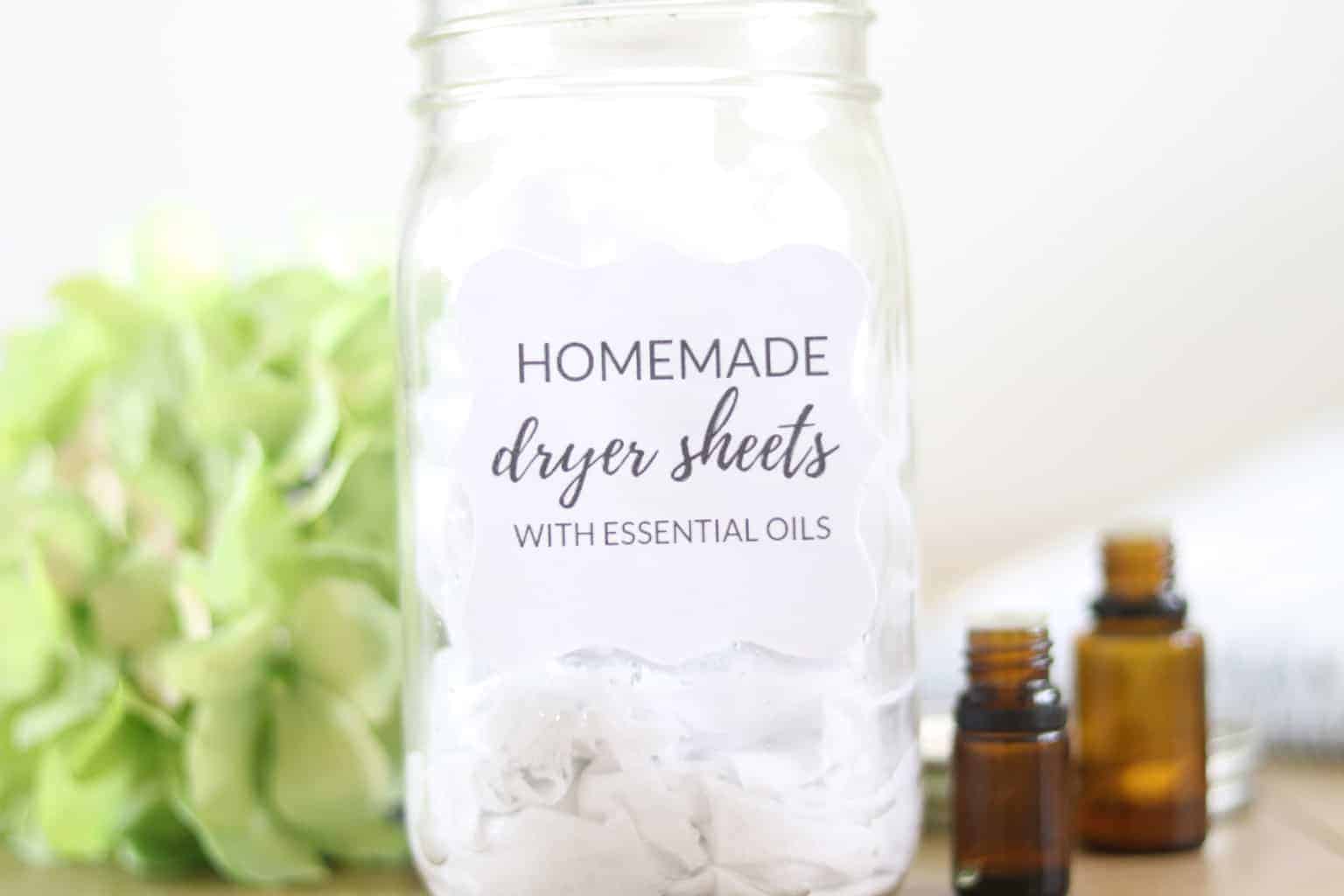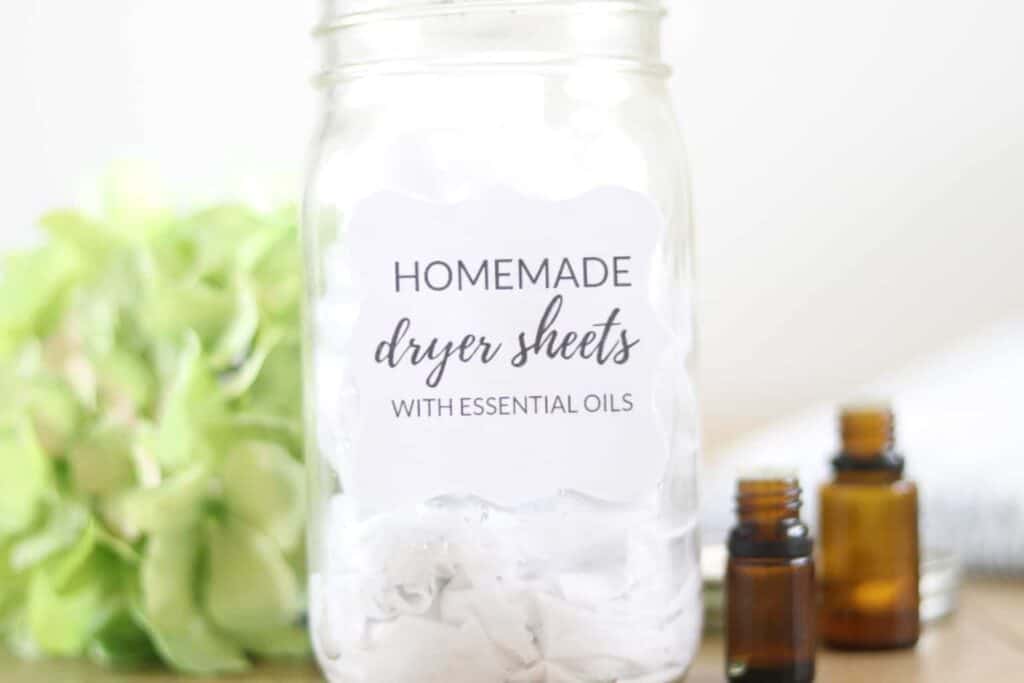 I absolutely love the scent of clean clothes fresh out of the dryer. The blissful aroma from the laundry detergent combined with the floral scent of dryer sheets creates a level of satisfaction I simply can't live without.
By filling my home with natural products, we are able to limit the number of chemicals we are exposed to every day. And if you're not looking to spend a small fortune on natural laundry products, the budget-friendly alternative is to simply make your own.
What are dryer sheets
Dryer sheets are fabric softeners that are used in the dryer rather than the wash. Unlike liquid fabric softeners, which must be added in with the detergent, dryer sheets can be added at any time to the drying cycle.
Conventional dryer sheets are typically made from polyester fabric that is both durable and stiff. However, I have found there is no need to go out and buy specific dryer sheet fabric, in that any old fabric lying around will work just fine.
Fabric softeners are necessary not only to soften clothes but to protect and help clothes last longer than they otherwise would.
Ready to get toxins out of your home? Grab my FREE ebook with my favorite DIY all-natural products!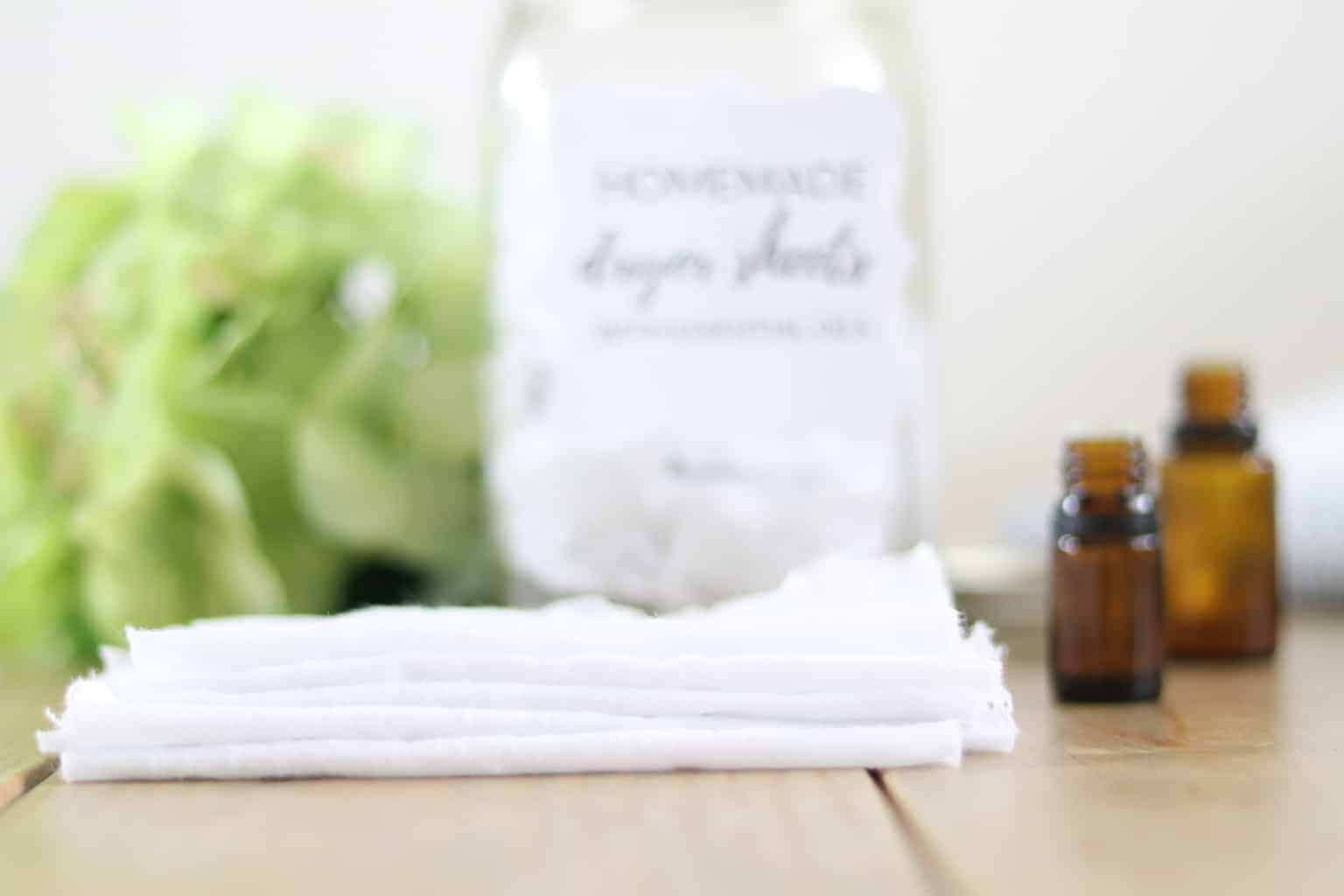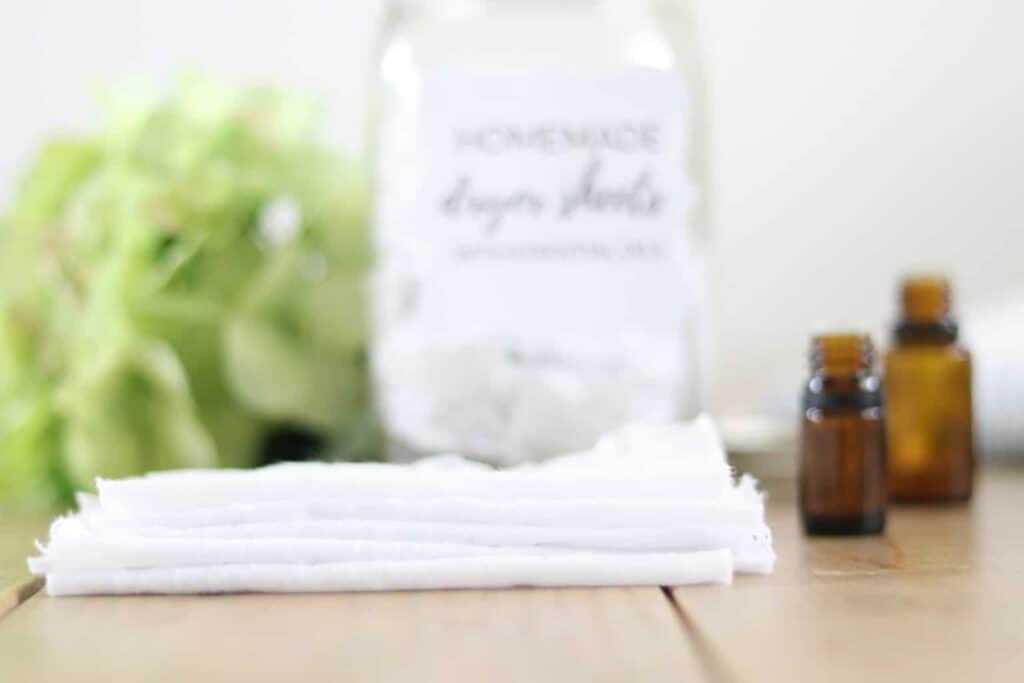 How to make dryer sheets
The purpose of dryer sheets is to soften clothes, reduce static and in some cases, add a pleasant lingering scent. That is why we will be adding essential oils for the scent and using vinegar as the natural softener. And though the smell of vinegar is overpowering, the scent will dissipate as it dries.
This post contains affiliate links, which means I make a small commission at no extra cost to you. Get my full disclosure HERE.
Dryer sheet ingredients
1 cup white vinegar
20-30 drops of essential oils (see list below for recommendations)
Cloths (old cloth napkins, tee shirts, or towels work well)
Instructions
Add the vinegar and essential oils into a small bowl, stirring until well combined.
In a mason jar or airtight container of choice, fold the pieces of fabric and layer them inside the jar.
Pour the vinegar fragrance into the jar. Use just enough liquid to fully absorb in the cloths, yet not submerged. The amount of liquid in this recipe should be just enough for 12 cloth squares.
How to use dryer sheets
Throw 1-2 sheets in the dryer with the laundry and run the cycle. I place the used sheets back in the same container to one side.
Fabric softener or dryer sheets
The job of both fabric softeners and dryer sheets is to soften clothes, reduce static and reduce the appearance of washer wrinkles.
Dryer sheets are added to the drying cycle, are reusable, and are almost always cheaper than fabric softener.
Fabric Softeners are used with the detergent during the wash cycle.
What to use instead of dryer sheets
If for whatever reason making dryer sheets is not an option, an alternative to dryer sheets is wool dryer balls. They are great for reducing drying time, softening clothes, and to some extent, reducing static cling.
Best of all, dryer balls are extremely inexpensive and last several years. I like to use wool dryer balls in every load to reduce drying time, saving both time and money.
Adding fragrance to dryer sheets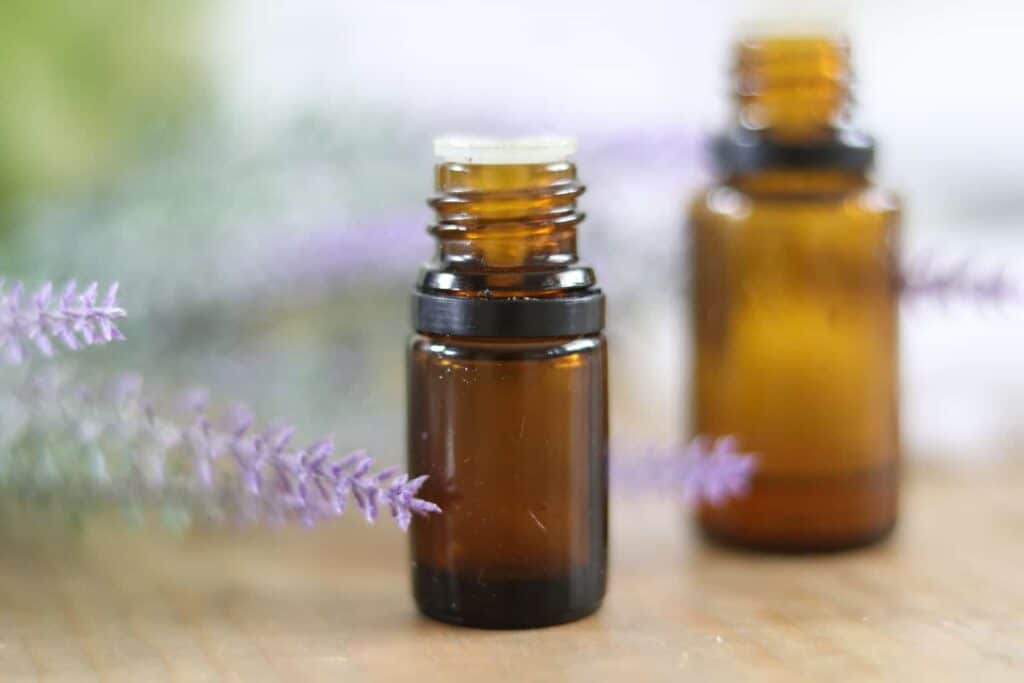 When it comes to all things laundry, I like to stick to floral and citrus aromas. Sometimes I add just one oil, and other times I'll use a blend. Here are a few of my favorites.
Floral aromas
Lavender– Lavender is a very calming, relaxing essential oil with a lovely floral scent. This one is my favorite for laundry soap and dryer sheets.
Roman Chamomile– Another calming essential oil and great for kids. Roman chamomile adds a beautiful floral scent and is sensitive enough for baby clothes.
Patchouli– Either you love it or hate it. I am a patchouli lover and am obsessed with the scent. This is another favorite of mine for laundry.
Jasmine– If you want to smell like a bed of flowers all day, then add jasmine to your laundry routine. Jasmine is very calming and can help with stress and anxious feelings.
Citrus aromas
Wild Orange– Invigorating, uplifting, and cleansing; wild orange is perfect for your natural dryer sheets. In addition, it adds a fresh scent to your clean clothes.
Lemongrass– This citrus oil has an earthy smell and makes a great scent, especially for men.
Lemon– Lemon just reminds me of clean! It is a very purifying and cleansing essential oil great for laundry.
Natural aromas
Tea Tree– Tea tree is a purifying and cleansing essential oil. If you ever forgot to put wet laundry straight in the dryer when it is done, add 2-3 drops to the wet clothes and add to the dryer. It will take away that musky smell right away!
Peppermint– If you like a fresh, minty scent, then this will be your oil. Peppermint makes a beautiful scent for your homemade laundry needs.
Eucalyptus– Eucalyptus is a great oil to add to your natural dryer sheets, giving off a fresh, clean and crisp scent.
Cedarwood– Another one for the men in your life. Cedarwood has a woodsy scent that most men enjoy, and it has cleansing properties making it great for your laundry.
Dryer sheet blends
Citrus Breeze
8 drops lemon
6 drops wild orange
6 drops bergamot
5 drops tangerine
Floral Abundance
8 drops lavender
6 drops roman chamomile
6 drops patchouli
5 drops jasmine
Gentle Comfort
10 drops lavender
5 drops roman chamomile
3 drops cedarwood
Find all the oils to these blends right here.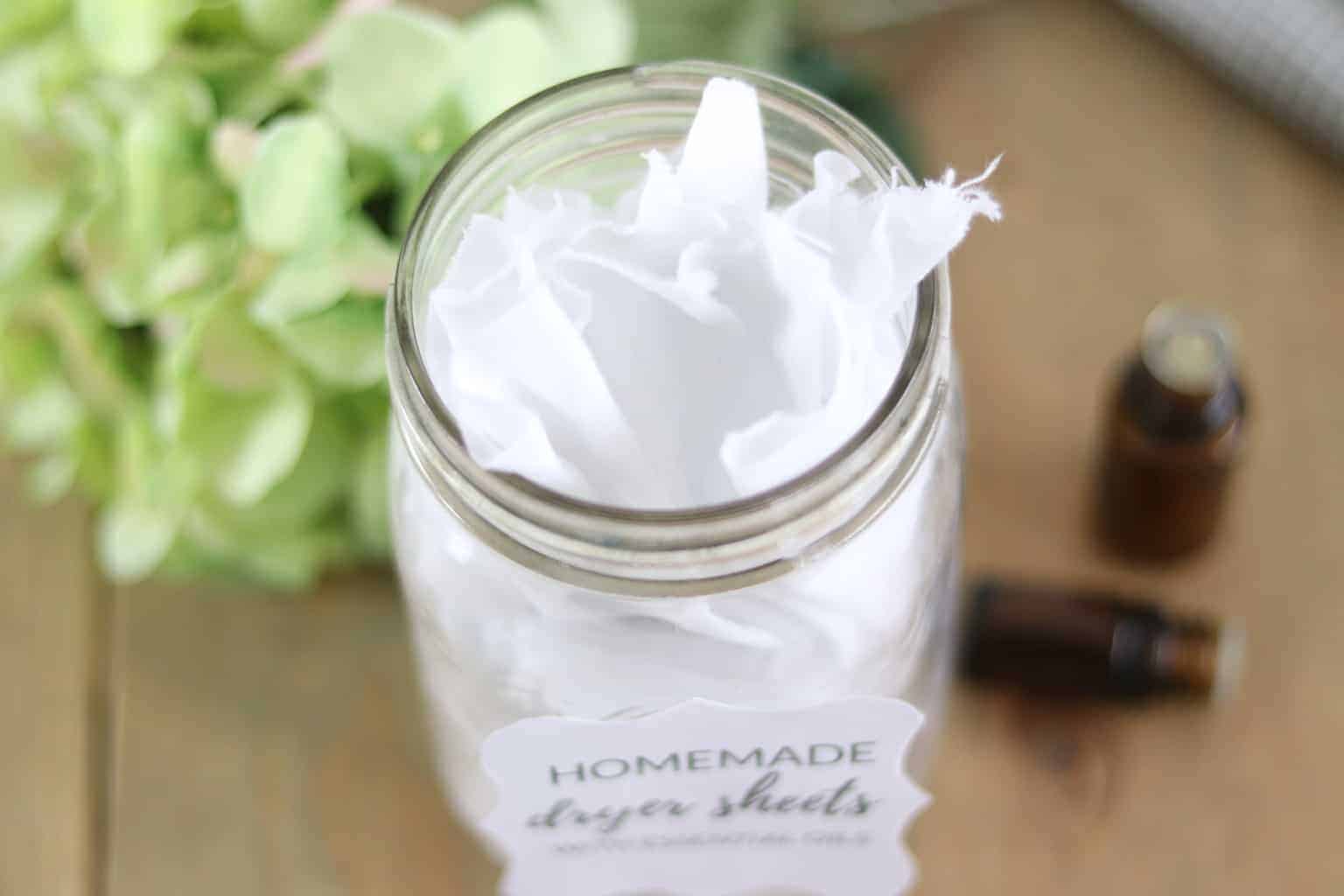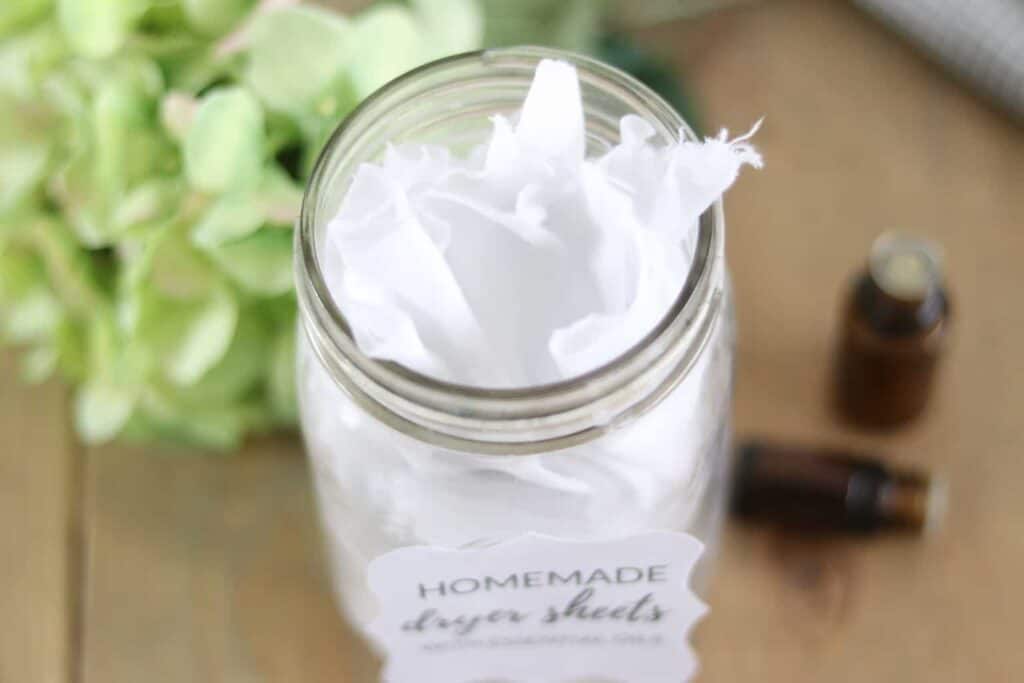 DIY dryer sheets
Regular fabric softener sheets are loaded with harmful chemicals and fragrances. Though they smell nice, they can cause skin reactions as well as other health complications.
DIY dryer sheets are a great option for anyone looking to reduce the number of chemicals being used in the home daily. Be confident in the products you use by making your own, using simple, natural and safe ingredients.
Anyone with sensitive skin or anyone who already buys unscented laundry soap or dryer sheets would benefit from these dryer sheets.
I like to make these homemade dryer sheets knowing the ingredients are eco-friendly and the sheets can be reused over and over to reduce waste.
PIN IT FOR LATER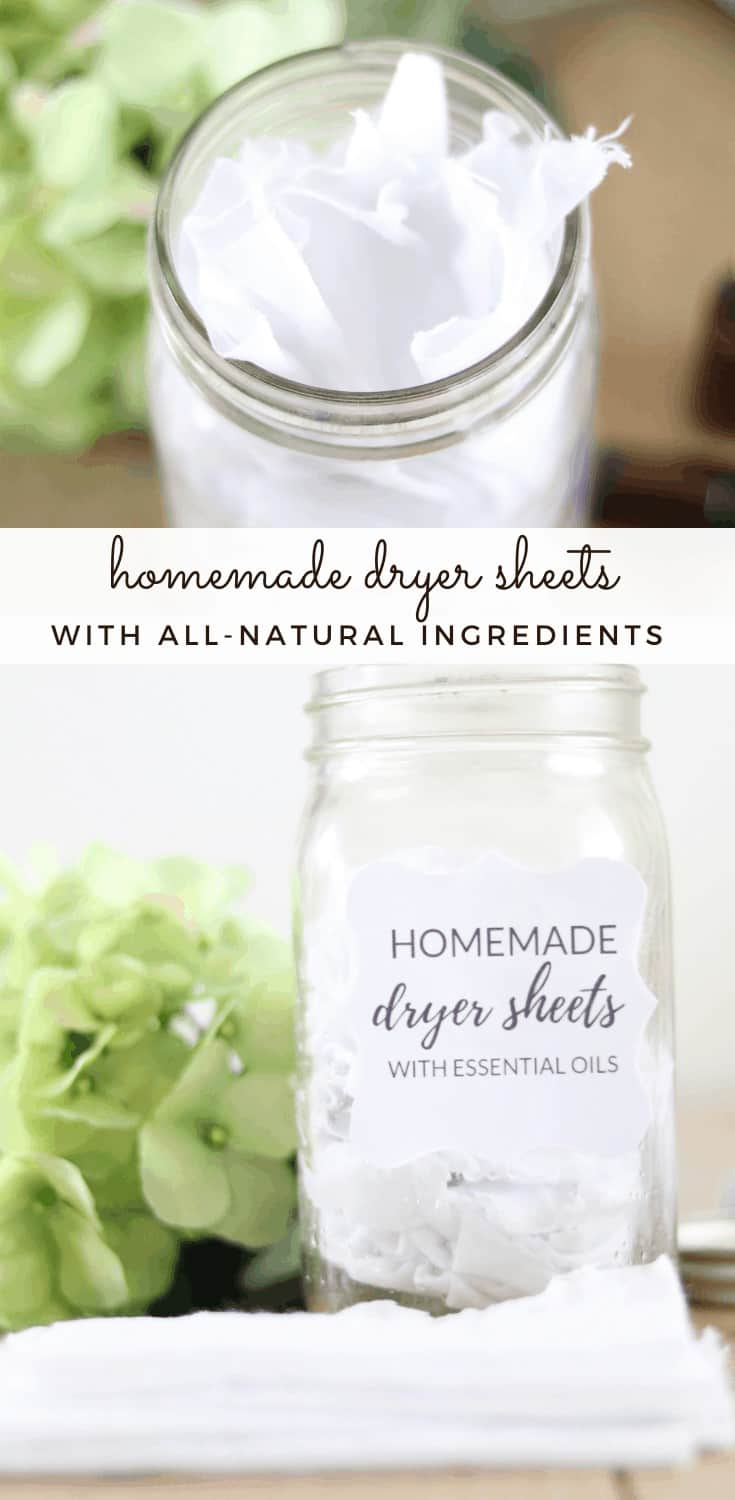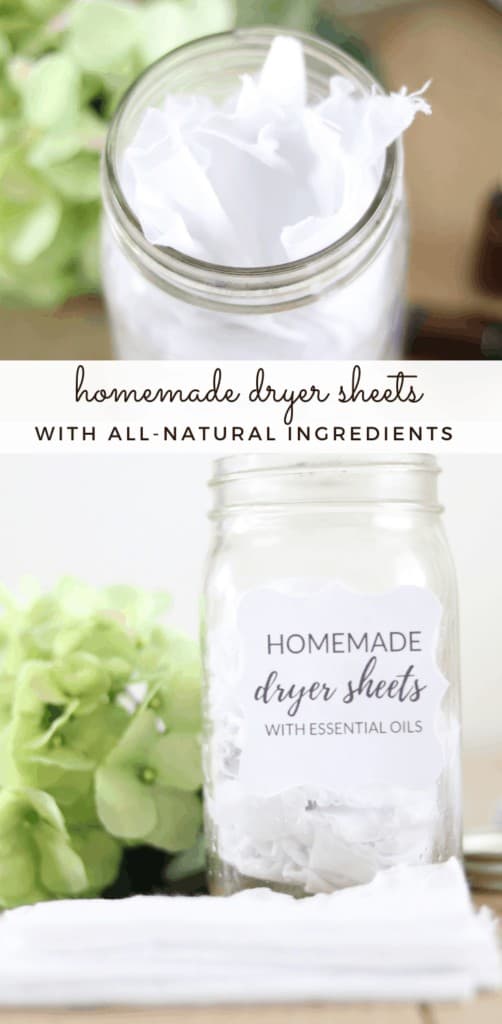 Have you ever made your own dryer sheets or laundry soap? Which blend did you end up going with?
I hope you enjoyed this post! Here are a few more laundry recipes you may like to read next!
Yield: 12 sheets
Natural Dryer Sheets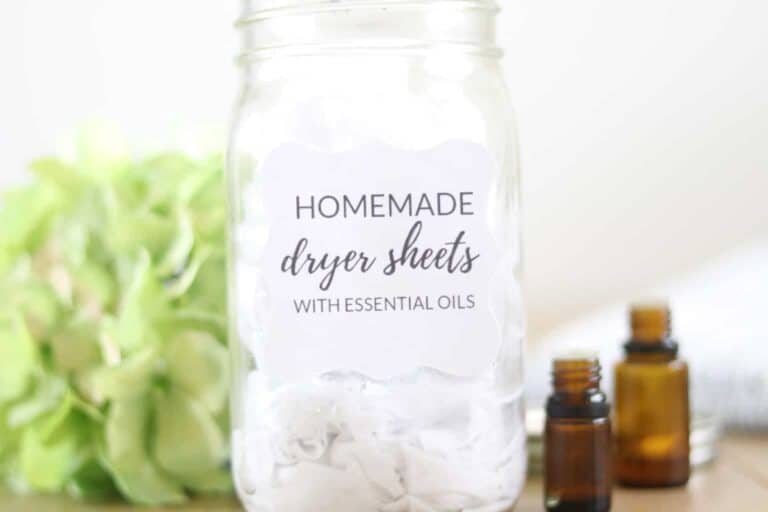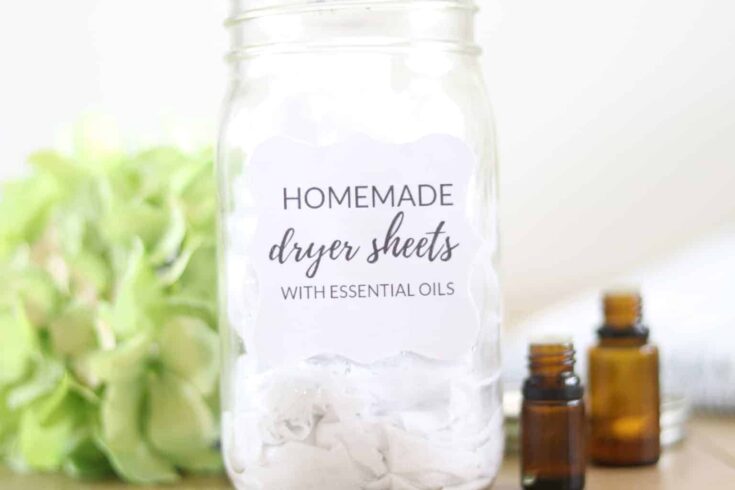 A simple natural dryer sheet recipe to soften clothes, reduce static and provide a blissful scent.
Ingredients
Instructions
Mix the vinegar and essential oils into a small bowl and stir until well combined.
Layer cloths in a mason jar or airtight container of choice.
Pour the liquid fragrance over the top, thoroughly saturating the cloths.
Add 1-2 cloth sheets per load.