A homemade conditioner is so much more than a hair softener for more manageable hair. A natural hair conditioner is necessary to hydrate, strengthen, thicken and support healthy hair.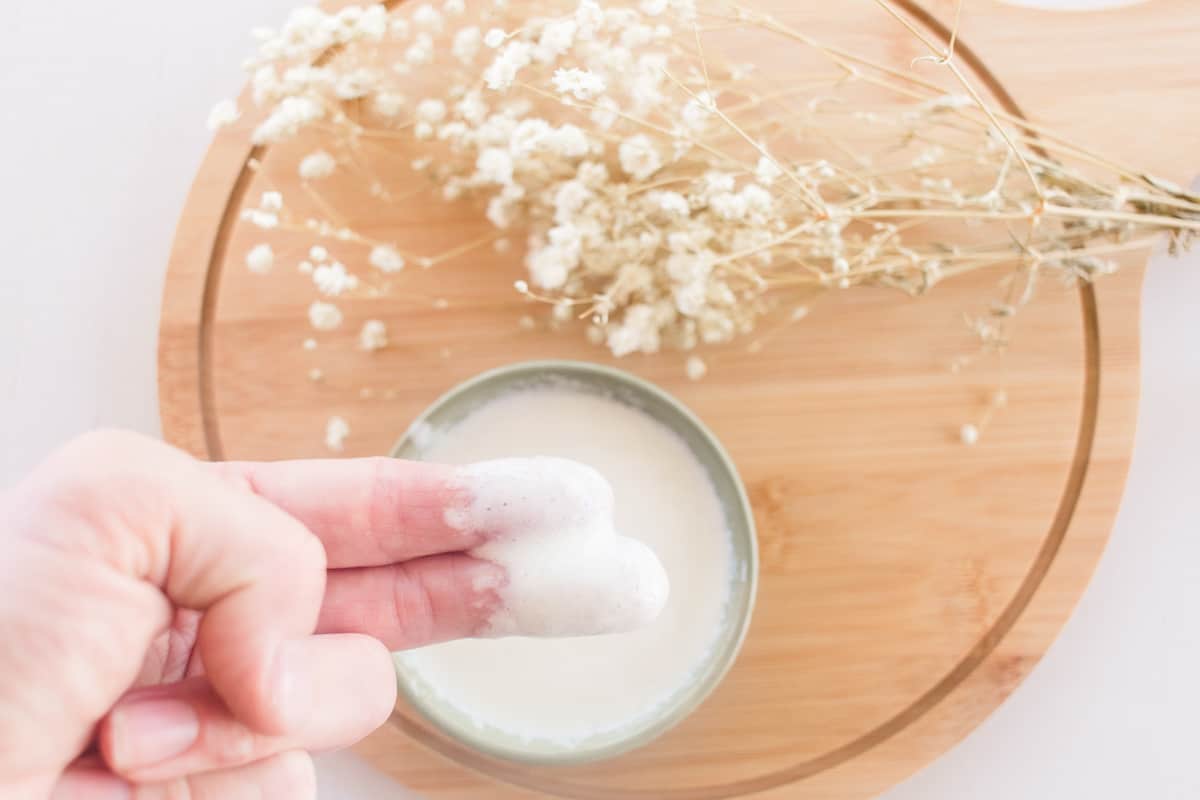 This recipe has been updated on April 17, 2023
As a beauty care enthusiast and recipe developer, some of my favorite DIYs involve body care; soaps, shampoos, and conditioners.
Hair conditioner is for everyone, although not every hair conditioner is suitable for every person. For me, my hair is pin straight and extremely fine
The conditioner my hair needs is going to be different than, say, my husband, who has quite the opposite hair.
His hair is thick, coarse, and curly. And out of all our children, not one got his hair. I was really hoping for at least one head of curls, but apparently, straight hair is dominant.
We may find ourselves skipping the hair conditioning step for those of us in the "fine, smooth hair" department.
I mean, do we really need to condition our hair every day? Do we even need to condition our hair at all?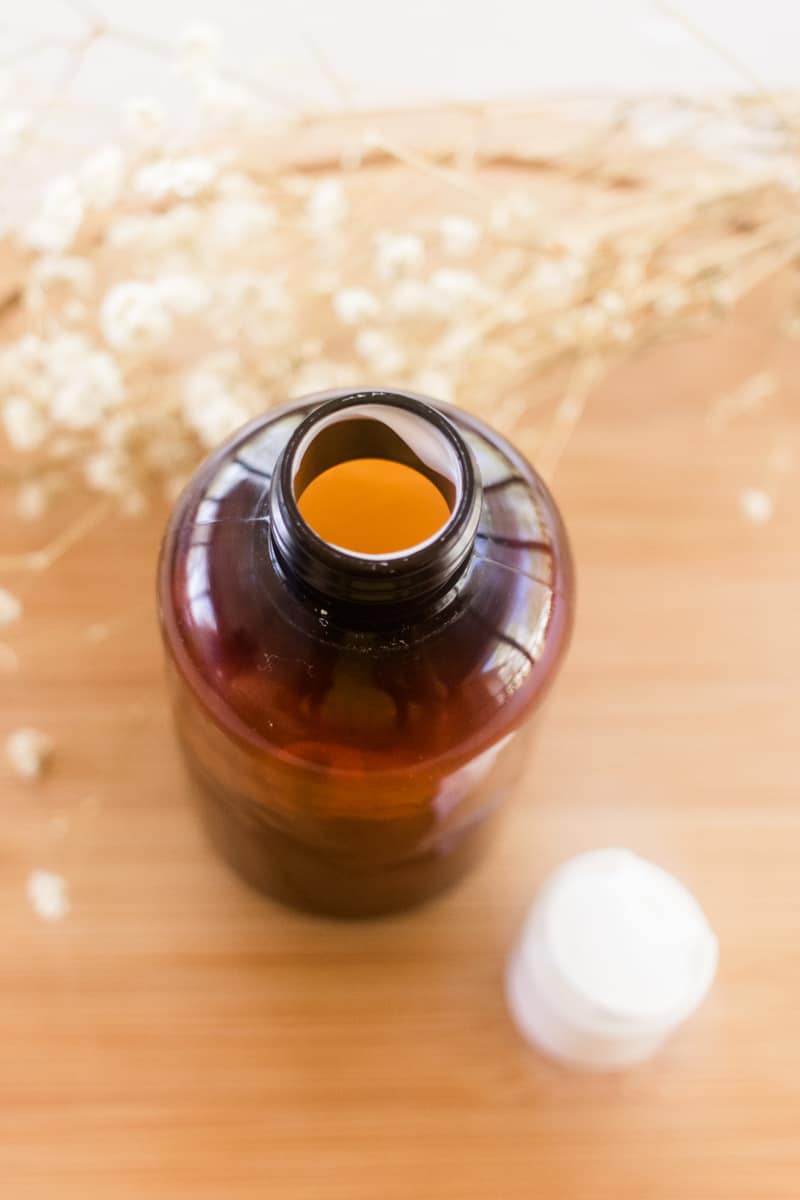 Is hair conditioner necessary?
You probably already know the answer to this question, but I think understanding what conditioner is will help us better understand why conditioner is necessary.
Yes, the answer is we all need conditioner; my fellow sleek-haired friends, frizzy, curly, coarse, and everything in between.
Hair conditioner replenishes the hair with the necessary oils that have been stripped from the strands during the washing process.
In addition, the conditioner provides a protective layer to each strand as well as softens the hair.
Is it ok to just use conditioner?
NO.-Ok, I admit, I'm trying to answer some of the questions I already receive about hair conditioner.
So while conditioner may provide minimal cleaning to the hair and scalp, it is not a substitute for washing the hair with a shampoo.
Both shampoo and conditioner are necessary for clean, strong, healthy hair.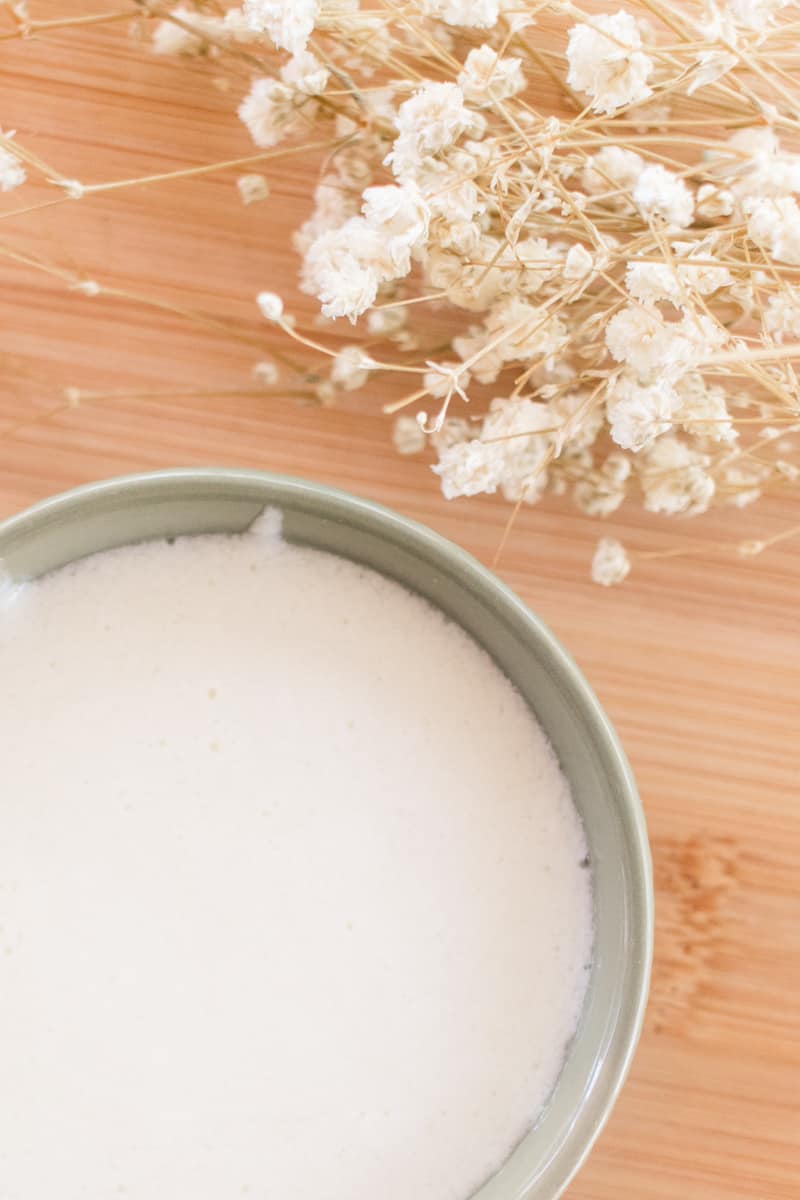 Homemade hair conditioner
This simple homemade hair conditioner will leave the hair soft, more manageable, and less prone to breakage or split ends.
Oh yeah, and the best part, it contains natural and sustainable ingredients.
This post contains affiliate links, which means I make a small commission at no extra cost to you. Get my full disclosure HERE.
INGREDIENTS
For added fragrance, add up to 6 drops total of essential oils. See recommendations below!
HOW TO MAKE HOMEMADE CONDITIONER
We'll need to start by melting the cocoa butter and emulsifying wax with the argan and jojoba oil.
This can be done using a double boiler or a small saucepan. Because it's such a small amount, I just use a saucepan on low heat.
Once those ingredients are melted, Transfer them to a mason jar or a tall-sided bowl.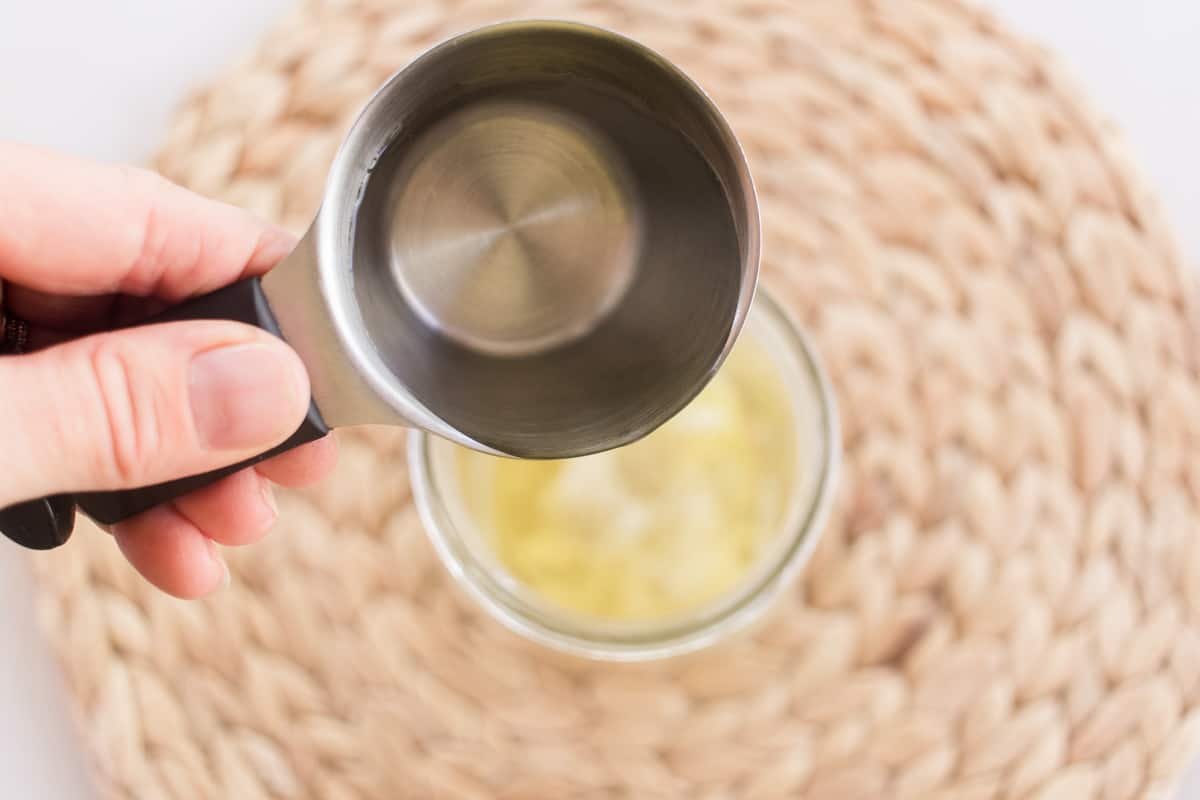 Add the water, cromollient SCE and aloe vera gel.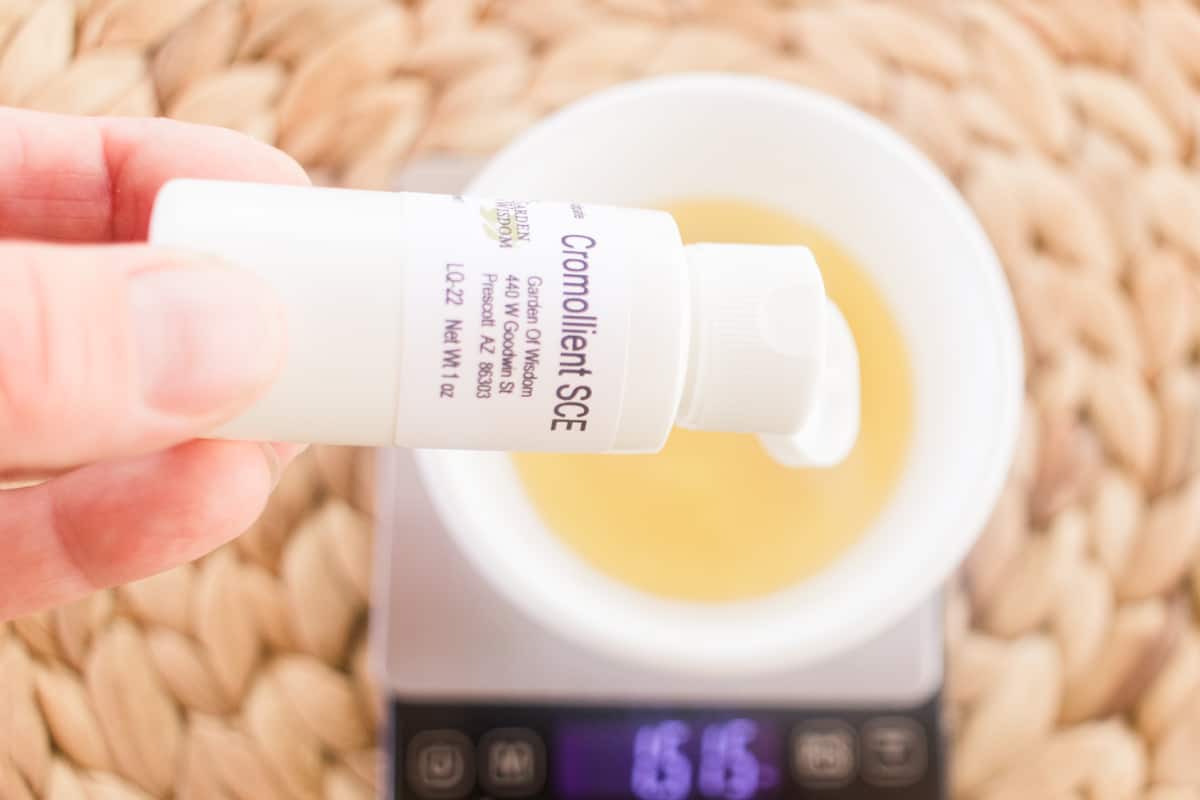 Use an immersion blender to emulsify the ingredients. You'll want to blend the ingredients for 30 seconds to ensure they are properly emulsified.
A whisk or spoon will not be sufficient to combine the ingredients.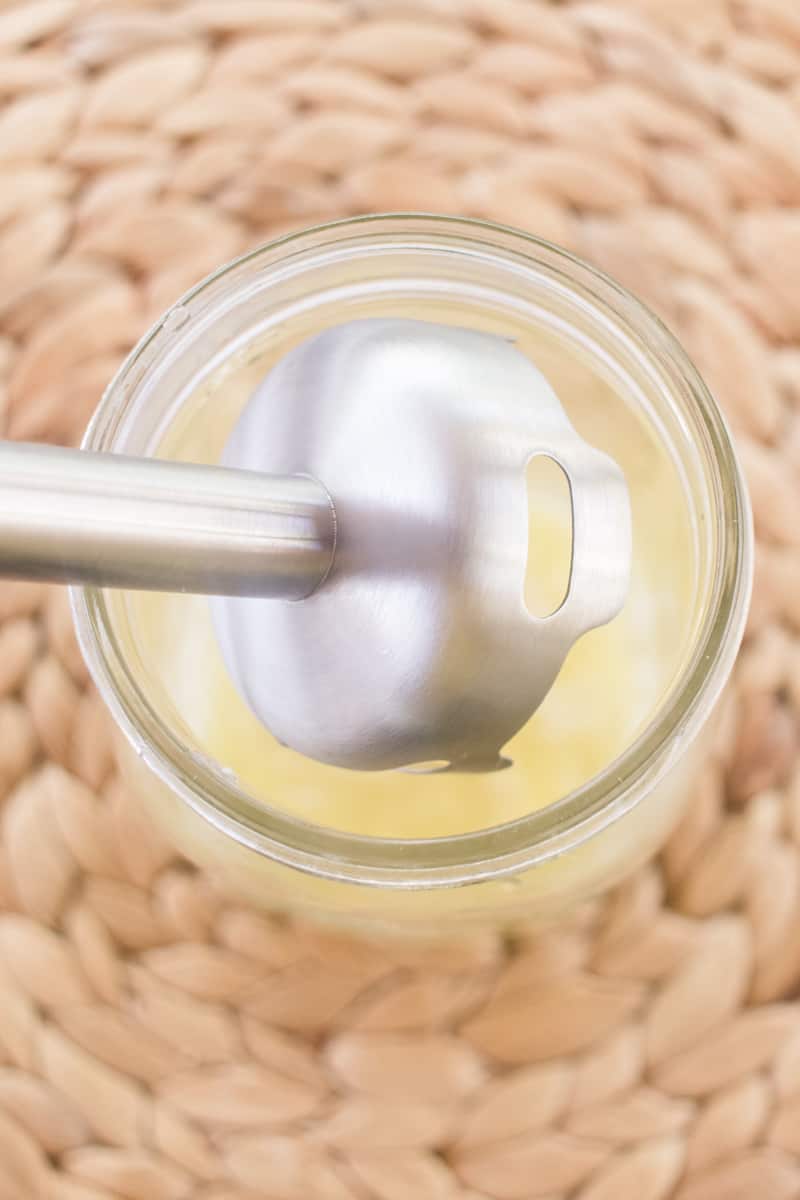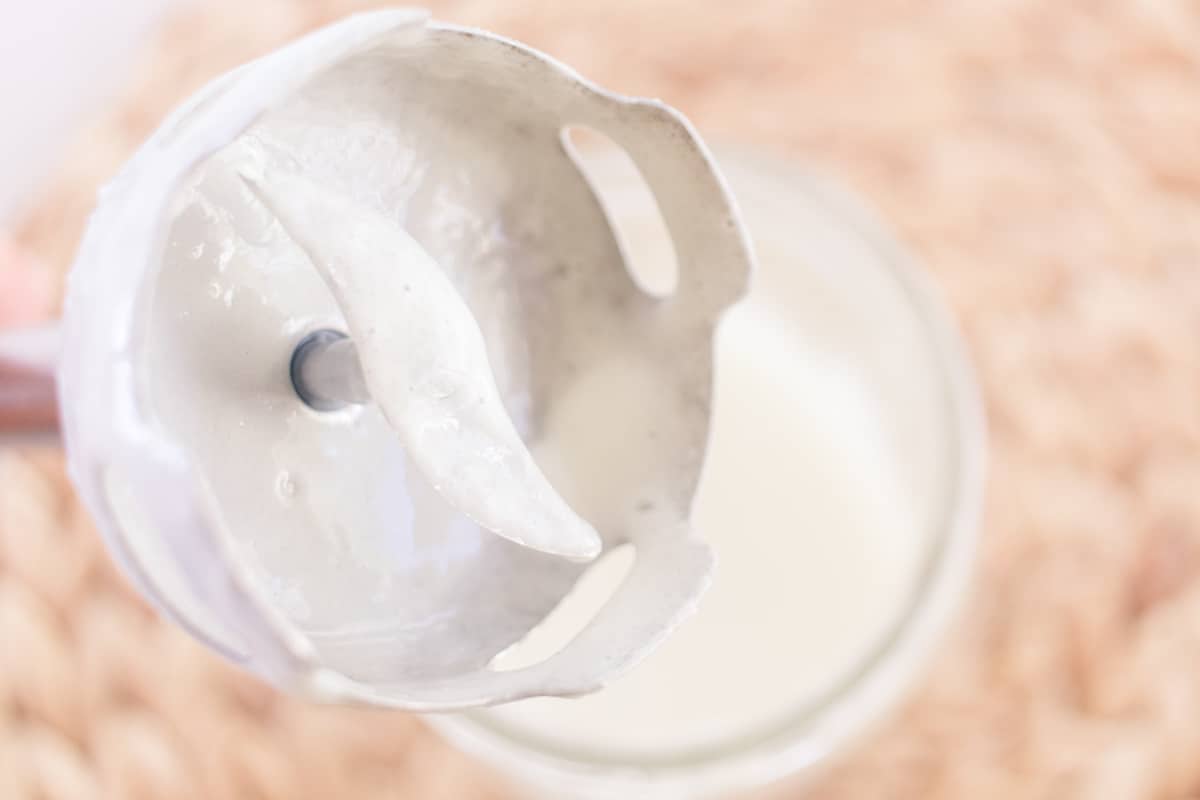 Next, add the prescribed amount of preservative along with any essential oils you may be using. Stir continuously with a spoon while it continues to cool.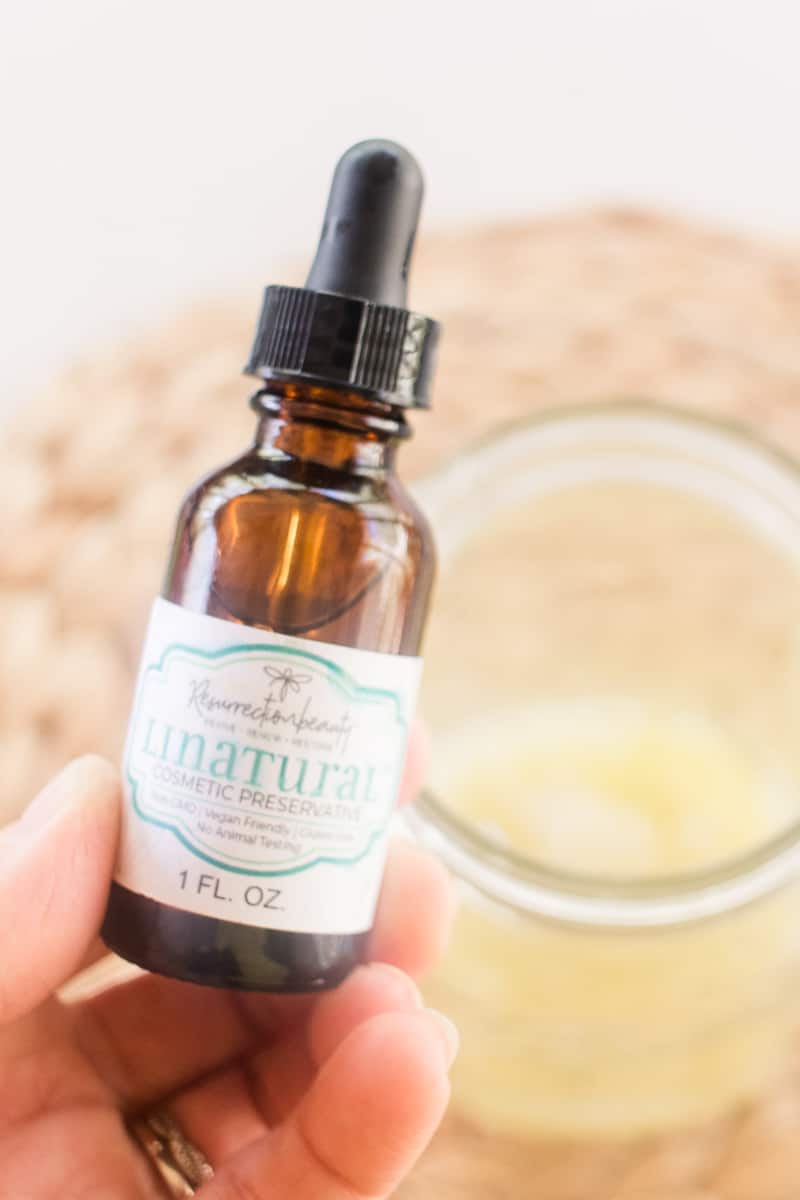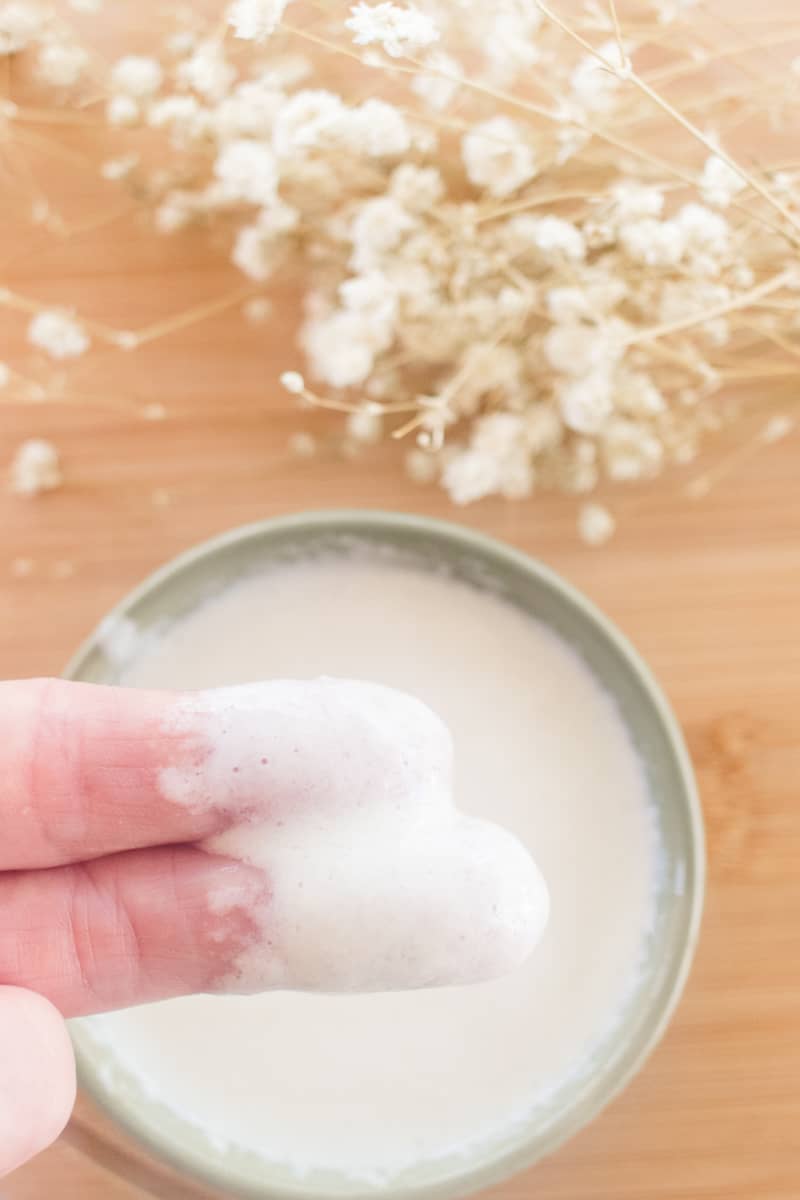 Finally, transfer to an old conditioner bottle or any container with a sealable top.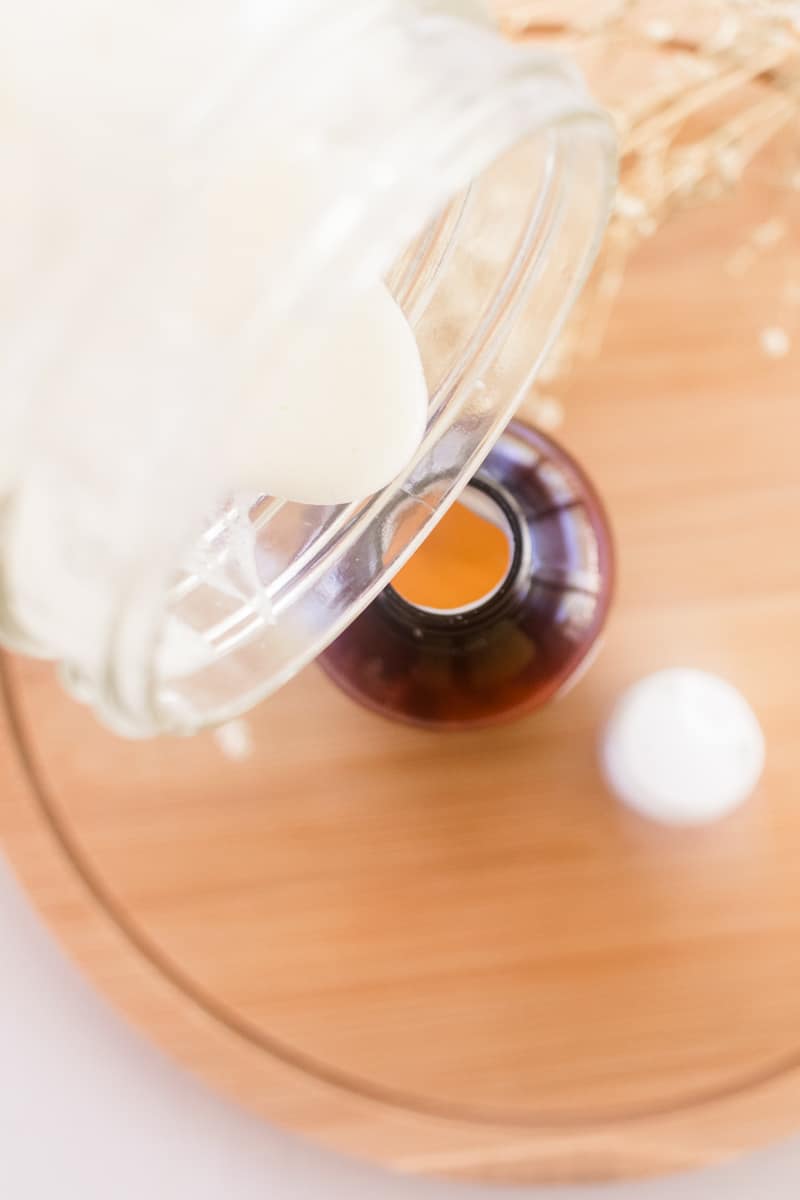 Use a small amount twice or three times a week for the best results.
I store my conditioner in an old bottle to help reduce waste and save money. On that note, I don't recommend using an open-top container such as a mason jar that water can easily enter.
Any extra water that becomes trapped in the jar becomes a breeding ground for bacteria, significantly reducing the shelf life.
Tips
The cromollient SCE serves two purposes; combine the water and oil and aid in washing off the product. If your hair seems oily after washing, add a few drops more, and if feels dry after washing, use a few drops less.
A preservative is required if you will be keeping this conditioner at room temperature; however, you can eliminate the preservative if you can store this product in the fridge for up to several weeks.
Allow the conditioner ingredients to fully cool before securing the lid.
This recipe can easily be doubled to last longer. Even with such a small amount, this bottle will last us about a month.
How often should I condition my hair?
Ideally, the hair should be conditioned after every wash to replenish the hair with the necessary nutrients. How often really varies from person to person.
If you have very coarse or dry hair, conditioning the hair more frequently may be required. For me, with very fine hair, I can get away with twice-a-week conditionings.
Use this conditioner with a natural shampoo or dry shampoo, depending on hair type.
Best essential oils for hair
Several essential oils can be used to promote a healthy scalp and hair. I use these oils in a number of hair care products, including hair growth spray, protein treatment, hair spray, and even my moisturizing hair mask.
Rosemary – is the number one oil for hair growth and thickness. It helps to treat dry hair, as well as overly oily hair and can help prevent split ends.
Lavender – studies have shown that lavender produces more hair follicles to help thicken and strengthen hair. In addition, lavender has a beautiful floral scent that promotes calmness and reduces stress; stress can be the biggest reason for hair loss.
Peppermint – this essential oil is known for the cooling effect it has on the skin when used topically and for its refreshing minty scent. Peppermint is also great for the hair as it promotes hair growth and thickness.
Sandalwood – my personal favorite-smelling oil of all time! Sandalwood can stimulate hair growth, help against dandruff, and promote a healthy scalp.
Bergamot – studies have shown that bergamot has been very successful at promoting hair growth when massaged into the scalp. With cleansing and purifying properties, it is also effective at keeping the scalp healthy.
Lemongrass – this essential oil has a citrus with a hint of a woodsy scent, making it a perfect scent for men or women.
I make a beard oil with lemongrass that my husband loves, and he is pretty picky about having products with manly smells! 😉 Lemongrass is great for the hair and can help to strengthen and thicken.
Clary Sage – adding clary sage to the conditioner will encourage hair growth by strengthening the hair and preventing split ends.
Wild Orange – I love the refreshing and uplifting aroma of wild orange. Wild orange is amazing for supporting the mood the immune system and can benefit the hair.
Tea Tree – tea tree promotes a healthy, clean-looking scalp. In addition, it can be used to help with a dry, itchy scalp and protect against lice.
Roman Chamomile – is a delicate essential oil that is sensitive enough to use on young children. It can help to soften the hair while adding shine. I love using this oil on my kid's hair.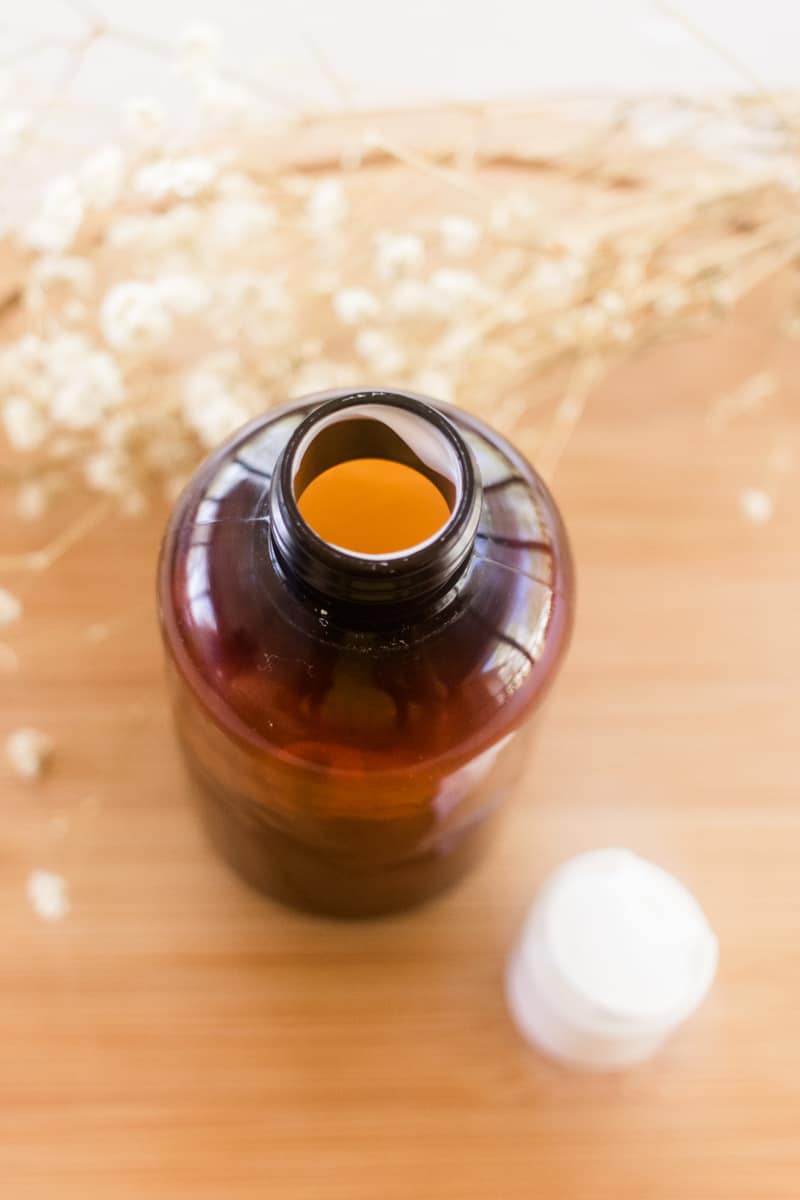 Favorite conditioner blends
Refreshing floral
2 drops of rosemary
2 drops of lavender
1 drop of peppermint
Tropical bliss
2 drops of lavender
1 drop of clary sage
1 drop of wild orange
1 drop of lime
The mens blend
3 drops of sandalwood
2 drops of bergamot
1 drop of lemongrass
Gentle children blend
2 drops of lavender
1 drop of Roman Chamomile
A LITTLE ON THE INGREDIENTS
Cocoa butter
Cocoa butter is found in many, and I mean many of my DIY products. It is incredible for the skin and hair, and it's edible (which is probably why I am tempted to eat things like my homemade lip balm and body butter)!
Cocoa butter is extremely moisturizing for the skin and works well at conditioning the hair. In addition, it provides shine, protects against split ends, and softens hair.
Emulsifying wax
Emulsifying wax is made up of cetearyl alcohol and polysorbate 60 and is a welcome addition to this homemade conditioner. In addition to its hair-softening capabilities, we've included this ingredient to thicken the product to a conditioner-like finish.
Jojoba Oil
Jojoba oil is often used to protect against dandruff because of its moisturizing properties. Using jojoba can also help prevent hair loss along with thickening hair by preventing dryness, a cause of hair loss.
While jojoba oil is an essential part of this recipe, if you have naturally oily hair, you may benefit from an apple cider hair rinse.
Argan Oil
Naturally moisturizing and protecting, argan oil is a welcome addition to this conditioner recipe. This hydrating ingredient promotes natural shine while hydrating your strands.
Aloe Vera
Some people use plain aloe for a hair conditioner, which works fantastic, especially as a hair conditioning treatment. You can apply aloe to the hair and allow it to soak for 2-4 hours or overnight, and then rinse to heal damaged hair.
Aloe can reduce dandruff by repairing dead skin cells on the scalp leaving your hair full and glistening.
Cromollient SCE
Necessary to aid in combining oil and water, and improves wash-off.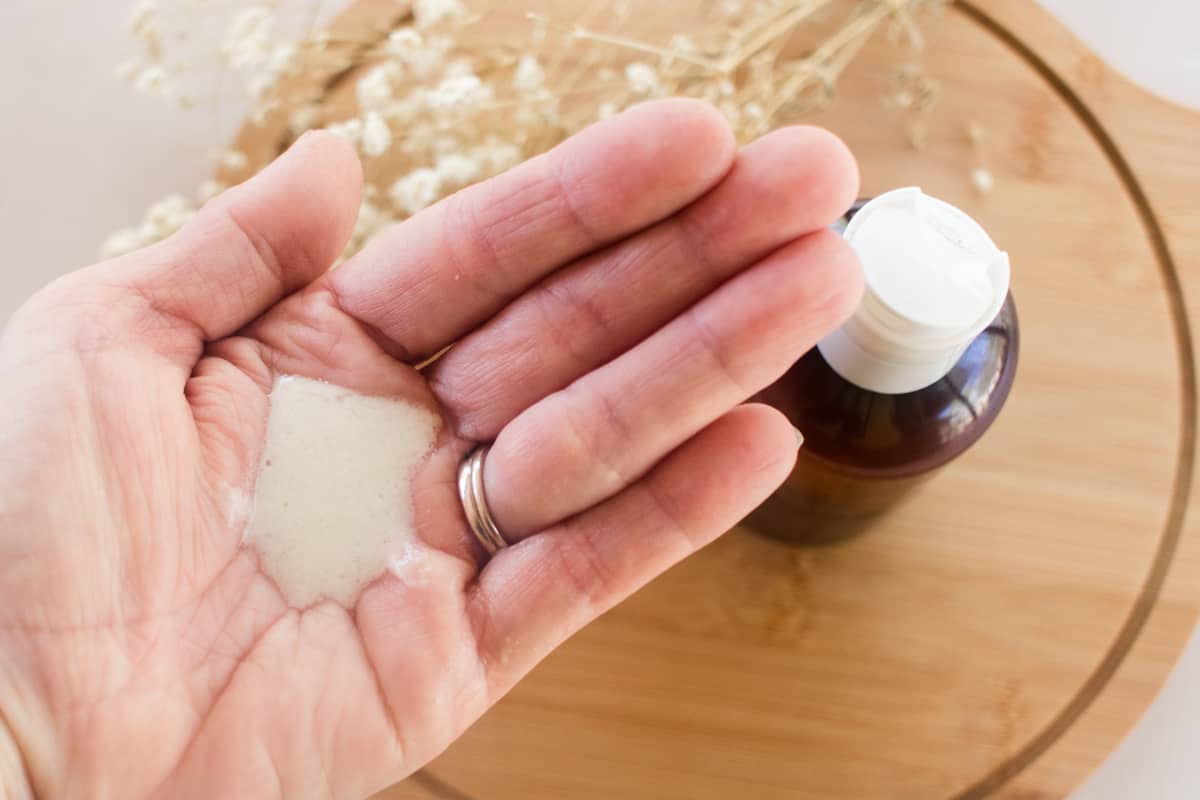 Natural Conditioner
Have you tried a homemade hair conditioner? How did it make your hair feel? What essential oils did you add? Share your stories with us in the comments below!
I do hope you found this simple recipe helpful. Everything we put onto our body can be absorbed into the body, which is why knowing exactly what is in every haircare and skincare product is so important.
This hair conditioner is made using simple, natural ingredients for smooth, shiny hair.
A few more popular reads
Yield: 1 bottle
Homemade Hair Conditioner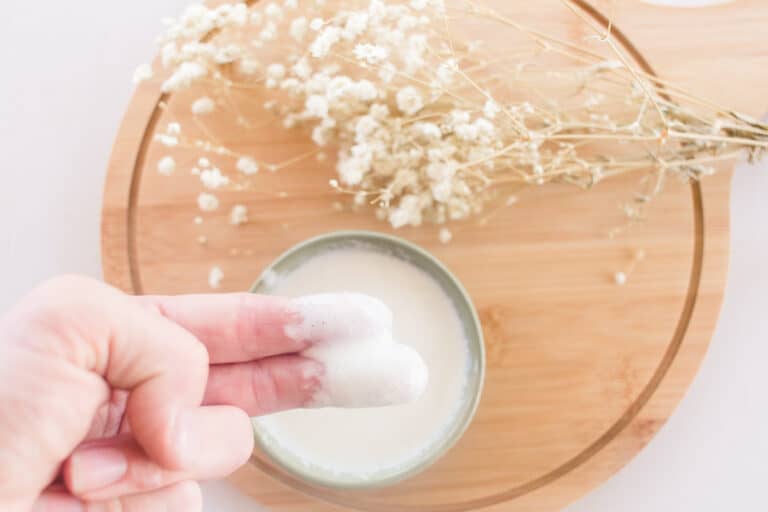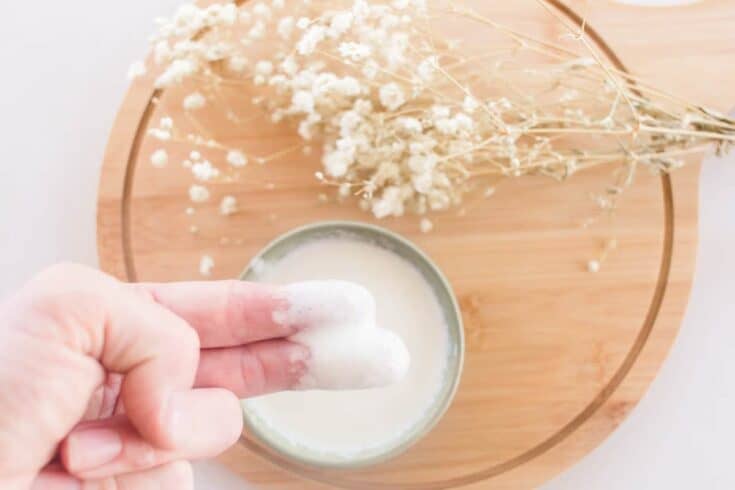 Homemade Hair conditioner to soften and strengthen all hair types.
This recipe has been revised to work for multiple hair types. As a result, the comments may not accurately reflect the changes.
Additional Time
5 minutes
Materials
Tools
Instructions
Start by melting the cocoa butter and emulsifying wax with the argan and jojoba oil. This can be done using a double boiler or a small saucepan. Because it's such a small amount, I just use a saucepan on low heat.
Once melted, add it to a small bowl along with the water, aloe vera gel and cromollient SCE.
Emulsify the ingredients with an immersion blender for 30 seconds.
Add your preservative and any essential oils you may be using and stir with a spoon continually as it cools.
Finally, transfer to an old conditioner bottle or any container with a sealable top to prevent water from entering.
Use a small amount twice or three times a week for best results.
Notes
All hair types are different, and as a result, this conditioner may not be for everyone.
Because there is water in this recipe, you must use a preservative or store it in the fridge.
The cromollient SCE allows the oils to emulsify with water and improves the wash-off of the product. You can adjust the amounts based on how well the conditioner washes out of your hair. The recommended usage is 2-10%.
If you use essential oils, be sure to store the product in a thick plastic or glass container.