Enjoy the calming, natural fragrances of essential oils in your home by learning how to use an essential oil diffuser. Bring your stress levels right down and cleanse the air at the same time. Great for room freshening needs!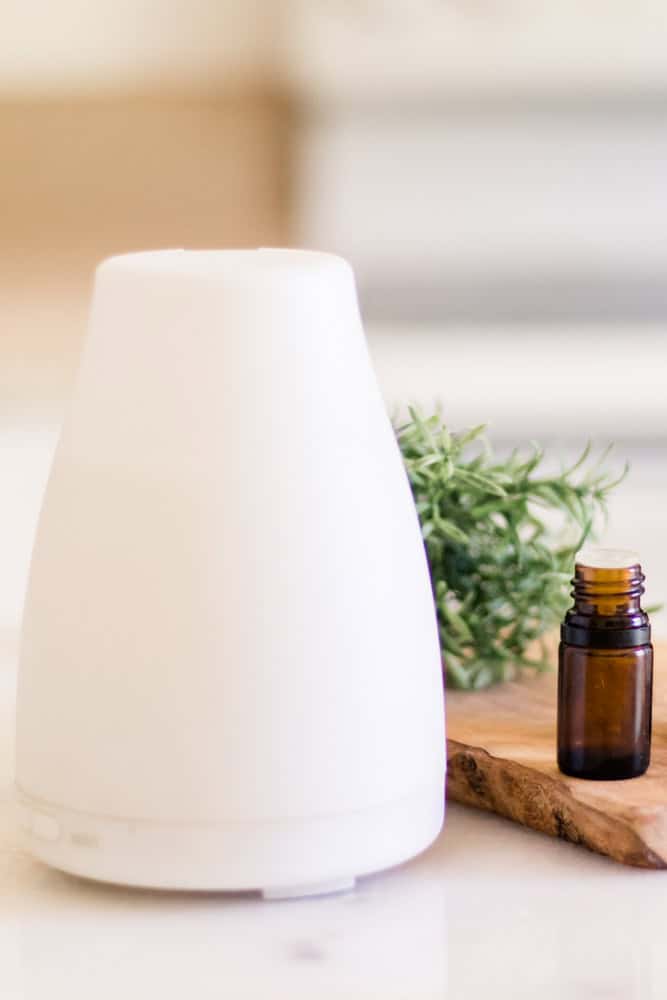 If you've never experienced the delights of diffusing essential oils, then you're in the right place.
As an avid essential oils user, I love diffusers of every kind (and I'm not ashamed to admit it!)
I've got several diffusers around my home for different rooms, which get used daily (sometimes hourly, in fact – and I'm not kidding!)
Perhaps you're unsure how even to use an essential oil diffuser – if so, I'll explain everything.
An essential oil diffuser is a safe and enjoyable way to experience essential oils.
Being fantastic for adding natural fragrance to your living space, they have a direct impact on your health too – as an air cleanser and mood calmer, as well as many other benefits. 
I'll share how to use an essential oil diffuser in this post so you can start experiencing essential oils right away.
Once you start, you'll not stop, believe me!
What is a diffuser?
A diffuser is a device that allows you to combine essential oils with water, which then gets vaporized into the air in your home.
It's a wonderful, gentle way of working with essential oils for fragrancing a room naturally, or for cleansing the air or boosting your immune system, reducing stress, and many other uses.
The diffuser is the device that does the work – it creates a vapor out of the water and essential oils mixture (which you add to it beforehand).
Sometimes a diffuser has a timer that can be extended or reduced at your leisure, meaning you can have it running for as long or short as you like.
Others have an auto shut-off as a safety feature and energy saver, and many come with pretty colorful lamps, so you get an ambient glow alongside the fragrance of essential oils.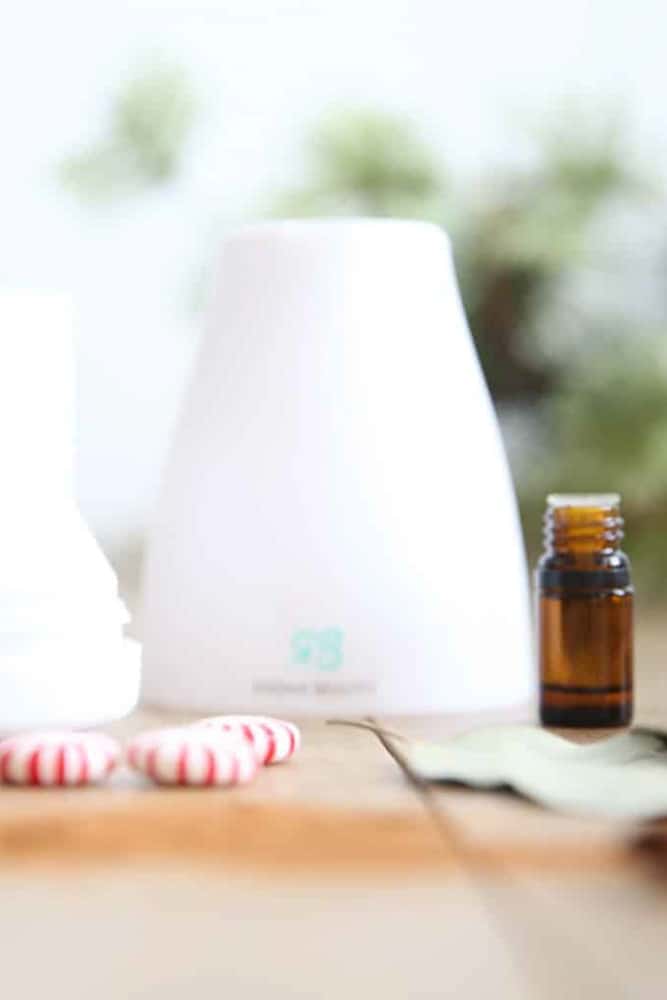 This post contains affiliate links, which means I make a small commission at no extra cost to you. Get my full disclosure HERE.
How to use an oil diffuser
They're easy to use once you've done it once and set it up properly.
You simply take the top off the diffuser and the underlying cover (if it has one), fill the basin with water up to the 'fill line,' and then add the recommended number of drops of essential oil of your choice.
Make sure you check the dosage chart below for oil drop recommendations.
Then, simply put the diffuser lid back on and plug it into a power socket. And press the 'on' or 'start' button to diffuse.
It's worth mentioning that every diffuser model is different, but the basic functioning is the same.
They usually come with pretty comprehensive instructions, too, so make sure you read those!
choosing the right diffuser
It really is a personal preference when it comes to choosing diffusers.
Some are better from a build quality point of view, whereas others may look nicer displayed in your home.
You need to ask yourself what you want from a diffuser.
If you only want to diffuse essential oils and use them for fragrance purposes, then you don't need to spend much money.
Whereby if you want a lamp feature or to pretty up your decor, you may be looking at something slightly more expensive.
You could also look into second-hand options – in stores and online, you can pick up some great, used diffusers.
Just make sure you give them a good clean before using them. (Learn how to clean a diffuser here)
My favorite diffusers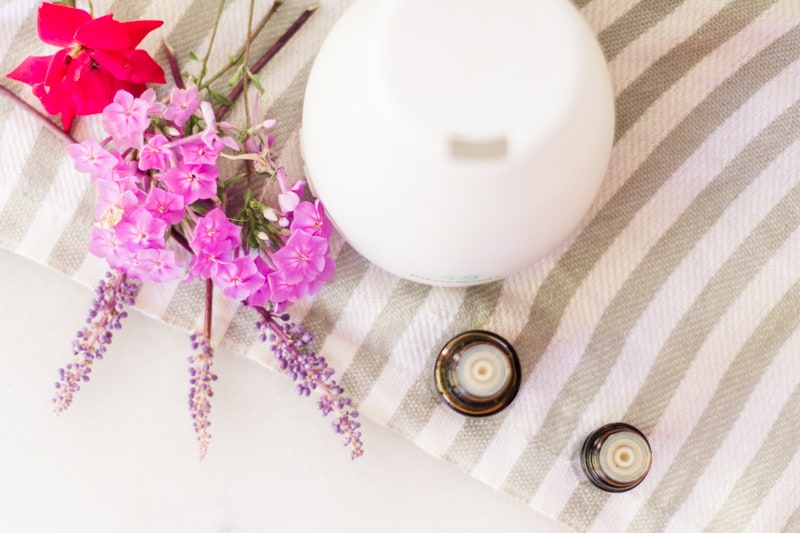 how to diffuse essential oils
Below is a handy chart that guides you on how many essential oil drops to use per the size of your diffuser.
And here are some simple instructions to get you started.
Add fresh, cool water to the fill line.
Add in your essential oil or blend of oils. Typically 10-15 drops depending on the diffuser and room size but check the guidance chart below.
Select time. Usually, 2 or 4-hour diffuser time, but it does vary.
Press start and enjoy!
Here is the guidance chart for reference – it explains how many drops of essential oils per the size of the diffuser.
200mL diffuser – add 6-10 drops of essential oils
300mL – 11-15 drops
400mL – 16-20 drops (this is the most common size)
500mL – 20-25 drops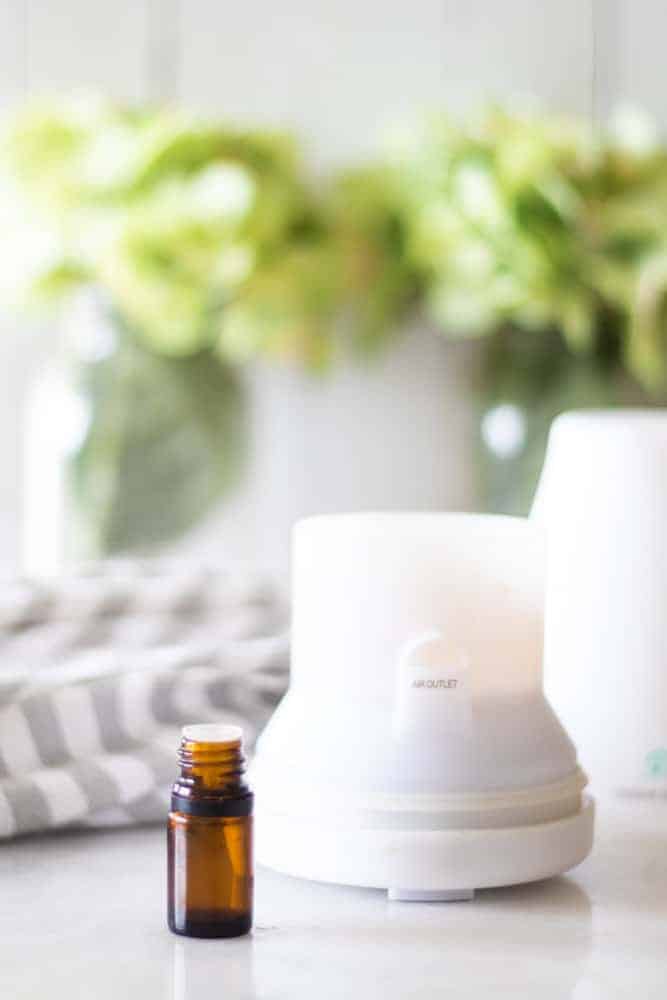 Tips
The most important thing to know is that you can't fill above the max water line, as it'll drastically reduce the life of your diffuser and potentially cause an overflow on your home surface.
Also, ensure you only diffuse your oils in an open, well-ventilated area with good airflow and doors open.
Note to those who have pets! Pets' noses are more sensitive than humans – so please make sure they can leave the room if needed.
One important thing with regularly using diffusers is to clean them. Periodically cleaning your diffuser will help prevent mold from building up and help extend its longevity.
If you leave essential oils in a diffuser overnight or even longer, the diffuser will start absorbing the essential oil fragrance, which makes it harder to clean the next time you use it.
Try to empty your diffuser after every use; that's what I do. And dry it properly, which will help keep it working well.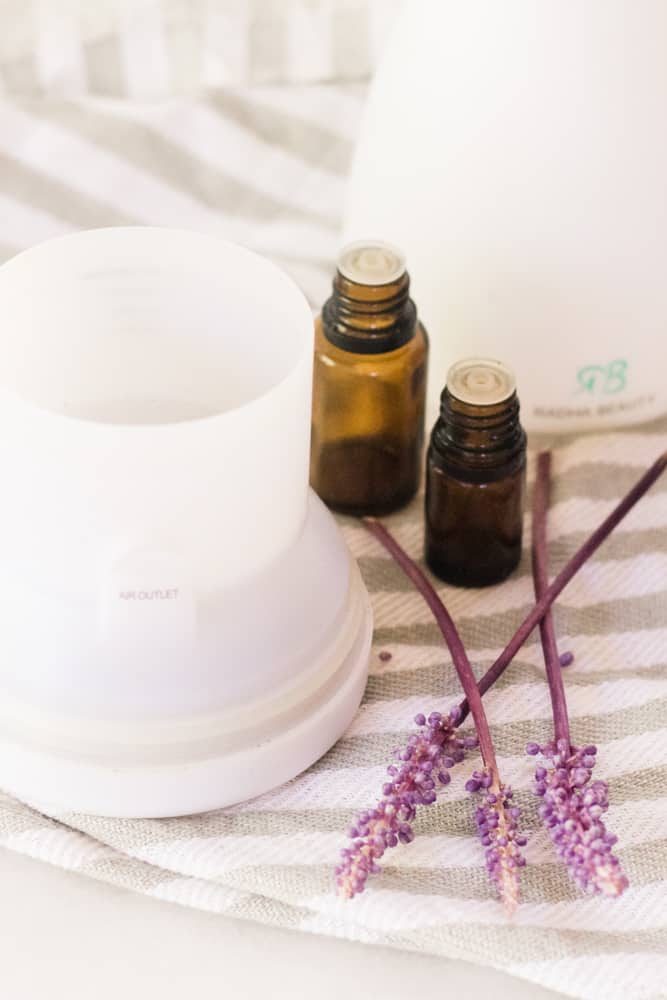 Are essential oil diffusers safe?
Yes, they are, once you know how to work them.
However – caution must be taken when choosing which essential oils to diffuse. I suggest doing a bit of research first before you add essential oils to your diffuser.
Generally, the safer oils to diffuse are those you can use on your skin too, such as Lavender, Lemon, Orange, Eucalyptus, and Geranium oils.
While diffusers may be used around all ages, consider reducing the amount of oils when diffusing around younger children. Or check out these best diffuser blends for children here.
If you're looking for inspiration regarding essential oil blends, check out this post where I share my favorites.
Hopefully, you've found this post useful. If you've got any questions about diffusers, drop them below in the comments, and I'll get back to you.
For your next read, I recommend one of these next.
Yield: 1 diffuser blend
How to use an Essential Oil Diffuser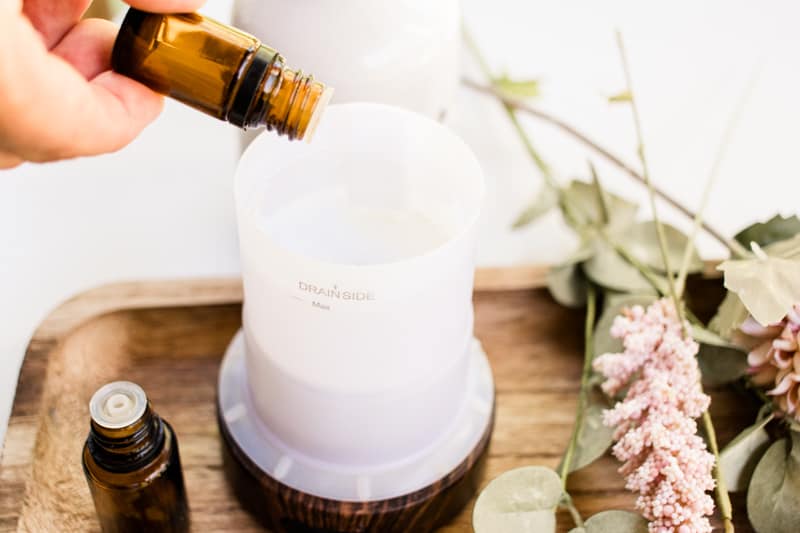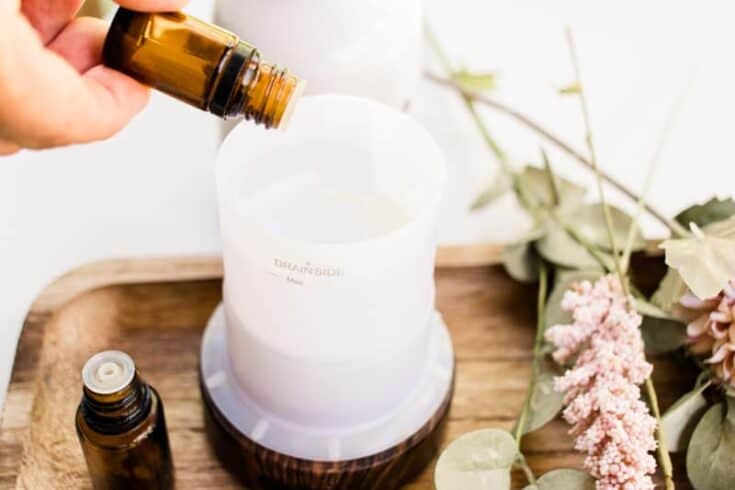 A simple breakdown of how to use an essential oil diffuser.
Materials
Instructions
Add fresh, cool water to the fill line.
Add in your essential oil or blend of oils. Typically 10-15 drops depending on the diffuser and room size.
Select time. Usually 2 or 4-hour diffuse time.
Press start and enjoy!
Notes
Here is a chart for reference - it explains how many drops of essential oils per the amount of water in the diffuser.
200mL diffuser - add 6-10 drops of essential oils
300mL - 11-15
400mL - 16-20 *this is the most common size
500mL - 20-25