Looking for a natural and relaxing way to unwind after a long day? Try making your own DIY bubble bath with castile soap! This recipe is easy to make and uses all-natural, gentle ingredients on your skin.
Adults and kids can enjoy a soothing and relaxing soak in this homemade bubble bath. Give it a try today and see how it can help you de-stress and unwind!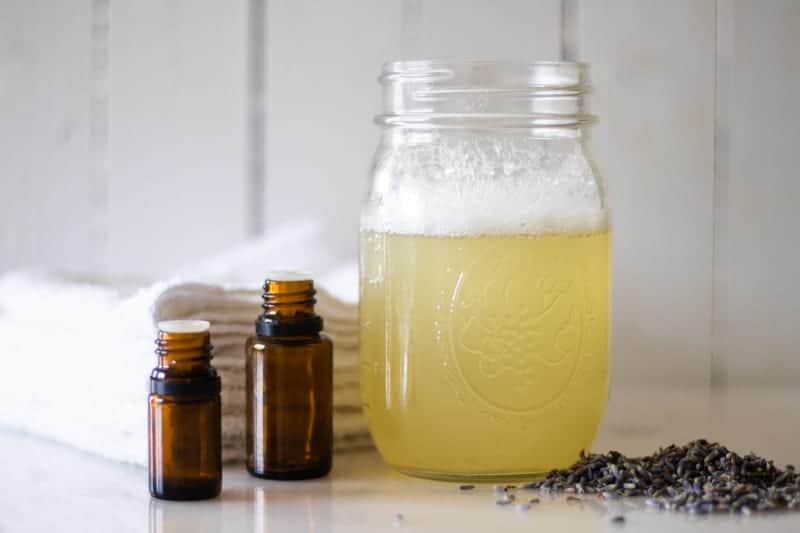 This was updated in March 2023 with a revised recipe.
I have many fond memories of taking bubble baths as a kid, but now as an adult, it's a great way to relax after a long day.
So light some candles, get a good book, and sink into a warm, bubbly bath. You deserve it!
And best of all, this bubble bath recipe doesn't come with the hefty price tag of most natural baths.
NATURAL BUBBLE BATH
I don't know if I just spoiled my kids or if it's just how it is, but a few of my kids absolutely hate regular baths. Turns out, there's a simple solution – add bubbles or bath bombs!
Creating your own bubble bath using natural ingredients is not only a cost-effective option but also guarantees that your bath time is free from harmful chemicals.
By using natural ingredients, you can enjoy a relaxing soak without worrying about potential negative effects on your skin or the environment.
Some have even reported relief from certain skin conditions after using non-toxic homemade bubble baths.
Most bubble baths contain artificial fragrances, and some have artificial dyes, which can cause allergic reactions and contain hormone disturbers and carcinogens.
Some ingredients found in store-bought bubble baths can trigger common skin conditions such as eczema and other skin irritations to flare up.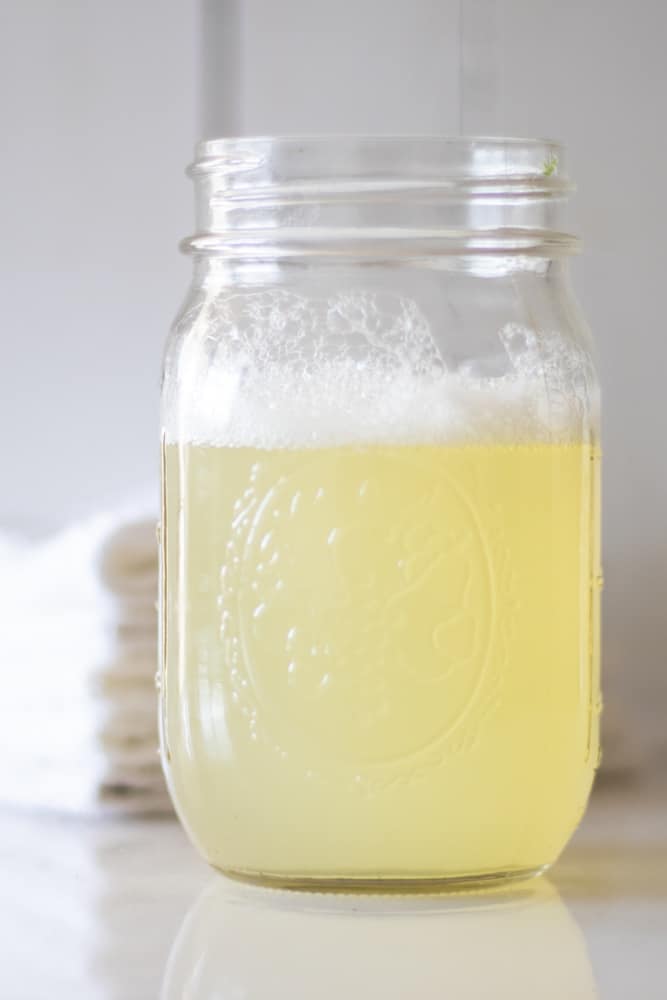 This post contains affiliate links, which means I make a small commission at no extra cost to you. Get my full disclosure HERE.
Bubble bath ingredients
To make a bubble bath, you really only need three ingredients: castile soap, vegetable glycerin, and a foaming agent, which we'll be using a natural surfactant.
You have the option of adding aloe vera gel and essential oils for a natural fragrance.
Castile soap
Castile soap has become a staple in my household for everything from natural cleaning to skin care products. It is made from plant oils, making it safe for most sensitive skin types.
You can find this soap scented or unscented with a formula specifically for babies. It is very concentrated and, as a result, should be diluted before use.
I prefer to use unscented Castile soap from Dr. Bronners, and then I can use my essential oils to scent it how I want. Castile soap is not tear-free, so you need to be careful when using this with kids.
Vegetable glycerin
Glycerin is a vegetable-based, odorless, clear liquid. It will add thickness to shampoos and body washes while providing a great lather.
Glycerin is a natural moisturizer and will help your skin to stay smooth and soft.
It is a perfect ingredient to add to this natural bubble bath, as it will help give the bubbles a boost allowing them to last longer.
Decyl Glucoside
Derived from renewable plant-based sources, decyl glucoside is a widely used surfactant in natural personal care products.
Its ability to create a rich and stable foam, coupled with its gentle cleansing properties, makes it a perfect ingredient in bubble baths.
Aloe vera gel
Adding aloe vera gel is not required to create bubbles, so if you don't have any on hand, that is OK; you can still make this!
Aloe vera is a perfect addition to this soak because of its antibacterial, antifungal, and antiviral properties.
It can help keep the skin clean and free of infection and is full of powerful antioxidants. Aloe is also very moisturizing and soothing to the skin.
Lavender Essential oil
Lastly, we have essential oils for the bubble bath. I love the relaxing aromatherapy benefits of lavender essential oil.
With its delicate fragrance and calming properties, lavender is an excellent option for those with sensitive skin, while its soothing scent can help promote relaxation and reduce stress.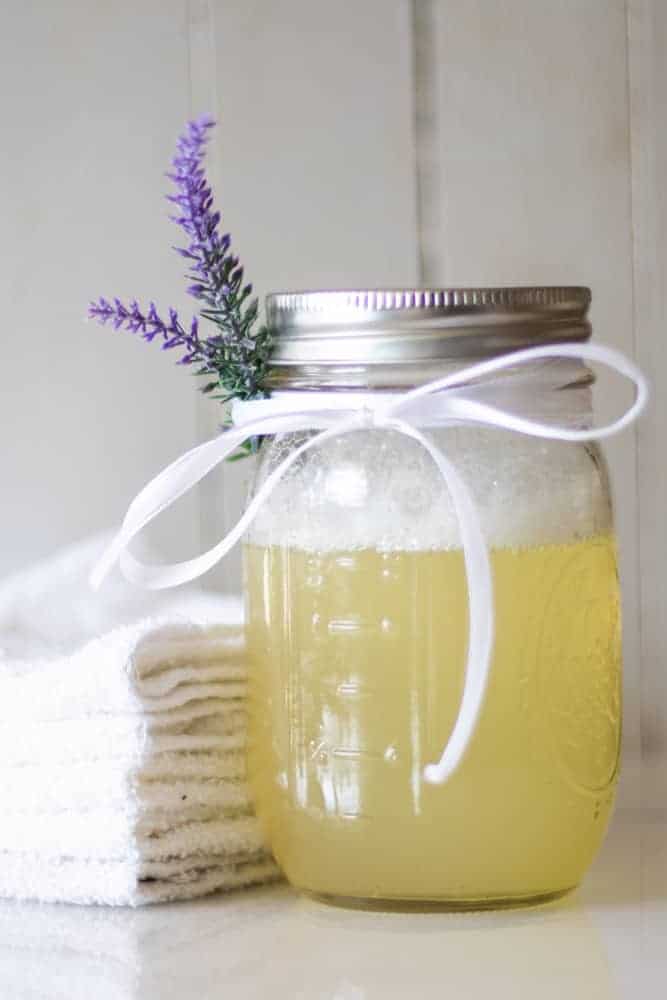 Why you will love this bubble bath
Easily customizable: You can put your finishing touches on this recipe by customizing your favorite scents!
Cost-effective: Enjoy a guilt-free bathtime without breaking the bank.
Natural and gentle: Not only will you save money, but you can also feel good about using natural and eco-friendly ingredients.
Easy to make: No special equipment required! Just a few ingredients and an airtight container are all that you need to get started.
DIY bubble bath recipe
Indulge in a calming and relaxing evening with this easy recipe for foaming bubbles. Be sure to follow the step-by-step instructions below and let the relaxation begin!
INGREDIENTS
INSTRUCTIONS
Add the castile soap, vegetable glycerin, and decyl glucoside to a pourable container such as a mason jar and stir well.
Stir in aloe and the lavender essential oil if using.
For best results, slowly pour into a warm bath under the stream of water.
Enjoy!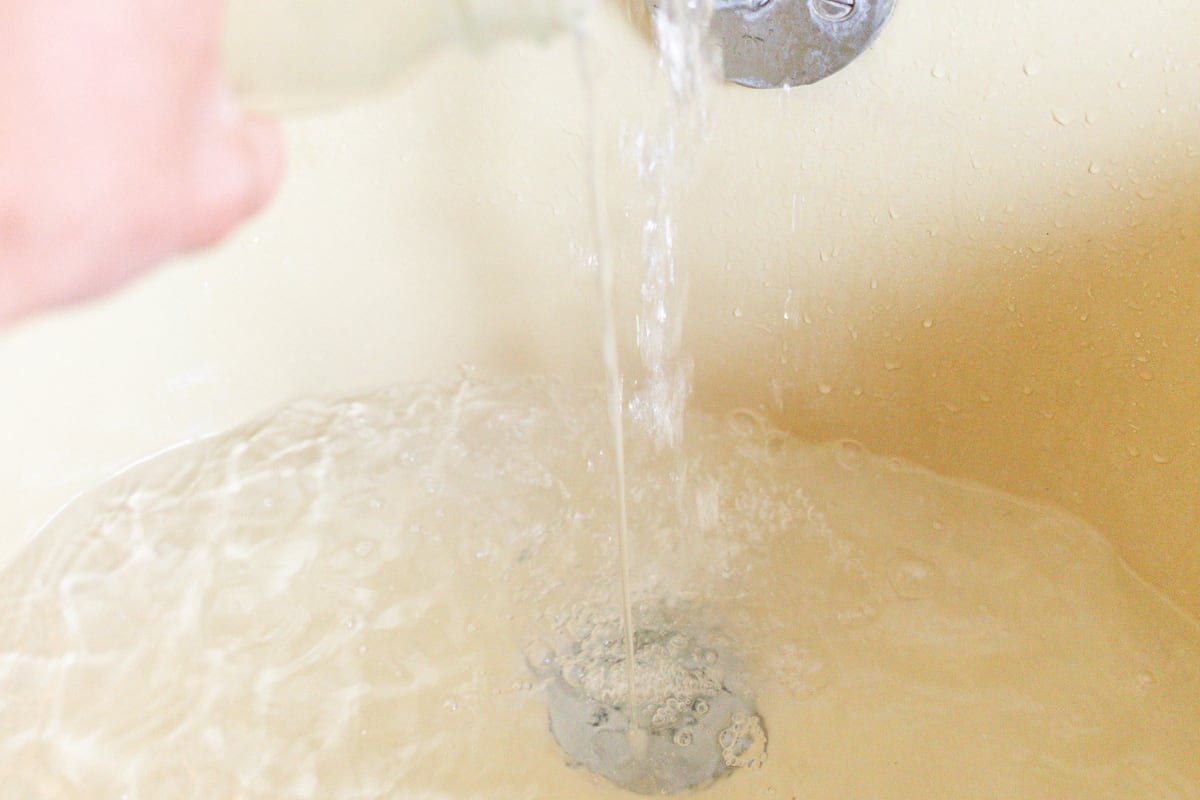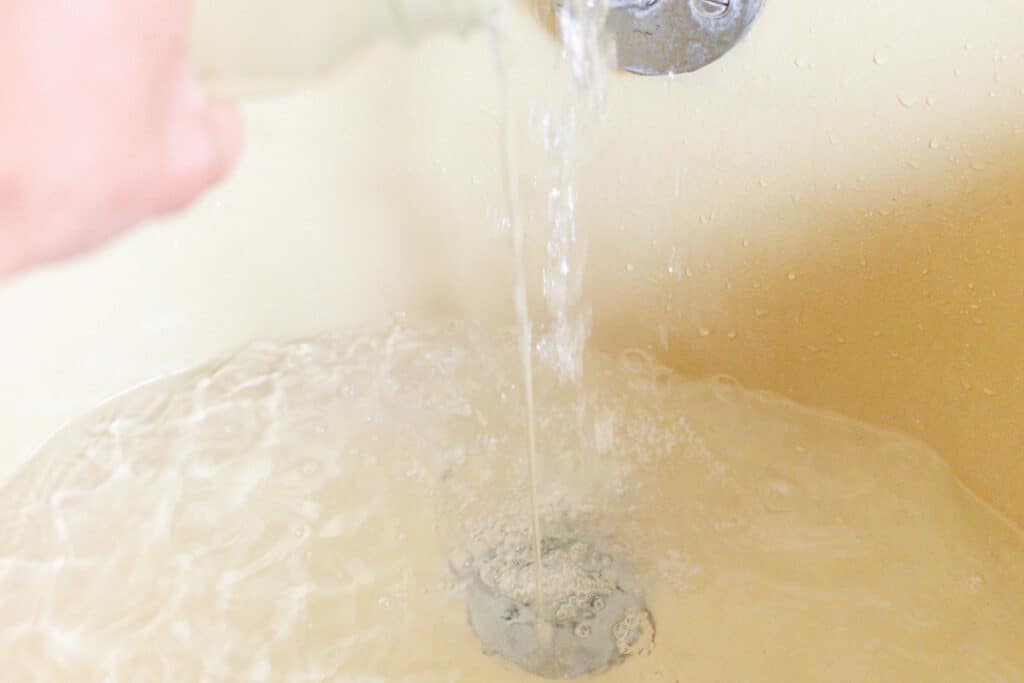 If you want to make a bigger batch of bubble bath, simply double the recipe! First, mix all the ingredients together in a large bowl or container, and store it in an airtight container.
When you are ready, just add about 1/2 cup (or adjust to your liking) to your bathwater and enjoy the luxurious bubbles.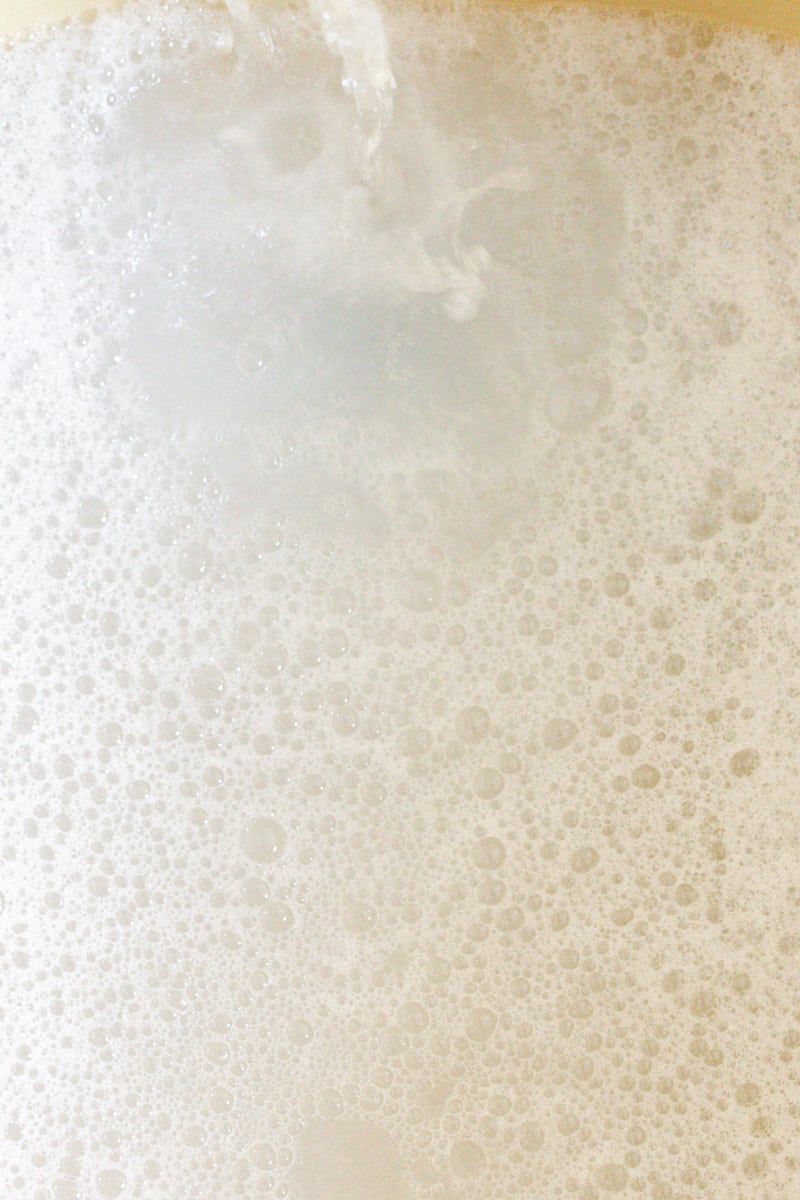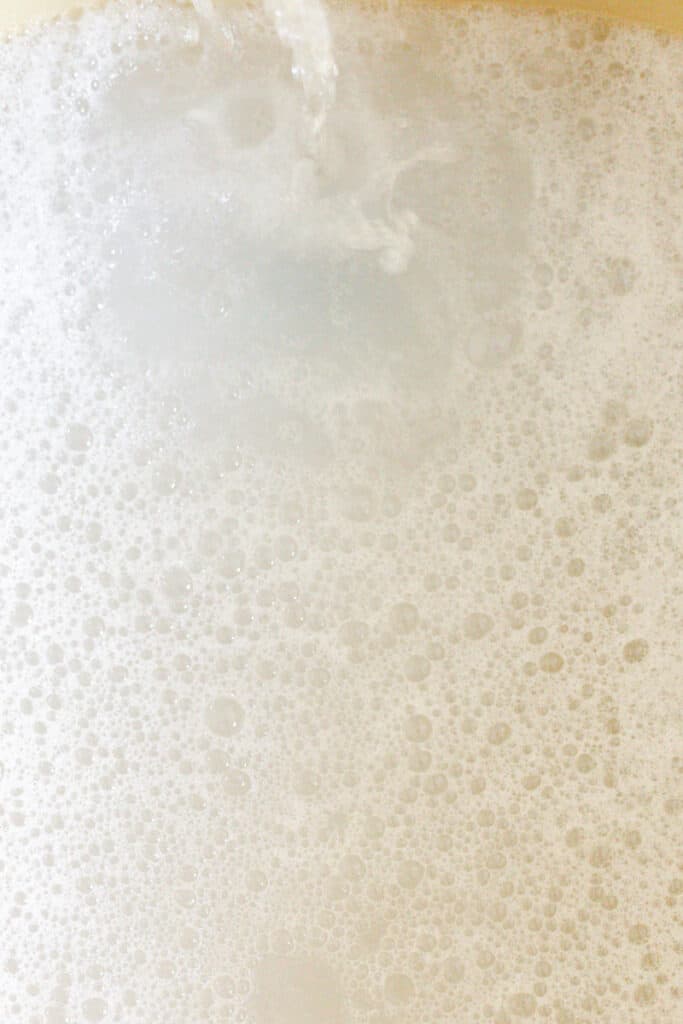 FAQs
How long can you store the bubble bath? Keep it in an airtight container out of direct sunlight for up to a week or in the fridge for two weeks.
Do I have to use decyl glucoside? To get the bubbles, you will need to use some sort of foaming agent. While castile soap can create some foam when mixed with a small amount of water, it may not be enough for a full bath.
Will adding egg whites create bubbles? Several recipes call for egg whites to create stronger bubbles, but not so much more bubbles. This will be a great option if you have soft water.
Will hard water affect the bubbles? The amount of bubbles in your bubble bath can be affected by the type of water you have. If you have hard water, you may notice fewer bubbles.
However, if you have soft water, you can use this recipe without decyl glucoside and still get some bubbles, although not as many as you would otherwise.
Can I use any essential oil in bubble baths? Most gentle essential oils such as geranium, frankincense, lavender and chamomile are safe for the bath.
Avoid hot oils such as the ones listed below. These oils can burn the skin when mixed with water.
Cassia
Cinnamon
Oregano
Clove
Thyme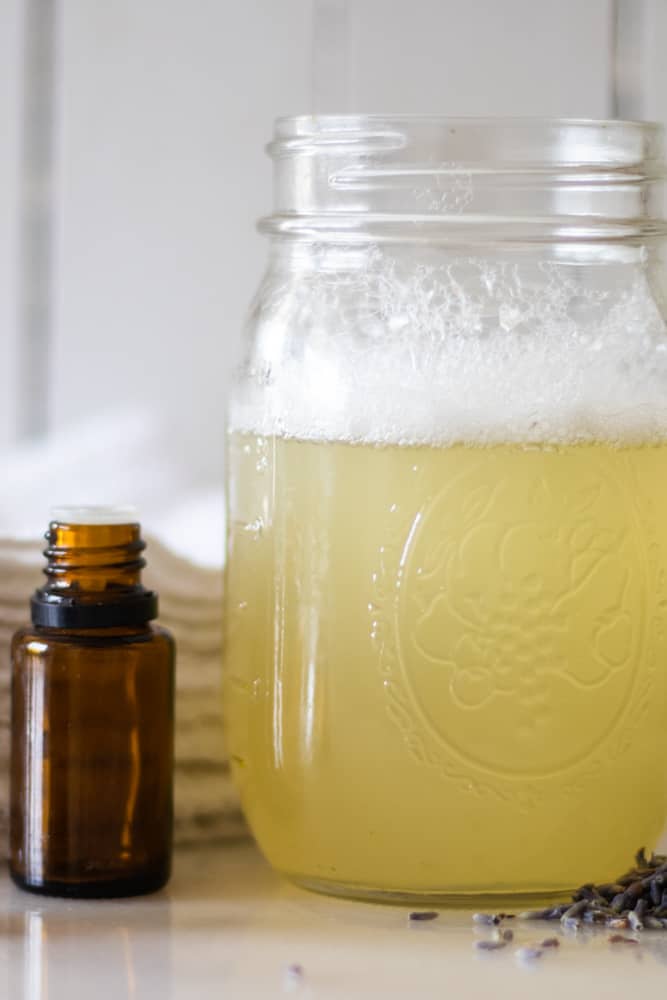 Takeaways
Making a natural bubble bath is a simple and cost-effective way to create a relaxing, personalized bath experience.
You'll love that this recipe uses only natural ingredients that are gentle on the skin and can be easily customized to suit your needs.
So next time you want to indulge in a luxurious bath, try this natural bubble bath recipe!
What to read next:
Yield: one bath
DIY Bubble Bath That Really Bubbles!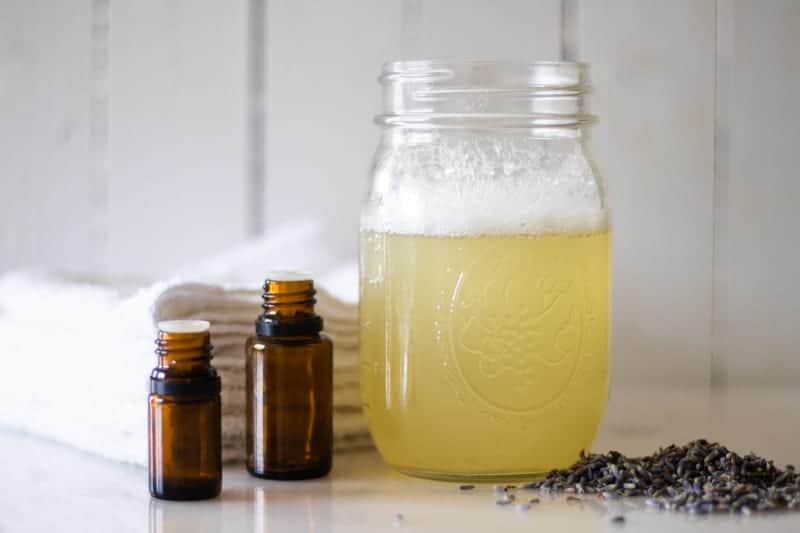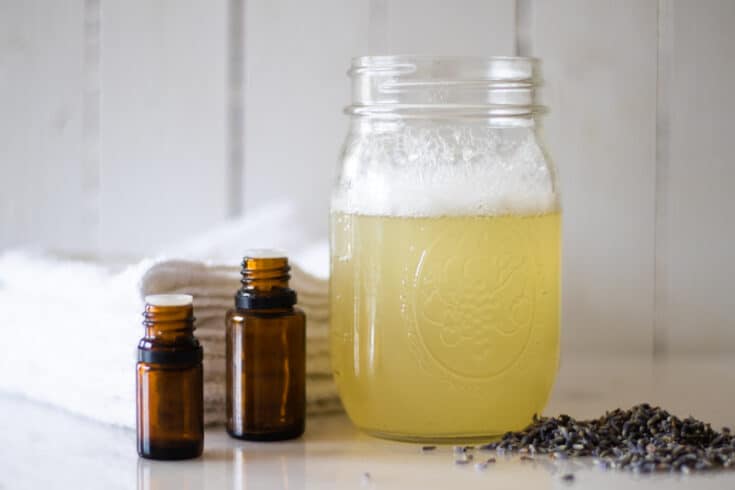 Try this excellent foaming bubble bath recipe today! It's the perfect stress-free weekend! Plus, it's made with natural ingredients, gentle on the skin, and is enjoyed by adults and kids alike!
Instructions
Add the castile soap, vegetable glycerin, and decyl glucoside to a pourable container such as a mason jar and stir well.
Stir in aloe and the lavender essential oil if using.
For best results, slowly pour into a warm bath under the stream of water.
Enjoy!
Notes
Stir up the water with your hands for more bubbles.