DIY bubble bath with castile soap is made with all-natural ingredients that are safe for your skin. Soaking in this homemade bubble bath will be soothing for the skin and relaxing for the nerves. Adults or kids can enjoy this recipe!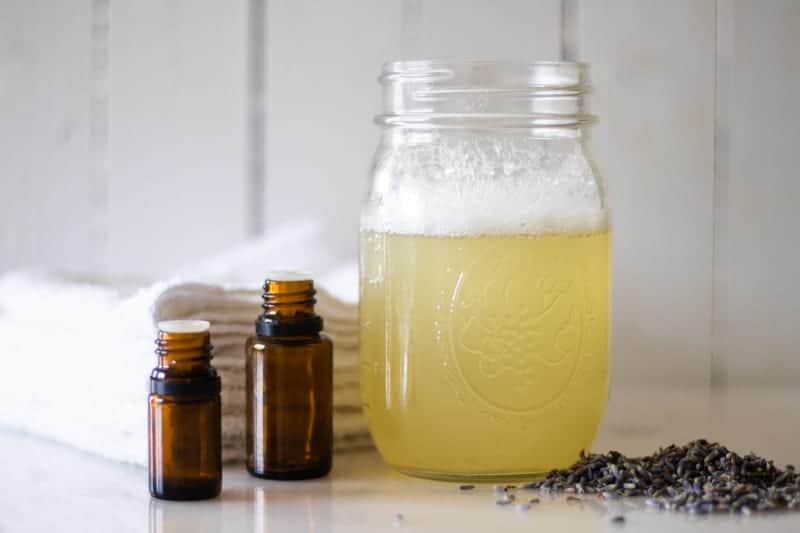 Bubble baths can be so fun and relaxing, but most conventional bubble baths are loaded with chemicals you won't want to soak in. Making your own can be easy! This DIY bubble bath with castile soap is made with all-natural ingredients and will benefit your skin rather than harm it.
My kids love to take baths in the "big bathtub," we have a jacuzzi tub in the master bathroom. And they always want something special added in too; sometimes, we do bath bombs, bath salts, or a milk bath. They always prefer a really bubbly bubble bath.
I remember loving bubble baths when I was a kid too, so I can't really blame them. Ever since we started making our own bubble bath, I don't mind letting them soak in it.
PIN IT FOR LATER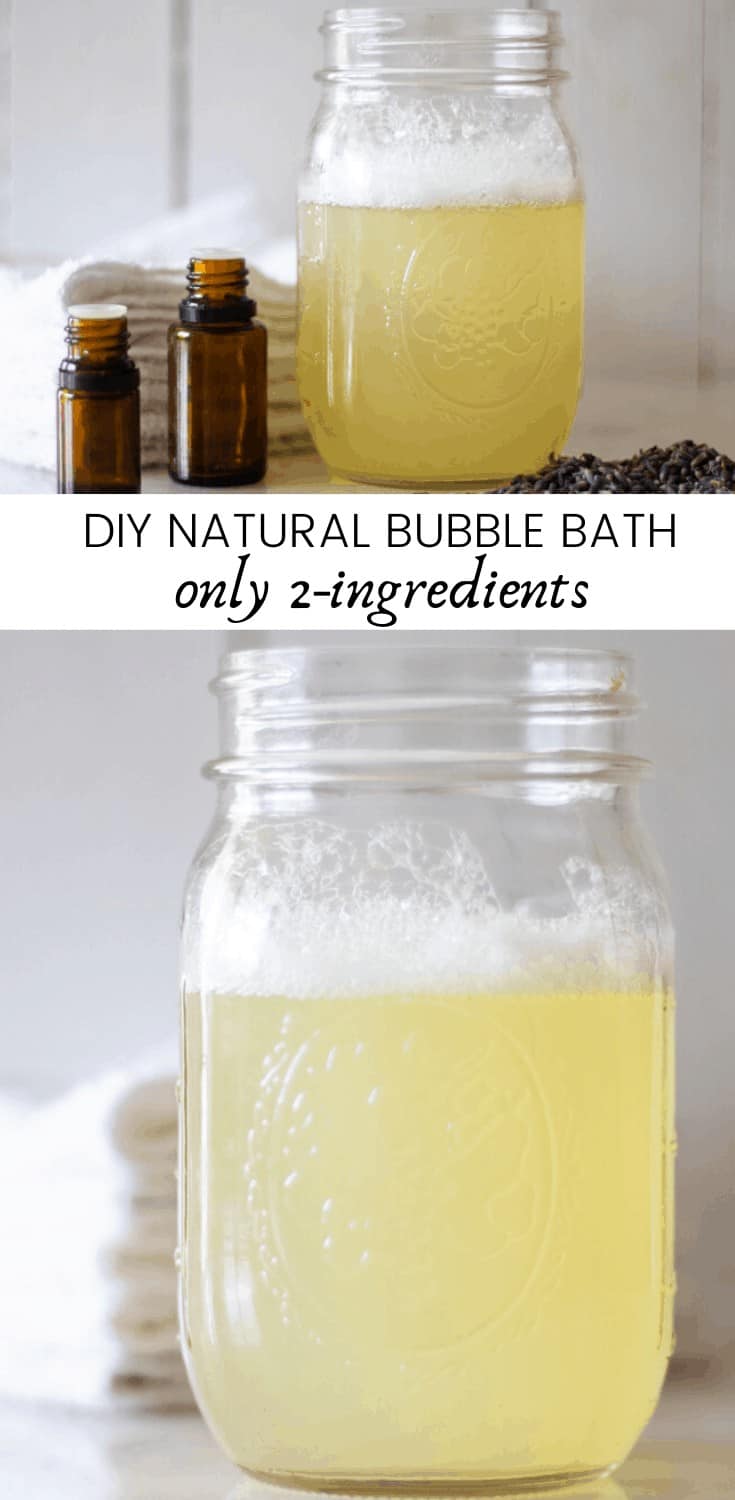 NATURAL BUBBLE BATH
A DIY bubble bath with natural ingredients is a much better option than buying a bubble bath from the store. Conventional bubble baths can be harsh on the skin, making them unsafe to soak in. Most have artificial fragrances and some have artificial dyes, which can cause allergic reactions, contain hormone disturbers, carcinogens, and have been linked to damaged sperm. Some dyes like red40 are banned in other countries.
Ingredients found in store-bought bubble baths can cause eczema and other skin irritations to flare-up. However, when you use a homemade non-toxic bubble bath, it can actually be good for skin irritations and help with eczema.
BUBBLE BATH INGREDIENTS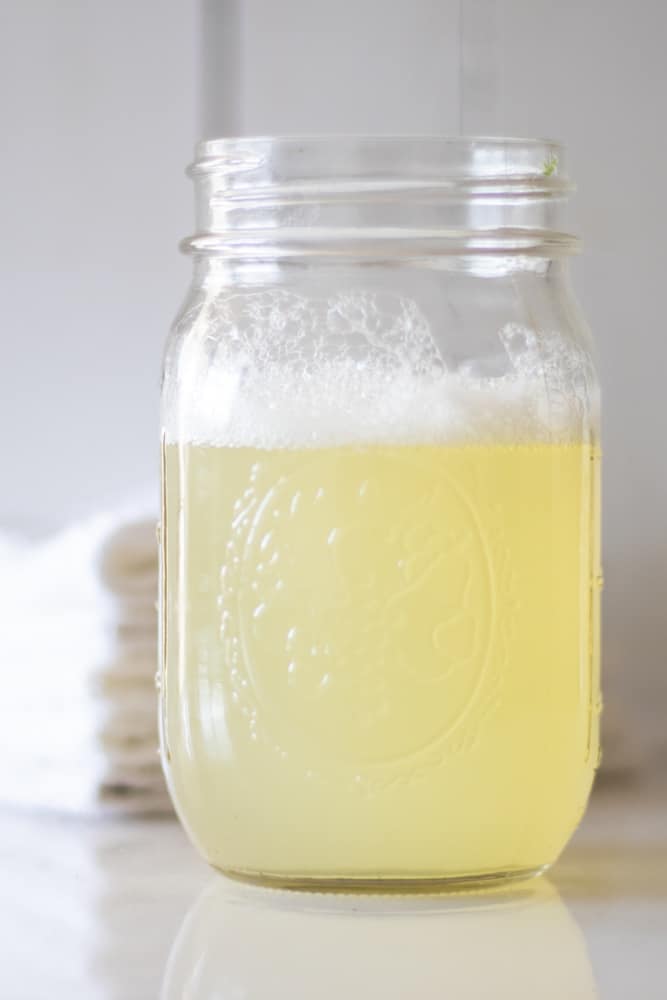 This post contains affiliate links, which means I make a small commission at no extra cost to you. Get my full disclosure HERE.
To make a bubble bath, you only need two ingredients: castile soap and vegetable glycerin. You have the option of adding in aloe vera gel and essential oils.
CASTILE SOAP
Castile soap has become a staple in my household for natural cleaning, DIY skincare, and hair care products. It is made from plant oils, making it safe for most sensitive skin types. This is the soap I use on my babies' skin and hair. It is very concentrated, and adding a little to water can add lots of suds and make it bubbly.
I prefer to use unscented Castile soap from Dr. Bronners, and then I can use my essential oils to scent it how I want. Castile soap is not tear-free, so you need to be careful when using this with kids.
I have been using Castile soap-based baby shampoo and wash for years and have never had an issue. When my kids play in the bubble bath, I remind them not to splash and to keep it out of their eyes.
VEGETABLE GLYCERIN
Glycerin is a vegetable-based, odorless, clear liquid. It will add thickness to shampoos and body washes and help it to lather more. Glycerin is a natural moisturizer and will help your skin to stay smooth and soft.
It is a perfect ingredient to add to this natural bubble bath, as it will add bubbles and benefits for the skin.
ALOE VERA GEL
Adding aloe vera gel is optional, but can add more benefits for the skin. If you don't have any on hand, that is OK; you can still make this!
Aloe vera has strong antibacterial, antifungal, and antiviral properties. It can keep the skin clean and free of infection with its antiseptic and antimicrobial agents. It is full of powerful antioxidants. Aloe is also very moisturizing and soothing to the skin. So while you are soaking in the bubble bath, you will also be treating your skin.
ESSENTIAL OILS
Another option is to add essential oils to your bubble bath. I love adding essential oils for the aromatherapy benefits and they can be really relaxing. If you are making this for a child or someone with sensitive skin, I recommend sticking to lavender.
Lavender is my favorite oil to use because it is very gentle, soothing for the skin, and gives off a very relaxing aroma.
DIY BUBBLE BATH
You can make a large amount of bubble bath at one time and store it in a mason jar or any glass container with an airtight lid. When you go to use it, you can add about 1/4 cup or less, depending on how much water you have in the bathtub.
A relaxing bubble bath made with lavender essential oil can make a great gift too!
LAVENDER BUBBLE BATH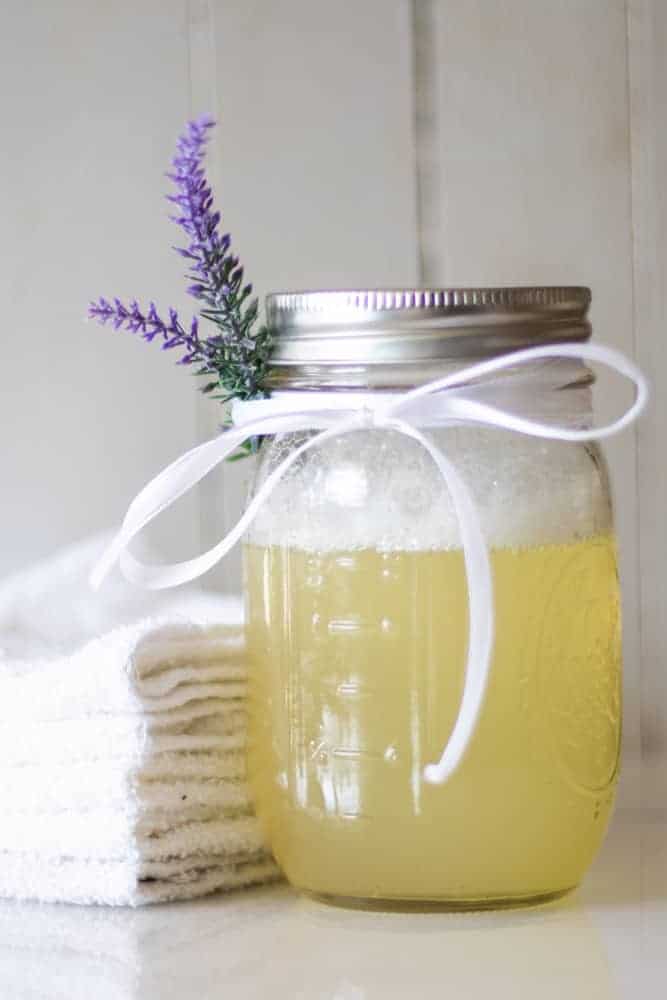 To make a bubble bath, all you will need is Castile soap, vegetable glycerin, and a glass storage container with a lid.
INGREDIENTS
1 cup castile soap
1/2 cup vegetable glycerin
2 tablespoons aloe vera gel, OPTIONAL
15 drops lavender essential oil, OPTIONAL
INSTRUCTIONS
Add all the ingredients to an airtight glass container.
Pour 1/4 cup into a warm bath under the stream of water.
Enjoy!
HOW LONG DOES DIY BUBBLE BATH LAST?
This recipe will keep up to 2 months when stored in an airtight container. It is always best to store products made with essential oils in glass and out of direct sunlight. You can also store it in metal or a thick plastic that is safe for essential oils.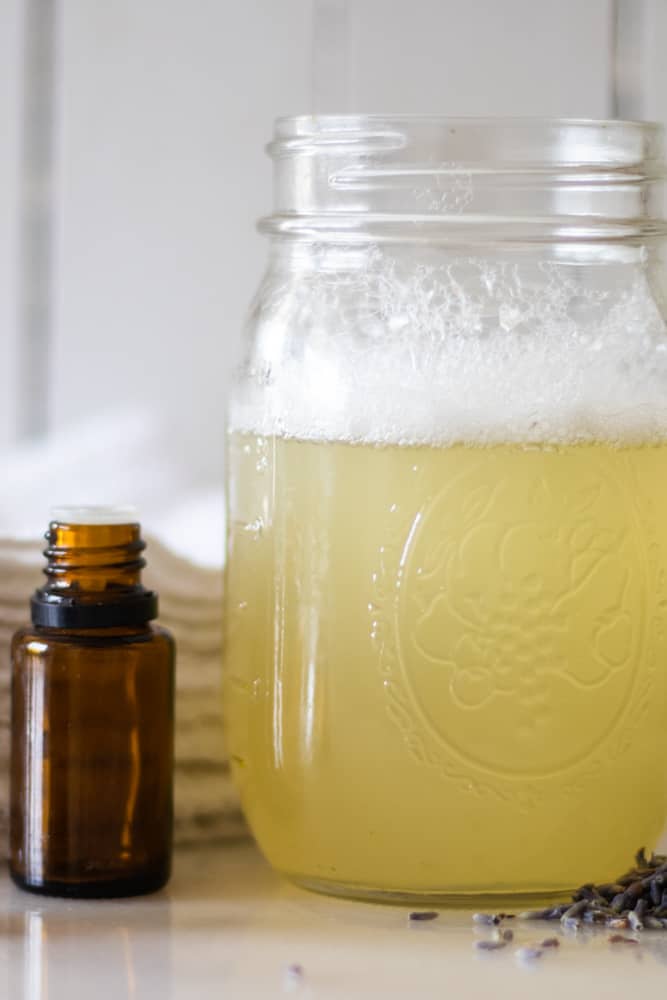 ESSENTIAL OILS TO AVOID IN THE BATH
You will want to avoid essential oils that are hot. These oils can burn the skin when mixed in water and not in a carrier oil.
Cassia
Cinnamon
Oregano
Clove
Thyme
Try these Bubble Bath Bars as a fun, moisturizing alternative.
DIY Bubble Bath with Castile Soap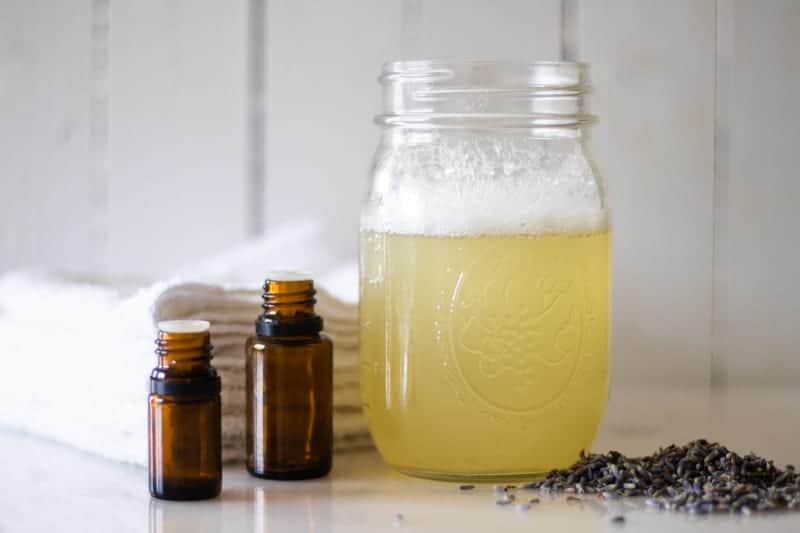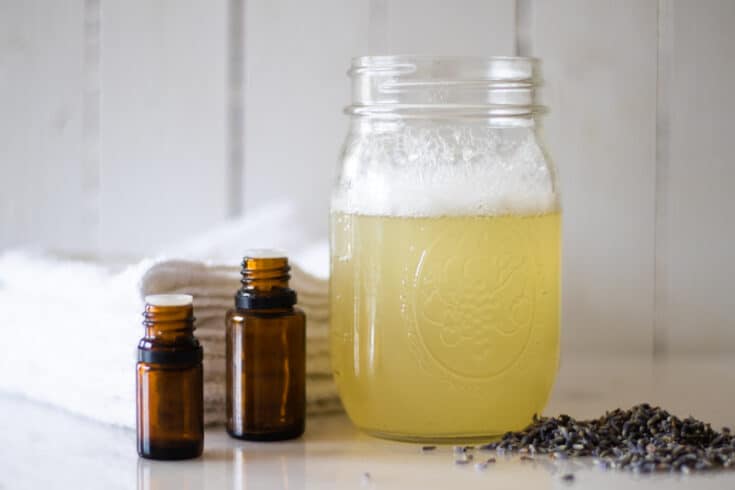 Materials
1 cup Castile soap 
1/2 cup vegetable glycerin 
2 tablespoons pure aloe vera gel, optional 
15 drops lavender essential oil, optional 
Instructions
Add all the ingredients to an airtight glass container.

Pour 1/4 cup into a warm bath under the stream of water.

Enjoy!