Discover the joys of making your very own DIY massage oil. Packed full of moisturizing ingredients and calming essential oils, this is sure to become one of your favorite recipes – as it is mine!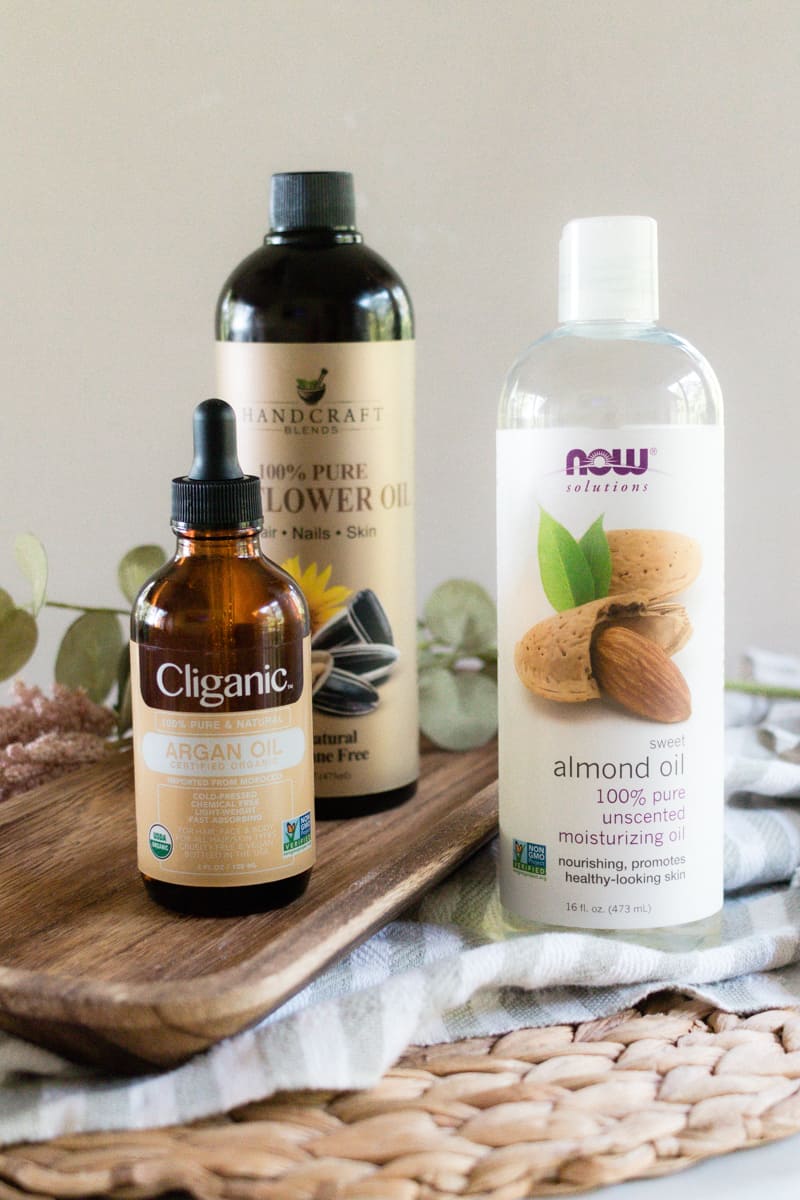 I totally got into DIY massage oil during my pregnancies. There was something incredibly soothing about a nice foot massage following a warm (not hot!) bath.
But a massage is great at any time, let's face it.
In fact, what makes a good massage oil is not just the technique you use to do the massage.
The ingredients, essential oils, and base oils all help to calm the body and clear the mind.
DIY Massage Oil
If you're eager to make your own DIY massage oil, then you'll enjoy this post, I'm sure.
This is an easy recipe that takes no time, and the great thing is, you can use the massage oil straight after making it.
Read on to discover how to make a wonderful massage oil from scratch. Find the recipe and follow my guidance below!
Why You Will Love This Massage Oil
Where do I start?!
The fragrance of this beautiful massage oil works wonders on a frazzled mind and is excellent for helping to wind down after a long day.
It's also a great massage oil to use if you're into sports or anything active, as the essential oils and massage technique help boost circulation in the legs and feet. Or you can make these lotion bars for soothing muscles and joints.
I also need to mention that making a DIY massage oil is way cheaper than buying one – and it's better for your health too.
The reality is that a lot of store-bought massage oils have prices marked higher if they come in fancy packaging or are branded with a famous name.
And what about the ingredients in those store-bought massage oils? Well, look at the list of ingredients, and I'm sure you'll avoid it at all costs.
Making your own DIY massage oil is far more economical, better for your budget, and better for your body too.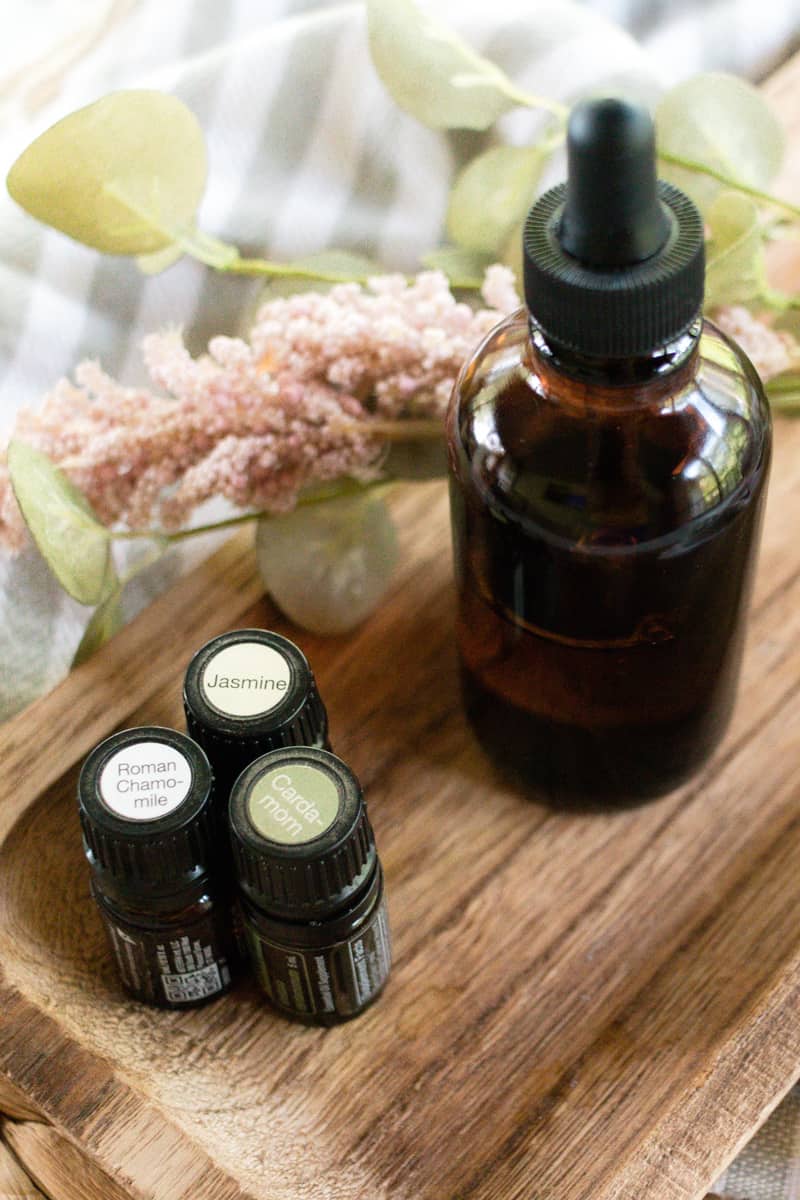 This post contains affiliate links, which means I make a small commission at no extra cost to you. Get my full disclosure here.
Massage Oil Recipe
Supplies
You will need the following:
Ingredients
Recipe Instructions
Measure out the oils and add them to your glass dropper bottle using the small funnel.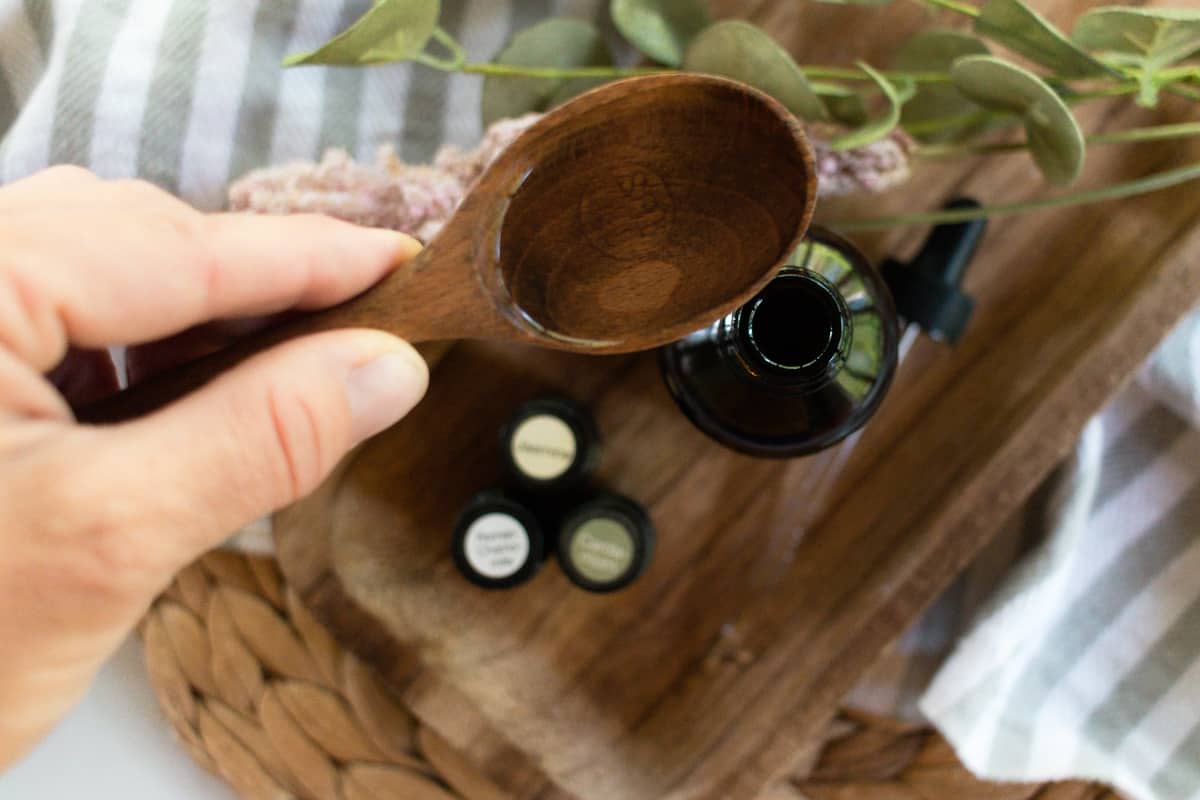 Add in the essential oils.
Secure the lid and shake well. Use as desired for massage purposes.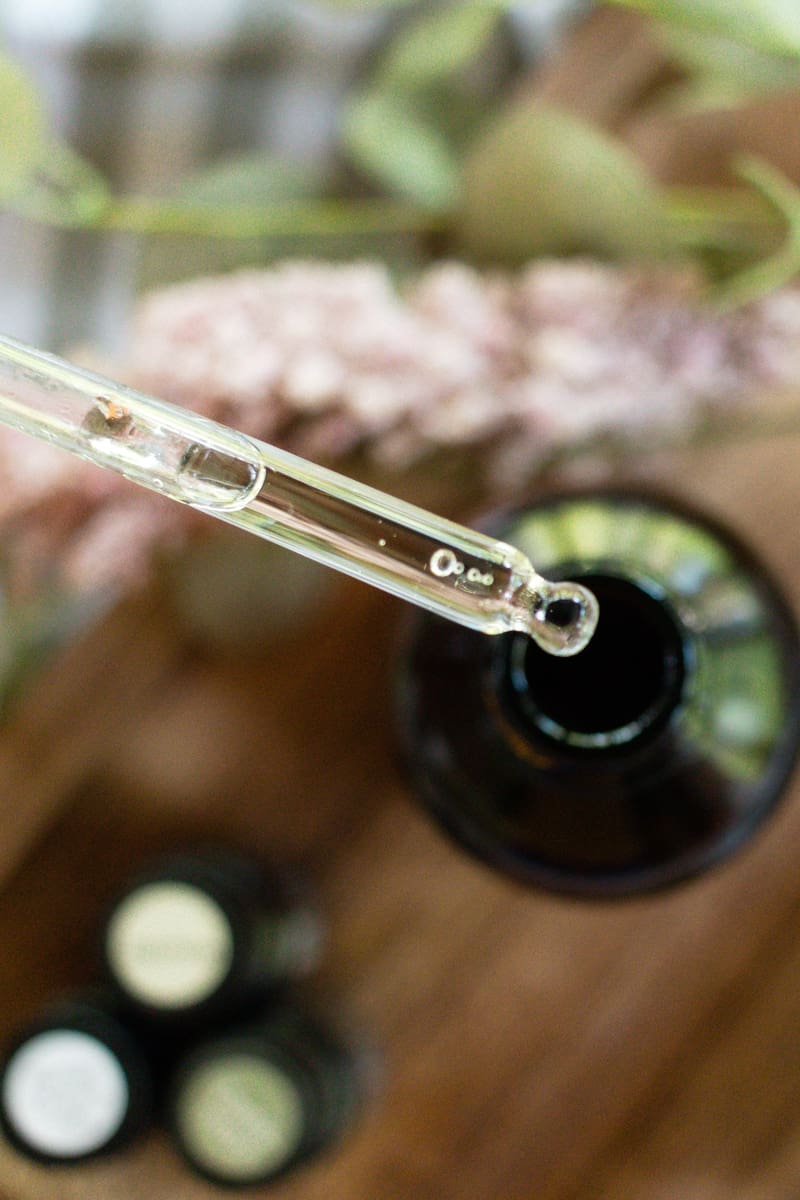 What is a Massage Oil?
Massage oil has so many uses when you really think about it.
It's too easy to say that massage oil is "just used for massage" because it has so many other benefits too.
Picture the scene. When you're carrying out a massage, either on yourself or another person, you use your hands to manipulate the skin and muscle tissue.
Now, if you didn't use oil while massaging the body, this action would be pretty painful, building up a lot of heat and friction and potentially causing damage to the skin surface.
Therefore, massage oils help lubricate the skin, making the massage a pleasant experience.
So too, massage oil moisturizes the skin, leaving it soft and nourished.
It's worth noting, however, that massage oil can leave quite a greasy residue if too much is used. By default, massage oil contains moisturizing oils… needed for that lubricating factor.
So start with less, and add more if you need it. And always warm the massage oil in your hands before applying it for the massage.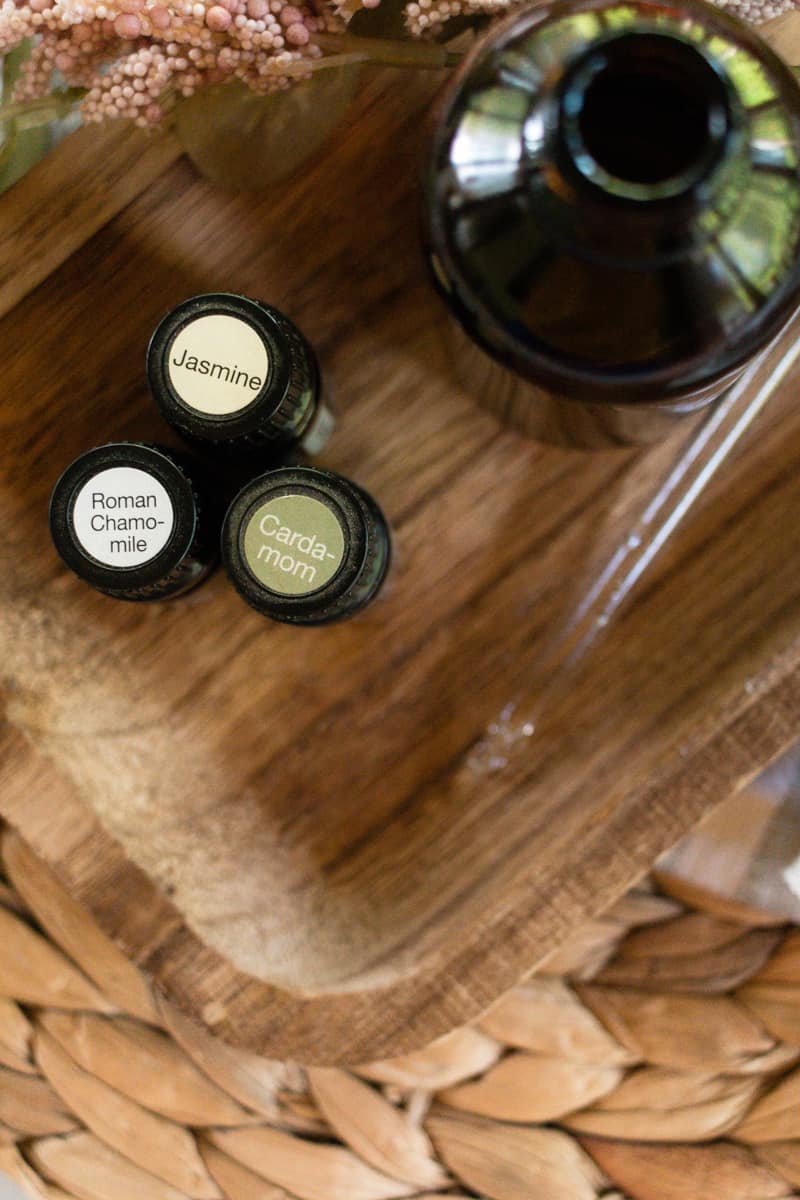 Massage Oil vs Body Oil
Though similar in texture and in fragrance, too, body oil is different from massage oil.
Body oil is designed to apply to the body as a moisturizer directly or as a gloss for that glowy skin look.
Body oil is popular on nights out or holidays when you want your skin to look in tip-top condition.
Whereby massage oil is designed to be used during the massage of skin and muscles that demand some massage therapy and rejuvenation. 
Saying that – there's no real reason why you couldn't use a body oil as a massage oil, but you'd find that the oils sink in much quicker and get absorbed by the skin (meaning the massage is more challenging to do.)
Picking the Scent
The essential oil combination in this recipe is my own and is intended to give a well-rounded massage oil experience.
A piece of advice, however, is to start with less essential oils and add more to adjust the scent to your preference.
By all means, follow the recipe directly, but also, if you don't like strong scents, reduce the essential oil amounts.
You can always add more, but can't take it away – that's my motto!
And just for some background information – the fragrance in this recipe is sweet but not sickly sweet, as the cardamon adds a lovely earthy, grounding scent to balance out the florals.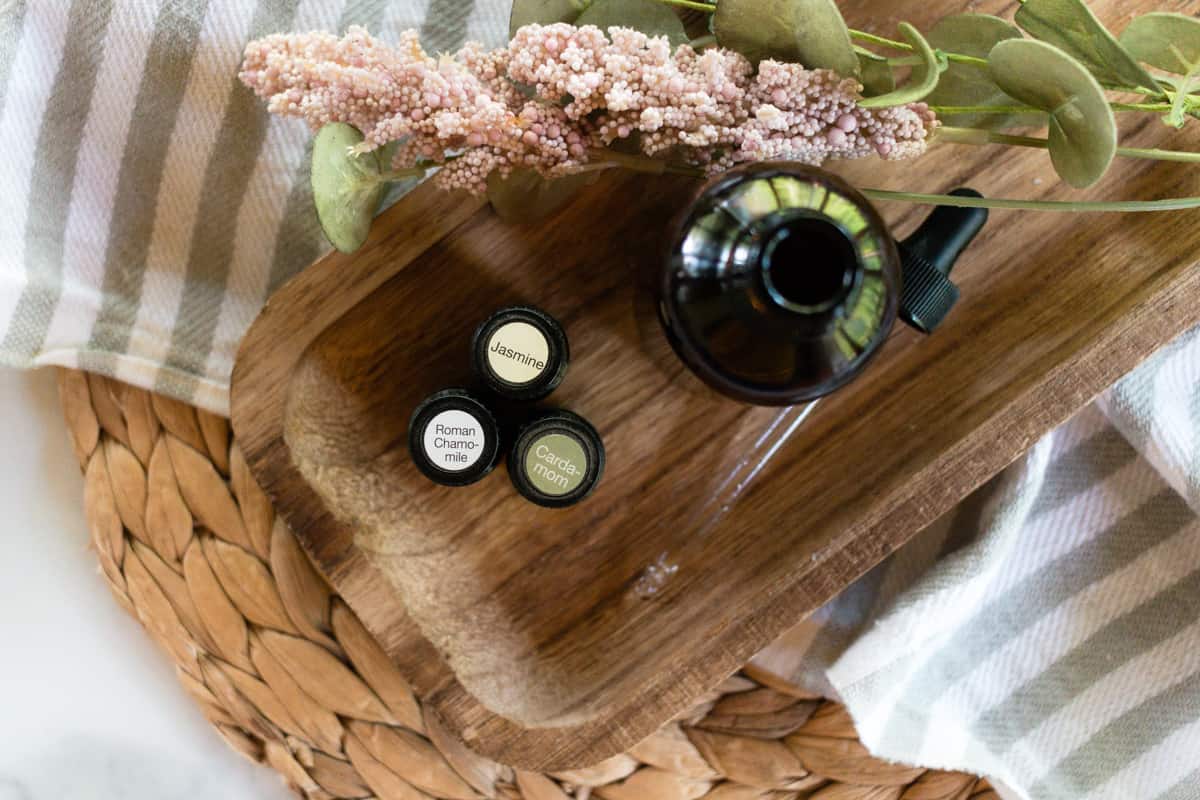 Mixing and Matching
Mix and match any oils you like and put them in the dropper bottle instead of this suggested oil combination in the recipe – if you so wish.
Here are some alternative essential oil blends to try in this post, which I'm sure you'll enjoy.
The Key Ingredients
Storage
This massage oil will store well in a bottle with a screw-top lid for up to 6 months.
Ensure you keep it away from sunlight and heat sources and, ideally, in a dry cabinet away from damp exposure.
If the oil smells rancid at any time, it's best to dispose of it immediately and make up a fresh batch.
I do hope you love making and using this DIY massage oil! Please let me know how it was for you by sharing in the comments section.
And if you loved it, leave a review below! If you are looking for more great skin-hydrating recipes, try one of these next!
Yield: 3 ounces
DIY Massage Oil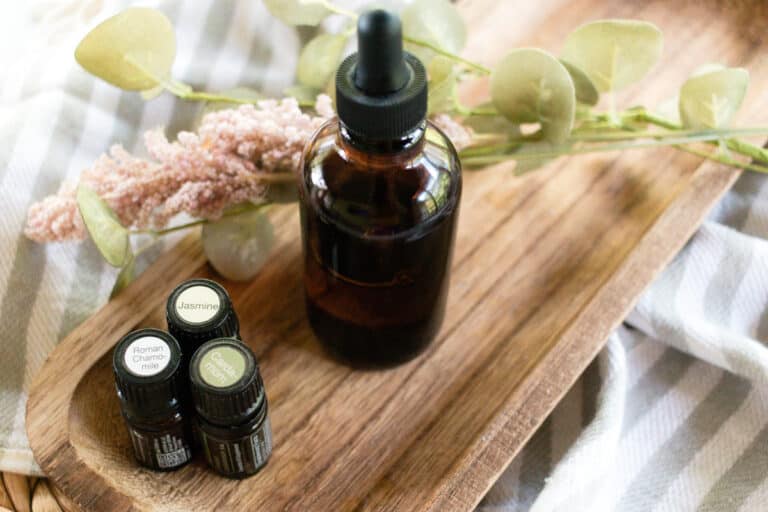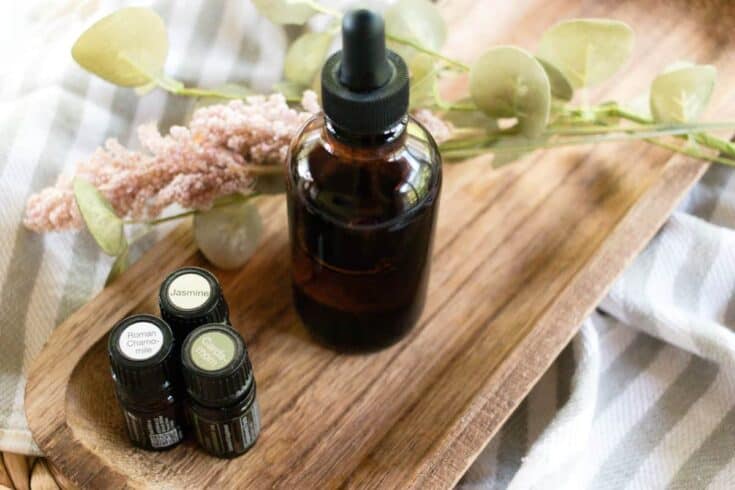 Make your very own DIY massage oil from scratch with just a few simple ingredients. Excellent to use on tired feet, hands, and legs.
Instructions
Measure out the oils and add them to your glass dropper bottle using the small funnel.
Add in the essential oils.
Secure the lid and shake well. Use as desired for massage purposes.
Notes
Rub a few drops between the palms of your hands to warm the oil before gently working into the skin.
Store away from direct sunlight for up to 6 months.