This DIY body oil is simple to make and will leave your skin glowing, soft, smooth, and beautiful. Made with a combination of carrier oils and essential oils, this body oil recipe is perfect for all skin types.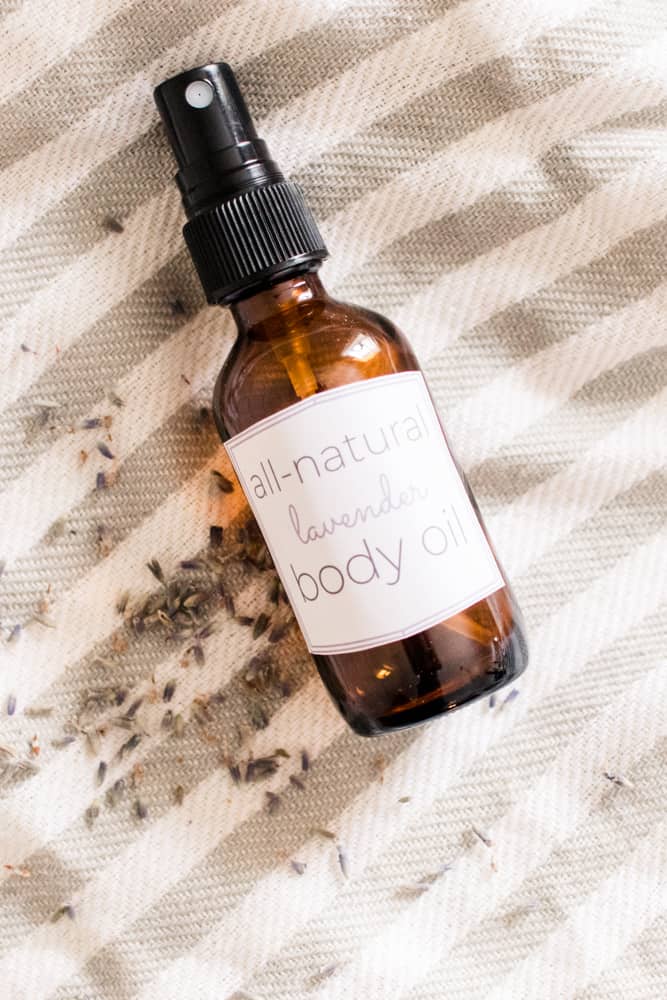 On an annual "girls weekend" with my mom and sisters, we were shopping in the cutest little store, of which most of the products related to skincare and beauty products.
I knew I was in the right place when I walked to an essential oil diffuser diffusing in the corner! 😉 I love looking at stores like this for inspiration and ideas.
One item did stand out, it's one that viewers ask about from time to time, and that is a body oil. Body oil serves many purposes. For example, it can be used as a massage oil; it can restore glowing skin or be used to soften dry skin.
What is Body Oil Used for?
This DIY body oil is made out of lightweight oils meant to nourish and protect the skin. When applied to the body, it can provide a protective barrier and lock in moisture.
Body oil is used to relieve dry, itchy skin to leave the skin glowingly smooth. It is commonly used during the colder months when skin is dry from the changing weather or when skin is damaged from harsh cleansers or skin imperfections.
How to Make Body Oil
The first step in making body oil is gathering your ingredients. You will notice this recipe calls for several carrier oils, all of which are used to provide you with the ultimate body oil full of moisturizing and hydrating properties.
Ensure the oils you are using are pure oils without any additives, fillers, or artificial fragrances. I do not recommend using artificial fragrance oils since they are often comprised of chemicals and synthetic ingredients.
This post contains affiliate links, which means I make a small commission at no extra cost to you. Get my full disclosure HERE.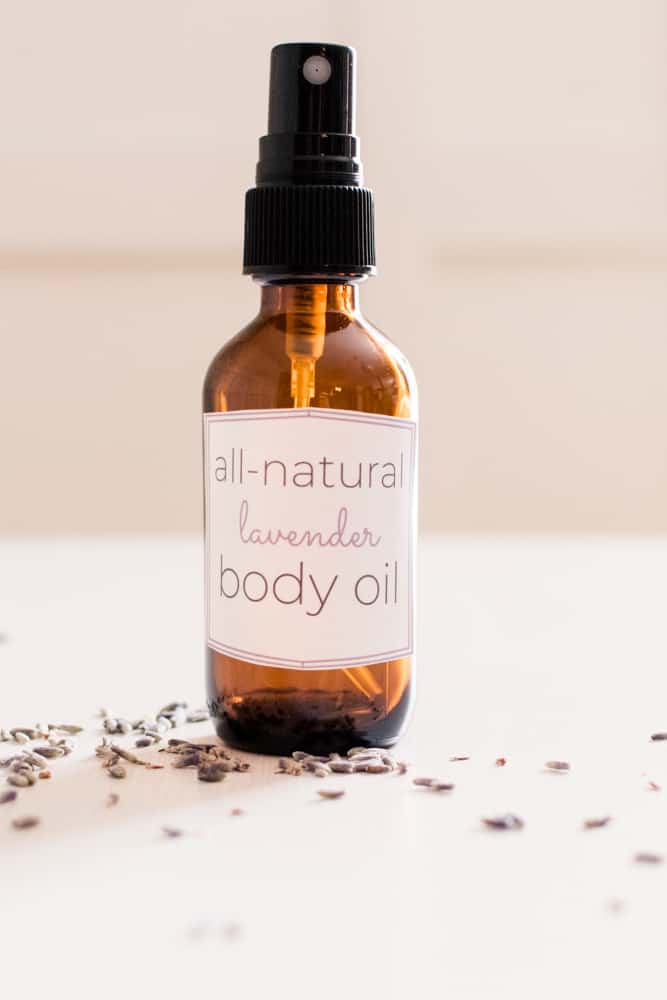 Body Oil Recipe
Grapeseed oil
Avocado oil
Jojoba oil
Vitamin E oil
Lavender essential oil
Dried lavender buds, optional
Homemade Body Oil Instructions
Add equal parts of grapeseed oil, avocado oil, and jojoba oil into a small glass bottle, spray bottle, or dropper bottle. Think about how you'll use the body oil, then choose a suitable container.
I used an extra spray bottle I had lying around from a body spray recipe. If you are unsure what bottle would be best, go with a dropper bottle.
When possible, I try to save old containers and such to reuse them for DIYs like this. It's a simple way to reduce waste and save money.
And not to rant on, but it turns out, the spray bottle is actually pretty nice. The body oil gently mists out in a fine controllable direction, making applying to the skin easy and practical.
Finally, add vitamin E oil, lavender essential oil, and, if using, dried lavender springs.
Secure the lid, shake well, and your brand new bottle of homemade body oil is ready to use.
How to Apply Body Oil
For best results, apply body oil to damp skin. Right after a shower when the pores are open is a great time to use it.
Other uses include using as a massage oil. Apply a small amount to the palm of the hand, and use like normal.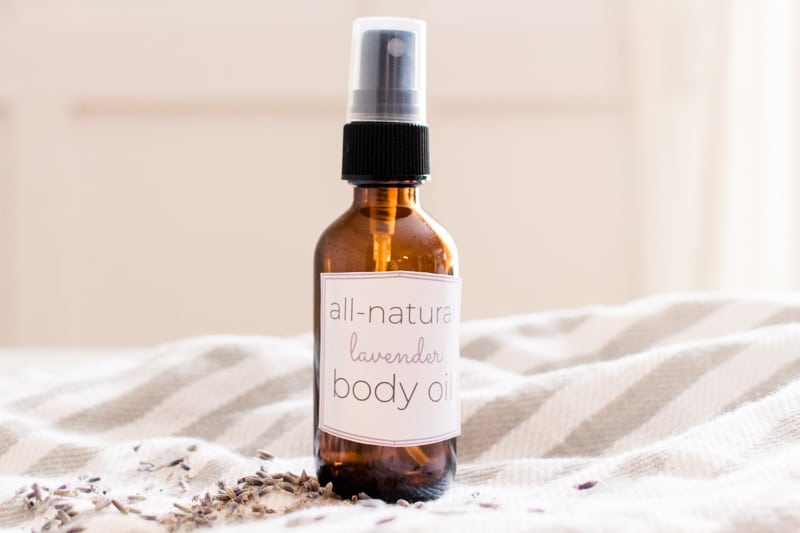 How Often Should I Use Body Oil
Body oil does not clog pores and can be used daily to promote healthy glowing skin.
Use it 2-5 times weekly or as needed depending on skin type. Let your skin be the judge.
Can You Use Body Oil on the Face?
The face may greatly benefit from the use of body oil. The oils in this recipe are gentle enough for sensitive skin and should not cause any harm to your face.
It is always best to test a small area before applying it to the whole face. The oils can hydrate and protect the skin on the face the same as the rest of the body.
Before applying to the face, make sure skin is clean and free from makeup. Then, spritz it into the palm of your hands and gently massage it in.
Or you can try this homemade facial oil recipe.
Natural Body Oil
Each of the oils, both carrier, and essential oils, works well at softening and moisturizing the skin, leaving the skin with a light, healthy glow.
Grapeseed Oil
Grapeseed oil is rich in Omega-6 fatty acids and is high in antioxidants. By using this oil on the skin, it can help reduce signs of aging, such as fine lines and wrinkles.
This oil will help retain moisture, even out skin tone, and repair dehydrated skin. Grapeseed oil is a byproduct of winemaking, derived from grape seeds, and is generally produced in wine-growing regions such as France, Italy, and Switzerland.
Avocado Oil
Avocado oil can be used to reduce itchy skin, help with chapped skin, and restore dry, damaged skin. It is very hydrating and will add moisture to the skin when used topically.
It is full of vitamin C, vitamin E, and fatty acids, making it great for anti-aging and reducing skin imperfections.
Jojoba Oil
Jojoba oil is one of the best carrier oils to use for sensitive skin as it is very gentle and light. Similar to the other oils, jojoba oil also contains vitamin E oil, making it great for skin imperfections, wrinkles, and fine lines.
It is very hydrating by locking in moisture and nourishing to the skin. In addition, jojoba oil can penetrate the skin easily and promotes healthy, glowing skin.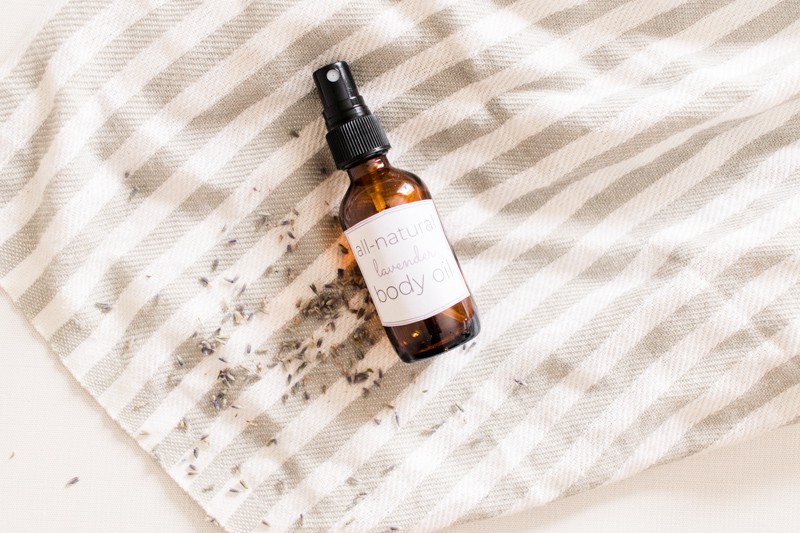 Body Oil for Glowing Skin
Everyone wants that healthy glowing skin, and body oil can do just that! One of my favorite reasons I use body oil is to get that healthy, hydrated, beautiful glowing skin.
If you don't have all the oils mentioned in the recipe, you can substitute them for a different carrier oil. Carrier oils are any vegetable-based oils that are cold-pressed or expeller-pressed. Check out my post on carrier oils for appropriate substitutions.
Does Body Oil Expire?
Over time oils can break down, becoming less effective, but they don't really expire.
Some carrier oils will have an expiration date printed on the bottle but are usually good for at least several years. Essential oils never expire, though they can lose potency over time.
When in doubt, run a smell test. If it smells off, dump it out and make a new batch. If you use this oil daily or even a few times a week, you should easily finish it before it goes bad.
If you are looking for more great beauty recipes, try one of these favorites below.
Yield: 1 bottle
DIY Body Oil for Glowing Skin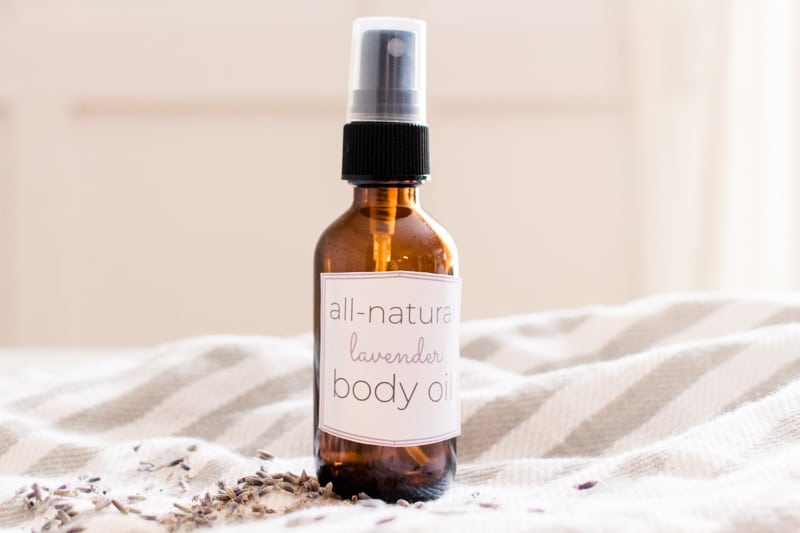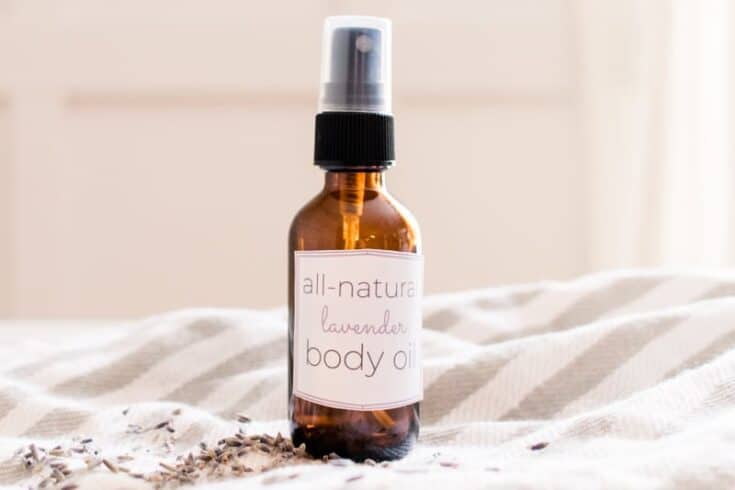 This DIY body oil is simple to make and will leave your skin glowing, soft, smooth, and beautiful.
Materials
5 drops lavender essential oil
1 teaspoon lavender buds, optional
Instructions
Add 2 tbsp each of grapeseed oil, avocado oil, and jojoba oil into the bottle.
Next, add in 5 drops of vitamin E oil and 5 drops of lavender essential oil. If using dried lavender, add 1 teaspoon to the bottle.
Secure the lid, shake well, and its ready for use.