The summer season brings with it plenty of delicious crops, fruits and vegetables to fill our kitchen tables. And if there is one thing I will not share my yields with, it would be the bugs.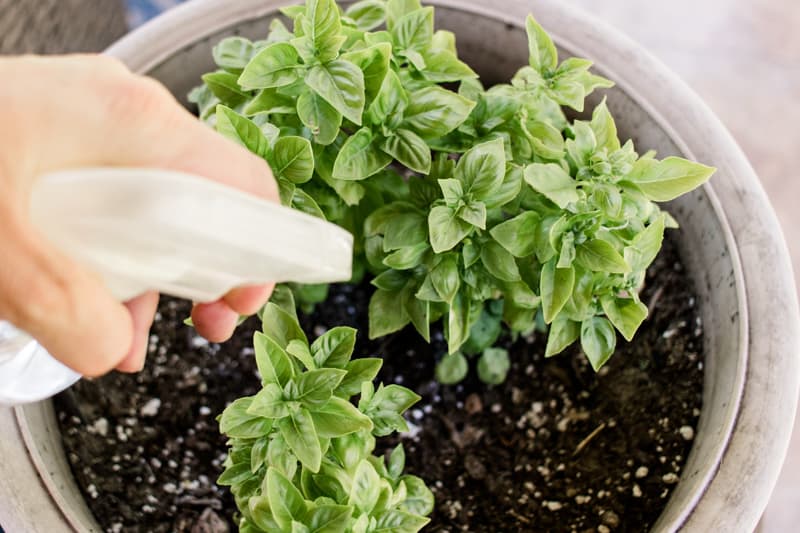 This post will cover my favorite plants to grow to keep harmful bugs out, as well as how to make a bug and aphid spray for plants.
It is nearly time to enjoy the fruits of our labor! The days to pick our homegrown produce are fast approaching.
It's truly one of the most satisfying things to pick your own organically grown fruit and vegetables and feed them to your family.
I know nothing else like it!
But summer also brings with it something else. Bugs! And lots of them.
It's genuinely heartbreaking when you find your veggie plants knawed away to a stump by aphids or slugs and snails chomping away on your lettuce leaves.
Yet the last thing you want to do is spray your plants with toxic store-bought bug killers or set up evil traps around your borders.
After all, that wonderful produce is going to end up on your dinner plate, and no one wants to eat chemicals. Plus, bugs in themselves are not all bad!
So why not try making this homemade bug spray for plants as the problem solver?
It's 100% natural and toxin-free and is a repellent rather than a toxic bug killer. It's safe to use on all vegetable plants, fruit trees and indoor plants too.
But first, I'll share a few other natural ways to help keep bugs away from your plants in this next section.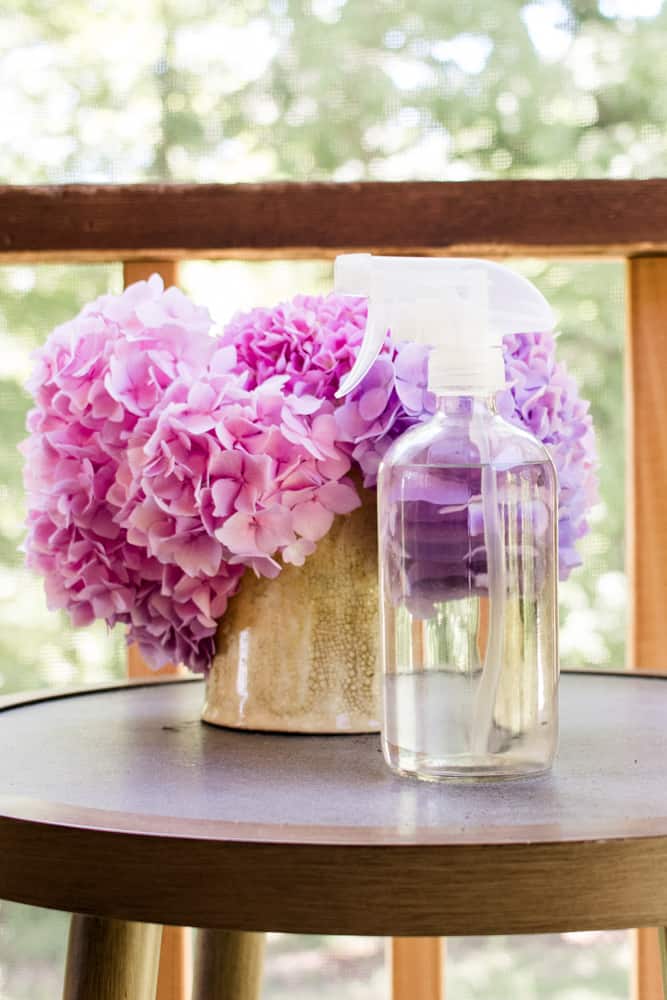 How to keep bugs off plants
There are several plants that have powerful properties to keep bugs out of your garden.
Now, bugs are not all bad, as we know – we don't want to expel every bug as they have a very important role to play in sustaining the ecosystem.
If you ask me, one of the many wonders of the natural world is that there are certain plants that repel bugs from your veggies!
This means bugs naturally avoid the area because of the smell or sensation given off by these repelling plants.
As an example, bugs are naturally deterred by garlic and marigolds.
In fact, planting marigolds or garlic bulbs directly in your veggie plot will not only repel certain bugs, but it'll also attract the good bugs, which keep the 'bad bugs' away.
Bugs are also deterred by strong-smelling herbs such as peppermint, lemongrass, mint and basil, as well as lavender.
Peppermint is so effective that I'll add a few drops around the door frames of my house to keep ants out. And lemongrass works wonders at deterring pesky wasps.
So planting these near your crops would be a great idea to help control bug numbers.
But what if you're short on space to plant something extra? Or have windowsill pots of herbs, vegetables or fruits?
This is where my homemade bug spray for vegetable plants is a great idea.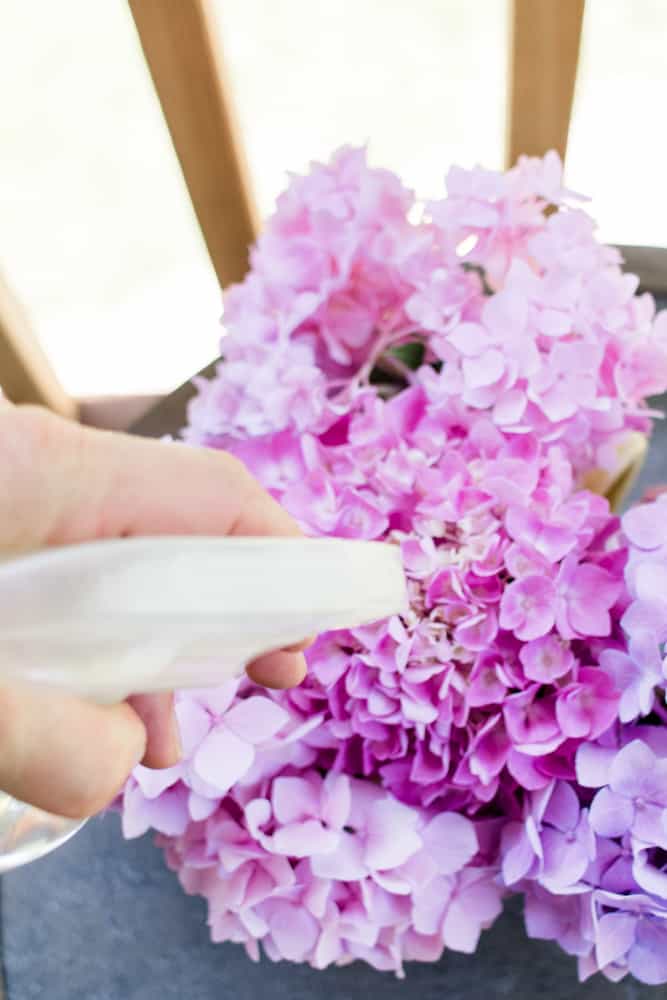 Natural bug repellent for plants
One of the most destructive bugs are aphids which really do demolish your plants if they're given the opportunity.
This recipe here works great as a homemade aphid spray, suitable for both indoor and outdoor plants.
I use this bug spray on all plants in my vegetable garden as well as fruit bushes and trees, roses, and borders; in fact, anywhere I feel bugs need deterring from.
You'll need a gallon jug for storage and a glass spray bottle for easy application.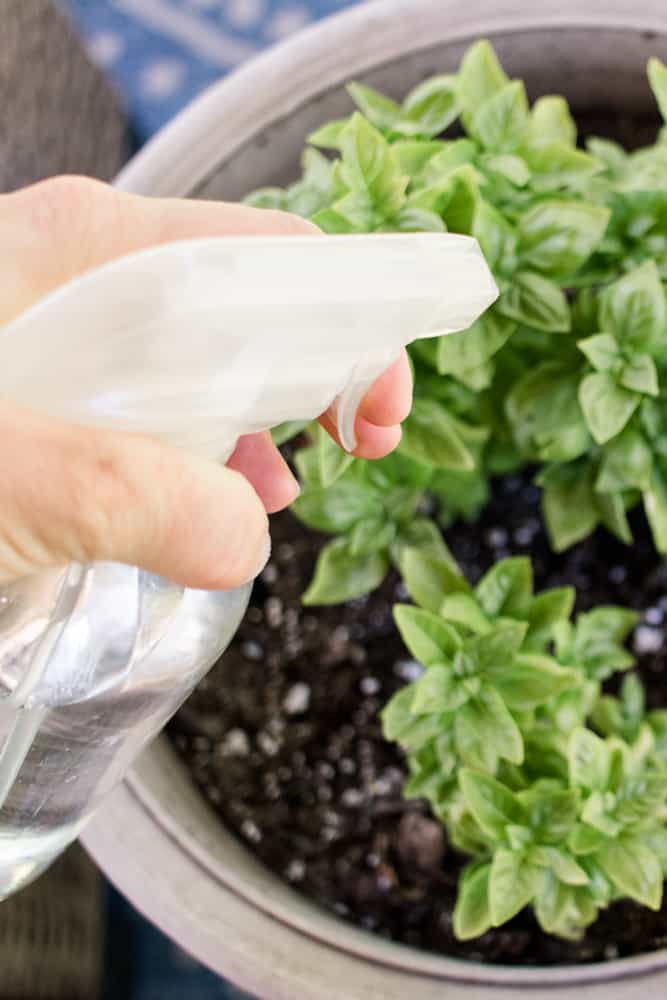 This post contains affiliate links, which means I make a small commission at no extra cost to you. Get my full disclosure HERE.
Homemade aphid spray recipe
Ingredients:
Recipe:
Add all ingredients except water to a gallon jug.
Fill the rest of the way with water and stir well with a long-handled spoon.
Use a small funnel to transfer a portion of the aphid spray to a glass spray bottle.
Mist plants 1-2 times a week.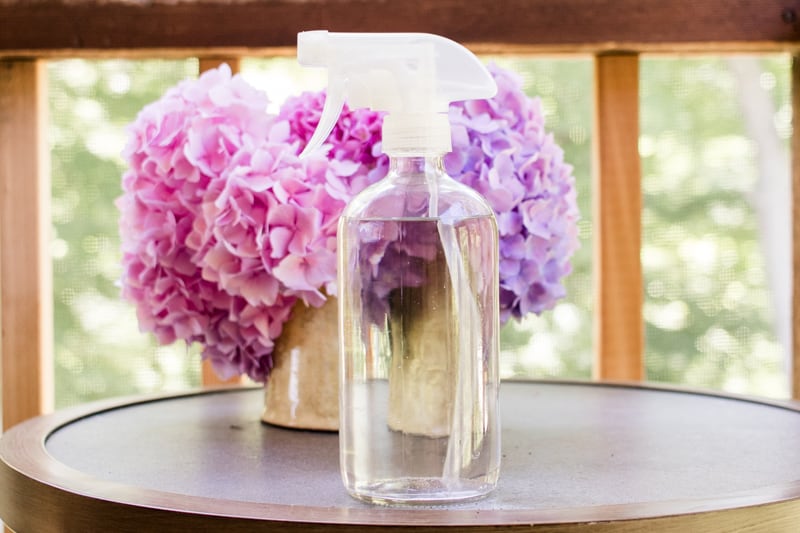 Why I don't use vinegar
One of the questions you may be asking is, will vinegar kill plants?
It's a great question, and the answer is yes, it can. Vinegar contains acetic acid, which, if not diluted properly, can cause burns on contact.
So never ever use straight vinegar from the bottle, or else your plants will most certainly not survive.
While I use vinegar in my regular bug spray because it is an effective bug deterrent, I have found neem oil and castile soap to work quite well at keeping bugs and aphids off of plants without causing any harm.
For best results, follow the recipe below.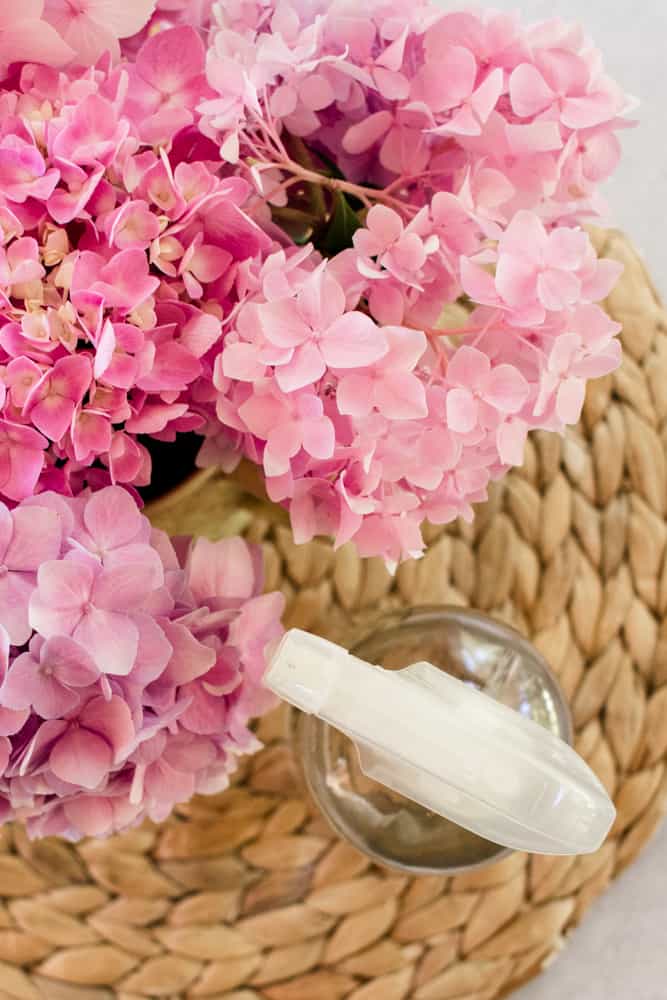 How to keep bugs off indoor plants
My recommendation is to use this homemade bug spray for indoor plants as soon as you notice signs of a bug infestation. Application once or twice a week should be sufficient. Make sure you monitor your plants for bugs to see how well it works.
If the bugs persist, you may need to continue with a few more frequent sprays until the situation is under control.
I always recommend a light misting when applying this bug spray – not a heavy dowsing.
And remember to keep your plants well-watered in hot weather. Both indoors and out!
I hope you give this homemade bug spray a go; it's worked really well for me! Leave a comment below and let me know how it worked out for you.
Here are a few more recipes you may find helpful:
Yield: 1 gallon
Homemade Bug & Aphid Spray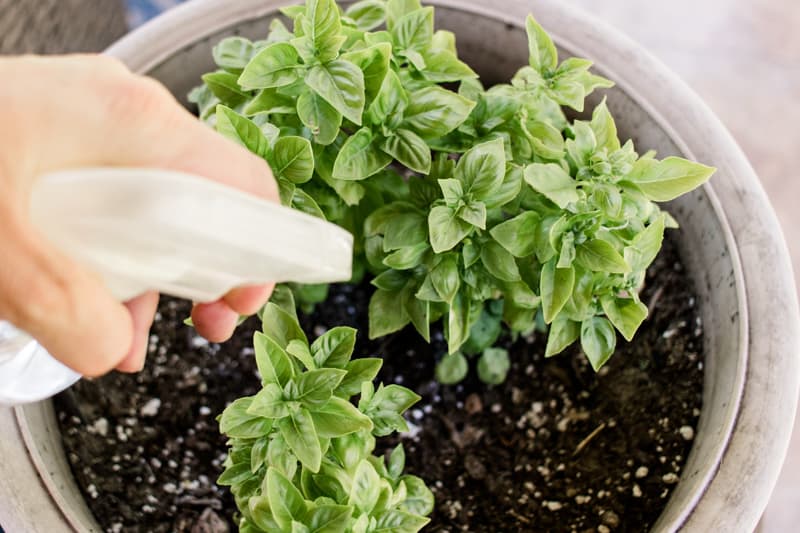 Natural bug and aphid spray protects your plants against harmful bugs and insects that can wreak havoc on your garden and flower beds.
Additional Time
10 minutes
Materials
6 drops of tea tree essential oil
4 drops each of peppermint and cedarwood essential oil
1 gallon of filtered water
Instructions
Add all the ingredients except the water to a one-gallon jug.
Top off with water and stir well with a long-handled spoon.
Use a funnel to transfer a portion of the mixture to a spray bottle.
Mist plants 1-2 times a week