Learn how to make fizzing bath salts for ultimate relaxation and aromatherapy benefits. Fizzy bath powder can be a fun addition to kids' bath time or can be used for calming before bedtime. This recipe is both simple to make and easy to use.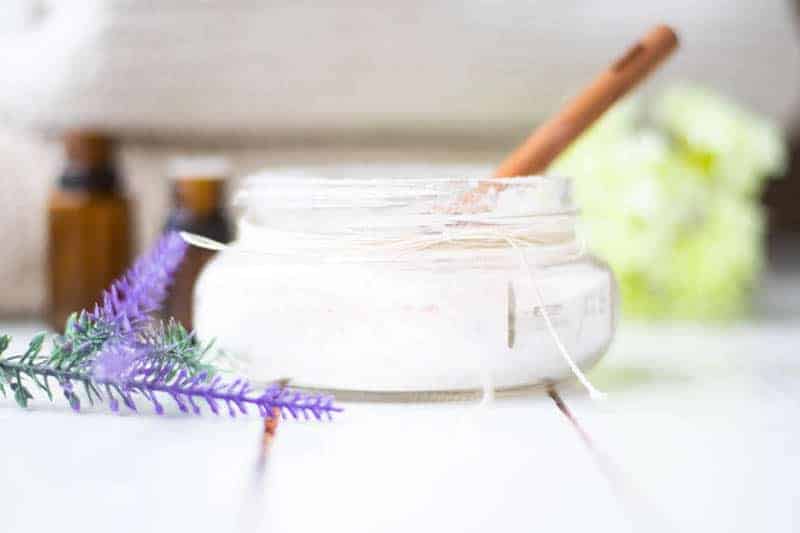 These fizzing bath salts are so fun to make and use. My kids love adding them to bathtime, and I love that they are getting aromatherapy benefits when using them.
This post contains affiliate links, which means I make a small commission at no extra cost to you. Get my full disclosure HERE.
They are similar to most bath bomb recipes but even easier to make. My daughter loves to get involved with my DIYing, and this is one of her favorites to help with. I found some all-natural skin-safe coloring to make these fizzing bath salts even more fun! Of course, her favorite is rainbow!
I love taking a hot bath, especially during wintertime. Since baths are few and far in between, I like to make the most of every bath. Haha. Adding in a scoop of fizzing bath salts is just the thing I need after a long day. OK, now I want to stop writing this post and get in the tub! 😉
PIN IT FOR LATER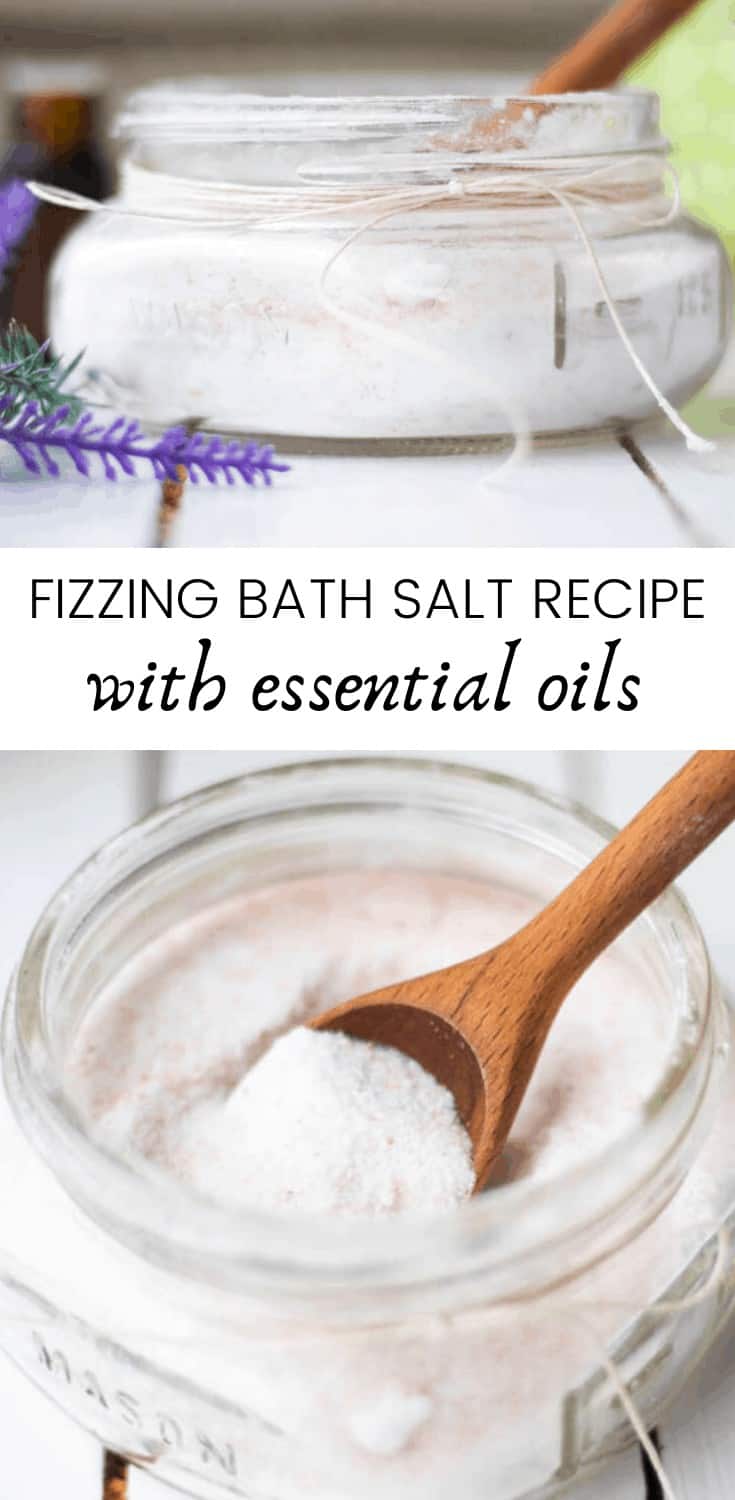 HOW TO MAKE FIZZING BATH SALTS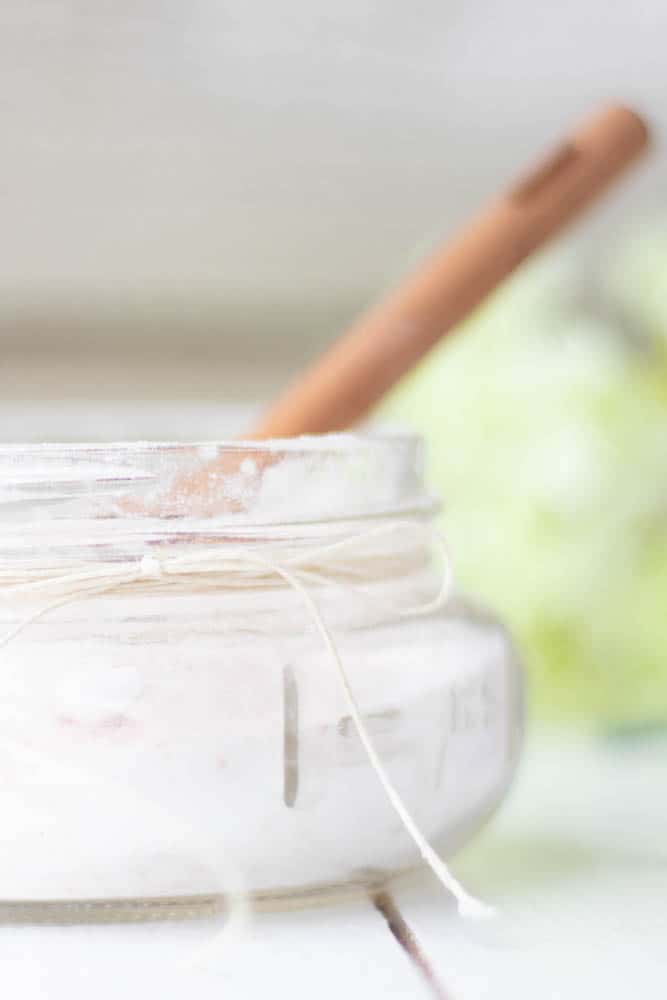 Similar to my simple bath bomb recipe, you will need baking soda, citric acid, Epsom salt, corn starch, and fractionated coconut oil. I am adding pink Himalayan salt to the list because I like to mix the two salts for added benefit.
You have the option of using coloring, which is highly recommended if making these for kiddos. I promise they love it!
THINGS NEEDED TO MAKE FIZZING BATH SALTS (AFFILIATE LINKS):
BENEFITS OF SALT BATHS
Salts can be added to a warm bath to help with skin irritations, muscle aches and to detox the body. The minerals found in salts will absorb through the skin and get into your body to help with these things. Soaking in warm water alone can help to relax muscles and loosen joints.
I like to use a combo of pink Himalayan salt and Epsom salt because they both have their list of benefits.
BENEFITS OF EPSOM SALT
Promotes calmness
Reduces pain and inflammation
Helps with digestive issues, especially constipation
Reduces stress
Increase magnesium levels
BENEFITS OF PINK HIMALAYAN SALT
Increases hydration
Balances pH levels
Relieves muscle cramping
Lower blood pressure
It contains calcium, potassium, magnesium, and other minerals not found in regular salt.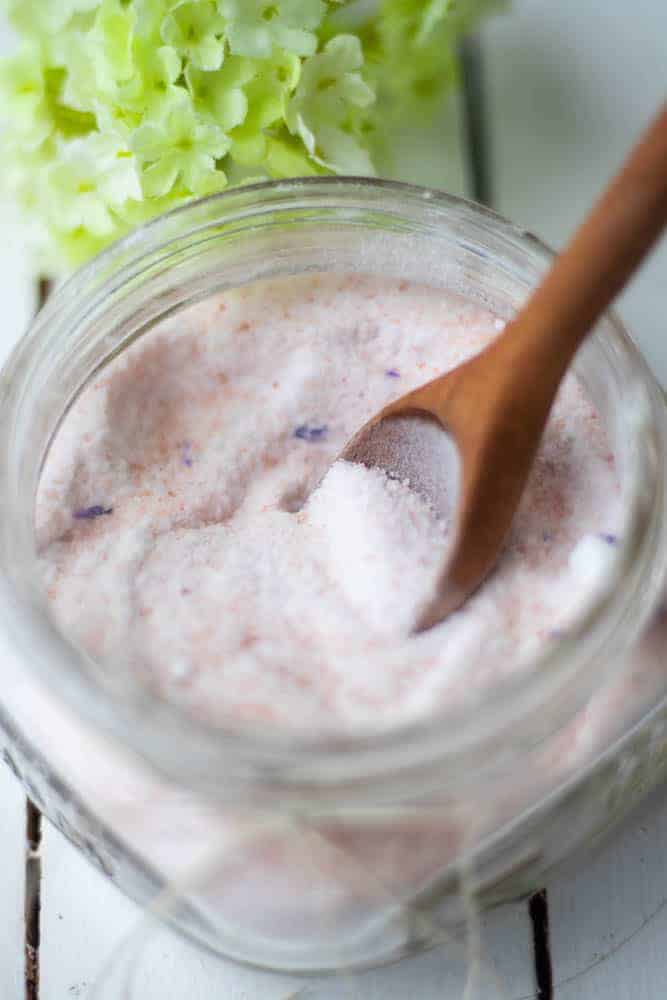 ADDING ESSENTIAL OILS TO FIZZING BATH SALTS
Adding essential oils to your fizzing bath salts is optional but highly recommended. You can add in a single essential oil or a blend of oils. I like to make a large batch of bath salts at a time, about 3 cups. For this amount, I use around 30 drops of essential oils. You can adjust this according to how strong you like the scent to be.
Here are a few of my favorite essential oils to use:
Lavender
Wild Orange
Tangerine
Roman Chamomile
Frankincense
Copaiba
Peppermint
Wintergreen
Vetiver
Eucalyptus
ESSENTIAL OIL BLENDS FOR FIZZING BATH SALTS
CALMING
12 drops lavender
8 drops Roman Chamomile
6 drops vetiver
4 drops frankincense
Get these oils here.
UPLIFTING
12 drops wild orange
10 drops tangerine
8 drops lemon
Get these oils here.
SINUS RELIEF
15 drops eucalyptus
12 drops peppermint
2 drops lemon
Get these oils here.
MUSCLE DISCOMFORT
12 drops copaiba
8 drops frankincense
6 drops peppermint
4 drops wintergreen
Get these oils here.

AROMATHERAPY BENEFITS
You can receive aromatherapy benefits from essential oils anytime you breathe them in. It can be as simple as taking the cap off of an essential oil bottle and sniffing or by using an essential oil diffuser.
Using bath salts is another way to receive aromatherapy benefits. As the salts hit the warm water, it releases tiny essential oil molecules into the air that you are breathing.
As you inhale, the essential oils can support the body in many ways. Several oils can help to boost the immune system naturally, reduce stress and anxious feelings, relieve congestion, and uplift the mood.
HOW TO STORE FIZZING BATH SALTS
I like to keep my bath salts in a heavy-duty plastic container. Generally, you won't want to store essential oils in plastic, since over time essential oils can break down most plastics, but heavy-duty plastics should be ok.
And everything must be completely dry before storing or else you chance the baking soda and citric acid reacting with the moisture causing pressure to build up.
It is also best to store essential oil products out of direct sunlight, as that can cause them to lose potency over time. Keeping the bath salts under the sink or in a bathroom away from a window sill is a great place to store them.
HOW TO USE FIZZING BATH SALTS
Add 1/4 cup of the bath salts to a very warm bath. Stir the water with a washcloth or pour them in under a hot stream of water to help the powder dissolve if desired.
If using bath salts for kids, you can reduce the amount of essential oils in the recipe while making them or use a half serving per bath.

HOW TO MAKE RAINBOW BATH SALTS
Earlier I mention that my daughter loves to make her bath salts "rainbow" colored. This will add a couple of extra steps to the bubbling bath salt recipe, but it is still simple to do.
When you finish making your salts, you will have to add the color in batches and layer it into the mason jar to keep the colors separate. If making a 3 cup batch, you will want to do the colors in 1/2 cup batches.
Take a 1/2 cup of the bath salts and place it in a glass bowl. Add several drops of red coloring and stir until well combined. You can add as much as you want, depending on how deep of a color you are wanting. Pour the red salts on the bottom of your storage container. Press down to make sure all the air bubbles are out to make a sturdy surface for the next batch of colors.
Repeat these steps for orange, yellow, green, blue, and purple.
MORE RECIPES YOU MAY ENJOY
Yield: 12
Fizzing Bath Salts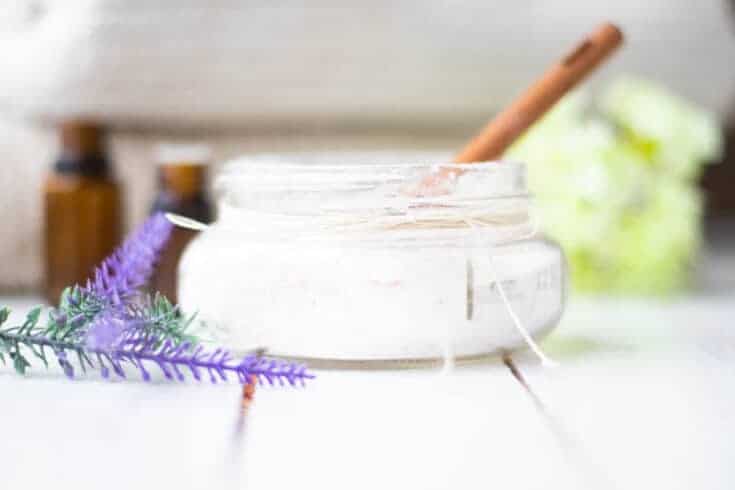 Ingredients
1 cup baking soda 
1/2 cup Epsom salt 
1/2 cup coarse pink salt 
1/2 cup citric acid 
1/2 cup corn starch 
1 tablespoon carrier oil 
15 drops essential oils 
Natural coloring (optional)
Instructions
Combine the dry ingredients in a large mixing bowl. Stir until well combined.
Slowly add in the fractionated coconut oil and essential oils stirring about halfway through.
If using color, add 1-2 drops at a time and stir into the mixture.
Allow everything to dry before storing it in a heavy-duty plastic container.
Notes
Make sure there is no moisture in the container before securing the lid or the baking soda will begin to react with the citric acid.
Alternatively, you can punch several holes in the top of the lid to prevent pressure from building up or use cloth jar covers.
If making layers with the natural coloring, separate the mixture in to several small bowls. Stir in each of the different colors into the individual bowls. Then layer each colored mixture into a glass storage container.