Learn how to make homemade dusting spray with only 3 ingredients. This dusting spray is simple to make, effective, and all-natural.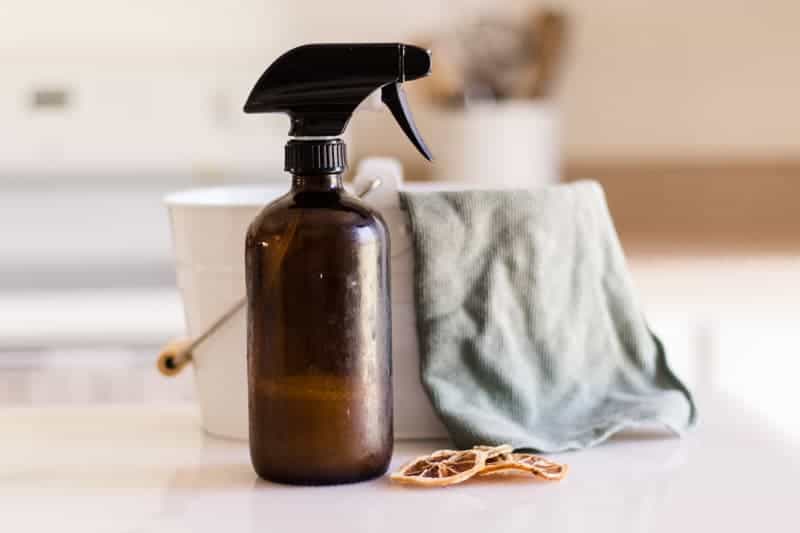 I have been making my own cleaners for almost 10 years now. The switch to all-natural products was easy and I was so impressed with how well they worked.
I am one of those people that actually enjoys cleaning, and letting go of my beloved bleach and Windex wasn't easy for me.
Swapping the toxin-filled conventional products with either homemade or natural ones did not happen overnight.
It was a process and I took it one product at a time. Over the course of several months, I was able to swap out almost all of the cleaners in my home, and it felt so good.
I didn't have to worry about my baby getting into chemicals and I could let my toddlers help me clean.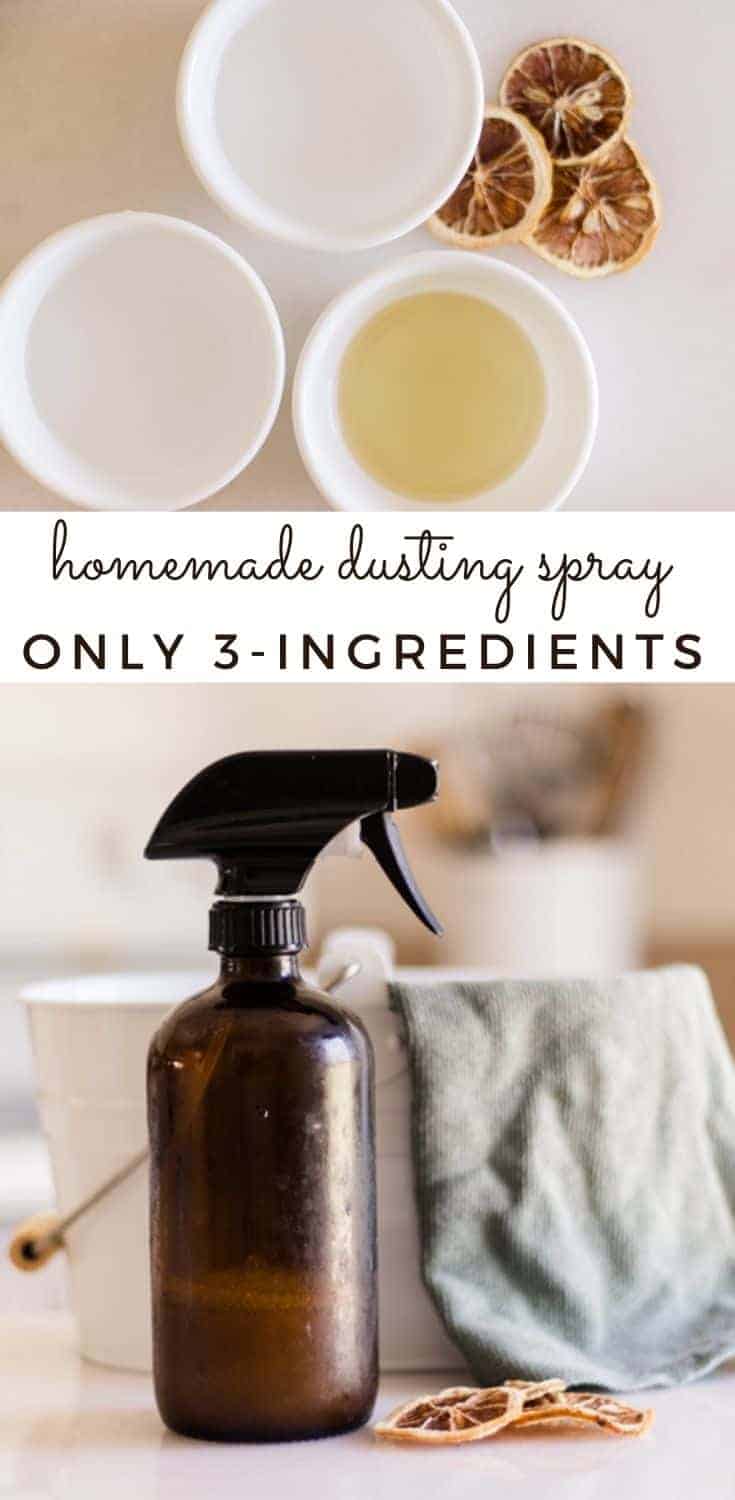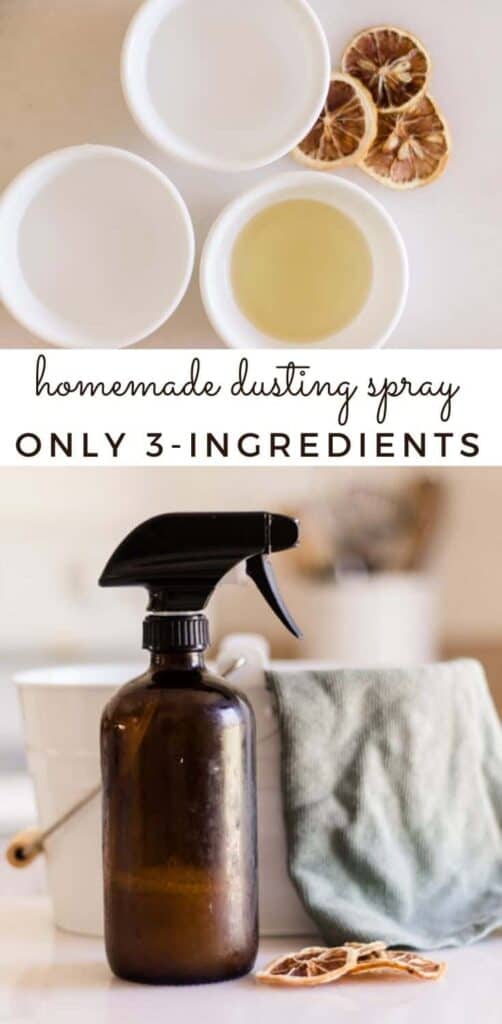 HOMEMADE DUSTING SPRAY
There was a lot of experimenting in the beginning, which led to many great recipes and some not-so-great ones. As I said, it was a process and it took time.
For a while, I used a dusting solution that was super simple to whip up and it did work quite well.
I had used a combination of olive oil and essential oils, but with it being made with just oils, you had to use a very small amount to keep it from leaving a residue on the furniture.
This does not work well for kids who can be so helpful sometimes.
So I came up with this homemade dusting spray that is quite a bit more forgiving, regardless of how much you use.
NATURAL CLEANING WITH KIDS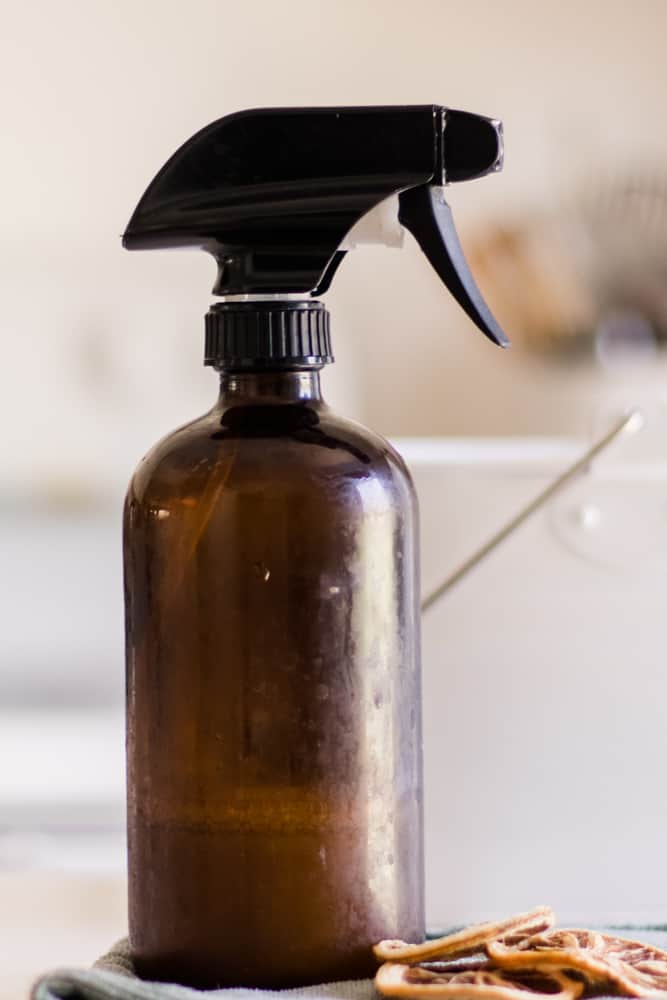 My kids love anything that they can spray. They still think cleaning is fun and ask to help, but they use a lot of spray in the process. I love letting them help and having kid-friendly, all-natural products makes this easy.
I came up with a way to make my dusting solution spray easier for them and less messy. The recipe turned out so well that it is all I use now. I still use olive oil and wild orange essential oil; I just added a couple more ingredients.
To make dusting spray, you will need distilled water, vinegar, olive oil, and wild orange essential oil.
This post contains affiliate links, which means I make a small commission at no extra cost to you. Get my full disclosure HERE.
HOW TO MAKE A DUSTING SPRAY
INGREDIENTS
INSTRUCTIONS
Add water to the glass spray bottle.
Next, add in the vinegar, olive oil, and essential oils.
Secure spray nozzle and shake well to combine ingredients.
HOW TO USE DUSTING SPRAY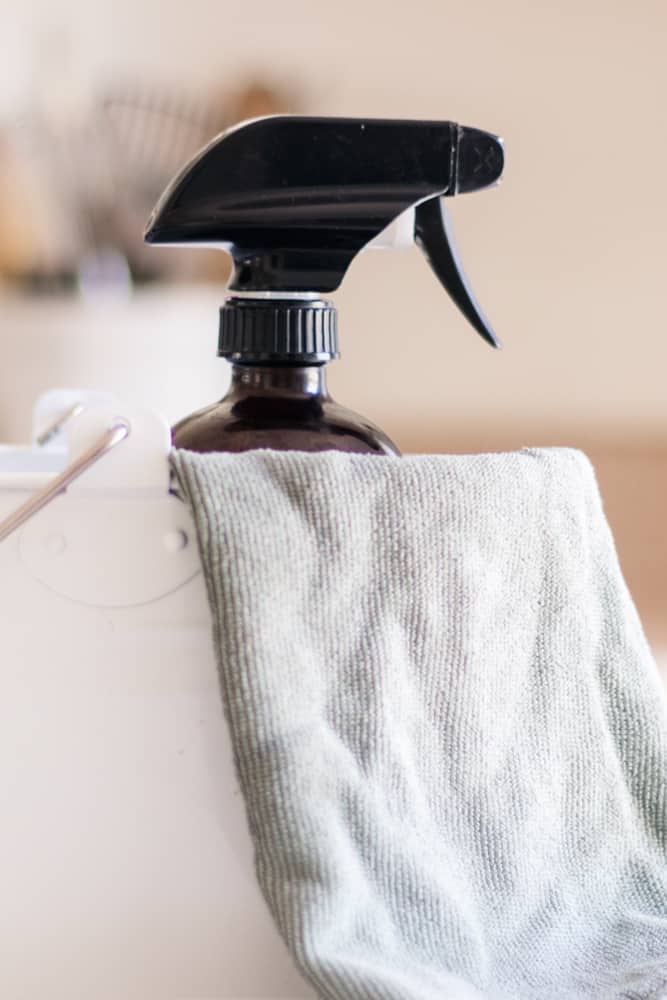 Lightly mist the furniture you are dusting and wipe clean with a microfiber cloth. It is always smart to test a small area of the wood in a place that is not seen to make sure it doesn't damage the wood.
I have used this spray on all the furniture in my home and have not had any issues, but it is always best to check to be sure.
TIPS ON MAKING DUSTING SPRAY
Making your own dusting spray is very simple, but I do have a couple of tips to make it last longer! Plus, I will share substitutes you can make in case you don't have all of the ingredients needed to make the spray.
Make sure you use distilled water in the recipe. Using distilled water will extend the shelf life of the spray. If you don't have distilled water, you can make your own by boiling water. Once it cools down, it is ready to use.
White vinegar is perfect for cleaning. It can remove sticky buildup, dissolve soap scum, get rid of rings left by hard water, and cut grease. If you don't like the smell of vinegar, you can use less or add in extra essential oils to cover the scent.
If you don't have olive oil, you can use any carrier oil in this recipe. Other oils to use include fractionated coconut oil, sweet almond oil, jojoba oil, or avocado oil. These oils can be substituted equally for olive oil.
Adding in essential oils is optional. I love the citrus aroma of wild orange, lemon, and lime for cleaning. These essential oils have powerful cleansing and purifying properties. They can be used to cleanse surfaces, purify the air, and leave behind a pleasant aroma that leaves your home smelling clean and fresh.
If you don't have wild orange essential oil, you can substitute it with any citrus oil or any other oil that you like to use for cleaning.
HOW LONG WILL THIS DUSTING SPRAY LAST?
This recipe will last up to one month. You can add an antioxidant like vitamin E antioxidant or rosemary antioxidant to help extend the product's shelf life if desired.
Store the spray in a glass or metal spray bottle out of direct sunlight. Over time, essential oils can break down plastics, so it is important to use glass or metal when making products with essential oils.
WHAT IS THE BEST CLOTH TO USE FOR DUSTING?
I use microfiber cloths when dusting because microfiber can lift and hold dust. With the positive and negative fibers found in microfiber, the cloth can actually attract the dust and pull it off of the surface.
You can use a damp microfiber cloth to dust and then mist your dusting spray to shine and protect the furniture.
Other cloths that are good for dusting:
Microfiber
Soft cloth
Clean reusable diaper cloth
CAN DUSTING SPRAY RESTORE FURNITURE?
This spray is meant for cleaning, protecting, and shining. To restore old furniture, try beeswax furniture polish.
Using a dusting spray may help to keep your furniture dust-free longer and protect it. The spray will leave a beautiful shine and cleanse the area where it is used.
CAN ESSENTIAL OILS DAMAGE WOOD?
If used improperly, essential oils may damage the wood. Be sure to test a small area before using it all over the wood.
Certain oils can remove paint and lighten stains if used directly on the surface. When added to this spray, it should not affect the color of your wood.
I hope you love this simple dusting spray recipe. If you made it and loved it, leave a review or comment, I love hearing from you!
And if you are looking for more great DIYs, here are a few of my favorites.
Homemade Dusting Spray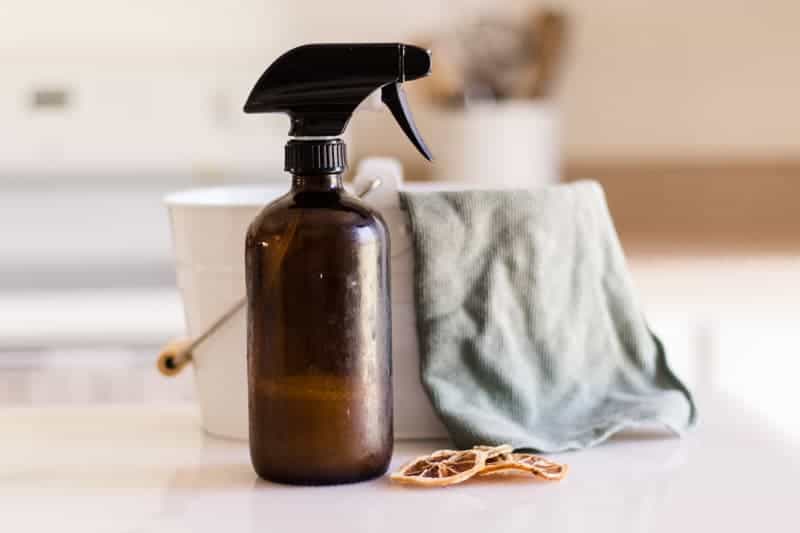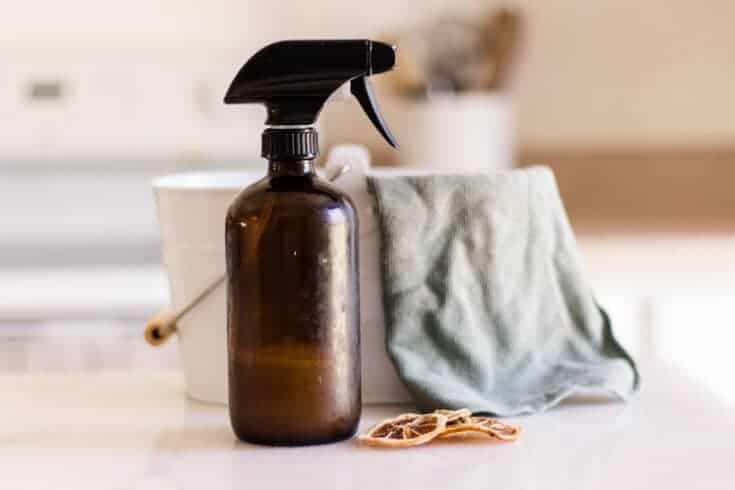 Homemade dusting spray with only 3-ingredients. This dusting spray is simple to make, effective, and all-natural
Materials
1 cup distilled water
1/8 cup white vinegar
2 tablespoons olive oil
10-15 drops wild orange essential oil
Glass spray bottle
Instructions
Add water to the glass spray bottle.
Add in the vinegar, olive oil, and essential oils.
Secure spray nozzle and shake well to combine ingredients.
Notes
Gently shake before each use.