Cold-pressed from the peel of the fruit, wild orange essential oil has a fresh sweet aroma. Wild orange essential oil benefits the mood, skin, immune system and can be used for natural cleaning.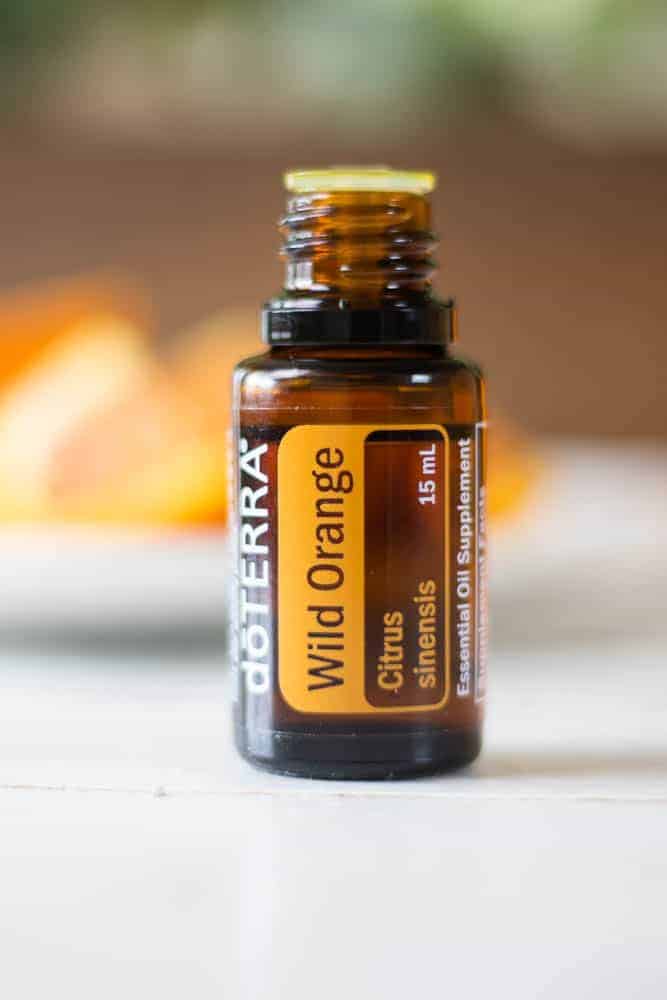 Wild orange essential oil has many benefits. It was actually the very first essential oil presented to me. When I went to an oil class that a friend was teaching, she had little samples of wild orange sitting on the table. I opened it, inhaled, and was hooked.
Next to lemon, wild orange is one of my most used essential oils. It is one of my favorites to diffuse, use topically on my kids, and to clean with.
Have you ever peeled an orange, and a mist came out of the peel? That was the essential oil! Essential oils are very concentrated liquids. It will take over 25 large oranges to get a useable amount of wild orange essential oil!
PIN IT FOR LATER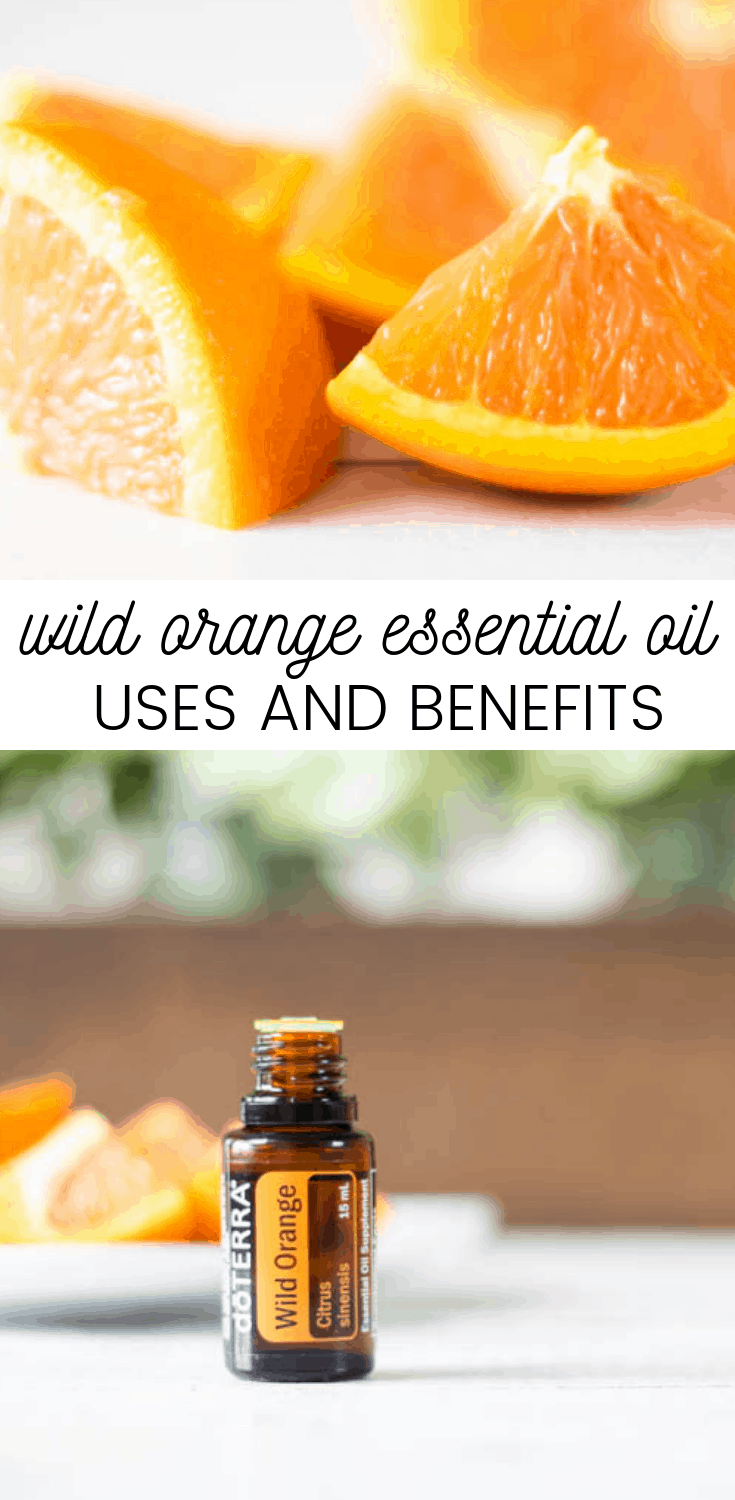 HOW TO USE WILD ORANGE ESSENTIAL OIL
Similar to most essential oils, wild orange essential oil can be used aromatically, topically, and internally. Be sure you are using high-quality essential oils that are intended for internal use before ingesting essential oils.
HOW TO USE WILD ORANGE ESSENTIAL OIL TOPICALLY
It is very important to dilute essential oils before applying them to the skin because they are so concentrated. When applying essential oils to the skin for the first time, you should put them on the bottom of the feet.
The skin on the feet is less sensitive than other areas, and it has the largest pores making it easier for the oil to be absorbed into the body.
You can dilute 1 drop of essential oil in a teaspoon of a carrier oil. Or you can make an essential oil roller bottle for easy application.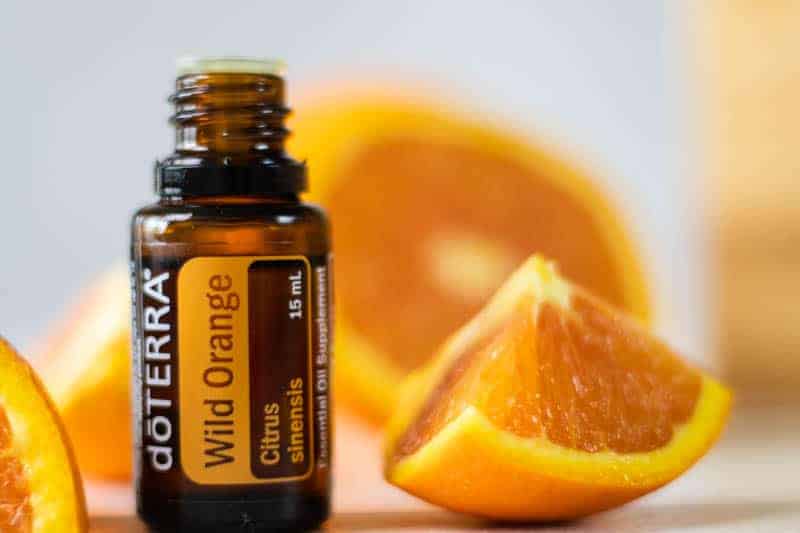 This post contains affiliate links, which means I make a small commission at no extra cost to you. Get my full disclosure here.
AROMATIC USE
My favorite way to use wild orange essential oil is aromatically. The aroma of wild orange can give you a natural boost of energy and cleanse the air.
The easiest way to get aromatic benefits is with an essential oil diffuser. If you don't have a diffuser, you can make your own with salt or by putting a drop or two on the palm of your hand; then cuffing your hands over your nose.
Mixing water and wild orange in a spray bottle and misting it into the air is another way to enjoy the aromatic benefits of wild orange essential oil.
INTERNAL USE
Wild orange essential oil can have many benefits for the body when taken internally. It can boost the immune system when you aren't feeling well, and it can improve digestion.
You can ingest essential oils in a few different ways.
Add one drop of wild orange essential oil to 4 ounces of water. This is my favorite way to take any citrus essential oil internally.
Put one drop of wild orange under the tongue. Hold for 30 seconds and swallow.
Make a veggie capsule by adding one drop to an empty veggie capsule. Swallow like a pill. This is an excellent option if you don't like the taste, though I can't imagine not enjoying the taste of wild orange!
WILD ORANGE ESSENTIAL OIL BENEFITS
Inhale or diffuse wild orange essential oil to help with feelings of anxiousness and stress.
Take internally to improve digestion.
Diffuse, take internally or apply topically to pulse points to boost the immune system.
Apply under the nose, across the forehead, and over the heart to help with fear and irritability.
Take internally, apply topically under the nose, or diffuse for a natural boost of energy. Wild orange can help stimulate the brain and creativity. Add in peppermint and rosemary for ultimate results!
Add wild orange to your water in the morning for a gentle detox.
Diffuse to promote feelings of happiness and to uplift the mood.
Wild orange essential oil is great for dental health as it can cleanse and whiten teeth.
Add to a spray bottle mixed 50/50 water and vinegar to make an all-purpose house cleaner.
Dilute and apply topically to cleanse and smooth the skin.
CAN YOU COOK WITH WILD ORANGE ESSENTIAL OIL?
You can use wild orange essential oil to enhance smoothies, desserts, and main dishes. When cooking with essential oils, it is very important to remember how concentrated they are.
Just a couple of drops will be enough to give the dish a rich citrus flavor. Start with one drop and add more if needed.
I love adding wild orange essential oils to smoothies and cranberry cookies. It is so delicious!
WILD ORANGE ESSENTIAL OIL DIFFUSER BLENDS
Wild orange makes it into most of my favorite diffuser blends. With the beautiful aroma and many benefits, it is definitely one you will want in your diffuser too!
Wild orange blends well with several oils. Check out how to use wild orange essential oil with these fun diffuser blends.
WAKE UP
Get these 3 oils bundled wholesale here.
MOOD SUPPORT
Get these 3 oils bundled wholesale here.
IMMUNE BOOST
Get these 3 oils bundled wholesale here.
ESSENTIAL OIL ROLLER BOTTLES
Making essential oil roller bottles is really easy to do, and it makes the application easier. You can make a roller bottle with wild orange alone, or you can blend it with several oils.
My rule of thumb is 20-30 drops of essential oil total in a roller bottle and then top the rest off with a carrier oil. Get a full dilution chart and several carrier oil options, so you know exactly how to make your roller bottle safely.
Several of my roller bottle recipes that I share on the blog has wild orange in them. Here are a few recipes you may want to check out: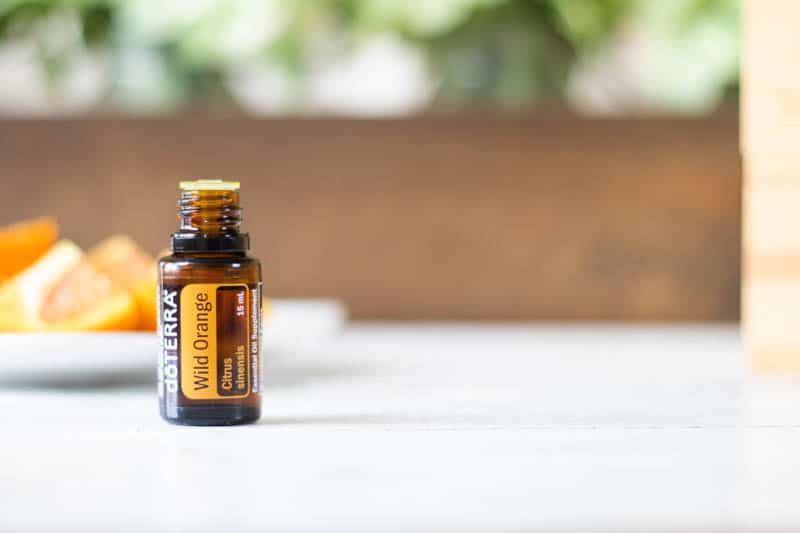 IS WILD ORANGE ESSENTIAL OIL SAFE FOR KIDS?
Wild orange can be safe to use on children, but there are a few things you should know before doing so.
Most citrus oils, wild orange included, are photosensitive. Because of this, you should avoid exposure to sunlight or UV rays for 12 hours after application. Wild orange should be diluted before being applied to children.
Only use wild orange internally on children under 12 if OK'ed by a doctor.
Wild orange can be a very beneficial essential oil for children. I diffuse it around my kids to help them focus during the winter months.
Have you ever used wild orange essential oil? What is your favorite way to use it?