Essential oils for dark circles and the best way to get rid of eye bags naturally. This under-eye roller bottle will come in handy for those sleepless nights and stressful days!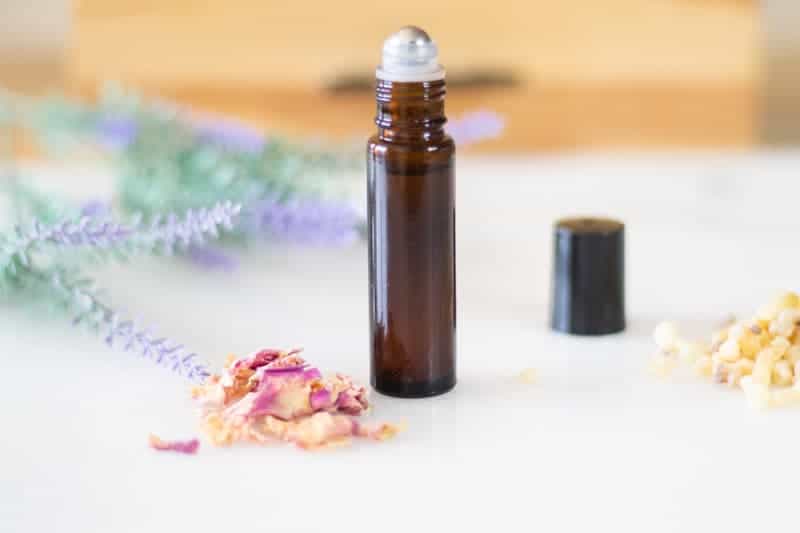 Have you ever used essential oils for dark circles underneath the eyes? Find out the reasons for those circles and several simple remedies to try below.
When someone says, "Oh, you look tired and worn out!" we know what that means. It is basically the nice way of saying, you look like crap. We all know what the tired look means.
Bags under the eye can easily be caused by stress or sleepless nights, but it can also be a sign of aging. Using essential oils for anti-aging can help reduce bags under the eyes.
PIN IT FOR LATER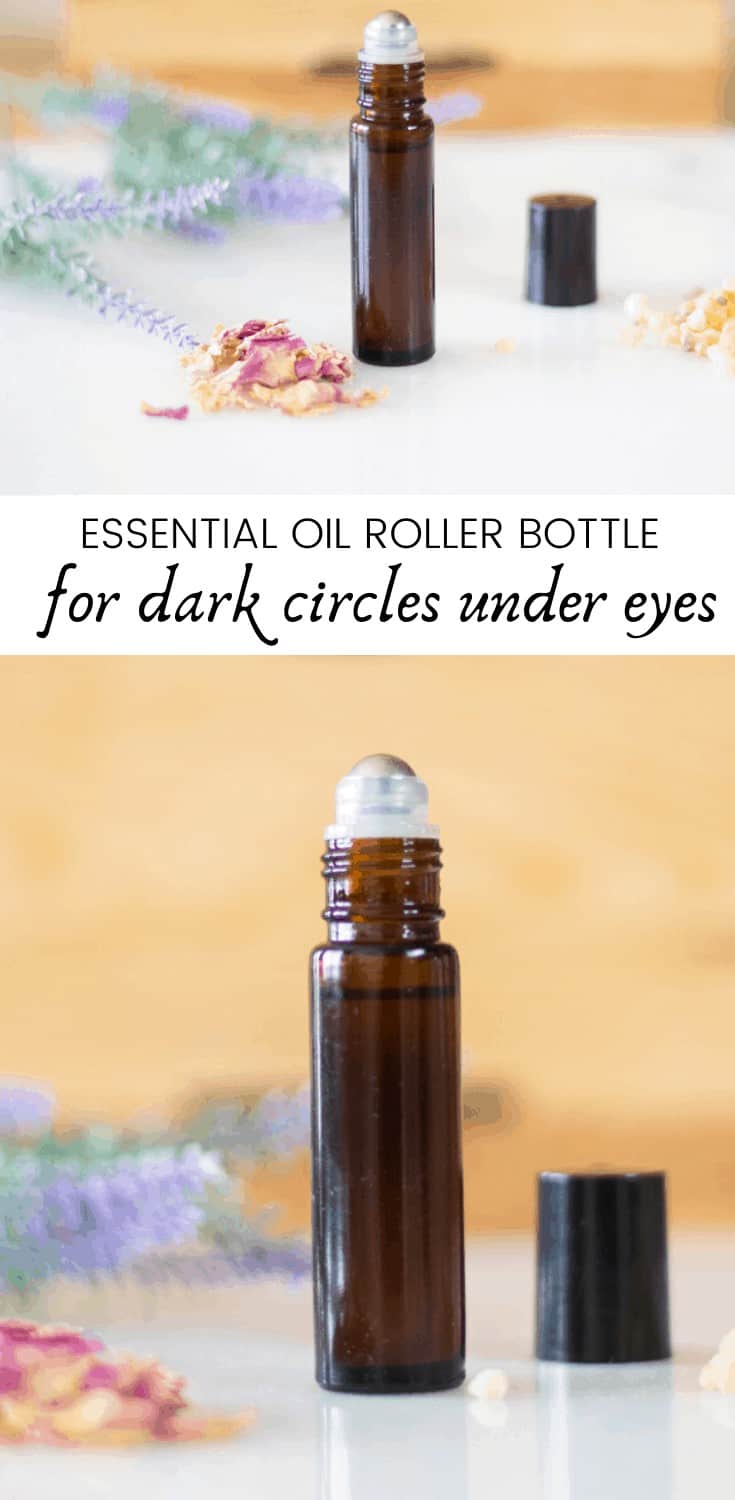 WHAT CAUSES DARK CIRCLES UNDER THE EYES?
Similar to bags under the eyes, dark circles are often caused by stress, excess worry, and lack of sleep. However, most commonly, they are caused by some sort of allergy, whether it be a food allergy, environmental, or seasonal.
If you suffer from seasonal allergies, I am sure you know about dark circles and bags under the eyes. There are several essential oils that can help with seasonal threats, such as lemon, lavender, and peppermint.
These three essential oils make a natural antihistamine and can help the body with an allergic response. These oils would be great to apply to the bottom of the feet, down the spine, and on the wrist, if having an allergic response.
I wouldn't suggest putting this blend under the eye because it contains peppermint. Peppermint essential oil can cause burning if it gets too close to the eye.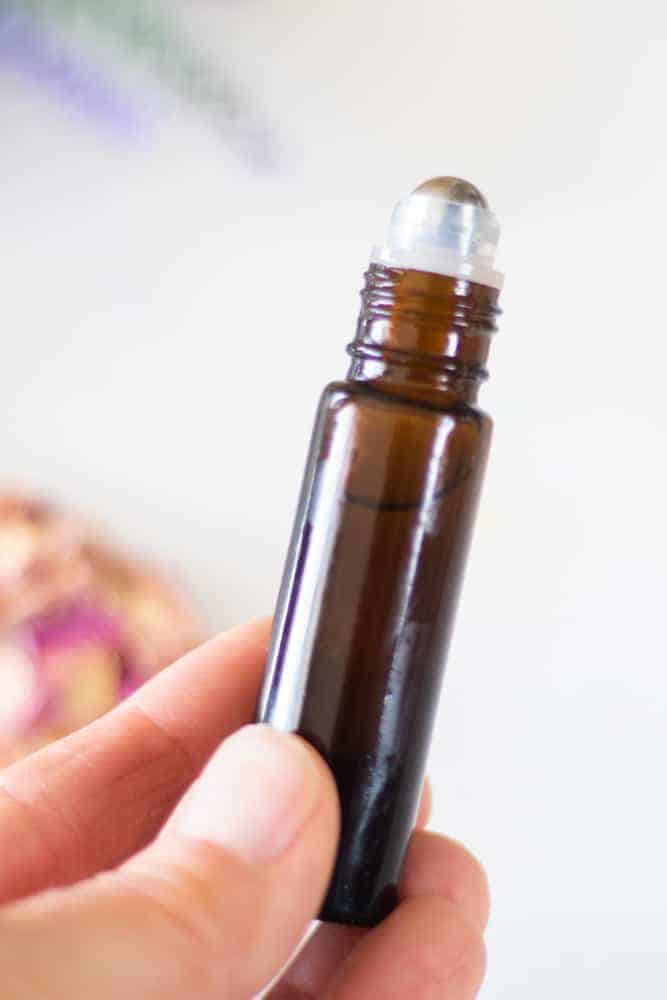 CAUSES FOR DARK CIRCLES UNDER THE EYE
Allergies
Lack of Sleep
Stress
Sun exposure
Genetic
Aging
Vitamin deficiency
Poor blood circulation
ESSENTIAL OILS FOR DARK CIRCLES

The best essential oils for dark circles under the eye are frankincense, cypress, lavender, Roman chamomile, lemon, and rose.
FRANKINCENSE
Frankincense is amazing for the skin. It can reduce blemishes, fine lines, wrinkles, and age spots. Apply topically to the area of concern. Add a drop on your hand with coconut oil for a daily moisturizer.
It can also help with a healthy inflammatory response inside the body when taken internally or applied topically to the area of concern. Be sure to check with a doctor before taking essential oils internally.
Learn more about frankincense essential oil.
CYPRESS
Cypress oil has long been regarded as a highly beneficial oil for the skin, anti-aging, and skin tone. It can also help with a healthy inflammatory response.
Cypress can help with blood circulation when applied topically to the area of concern, making it a great oil for dark circles under the eyes.
LAVENDER
Lavender reduces the appearance of skin imperfections, and it can soothe occasional skin irritations. It is also great for blemishes, bumps, rashes, and scars.
Lavender is commonly used for stress and promotes good night's sleep. Try using lavender topically or aromatically if you think stress can be a cause of your dark circles. Essential oils can be very helpful at managing stress and anxious feelings naturally.
Learn more about lavender essential oil here.
ROMAN CHAMOMILE
Roman chamomile is a very gentle essential oil that has many benefits for the skin. This one makes the list of essential oils for dark circles because of its anti-inflammatory properties.
LEMON
Lemon can naturally lighten the skin tone, and it is very moisturizing. It is packed full of vitamins that can rejuvenate skin cells and help with skin discoloration.
Learn more about lemon essential oil.
ROSE
Rose essential oil will also make the list for anything that has to do with skin; it is incredible for dry skin and wrinkles.
It takes a little over 60 roses to get one drop of rose essential oil, now that is some concentrated goodness right there! Rose oil is amazing for skin and anti-aging.
Roses are high in vitamin C and encourages your body to produce more collagen. The decrease in collagen is one of the main factors for aging skin.
ESSENTIAL OILS FOR PUFFY EYES
Puffy eyes and dark circles usually come together, YAY! Thankfully, the essential oils you use for dark circles will also help for puffy eyes.
Puffy eyes can be caused by poor sleep, stress, or inflammation, just like dark circles.
BEST WAY TO GET RID OF EYE BAGS
Using essential oil roller bottles under the eyes can be very helpful for getting rid of bags and dark circles naturally. However, there are several more remedies to try.
Essential oils
Cold compress
Proper hydration
Quit smoking
Reduce allergy symptoms (This may require a diet change if it is caused by food.)
Get extra sleep
Cut down on stress (If possible!)
Use sunscreen and a hat when outside.
Consult with a doctor about supplements you may need to take to help with vitamin deficiencies.
UNDER EYE ROLLER BOTTLE
This post contains affiliate links, which means I make a small commission at no extra cost to you. Get my full disclosure HERE.
INGREDIENTS
Get all the essential oils for this roller bottle at wholesale pricing.
INSTRUCTIONS
Add all the essential oils to a 10mL glass roller bottle.
Top off with your favorite carrier oil. My favorite is fractionated coconut oil, learn more about carrier oils.
Shake well before each use.
Apply under the eyes twice daily for best results.
It is important to remember that you shouldn't put essential oils in the eyes. It is OK to apply them under the eye and around the eye if you are diluting them properly. Essential oils are very concentrated and should always be diluted before being applied to the skin.
The skin around the eye is very sensitive. Test this roller bottle on a different area of the body to be sure you don't have any sensitivities to it before applying it under the eyes.
UNDER EYE TREATMENT
Coconut oil can be found in many skincare products for very good reasons. It can protect the skin against anti-aging, dryness, imperfections, and even infections.
Try adding a little bit of coconut oil under the eye to help with bags and dark circles.
Coconut oil is a natural anti-bacterial, anti-fungal, and it is very moisturizing for the skin. It is primarily made up of nourishing fatty acids and is really high in lauric acid. It contains vitamin E and several healthy fats that help to make skin smooth.
Coconut oil can encourage the production of collagen and the regeneration of cells in your skin, which makes it effective for fading wrinkles, even out skin tone, and tightening the skin.
Coconut oil can be used as an effective face moisturizer and body butter.
MORE FACIAL SKINCARE RECIPES:
Essential Oils for Dark Circles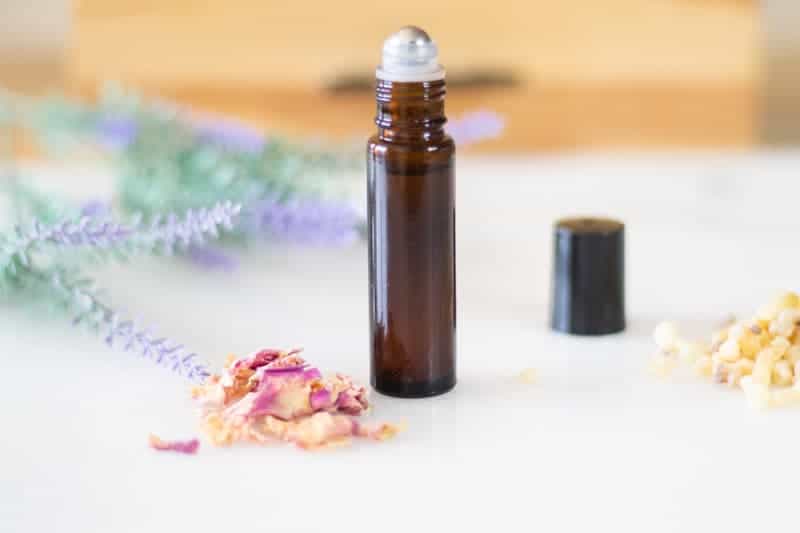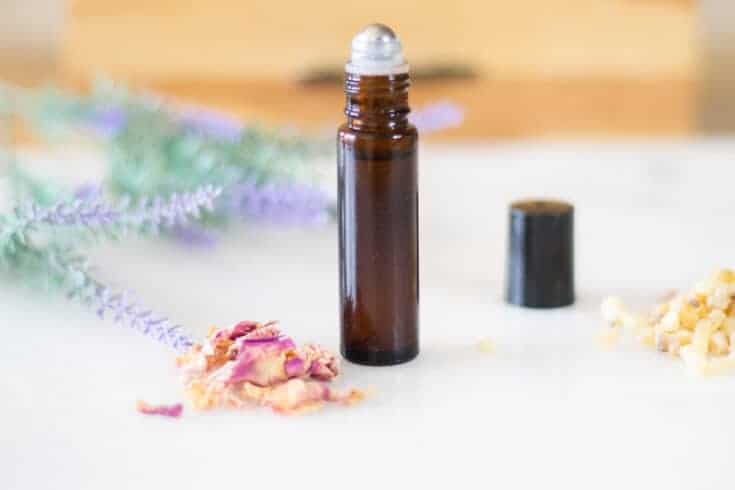 Ingredients
4 drops frankincense 
4 drops lavender 
3 drops roman chamomile 
3 drops rose
2 drops cypress
2 drops lemon
Fractionated coconut oil
10mL roller bottle 
Instructions
Add all the essential oils to a 10mL glass roller bottle.

Top off with your favorite carrier oil.

Shake well before each use.

Apply under the eyes twice daily for best results.