Diffusing essential oils can uplift the mood, boost the immune system, and so much more! Learn how to make an essential oil diffuser with these DIY diffuser hacks.
I love diffusing essential oils in my home because they smell fantastic and have many aromatic benefits. But what if I want these same benefits when I am not at home or do not have a diffuser? Below, I am going to show you several ways to make an essential oil diffuser.
Don't worry; there are several ways to "diffuse" essential oils without an actual diffuser. And the best part is that most of these diffuser hacks are 100% free!
PIN IT FOR LATER
HOW TO MAKE AN ESSENTIAL OIL DIFFUSER VIDEO
This post contains affiliate links, which means I make a small commission at no extra cost to you. Get my full disclosure HERE.
USING YOUR HANDS TO INHALE ESSENTIAL OILS
This is probably the easiest way to use essential oils aromatically and doesn't require any special equipment. Simply put a few drops of essential oils in the palm of your hand, cuff them over the nose, and take several deep breaths.
Because we never want to waste essential oils, rub the remaining oil onto the back of your neck, into your hands, or on the bottom of the feet. Depending on the oil, sometimes I even run it through my hair.
DIY DIFFUSER HACKS
#1 Use your clothes
Add a few drops of essential oils on your shirt near your collar to receive essential oil benefits throughout the day. Unlike other oils, essential oils will not stain your clothes.
This is especially helpful if you are stuffy and trying to promote clear breathing. Think eucalyptus on your sleeve; I can't tell you how many times I have used this hack
#2 Use a tissue
This one is not rocket science, but totally worth sharing.
If you are at the office and need a little aromatherapy benefits, take a tissue and add a few drops of essential oils to it. Place it on your desk and inhale.
#3 Use cotton balls
I highly recommend a car diffuser, but if you don't have one try out this DIY diffuser hack! Put a few drops of essential oils on a cotton ball and place it in your cup holders or on your air vents.
This is also very helpful for a stinky trashcan or shoes. Essential oil-filled cotton balls can be very handy!
#4 Use your pillow
Diffusing essential oils at night is my favorite way to sleep. Essential oils can be crucial in promoting a healthy night's sleep and can make all the difference in the world.
If you don't have a diffuser, simply place the same calming oils on your pillows and sheets. Be sure to keep the oils out of your eyes as it can burn.
#5 Make an essential oil room spray
I love making room sprays with my essential oils. These make the perfect diffuser if you are out of the house. I like to keep them handy to freshen the air and give me a boost.
Mist into the office, schoolroom, or car for aromatic benefits. Check out my favorite room spray recipes here and here.
HOW TO DIFFUSE ESSENTIAL OILS WITHOUT A DIFFUSER
This might possibly be the easiest DIY project you have ever done, but with the largest impact. Grab a bowl, add in course pink Himalayan salt, and then add in essential oils.
You can add in one oil or a blend of oils. Check out my personal favorite diffuser blends, essential oil diffuser blends for mood, blends for fall, blends for winter, and diffuser blends for kids for some ideas of which oils to add to your salt diffuser.
Set your salt diffuser anywhere you want: in your home, car, or office. Add them to bookshelves, in the bathroom, on the window sill, pretty much anywhere.
As the scent starts to fade, you can add more drops of essential oils into the salt or dissolve the salts in a warm relaxing bath.
Get creative and make these pretty by finding fun containers or bowls to add your salt too.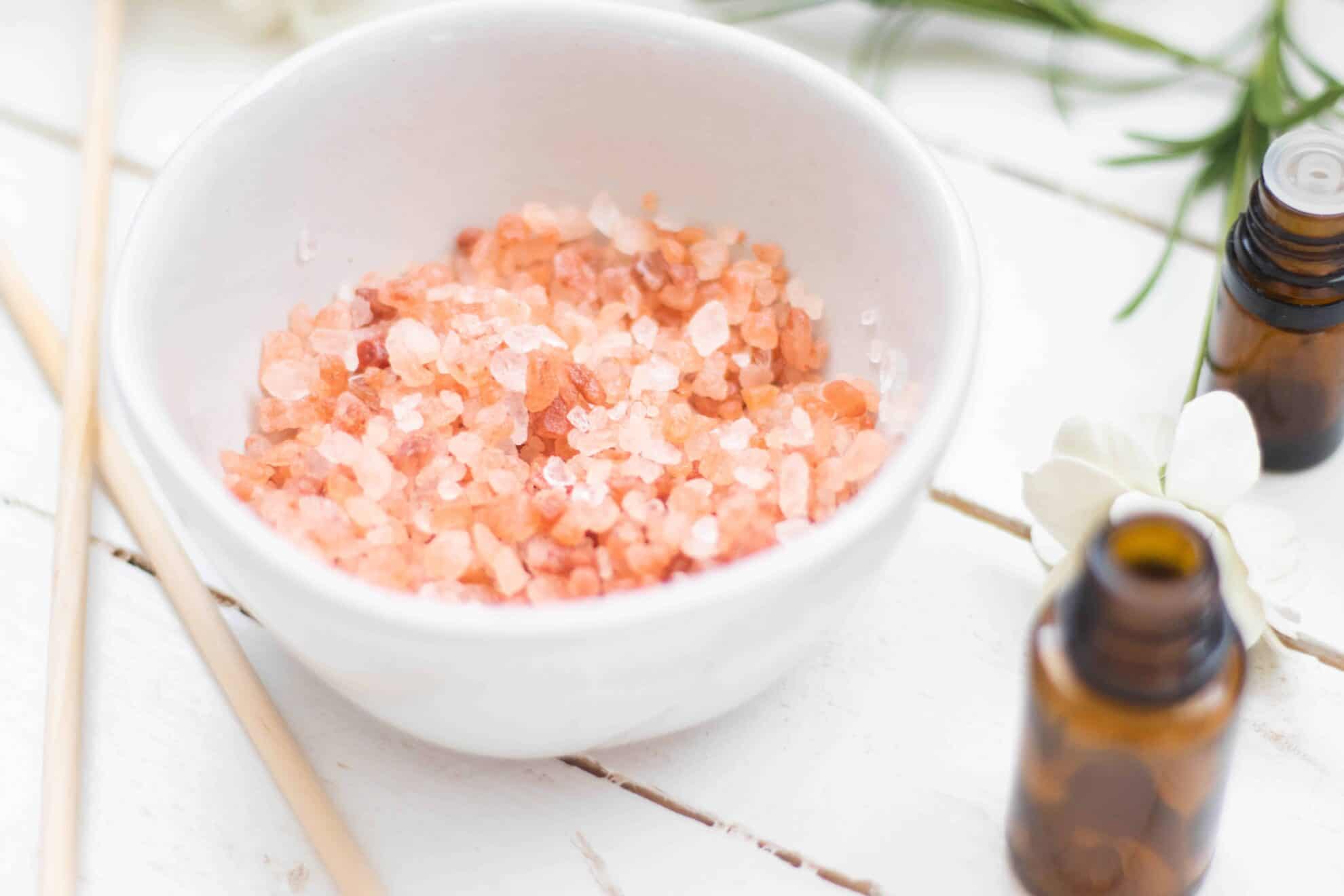 HOW TO MAKE AN ESSENTIAL OIL REED DIFFUSER
Making a reed diffuser is another great way to diffuse essential oils in your home. All you need is a jar with a small opening at the top, a light carrier oil, essential oils, and reeds.
Vases are most commonly used for a reed diffuser because the smaller opening on top will help the oils from evaporating to fast. You can find these used at thrift stores, garage sales, or in your grandma's basement.
HOW TO MAKE A REED DIFFUSER
Add 1/4 cup of carrier oil to the base. (I like to use a light oil like sunflower or fractionated coconut oil)
Add in 20-30 drops of essential oils.
Place the reeds in the vase, and voila you're done. The reeds will absorb the oils and release the scent into the air.
See, so many ways to diffuse essential oils! Get creative friend and happy diffusing! 😉
Diffuser Blends to Try
You can diffuse a single essential oil or a blend of essential oils, check out a few of my favoites! Plus, several blends for the different seasons and holidays.