Learn how to make your own laundry detergent, 5 gallons worth, that is, for less than two dollars using just a handful of natural ingredients. This homemade laundry soap is a great way to reduce waste; it works great and is simple to make! So much so, I make 5 gallons at a time!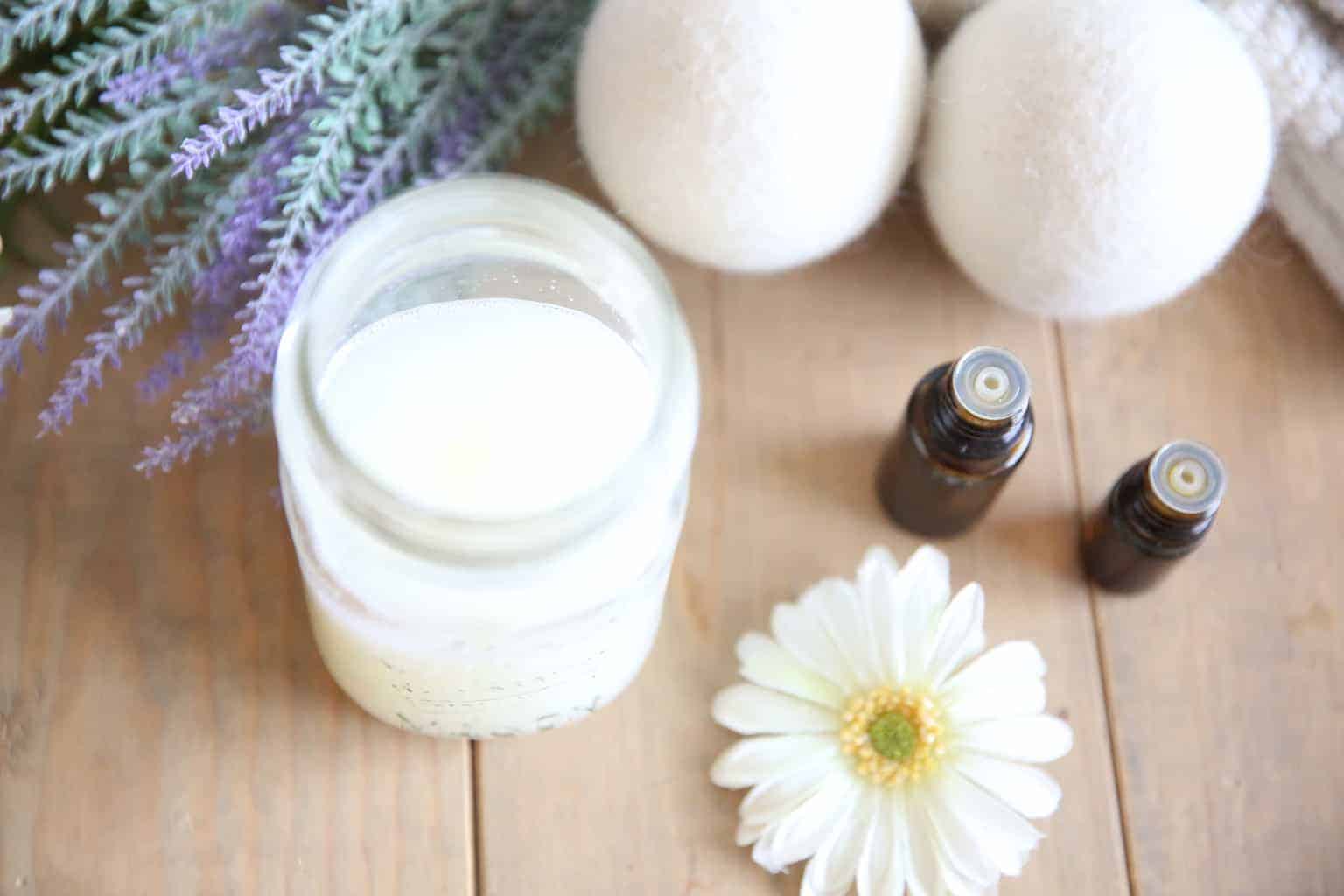 Making laundry soap is a great place to start when getting rid of harmful and potentially toxic cleaning products from your home. For example, anyone can make it, and it requires very little time, ingredients, or upfront costs.
In fact, it takes less than 20 minutes from start to finish to make 5 gallons of all-natural laundry soap. I have been using this soap for nearly 10 years now and it has saved me so much money. One of the biggest hangups for a lot of people is that they will miss their favorite laundry detergent scent.
The good news; you can use essential oils to match nearly every laundry detergent scent (check out the different blends below!). On the other hand, it's easy to omit the oils for unscented laundry soap; either way, this laundry soap recipe will work for everyone!
In addition to making this recipe chemical-free, I knew I wanted it to be a low waste, eco-friendly laundry detergent. At least as much as possible. Using reusable containers and naturally sourced essential oils is a great place to start!
Before you get started, gain access to my online resource library for your FREE printable labels to this recipe, other recipes as well as several ebooks!
This post contains affiliate links, which means I make a small commission at no extra cost to you. Get my full disclosure HERE.
HOMEMADE LAUNDRY SOAP INGREDIENTS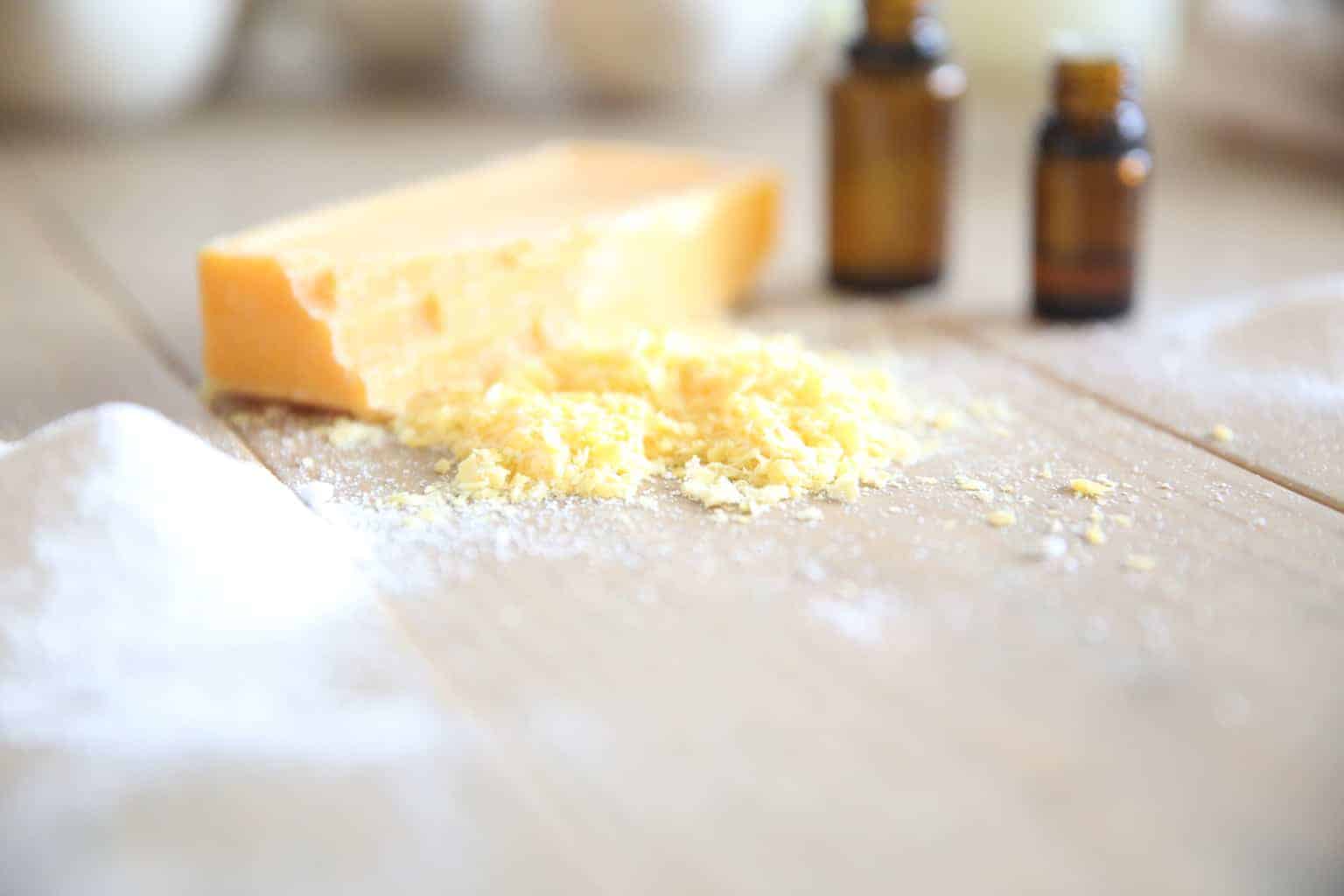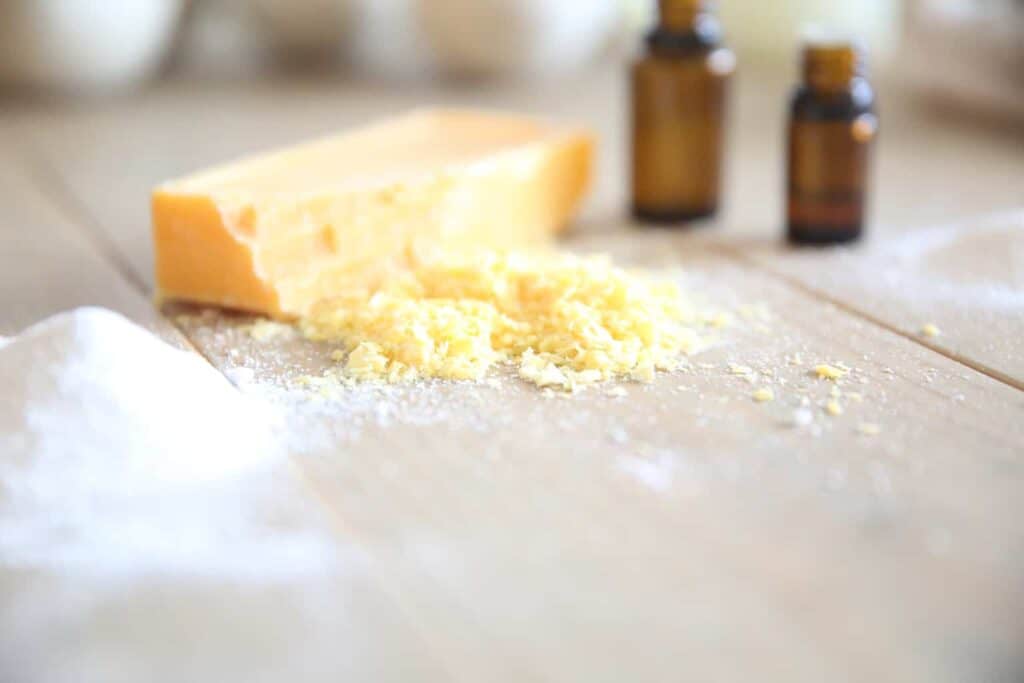 1 cup borax (buy borax here)
1/2 cup washing soda (buy washing soda here)
1 Fels Naptha soap bar, 5 ounces (Or a Homemade Laundry Soap Bar)
5-gallon bucket with lid (I use one similar to this one) Any old 5-gallon bucket with a seal will work!
Cheese grater ( I use one similar to this one. I keep this one in the laundry room and have a different one for the kitchen)
30-50 drops of essential oils of choice (I list my favorites below)
Homemade laundry detergent recipe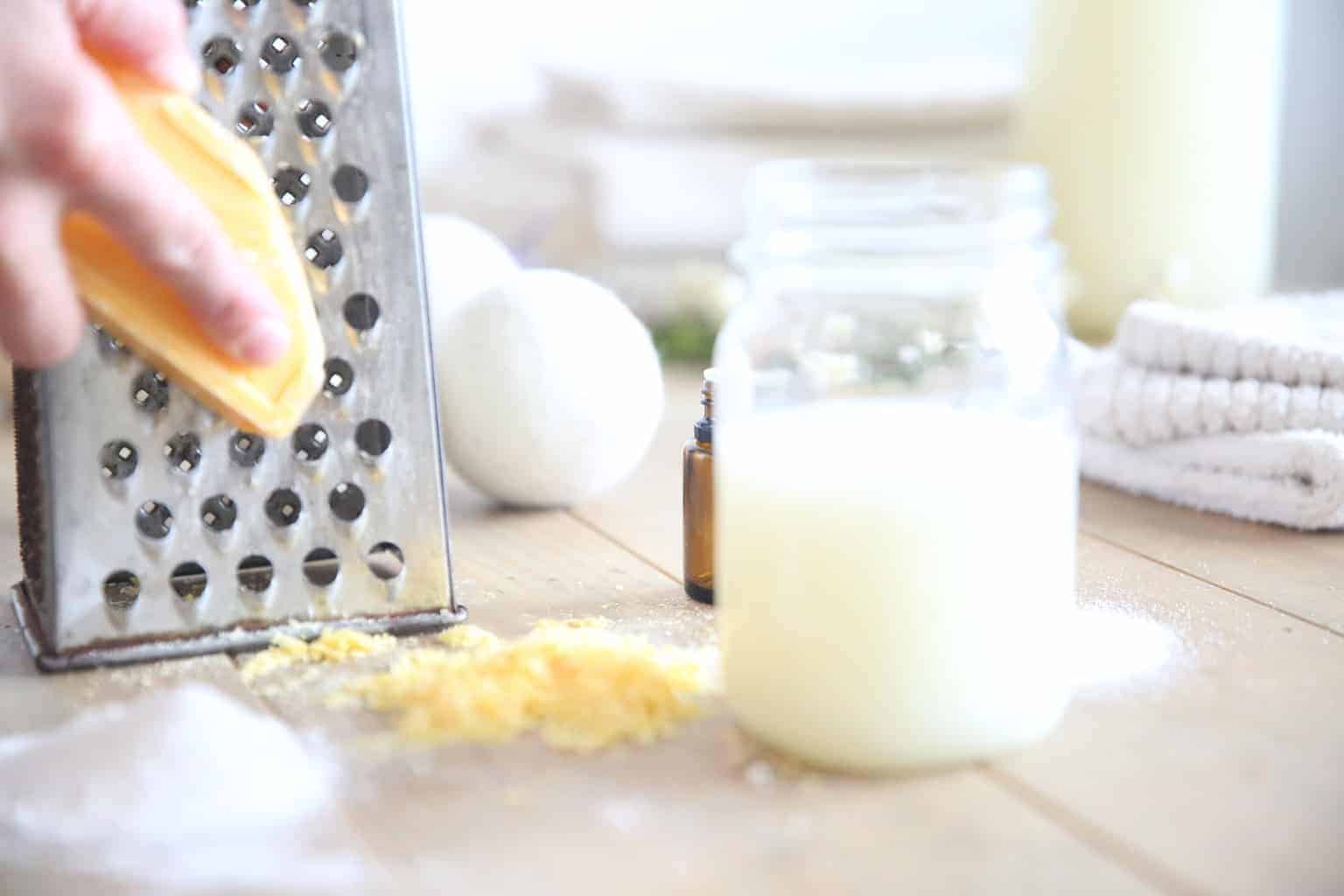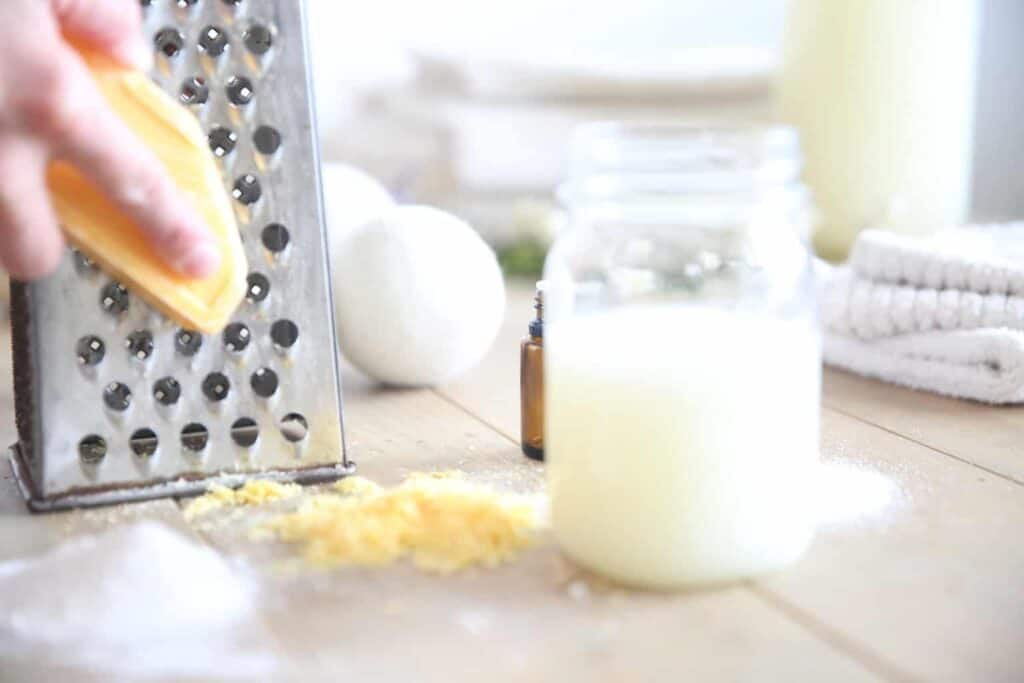 Add 1/2 gallon of water to your bucket. Stir in borax and washing soda.
Shred your soap bar with the cheese grater—melt soap shreds in 1 cup of water on the stove over medium heat. Stir often.
Add melted soap to the bucket and stir in well.
Add essential oils of choice. See lists below!
Fill the bucket to about 2-3 inches from the top rim. Stir until all the ingredients are well combined.
Secure lid, let sit overnight and then give the bucket one good final shake.
NOTES: For easier handling, fill an old laundry detergent container or 1/2 gallon mason jar with the laundry soap and store the bucket out of the way. Shake well before each use. Use 1/4 cup of detergent per load.
How long does laundry detergent last
Most laundry detergents last anywhere from 6 months to a year after opening. This expiratory period is due in part to the strength of the products that cannot be guaranteed after that point. i.e., they may lose some of their potency. However, it does not mean that the product necessarily will spoil after that point.
This laundry soap lasts at least 12 months. Be sure to store out of the sunlight in a climate-controlled environment to reduce the risk of mold. As long as it smells ok, it will be fine to use.
I have actually been asked if this laundry soap would freeze? The answer, YES; it may freeze in frigid temps. The shredded soap bar may lower the freezing point some but can still freeze. So make sure you store the bucket indoors!
We do a lot of laundry here, like nearly every day! Yikes! Since this recipe makes approximately 320 loads, it should be enough for a year's worth of laundry for the average household.
Liquid laundry detergent vs powder
Liquid laundry soap pros: It easily dissolves in cold water, which can save on that electric bill by not using hot water. In some cases, it can be put on the clothes to help in removing stains before running it through the cycle.
Cons: Typically has a shorter shelf life than its powdered detergent cousin, and if buying conventional detergent-its not the most eco-friendly, being packaged in plastic. Homemade soap, on the other hand, I've been using the same bucket for almost 10 years.
Powdered laundry soap essentially never expires as long as it stays dry. It is extremely concentrated and more powerful, only requiring 2 tbsp per load. Powder laundry soap does not dissolve as easily as liquid, and as a result, may leave a residue on the clothes. An easy fix would be to run the load with hot water, but then there is the potential for higher electric or gas bills!
So is powder or liquid detergent better? Really, it comes down to A. personal preference and B. What are you trying to wash? If it's a regular load of clothes, towels and washcloths, liquid soap on a cold cycle will be sufficient.
If you have a little one and use cloth diapers or dirty farm clothes, powder laundry detergent ran through the hot cycle may be the best option to get everything fully clean.
What about really stinky laundry?
For really, really dirty laundry, like, the stink is embedded into the clothing level of dirty. Think workout clothes or hog pen cleaning clothes; you may consider laundry scent boosters, or laundry stripping. Knowing how to strip laundry is a good know-how but should be reserved only for when it's necessary.
Laundry stripping can also help with mineral/residue buildup in towels, washcloths and bedding. This can be caused by hard water or laundry detergent residue.
How to strip laundry: Fill tub or sink with hot water. Stir in a dash of borax and washing soda, then gently place the laundry in the water, fully submerging. Let it sit for 3-5 hours. Run laundry through the rinse cycle only, don't add any detergent, then dry.
Will homemade laundry soap ruin the washer?
I personally have experienced zero issues in the last, nearly ten years, using the exact recipe below in my Bosh HE washer. Use your own discretion when using natural laundry soaps.
BEST ESSENTIAL OILS FOR LAUNDRY SOAP
LAVENDER– Lavender is a very calming, relaxing essential oil with a lovely floral smell. This one is my favorite oil to use on its own for laundry soap.
WILD ORANGE– Invigorating, uplifting, and cleansing; wild orange is perfect for your laundry soap. It adds a fresh scent to your clean clothes.
TEA TREE– Tea tree is a purifying and cleansing essential oil. If you ever forgot to put wet laundry straight in the dryer when it is done, add 2-3 drops to the wet clothes before tossing into the dryer. It is a great oil for getting rid of mildew odors.
PEPPERMINT– If you like a fresh, minty scent, then this will be your oil. Peppermint adds a sharp aroma to your homemade laundry soap.
EUCALYPTUS– Eucalyptus is another excellent oil to add to your laundry soap. This oil will both freshen clothes and kill germs.
LEMONGRASS– Distilled from fresh lemongrass in Southern India, this citrus oil has an earthy hint of lemon-like scent. It has a tremendous all-around aroma, especially liked among men.
ROMAN CHAMOMILE– Another calming essential oil and great for kids. Roman chamomile adds a beautiful floral scent.
CEDARWOOD– Another one for the men in your life. Cedarwood has a woodsy scent that appeals to most men. Its cleansing properties make it a great addition to this recipe or any soap bar recipe.
PATCHOULI– Either you love it or hate it. I am a patchouli lover and am obsessed with the scent. However, if you're unfamiliar with the scent, I'd suggest taking a whiff before adding it to 5 gallons worth of laundry soap!
JASMINE– If you want to smell like a bed of flowers all day, then add jasmine to your laundry soap. Jasmine is very calming and can help with stress and anxious feelings.
HOMEMADE LAUNDRY SOAP WITH ESSENTIAL OILS BLENDS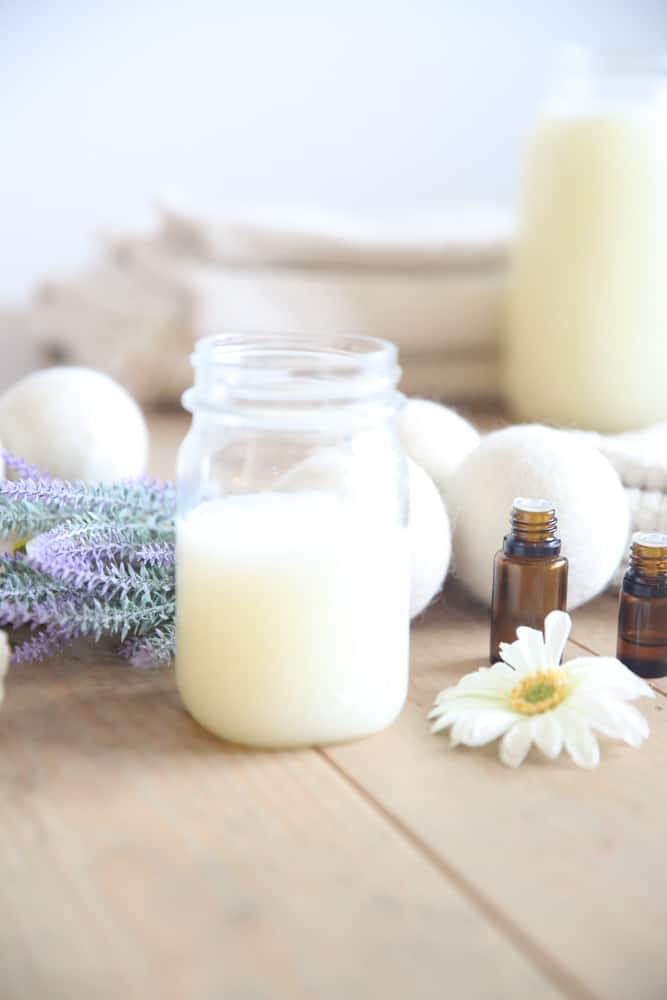 CITRUS BLISS
20 drops wild orange
15 drops lemon
10 drops lime
5 drops grapefruit
FLORAL SENSATION
20 drops lavender
15 drops jasmine
10 drops patchouli
5 drops clary sage
GENTLE BABY
25 drops lavender
10 drops roman chamomile
ODOR CONTROL
20 drops eucalyptus
15 drops tea tree
10 drops lemon
5 drops peppermint
Bonus Recipes For all Your Laundry Needs
HOMEMADE FABRIC SOFTENER
Having a fabric softener to add either in the form of a liquid to the washing machine or dryer sheets for the dryer is a great option for reducing wrinkles, static and adding a fresh scent to the laundry.
INGREDIENTS
1/2 gallon white vinegar
1 cup baking soda
10 drops clove essential oil
5 drops of lemon essential oil
INSTRUCTIONS
Combine all the ingredients in a gallon-size container.
Shake until well mixed.
Add 1/4 cup to each load as needed.
HOMEMADE ALL-NATURAL BLEACH
INGREDIENTS
1/4 cup hydrogen peroxide
10 drops of lemon essential oil
INSTRUCTIONS
Mix ingredients together and add to the bleach compartment of the washing machine when needed.
DRYER BALLS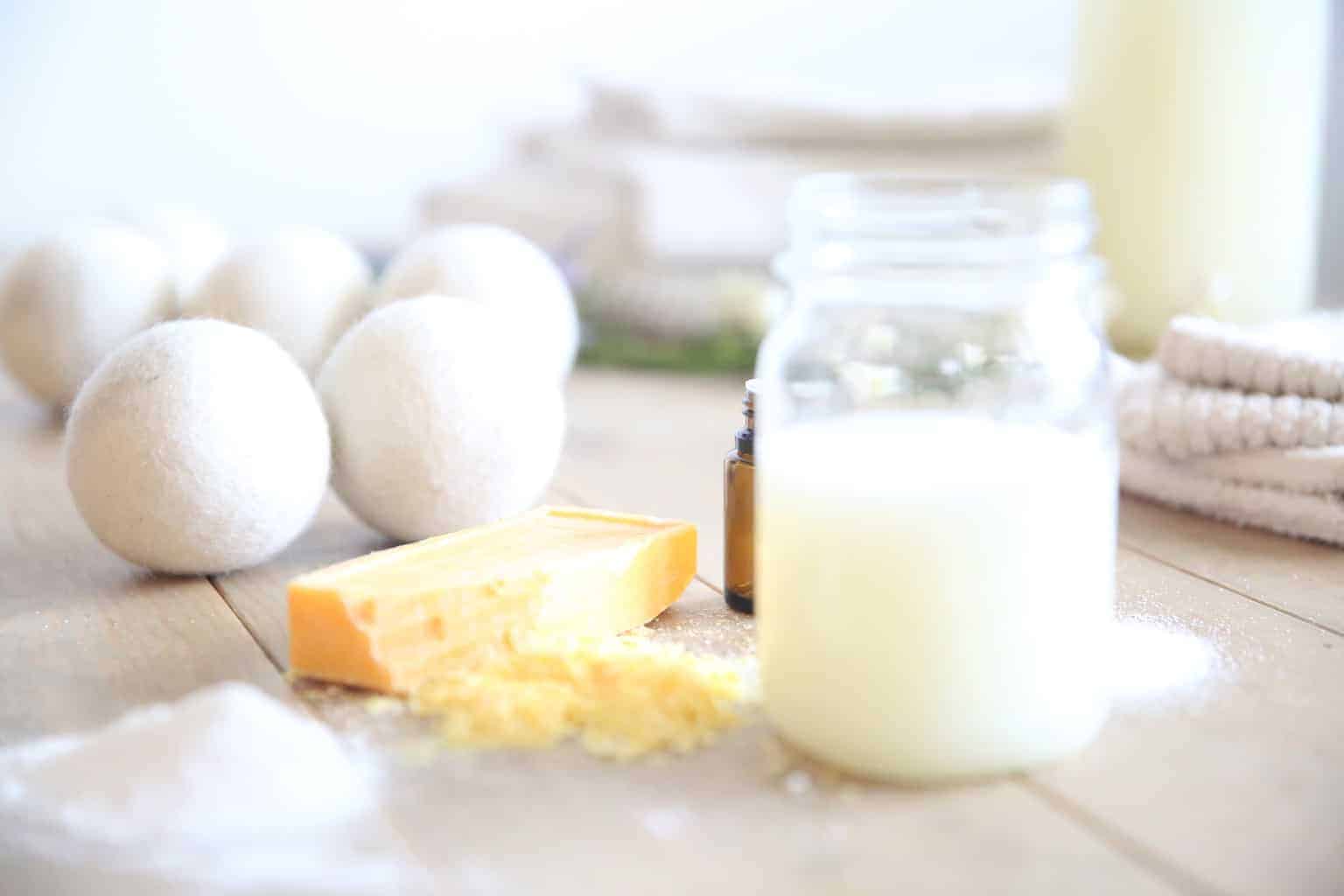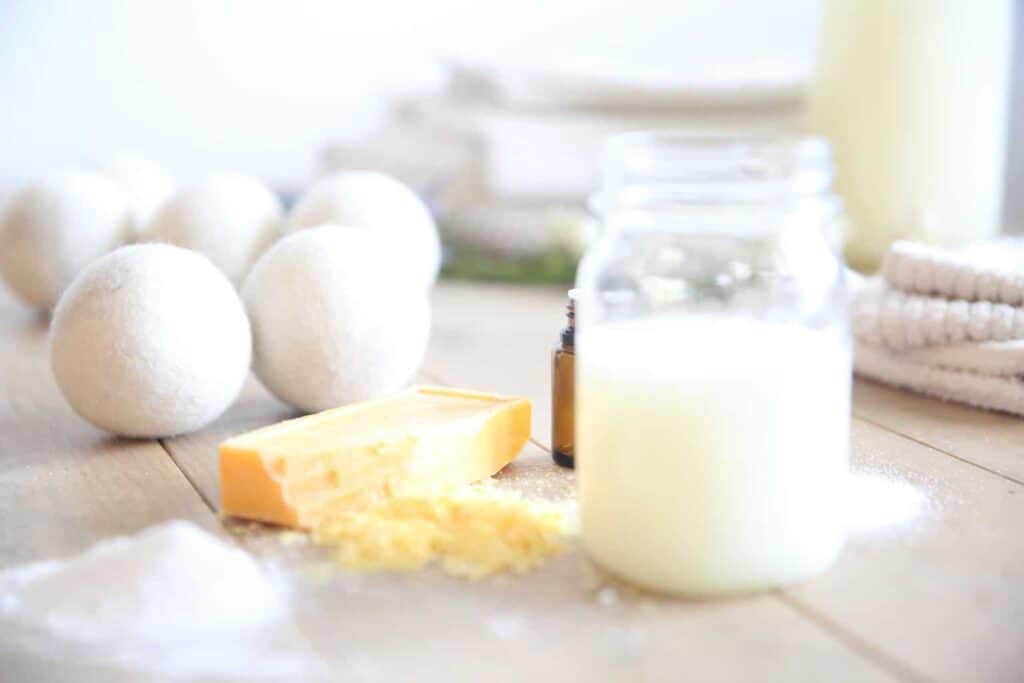 Real-wool dryer balls are a simple, non-toxic way to soften fabrics.
Dryer balls are generally made from compacted wool and help separate the layers of laundry during the drying cycle, which allows for better airflow between the fabrics and even reduces drying times-saving you money!
Add a few drops of lavender or wild orange essential oil to leave clothes with a lovely fresh scent.
Get your dryer balls HERE.
I hope this post was helpful and that you will find these recipes useful.
More popular DIY recipes
PIN IT FOR LATER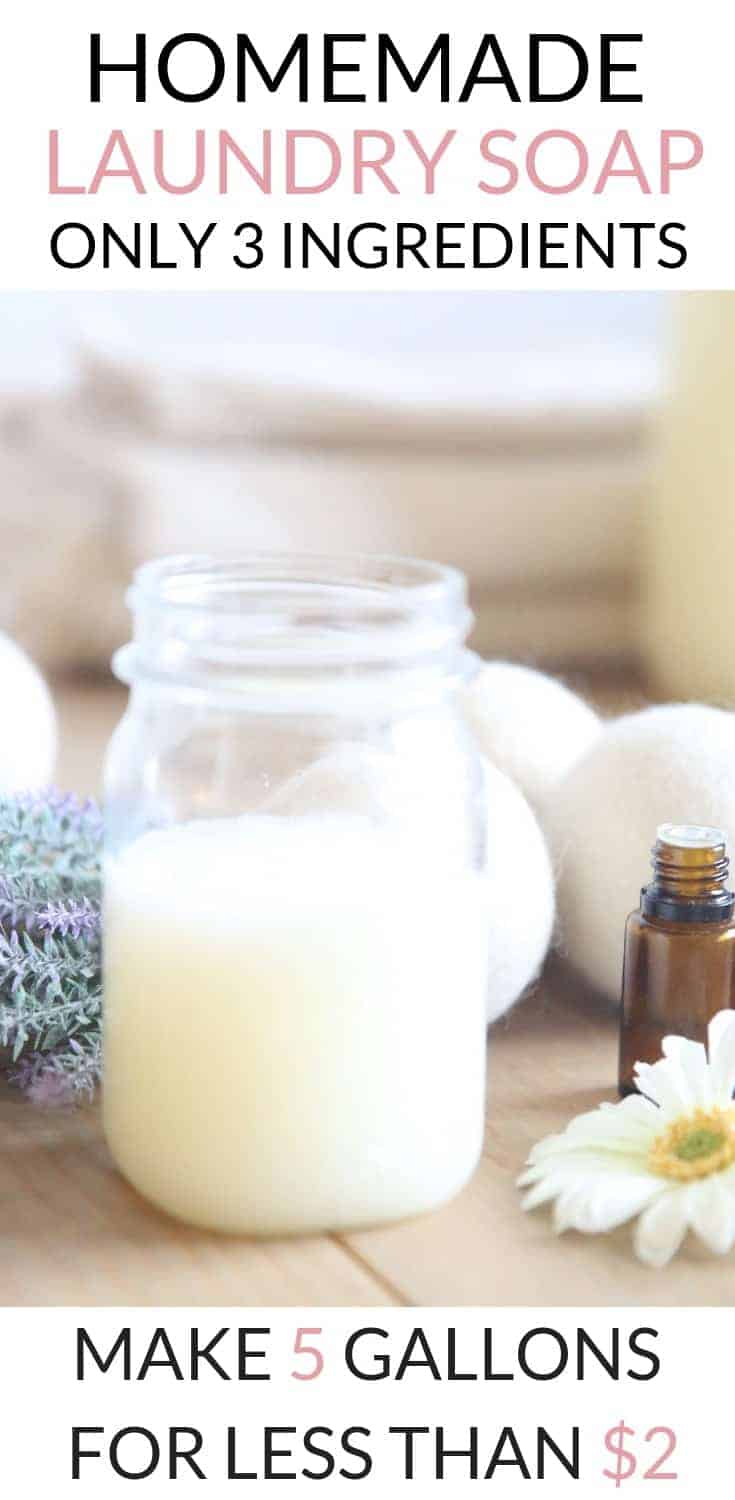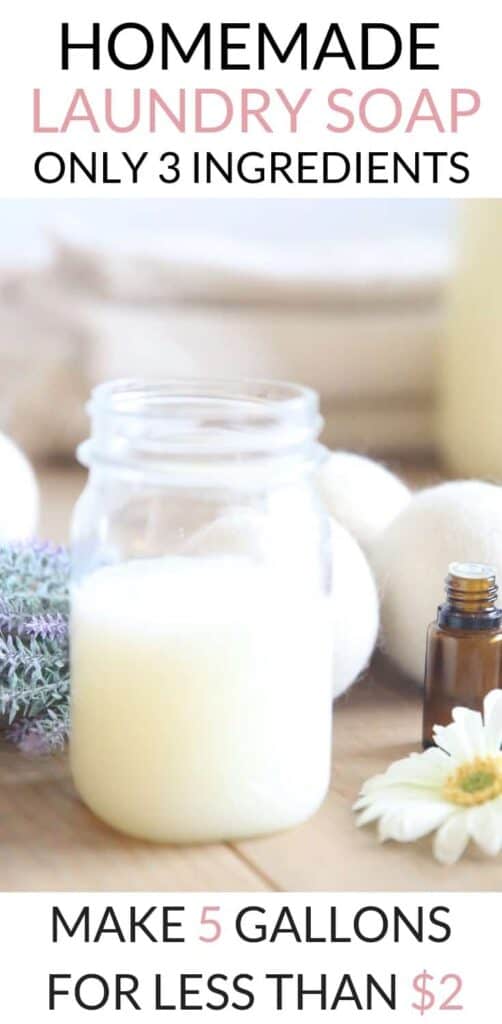 LAUNDRY SOAP RECIPE
Yield: 320 loads
Homemade Laundry Soap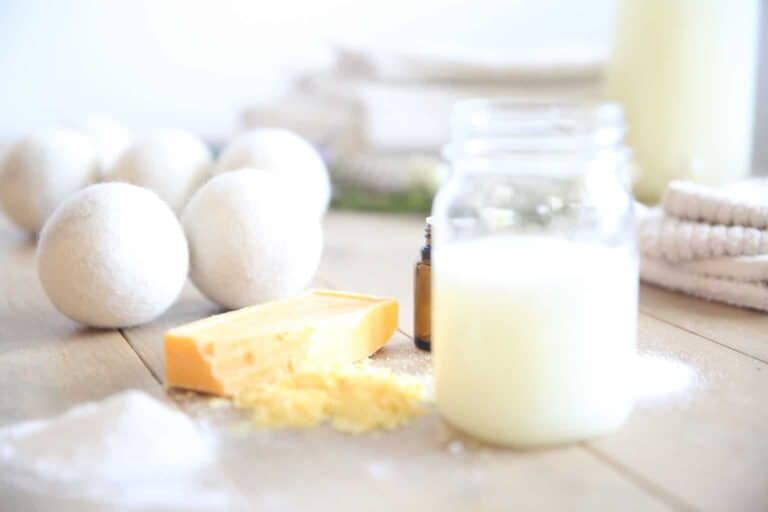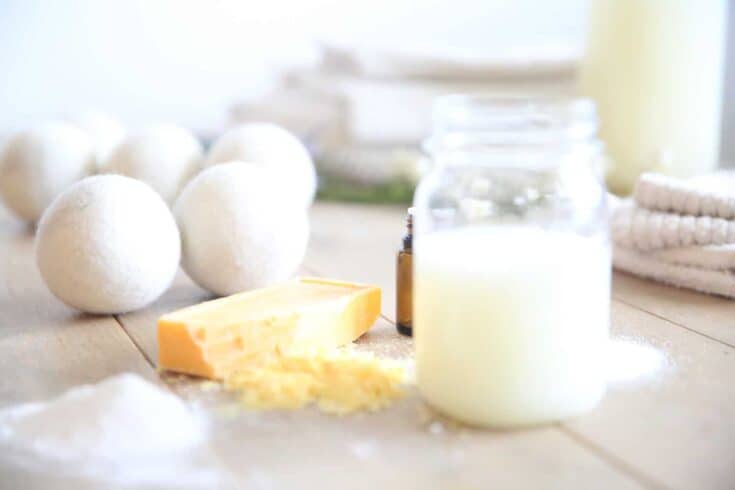 Liquid laundry soap is easy to make, effective and safe for front end and HE washing machines.
Additional Time
15 minutes
Ingredients
Instructions
Add 1/2 gallon of water to your bucket, stir in washing soda and borax.
Shred soap bar using a box grater.
Melt soap shreds in 1 cup of water on the stove over medium heat. Stir often until melted.
Add the melted soap to the bucket and stir in well.
Stir in essential oils.
Fill the rest of the way with water to about 3 inches from the top.
Secure lid, let it sit overnight, then give it a good shake before using.
Notes
For easier handling, fill an old detergent container or 1/2 gallon mason jar with the soap and store the bucket out of the way.  Use 1/4 cup per load.