Lemon essential oil is one of the most well-known and used of any essential oil. Follow along to learn the top 10 benefits and uses for lemon essential oil.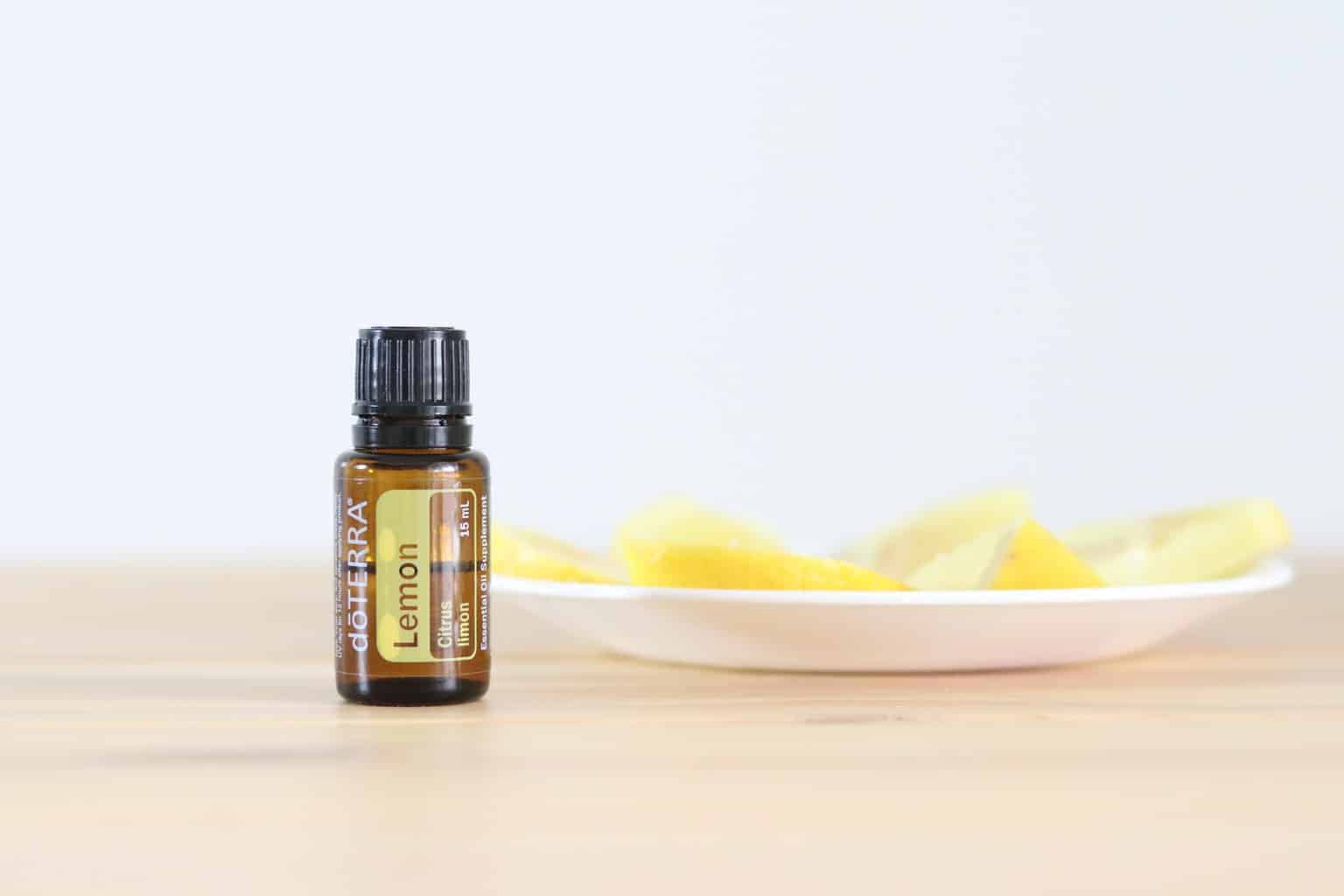 As I write this post, I have lemon essential oil going in my diffuser near my desk. The aroma immediately makes me feel uplifted, energized and makes my house smell clean no matter the condition it is in. Somedays, I get fancy with my diffuser blends, while on other days, it is a simple few drops of lemon.
There are many lemon oil benefits; it can be used to support the body and mind in many ways. It can be used to cook and to clean. Spoiler alert: If you don't already have lemon essential oil, you are going to want it after reading this post! 😉
Get my favorite lemon oil here!
TOP 10 BENEFITS OF LEMON ESSENTIAL OIL
This post contains affiliate links, which means I make a small commission at no extra cost to you. Get my full disclosure HERE.
LEMON OIL BENEFITS
1. NATURAL DETOX
Lemon essential oil and other citrus essential oils can be used as a natural detox for the body. Adding 1-2 drops of lemon oil to your water throughout the day is a great way to receive detoxing properties.
Lemon oil is different than using lemon juice because lemon essential oil comes from the peel of the fruit. The peel of the lemon is actually one of the most nutritional parts of the fruit, and it contains a wide variety of vitamins, minerals, and fiber.
2. RESPIRATORY SUPPORT
Lemon essential oil can be very beneficial for respiratory health and can promote clear breathing when applied topically. Try applying lemon to your chest or diffusing it to open up airways. Just inhaling lemon oil can open up airways and help against seasonal threats.
3. DIGESTIVE SUPPORT
I am sure you have heard of lemon water for digestive support, right? Well, the same thing with the essential oil! Add a drop of lemon essential oil to 4 ounces of water to soothe occasional stomach upset and feelings of nausea.
4. BALANCES PH LEVELS
It is easy to have an imbalanced ph level these days with the amount of processed food we consume, environmental factors, and the number of toxins our bodies are exposed to on a daily basis. When lemon essential oil is used internally, it can help to balance ph levels.
5. MOOD SUPPORT
Something about the fresh smell of lemon, ah, I just love it! It can do wonders for uplifting the mood and promoting feelings of positivity.
Lemon has been shown to be effective for stress and anxious feelings when used aromatically and topically. Citrus oils, such as lemon, help cells return to their normal state and interrupt unhealthy stress responses.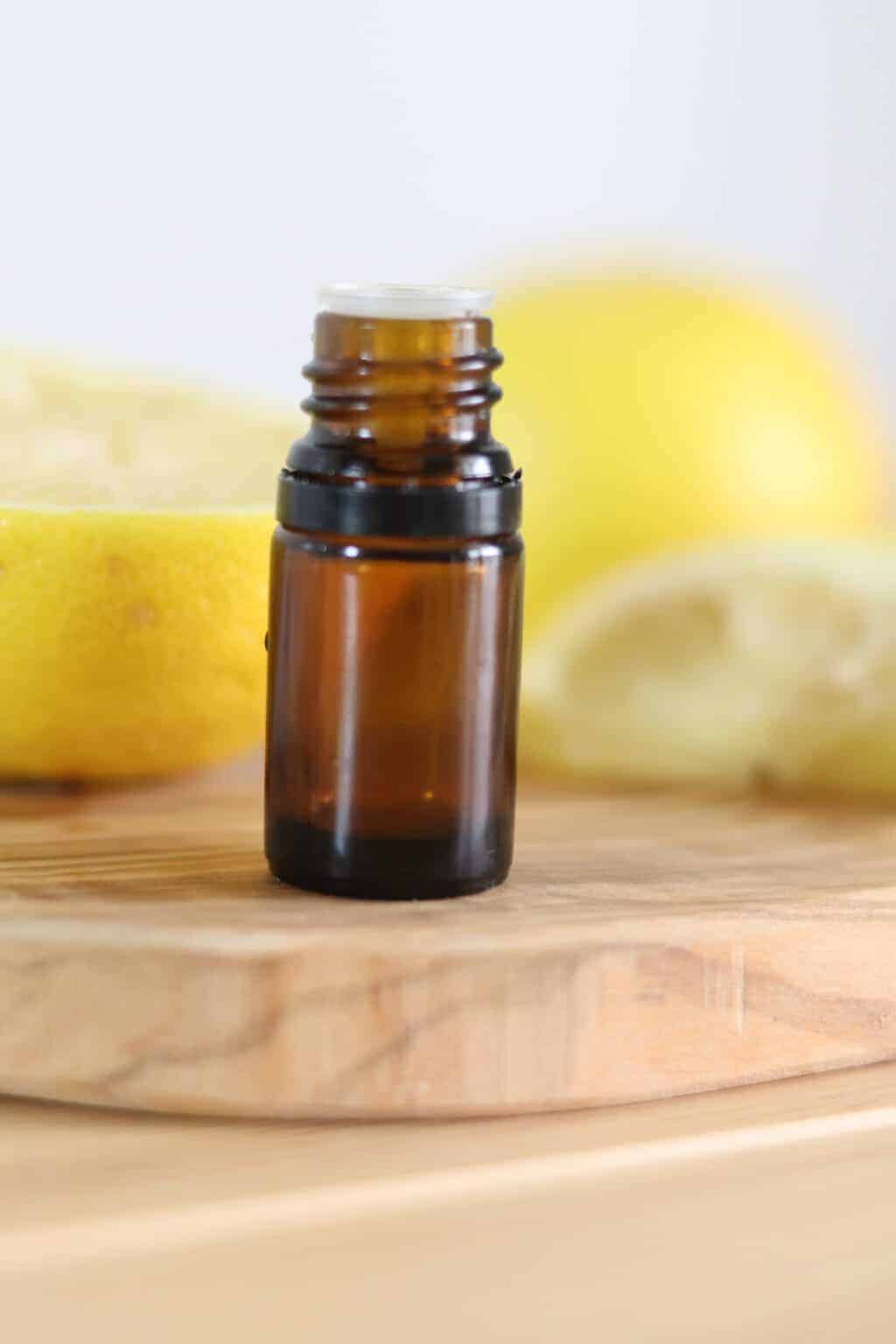 6. BOOST THE IMMUNE SYSTEM
With its cleansing and purifying properties, and because it is loaded with vitamin C, lemon oil is a very effective immune supporter. Apply lemon diluted in a carrier oil down the spine or on the bottom of the feet for natural immune support.
7. PROMOTE CLEAR BREATHING
As stated above, lemon can be helpful for respiratory issues. If you snore or you know someone that does (especially if this someone happens to sleep in the same room as you), try applying lemon on the chest and add in the diffuser before bed. It can help open up airways and prevent snoring.
8. NATURAL ENERGY BOOST
If you find yourself relying on coffee or an energy drink to get past that afternoon slump, try lemon oil! Now I know it won't work immediately, as it will take a little time to wean yourself off the caffeine. But as you slowly get off the coffee, you can use lemon aromatically and topically to get a natural boost of energy.
Try adding 2 drops each of lemon and peppermint into the palm of your hand and cuff them over the nose. This is my favorite way to get extra energy in the afternoons.
9. DEGREASER
Another lemon oil benefit is that it can be used as a natural degreaser and one I love to use when doing the dishes. You can also add a few drops of lemon to your shampoo if you have really greasy or oily hair. Check out my homemade shampoo recipe and my homemade conditioner.
10. CLEANING
Lemon has cleansing properties making it great for cleaning! Add 10-15 drops of lemon essential oil, 1/4 cup vinegar to a 16-ounce glass spray bottle, and top off with water. This makes the best all-purpose cleaner, and I use it for everything! It even works well on mirrors.
Grab my other favorite cleaning recipes here.
HOW TO USE LEMON ESSENTIAL OIL
Lemon essential oil can be used aromatically, topically, and internally.
AROMATIC USE
ESSENTIAL OIL DIFFUSERS
The most popular way to use essential oils aromatically is with a diffuser. Diffusers disperse tiny essential oil molecules into the air, and as you inhale them, they begin to support the body. Depending on the room you are diffusing in and the size of the diffuser will determine the number of drops of essential oil you will add to the diffuser. Check out the chart below to see how much oil your essential oil diffuser needs:
100mL: 3-5 drops
200mL: 6-10 drops
300mL: 11-15 drops
400mL: 16-20 drops
500mL: 21-25 drops
OTHER WAYS TO USE ESSENTIAL OILS AROMATICALLY
Inhale the essential oil straight from the bottle for a refreshing scent.
Add a few drops to the palm of your hand and cuff hands over the nose.
Apply lemon essential oil to clothing.
Add a few drops of essential oil to a glass spray bottle, top off with water, and mist into the air for an air freshener.
Check out these diffuser blends to support mood, my favorite diffuser blends and how to clean a diffuser, and the best blends for kids.
TOPICAL USE
The next way you can use lemon essential oil is topically. To avoid any skin sensitivities, it is best to dilute lemon in a carrier oil before applying it to the skin. Lemon oil is photosensitive, so after applying, you will want to avoid direct sunlight.
You can make a lemon roller bottle or make a salve for easy application.
To make a roller bottle add lemon essential oil to a 10mL roller bottle and top off with a carrier oil. Use this dilution chart to know how many drops of essential oil to use:
Adult: use 15-30 drops of essential oil in a 1omL roller bottle.
Child: use 5-10 drops of essential oil in a 10mL roller bottle.
Baby: use 1-3 drops of essential oil in a 10mL roller bottle.
Learn more about making roller bottles here!
OTHER WAYS TO USE ESSENTIAL OILS TOPICALLY
Add 10 drops of essential oil to 1/4 of coconut oil or olive oil.
Drop 1-5 drops of essential oil into a warm bath.
Add a few drops of essential oil to lotion, shampoo, or moisturizer.
INTERNAL USE
Lemon essential oil can be used internally as long as you are using a high-quality essential oil that is intended for internal use. You can read more about ingesting essential oils here.
Add 1-2 drops of lemon essential oil to 4 ounces of water to add flavor and health benefits.
Make a veggie capsule by adding 1-2 drops of essential oil to an empty veggie capsule.
Drop the essential oil straight under the tongue.
So have I convinced you to get lemon oil yet? Are you already a lemon oil fan? What are some of your favorite ways to use it? Share your stories in the comments below; I love hearing from you!
PIN IT FOR LATER
MORE CITRUS OIL HIGHLIGHTS
Thanks for stopping by our oily house!