Your cleaning day just got easier with these homemade toilet cleaning bombs. Made with all-natural ingredients these will leave your toilet sparkling with little effort.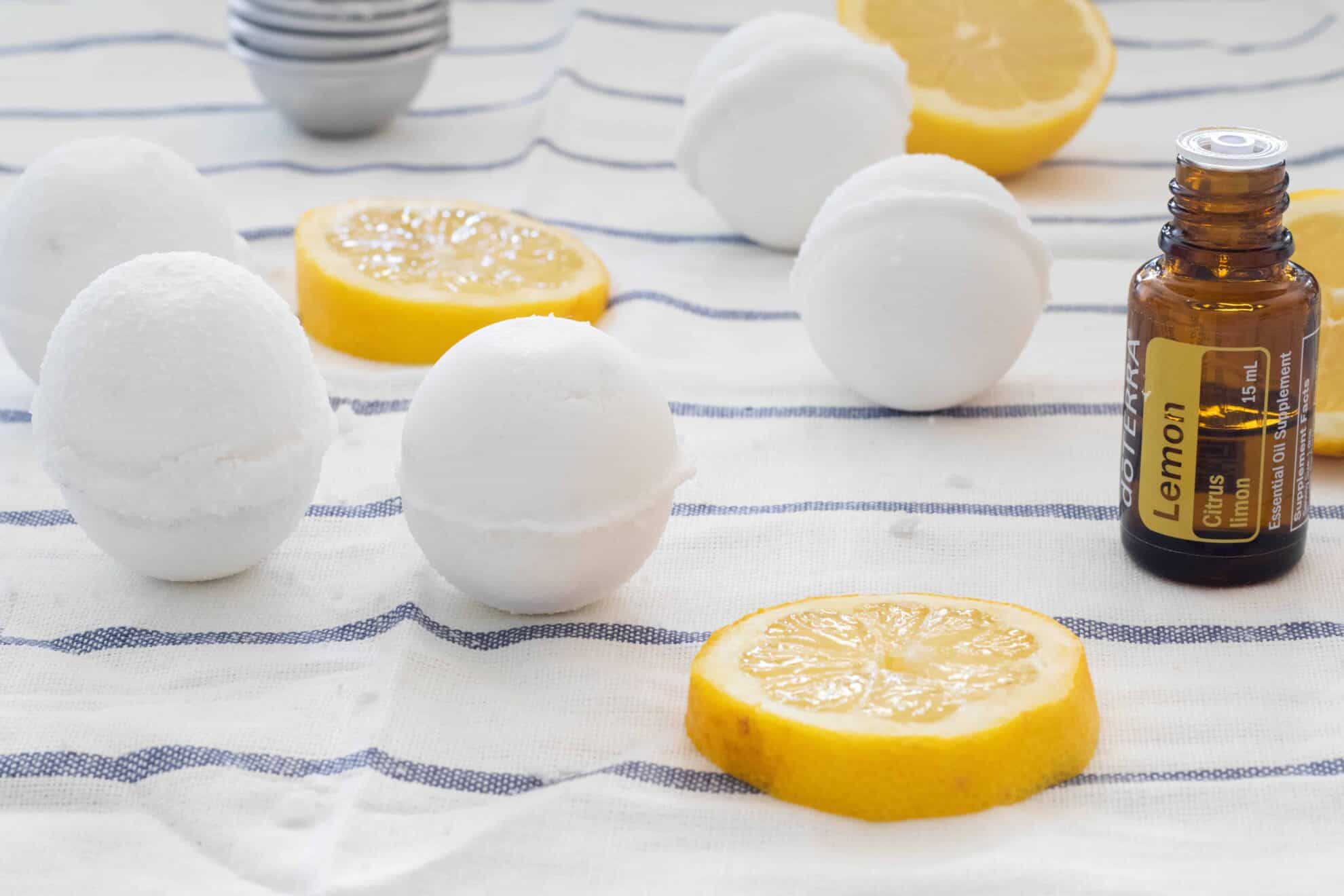 Cleaning the toilets isn't the most pleasant job, though if you were here when I get out the toilet brush you would think differently. All my kids LOVE to scrub the toilets. Yes, they are weird! But I know this is partly because they are little, the brush looks exciting, and it appears that we are playing in the water. In a few years, I will have to beg someone to clean the toilet. 😉
If you don't have 4 little helpers, as I do, I have an easy solution! Heck, even with all my help I prefer to use these homemade toilet cleaning bombs over getting the scrub brush out. Way less mess and no one has to fight over who's turn it is.
This recipe is simple to make and they work so well!
Looking for more natural cleaning swaps? Take my 3-day email course for FREE for more recipes and tips!
HOMEMADE TOILET CLEANING BOMBS VIDEO TUTORIAL
PIN IT FOR LATER
SAFE TOILET BOWL CLEANER
Most conventional, if not all, toilet cleaners are loaded with toxins and chemicals. I try to get these ingredients out of my house just in case a child would get into them. And so they can help me clean without me having to worry. Plus, kids love to touch everything and put everything in their mouths. I don't want to spray all the surfaces in my home with dangerous ingredients.
Before making my own products, I remember having to wear a mask over my face when I used to clean. I couldn't stand breathing in all the toxic fumes and it gave me a headache. Now that I clean with natural ingredients I don't have to worry, and my house is still getting cleaned.
Good news! You don't need dangerous chemicals to keep your toilets clean. This DIY toilet cleaner is made with all safe ingredients and they work so well! Plus, they are hands-off!
HOW DO HOMEMADE TOILET CLEANING BOMBS WORK?
Similar to bath bombs, when these hit the water it causes a fizzing action. The baking soda and citric acid will have that reaction with water, which is why it is important to use little water when making these. Keep reading for the full recipe!
As the ingredients fizz it will naturally clean your toilet and work to remove dirt and grim. When using these you won't need to use a toilet brush, however, I wouldn't get rid of the brush for good. Every once in a while I like to use my toilet bowl cleaner and scrub it when needed.
ABOUT THE INGREDIENTS
Citric Acid
Citric acid can be found in lemons and limes, it is what gives them the tart flavor. However, the citric acid that is found in many cleaning agents is a manufactured form.
It is used as a disinfectant and can kill several bacteria and viruses. The environmental working group (EWG) gives it an A rating!
Baking Soda
Baking soda is great for absorbing odor
and removing stains, making it a go-to for your natural cleaning. It is a mild alkali and can cause dirt and grease to dissolve easily in water.
Baking soda is a great deodorizer. Using baking soda in the toilet is a great way to maintain clean pipes and drains. It can also help to unclog them!
Liquid Dish Soap
The recipe calls for a small amount of liquid dish soap. I prefer to use my homemade dish soap, but you can really use whatever kind you have on hand.
My homemade soap consists of water, castile soap, and essential oils.
When adding the liquid soap I like to use a spray bottle and mist it. Getting the ingredients to wet will cause the bombs to not hold together.
BEST ESSENTIAL OILS FOR CLEANING
This is always the best part about DIYing your own cleaning products, or any products for that matter, you get to choose the scent. I personally prefer citrus oils for cleaning, lemon is my favorite!
You can also use tea tree, lime, wild orange, rosemary, or lavender. All these essential oils have cleansing and purifying properties making them a great option for cleaning toilets.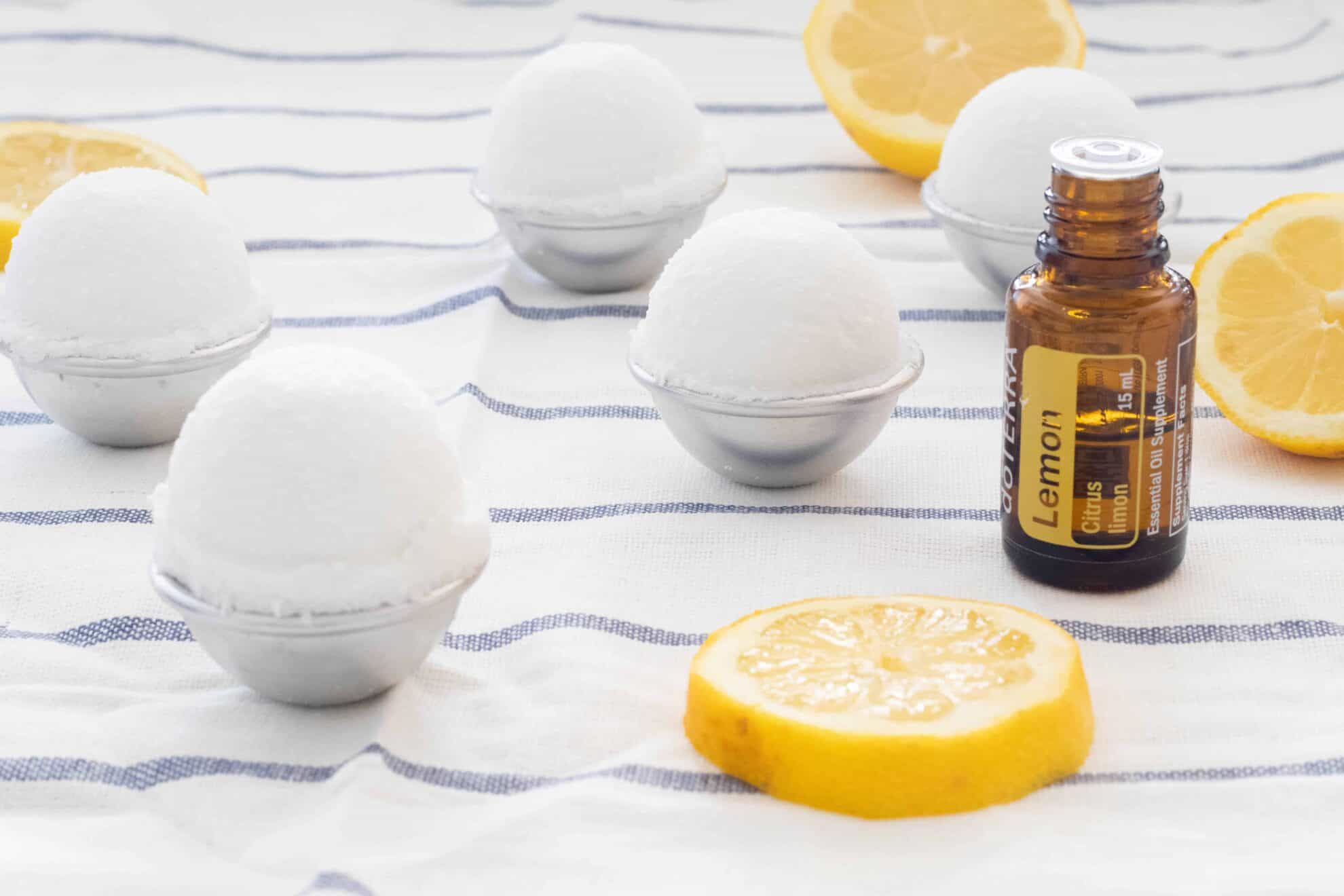 HOW DO I USE MY HOMEMADE TOILET CLEANING BOMBS?
When the toilet needs a little refresher or when it starts to look grimy, simply drop one tablet into the toilet. Watch it fizz, well this part is optional! 😉
Let it sit in the toilet for a few minutes before flushing, if the toilet is extra dirty. If your toilet needs additional love you can break out the toilet brush and give it a scrub.
I am not a plumber, but I feel like it is best to let it completely dissolve before flushing it down.
You can use these as needed. I personally add one to the toilet about twice a week. As it fizzes you will smell the essential oils, which will help to freshen the bathroom.
If you are having guests over, just drop one in the toilet before everyone arrives and then you will have a clean toilet and a good smelling bathroom.
HOMEMADE TOILET CLEANING BOMBS
This post contains affiliate links, which means I make a small commission at no extra cost to you. Get my full disclosure HERE.
INGREDIENTS
1 cup baking soda
1/4 cup citric acid
1 tablespoon liquid soap (You can use my homemade kind or any brand you have on hand.)
30 drops essential oils (My favorites are lemon and wild orange.)
Bath bomb molds or silicone molds
INSTRUCTIONS
Mix the baking soda and citric acid together in a mixing bowl and stir well.
Pour the liquid soap into a spray bottle and mist the powder mixture with it. You want to get the mixture wet enough that it holds together when you squeeze it together, but not soaked.
Press the mixture into a small bath bomb or silicon mold.
Allow the mixture to completely dry overnight or until harden.
Pop the toilet cleaning bomb out of the mold and store in an airtight container or bag.
More natural cleaning recipes for you!