Diffusing essential oils is one of the best ways to ring in a new season. These 5 fall diffuser blends will be just what you need to get your home smelling festive.
I love diffusing for the season, especially fall. I wouldn't mind if my house smelled like fall treats all day every day. Unfortunately, that isn't the case, but with essential oils, I can at least get the scent I want with these fall diffuser blends.
Several essential oils that have that fall scent, also have powerful immune-boosting properties. With the cooler weather that comes with the season, this is a win-win.
PIN IT FOR LATER

FALL DIFFUSER BLENDS VIDEO
This post contains affiliate links, which means I make a small commission at no extra cost to you. Get my full disclosure HERE.
ESSENTIAL OILS FOR FALL
I dream of all the fall smells on those really REALLY hot summer days, and as much as I love summer; fall is the best time of year. The cooler days, the beautiful leaves, and pumpkins. Have you noticed I am obsessed with all things pumpkin yet?
However, there are two things I dislike about fall. One is the number of germs that are flying around, and two is thinking about what comes next — the dreaded Missouri winters.
With that being said, I love diffusing these fall essential oils that boost the immune system and smell absolutely fantastic.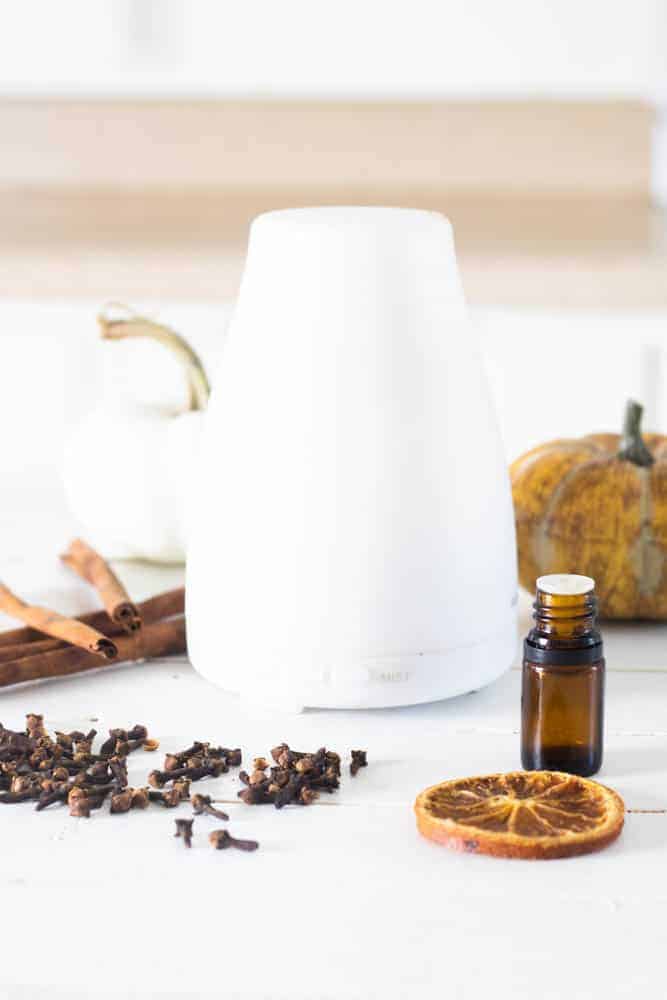 ESSENTIAL OILS FOR BOOSTING THE IMMUNE SYSTEM
Several essential oils can be used to boost your immune system. And diffusing them into the air can be very beneficial to your body. As you inhale the essential oils going into the air, they will start working to support your body and boosting the immune system.
Some of the most powerful immune-boosting essential oils happen to be the ones that smell like fall and Christmas. Maybe that is why we associate these scents with these seasons? Our ancestors were smart even without google! 😉
WILD ORANGE
Wild orange is one of my most used essential oil. It has amazing cleansing properties; some even say it is better than conventional cleaning products. Wild orange can support a healthy immune response, promote clear breathing, and uplift the mood.
Diffusing wild orange essential oil can give you a burst of energy and sweeten up any blend. It pairs well with all the spicy aromas in the fall diffuser blends.
CINNAMON
This essential oil is extracted from the bark of a tropical tree. It has a beautiful yet spicy fragrant. The scent alone can gear you up for the holiday season. It is filled with many beneficial compounds and has powerful immune-boosting properties.
Cinnamon can be very cleansing for the air, making it a great essential oil to diffuse at your next fall party. Learn more about cinnamon HERE.
CLOVE
Clove essential oil can make the perfect addition to any fall diffuser blend because of its spicy fall aroma. Like cinnamon, clove has amazing immune-boosting properties. I talk more about clove and its benefits HERE.
CARDOMON
Cardamom is known for its ability to ease the digestive system, support healthy respiratory function, and calm the nervous system. It will add that fall scent to the air all while dispersing these aromatic benefits.
GINGER
Ginger has been used for natural remedies for many years, mainly for easing an upset stomach. Has your grandma ever made you a cup of ginger tea when you were down with the flu?
The ginger essential oil can boost the immune system, calm the nerves, and promote a healthy respiratory system.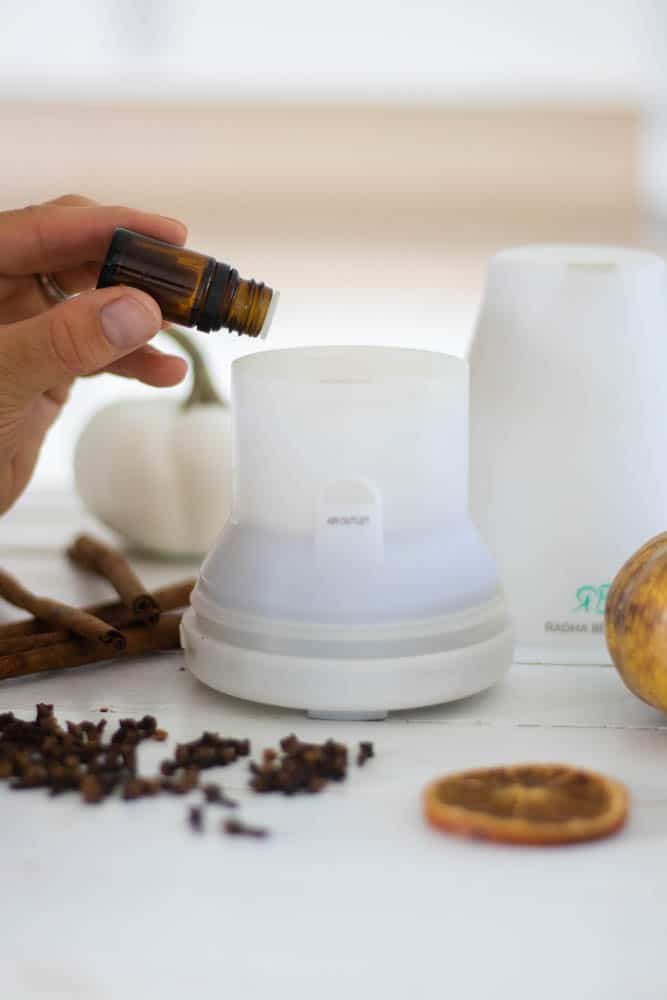 5 FALL DIFFUSER BLENDS
PUMPKIN PIE
4 drops cardamon
3 drops cinnamon
2 drops clove
2 drops wild orange
Get the essential oils for this blend.
MULLED CIDER
3 drops wild orange
2 drops cassia
1 drop ginger
Get the essential oils for this blend.
FALL MORNINGS
4 drops tangerine
3 drops cinnamon
2 drop clove
Get the essential oils for this blend.
COOL DAYS
4 drops cypress
3 drops white fir or Siberian fir
2 drops sandalwood
1 drop wild orange
Get the essential oils for this blend.
ORANGE SPICE
4 drops wild orange
3 drops cardamon
2 drops ginger
Get the essential oils for this blend.
I have several different diffusers throughout my house. If you do not have a diffuser, you can get one that I like here.
Want to try all the blends? Get all of the essential oils you need for all the fall diffuser blends HERE.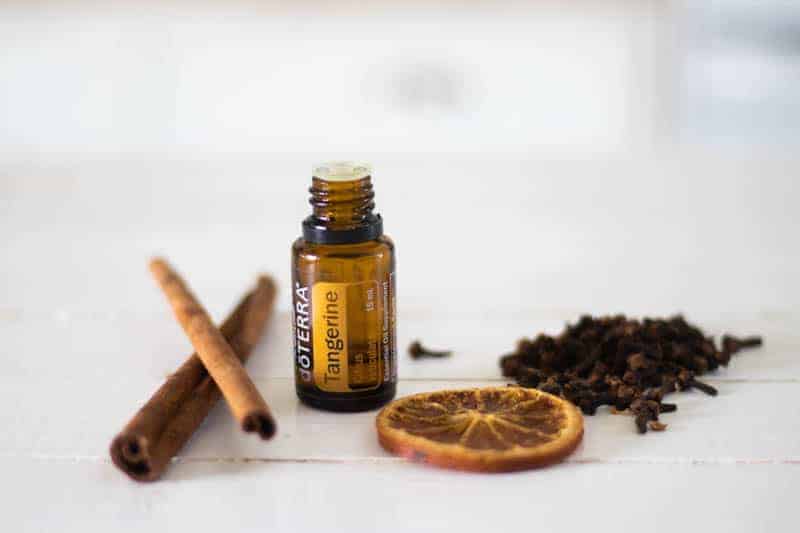 WHAT IF I DON'T HAVE ALL THE ESSENTIAL OILS?
Anytime I post a list of diffuser blends; it is inevitable that I will get this question. Here is the thing, diffusing essential oils doesn't have to be precise. In fact, I rarely follow an exact recipe.
If you don't get the drops right, it is OK. These recipes are meant to be broken. 😉 Get creative and tweak it, and then tell me about it. Because I always love to try new blends.
If you don't have a particular essential oil in the blend, simply omit it or use one that has a similar scent. You can add more of a different oil in the blend that you do have.
BEST ESSENTIAL OILS FOR FALL
Arborvitae
Lavender
Frankincense
Patchouli
Douglas Fir
Eucplutus
Rosemary
Ylang Ylang
Bergamont
Sage
What essential oils are your favorite to diffuse during the fall season? These are some blends that I have come up with over the years and are what I think to be the best fall essential oil diffuser blends. Share your favorite blends in the comments below!