Making a homemade stovetop potpourri with essential oils is a fun project that makes a wonderful handmade gift. Learn how to make homemade dry potpourri and stovetop potpourri with these easy tutorials.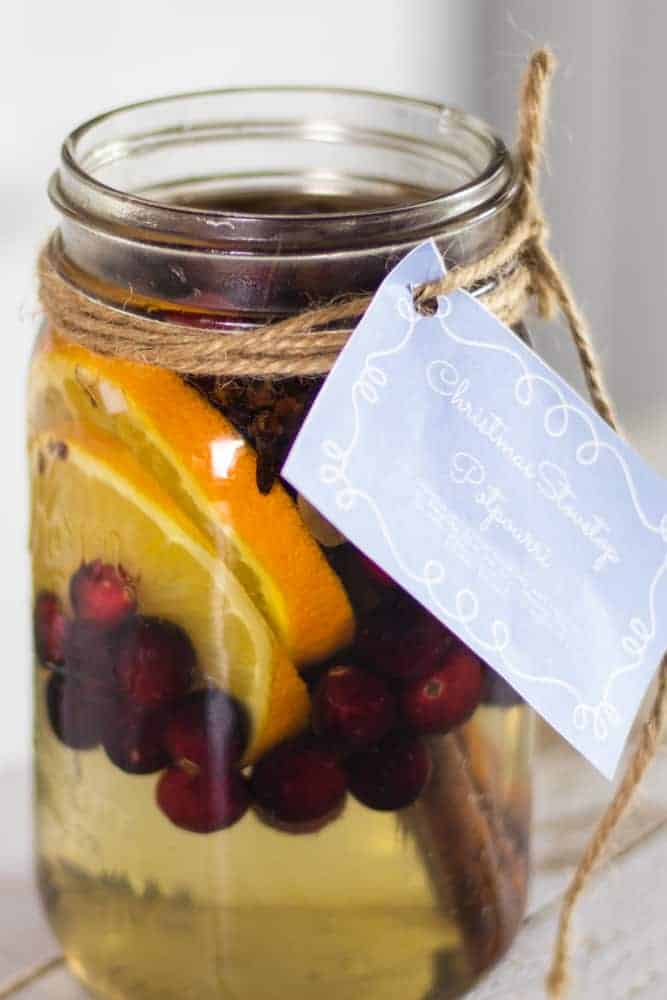 I used to give a candle to anyone on my list that I wasn't really sure what they would want. Anyone else on the ol' trusty candle bandwagon still? Instead of running to the store for the last-minute candle and socks gift, why not whip up some homemade stovetop potpourri?
Homemade stovetop potpourri with essential oils will make the perfect gift for anyone on your list this year. You can stick to a spicy Christmas scent or switch it up to be any scent you want. I will share all of my favorite blends below!
I will also show you how to make a Christmas Day stovetop potpourri that you can simmer on the stove all day long for those wonderful Christmas scents. These scents will smell way better than any candle and be way cheaper.
PIN IT FOR LATER
HOMEMADE STOVETOP POTPOURRI WITH ESSENTIAL OILS
Potpourri is a mix of dry flower petals, leaves, wood chips, or spices with some sort of fragrance. It usually sits in a bowl, vase, or pot for decoration and to give off an aroma.
Artificial fragrances can cause allergic reactions, contain hormone disturbers, carcinogens, and have been linked to damage sperm. This is something I don't want filling the air in my home; that's for sure!
Making your own potpourri is a great option! Spices and flowers will give off their own smell, but adding essential oils will enhance the scent and provide aromatherapy benefits.
This post contains affiliate links, which means I make a small commission at no extra cost to you. Get my full disclosure HERE.
HOW TO MAKE A DRY POTPOURRI
Making your own potpourri can be as easy or as hard as you want. You can buy wood chips, cinnamon sticks, dry flowers, spices, leaves, etc. Or you can dry your own.
Most craft stores sell everything you need to make potpourri, and you can piece it together for the way you want it to look. For Christmas, I stick to cranberries, and pinecones and for Thanksgiving potpourri, I like to use apples, ginger, and nutmeg. During the summer, I might use sunflower petals or other bright flowers.
To dry your own flowers, it is best to use a dehydrator. You can also dry them out by baking them in an oven for a couple of hours at a low temperature. Using the dehydrator will save the appearance of the flower and some of the smell.
If you decide to buy your potpourri contents, be sure to find items that are fragrance-free so you can add your own scents with essential oils. Doing it this way makes it much more customized and healthier.
HOW TO MAKE A STOVETOP POTPOURRI
A stovetop potpourri is when you add fruit, spices, flowers, or fresh herbs to a pot of water and simmer to give off a scent. Stovetop potpourris can scent a whole house for a whole day and sometimes several days.
To make it, simply add the desired fruits, spices, essential oils, and herbs to a pot of water and simmer.
I love the smell of Christmas, and a stovetop potpourri is one of the best ways to fill your kitchen and entire house with that Christmas smell fast. I had a batch going on the day we decorated the Christmas tree, and I am pretty sure that it will become a new tradition. It smelled so good!
CHRISTMAS HOMEMADE STOVETOP POTPOURRI GIFT IDEA

Paired with some Christmas soap, Homemade potpourri makes a beautiful handmade Christmas gift by putting it in a mason jar and wrapping it in burlap. Add all the ingredients for the stovetop potpourri, cover it with water, put the lid on, add a gift tag and ribbon or twine. They can just pour the contains of the jar into a pot, add a little more water, and bring it to a simmer.
You will want to put these together the night before gifting, as they will only last a couple of days. This makes a perfect hostess gift!
BEST INGREDIENTS FOR CHRISTMAS STOVETOP POTPOURRI
FRUIT
Cranberries
Oranges
Apples
Lemons
SPICES
HERBS
Rosemary
Fresh Ginger
Nutmeg
ESSENTIAL OILS
BEST ESSENTIAL OIL BLENDS FOR POTPOURRI
Adding essential oils to your potpourri will add a lot more scent and give off aromatherapy benefits. Essential oils can be added to dry potpourri and in stovetop potpourri.
CHRISTMAS BLEND
5 drops wild orange
3 drops cinnamon
2 drops clove
Find more Christmas blends here.
FALL BLEND
5 drops wild orange
3 drops ginger
2 drops cardamon
Find more fall blends here.
CHEERFUL BLEND
5 drops bergamot
3 drops peppermint
2 drops lime
CITRUS BLEND
5 drops lemon
3 drops wild orange
2 drops tangerine
Find more citrus blends here.
SOOTHING BLEND
5 drops lavender
3 drops sandalwood
2 drops Roman chamomile
Want to pick out your own oils individually? Shop HERE.
HOW LONG WILL POTPOURRI LAST?
The scent of dry potpourri will last anywhere from 2-4 weeks, depending on the ingredients you use to make it. If you dry your own flower petals, be sure they are completely dry to avoid molding. If you notice mold, throw it out and make a new batch.
HOW LONG WILL HOMEMADE STOVETOP POTPOURRI LAST?
Most stovetop potpourris will last for several days, but you may need to add extra water as it evaporates out. At the end of the day, place the pot of potpourri in the refrigerator, and then you can reuse it the next day.
If the scent is weak and you prefer it stronger, you can always add more essential oils, spices, or herbs.
If you make a stovetop potpourri ahead of time as a gift, you can store it in an airtight container for two days.
HOW MUCH WATER SHOULD I ADD TO MY POTPOURRI?
You will want to fill the pot almost to the top before adding in the potpourri. Having enough water is crucial because you don't want it to run out and burn.
Turn the stove burner to a medium heat setting. Once the water almost reaches a boil, turn the temperature down to low to emit the scent for a long time without the pot burning dry.
Stovetop Potpourri with Essential Oils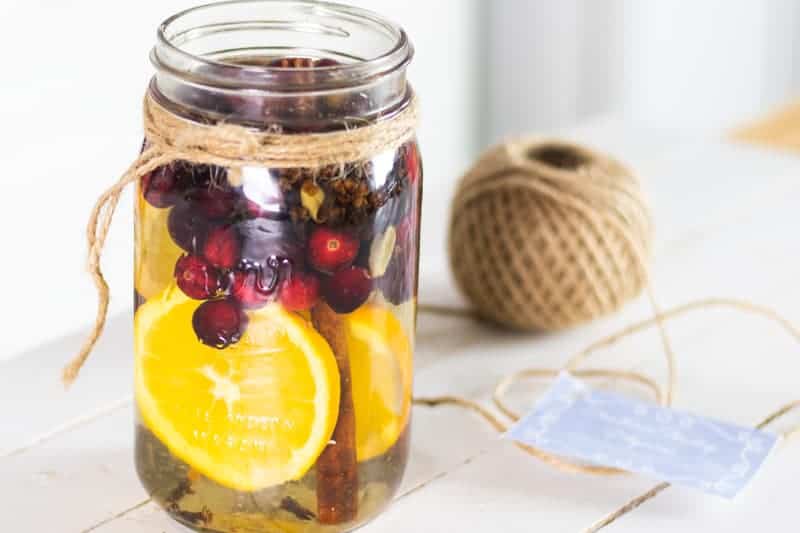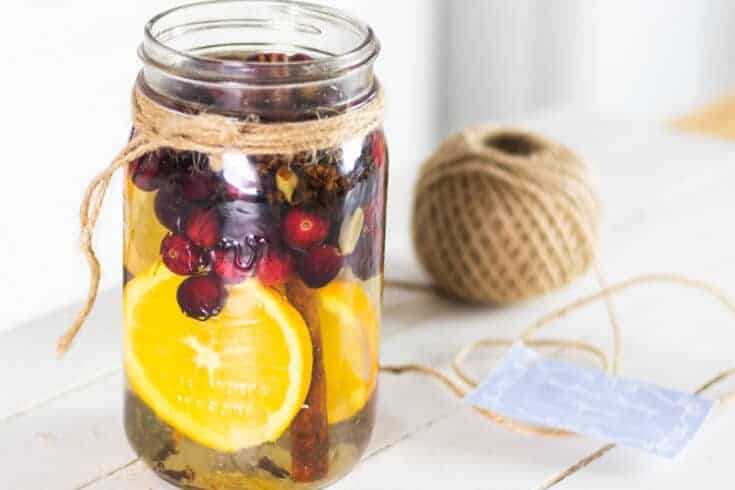 Ingredients
1/2 cup fresh cranberries 
4 orange slices, with peel 
3 cinnamon sticks
1 tablespoon cardamom pods 
1 tablespoon whole clove buds
5 drops wild orange essential oil
3 drops cinnamon essential oil 
2 drops clove essential oil 
1 mason jar
water
Instructions
Place all the ingredients (except essential oils) into a 16-ounce mason jar.
Fill with water.
Add in essential oils and secure lid.
Decorate with ribbon, hemp, or burlap. Add gift tag.
Pour contents from the mason jar into a large pot. If needed, add more water to the pot.
Turn the stove burner to a medium heat setting. Once the water almost reaches a boil, turn the temperature down to low to emit the scent.