READ ALONG TO LEARN ABOUT THE BEST ESSENTIAL OILS FOR ANTI-AGING. PLUS, GET MY FAVORITE ROLLER BOTTLE BLEND FOR SKIN AND A FREE PRINTABLE LABEL.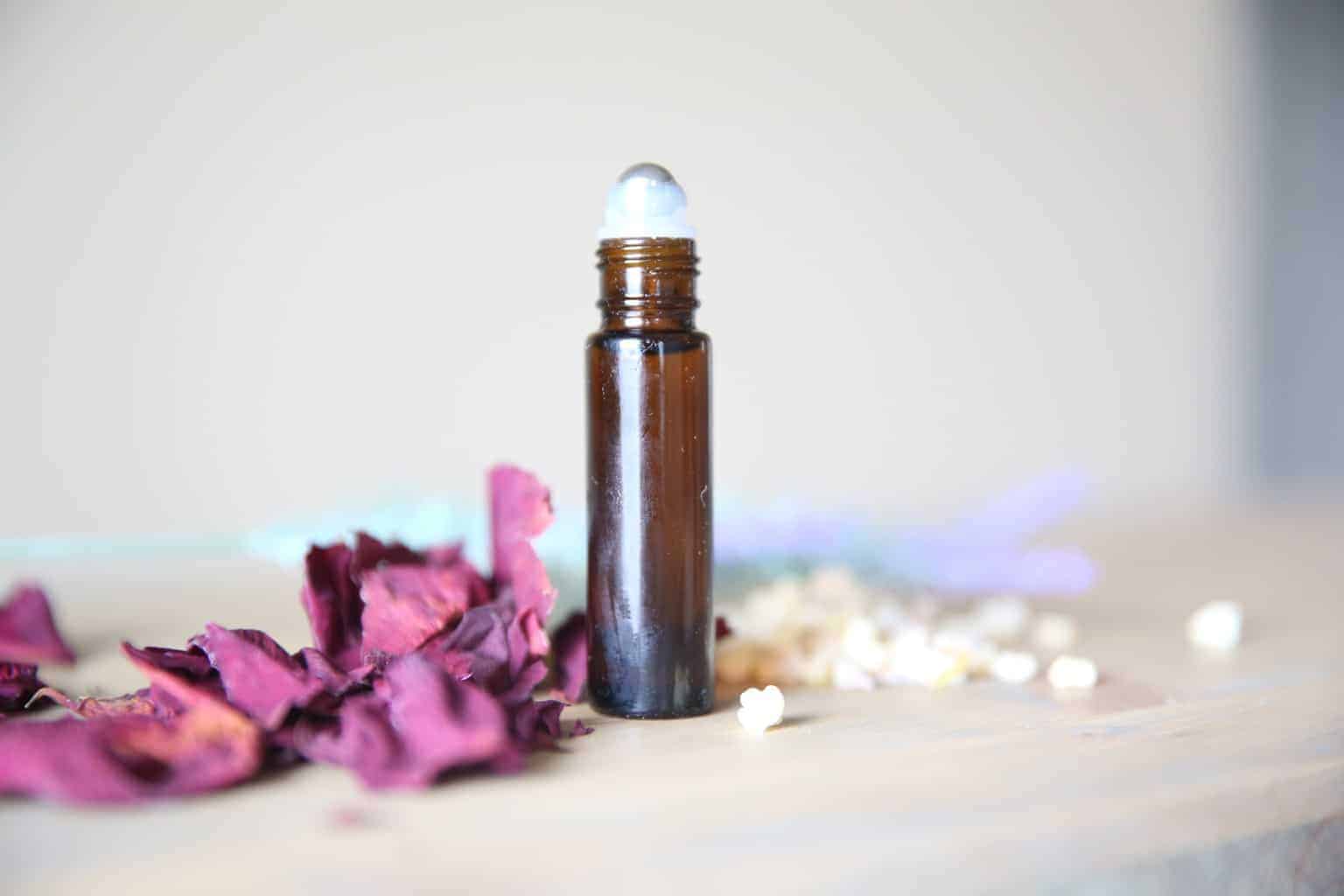 I always skipped over anything that said, "anti-aging." Anti-aging is only for old people, not me. But then I realized I am 30, I am not a young chicken anymore, though I feel like I am. And prevention is the best thing!
As we age our body produces less collagen, in fact, this starts happening at age 21. Lack of collagen is the main culprit for aging because collagen increases skin elasticity and hydration. Several oils help the body to produce more collagen, therefore, making them excellent for anti-aging, wrinkles, fine lines, and age spots.
Get started with essential oils HERE.
This post contains affiliate links, which means I make a small commission at no extra cost to you. Get my full disclosure HERE.
BEST ESSENTIAL OILS FOR ANTI-AGING
Frankincense essential oil
Frankincense is often called the king of oils. Frankincense is the number one essential oil for anti-aging and for skin in general.
Frankincense can reduce the appearance of age spots, skin discoloration, and sunspots. If you have uneven skin tone on your face or body you can use frankincense essential oil to help. It is known to improve skin tone and reduce age spots.
Not only does frankincense improve skin tone, but it is also great for tightening the skin. Mix 5 drops of frankincense with one tablespoon of fractionated coconut oil and apply directly to the area of concern.
Rose essential oil
It takes a little over 60 roses to get one drop of rose essential oil, now that is some concentrated goodness right there! Rose oil is amazing for skin and anti-aging.
Rose essential oil is incredible for dry skin and wrinkles.
Roses are high in vitamin C and encourages your body to produce more collagen. The decrease in collagen is one of the main factors for aging skin.
Add a few drops of rose oil to one teaspoon of fractionated coconut oil. Apply to the face to help with fine lines and wrinkles.
Myrrh essential oil
Many qualities can be attributed to myrrh essential oil that makes it extremely effective for skin, as result making it a wonderful oil for anti-aging.
Myrrh is often added to beauty products for its anti-aging benefits and it is very effective at rejuvenating the skin.
Adding myrrh essential oil to your daily skin routine can help with dry skin, wrinkles, age spots, and make your skin healthier.
Dilute 3-5 drops of myrrh essential oil in one tablespoon of a carrier oil and apply directly to the area of concern.
Helichrysum essential oil
Known as the Immortal or Everlasting Flower, Helichrysum holds many benefits for the skin.
Apply helichrysum essential oil to your face daily to reduce the appearance of fine lines and wrinkles.
Helichrysum has rejuvenating, restoring, and cleansing properties giving your skin a healthy glow.
Pomegranate seed oil
Pomegranate seed oil (pom oil) promotes the look of young and healthy skin.
Pom oil helps reduce the appearance of blemishes.
Loaded with omega 5, antioxidants, and caryophyllene it can rejuvenate the skin when taken internally.
Apply pomegranate seed oil directly to the area of concern for anti-ling benefits.
OTHER OILS GOOD FOR ANTI-AGING
Coconut Oil- Coconut oil is high in fatty acids and vitamin E, which is known to keep skin healthy and have anti-aging benefits. Coconut oil contains proteins that help with skin cell health.
Jojoba Oil- Jojoba oil absorbs easily into the skin and helps with hydration and moisturization. It reduces fine lines and wrinkles.
Lavender essential oil- Lavender is amazing for the skin and very effective for soothing cuts and burns. It is a great oil to apply topically to the face for anti-aging.
Sandalwood essential oil- Sandalwood essential oil can help tighten, firm, and improve skin tone.
Jasmine essential oil- Full of antioxidants jasmine essential oil is another good one for anti-aging. It can give a youthful appearance by rejuvenating the skin.
Magnolia essential oil- This beautiful oil is extremely powerful. Add to your daily routine to help keep skin clean and hydrated.
BEST ESSENTIAL OILS FOR ANTI-AGING ROLLER BOTTLE RECIPE
How to make an essential oil roller bottle for anti-aging
Add 5 drops frankincense essential oil, 5 drops rose essential oil, 3 drops helichrysum, 2 drops myrrh essential oil, and 2 drops lavender essential oil to a 10mL roller bottle.
Top the roller bottle off with a carrier oil, my favorite one is fractionated coconut oil. Learn more about carrier oils here.
Shake the roller bottle and it is ready for use.
How to use your anti-aging roller bottle
For ultimate results apply the roller bottle to the skin daily. Apply to the area of concern.
BEST ESSENTIAL OILS FOR ANTI-AGING USAGE
Now that you know all the different oils good for anti-aging, let's talk about how to use them.
Roller Bottle- Make a roller bottle with your favorite anti-aging essential oils. Add 15-30 drops of essential oil to a 10mL roller bottle and top off with a carrier oil.
Mixed with Coconut oil- Add 3-5 drops of essential oil to a dime-size amount of coconut oil in the palm of your hand. Rub your hands together and then massage onto the face.
With Lotion- Already using a daily moisturizer? Put the normal amount in the palm of your hand and add 3-5 drops of your favorite anti-aging essential oils. Apply to skin.
Facial Serum- Make a homemade facial serum with anti-aging essential oils and apply it to skin daily. Learn how to make one below.
DIY FACIAL SERUM WITH BEST ESSENTIAL OILS FOR ANTI-AGING
First, pick your carrier oil…
Next, pick your favorite essential oils for anti-aging…
Rose
Myrrh
Helichrysum
Pomegranate
Lavender
Sandalwood
Jasmine
Magnolia
Now mix it up….
Add 1 ounce of carrier oil and 5 drops of essential oil to a glass dropper bottle. Shake it up.
I hope this post was helpful and I hope that you enjoy making some of these recipes.
Watch my daily skincare routine video!
Share your tried and true facial serums or anti-aging roller bottle recipes in the comments below?
PIN IT FOR LATER
Follow along with our oily house:
Thanks for stopping by our oily house!