Can you interchange a humidifier with a diffuser? They may look similar, maybe even thrown into the same category for comparisons; however, they are very different.
Although both may disperse water, the two serve very different functions.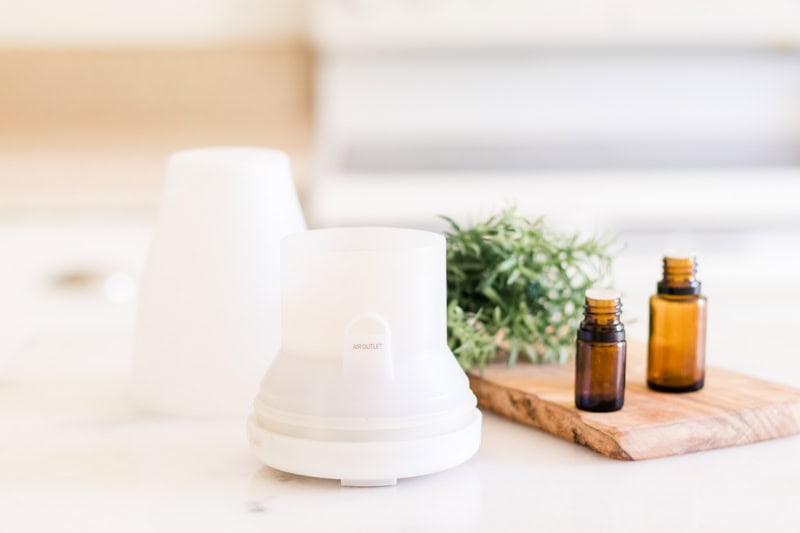 What's the Difference Between a Humidifier and a Diffuser?
Both humidifiers and diffusers are electronic devices used to mist water into the air. However, the reason for the mist is very different between the two devices.
The purpose of a humidifier is to add moisture to the dry air, a byproduct of cold weather if you will! It can be used to relieve dry skin, scratchy throats, and coughs caused by dry air.
The purpose of a diffuser is to mist essential oils into the air for scent or aromatherapy. As the essential oils are released into the air, they can provide a natural fragrance, cleanse the air, and improve air quality.
So a humidifier vs diffuser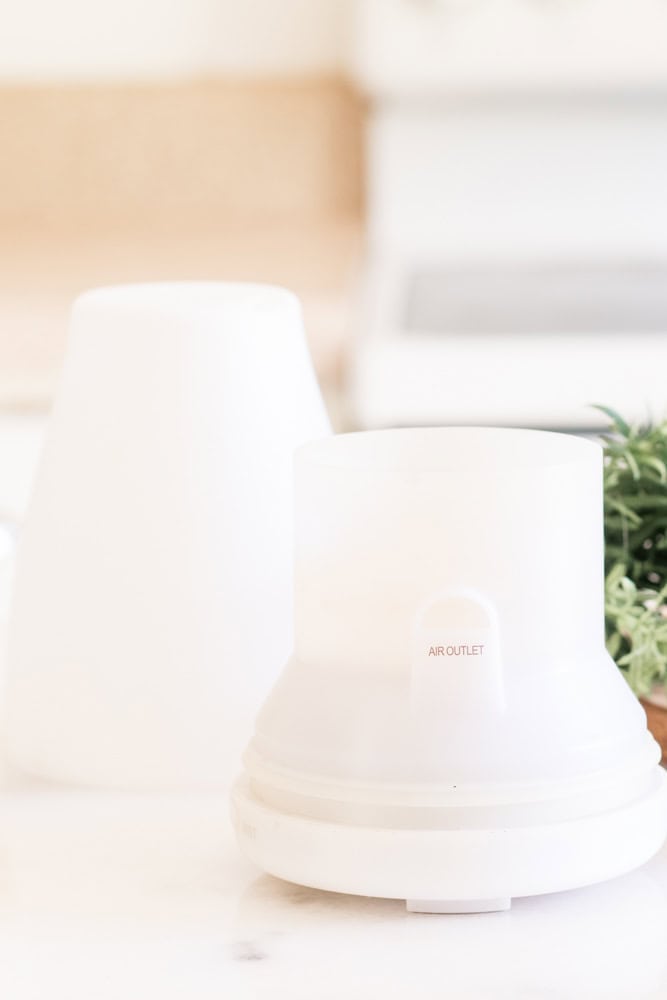 One of the most significant differences between the two is the amount of water each holds. Depending on the size, most humidifiers have a 1/2 to one-gallon water tank.
And most essential oil diffusers hold one cup or less of water.
This is because the diffuser's primary purpose is not to add moisture to the air, but rather the water is used to disperse the essential oils from the diffuser into the air.
As a matter of fact, most humidifiers specify NOT to add essential oils to them. This is because humidifiers were not built with the intent of adding oils or any substance besides water.
Over time, essential oils and other foreign materials can deteriorate the plastic tank, the filter, and internal parts, significantly reducing its intended lifespan.
So, if you're looking to add a little moisture to a room because of dry air, a humidifier is the way to go. On the other hand, a diffuser is perfect for adding a beautiful, natural fragrance to a room.
What is a Humidifier?
A humidifier is an electronic device used to increase the humidity in the home. Most humidifiers are stand-alone units with the purpose of adding moisture to a single room.
In some instances, however, you can purchase a whole house or furnace humidifier connected to the home's HVAC system to control the humidity level in the entire house.
What is the Purpose of a Humidifier?
As it has been pointed out already, the primary purpose is to add moisture to the air. The reduction in humidity inside the home is greatly exacerbated through a home furnace, causing symptoms such as dry skin, hair, lips, coughs, and scratchy throat.
Humidifiers are most beneficial in the winter when the cold air is naturally drier and indoor furnaces are running. In addition, humidifiers have been shown to help relieve symptoms from the common cold and flu. Similar to standing in a steamy shower, the mist from the humidifier can open up airways, clear mucus, and promote healthy breathing.
Type of Humidifiers
There are several different types of humidifiers available, each with its own unique benefits, though, in most situations, any would be fine.
So if you are looking to add moisture to the dry air in your home, especially during the cold winter months, you may consider purchasing a humidifier for your home.
Cool Mist Humidifiers
Cool mist humidifiers emit cool water vapor to add moisture to a room. Most cool mist humidifiers use a fan to mist the water into the air.
This style of humidifier is efficient, will not heat up the house, and is safe around kids. However, they will require cleaning every so often to prevent mold and bacteria growth.
Takeaway: Easy to clean, works well in larger rooms and is great for use in warm climates.
Warm Mist Humidifiers
Warm mist humidifiers have an internal heater element to heat the water, which in theory, could help warm the air. Because warm air holds more moisture than cold air, this humidifier is more effective than a cold mist.
More effective, yes. More efficient? Maybe not. Because of the heating element, warm mist humidifiers may use up to 10 times as much electricity.
Takeaway: quiet, better at cleansing the air, perfect for cooler weather, does not cover as much surface area.
Ultrasonic Humidifiers
Ultrasonic humidifiers are simple devices that create water droplets from ultrasonic frequencies. They do not use a heating element and make little to no noise.
They are practically maintenance-free and simple to clean if used properly. However, it is important to use filtered or distilled water in your ultrasonic humidifier to avoid the dreaded white dust.
Ultrasonic diffusers are the only diffusers to release white dust. The white dust is essentially the minerals found in tap water that become separated when run through the humidifier.
This post contains affiliate links, which means I make a small commission at no extra cost to you. Get my full disclosure HERE.
What is the Best Humidifier to Buy?
What is a Diffuser?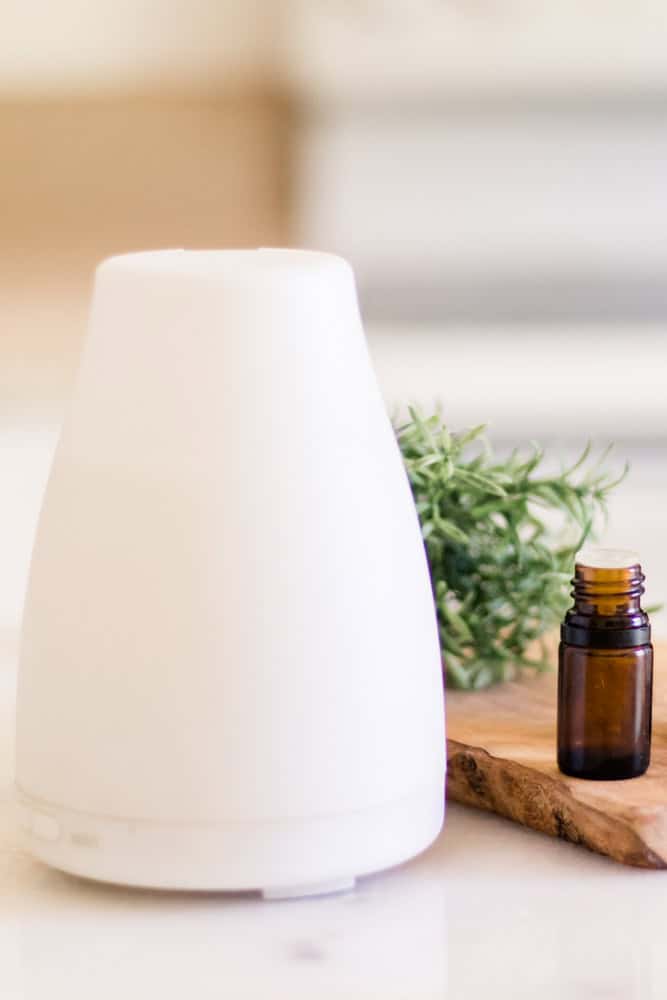 An essential oil diffuser is a small electronic device that breaks down essential oils and disperses them into the air. Most diffusers require a small amount of water to disperse the oils.
Types of Diffusers
Ultrasonic Diffusers
This type of diffuser uses water and comes out of the diffuser as a mist. Ultrasonic diffusers are similar to a humidifier, but the amount of water actually dispersed is minimal.
This is my go-to style diffuser. They are safe, easy to use, easy to clean, very efficient, and run for hours.
Nebulizing Diffusers
A nebulizer diffuser uses pressurized air in small bursts to release the essential oils into the air. This type of diffuser is entirely safe with no heating element or water involved. 
In addition, these diffusers can create a powerful aroma, are very quiet, easy to use, and mess-free. 
Reed Diffusers
Reed diffusers hold water and oils in a narrow-necked bottle with long reeds protruding out the top. The reeds absorb the oils, where they travel up to the top and evaporate, releasing the scent into the air.
It gives off a minimal amount of fragrance, but they look great, can easily be homemade, and are perfect to use around pets.
Heat Diffusers
Heat diffusers use heating elements to gradually evaporate the essential oils. These are more rare but typically use a water and oil mixture that is heated up and evaporated.
Another way some heat diffusers work is by using a pad with a few drops of oils, which is then heated up, allowing the oils to evaporate slowly.
However, heating up oils can cause them to lose some of their aromatherapy benefits. As a result, I do not use this type of diffuser. 
Best Oil Diffuser to Buy