Thankfully the beautiful spring weather is right around the corner. Bring the beautiful scents of spring inside your home with these 5 best essential oil diffuser blends for spring.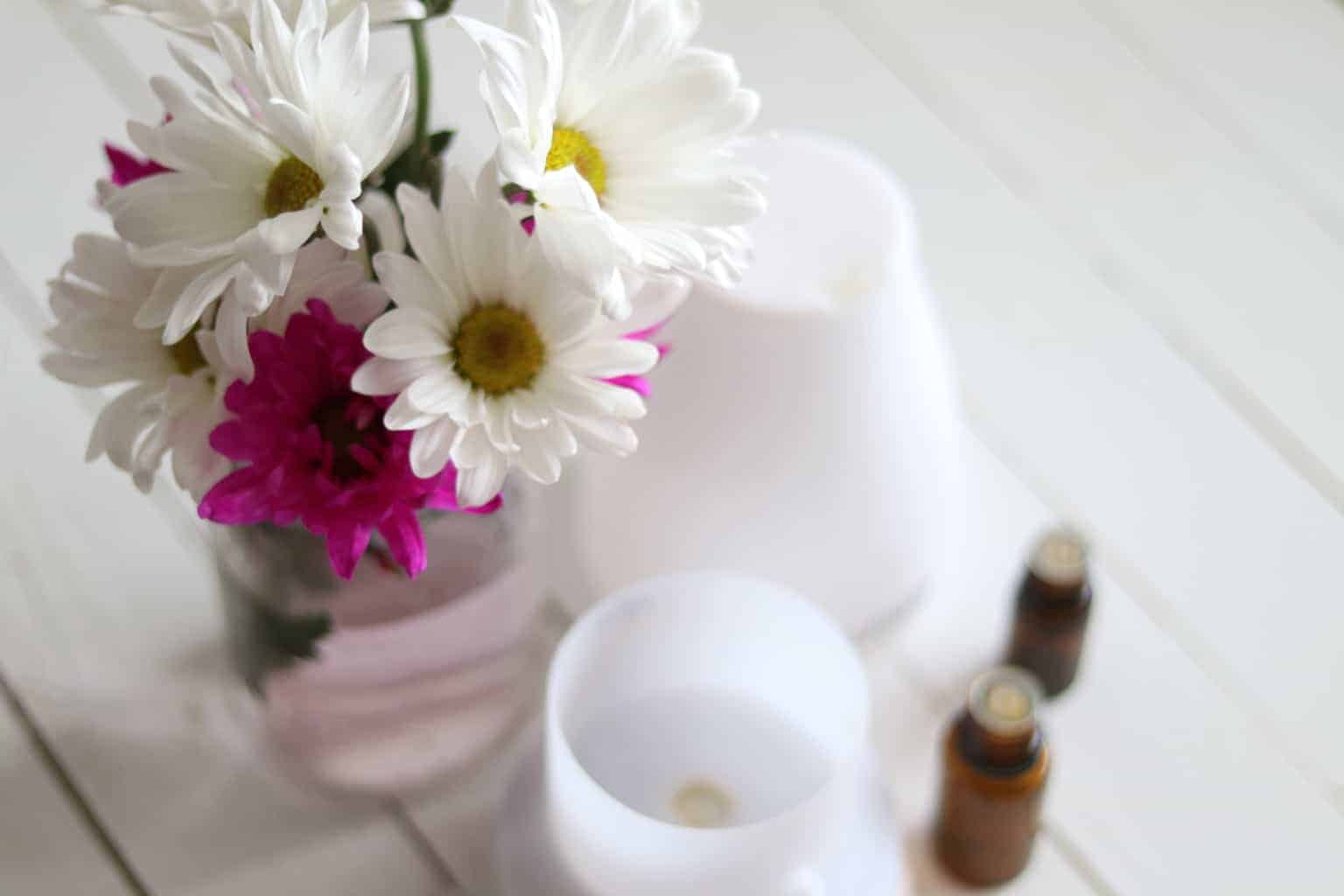 This post was originally published in March 2019
Just thinking about a warm, sunny spring day with the windows open makes me giddy. I seriously can't think of anything more pleasant than a clean house, lemon essential oil diffusing, a breeze blowing through the house, and kids playing around outside. Ok, I just painted a picture of perfection, not reality. Haha!
I absolutely love diffusing for the season, and unless we aren't feeling well, that is exactly what you will find in my diffusers. Give me all the wild orange and clove during the fall, all the peppermint and cinnamon during Christmas time, and bright, cheery oils to diffuse during the Summer. Today, I will share a few of my favorite essential oils to diffuse during the spring.
Grab my free ebook to learn how to use essential oils safely and effectively.
This post may contain affiliate links, which means I make a small commission at no extra cost to you. Get my full disclosure HERE.
BEST ESSENTIAL OIL DIFFUSER BLENDS FOR SPRING

APRIL SHOWERS
This blend is the perfect scent for a warm, rainy day. It is a nice mix of calming and uplifting, with a hint of freshness and cleanness.
4 drops lemon essential oil
2 drops vetiver essential oil
1 drop bergamot essential oil
MAY FLOWERS
I am in love with this blend. How can you go wrong whenever you diffuse a beautiful mix of floral oils? This blend is perfect for diffusing when all the flowers begin to bloom outside.
3 drops lavender essential oil
2 drops geranium essential oil
2 drops patchouli essential oil
1 drop rose essential oil
SPRING CLEAN
Diffuse this blend of citrus essential oils on spring cleaning day! Not only do these oils add a fresh, clean smell to the home, but they also can cleanse and purify the air. Perfect for cleaning day.
4 drops lemon essential oil
3 drops lime essential oil
2 drops wild orange essential oil
BREATHE EASY
Along with warm weather and flowers comes the pollen and seasonal discomforts. Diffuse this blend when dealing with congestion, stuffiness, and any seasonal respiratory symptoms.
3 drops lavender essential oil
2 drops lemon essential oil
2 drops peppermint essential oil
1 drop eucalyptus essential oil
HELLO, SPRING!
This is a perfect blend of floral and citrus. Making this a perfect blend to diffuse at the start of the season.
3 drops juniper berry essential oil
3 drops grapefruit essential oil
2 drops lemon essential oil
1 drop cypress essential oil
How to use these spring blends
Add cool water to the diffuser fill line.
Add oils, choosing from one of the blends above.
Press start and enjoy
Check out this post here for more information on how to use a diffuser.
BEST ESSENTIAL OILS FOR SPRING
As you can see, I stick to a lot of citrus and floral oils during the springtime. I also like to keep all the respiratory oils nearby. Let's discuss some of the top benefits of these essential oils.
CITRUS ESSENTIAL OILS
Nothing says clean like citrus essential oils. As soon as I start cleaning the house, I will throw a few drops of lemon or another citrus oil in the diffuser. I like to make all my own homemade cleaning products and ditch all the Lysol, but I still want that fresh lemony Lysol smell. Citrus essential oils can add a lot of health benefits to the air in your home.
They are very uplifting and can promote natural energy. Try diffusing citrus oils in the morning to help you get out of bed.
Citrus oils help with stress and anxious feelings because they can help cells return to their normal state and interrupt unhealthy stress responses.
When diffused they can cleanse and purify the air.
They can affect the mood positively and promote feelings of happiness.
FLORAL ESSENTIAL OILS
Everyone wants a lovely smelling house. If you aren't sure where to start, grab a floral oil or two and drop it in a diffuser. This will make your house smell beautiful, without toxic candles contaminating the air. Floral essential oils are loaded with benefits for you, primarily when used aromatically.
They are very calming and can promote a good night's sleep. Diffuse a blend of floral oils in your room overnight.
Floral essential oils are really good at grounding emotions and promoting peace.
They can also be effective for stress and anxious feelings.
Add them to a glass spray bottle and mist your sheets and pillowcases before bed to promote a healthy night's sleep.
SEASONAL THREATS ESSENTIAL OILS
As soon as the flowers start blooming and it's time to cut the grass, many people will start suffering from the many uncomfortable symptoms of seasonal threats. Thankfully, there are several essential oils you can use to help with these things.
Diffuse lemon, lavender, and peppermint to reduce pollens and allergens in the air.
Boil a pot of water on the stove, remove it from the heat, and add a couple of drops of each oil to the water. Stand over the pot and breathe in the steam.
Peppermint and eucalyptus can open up airways and promote clear breathing when inhaled.
What are some of your favorite essential oils to diffuse during the springtime? Share your favorite blends with me!
PIN IT FOR LATER

For more great diffuser blends, try one of these next.