A homemade room spray has so many benefits. Not only does it smell good, but it also helps eliminate foul odors and freshens up your home. Plus, it's easy to make and inexpensive.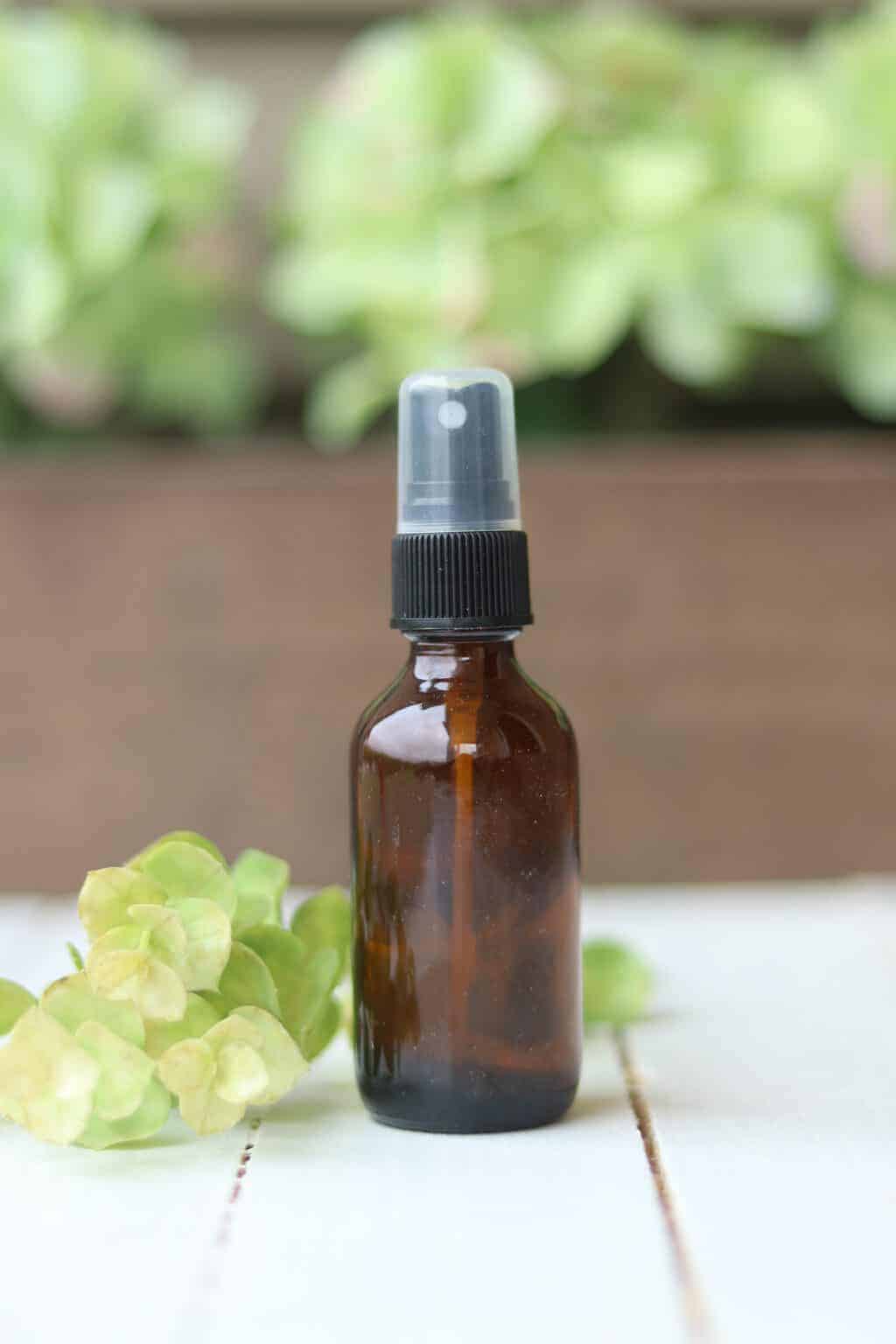 There is nothing quite like a crisp, fresh scent to greet you when you walk in your front door.
Over time, homes can begin to smell stale and musty, and while you can always open up a window to let in some fresh air, having a homemade room spray on hand can quickly freshen up an entire home in a matter of minutes.
And while I love the fresh aroma of febreze, I prefer to take a more natural route, so I came up with my own version of a homemade febreze.
Essential oil room spray
This room spray recipe below is scented with my favorite aromas, but I highly encourage you to check out the 'room spray blends' section to add your personal touch to the final product.
This post contains affiliate links, which means I make a small commission at no extra cost to you. Get my full disclosure here.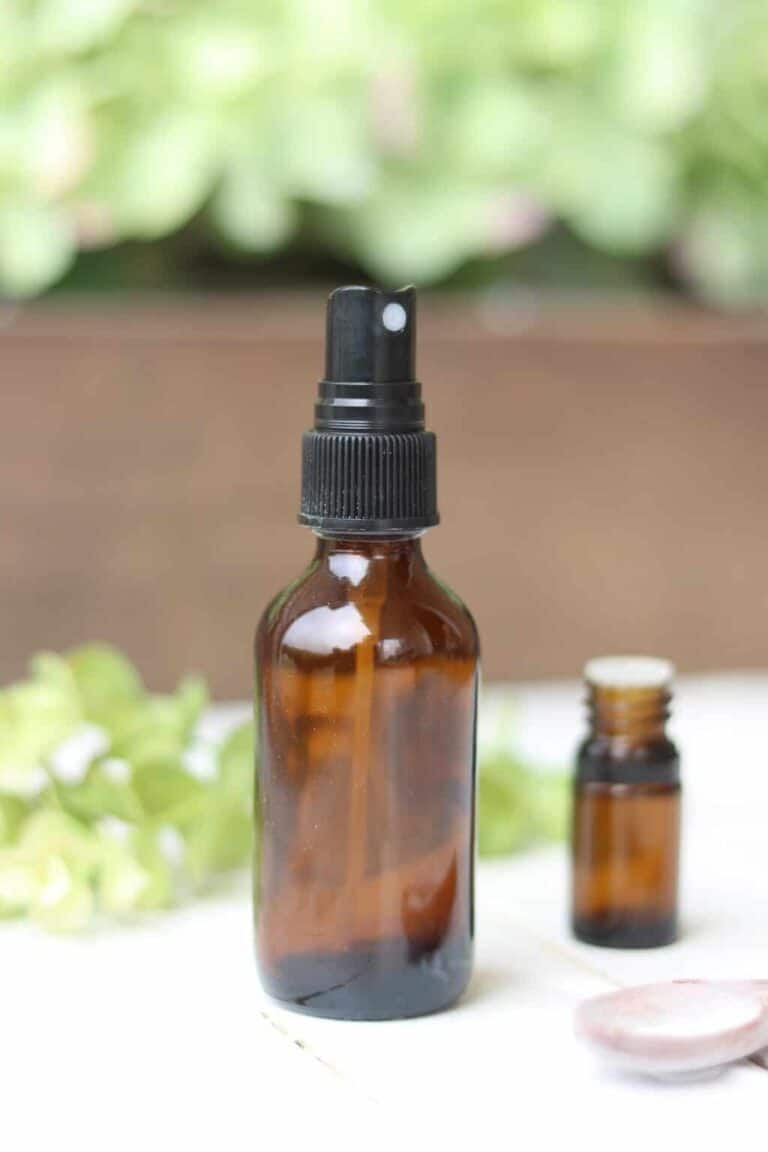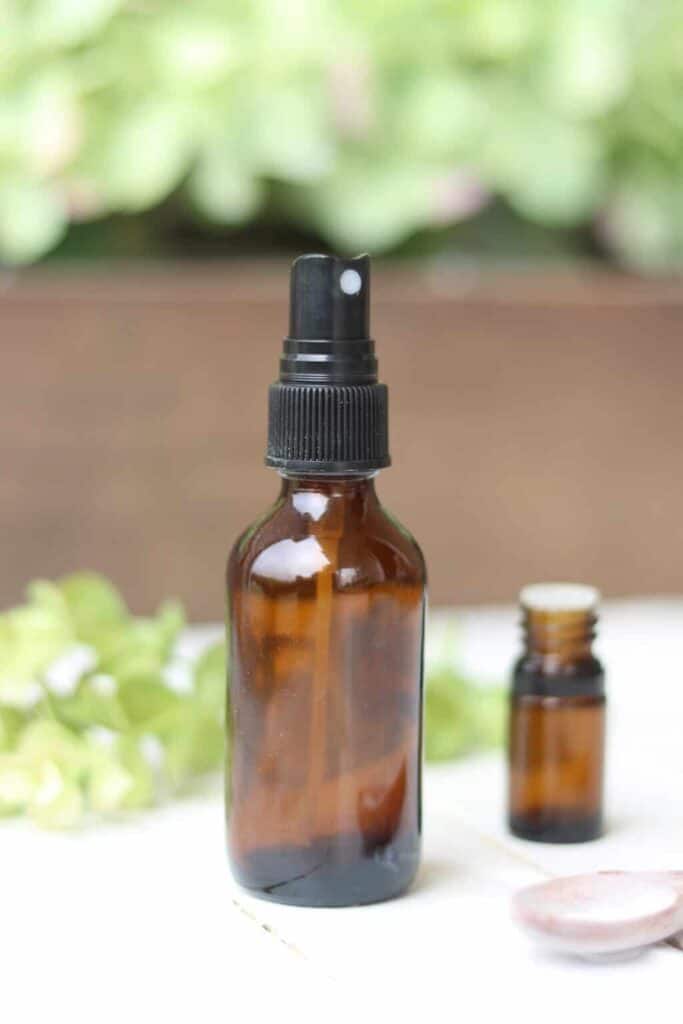 How to make room spray
Ingredients
1 teaspoon of baking soda
5 drops of lavender essential oil
5 drops of geranium essential oil
5 drops of patchouli essential oil
Water
Room spray recipe
Add baking soda, lavender, geranium and patchouli to a small mixing bowl.

Use a fork to mix well. (Mixing the oils with baking soda ahead of time will help them incorporate with the water better.)
Add the mixture to the spray bottle and top off with water.
Shake well before use.
Avoid using mini fine mist spray bottles to prevent potential clogging in the sprayer nozzle.
How to use room spray
Mist one to two pumps into the air, over the floor, furniture, shoes, or cars to freshen the air!
Room spray benefits
Room sprays not only smell great, but they also have a number of benefits for you and your home.
Essential oils in room sprays provide aromatherapy benefits such as promoting relaxation, improving sleep, reducing stress, and providing a healthier environment.
Homemade room sprays are not 'in your face' overpowering. It's more of a gentle fragrance that slowly fades over time.
A safer alternative to candles. I love the smell of candles and even make my own beeswax candles, but let's face it, there are instants we don't have the time to attend to a candle and would rather release a quick burst of room freshener and be done.
Masking unpleasant odors. One of the perks of making your own febreze room spray is you can add as much fragrance as you'd like!
Room spray blends
I had fun coming up with a few different combinations, and yes, I tried them all! Choose from one of the blends below and add it to your room spray.
Orange Mint
This blend here was the prototype and has since become not only my favorite room spray blend but one of my favorite diffuser blends as well.
Peppermint and wild orange are great for promoting energy, aiding memory, and helping with concentration.
Zesty Citrus
Bergamot is a little-known oil and, in my opinion, is one of the best-smelling citrus oil out there. Pair it with the tangy scent of lime and the zesty aroma of ginger, and you have got yourself one beautiful combination.
Citrus essential oils are excellent for boosting mood, energy, and the immune system.
Ginger can help with nausea, car sickness, and even digestive issues through aromatherapy.
Field of Flowers
Please give me all the floral oils! These oils have a pleasant and calming effect making it a great bedroom blend. Lighty mist into the air above the sheets to freshen them up and promote a healthy night's sleep.
Floral essential oils are great for calming the mind and the nervous system. A word from the wise: take a sniff of patchouli before adding to the blend. It's a love-it or hate-it oil.
Citrus Bliss
Or try 15 drops of citrus bliss
This room spray is very uplifting, energizing, and motivating. Some citrus oils cleanse and purify the air and even kill airborne germs.
Mist this blend into the air for a natural energy boost and to freshen the air.
You can learn more about citrus essential oils with this Ultimate guide to citrus essential oils.
Air fresheners for men
While the possibilities are truly endless with this DIY room spray, I feel it's necessary to share a few more essential oil ideas.
According to my husband, a few of the above blends are very much not manly. So if you need to freshen up a man cave or den, try using one or two of the oils listed below.
These are primarily woodsy and outdoorsy (if that is even a word) scents. I use these in his beard oil and beard balm, and he approves.
Sandalwood
Cedarwood
Cypress
Lemongrass
White fir
Bergamont
Peppermint
Eucalyptus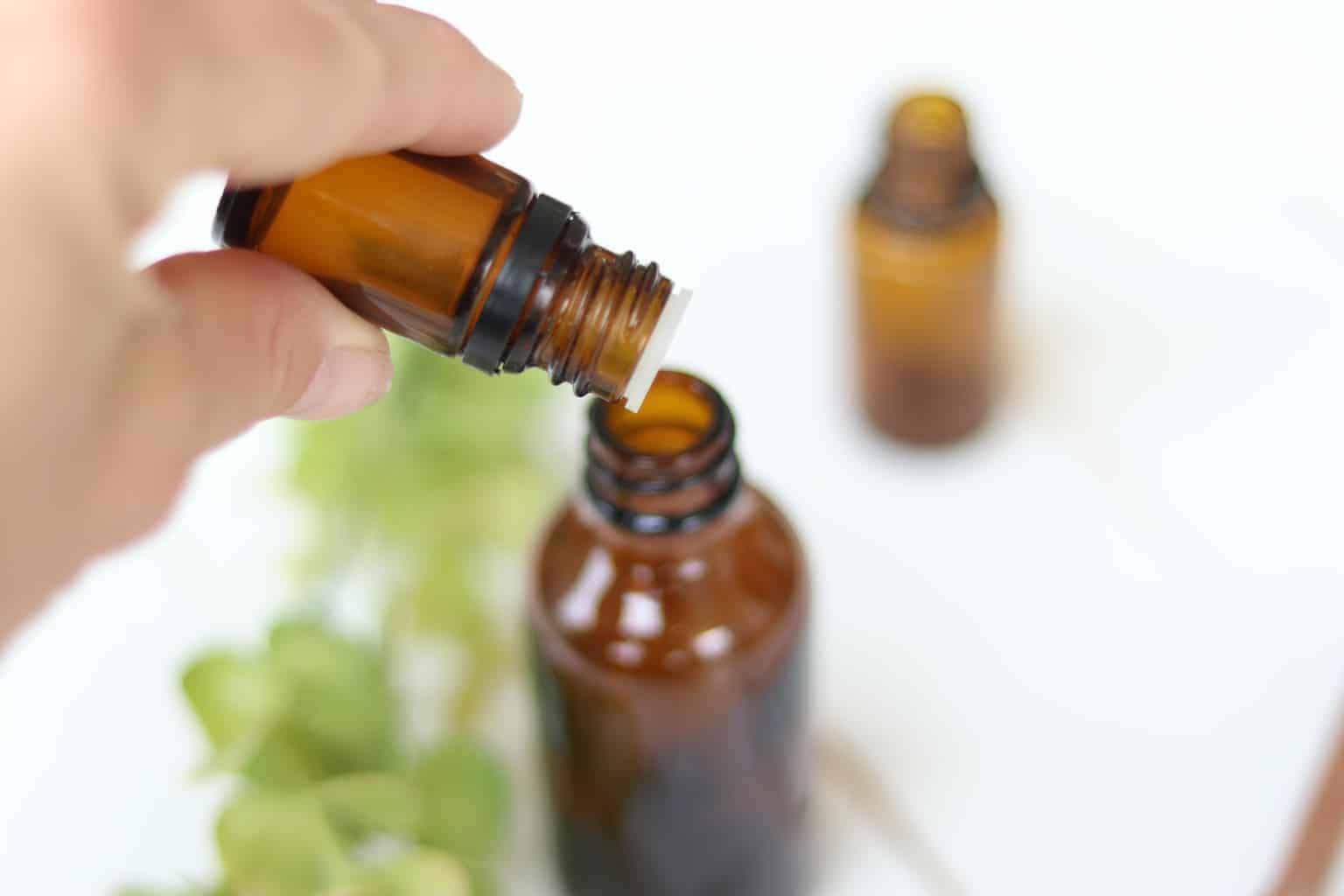 Common questions
Why not use conventional air fresheners? Unfortunately, many air fresheners pollute the air quality with synthetic ingredients, potentially causing skin irritation, headaches, and allergic reactions.
Will this double as a car air freshener? Yes, this recipe works great for keeping your car smelling fresh and clean. However, I would recommend cutting the number of essential oils in half so that the scent is not overpowering.
Can you use it in the bathroom? While it's not as powerful as an actual bathroom air freshener, it can certainly get the job done if needed!
Do room sprays clean the air? Most linen sprays and air fresheners only provide a fragrance. This room spray recipe includes cleansing ingredients which may help clean the air.
What if I don't have all the essential oils for the room spray? It is ok to substitute and change the blends up; in fact, I encourage it! Everyone has a different preference, and that is ok. If you don't like or have one of the oils in the blend, simply omit it or add in a different oil.
Do I have to use a glass bottle? Yes, essential oils are very powerful and can break down plastics over time.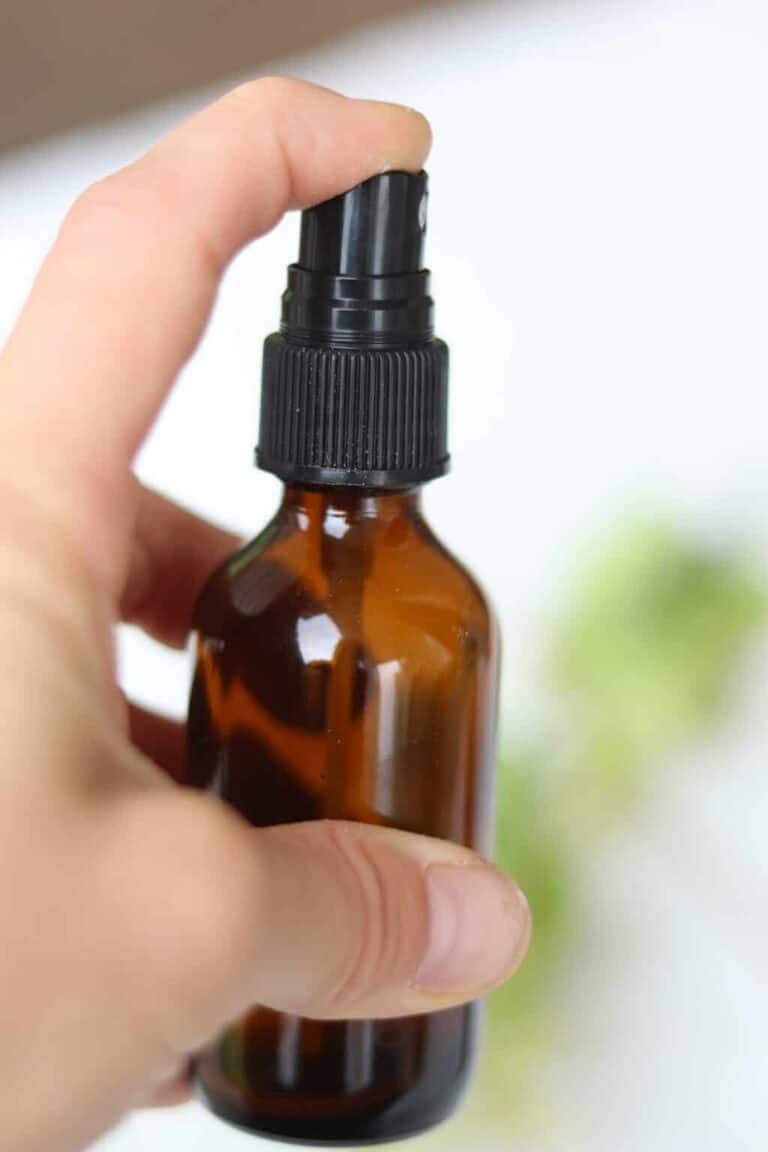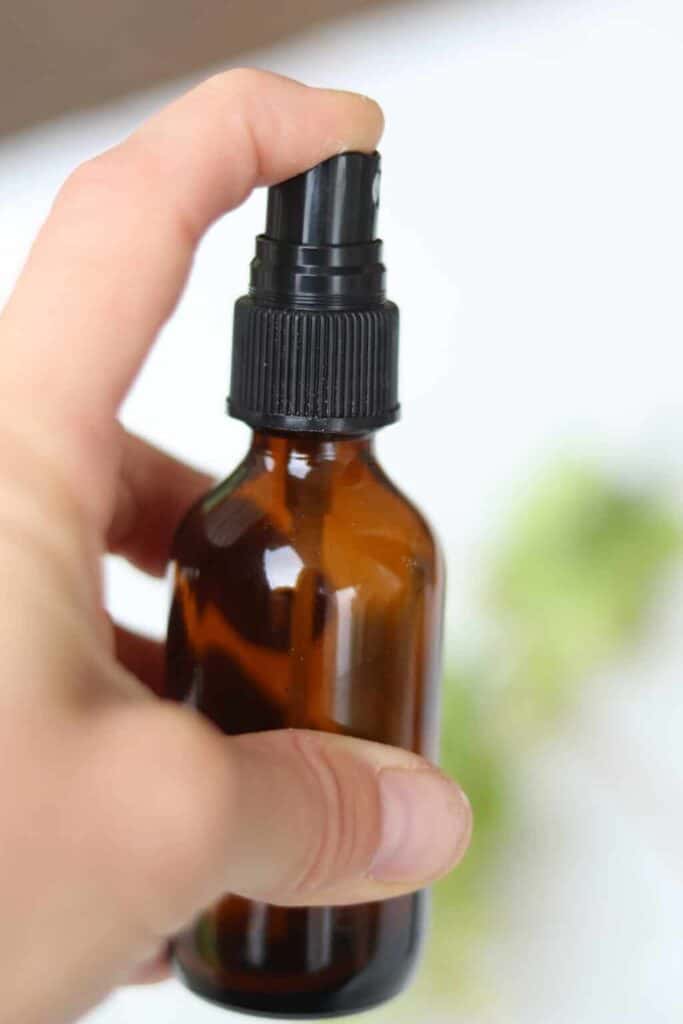 Homemade febreze with essential oils
I hope you enjoy this alternative air freshener recipe. You can feel good now knowing exactly what you are spraying into your home.
If you have younger children or pets, you can easily cut the recipe in half to dilute it further if you'd like.
Some of my favorite essential oils to use around kids include:
Lavender
Wild Orange
Roman Chamomile
Lemon
Jasmine
Rose
Again, customize a blend that you love, and be sure to share it with us in the comments! I love fresh new ideas.
If you enjoyed this recipe, be sure and look around this site. I have hundreds of recipes from cooking to cleaning and everything between. And for more posts similar to this one, check out these below.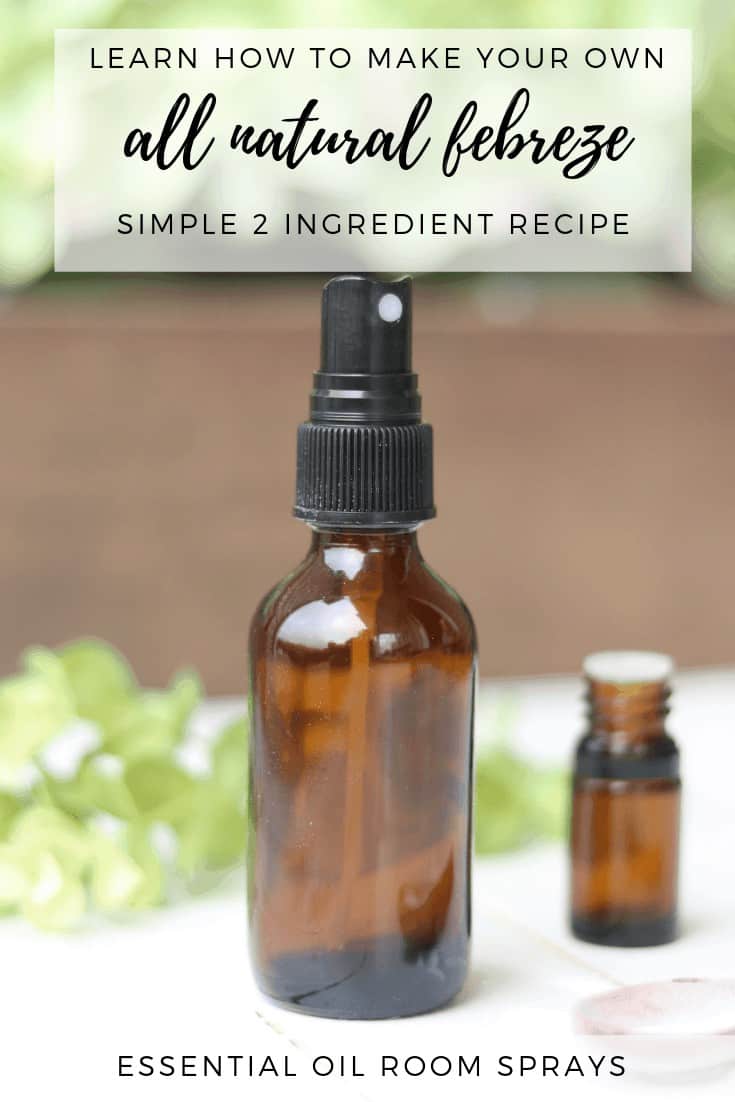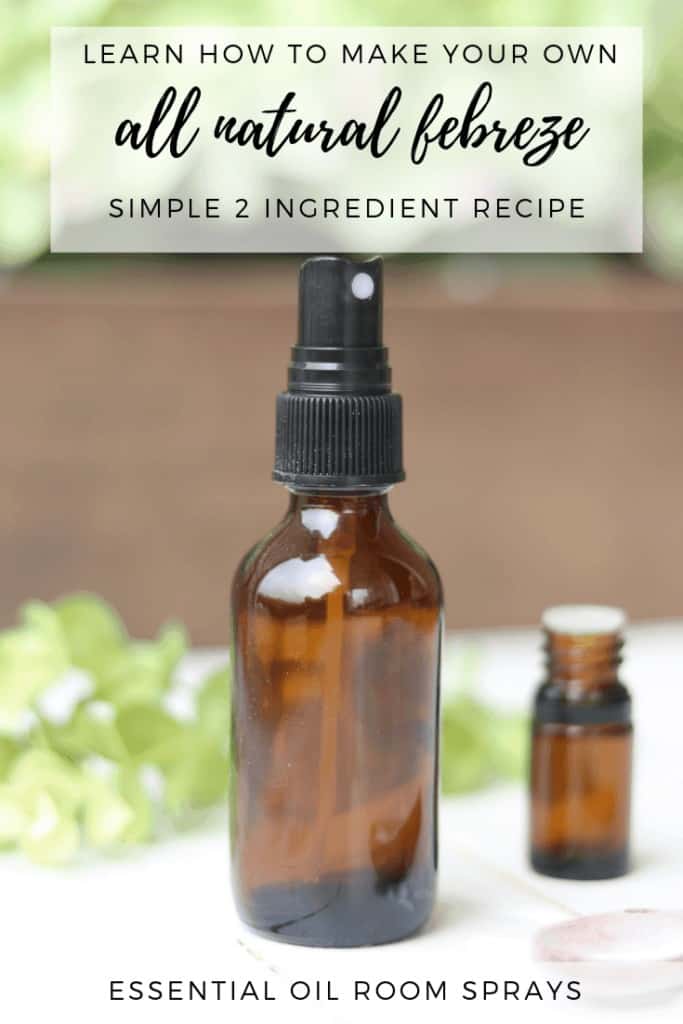 All Natural Febreze with Essential Oils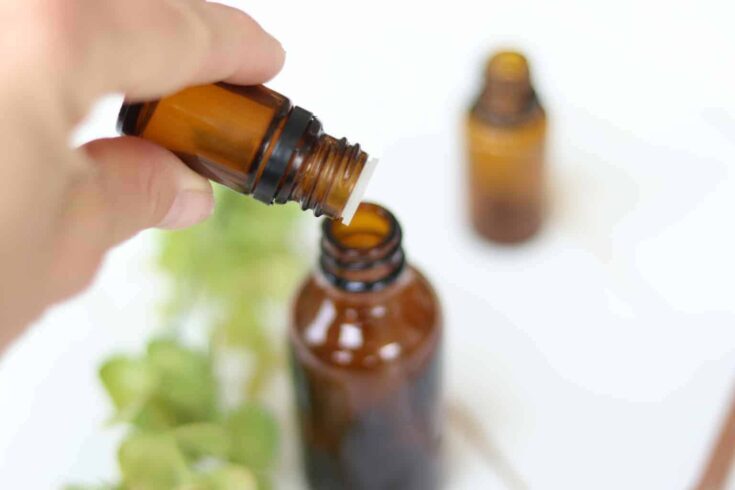 Homemade All-Natural Febreze for a fresh-smelling home.
Ingredients
1 teaspoon of baking soda
Filtered water
4 oz spray bottle
Instructions
Combine baking soda and essential oils in a small bowl. (Mixing the oils in baking soda will help it incorporate with the water better.)
Use a funnel to transfer to the spray bottle and top off with water.
Secure the lid and shake well.
Notes
Shake well before use. Spray into the air, floor, furniture, shoes, or cars to freshen the air!
Avoid using a fine mist spray bottle to prevent potential clogging in the sprayer nozzle.