Learn how to make an all natural Febreze with two ingredients! This spray is refreshing, toxic free, and has health benefits for you.
I love a good smelling home, car, shoes, closets, you get the drift. Pun 100% intended! 😉 I don't like the toxic sprays that you can buy from the convenient store.
Instead, I decided to make my own febreze and I was very pleased! I had fun coming up with a few different combinations to create an all natural room spray using my essential oils.
For this recipe you only need baking soda, water, and essential oils of choice. I shared a few of my favorite blends below, get creative and make your own up too.
Get access to my online resource library for your free printable label.
Grab my free essential oil class to see exactly how we use natural remedies in our home.
ALL NATURAL FEBREZE INGREDIENTS
1 tablespoon baking soda
Essential oils of choice
Water
Spray bottle
ALL NATURAL FEBREZE INSTRUCTIONS
Add 1 tablespoon of baking soda to a bowl and add in essential oils of choice.

Mash with a fork to incorporate essential oils into baking soda.

(Mixing the oils in baking soda will help them to incorporate into the water better.)

Add mixture to a glass spray bottle and top off with water.
Shake well before use.
Spray into the air, floor, furniture, shoes, or cars to freshen air!
LET'S CHAT ABOUT THE BENEFITS OF THESE ROOM SPRAYS
Remember how I said that these sprays don't only smell good, but they also have benefits for you?
Spraying pure essential oils into the air will give you aromatherapy benefits. Essential oils are natural aromatic compounds and as you inhale them they can benefit your body.
Essential oils can be used to support a healthy immune response, clear airways, help with sleep, and even support the mood. Each essential oil has a different chemical make up and has the ability to affect the body in a powerful way.
ALL NATURAL FEBREZE ESSENTIAL OIL BLENDS
Orange Mint
5 drops peppermint
5 drops wild Orange
This blend is one of my favorites and you will find these two paired in my diffuser often. Peppermint and wild orange are great for promoting energy, aiding memory, and helping with concentration.
You can use these two when you sit down to get a job done or when your kids are working on homework. Get my focus and concentration roller bottle HERE.
Zesty Citrus
6 drops bergamot
3 drops ginger
6 drops lime
In my opinion, bergamot is the best smelling citrus oil out there. Paired with the tangy smell of lime and the zesty smell of ginger this is a beautiful combination.
Citrus essential oils are wonderful for boosting the mood, energy, and immune system.
Ginger can help with nausea, car sickness, or other digestive issues just when inhaled. This spray can be used in the car if you have someone in the family that is effected by motion sickness.
Field of Flowers
5 drops lavender
5 drops geranium
5 drops patchouli
Give me all the floral oils! Oh man, do they smell pleasant and are extremely calming. Use this spray in the bedroom at night to freshen the sheets and promote a healthy night sleep.
Floral essential oils are great for calming the mind and the nervous system.
Citrus Bliss
15 drops citrus bliss
OR
5 drops wild orange
5 drops grapefruit
5 drops lemon
This room spray is very uplifting, energizing, and motivating. Citrus oils can also cleanse and purify the air. I often diffuse a blend of citrus oils when I am trying to kill airborne germs. Learn more about citrus essential oils with my ULTIMATE GUIDE TO CITRUS ESSENTIAL OILS.
Spray the citrus bliss blend into the air for a natural energy boost, freshen the air, and to cleanse and purify.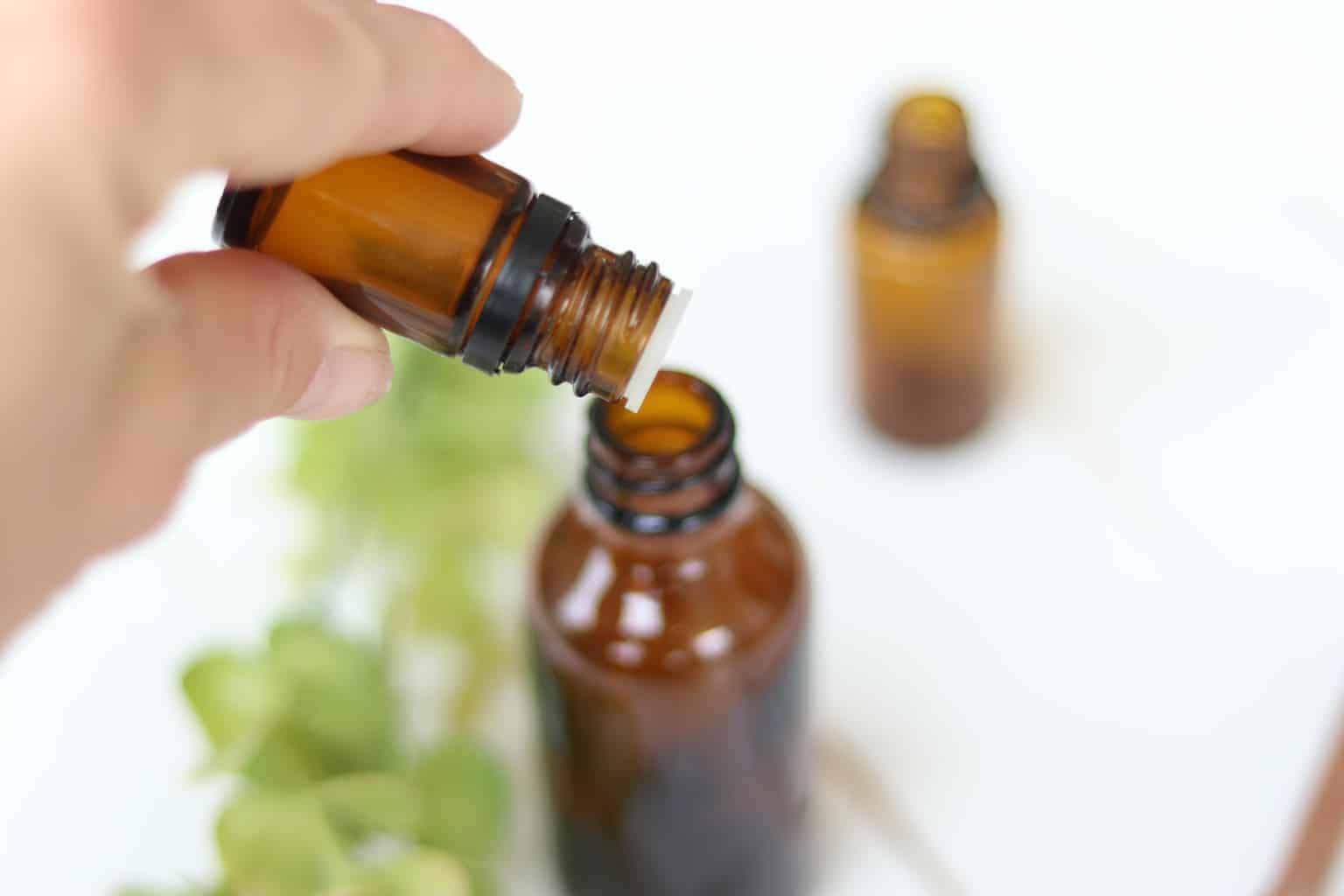 WHY NOT USE FEBREZE FROM THE STORE?
Taking one quick glance at the ingredient list doesn't give me the desire to spray conventional air fresheners into the air. Air quality is very important and when it isn't up to par it can cause lots of issues.
Several store bought air fresheners have chemicals in them that can be harmful for the lungs when inhaled, can cause skin irritation, and are known hormone disruptors. They contain synthetic scents that can lead to headaches and allergic reactions.
WHAT IF I DON'T HAVE ALL THE ESSENTIAL OILS FOR THE RECIPE?
It is OK to substitute and change the blends up, in fact I encourage you too! Everyone has a difference preference and that is ok. If you don't like one of the oils in the blend, simply omit it or add in a different oil.
When I go to teach an essential oil class with 5-10 people it is very interesting to see the way each person reacts to a smell. I always pass the oils around for everyone to sniff and each person can have a different response.
MORE ESSENTIAL OIL ROOM SPRAY BLENDS
The possibilities are truly endless, but I wanted to share a few more essential oil ideas.
Some of the above blend are a little more girly smelling, or at least my husband would say that. Anytime I make DIY products for him, I like to stick to mostly woodsy and outdoorsy (if that is even a word) scents.
If you are making a spray for the man in your life try a blend using one or more of these oils:
Sandalwood
Cedarwood
Cypress
Lemongrass
White fir
Bergamont
Peppermint
Eucalyptus
If you are making a room spray specifically for a child you can cut the recipe in half to dilute it further. I love to keep a bottle of room spray in my little boys room to keep it smelling fresh.
These are some of my favorite essential oils to use for my children:
Lavender
Wild Orange
Roman Chamomile
Lemon
Jasmine
Rose
Customize a blend that you love and be sure to share it with us in the comments! I love fresh new ideas.
ALL NATURAL FEBREZE VIDEO TUTORIAL
PIN IT FOR LATER
Follow along with our oily house:
Thanks for stopping by our oily house!