5 tips to keep the kitchen clean and organized without spending a lot of time or money. Follow along as I walk you through the process of cleaning your pantry and refrigerator.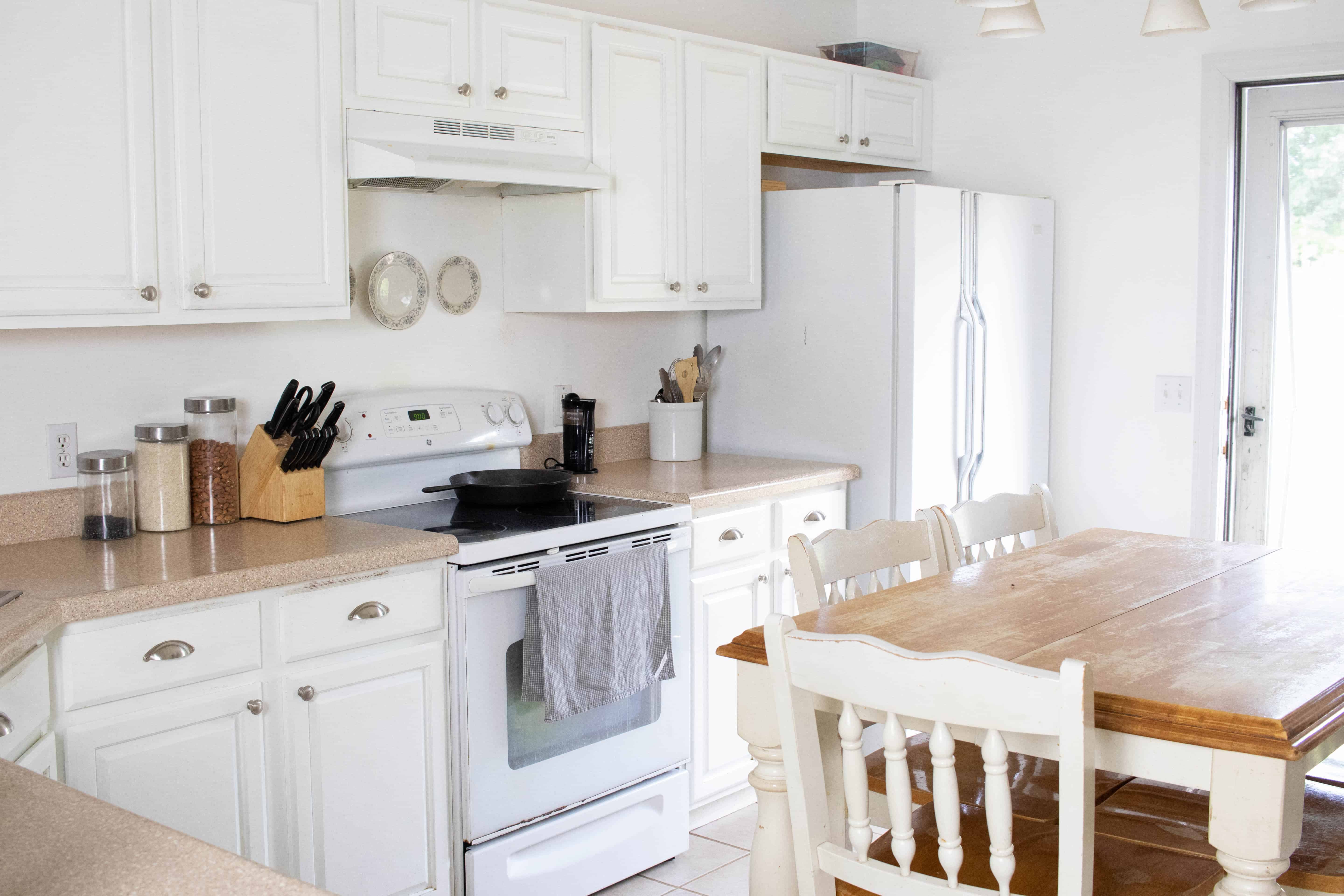 I have told you about my love for cleaning, but did you know I love to organize too? In a home of 4 children, being organized is crucial. If everything has a specific place, then it is easier to find it when you need it.
But how do you get your kids, husband, or even yourself to keep things where they go? The key is less clutter! Less clutter is always the answer, in my opinion!
Because everyone loved my first "clean with me" video so much, I decided to make my first "organize with me" video! I really enjoyed making this video and hope that it will give you some organizing inspiration.
ORGANIZE WITH ME VIDEO
PIN IT FOR LATER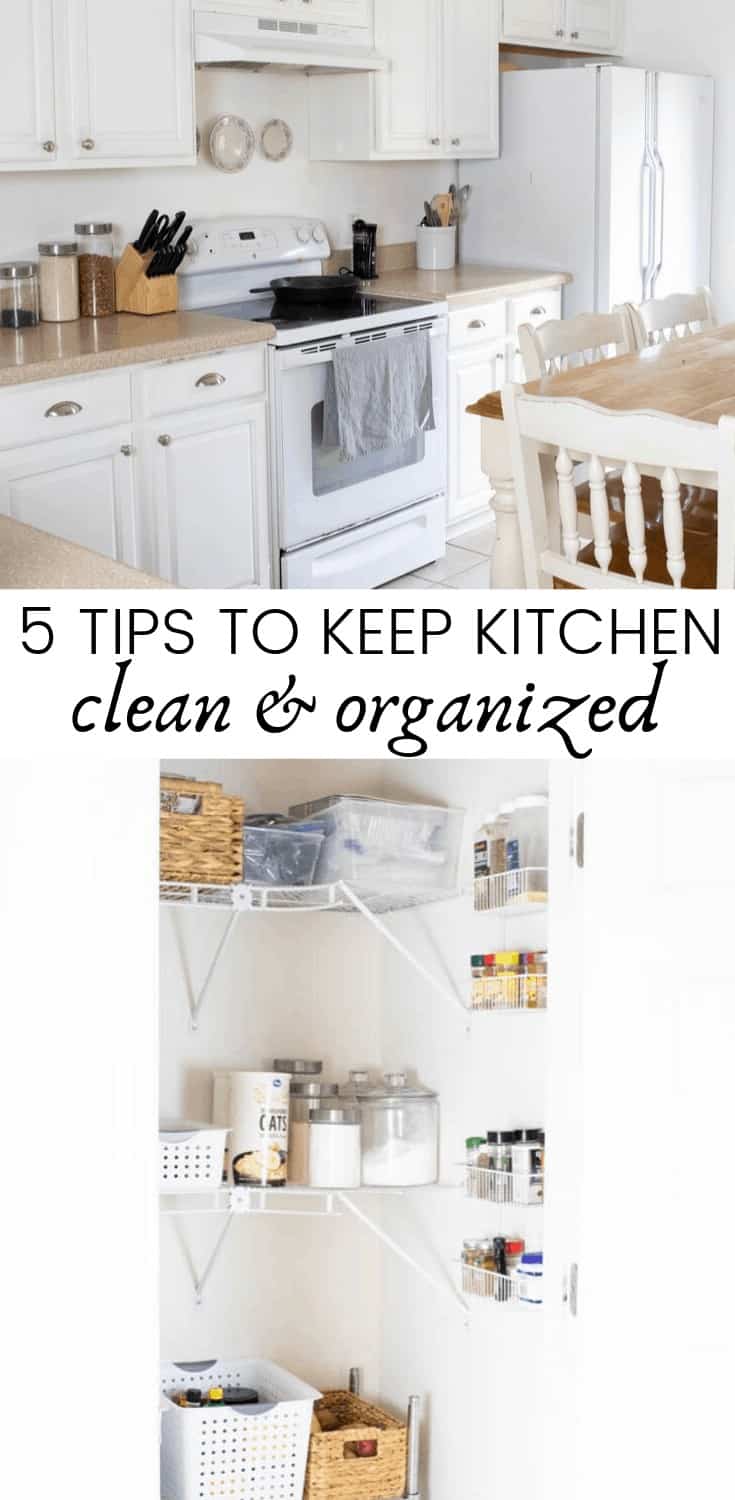 TIPS TO KEEP KITCHEN CLEAN AND ORGANIZED
#1 Get rid of anything you don't use!
This post contains affiliate links, which means I make a small commission at no extra cost to you. Get my full disclosure here.
Having extra clutter is the devil when it comes to cleaning. Ok, that may be a bit dramatic, but seriously if you don't use it, get rid of it! I have held on to gifts because I felt bad, or odds and ends just in case we need them in the future.
I find that I end up moving these said things from one place to another and never end up using them. They are just in the way.
How do I get rid of extra clutter? This is what I do in all the rooms in my house to help me know if it is "safe" to get rid of it. I make three piles—one for trash, one to keep, and one to donate. If I am iffy about anything in the donate pile, I will bag it up and place it in the basement. If I don't touch it for 6 months, I will bring it to a local goodwill without even opening up the bag.
#2 Use baskets and storage containers.
This is a big one in the kitchen with all the random half bags of flours, noodles, baking powders, random lids, and storage containers. I have large baskets in my bottom cabinets for my water bottles, plastic kid serving dishes, and food storage containers. This makes it easier for the kids to get to their dishes and allows them to help put things away.
I use large glass containers for coconut flour, granola, dry beans, rice, and sugar in my pantry. This cuts down on all the open bags all over the place and keeps things more organized.
Storage boxes come in handy for baking needs, canned goods, and pasta too!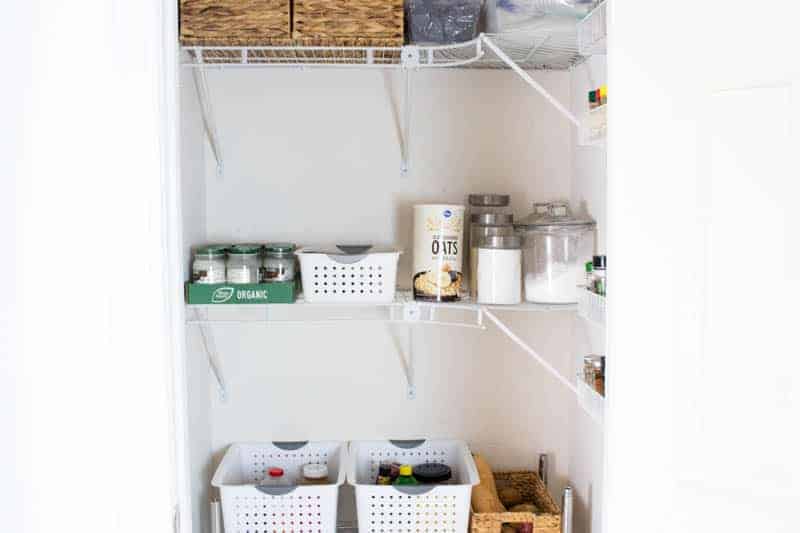 #3 Clean as you go!
Don't let the mess get ahead of you! Easier said than done, I know. I find that if I clean as I go, it is easier to clean and less overwhelming. If dishes sit, then they are way harder to clean; even if you don't have time to do the dishes right away, at least soak them, so they don't get crusty.
While you are cooking dinner, put away the ingredients as you are finished with them. Try to do the dishes from cooking before eating, so you don't have so many dishes at once.
The dirtier it is, the harder it is to find the motivation to clean!
#4 Have a place for everything.
If I have something that doesn't have a place to call home, then I toss it. Everything must have a spot, or else you won't be able to find it when it is time to use it. I use this same method in all the rooms in my home.
Having a specific spot for things will allow everyone to know where to put it away after it has been used.
#5 Have natural all-purpose spray on hand.
I use my homemade all-purpose spray for literally everything in the kitchen. It is made with vinegar and lemon and gives off that fresh, clean kitchen smell.
Wiping down tables, chairs, and countertops can make a blah kitchen into a sparkling kitchen. It is one of those steps that often gets skipped but shouldn't.
After every meal, I do a quick spray and wipe off all the kitchen surfaces. Keeping up with this will eliminate sticky, caked-on, hard to get off stains and food.
HOW TO KEEP PANTRY ORGANIZED
The first tip to keep the pantry organized; take everything out of the pantry. Sweep the floor. Wipe down the walls and shelves. This is the first thing I do because no one wants to organize in an already dirty space.
Separate everything into categories. Baking, oils, vinegar, spices, snacks, canned goods, drinks, etc. Organizing everything into categories keep things neat, uniform and helps to keep things organized. Again, everything has a spot, so we know where to put it back.
You can get fancy and add labels, but I find this hard because things are always coming and going in the pantry.
If you have a large pantry, store kitchen appliances that don't get used very often in it, I keep my instant pot, blender, and food processor in my pantry. Although my pantry is not considered big, I still have room and prefer less clutter on my countertops.
When you get home from the grocery store, it is easy to put away the groceries if everything is already organized. Having containers for dry foods like rice, beans, flours, and sugars is a great way to keep the pantry looking nice and keeping food fresh longer.
I have a spice rack hanging on the wall in my pantry and absolutely love it. It makes organizing the spices easy and keeps the spices out of my cabinets.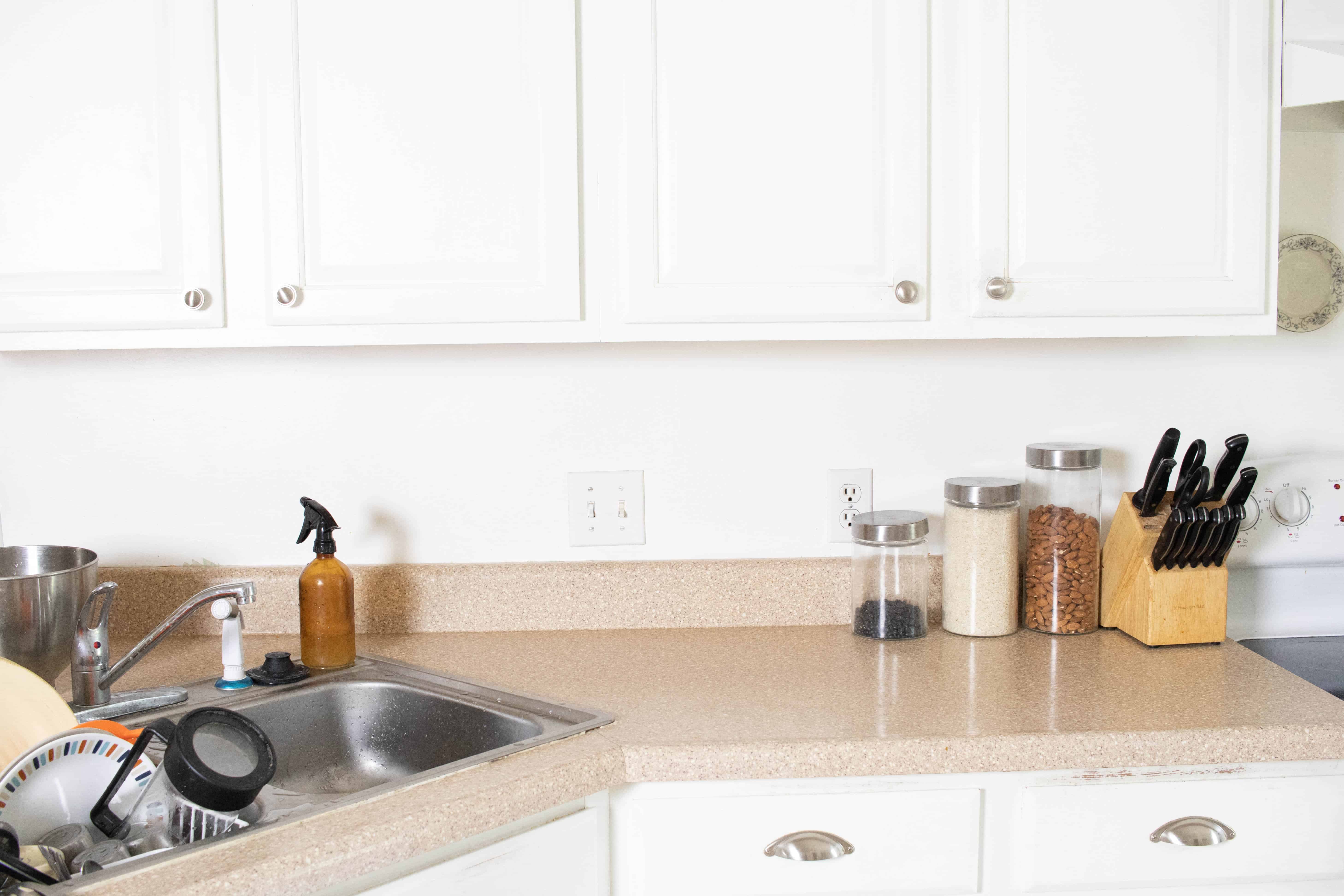 TIPS FOR REFRIGERATOR ORGANIZATION
Same as the pantry, the first tip for organizing the refrigerator; empty the whole thing out. Then give it a good wipe down before putting things back. I use my all-purpose spray for this. It works great, and I love that it is made with natural ingredients since this is where my food is going to be.
The best way to organize a refrigerator:
Store everything in clear containers, so it makes it easier to see what you have. I have a set of glass containers with snap lids that I love for food storage.
It is also key to put the foods that are most often used in the front.
Keep foods that are for the kids on the bottom shelves to avoid the extra mess by having to move things around.
Always be sure to rotate old groceries to the front when restocking with new ones.
I hope you enjoyed this post. For more cleaning-related posts, check out my cleaning with natural products and garbage deep clean and deodorize.