Discover the eco-friendly and cost-friendly way to clean your home windows!
Vinegar is a fantastic ingredient and tool to use for a streak-free finish, and it is better for your health, too, being 100% natural and free of chemicals.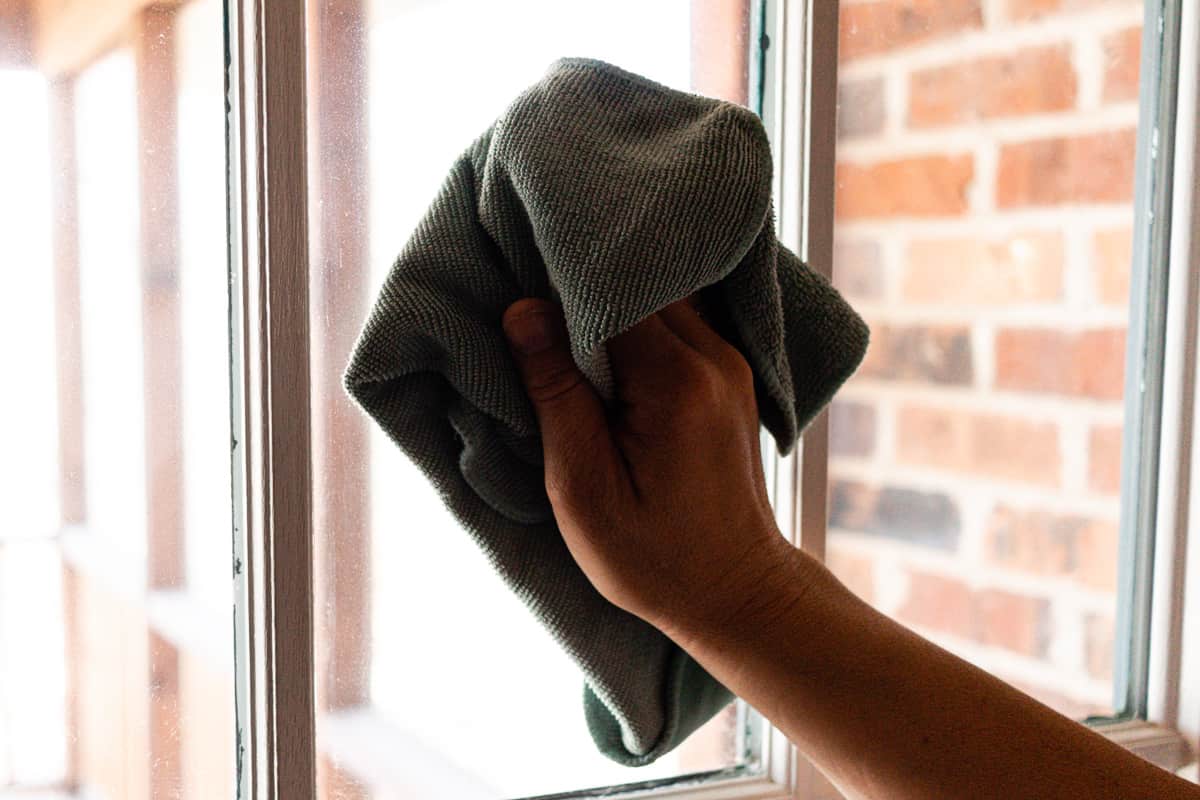 Cleaning windows with vinegar takes me right back to my childhood.
Watching my Grandmother spritz vinegar on the windows in her home and wipe it over, finishing with dry newspaper to get rid of the smears.
Funny story, but I was that odd kid who loved pressing their nose onto the windows straight after cleaning.
The vinegary smell was somewhat comforting to me.
Needless to say, Grandma wasn't so happy with me – especially after all that effort to get streak-free windows!
But really, vinegar is a fantastic window cleaner.
Using just vinegar and water and adding drops of your favorite essential oil for windows is an economically friendly and environmentally friendly cleaning method.
In this post, I'll share how to clean windows with vinegar to get that glorious, shiny, no-streak finish.
Forget the need to hire expensive professionals to clean your windows – vinegar is coming to the rescue!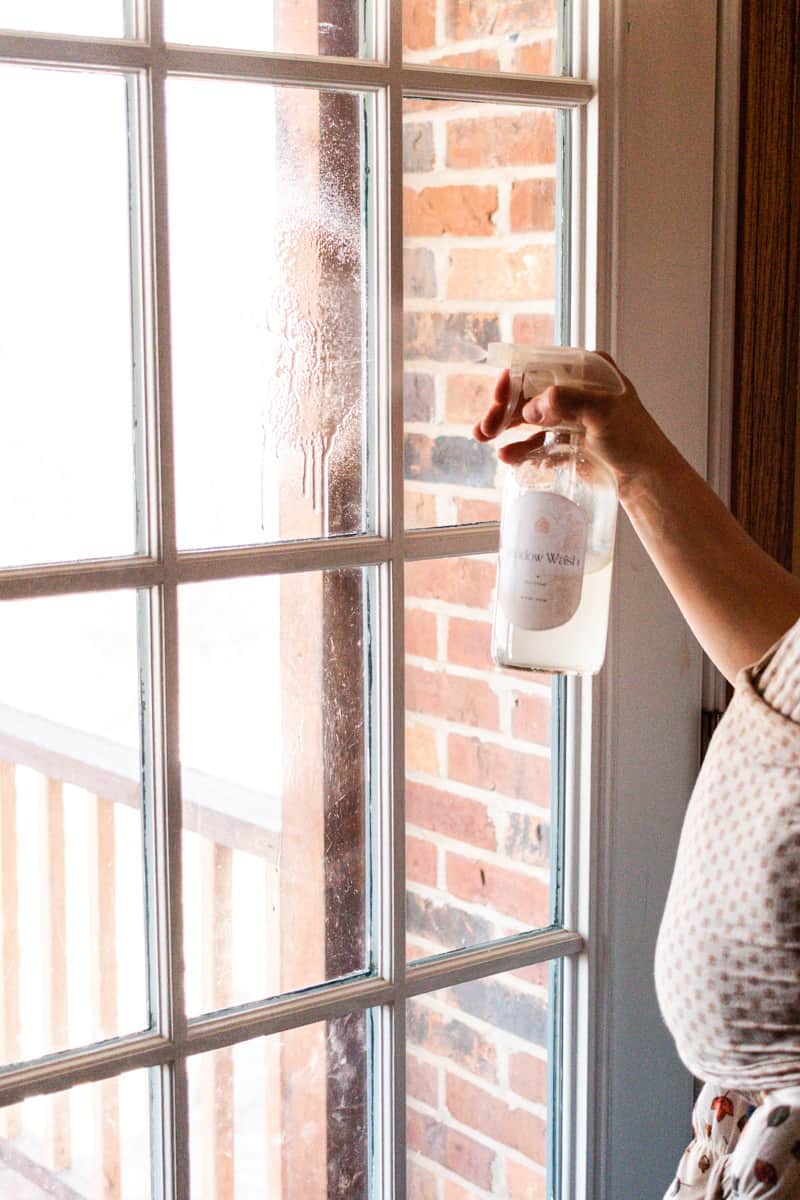 washing windows with vinegar
Now, I know the first thing that comes to mind is the smell. Vinegar is pungent, to say the least.
Yet, interestingly, when you use it on windows, it doesn't last that long (the smell, I mean), and I find the smell isn't that bad.
The benefits far outweigh the potential stench, well and truly!
Plus, in the recipe I share below, you'll find my favorite essential oils to add to the vinegar solution, making the smell far nicer.
But why is vinegar so good at cleaning windows?
Simply because it's acidic in nature, which makes it great for breaking down grease and grime like you'll see in my homemade oven cleaner.
It's also a potent antibacterial, making it helpful in killing germs and other nasties in and around the home.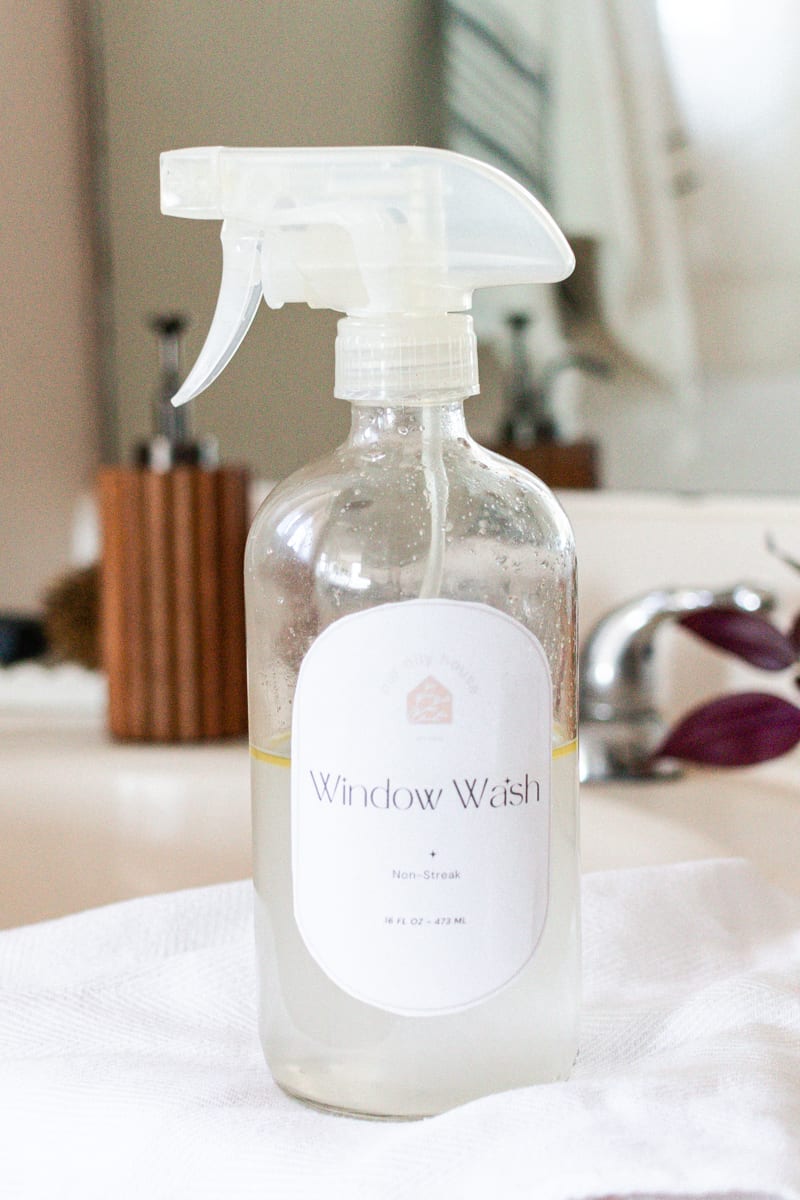 using vinegar to clean windows
There are specific tips I can give you which will make your windows that much cleaner and streak-free.
It's primarily due to the right amount of vinegar and water you use together. Too little vinegar and the solution won't have the same cleaning power.
But too much, and the vinegar smell will be overpowering, plus you may risk damaging the surface you're cleaning.
Now, you can use straight vinegar in certain instances, such as killing mold, but for the most part, you'll always want to dilute it.
So please follow the instructions in the recipe.
Also, don't be tempted to add too much essential oil to the bottle. These are oily in nature, and therefore, too much risks a streaky finish on your window panes.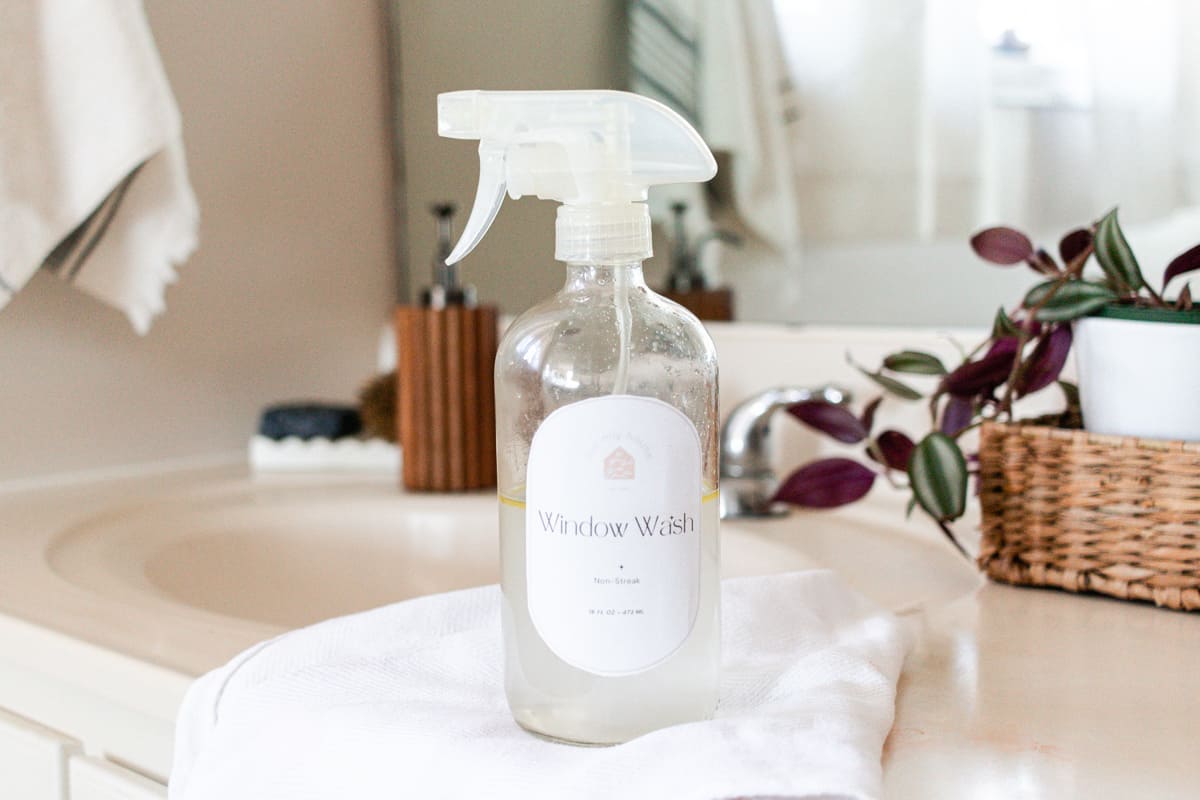 This post contains affiliate links, which means I make a small commission at no extra cost to you. Get my full disclosure HERE.
white vinegar window cleaner
White vinegar – also known as distilled vinegar. This stuff differs from the malt vinegar you get in restaurants, drizzled onto fries or other foods.
White vinegar is what you want to use to clean your windows!
Make sure you only use white vinegar in your homemade cleaning products and use the correct water-to-vinegar proportions for the best cleaning results.
Trust me, you don't want to slather malt vinegar onto your surfaces and windows – the smell would put you off immediately, and the greasy residue it leaves behind is pretty grim.
White vinegar leaves a much nicer, cleaner, fresher finish and is excellent at removing stains, and stubborn grime and bringing out the shine.
You can see how I use vinegar to promote shine in my laminate flooring.
vinegar and water to clean windows
To make the vinegar water cleaning solution, grab a reusable bottle – glass is best, and follow the recipe below.
Adding essential oils to this cleaning solution means your home won't smell like vinegar (which is a good thing).
Once your solution is ready, what you'll need to do is prepare your windows. Using a soft dry cloth or duster, wipe them over to get rid of cobwebs and surface dust.
You could also use a paper towel for this, but I always prefer using eco-friendly ingredients (a reusable cloth!) if you can.
Next, spritz several times with your homemade vinegar cleaner.
Using a microfiber cloth or paper towel, wipe over the window glass, taking care not to get the vinegar solution on your window frames.
Plastic and wood can get damaged or stained if vinegar is used on them, so please only use this solution on the glass.
Now, use a dry cloth (microfiber is the best, but an old towel works well, too) to wipe over the window pane.
This is how you 'dry' the window and prevent smears.
Once you're done, step back and check for any leftover residue. If some remains, use a damp cloth soaked in plain water to wipe over and dry again.
And while you are at it, now would be a perfect time to clean your window screens!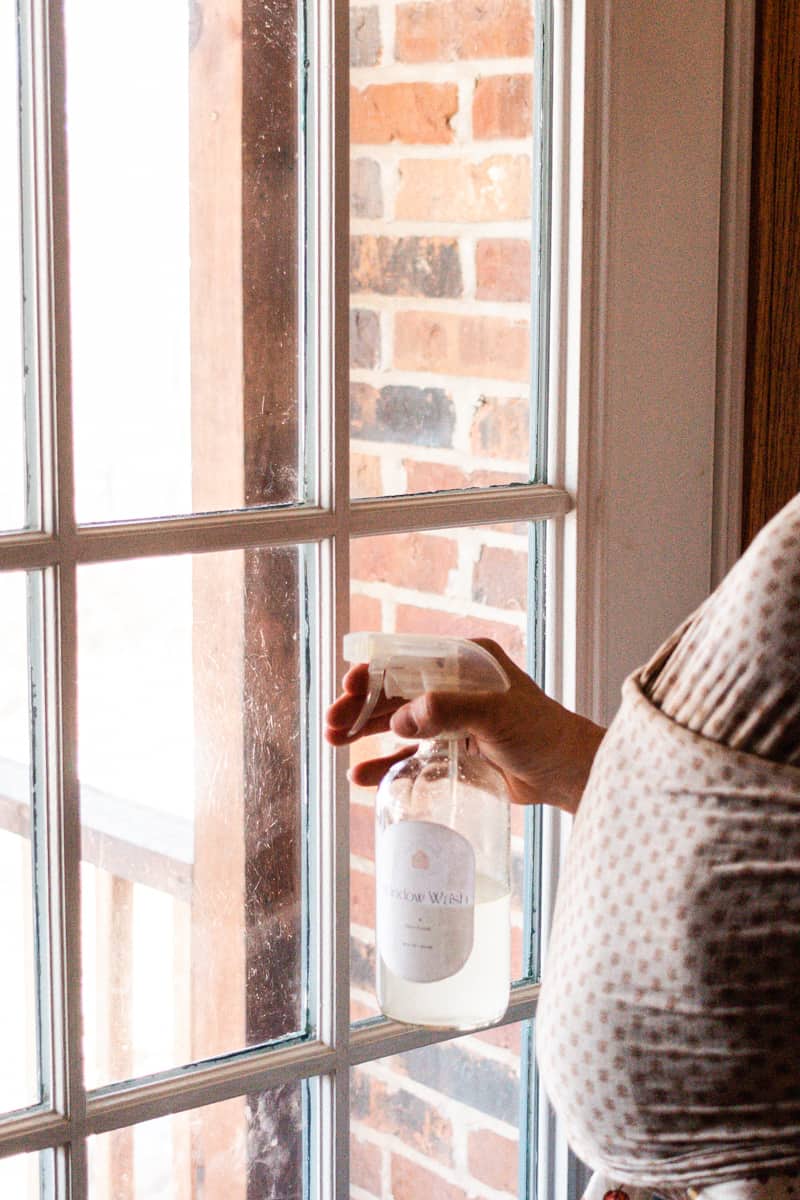 natural glass cleaner recipe
Ingredients:
Instructions
Add water and vinegar to a 16 oz reusable spray bottle (I like glass bottles the best)
Add essential oils, secure the lid and shake well. Always shake well before use, as the oils tend to settle on the top of the solution, so it needs mixing in every time.
Why you'll love this natural window/glass cleaner
First off, this window cleaner is simple and easy to make while being a fantastic glass cleaner too.
It's eco-friendly and healthier for your home than a conventional cleaner from the store. No more toxins or chemicals!
I also love that you can get creative with scents – if you want to experiment with different essential oils, you can!
So long as you keep the water/vinegar ratio the same, feel free to swap in and out any of your favorite essential oils as you like.
I hope you love this natural glass cleaning recipe and that you're impressed with the results on your windows!
Feel free to comment below and ask any questions you may have. I always love hearing from you.
More of my Favorite Cleaners
Yield: 12 oz
Cleaning Windows With Vinegar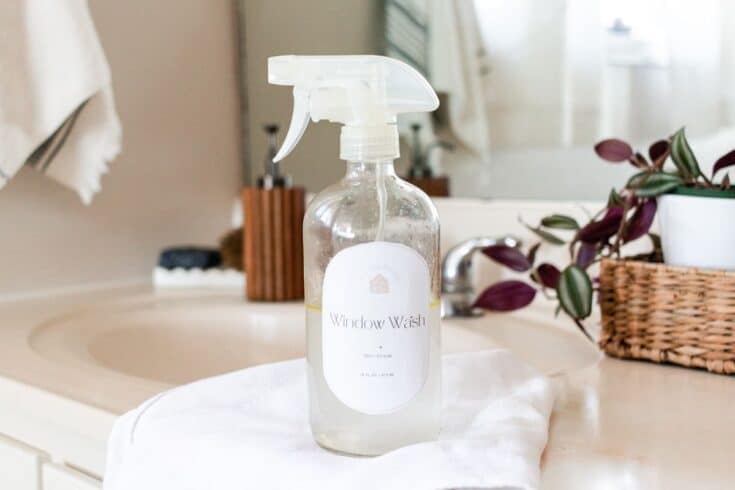 Discover the eco-friendly and cost-friendly way to clean your home windows! 
Vinegar is a fantastic ingredient and tool to use for a streak-free finish, and is better for your health, too, being 100% natural and free of chemicals
Materials
Tools
Instructions
Add water & vinegar to the spray bottle.
Add in essential oils.
Secure the lid and shake well.
Notes
Spritz the glass several times with your cleaner. Then, wipe the window glass clean with a microfiber cloth or paper towel.