Whether it is an outside garbage can or kitchen trash, try these effective tips, tricks, and hacks to eliminate trash can odors. Plus, a homemade trash can air freshener recipe for a long-lasting fresh scent.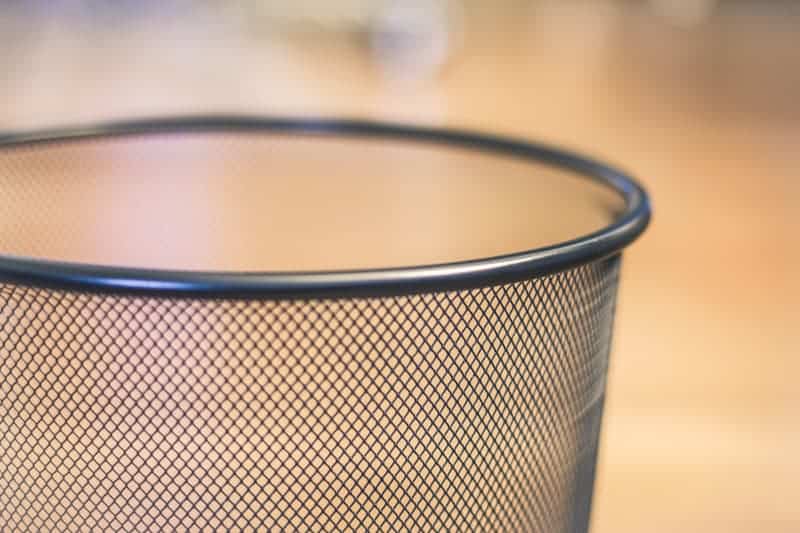 Trash cans are inevitably going to smell. And unless you live in the rural midwest where leaving your garbage can at the end of the road with a bungee cord holding the lid down is common practice, the smell can be a bit of a dampener.
Or even worse is the kitchen trash can. No one wants a foul odor in the kitchen. Keeping a kitchen or outside trash can smelling fresh can be quite simple.
I have found a few things that really work well at keeping the odor from permeating throughout the whole house.
In the past, I have bought scented trash bags by mistake. The smell is always overpowering and fills the whole kitchen, pantry, and other parts of the house with the smell.
The artificial fragrances never smell "good," and rather than mask the scent, it just combines with the odor from the garbage.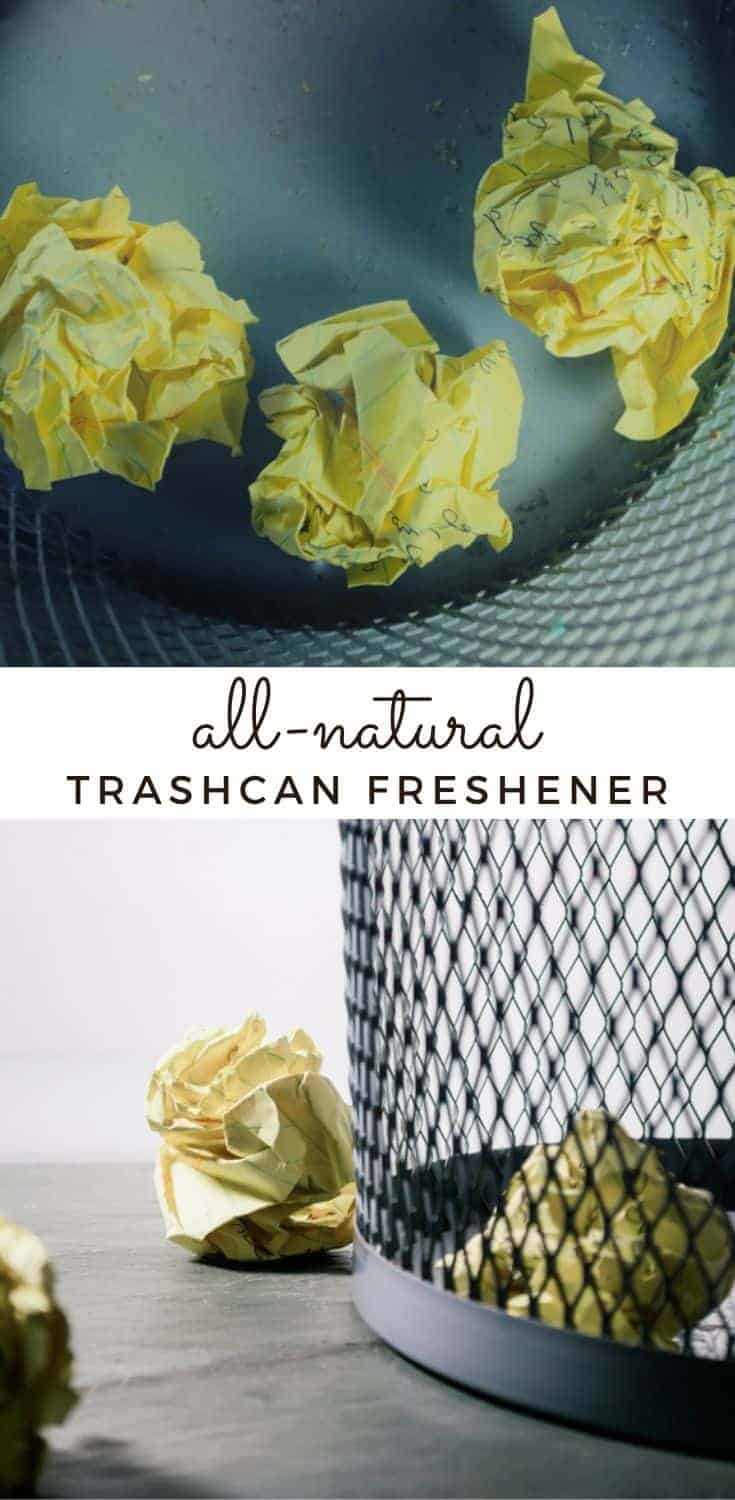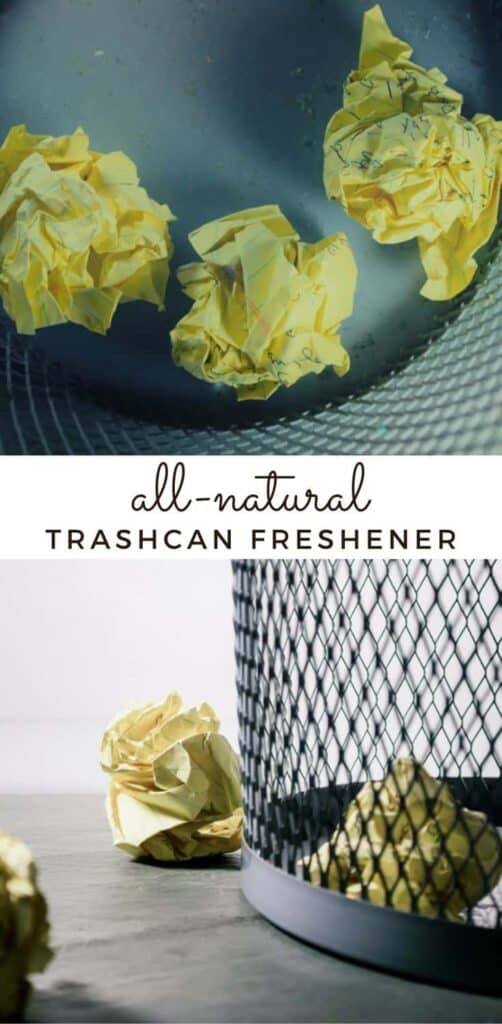 HOW TO PREVENT SMELLY GARBAGE CANS
These tips and tricks are not a guarantee that your trash can is going to smell like roses at all times. I mean, all things considered, it is where we put soiled diapers and old food.
However, these are some things you can do to help your garbage can smell better by either masking or absorbing the scent.
#1 Baking Soda
Sprinkle baking soda in the bottom of the trash can before putting the trash bag in it. Baking soda can help to absorb and cover up odors.
#2 Lemon Essential Oil
Lemon essential oil is great at cleansing and purifying. It can mask bad odors and give off a natural fresh scent. Simply drop 3-5 drops of straight lemon essential oil in the bottom of the trash can each time the bag is replaced.
#3 Citrus Fruit Peels
Similar to lemon essential oil, lemon peels are a great trash can odor eliminator. You can also use lime peels, orange peels, or grapefruit peels. Place the peels in the bottom of a clean trash bag and then put the bag in the trash can.
#4 VINEGAR
Mix equal parts vinegar and water in a spray bottle, and generously mist the bottom of the can. Let it sit for 10 minutes before rinsing clean.
No spray bottle? No problem. Fill the bottom of the trash can with water, about 4 or 5 inches. Add about 2 cups or so of vinegar. Let it sit for several minutes and rinse out.
If your cleaning an outside garbage can, mist a little vinegar in the bottom of the can after cleaning to keep it fresh longer.
Vinegar is excellent at removing odors and naturally lifts grease and grime.
#5 Coffee Grinds
Fresh, unused coffee grinds can be used to keep your trash can smelling clean and fresh. You can place them straight in the can or in the bottom of a clean trash bag.
HOW TO CLEAN TRASH CANS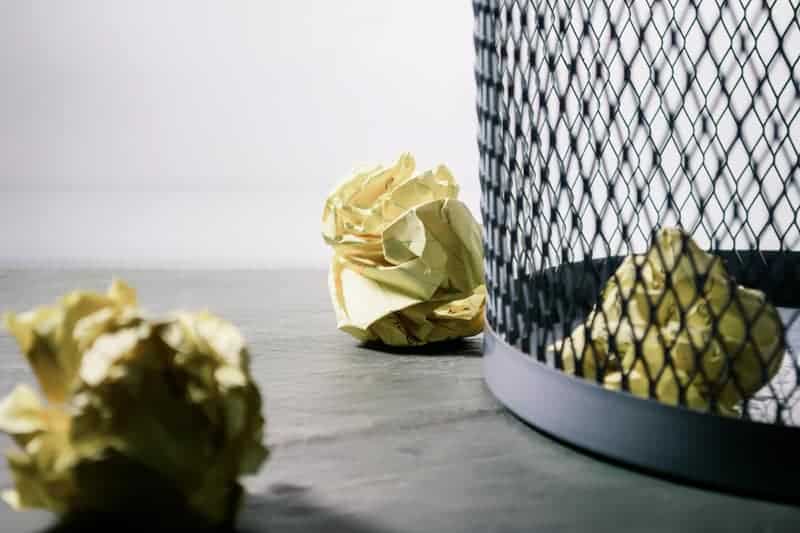 Before actually deodorizing your trash can, it is best to start with a clean or new trash can. The best way to naturally clean trash cans is with vinegar, lemon essential oil, and water.
Bring the trash can outside and remove all trash. Pour enough vinegar into the can to cover the bottom. Allow the vinegar to sit for 30 minutes.
Spray vinegar out with water and allow it to dry outside in the sun. Sun is very good at removing odor and sterilizing.
Once the can is dry, make a spray of half vinegar and half water to clean the can. Spray a generous amount into the can and scrub clean with a microfiber cloth.
Rinse the trash can with water and set it out in the sun to dry again.
Add 10 drops of lemon essential oil and 1/4 cup baking soda to the bottom of the trash can before adding a new trash bag to act as a trash can deodorizer.
HOW TO KEEP TRASH CAN FROM SMELLING IN THE GARAGE
The same tips above can help to keep your larger trash can in the garage smelling clean, but there are a few extra tips to keep that one smelling fresh longer.
When taking kitchen trash out to the garage, be sure to tie the bag to avoid loose trash falling out.
Avoid putting liquids into the trashcan.
If you are disposing of meat or bones, put them in a ziplock bag and place them in the freezer until trash day. This will avoid meat spoiling and smelling.
Put a few charcoal briquettes in the bottom of the can to absorb odors.
Line the can with dryer sheets.
Put 1-2 cups of baking soda in the bottom of a clean and dry trash can to help mask odors.
HOMEMADE TRASH CAN DEODORIZER
INGREDIENTS
Salt (any salt will do)
Lemons
In a large bowl, mix together the baking soda and salt. Mash with a fork until there are no clumps.
Using a grater or zester, zest the two lemons and add the zest to the dry ingredients.
Cut two lemons in half and squeeze the juice from them into the dry ingredients.
Add 15-20 drops of lemon essential oil and stir all the ingredients together until well combined.
Form small balls with the mixture by rolling it with your hands.
Allow it to dry completely, about 12-24 hours.
Place 1-2 balls at the bottom of the trashcan. Replace as needed.
TIP: Add 3-5 drops of lemon essential oil to the top of the trash can deodorizer ball to make it last longer.
HOW TO DEEP CLEAN A TRASH CAN
Sometimes your trashcan may need a deep clean. Following the instructions below will be the best way to clean a really dirty trash can.
Fill the can 1/4 of the way with water. Add 1-2 cups of vinegar. For smaller trash cans, do one cup and for a larger trash can, do 2 cups.
Add 1/4 cup dish soap.
Use a scrub brush to clean the inside of the bin.
For stains and sticky spots, make a paste with baking soda and water. Apply a generous amount to the area of concern, allow it to sit for a few minutes, and then clean with a scrub brush.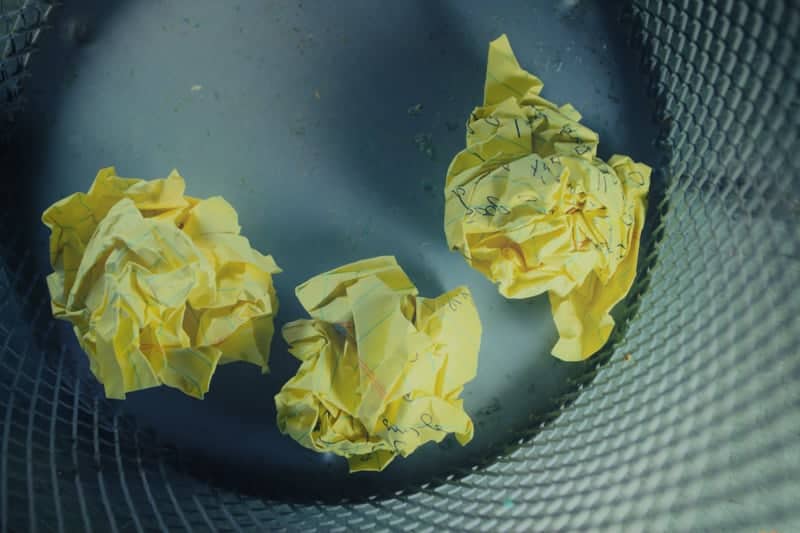 DIY TRASH CAN AIR FRESHENERS
Put 3-5 drops of your favorite smelling essential oil on a cotton ball and place it in the bottom of the can.
Use an empty toilet paper or paper towel roll to make an air freshener for your trashcan. Put a few drops of essential oil on the cardboard and place it in the bottom of the can.
Place dryer sheets in the bottom of the can.
BEST ESSENTIAL OIL TO MASK ODORS
Essential oils are very concentrated and have strong scents. When choosing an essential oil to deodorize your trashcan, you will want to pick ones that can purify, cleanse, and cover up smells.
Here are some of the top essential oils to purify and cleanse:
Lemon
Tea tree
Siberian Fir
Wild orange
Lime
Cilantro
More of my Favorite Cleaning Posts: