Making your own all-natural body wash is easier than you think. With this simple 4 ingredient recipe, I will show you how to make a natural body wash that is moisturizing for the skin and cost-effective.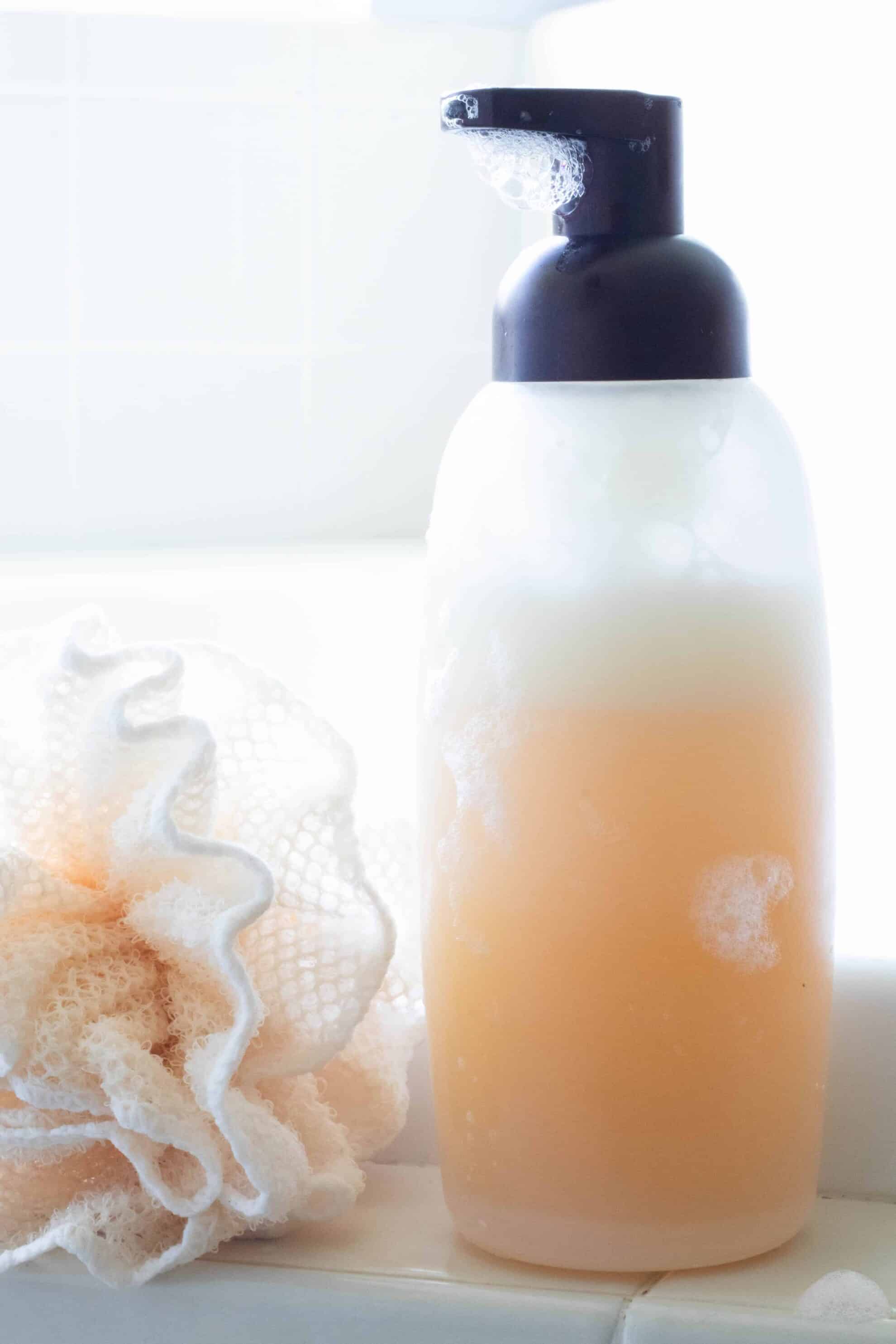 Some of the products that we are using to keep our bodies clean can actually cause our bodies more harm than good. Have you revamped your daily grooming routine yet? When I decided to "clean up," pun 100% intended, my routine, I noticed that making my own natural body wash was going to be much cheaper than buying natural options from the store.
I guarantee you that DIYing your own body wash, shampoo, and conditioner is much easier than you are expecting. And the best part is that they really do require a lot of the same ingredients, so once you make one, you might as well make them all.
Revamp your daily routine with this FREE 3-day email course! Natural solutions, tips, and recipes sent straight to your inbox!
PIN IT FOR LATER

WHY MAKE NATURAL BODY WASH?
Most of the body wash you are going to find at the store is not going to be made with ingredients that you will want to rub all over your body. Just as you can absorb vitamins and minerals through the skin, you can also absorb chemicals. In fact, it can take as little as 26 seconds for something to be absorbed from the skin and enter the bloodstream.
As you can see, what goes on the body is almost as important as what goes in the body.
WHY USE NATURAL BODY WASH?
If you peek on the back of the body washes sitting in your shower right now, I am guessing that you can't pronounce half the words listed on the ingredient list. That is my first sign that I need to get rid of it and make something to replace it.
Among these ingredients, there are a few you will definitely want to avoid. These include fragrance, artificial dyes, parabens, sulfates, and triclosan.
FRAGRANCE
Fragrance can mean an array of things, and unfortunately, the FDA doesn't make companies disclose the exact ingredients that are in these fragrances. I prefer to make my own scents by using pure essential oils.
The environmental working group (EWG) says that fragrances can contain over 14 chemicals. Several of these are not considered safe and can cause skin irritation, allergies and are linked to hormone imbalances.
ARTIFICIAL DYES
I avoid artificial dyes like the plague. In fact, I tell my kids that they can eat anything as long as it doesn't have sugar and dyes in it. That basically knocks out all processed and unhealthy foods!
Several years ago, I was reading the back of some soap bars in my bathroom and noticed they contained dyes! What in the world? Why can't the darn soap just be white or gray or whatever color it is supposed to be naturally? It made me curious, so I started reading the back of all the things in my bathroom. Sure enough, I found dyes in toothpaste, deodorants, body wash, face cleanser, the list goes on!
Artificial colors and dyes can cause allergic reactions, contain hormone disturbers, carcinogens, and have been linked to damage sperm. Some dyes, like red40, are banned in other countries. And we still find it in our foods and beauty care products!
This post contains affiliate links, which means I make a small commission at no extra cost to you. Get my full disclosure HERE.
You can find several natural dyes to use or make your own if you decide you want to add color to your foods or soaps.
PARABENS
Parabens are a group of compounds used as a preservative in most cosmetic and personal products. They, too, mimic estrogen and cause hormone imbalances. Parabens are found in 99% of breast cancer tumors!
Parabens can also cause skin irritation, contact dermatitis, and rashes.
TRICLOSAN
This ingredient is found in most antibacterial soaps and cleansers. It can cause more harm than good to the body.
Triclosan is an antibacterial agent and preservative in personal care and home-cleaning products. It is a hormone disruptor; and can irritate the skin, lungs, and eyes.
WHAT INGREDIENTS ARE BEST FOR NATURAL BODY WASH?
CASTILE SOAP
Castile soap has become a staple in my household for natural cleaning and DIY products. It is a vegetable-based soap that can be found in liquid or bar form. Because it is biodegradable and non-toxic, it is safe to use on people with sensitive skin, pets, and kids.
It is very concentrated, and a little goes a long way. It can be diluted with water or carrier oil. You can find it already scented or unscented; I prefer to buy the unscented kind so I can add my own essential oils.
HONEY
Honey has so many benefits for the skin and your overall health. Adding it to your diet when you are suffering from allergies or respiratory infections can help boost the immune system and promote clear breathing.
Honey has antiviral and antibacterial properties, making it great for natural skincare. It is best to find local raw honey, but if you can't find that in your area, I found this honey to be the next best thing.
CARRIER OIL
Adding in a carrier oil will add moisturizing properties to the soap as well as more benefits to the skin, depending on which one you pick. My favorite carrier oil to add is coconut oil because it has so many benefits for the skin.
Coconut oil has antibacterial, antiviral, and antifungal properties making it another great ingredient to add to your homemade body wash. This superfood can basically help with any skin imperfections you encounter.
Be sure to use fractionated coconut oil because it doesn't solidify, which will be much safer for your home's drain pipes.
Find out about more carrier oil options with this post: Top 10 Best Carrier Oils for Essential Oils.
GLYCERIN
Glycerin is a vegetable-based, odorless, clear liquid. It will add thickness to the body wash and help it to lather more. Glycerin is a natural moisturizer and will help your skin to stay smooth and soft.
ESSENTIAL OILS
Adding essential oils to your body wash can benefit your skin and add a beautiful scent. You can add one essential oil or a blend of oils.
A few of my favorite oils to add are lavender, frankincense, tea tree, wild orange, and sandalwood.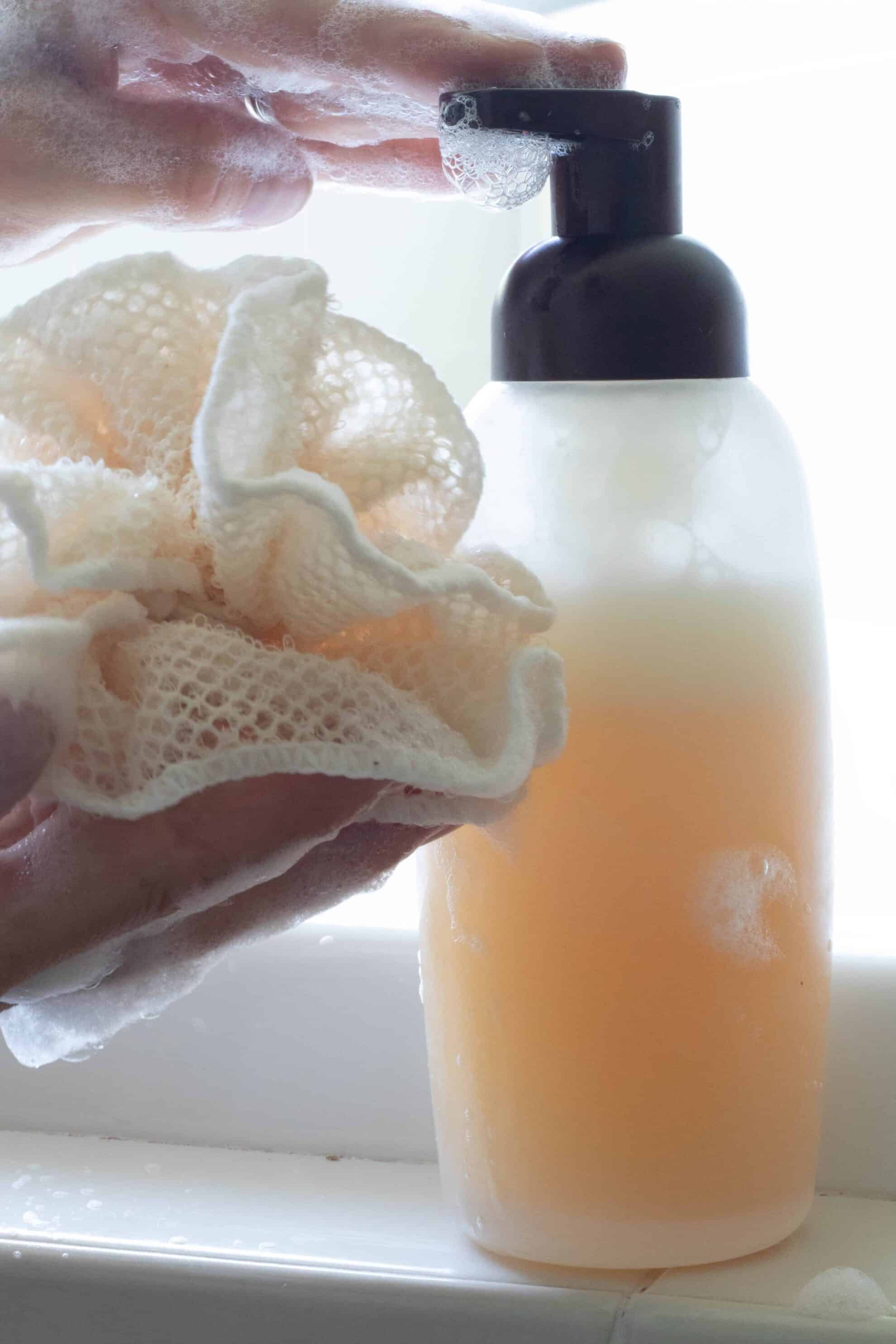 WHICH ESSENTIAL OILS SHOULD I USE IN DIY BODY WASH?
It is always best to use pure essential oils that are not made with any added fillers. Because the FDA doesn't regulate essential oils, you really have to do your own research. I use doTERRA essential oils in my home and find them to be very effective and pure. Learn more about why I choose doTERRA essential oils.
I like to add essential oils that are good for clear skin and anti-aging when I am making any skincare product.
HOW TO MAKE NATURAL BODY WASH
Making your own body wash is so simple, and it works great! This recipe really lathers and smells so good! It is as easy as mixing a few ingredients together!
INGREDIENTS
INSTRUCTIONS
Pour all the ingredients into a small bowl.
Stir the ingredients together slowly to avoid having them bubble up.
Top off the 12-ounce foaming soap dispenser with water.
Transfer to a foaming soap container.
NOTE: This homemade natural body wash will last up to 3 months.
I hope you like this body wash recipe! Drop any questions in the comment section below, and if you made this recipe and loved it, give it a 5-star rating!
You may also like reading my newest post, how to make face cleanser gel next.
How to Make Natural Body Wash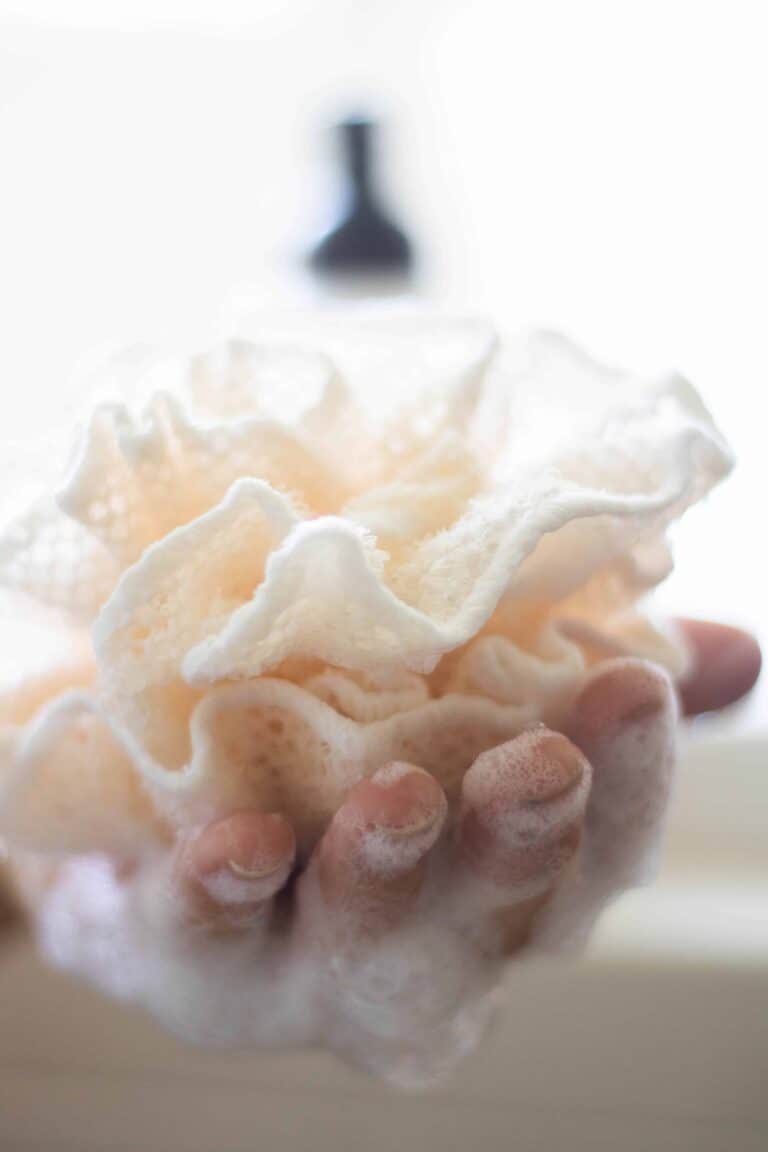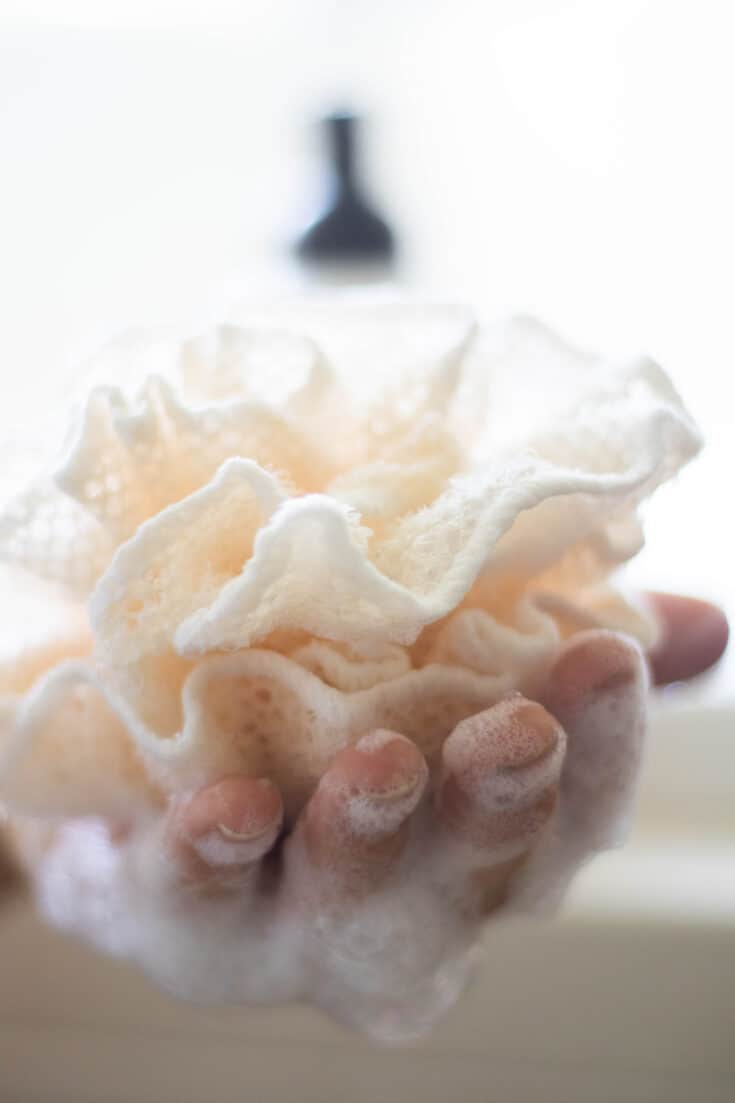 Making your own body wash is so simple and it works great! This recipe really lathers and smells so good! It is as easy as mixing a few ingredients together! 
Ingredients
1/3 cup of liquid castile soap
1/3 cup of honey, preferably local and raw
1/3 cup of a carrier oil (I use fractionated coconut oil)
1 tablespoon of vegetable glycerin
20-30 drops of essential oils, OPTIONAL
Instructions
Pour all the ingredients into a small bowl.
Stir the ingredients together slowly, to avoid them from bubbling up. Top off the 12-ounce foaming soap dispenser with water.
Transfer to a foaming soap container.
MORE NATURAL SKIN CARE PRODUCTS
Making your skin care products can save you so much money and help to remove toxins from your home. Follow these simple recipes and start replacing your personal care products.