DIY shower scrub is the perfect non-toxic cleaner made with essential oils. This simple 4-ingredient recipe works great for soap scum and hard water stains.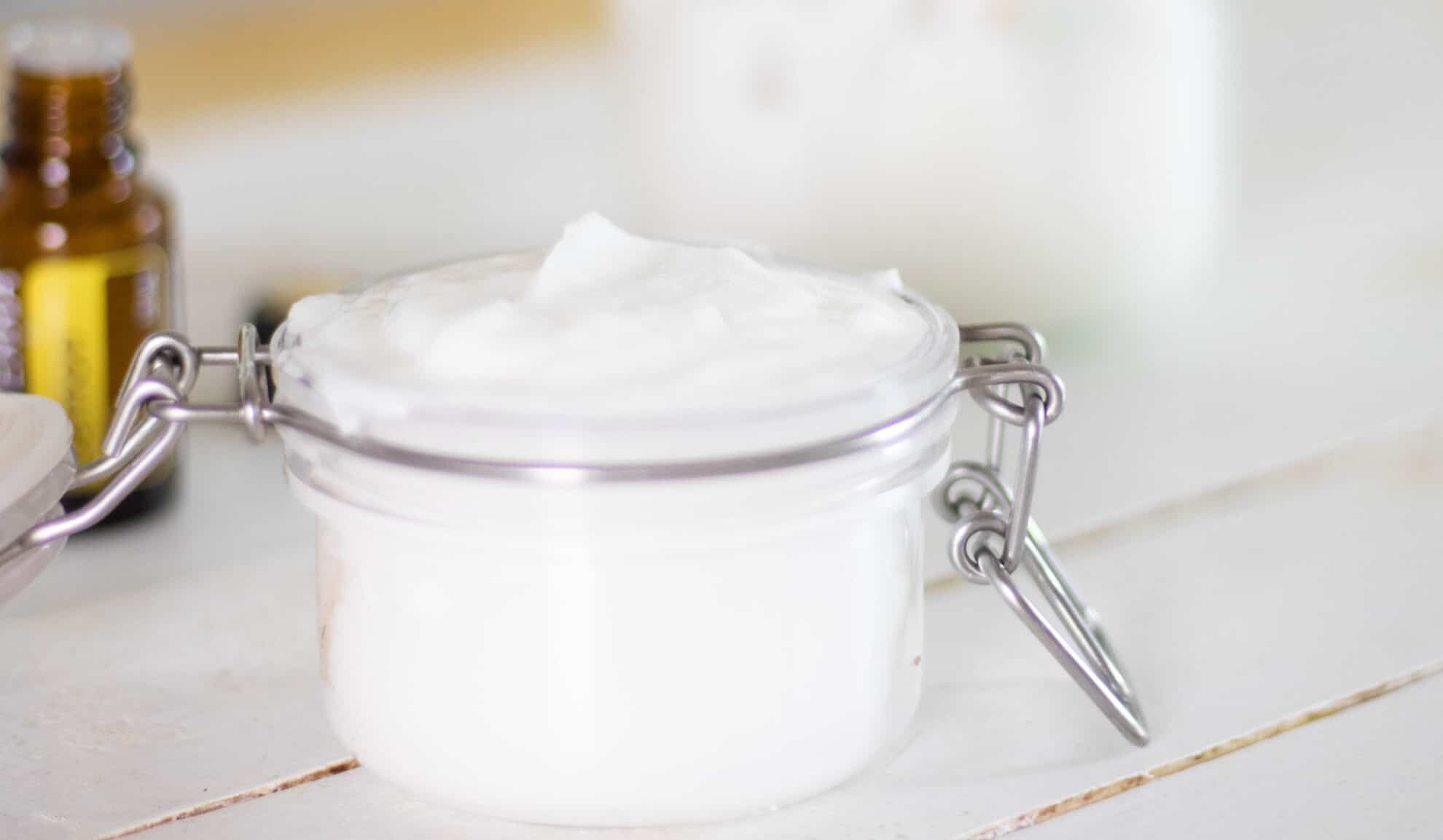 I often stick to my DIY all-purpose spray for cleaning, but sometimes I have to break out the DIY shower scrub for more stubborn stains. This stuff is the non-toxic version of a comet cleanser.
Use this scrub for a deeper clean and when dealing with rust rings, stains, and hard water.
This homemade shower cleaner recipe makes it easy to have a sparkling bathroom! Pop a DIY toilet cleaner bomb in the toilet, spray down the mirrors and floors with the all-purpose spray, and sprinkle the shower scrub in your tub and sink. You will have your bathroom looking good as new.
All-natural cleaners are simple to make, cost-effective, and work.
PIN IT FOR LATER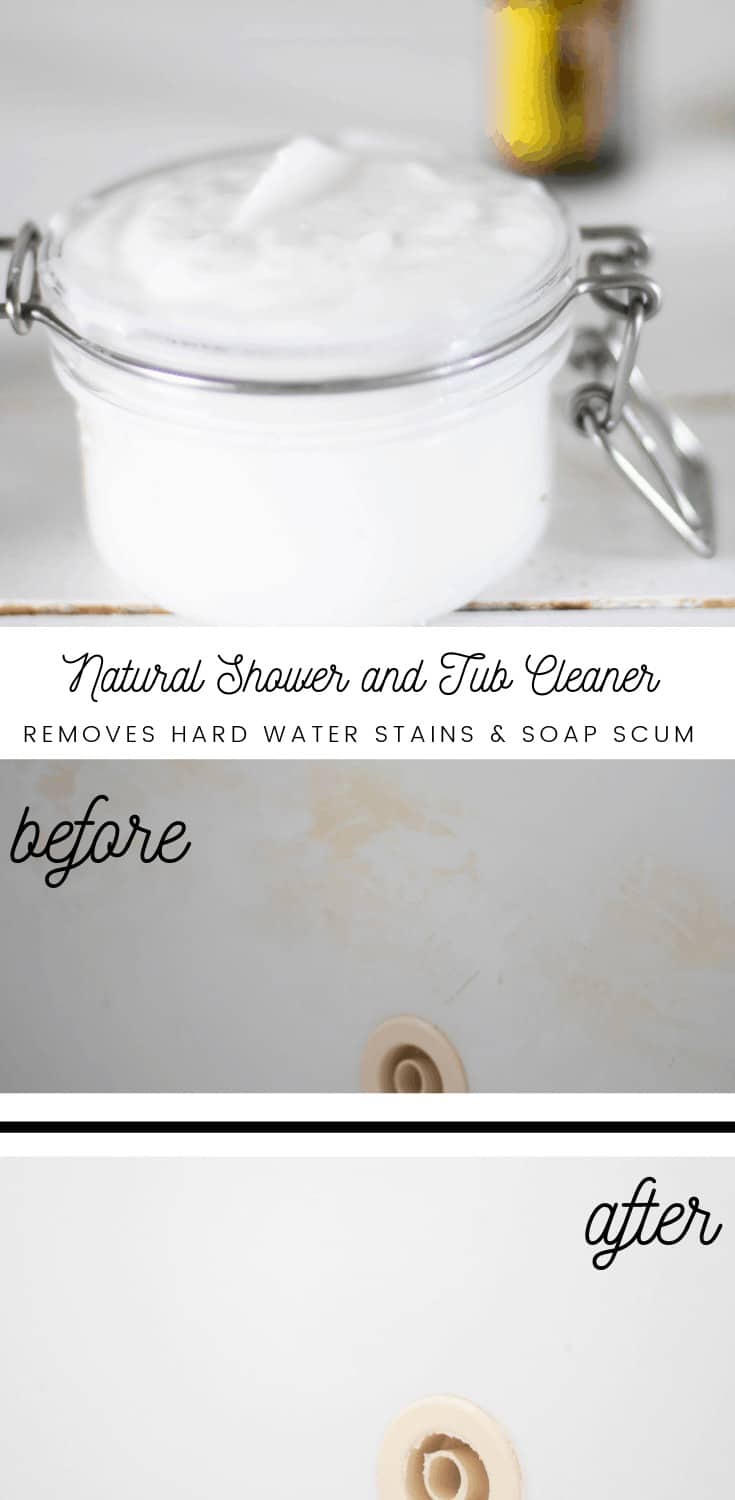 This post contains affiliate links, which means I make a small commission at no extra cost to you. Get my full disclosure HERE.
NON-TOXIC SHOWER CLEANER
So why not just run to the store and buy a shower and sink cleaner? Are there really any harmful ingredients in it? Unfortunately, yes!
The first ingredient you will want to watch for is a fragrance. Sounds harmless, right? Most products that have fragrances in the ingredient list also have phthalates. Phthalates are known endocrine disruptors. You can experience skin irritation and respiratory issues when exposed to them.
Another ingredient that is often found in shower cleaners is 2-Butoxyethanol, though you may not see this ingredient listed on your cleaner because most laws allow the distributor to leave it unlisted. URG! According to the environmental working group (EWG), 2-Butoxyethanol can have some adverse side effects and receives an F for safety.
Chlorine, ammonia, triclosan, and sodium hydroxide can be lurking in many of your bathroom cleaners. All of these substances can cause skin and eye irritation, unbalance hormones, and be dangerous when breathed.
Making your own cleaner is much safer, especially if you have young kids in your home. The ingredients in most shower cleaners can be harmful. Imagine the effects if a child got ahold of it and used it improperly?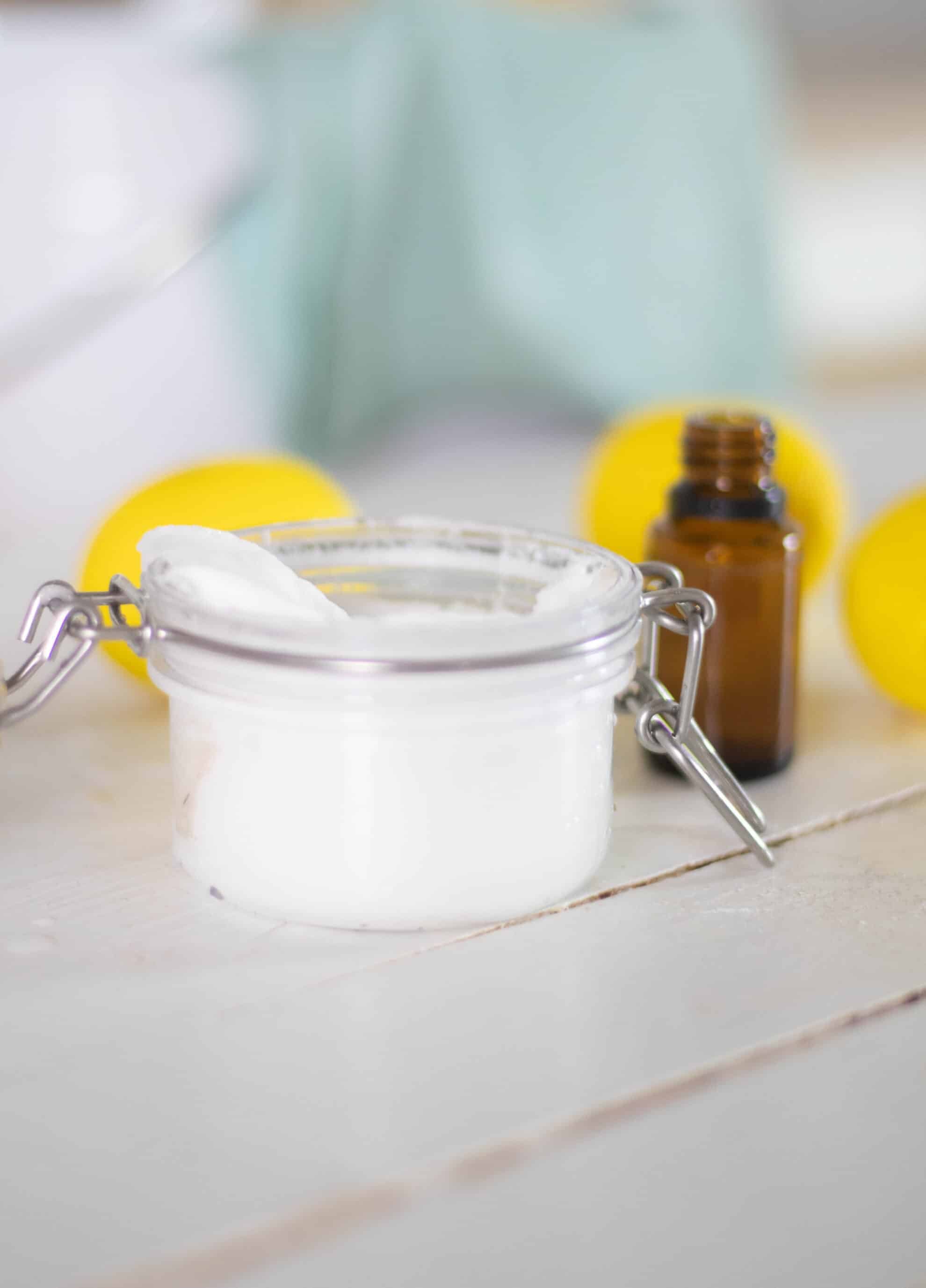 HOMEMADE SHOWER CLEANER RECIPE
BAKING SODA
The base of this recipe is baking soda. In fact, I have used plain baking soda in the past, and it works pretty well. Baking soda is a great natural cleaning agent and has been used for cleaning for many, many years.
With its mild alkali properties, it can cause dirt, grime, and grease to dissolve quickly. It absorbs odors and neutralizes the smell. Baking soda is effective for removing soap scrum, hard water, whitening and is even used in toilet cleaner.
CASTILE SOAP
I love using castile soap for so many DIYs around my home. I use it in my homemade foaming hand soap, shampoo, baby wash, and body wash. Adding it to this cleaner just made sense!
Castile soap is a vegetable-based soap that is extremely concentrated; a little goes a long way. I typically buy Dr. Bronners, but on my last purchase, I bought La Almona because it was on sale. I bought a gallon of it a little over 6 months ago, and I still have half left. I use it all the time if that tells you how long it lasts.
Castile soap can remove germs and bacteria, making it an excellent all-natural cleaning agent.
HYDROGEN PEROXIDE
Hydrogen peroxide can be used as an environmentally safe alternative to chlorine-based cleaners and bleach. It is considered safe to use on almost all floors, showers, and sinks because it is so mild.
The EGW rates it an A for safety and doesn't find it to be a lung irritant. I added it to this recipe because it works well at cleaning grout and removing soap scum.
ESSENTIAL OILS
I have shared a lot of cleaning recipes on the blog, and you know by now that I love to add in an essential oil or two. My favorite essential oil for cleaning is lemon because of its purifying properties and fresh scent.
You can add in a blend of essential oils or use one. I list a few of my favorites below. Choose a couple of those when looking for the best essential oil to add.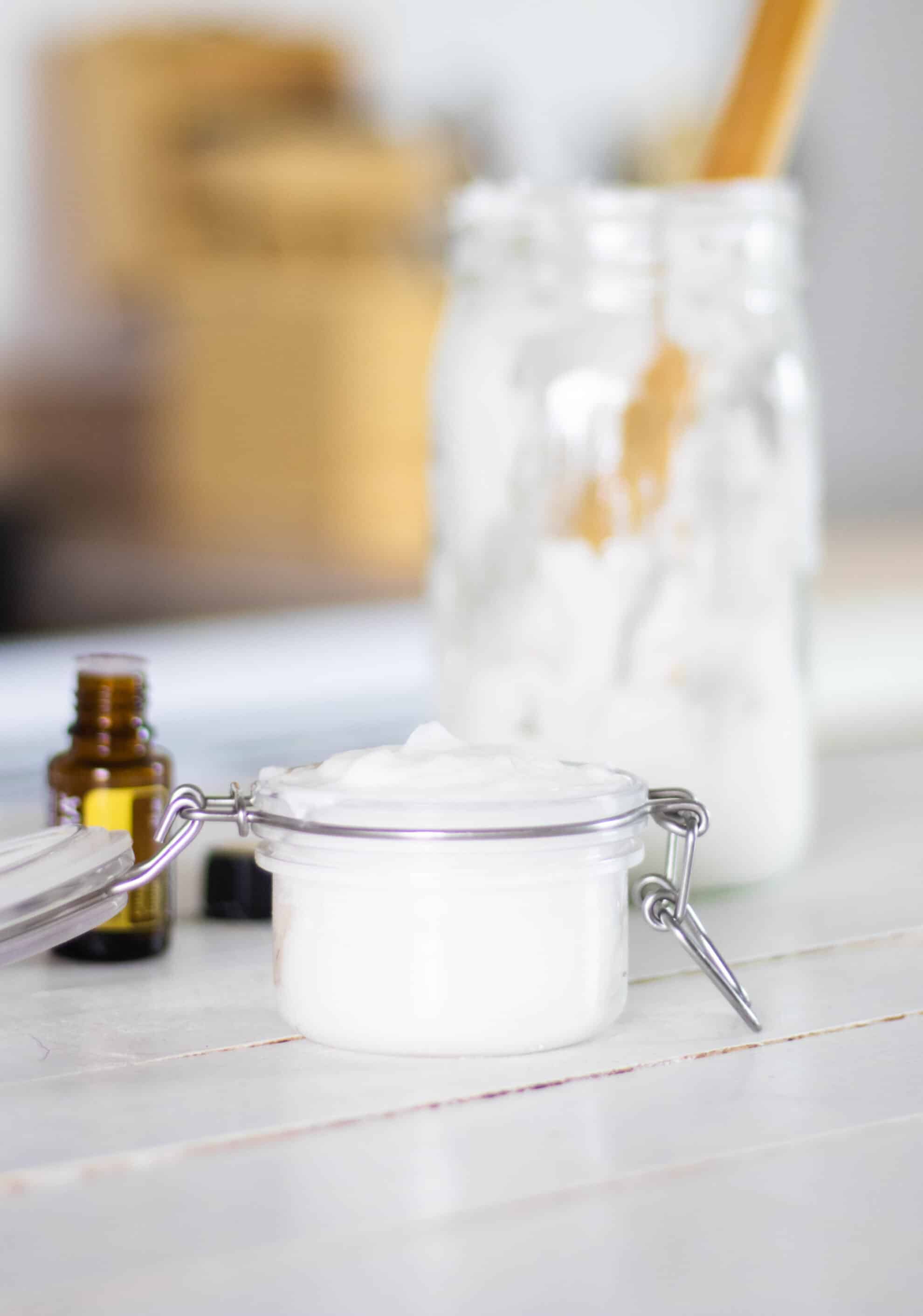 WHICH ESSENTIAL OILS ARE BEST FOR CLEANING?
Lemon
Melaleuca (Tea Tree)
Wild Orange
Lavender
Rosemary
Peppermint
Clove
Cinnamon
HOW TO MAKE SHOWER CLEANER
INGREDIENTS
1 cup baking soda
1/4 cup castile soap (I like this kind.)
2 tablespoon Hydrogen Peroxide (You can find it here.)
10 drops lemon essential oil
INSTRUCTIONS
Pour the baking soda into the airtight container.
Add in castile soap, hydrogen peroxide, and essential oil.
Stir well and close the lid.
NOTE: I find it best to make a new batch before each cleaning, as it doesn't hold up well. This amount will clean the three tubs in my home.
HOW TO USE DIY SHOWER SCRUB
The mixture will be pretty thick, so you will have to scoop it out with your hands. Spread a generous amount all over the tub, paying extra attention to grot and stubborn stains.
Let it sit for a few minutes to soak in. Wipe off with a cloth. For tough stains, you may want to use a scrub brush and scrub it vigorously for several minutes before wiping it with a cloth.
Turn the shower on to rinse it out.
DIY Shower Scrub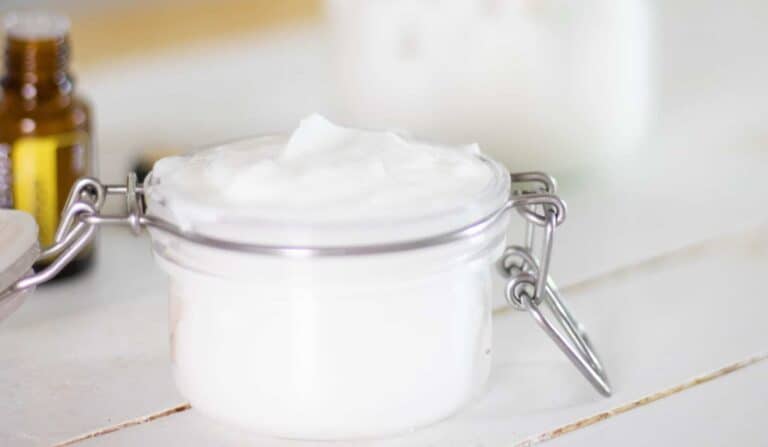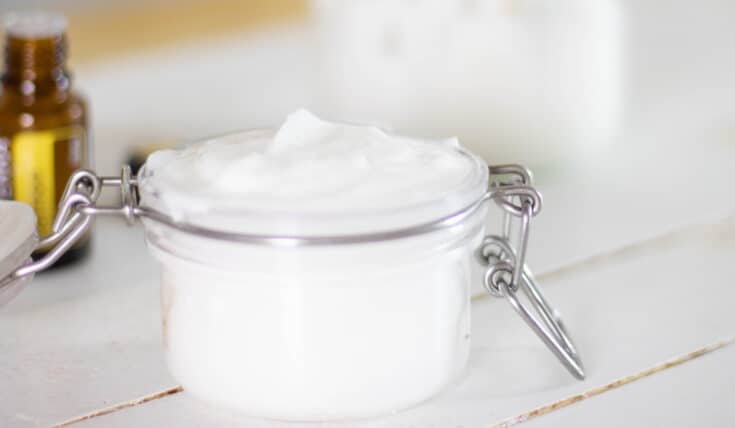 Ingredients
1 cup baking soda
1/4 cup castile soap
2 tablespoon Hydrogen Peroxide
10 drops lemon essential oil
Instructions
Pour the baking soda into the airtight container.
Add in castile soap, hydrogen peroxide, and essential oil.
Stir well and close the lid.
Notes
I find it best to make a new batch before each cleaning, as it doesn't hold up well. This amount will clean the three tubs in my home.