Navigating the many benefits of citrus essential oils can be overwhelming. This ultimate guide for citrus essential oils is all you need. Learn how to use them safely and the benefits of them.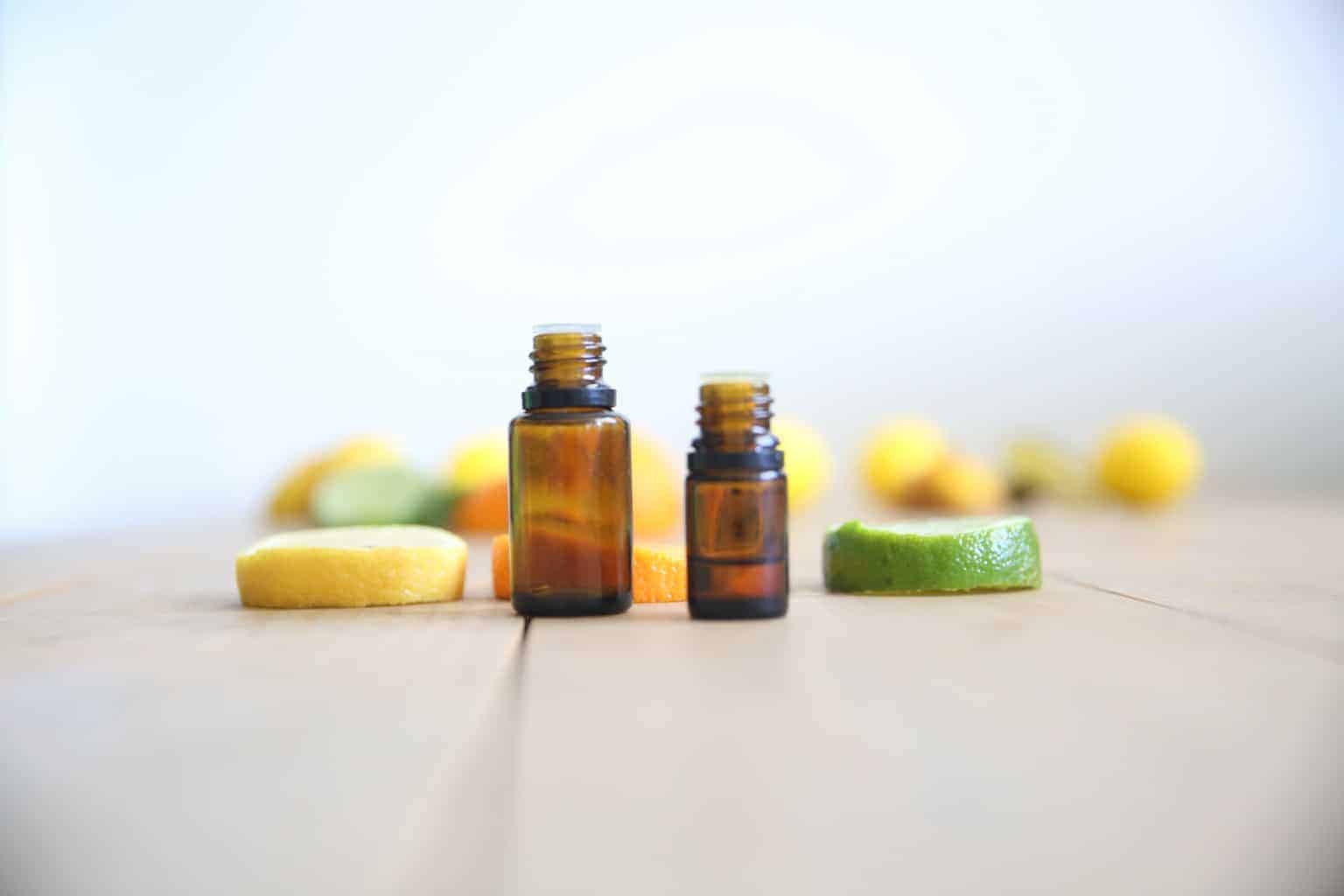 Citrus oils are very uplifting, energizing, and cleansing for the body. They are cold pressed from the peel of the fruit, very powerful, and concentrated. Citrus essential oils are loaded with benefits and can be used for an array of aliments.
I am excited to share with you my love for citrus essential oils and show you how to incorporate them into your daily routine. In addition, I will share my favorite citrus essential oils and recipes.
ULTIMATE GUDIE TO CITRUS ESSENTIAL OILS VIDEO
ULTIMATE GUDIE TO CITRUS ESSENTIAL OILS: SAFETY
Most citrus essentials are phototoxic, therefore should not be worn in sunlight. Phytotoxic is when a reaction occurs to the skin when substance applied to the skin that occurs only in the presence of UV light. When this occurs you may experience red skin, severe sunburn, darkening of the skin, blisters, or swelling.
If in doubt dilute. Essential oils are very powerful and should be diluted before applying topically to the skin. Dilute the citrus essential oil in a carrier oil before applying topically. (Keep reading for roller bottle recipes)
Never put essential oils into the ears or eyes.
When taking internally make sure you are using pure essential oils that are high quality and safe for internal use. I talk more about that in my, Taking Essential Oils Internally post.
ULTIMATE GUDIE TO CITRUS ESSENTIAL OILS: USES
UPLIFTING MOOD
Citrus essential oils can be very effective for uplifting the mood when used aromatically. Add 4-6 drop of one citrus oil or a blend of oils to a diffuser.
Inhale a citrus oil right out of the bottle. When you breathe the oil in it will go through the nasal cavity and to the limbic system. The limbic system is the part of the brain that effects emotions and stimulation.
Apply topically to pulse points.
Energy
Wild orange is one I go to often for a natural energy boost. I'll just take it and inhale it right out of the bottle to help wake me up.
Add one drop of your favorite citrus oil under the tongue to boost energy.
Difffuse a blend of essential oils in the afternoon when feeling tired.
DETOX
Citrus essential oils gently detox the body when used internally.
Add 1-2 drops of any citrus essential oil, my favorite is lemon and grapefruit, to 8 ounces of water.
Put 1-2 drops of any citrus essential oil under the tongue, hold it there for 30 seconds, and swallow.
CLEANING
Citrus essential oils have cleansing and purifying properties, therefore making great natural cleaners.
Add 5-10 drops of wild orange to olive oil and use to dust furniture.
Put 1/4 cup vinegar and 15-30 drops of lemon essential oil in a 16 ounce spray bottle. Top off with water and use has an all purpose spray. I use this stuff for everything! (Read more about natural cleaning with essential oils HERE.)
ULTIMATE GUDIE TO CITRUS ESSENTIAL OILS: ROLLER BOTTLES
Using roller bottles are my favorite way to apply essential oil topically. Roller bottles are very convient and great for travel. I have a few roller bottles in my diaper bag at all times in case of emergencies.
How to make an essential oil roller bottle with citrus essential oils
Add 15-20 drops of essential oil to a 10mL roller bottle.
Top the roller bottle off with a carrier oil, my favorite one is fractionated coconut oil. Learn more about carrier oils here.
Shake the roller bottle and it is ready for use.
How to use your citrus roller bottle
Apply to pulse points, bottoms of feet, back of neck, and down the spine.
TOP TEN CITRUS ESSENTIAL OILS
Bergamot
My all time favorite citrus essential oil is bergamot, this one is both calming and uplifting. Bergamot can be used to reduce stress and anxious feelings.
Wild Orange
If you are feeling tired inhale some wild orange and peppermint essential oil for an all natural pick me up. Add a couple drops of wild orange to some melted chocolate for a delicious dip.
Lime
This citrus essential oil can open up airways when feeling congested. Massage into the chest or diffuse when stuffy. Lime can also be used in the kitchen, add one drop to guacamole or into cheesecake.
Lemon
Next time you can experiencing discomforts from seasonal threats grab your lemon essential oil. Apply t o chest and bridge of nose to break up mucus and promote clear breathing. Lemon is also known for its detoxifying properties. Add into water daily for kidney and liver health.
Lemongrass
Lemongrass essential oil can actually strengthen hair follicles and help against hair loss. Add a few drops into your shampoo or massage into the scalp after washing.
Grapefruit
Grapefruit essential oil can be used for weight loss and well-known for its ability to support a healthy metabolism. Inhale, apply topically, or take internally to help with weight loss and cravings.
Tangerine
This essential oil is very uplifting, energizing, and purifying. Diffuse this one in the home to cleanse the air and uplift the mood.
Kumquat
This rare essential oil contains up to 95% limonene. Limonene is used to promote weight loss, treat disease, and good for the skin. Kumquat is set apart from other citrus oils bencause 46 of its known constituents have not been found in any other essential oil.
Red mandarin
Looking for a new addition to the skin care routine? Use your red mandarin essential oil. Add 1-2 drops into a dime size amount of coconut oil or into the current cleanser you are using and massage into the face. The gamma-Terpinene property as this oil makes it very cleansing and works as a mild skin toner and clarifier.
Clemintine
The sweet smell of clementine is very motiving, uplifting, and energizing. Add to the diffuser when tired or trying to focus. Add 1-2 drops of Clementine to your drinking water for enhanced flavor and to help improve metabolic function.
ULTIMATE GUDIE TO CITRUS ESSENTIAL OILS: RECIPES
DIFFUSER BLENDS
BREATHE EASY
3 drops lime
2 drops lemon
1 drop eucalyptus
MOTIVATE
3 drops clementine
2 drops bergamont
1 drop rosemary
CLEANSING
3 drops lemon
2 drops wild orange
1 drop tangerine
ROLLER BOTTLE RECIPE
STRESS AND ANXIOUS FEELINGS
5 drops lime
4 drops bergamot
3 drops lemon
5 drops lavender
Add essential oils to a 10mL roller bottle and top off with a carrier oil.
ENERGY
5 drops kumquat
5 drops juniper berry
4 drops red mandarin
3 drops lemon
Add essential oils to a 10mL roller bottle and top off with a carrier oil.
MOOD SUPPORT
5 drops wild orange
5 drops frankincense
4 drops bergamot
3 drops lemongrass
Add essential oils to a 10mL roller bottle and top off with a carrier oil.
COOKING
Add 1-2 drops of wild orange to 12 ounces of chocolate. Use as a dip for fresh fruit or pretzels.
Put 1-2 drops of lemon essential oil to a berry smoothie for added flavor and benefits.
Add 1-2 drops of lime essential oil to avocados, garlic salt, and cumin for homemade guacamole.
What are some of your favorite ways to use citrus essential oils? Share with me in the comments!
PIN IT FOR LATER
Follow along with our oily house:
Thanks for stopping by our oily house!