Learn how to clean your wood stove glass and keep it clean with all-natural products and a little elbow grease. Plus, tips to keep the glass from turning black in the first place!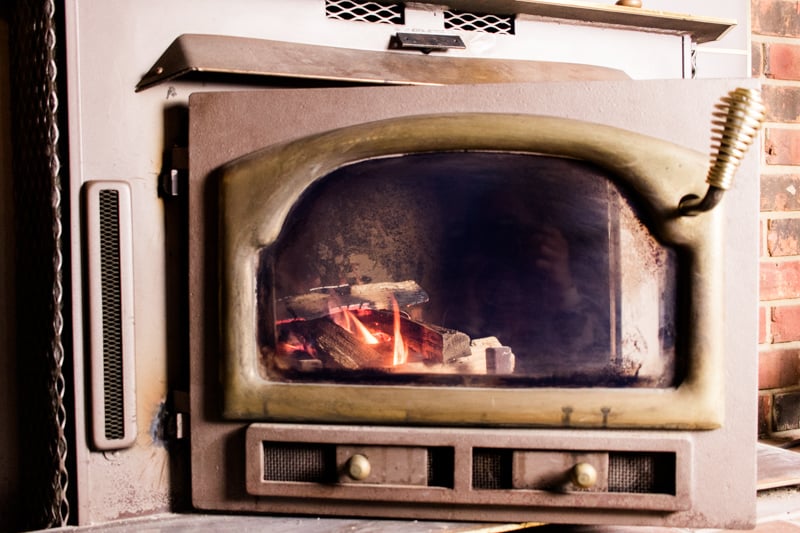 Imagine relaxing in front of your wood-burning stove on a cold, dark winter's night with a good book in hand. The beautiful fire is crackling, the warmth radiating off the stove.
But something is missing, those dancing orange flames that complete the experience are hidden behind a thick layer of black soot.
This is our first winter having a wood-burning stove, so naturally, this DIY found its way to the blog. There was plenty of trial and error involved when trying to clean the glass at first.
Let's just say I know how not to clean a wood stove. I finally found what works best to naturally clean wood stove glass. And no, damp napkins do not work.
Not only did we find a way to get it clean, I learned a few tricks to keep it from turning black so quickly.
Fireplace Glass Cleaner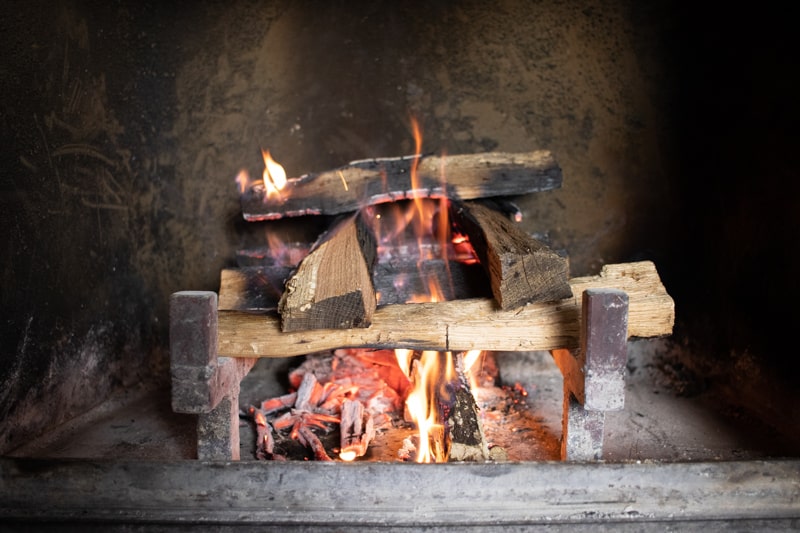 Whether searching in-store or online, conventional glass cleaners for wood-burning stoves are a dime a dozen. Though I am sure these products work, they come with harsh chemicals, bringing unwanted toxins into the home.
With a goal to keep my house toxic-free (as much as possible) and sustainable, I decided to look into making my own wood stove glass cleaner.
Like most things, I found that making my own was simple and effective.
Cleaning Stove Glass
Allow the stove to cool completely before cleaning the glass.
It is actually easier to clean the glass while it is hot, but it will put you at risk of burning yourself and there is a chance the hot glass could shatter when touched with the damp paper.
Make sure that the glass door is cool to the touch before cleaning your wood stove door.
How to Clean Wood Stove Glass
Let the glass cool completely before starting.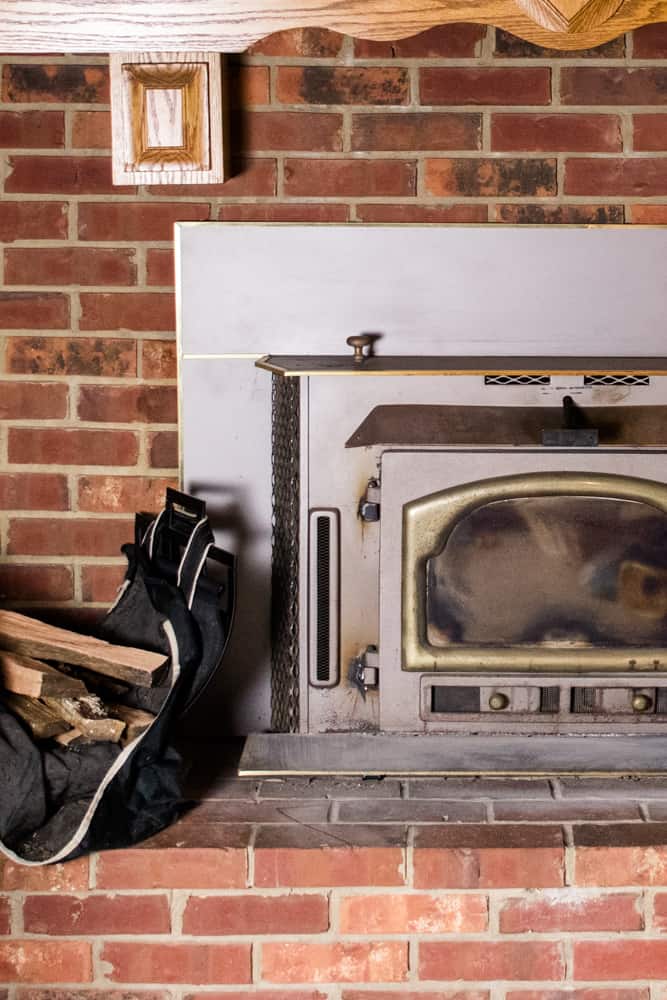 Crumble up a newspaper; this is what you will use to loosen the soot from the door.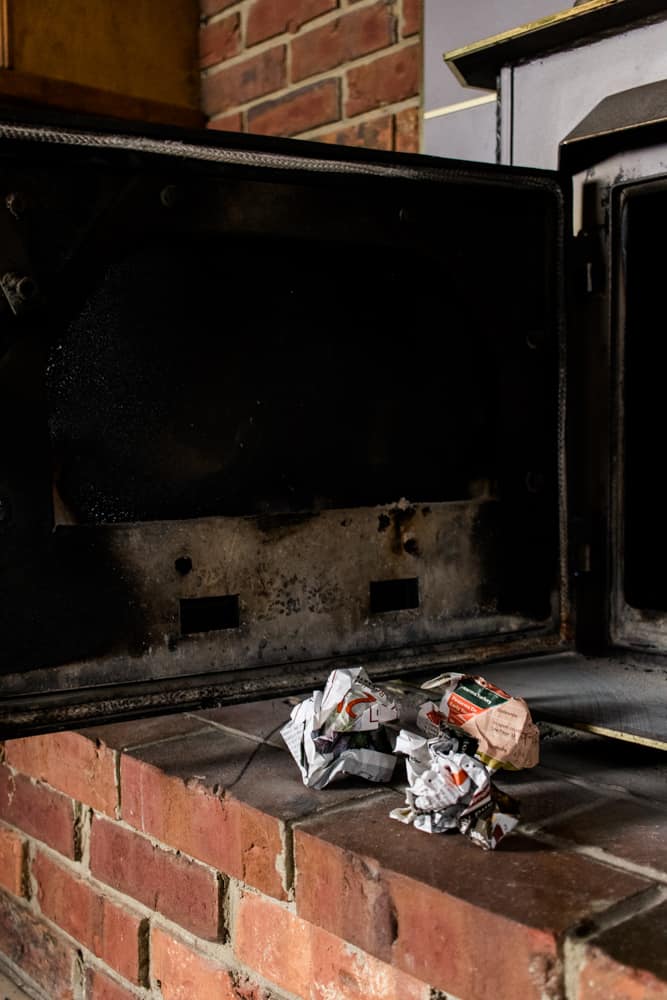 Dip the newspaper in vinegar and scrub in a circular motion on the woodstove door. If you don't have a newspaper, crumpled-up paper towels will work too, just not as well.
For especially dirty glass, it may take 10-15 seconds of scrubbing before it starts to loosen up.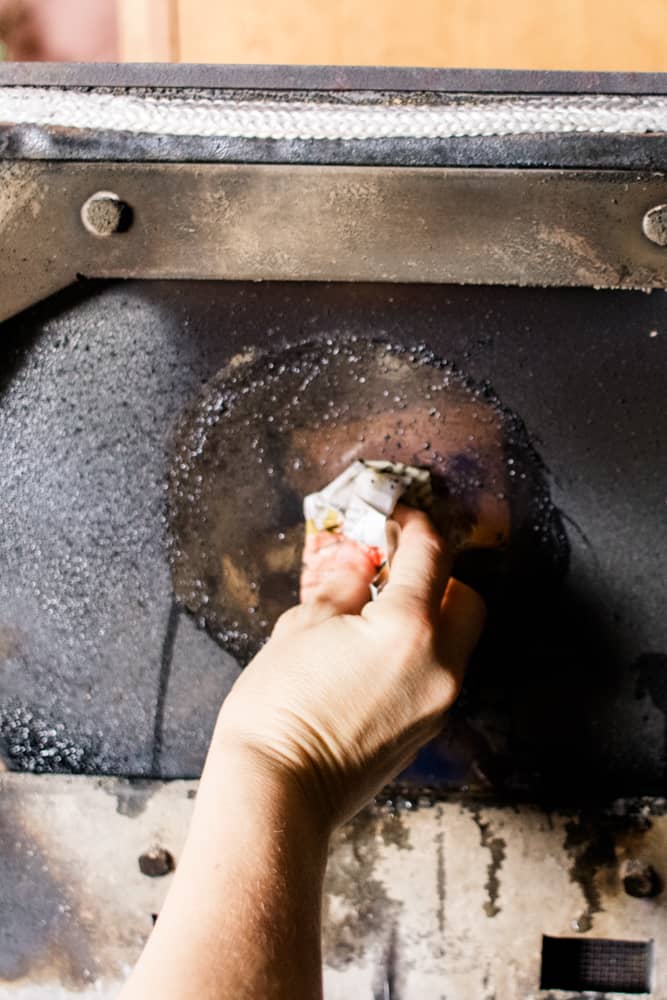 Continue scrubbing the glass, replacing the crumpled-up paper as necessary. The thin, baked-on grime (see picture below) can be especially difficult to clean.
For that, use a damp newspaper dipped in the ash from the fireplace. Scrub in a circular motion until clean. Firewood ash is a very mild abrasive and will not scratch glass.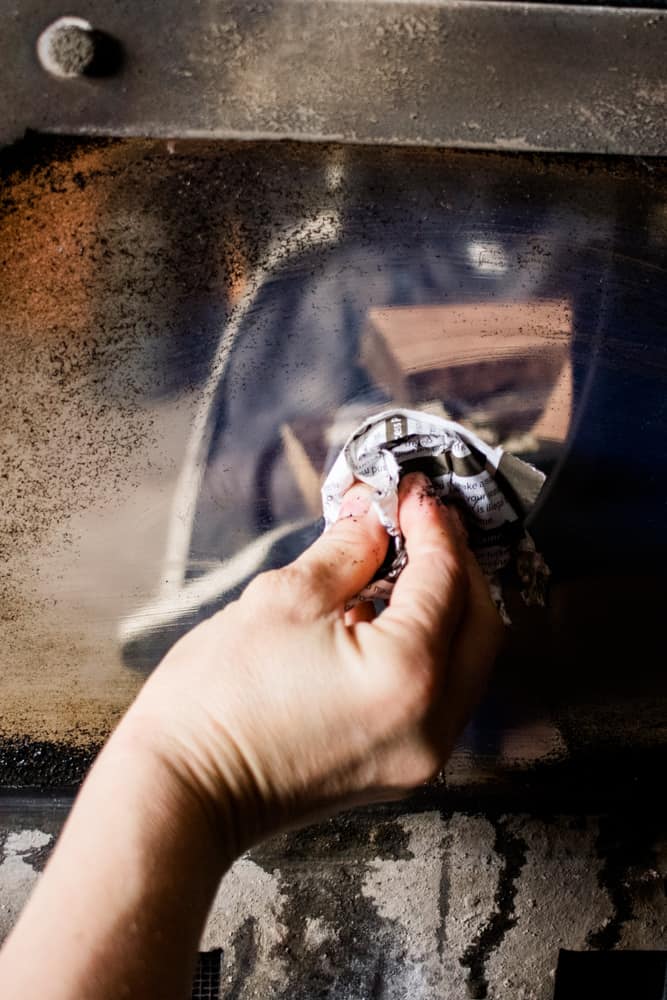 Once all the black soot is loosened up, wipe clean with a clean, damp piece of newspaper.
Now it is time to shine the glass! This can be done with a simple vinegar spray—mix 1 part vinegar to 2 parts water in a glass spray bottle. This is essentially my window cleaner recipe, minus the essential oils.
Spray the vinegar mixture on the glass door and wipe clean with a towel or old rag.
If you have a screen insert for your fireplace, you can follow this simple screen-cleaning recipe.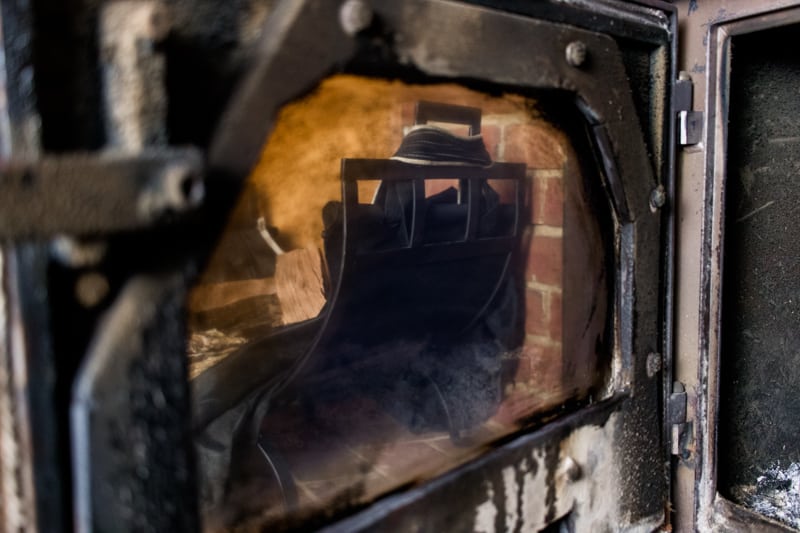 Best Fireplace Glass Door Cleaner
Crumbled newspaper, vinegar, and fire ash work quite well to clean your fireplace glass door. For more stubborn stains or caked-on soot, you can add baking soda to this list.
Mix baking soda and water together to make a paste. Spread the paste over the fireplace door and allow it to sit on the glass for a few minutes to loosen the soot.
After five minutes, spray the vinegar-water mixture (recipe above) onto the glass and scrub in a circular motion with crumbled newspaper.
Once all the soot is removed, you can shine the glass with the vinegar mixture.
How to keep wood stove glass from getting black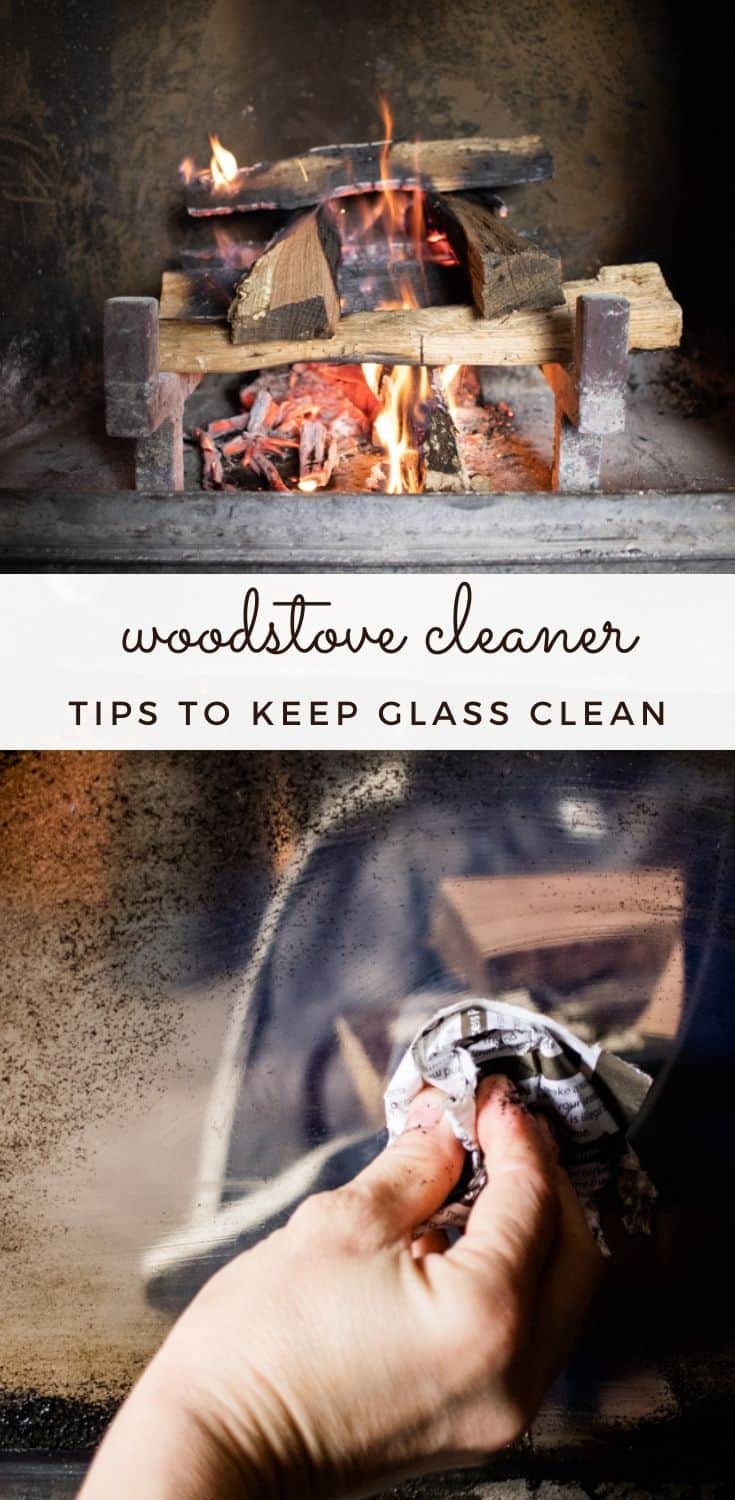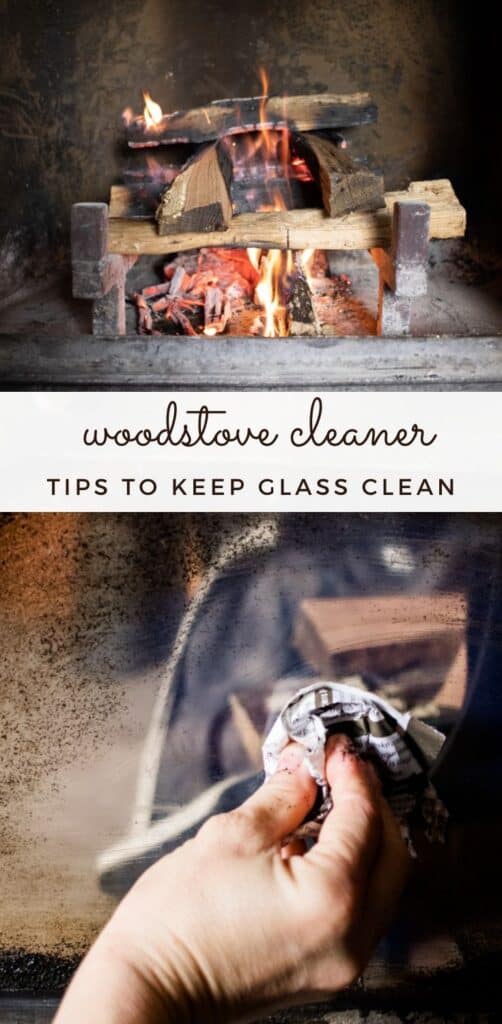 Use dry, seasoned hardwood
Burn a hot fire (with secondary burns)
Keep vents open
Clean often
Build fires towards the back of the stove
Use Dry Wood
If you are trying to use damp or wet firewood, it will be harder to light a fire and cause a lot of smoking inside of your fireplace.
Extra smoking and smoldering are going to do a number on your door.
Use Hardwood
Hardwood burns hot, long and cleaner than softwood. Softwood has a higher sap and water content, both of which can make the black soot form on the glass door faster than dry hardwood.
Use Seasoned Wood
Using properly seasoned wood will be best for keeping your fireplace glass clean. Seasoned wood is wood that has been cut, split and dried a season or two before burning.
Fresh cut wood or green wood will contain 50% moisture. Seasoned wood will be a darker color and cracking on the ends.
Burn a Hot Fire
To avoid extra soot or soot build-up in your fireplace, you will need to burn a hot fire with secondary burns. The best way to do this is by using dry, hard, seasoned wood and with proper airflow.
If you notice a lot of soot, be sure to check your flues to make sure nothing is clogged and that they allow for proper airflow.
Keeping Vents Open
Allowing some airflow in will help to keep the glass cleaner. Conversely, when all airflow is cut off, it will make your fire burn slower and smolder, which is a significant contributor to dirty glass.
Please note, the vents and damper control the heat the fire puts off.
Clean Often
If possible, clean the fireplace glass between each use. You don't have to do a full clean but simply use the ash and newspaper trick on the glass door to loosen and remove the soot.
When needed, use the vinegar and water mixture to shine the glass. Remember NEVER clean your stove glass door when it is hot.
Build Fires In the Back of the Stove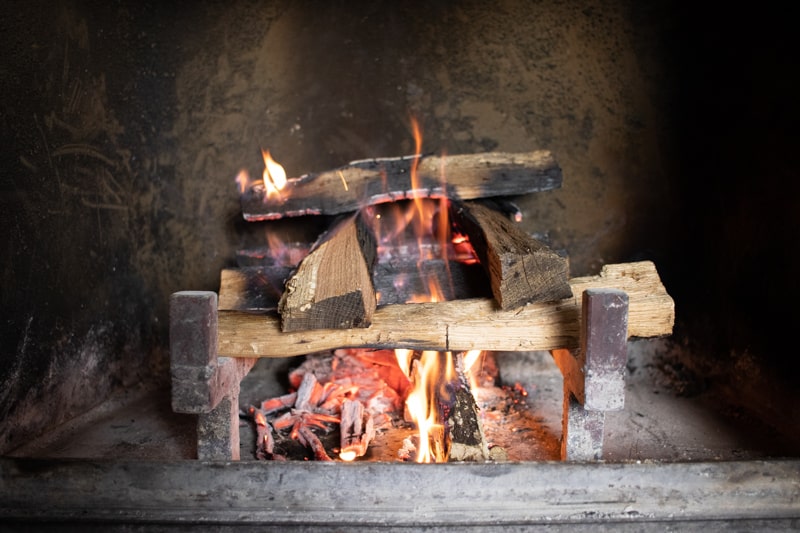 When building your fire, try to position the logs to the back of the stove. Keeping the fire further away from the glass will help to keep the glass clean.
This might not always be possible as some stoves are very shallow. When you are adding more logs to the fire, try to place them towards the back of the stove.
Some more of my favorite DIY cleaners
Wood Stove Glass Cleaner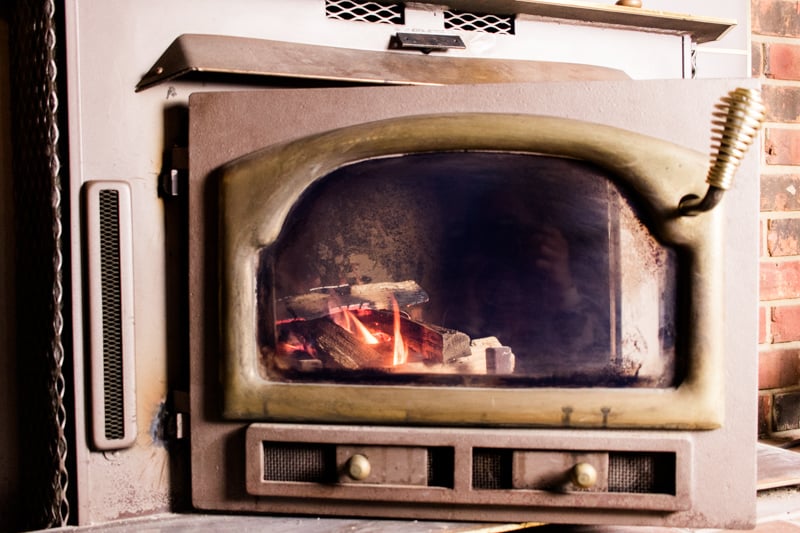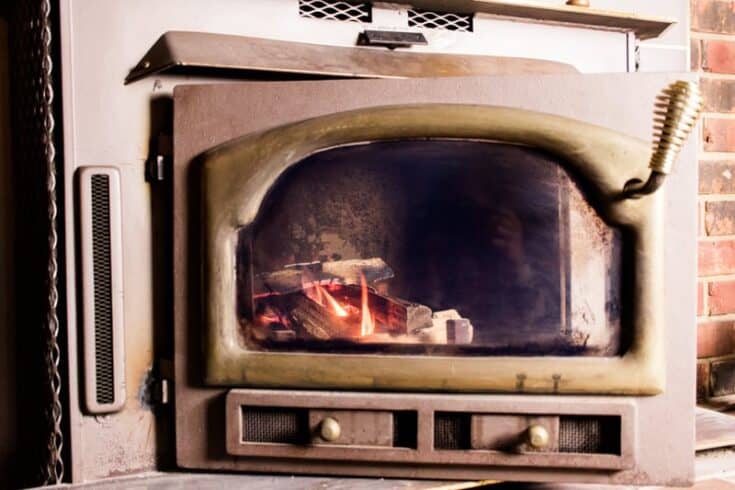 Simple wood-burning stove glass cleaner with vinegar and water.
Materials
Newspaper or paper towels
Vinegar
Water
Instructions
Let the glass cool completely before starting.
Crumple up several pieces of newspaper.
Dip the newspaper in a small bowl of vinegar and scrub in a circular motion on the woodstove door.
Continue scrubbing the glass, replacing the dirty newspaper as necessary.
For persistent grime, especially the thin layer of baked-on grime, use a damp piece of newspaper, dip in the fireplace ash and scrub until clean.
To shine the glass, mix 1 part vinegar to 2 parts water in a glass spray bottle.
Spray the vinegar mixture on the glass door and wipe clean with a towel or old rag.
Repeat steps 6, 7 if needed.