See how I clean my entire house with 5 natural ingredients and tips for cleaning with natural products.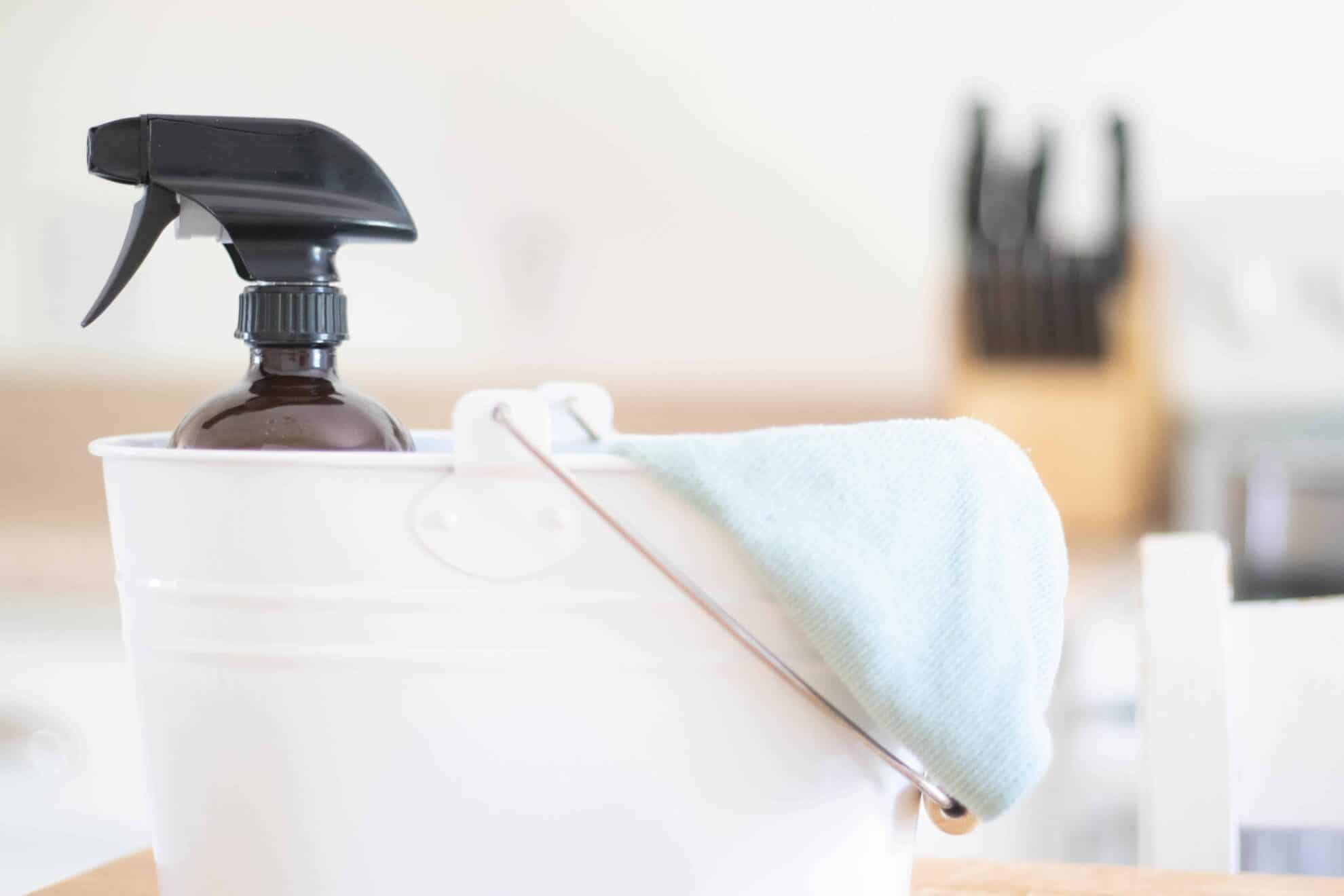 I have mentioned my love for cleaning before, and now I have one more confession. I am obsessed with those "Clean with Me" videos on youtube. Have you seen them? Oh man, I love watching a house go from destroyed to sparkling in a matter of seconds. So I decided to make my own cleaning with natural products video.
I am sure this seems weird to some of you, but clearly, I am not the only one who loves these videos. Have you seen some of the views on those puppies? Anyway, I decided to make my own! You can watch me (and my children) clean my entire house in less than 20 minutes. Believe me; it took way longer in real life.
My video may be a little different than some of the ones you have seen going viral on youtube. I do both everyday cleaning and a little deep cleaning. What is different with this video is I do all my cleaning with natural homemade products.
PIN IT FOR LATER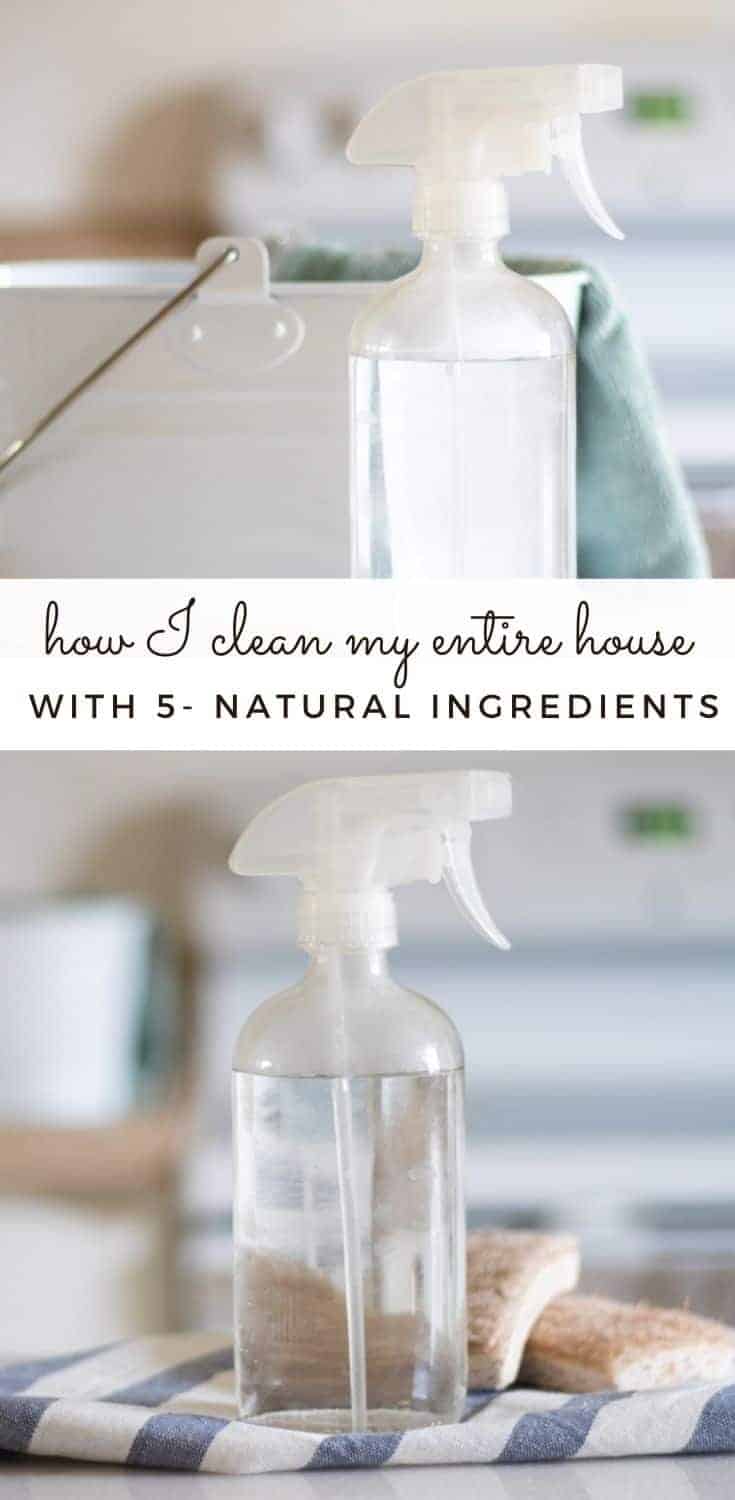 HOW TO CLEAN WITH NATURAL PRODUCTS
Gather a few cleaning essentials, and you're set. All of my recipes can be made with just a few ingredients, and most likely, you have them on hand already. Using natural cleaning products will leave your house clean and smelling fresh without all the chemicals.
VINEGAR FOR HOMEMADE CLEANING PRODUCTS
Vinegar is my base for almost all of my homemade natural cleaners, including my anti-mold spray, with the exception of my dusting solution for furniture. With its high acidity level, vinegar can quickly dissolve and remove sticky residue, dirt, and grime.
My DIY all-purpose cleaner is my go-to for cleaning, and on most days is all I use for my entire home. The main ingredient, you guessed it…vinegar!
HOW TO USE BAKING SODA FOR CLEANING
Baking soda has been used for cleaning, laundry, and removing odors since the beginning of time. Well, at least since the beginning of baking soda's time. 😉
Unlike conventional household cleaners, baking soda is a natural, safe ingredient for cleaning products. It works well at removing dirt, grime and neutralizing odors. I bring out the baking soda when I am doing more of a deep clean.
Have you ever tried baking soda in your laundry routine? It works well as a fabric softener and scent booster.
CASTILE SOAP FOR CLEANING
Castile soap is another cleaning essential. Not only do I use it in my homemade natural cleaning products, but I also use it in my hand soaps and shampoos.
It is a very concentrated, vegetable-based soap and will add the suds you may be used to when cleaning. It can remove dirt, bacteria, and germs.
BEST ESSENTIAL OILS FOR CLEANING
You can use several essential oils for cleaning. I stick to lemon, wild orange, and melaleuca (tea tree) oil most often. These essential oils have powerful cleansing and purifying properties and can leave your house smelling wonderful without the chemicals.
DEEP CLEANING WITH NATURAL PRODUCTS
Like I said before, most of the time, I stick to my DIY all-purpose cleaner, but sometimes things need a little more love around here. On deep cleaning days (let's get real, deep cleaning years), I wash the windows, window sills, wipe down cabinets, baseboards, scrub the tubs, etc. All the things that need to be done way more often than I do them!
For deep cleaning, I break out the lemon essential oil! That stuff is like the magic erase from the store. It even gets permanent marker off the wall. Yes, I have tested it.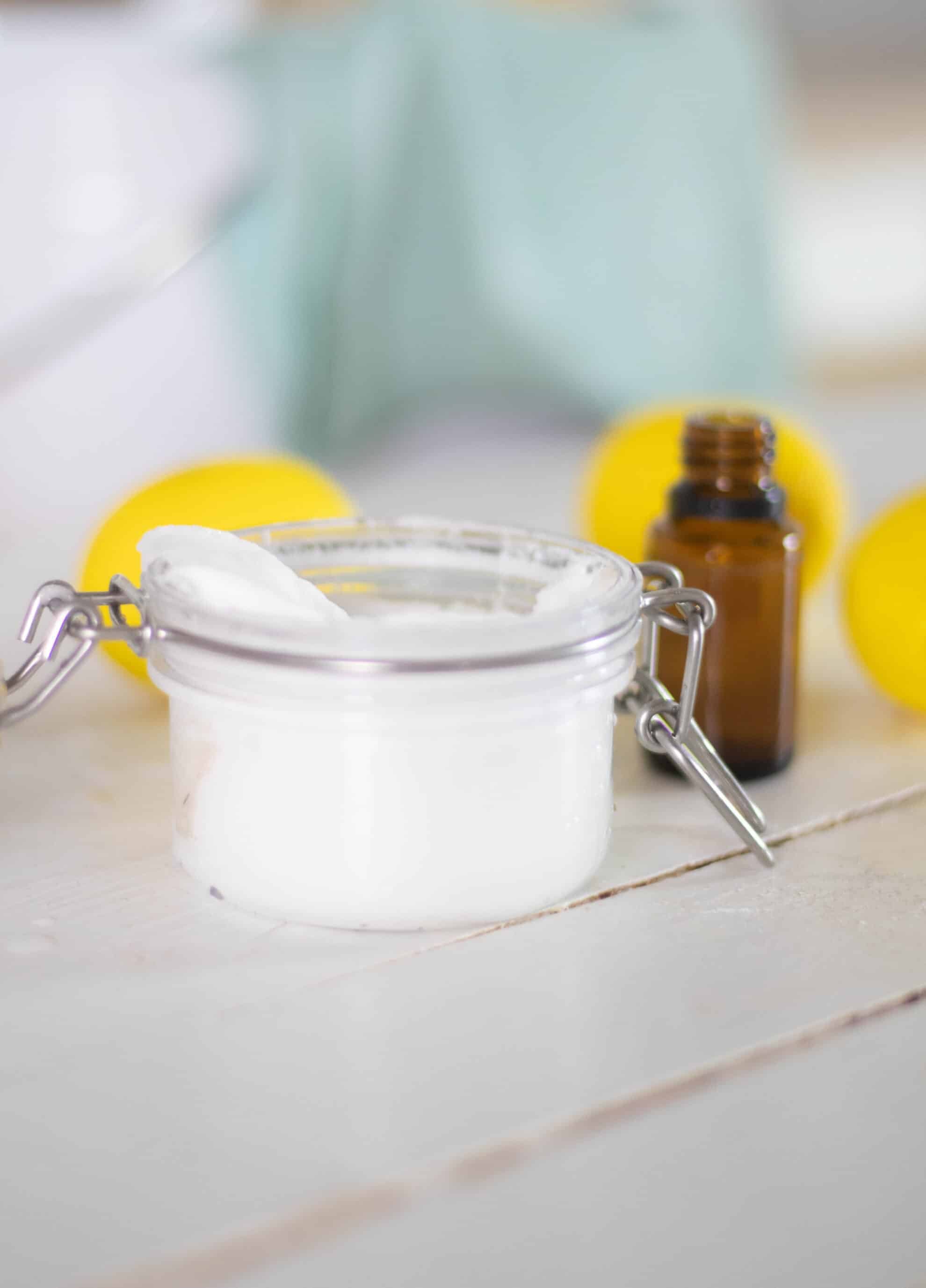 HOW TO CLEAN BATHROOMS NATURALLY
This post contains affiliate links, which means I make a small commission at no extra cost to you. Get my full disclosure HERE.
FLOORS
I mop the floors with my all-purpose spray and water. Starting in one area, I spray the floor with the all-purpose spray and then use a wet mop to scrub it.
VANITIES
The all-purpose spray works great for vanities. Spray it down, and then wipe it off with a microfiber cloth.
If you have any hard water stains, rust, or soap scum, you can use my DIY shower cleaner or lemon essential oil. Drop a few drops of undiluted lemon essential oil on the spot, let it sit for a few minutes, and then wipe it clean. It really works so well!
TOILETS
I have a few things I do for toilets depending on the severity of the problem. 😉
Sometimes I spray it with the all-purpose spray and then scrub it. Other times I drop a toilet cleaning bomb in and let it do the job.
And if it really needs some love, I will pour about a cup of vinegar in the toilet and then sprinkle it with baking soda. Let it sit and then scrub. This one works well for rust rings! Full recipe HERE.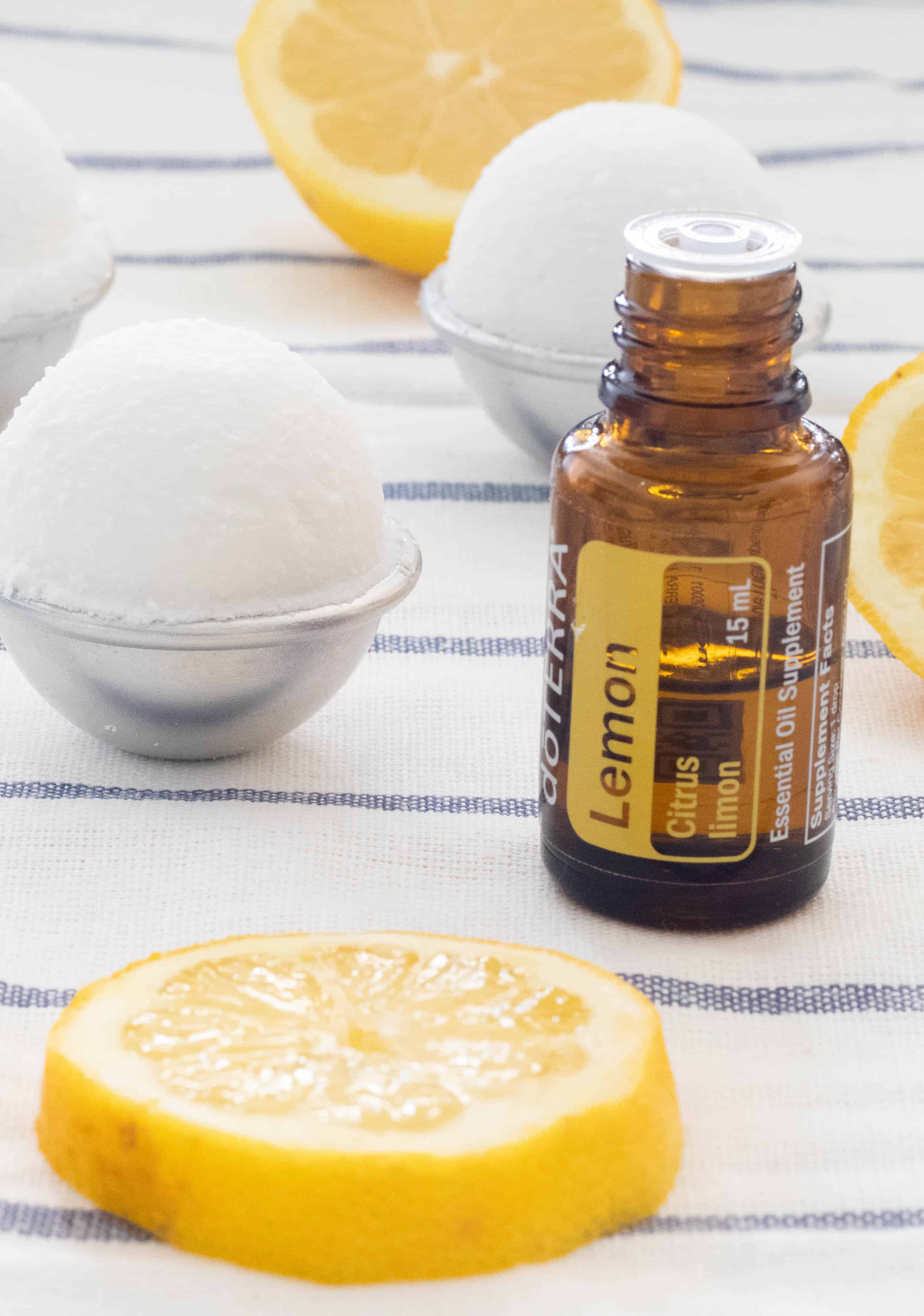 SHOWER AND TUB
Scrubbing the shower and tub is the real deal kind of cleaning day. It isn't the easiest job, and guests never have to see it, isn't that what a shower curtain is for?
I have a DIY shower cleaner that works well for that deep cleaning kinds of days. Using a generous amount, I spread handfuls all over the shower walls and floor. Let it sit for a couple of minutes and then wipe it off. Turn the shower on to rinse it.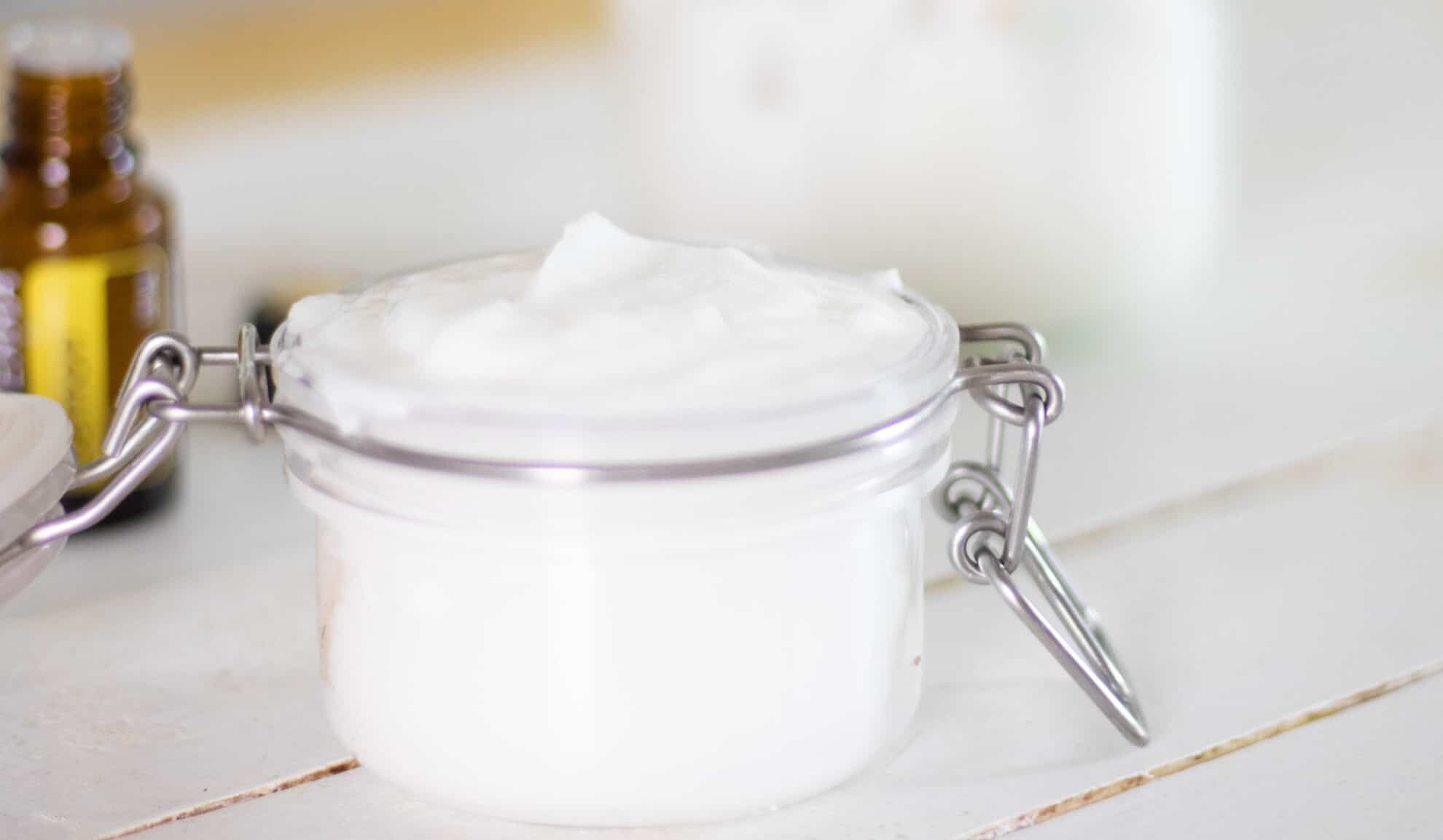 MIRRORS
Back to the handy dandy all-purpose spray! Spray it all over the mirrors and wipe it off with a microfiber cloth. No need for Windex, and it leaves the mirror streak-free!
HOW TO CLEAN KITCHEN NATURALLY
FLOORS
We have the same tile in our kitchen and bathrooms, so I clean these floors the same way, with a good ol' fashion mop and all-purpose spray. For stubborn grout stains, use a homemade grout cleaner.
COUNTERTOPS
I use the all-purpose spray for my countertops, but if you have natural stone, you will want to avoid this. Because it is made with vinegar, it can actually break down the surface of granite, quartz, and other natural stones.
If you have countertops that can't be wiped down with vinegar, you can try this recipe.
HOW TO CLEAN FURNITURE NATURALLY
My favorite things to dust with are pre-fold cloth diaper inserts and homemade dusting solution. To make your own dusting solution, all you need is olive oil and wild orange essential oil.
Add 1/4 cup olive oil to a small mason jar, and then add in 10 drops of wild orange essential oil.
Add about a quarter-size amount to a dusting cloth and rub over furniture. It will remove dust and add shine.
DIFFUSER BLENDS FOR CLEANING DAY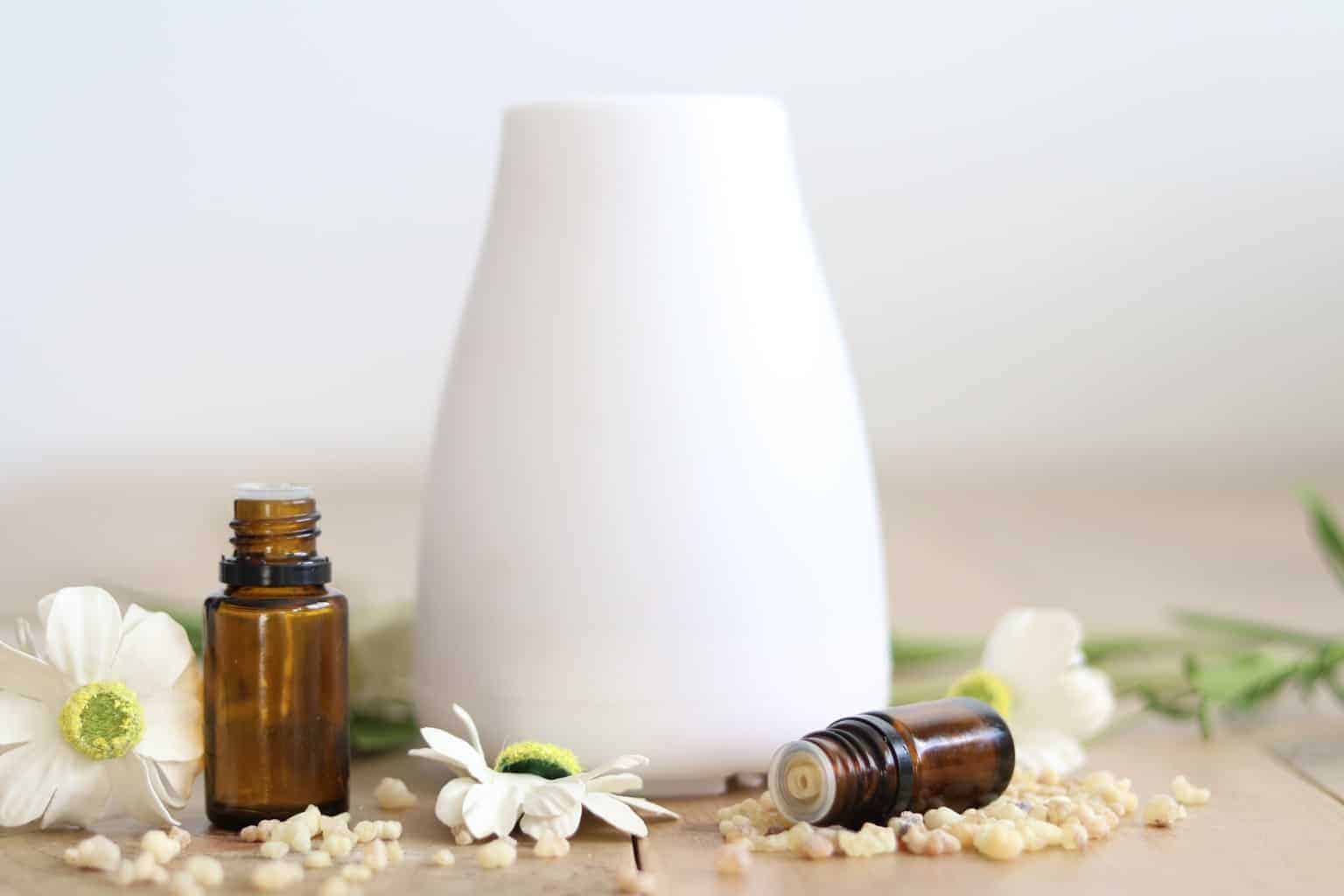 You may need a little motivation for cleaning day. And when the house is sparkling, you will want to diffuse some rosemary and lemon. Nothing better than a clean house with a fresh essential oil blend in the diffuser.
CLEANING DAY MOTIVATION BLEND
3 drops peppermint
2 drops wild orange
2 drops bergamot
You can get these essential oils bundled here.
CLEAN HOUSE BLEND
4 drops lemon
4 drops rosemary
I hope this post inspired you to clean your home with these homemade natural products!