Learn how to make the easiest homemade lotion bars with essential oils. These bars are perfect for everyone in the family and make a perfect handmade gift.
I have shared my whipped body butter recipe on the blog already, and I am excited to share a similar recipe with a slight variation. These are the easiest homemade lotion bars with essential oils to make. They are made with all-natural ingredients that are very soothing and nourishing to the skin.
I love how these homemade lotion bars make it easy to use natural products. They keep their shape with the added beeswax, but when rubbed on warm skin, they melt slightly and soothe dry, cracked skin.
Perfect for the cold winter months and can be used in the summertime after being out in the sun for extended periods of time. Find relief from dry, scratchy skin in areas, like knees, elbows, feet, and hands.
HOMEMADE LOTION BARS VIDEO TUTORIAL
This post contains affiliate links, which means I make a small commission at no extra cost to you. Get my full disclosure HERE.
HOMEMADE LOTION BARS INGREDIENTS
HOMEMADE LOTION BARS INSTRUCTIONS
Melt all the ingredients, except the essential oils, in a double boiler. You can make your own double boiler by placing a glass bowl over a medium-size saucepan.
Bring the water to a boil until the ingredients are melted.
Once ingredients are melted, remove the bowl from the heat. Let mixture cool slightly and then add in essential oils.
Stir well until combined.
Pour the mixture into silicon molds or metal tins.
Allow the mixture to cool completely and then pop the bars out of the molds.
Store in an airtight container for up to one year.
LOTION BAR NOTES
This recipe calls for equal parts of each ingredient used, besides the essential oils. You can easily cut this recipe in half or double it to make a larger batch.
Get creative with the types of mold you decide to use! If you are making these for Christmas gifts, you can use Christmas molds and make these bars in the shape of snowmen or snowflakes. Use heart-shaped molds for Valentine's day.
If making in silicon molds store the molds in an airtight container after popping them out of the molds. They will last for up to a year.
Store out of direct sunlight and in a cool room. If your house is above 75 degrees, the bars can melt and should be stored in the refrigerator.
HOW TO USE HOMEMADE LOTION BARS
Rub the lotion bar directly onto the skin. When you rub it on the warm skin, it will melt slightly, making it easy to apply.
BEST ESSENTIAL OIL BLENDS FOR HOMEMADE LOTION BARS
Frankincense + Yarrow Pom + Rose
Lavender + Roman Chamomile
Frankincense + Melaleuca + Lavender
Lemongrass + Cedarwood
BENEFITS OF HOMEMADE LOTION
COCONUT OIL
The hype around coconut oil these days is for a good reason. You can use it in the kitchen, on your skin, in your hair, and the list goes on.
Coconut oil is a natural antibacterial, anti-fungal, and excellent moisturizer for dry skin.
COCOA BUTTER
Fair warning: It makes the lotion smell like chocolate, and you may be tempted to eat it! (Don't worry, cocoa butter is edible and used to make delicate chocolates.)
Cocoa butter is the fat that comes from cocoa beans, and it smells absolutely delicious, in my opinion. Cocoa butter naturally moisturizes the skin and heals dry, chapped skin.
BEESWAX
With it's antiviral, anti-inflammatory, and antibacterial properties, this ingredient is essential in fighting against chapped or dry skin. It forms a protective wall by sealing moisture in the skin without clogging up the pores.
Beeswax is needed in this recipe to allow the lotion bars to keep their shape.
ESSENTIAL OILS
Several essentials oils can do wonders for skin imperfections as well as having many healing properties.
I personally like using frankincense and lavender in my lotion bars because of the soothing properties these oils have for the skin.
See more information on each essential oil below.
ABOUT THE ESSENTIAL OILS
FRANKINCENSE
Frankincense is incredible for the skin and can be used as a daily moisturizer. It can reduce blemishes, fine lines, wrinkles, and age spots.
Frankincense has rejuvenating properties for the skin and is good for dry, flaky skin. Use this essential oil when the skin is dry or cracked.
YARROW POM
Provides powerful antioxidant support; main constituents include Punicic acid, β-caryophyllene, chamazulene.
Yarrow can shrink the skin and promotes healthy skin, especially great for wounds or scars.
Yarrow is a powerful natural astringent (a substance that causes the contraction of body tissues, typically used to protect the skin and to reduce bleeding from minor abrasions).
The yarrow plant is an effective natural cicatrisant, which means that it helps to increase blood stimulation and allows the skin cells to regenerate faster.
ROSE
Rose essential oil has the ability to regenerate the skin, reduce scars, and help skin regain natural color and tone.
Studies have shown that even scars that were over 20 years old showed improvement after using rose topically on the area of concern.
Roses are high in vitamin C and encourages your body to produce more collagen.
It is very balancing and nourishing for the skin.
LAVENDER
Lavender reduces the appearance of skin imperfections, and it can soothe occasional skin irritations.
It can also help soothe and heal burns, making it a great essential oil to add into the lotion bar if using during the summer after extended periods of sun exposure.
Lavender is a very soothing and relaxing oil that can calm the nervous system. Add this into the lotion bar and use it before bed, especially on kids, to help wind down and promote a healthy night's sleep.
ROMAN CHAMOMILE
Another essential oil that has incredible properties for the skin is Roman chamomile. This floral oil is gentle and a great option if making this for a baby or child.
Roman chamomile pairs well with lavender and together make a calming lotion bar that can be used as part of the bedtime routine.
MELALEUCA
With it's antibacterial, anti-fungal, and antiviral properties, Melaleuca is a perfect essential oil for the skin.
The melaleuca oil makes this lotion bar effective for things such as yeast, fungal infection, and discolored nails.
Apply topically to the area of concern until the problem is resolved.
LEMONGRASS AND CEDARWOOD
These two essential oils will make a perfect blend if you are making the homemade lotion bars for a man.
Lemongrass and cedarwood essential oil give the lotion a woodsy citrus smell perfect for men
Lemongrass and cedarwood are also great for hair and skin.
I hope you enjoy this recipe! Make a few extras for the perfect stocking stuffer or birthday gift.
PIN IT FOR LATER
Follow along with our oily house:
Thanks for stopping by our oily house!
PRINT THE HOMEMADE LOTION BARS RECIPE
Homemade Lotion Bars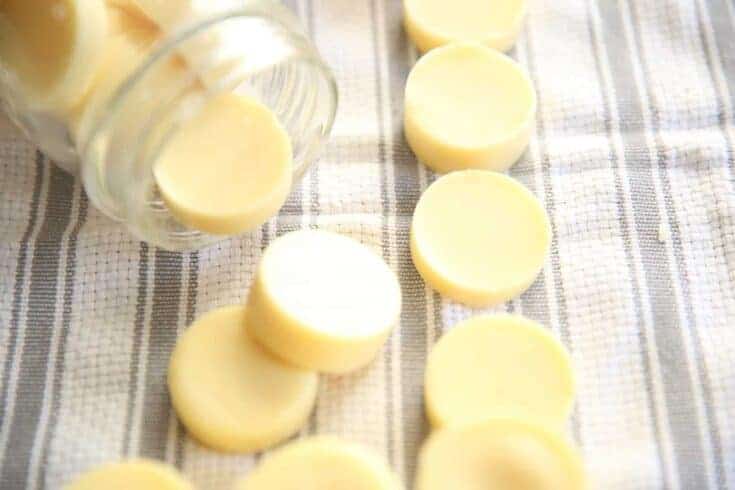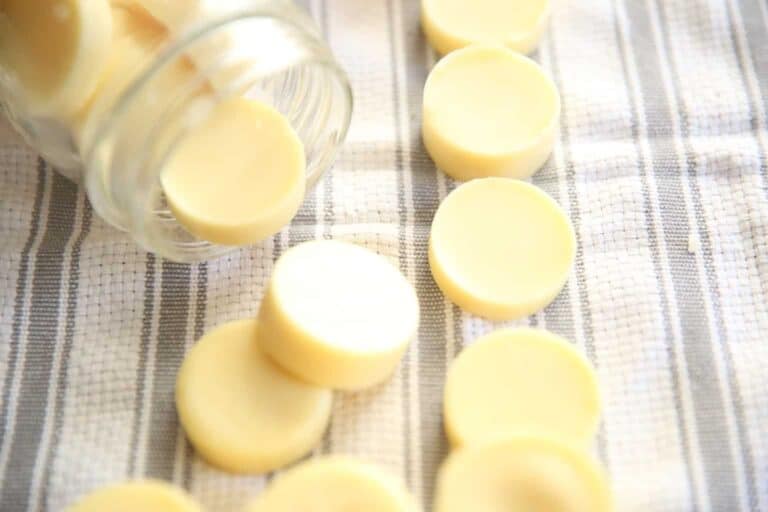 Ingredients
1 cup coconut oil
1 cup cocoa butter or shea butter
1 cup beeswax
15-30 drops essential oil, (optional)
Instructions
Melt all the ingredients, except essential oils in a double boiler. You can make your own double boiler by placing a glass bowl over a medium-size saucepan.
Bring the water to a boil until all the ingredients are melted.
Remove the bowl from the heat and let cool slightly before adding in essential oils.
Stir well
Pour the mixture into silicon molds or metal salve tins, whatever you prefer to use.
Let the mixture cool completely and then pop the bars out of the molds.
Store in an airtight container for up to one year.