I love using a DIY all-natural daily shower cleaner with essential oils in between deep cleans to reduce the mineral build-up (from our hard water), soap scum, and grime. Not to mention, this cleaner is completely rinse-free; spray it on and walk away.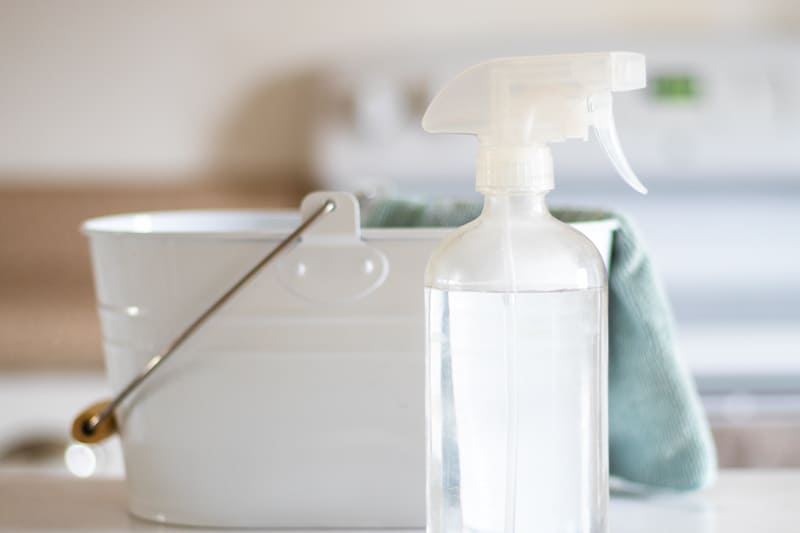 This homemade daily shower cleaner uses ingredients you most likely already have on hand. I do like to add in essential oils for additional effectiveness and scent, though they are not required.
This recipe is entirely toxin-free and easy to use. Simply mist the walls of your shower after showering to keep it clean and fresh.
This daily shower cleaner recipe has been a complete game-changer for me. Let's be honest, cleaning the shower with a scrub brush and solution was never high on the priority list.
As a result, when I did finally get to it, I would have a thick layer of soap scum, mineral build-up, grime, dirt… and I don't even know what else.
In literally a matter of minutes, because that is how long it takes to make this cleaner; I can quickly mist the shower after I'm done and that's it.
It keeps the shower sparkling clean longer and requires no scrubbing!
Having quick cleaning hacks like this daily shower cleaner and no-scrub toilet bombs is a must for anyone.
And because they are made with all-natural ingredients, the kids can help me keep it clean, or at least cleaner.
PIN IT FOR LATER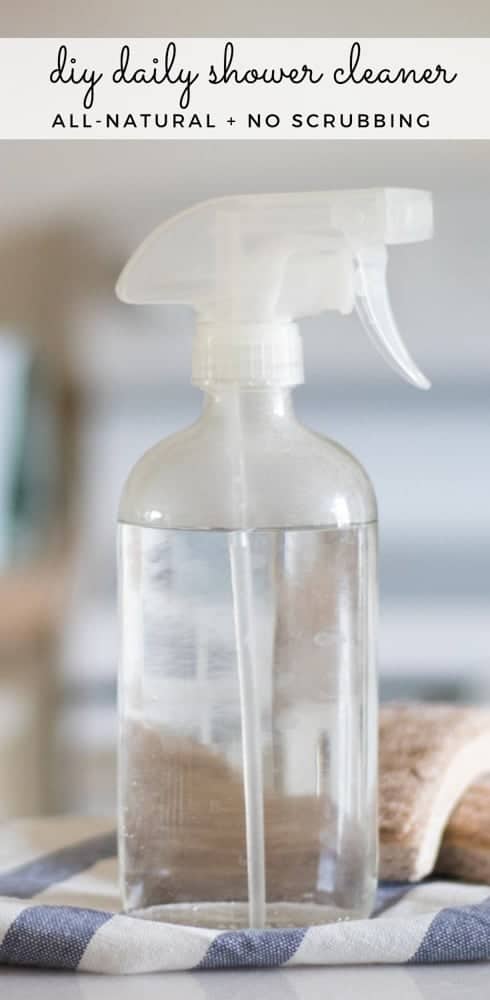 DIY DAILY SHOWER SPRAY
This spray is meant to spray on the shower walls right after you are done showering while the walls are still wet. You don't have to scrub it in or wipe it off.
Simply spray the mixture onto the walls and let it do the work.
Daily shower spray will help with any type of build-up; as I already mentioned, one little note though, it is incredibly effective at fighting that coarse mineral build-up caused by hard water.
Take some of the work out of deep cleaning days by using this daily shower cleaner on the shower walls.
Since this is a maintenance spray, it works best if you start out with a clean shower. Then use the spray to keep it clean.
BEST INGREDIENTS FOR NATURAL CLEANERS
When it comes to cleaning, I keep it pretty simple and toxic-free. Removing toxic cleaners from my home became a big goal after I had my first child.
So over the years, I have learned how to make an all-purpose spray, stain remover, and even carpet cleaner.
The cool thing about making your own cleaners is that you will quickly realize most of these cleaners share a number of common ingredients.
As a result, I was able to replace most of my conventional cleaners with homemade cleaners using vinegar, baking soda, alcohol, castile soap, and a few essential oils.
VINEGAR
The acidity of the vinegar is what makes it so good for cleaning. It can dissolve soap scum, hard water stains, mineral deposits, and detergent residue.
There are several different types of vinegar, but it is best to use white vinegar as it is the most acidic and potent for cleaning.
Vinegar shouldn't be used on every surface, such as granite and marble. It can ruin natural stone, so be careful with this.
I had several readers request a granite safe cleaner and thankfully, it isn't hard to do and works great too!
RUBBING ALCOHOL
Rubbing alcohol or Isopropyl alcohol, especially ones that contain between 60% and 90% alcohol, are the best for cleaning.
It works well at disinfecting the surface as well as cutting grease.
Mixing rubbing alcohol and water together in a spray bottle works well as a natural disinfectant.
Add in a little essential oil for more cleaning properties and a fresh scent, and it will work well for killing germs.
The environmental working group (EWG) gives isopropyl alcohol a B for safety. However, because of its very strong scent, take caution when using this spray.
Be sure not to breathe it in for long periods of time.
CASTILE SOAP
Castile soap is another key ingredient for all-natural cleaning. I buy this stuff in bulk and use it to make foaming hand soap, shower scrub, and even shampoo!
Castile soap can remove soap scrum, dirt, and grime. It is a vegetable-based soap that is very concentrated.
Castile soap is usually made with coconut, hemp, sunflower seed, jojoba, or olive oil.
ESSENTIAL OILS
Several essential oils can be used for cleaning. However, I mainly stick to lemon and tea tree oils. These essential oils have powerful cleansing and purifying properties.
Most citrus essential oils have distinct cleansing characteristics making them great for natural cleaning.
Because essential oils are so concentrated, they are very cost-efficient, needing only a few drops per recipe.
HOMEMADE DAILY SHOWER CLEANER
You will need vinegar, rubbing alcohol, castile soap, essential oils, and water for this recipe. You can make this in a glass spray bottle or in an old cleaning bottle.
Glass and metal are best to use when making a recipe with essential oils as essential oils can break down plastic over time.
Do not use this recipe on natural stone. Instead, scroll down to my "Vinegar Free Daily Shower Cleaner" for a safe cleaner to use on natural stone.
This post contains affiliate links, which means I make a small commission at no extra cost to you. As an Amazon Associate, I earn from qualifying purchases. Get my full disclosure here.
INGREDIENTS
INSTRUCTIONS
Add all of the ingredients to a glass spray bottle.
Secure lid and shake well.
Spray on shower walls when wet and let it soak in.
VINEGAR FREE DAILY SHOWER CLEANER
As mentioned above, vinegar is not safe to use on granite, marble, or other natural stones. If you have natural stone in your showers, use this same recipe, but omit the vinegar.
INGREDIENTS
1/2 cup rubbing alcohol
1 teaspoon castile soap (or any liquid dish soap)
10 drops lemon essential oil
2 cups of water
INSTRUCTIONS
Add all of the ingredients to a glass spray bottle.
Secure lid and shake well.
Spray on shower walls when wet and let it soak in.
DOES DAILY SHOWER CLEANER REALLY WORK?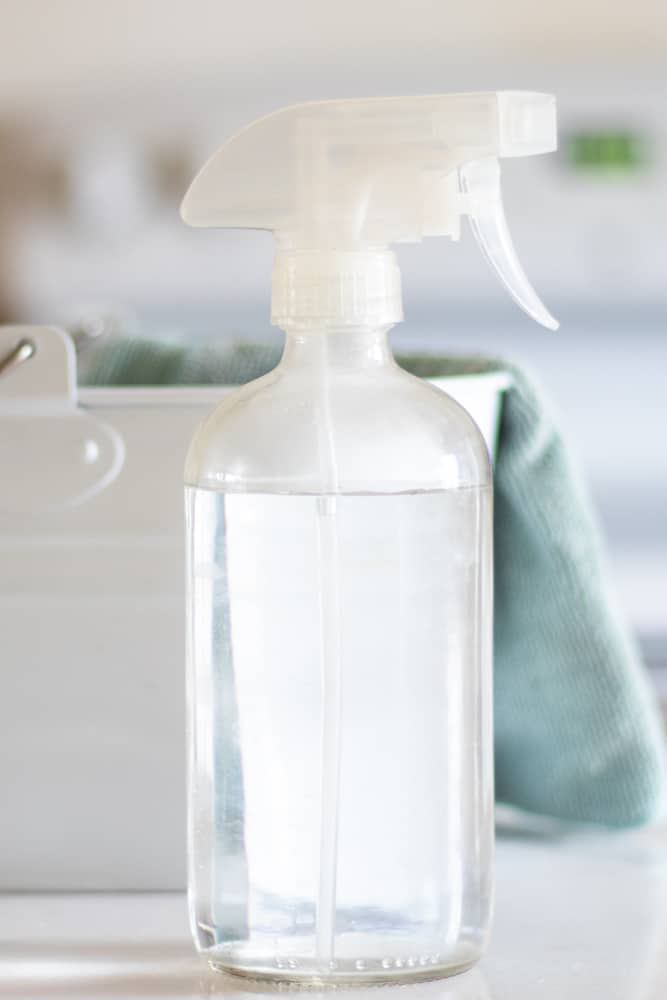 Remember that this daily shower cleaner is more of a maintenance spray. It is not meant for deep cleaning.
However you can use this spray for deep cleaning, but you will have to scrub it in, then wash it off.
The point of a daily shower cleaner is to help keep the shower clean in between actual cleaning days.
So if your shower is already dirty, it is best to clean your shower before starting to use this daily shower spray.
CAN I USE THIS SPRAY-ON GLASS?
Yes, this spray works really well for glass too. Spray on shower glass doors or mirrors and wipe clean with a microfiber cloth.
WHERE IS THE BEST PLACE TO STORE HOMEMADE CLEANERS?
I recommend keeping this spray right in the shower. After you are done showering, you can spray the mixture onto the shower walls and floor.
It is best to store in an airtight container out of direct sunlight.
When using essential oils, it is best to use a dark-colored glass to protect the oils' aromatic and therapeutic properties.
HOW OFTEN SHOULD A SHOWER BE CLEANED?
It is recommended to deep clean the shower once weekly.
MORE CLEANING PRODUCTS YOU MAY ENJOY.
All-Natural Daily Shower Cleaner with Essential Oils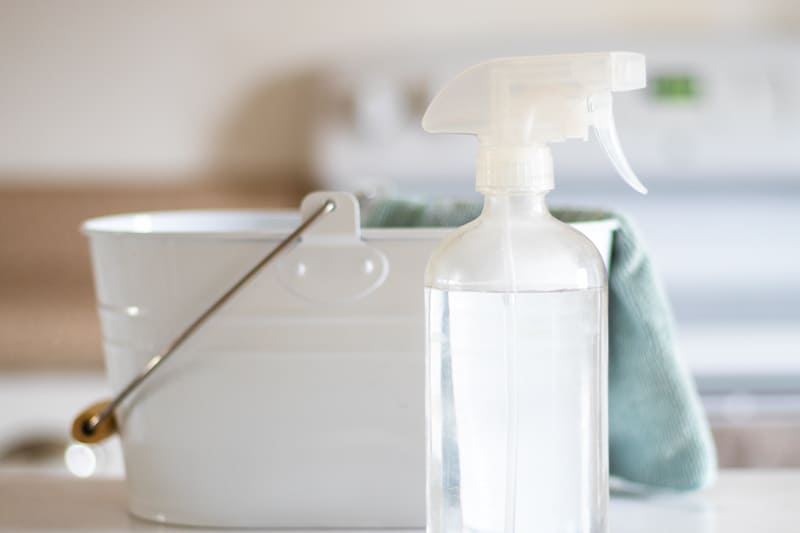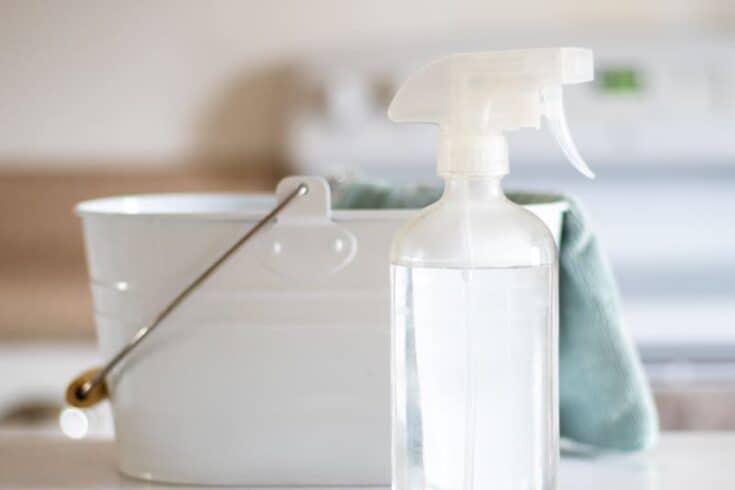 All-natural daily shower cleaner with essential oils is the perfect spray to keep your shower clean in between cleaning days to prevent build-up, mold, and bacteria. 
Materials
1/2 cup white vinegar
1/2 cup rubbing alcohol
1 teaspoon castile soap (or any liquid dish soap)
10 drops lemon essential oil
3 cups of water
Glass spray bottle
Instructions
Add all of the ingredients to a glass spray bottle.
Secure lid and shake well.
Spray on shower walls when wet and let it soak in.
Notes
This cleaner is meant to be used as a maintenance spray. Be sure to start with a clean shower.
Do not use on natural stone such as marble or granite.
Store out of direct sunlight for up to 2 months.