This DIY beeswax furniture polish will clean and shine your furniture. Made with oil and wax, it is a low cost, effective, all-natural, and easy to make wood polish.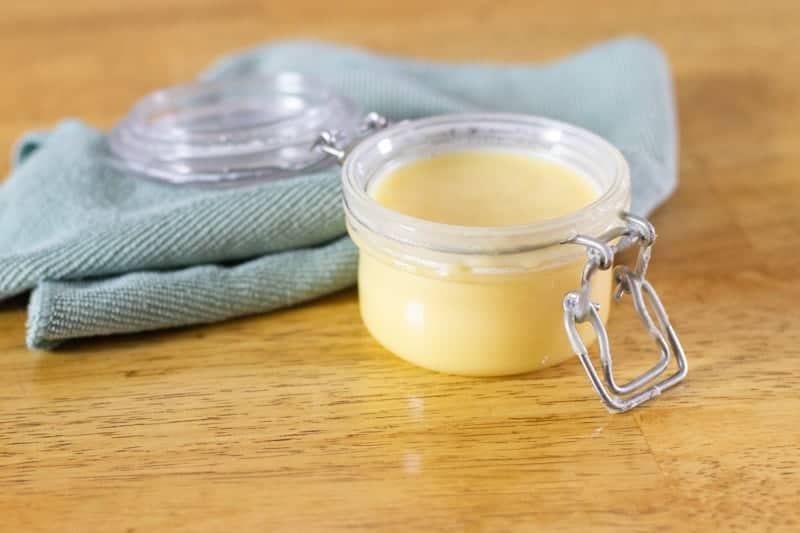 A lot of the wooden furniture in our home was actually built by my husband. And to be honest, it wasn't until recently, while redoing our kitchen table, that I thought of using a furniture polish.
That is when I began looking into wood furniture polishes to use periodically. I love the natural shine and beauty of the wooden furniture using this DIY beeswax furniture polish.
It is non-toxic, so you don't have to worry about using it in the kitchen or around your little ones. You can add in essential oils, but it will already smell amazing with the beeswax alone.
PIN IT FOR LATER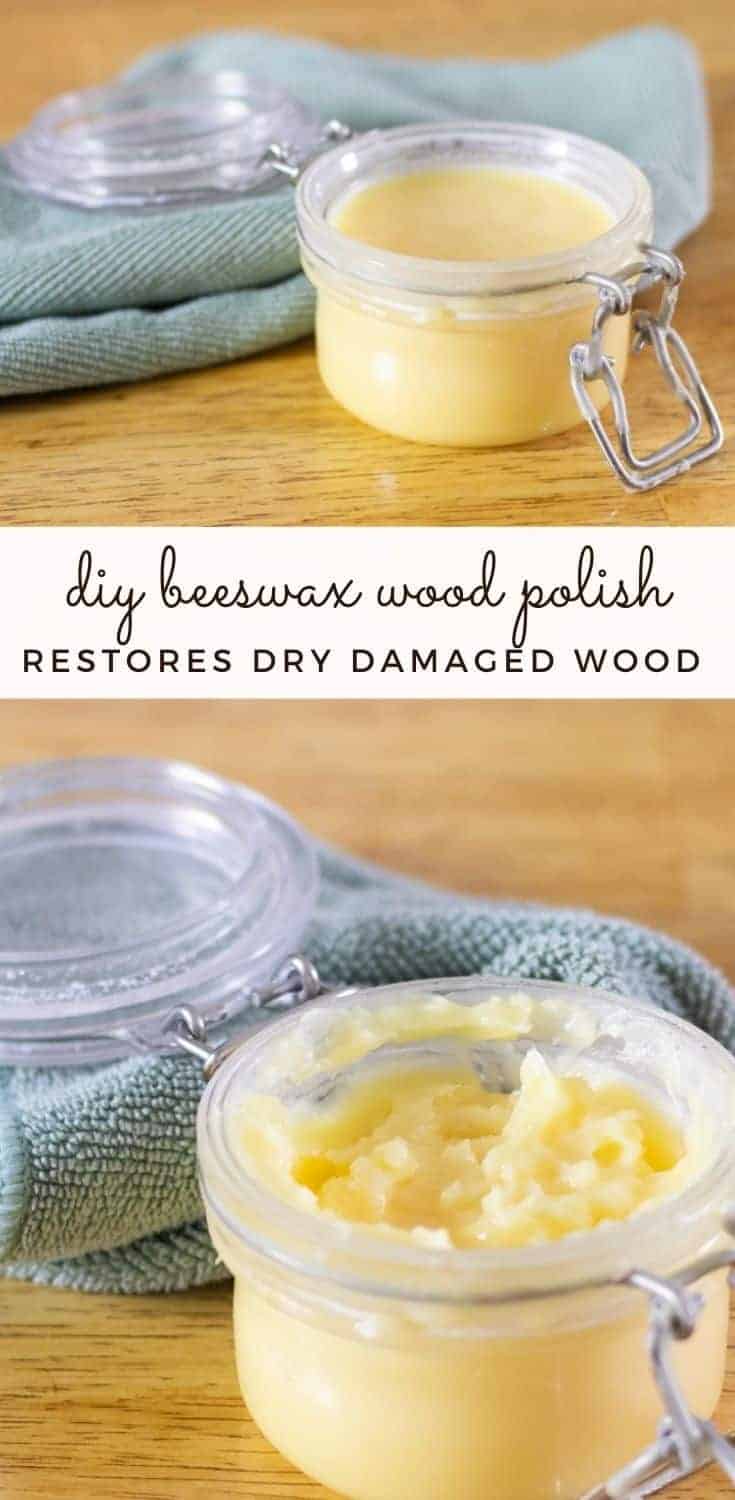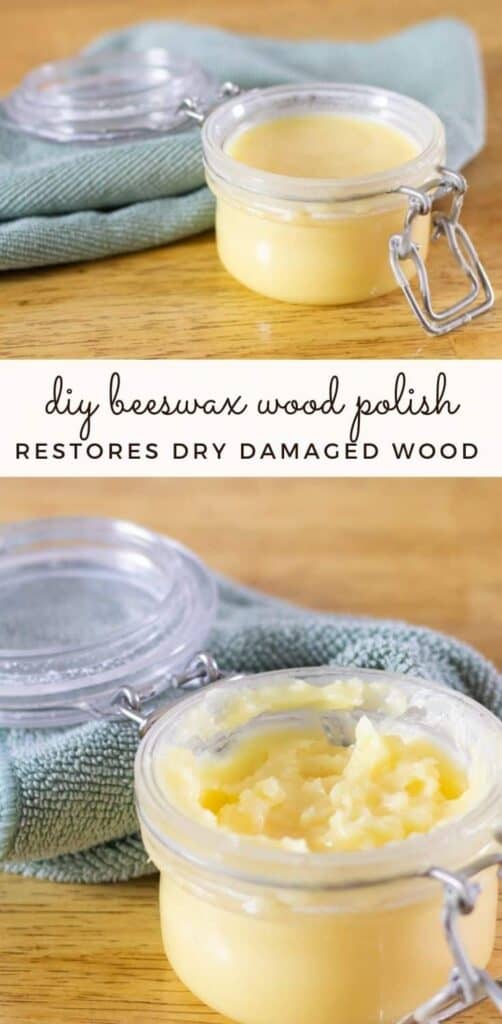 BEESWAX FURNITURE POLISH
Beeswax furniture polish can be used on wooden tables, chairs, cutting boards, wooden blocks, toys, and wooden utensils.
Using beeswax polish will prevent the wood from cracking, splitting, and drying. This is especially important for wooden utensils as they can dry out quickly with all of the washing.
HOMEMADE BEESWAX FURNITURE POLISH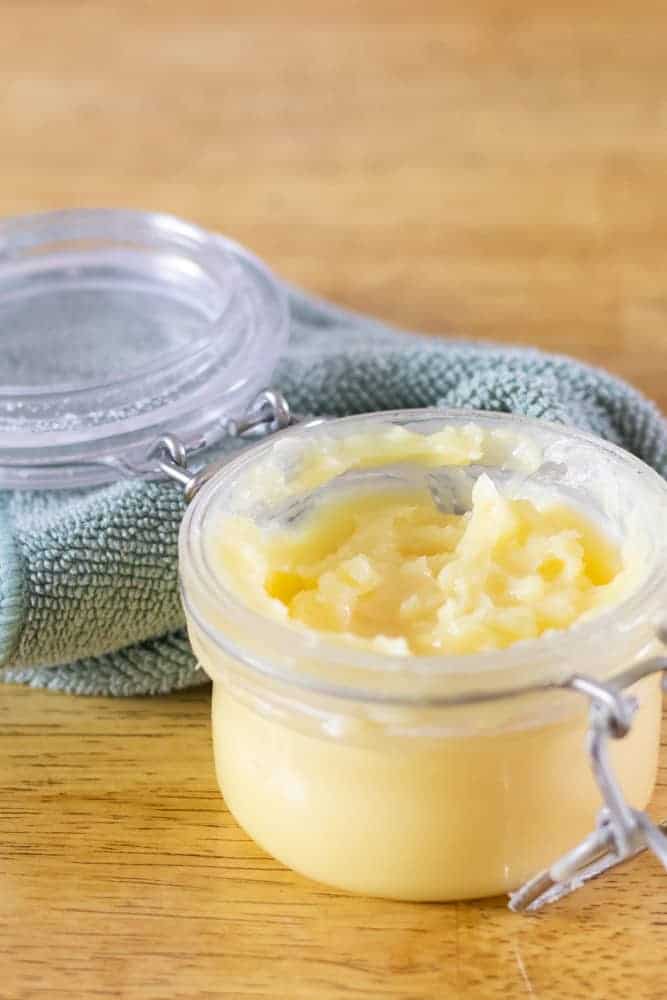 Making beeswax furniture polish is so easy and you don't need any special equipment to make it. For this recipe, I am using olive oil and beeswax. You could also use mineral oil, jojoba oil, or coconut oil to replace the olive oil.
This post contains affiliate links, which means I make a small commission at no extra cost to you. Get my full disclosure HERE.
WHAT YOU NEED TO MAKE BEESWAX POLISH
HOW TO MAKE BEESWAX POLISH
Melt the beeswax and oil in a double boiler, then remove from the heat.
Allow it to cool slightly; if using essential oils, stir in now.
Once ingredients are well combined, transfer to the storage container.
The mixture will harden as it cools and have a "buttery" consistency.
HOW LONG WILL HOMEMADE FURNITURE POLISH LAST
This furniture polish will last about one to two years when stored in an airtight container in a cool dark place. Beeswax will never go bad, but olive oil does have a shelf-life. Check the expiration on the bottle.
HOW TO USE BEESWAX WOOD POLISH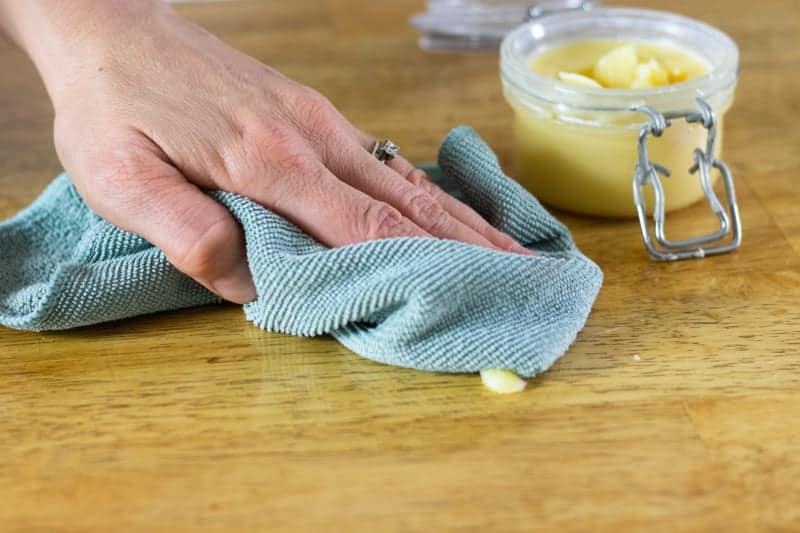 If you are using it for cleaning and polishing furniture, simply dab a clean cloth into the polish and work it into the furniture going with the grain.
If you are using it on untreated wood to seal or stain, it may work better if the polish is softer. This can be accomplished by placing it in warm water for a few minutes. Then add a small amount to the furniture and massage it with a clean cloth.
It is always best to test a small area of furniture in a less visible area before doing the whole piece.
HOW OFTEN SHOULD I USE FURNITURE POLISH?
You may need to dust every couple of weeks, but you shouldn't have to polish it as often. It is recommended to polish furniture every 6 weeks or as needed. You will know your furniture needs to be polished when it starts to look dull.
Wooden utensils may need to be polished more often. I use many wooden spoons in my home and find it best to rub them down with this beeswax wood polish about once a week.
After several washings, I will work a small amount into the utensils to keep them looking as good as new. Wipe clean with a cloth the next time you want to use it.
BEST INGREDIENTS FOR HOMEMADE FURNITURE POLISH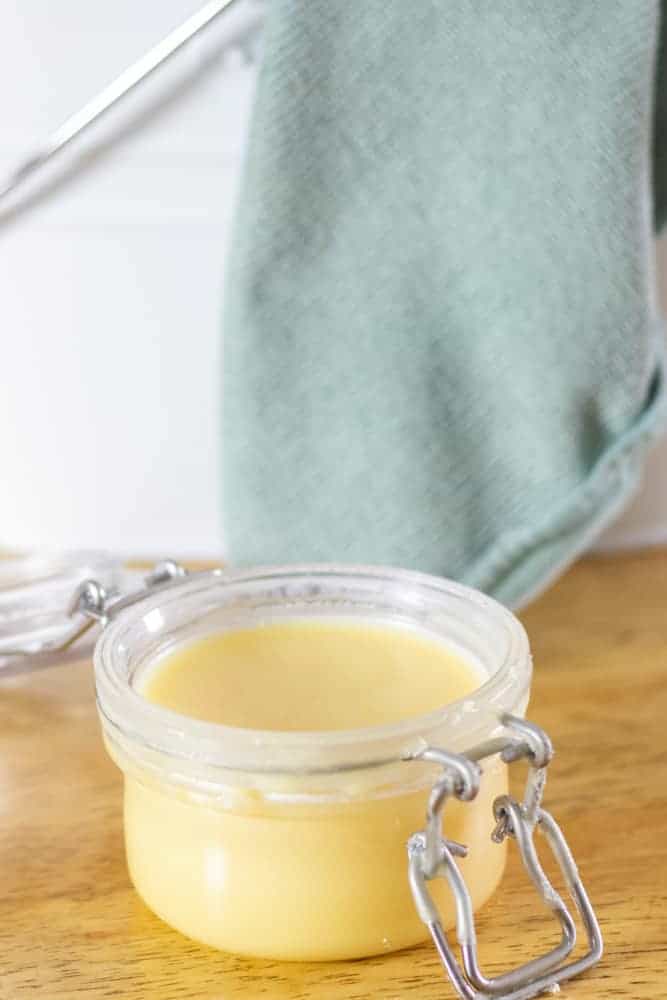 BEESWAX
Beeswax has been used in furniture polishes for many, many years. Unfortunately, conventional cleaners have a lot more ingredients in them than just beeswax and oil.
The idea of natural cleaning is becoming more and more popular as we are learning of the side effects of being exposed to chemicals. Beeswax is a great natural alternative and it works very well.
Beeswax can give a warm glow to dry, dull, and damaged wood. It is inexpensive and best of all, it is natural and safe to use.
OIL
Olive oil is my favorite oil to use on my furniture, but other oils can be used too, especially if you're looking to extend the shelf life. If you want to do a quick polish, you can simply pour a thin layer onto your furniture and wipe it with a clean cloth.
Olive oil will help to restore dry, cracked, and damaged wood, provide shine to wood floors and it will add moisture to keep the furniture looking new and shiny. Olive oil is eco-friendly and can be found in most kitchen pantries.
I use olive oil in my dusting spray before polishing.
ESSENTIAL OILS
Adding essential oils to your wood polish is optional. Some of the most common oils to use in cleaning are wild orange, lemon, tea tree, and lavender.
I add a few drops of wild orange to my furniture polish became I love the scent. It is important to dilute essential oils before using them on furniture.
Lemon essential oil works like a magic eraser. I have put drops straight on marker stains on my coffee table, but I wouldn't recommend it before testing it first. Essential oils could damage wood furniture if not used properly.
See how I use Lemon Essential Oil for Cleaning.
CAN YOU USE SOLID BEESWAX ON WOOD FURNITURE?
It is easiest to apply beeswax when it is melted and mixed with oil. However, you can use solid beeswax to polish furniture.
It is important to dust and clean the wood before using beeswax on it. Apply the beeswax by rubbing it from one end to the other, going with the wood's grain.
Wait for the wax to dry, then buff it with a clean cloth.
IN SUMMARY
Make your own beeswax polish by melting beeswax and olive oil together.
Polish the wood every six weeks or when it looks dull and dry.
Apply polish to wood and wipe clean with a clean cloth.
Yield: 1 cup
DIY Beeswax Furniture Polish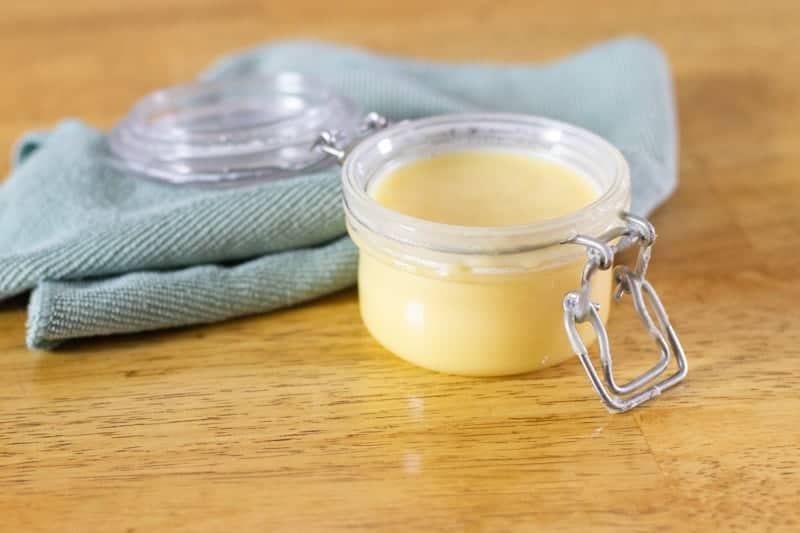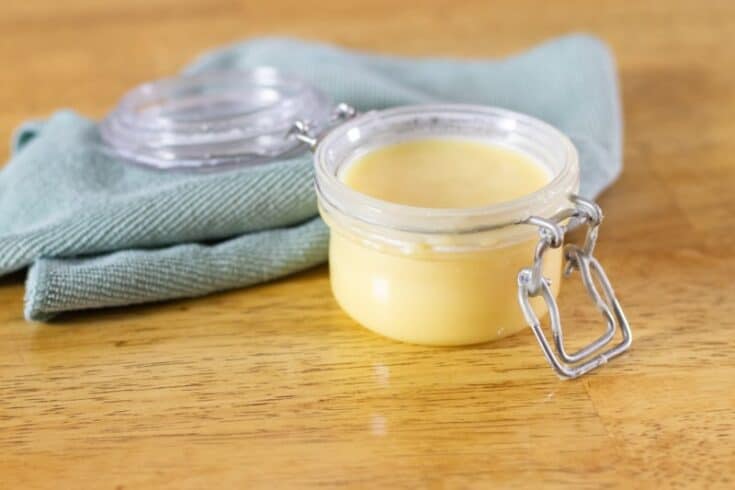 DIY beeswax furniture polish can help restore old furniture, seal and stain wood, and protect the wood.
Additional Time
10 minutes
Materials
1/4 cup beeswax
3/4 cup olive oil
10 drops wild orange essential oil (optional) 
Instructions
Melt beeswax and oil in a double boiler, then remove from the heat.
Allow it to cool slightly; if using essential oils, add those in now.
Stir and transfer to a shallow, wide-mouth mason jar or another airtight container for storage.
Notes
Store in a cool dark place for up to one year.
Cleaning Products You May Enjoy