Restore your old dirty grout back to its original color with this natural grout cleaning recipe. Homemade grout cleaner made with baking soda and hydrogen peroxide is one of the best ways to remove stains and brighten grout.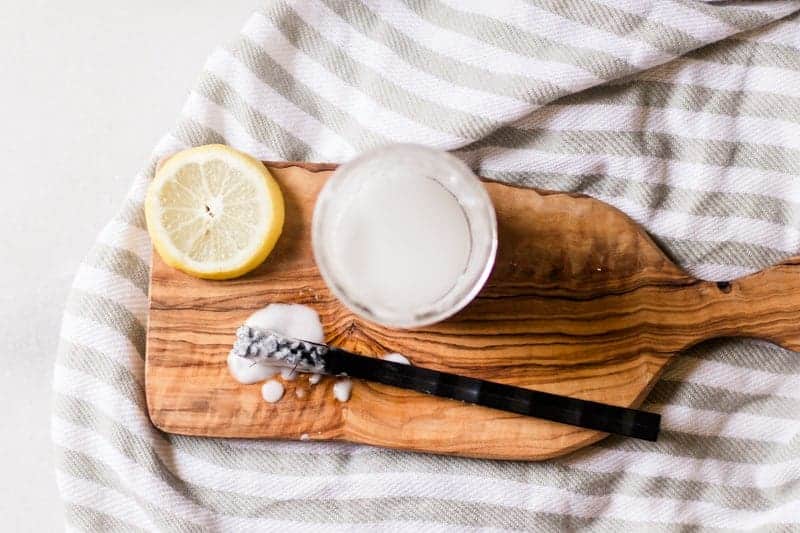 Deep cleaning grout is not something that needs to happen every day, but over time, dirt and grime will eventually build up on the rough grout finish turning it into a dark, unnatural color.
At this point, a good grout cleaning should be in order.
Of course, there is always the option of accepting the new finish, but if you so desire to get on your hands and knees and scrub away, this homemade grout cleaner is just the thing for you.
Mopping over stained grout is most likely not going to clean the grout.
Chances are you already mop on a regular basis and though mopping does an excellent job cleaning tile, the dirt seems to hold tight to grout no matter how often it's mopped.
This homemade tile grout cleaner can be just the thing your floor needs to restore its original shine.
Grout Cleaner DIY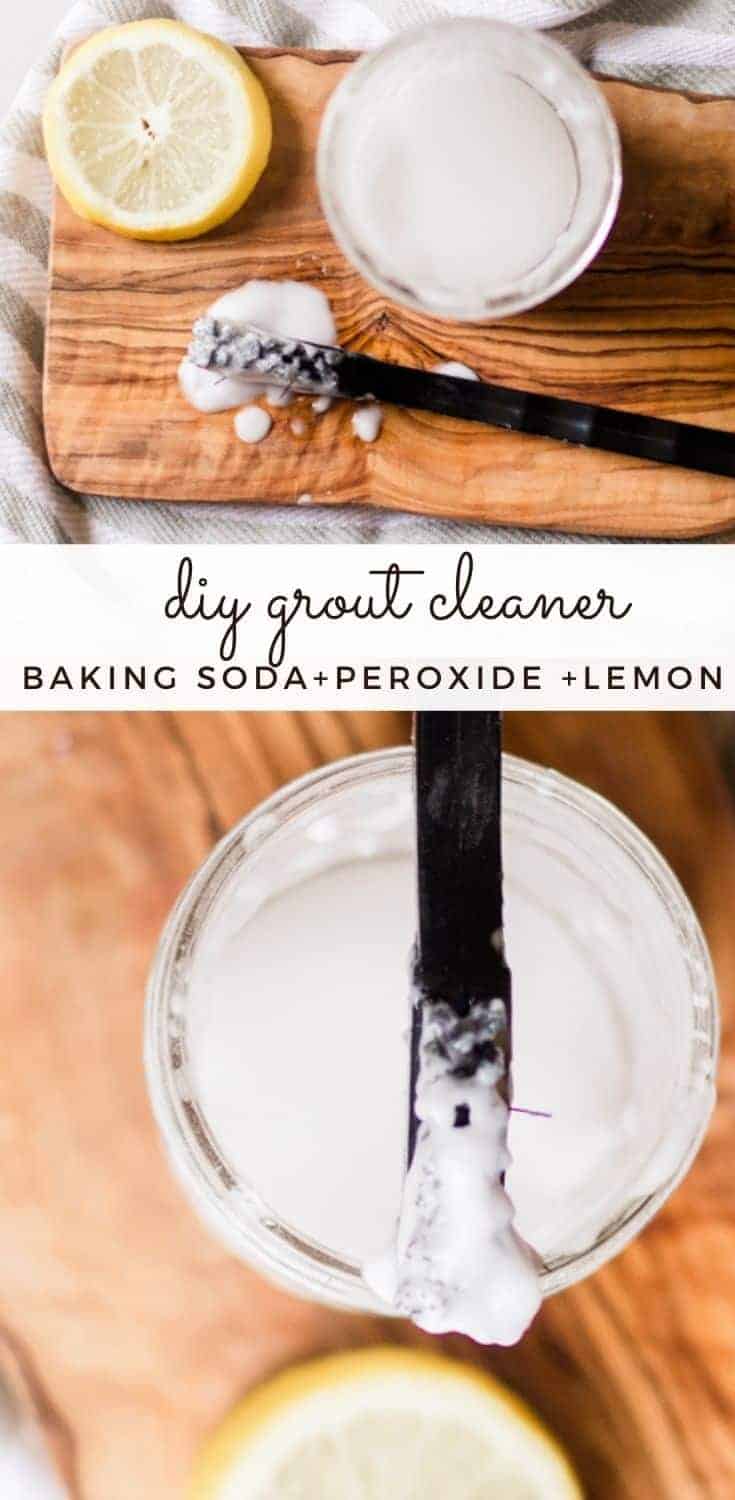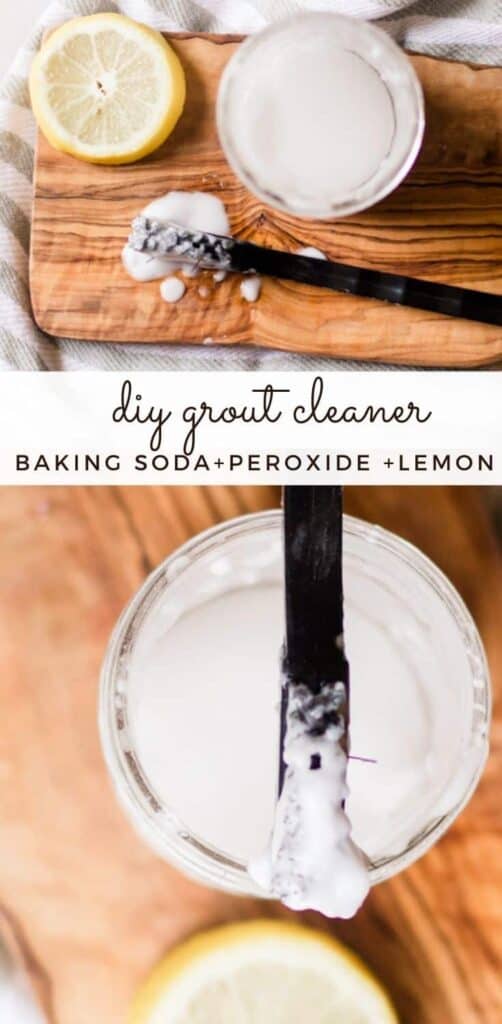 For this grout cleaner you will need:
Baking Soda
Hydrogen peroxide
Castile Soap
Lemon essential oil
The goal is to make a paste. Start off by adding a couple of tablespoons of baking soda to a small bowl.
Next, add one tablespoon of hydrogen peroxide, a teaspoon of Castile soap, and 5 drops of lemon essential oil.
Stir until everything is well combined and a paste forms.
If the mixture is too thick, add more hydrogen peroxide. If it's too runny, add a touch more baking soda.
If you have a large room with a lot of grout to clean, then you may need to double or triple this recipe. This recipe is meant for one-time use.
How to Clean Tile Grout
An old toothbrush works great for scrubbing the grout. I use a nylon scrubbing brush which can be found in any hardware store.
An actual scrubbing brush has stiffer bristles than a toothbrush making the job a little easier, but in a pinch, either will work.
Once the grout cleaner is ready, scoop a generous amount onto the brush and scrub the grout vigorously. If you have an old electric toothbrush that you aren't using anymore, that can work too!
When the dirt and grime are sufficiently broken up, wipe clean with a cloth or kitchen sponge. For tougher stains, allow the mixture to sit on the grout for 10 minutes before scrubbing.
What Cleans Grout the Best?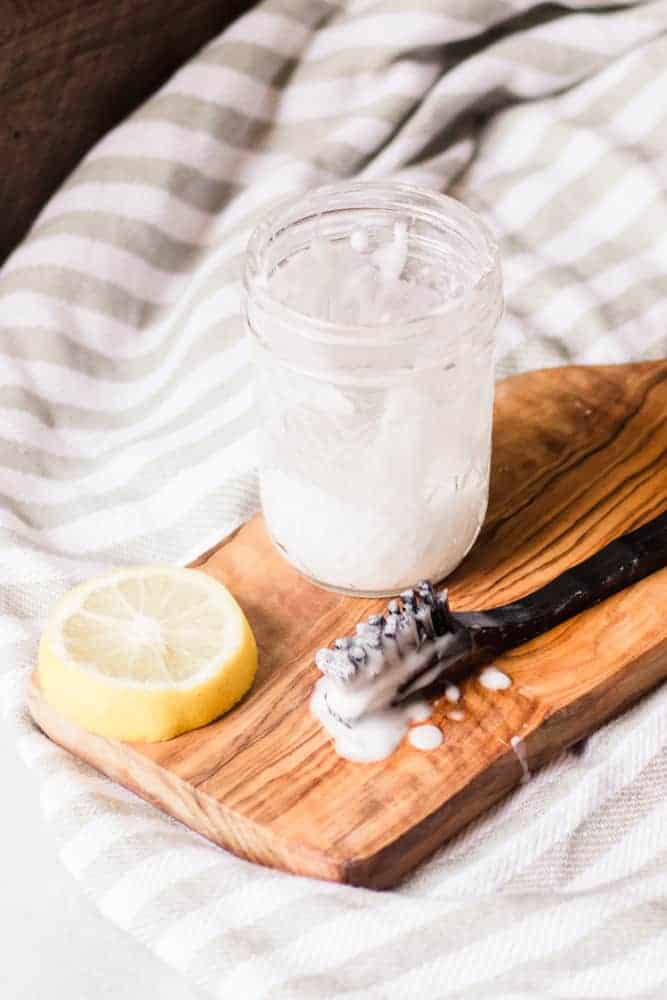 Baking soda, hydrogen peroxide, Castile soap, and lemon essential oil work well together to clean really dirty grout. These ingredients will remove stains and help restore its original color.
Baking Soda
Baking soda is a very effective natural cleaning agent as it is slightly abrasive and can remove dirt and grime.
It can brighten your tile grout, remove hard water stains and soap scum. In addition, baking soda helps remove odors and will leave your house smelling fresh and clean.
Hydrogen Peroxide
Hydrogen peroxide can be used to disinfect, remove soap scum, and kill mold and mildew. It is perfect for dirty and stained tile.
Hydrogen peroxide can naturally remove stains from carpets and brighten your grout.
Castile Soap
Castile soap is gentle, safe, and works to clean almost all surfaces, including granite countertops. It is very concentrated, making it cost-effective.
Castile soap is made out of vegetable-based oils, making it an all-natural liquid soap. If you don't have castile soap, you can use any liquid dish soap for this recipe.
Lemon Essential Oil
Lemon essential oil is one of my favorite essential oils for cleaning.
It gives off a beautiful citrus aroma and it is very cleansing and purifying. Lemon essential oil can naturally brighten your tile and help remove stains.
If you have a troubled area with heavy stains, drop straight lemon essential oil on the spot and let it soak in before adding the tile cleaner.
Grout Cleaning Hacks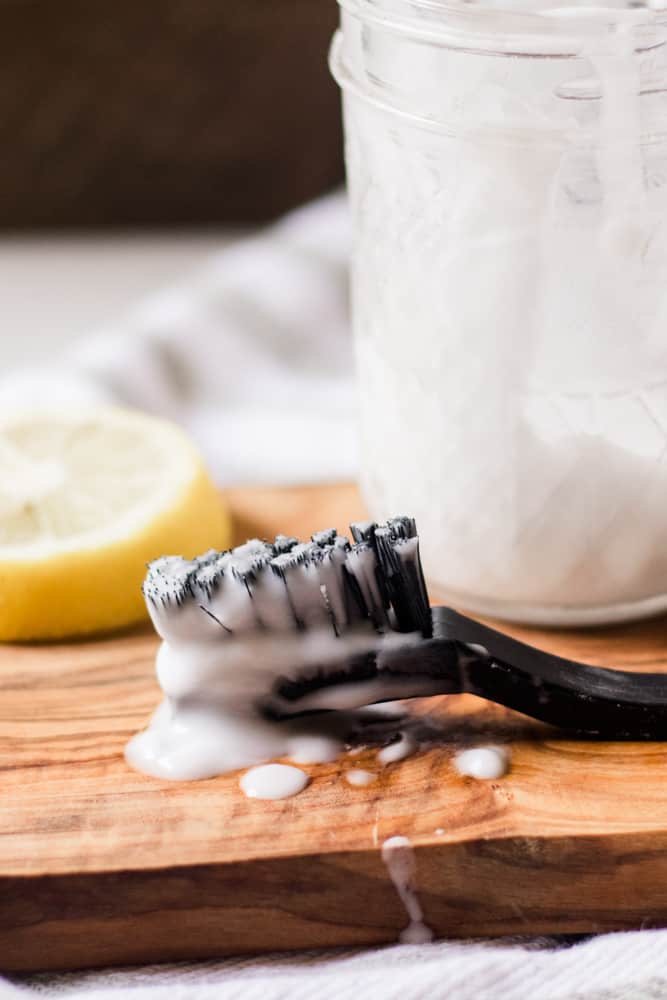 Cleaning grout can be a very tedious job; however, it can make your floor look brand new when it is done. With these grout-cleaning hacks, you can make the job a little easier.
Use an electric toothbrush to make scrubbing easier and more effective.
Add a small soft scrub brush attachment to the end of a drill to make a heavy-duty, strong grout-cleaning brush. This trick is especially good for large rooms.
Vacuum or sweep the floor before starting to get any loose dirt, crumbs, or debris off the grout before cleaning.
For highly stained or dirty tile grout, allow the cleaner to sit for 10-20 minutes before scrubbing.
Allow the grout to airdry or put a fan on it to help it dry faster after cleaning. For best results, avoid stepping on the grout until completely dry.
Can I Use Vinegar to Clean Tile Grout?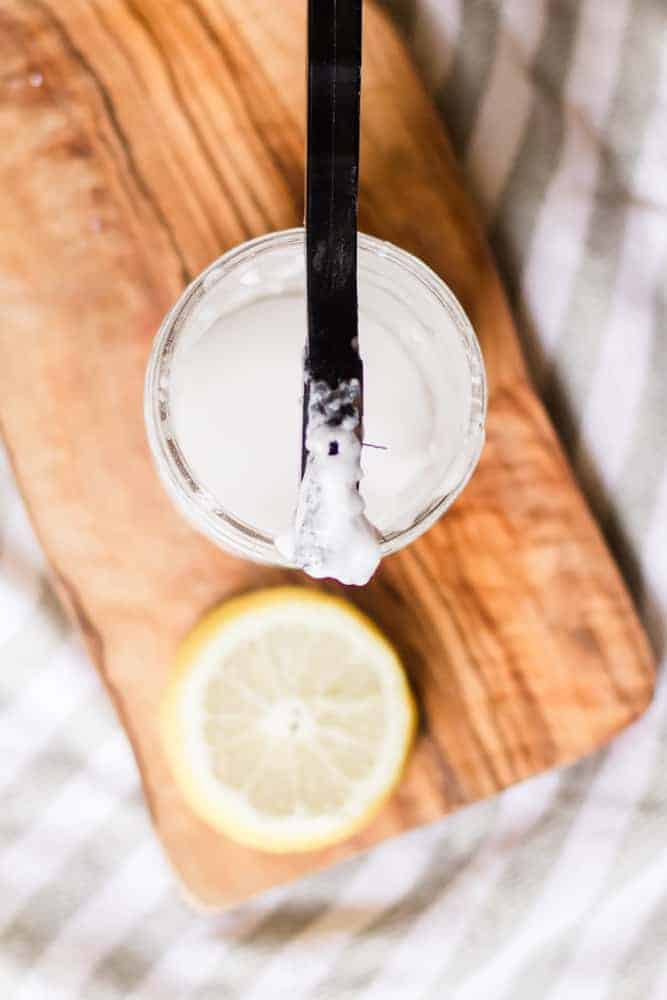 Using vinegar once or twice on your grout will most likely not cause any problems. However, overuse of vinegar on grout can cause damage and is not recommended.
As the vinegar sits on the grout, it can corrode it and cause damage.
If using vinegar to mop your tile floor, you probably won't notice any issues, but if you allow the vinegar to soak into the grout, it can be an issue.
So, just to be safe, save your vinegar for cleaning hardwood and laminate flooring and use hydrogen peroxide instead on your grout.
How Can I Whiten my Grout Naturally?
The ingredients in the homemade tile cleaner can help to whiten your grout naturally. If your grout needs a little extra whitening, you can use plain lemon essential oil.
Lemon essential oil is a great whitening and lightening agent.
I hope you enjoy this recipe. Be sure to let me know what you think in the comment section. And for more great cleaner DIYs, see below!
Yield: 1
Homemade Grout Cleaner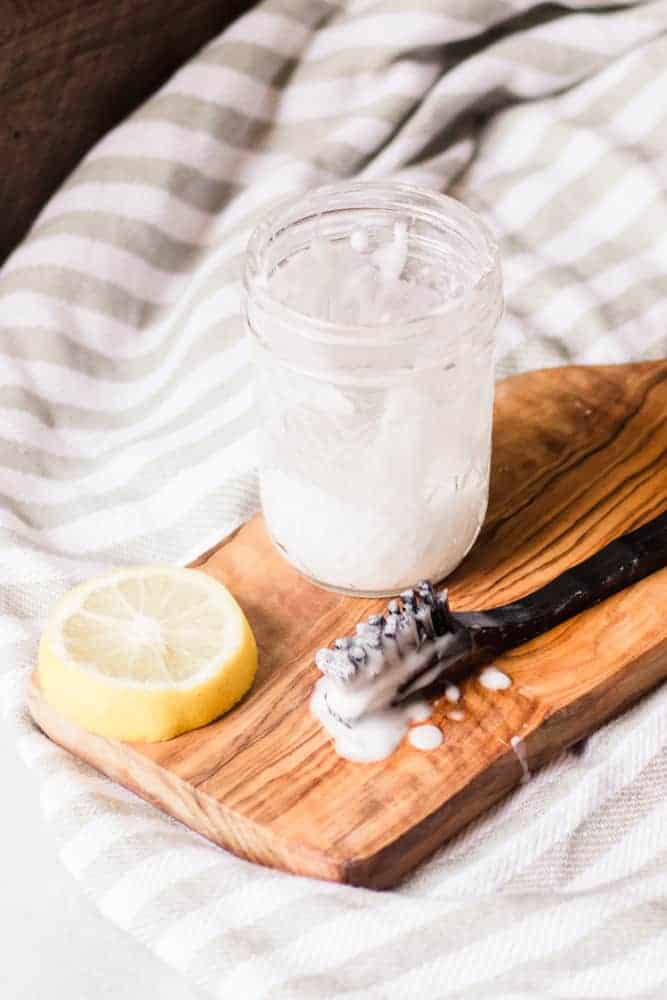 An effective natural grout cleaner made with common household ingredients.
Materials
2 tablespoons baking soda
1 tablespoon hydrogen peroxide
1 teaspoon castile soap
5 drops lemon essential oil
Instructions
Add baking soda to a small mixing bowl.
Stir in the rest of the ingredients until it forms a thick paste.
Scoop a generous amount onto the brush, and scrub into the grout to loosen the dirt.
Wipe clean with a cloth or sponge.
Notes
For tougher stains, allow the cleaner to sit for 10-15 minutes before scrubbing.
This recipe can easily be doubled or tripled for larger rooms.