Castile soap is a natural vegetable-based soap that can be used in skincare and cleaning products! Learn everything you need to know about castile soap, its uses, and its benefits.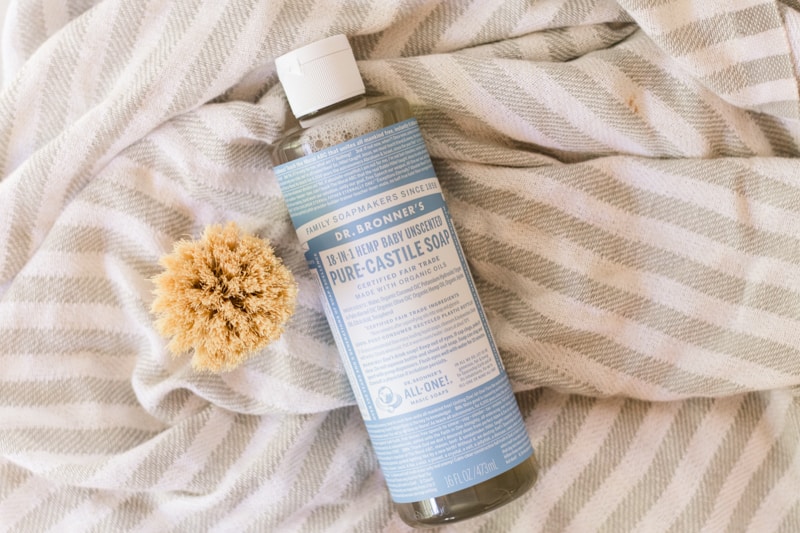 I have to admit; I am mildly obsessed with castile soap. The soap is found in many of my DIY's as well as almost all of my homemade cleaners.
It is very concentrated, and even though only a couple of tablespoons are usually needed to make most products, I buy the stuff by the gallon! It is definitely one of those ingredients I never want to run out of, and after reading this post, you won't want to either.
What is Castile Soap Made Of?
Castile soap is a concentrated soap made out of plant oils. Most commonly made with coconut, olive, palm, hemp, sunflower, or jojoba oils.
Most soaps are made with animal fat, such as lard and tallow; however, castile soap doesn't contain any animal fats. Castile soap is eco-friendly and vegan.
Some castile soaps, especially leading brands such as Dr. Bronners, is made with a blend of vegetable oils. Blending oils together make the soap more universal and good for so many different things.
This post contains affiliate links, which means I make a small commission at no extra cost to you. Get my full disclosure HERE.
Where to Buy Castile Soap?
You can find castile soap on Amazon, Walmart, Target, and most health food stores. It is becoming more popular and easy to find.
I personally order it online by the gallon! The most well-known brand is Dr. Bronners, but you can also find other brands that are comparable.
Castile Soap Uses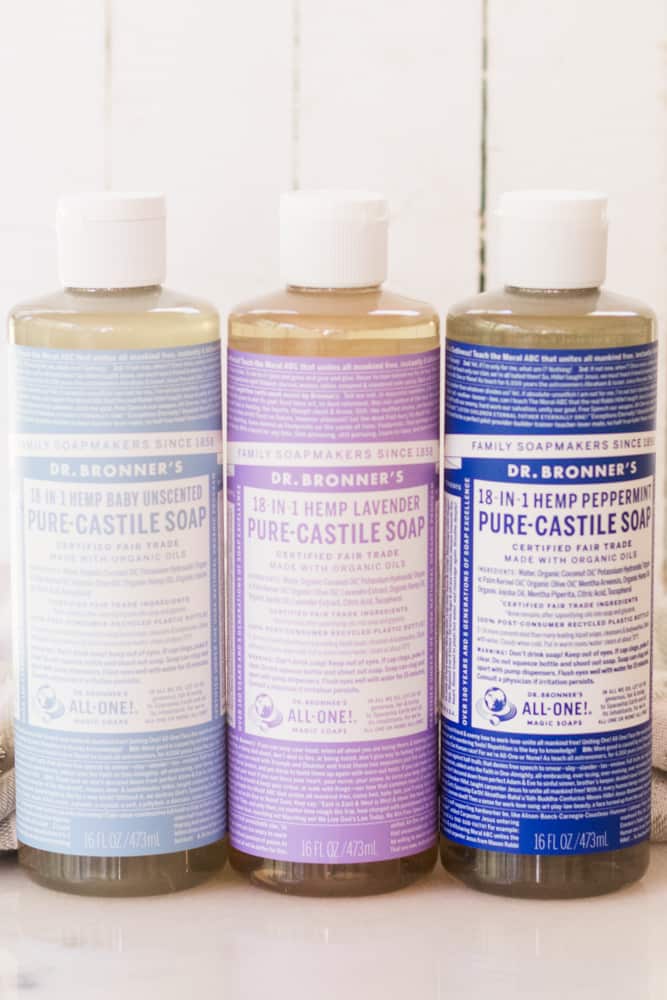 As I already mentioned, castile soap can be used for so many different things. Personally, I use it in my face wash, dish soap, laundry soap, just to name a few. In addition, because castile soap is gentle, it can be used for kids and adults.
Bath and Beauty
Face wash: Add a few drops to already wet hands, rub together to form a lather, and massage into the face. Rinse with warm water and pat dry.
Body Wash: Add a dime-size amount to a wet cloth and use it as a body soap. Or add a small amount to a bathtub of warm water and soak.
Shampoo: Castile soap can be used to make your own shampoo or used plain to cleanse the hair. Make a mixture of one part castile soap with one part water. Add a dime-sized amount to the palm of your hands. Starting at the roots, work it into the hair. Rinse out with warm water. Follow with an apple cider vinegar rinse.
Foot Soak: Add a couple of teaspoons of castile soap to a warm tub of water. Allow feet to soak for 20 minutes, then follow up with an exfoliation foot scrub. This is a great way to remove dead skin cells and deep cleanse the feet.
Cleaners
Dish Soap: Add 1/4 cup castile soap to a 16-ounce glass spray bottle. Top off with distilled water leaving a little room in the top. Add 10 drops of lemon essential oil, shake well.
Mopping: Use to mop tile floors by diluting 1/4 cup castile soap in 5 liters of water, mix well.
All-Purpose Spray: Mix equal parts vinegar and water in a glass spray bottle. Add 1 teaspoon castile soap, 10 drops of lemon essential oil and shake well.
Toilet Scrub: Mix 1 tablespoon castile soap in a 2-ounce spray bottle with water. Spray toilet and scrub.
Household
Fruit and Veggie Spray: Add a few drops of castile soap and lemon essential oil to a sink of water. Soak veggies and fruits for 10 seconds, rinse and pat dry.
Ant and Spider Spray: Add 10 drops of peppermint oil and 1/2 teaspoon of castile soap to a 2-ounce spray bottle. Top off with water and shake well. Spray along door frames and windows as needed.
Laundry: Add 1/3 cup castile soap to a top-loading washer or half that to a front loader and run the cycle. For best results, add 1/4 cup of vinegar to the rinse cycle.
Castile Soap Benefits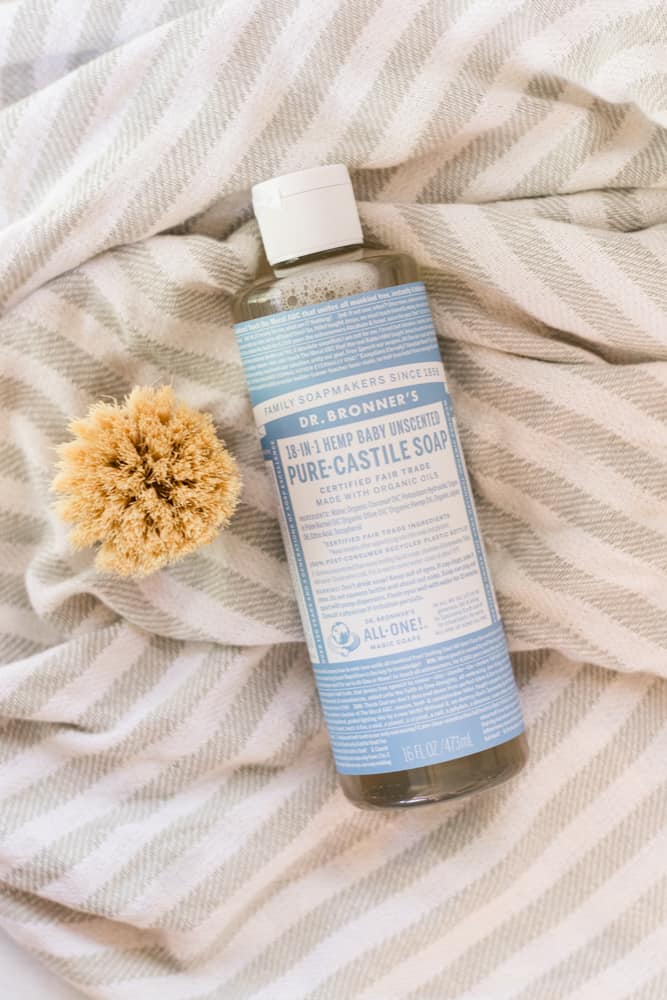 The main benefit of using castile soap is that it is eco-friendly and all-natural. Many soaps are made with artificial fragrances and synthetics ingredients that are not good for your skin or overall health.
Castile soap is very natural, gentle, and good for those with sensitive skin. It is non-toxic and biodegradable.
Top Benefits Include:
Gentle
Toxic-free
Safe for sensitive skin
Reduce oily skin
Help clear acne
Soothe irritated skin
Hydrating
Reduces skin imperfections and rashes
Does not clog pores
How to Use Castile Soap?
The main thing to remember when using castile soap is that it is very concentrated. Castile soap will go a long way and in most cases, just a few drops are all you will need.
Before applying it to the skin or hair, be sure to dilute castile soap in water or a carrier oil. If using castile soap on a child or baby, be sure to dilute it further.
Check out the recipes above to get more accurate information about diluting castile soap before using it.
Dr. Bronners Castile Soap
By far, the most popular brand of castile soap is Dr. Bronners. Dr. Bronners offer a variety of scents and sizes. I almost always prefer to get the unscented soap so I can use it for everything and add my own scent with essential oils.
If you are buying castile soap just for cleaning, I would suggest buying the orange or tea tree scent. If you are buying it for skincare, I would suggest unscented, lavender, or rose.
Dr. Bronners Castile Soap Scents
Almond
Baby Unscented
Citrus Orange
Eucalyptus
Lavender
Peppermint
Rose
Tea tree
Benefits of Natural Soap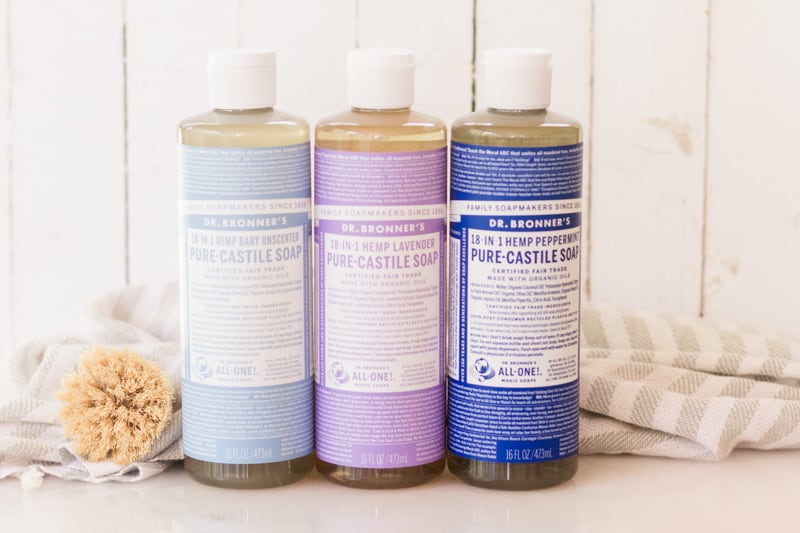 So why is it even important to use natural soap in the first place?? Well, did you know that your skin is your largest organ and it absorbs everything you put on it?
In fact, your skin is your first line of defense against free radicals and we most certainly don't want to lather it with chemicals and synthetic ingredients. Using a homemade soap or natural soap is very important for overall wellness.
Is Castile Soap Safe for Babies?
As mentioned above, castile soap is very gentle and a great option for natural soap and baby wash. However, castile soap is not tear-free.
When using it on babies and children, be careful not to get the soap in their eyes and if it does, be sure to flush with water.
Does Castile Soap Kill Bacteria?
Castile soap is very cleansing but may not kill all bacteria. Add in a few drops of tea tree or lemon essential oil to make it more effective at killing bacteria.
It is a great soap to remove dirt, grime, and grease.
Pin It For Later