Making your own carpet cleaner just got easier with this simple carpet cleaner DIY and carpet stain remover treatment. If you have little ones or pets in the home, having a carpet cleaner or spot treatment on hand is a must.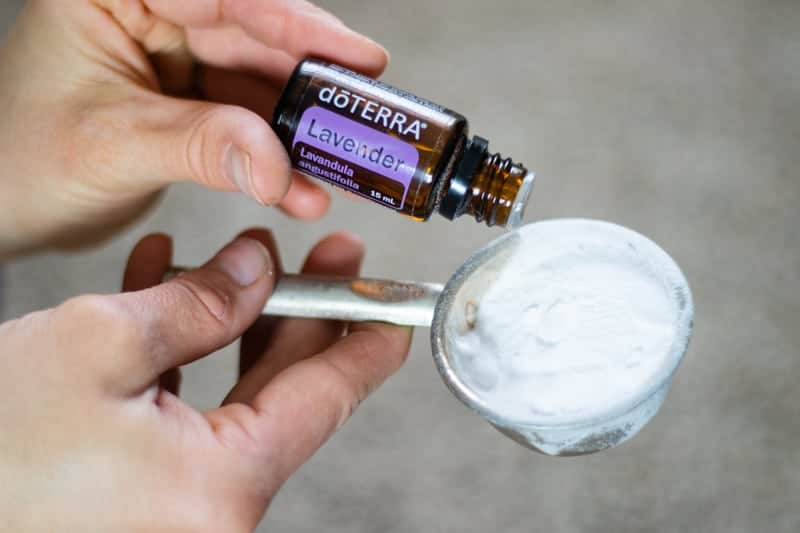 We have tile, hardwood, and carpet throughout our house. The carpet is limited to the bedrooms and basement since those are fewer traffic areas.
I do like carpet, but I think it has its place. Before kids, I remember our first apartment had a light-colored, almost white carpet in the dining room.
That was hard enough to keep clean with 2 adults, let alone kids or dogs. Having a spot carpet cleaner on hand is very important because the quicker you get to the stain, the more likely you can get it to come out.
Of course, having a whole room homemade carpet cleaner is helpful to loosen up the dust, dirt, and grime a regular vacuum is unable to pick up as well as freshen up its appearance.
PIN IT FOR LATER
what is in homemade carpet cleaner
This post contains affiliate links, which means I make a small commission at no extra cost to you. Get my full disclosure HERE.
Similar to many of my homemade cleaners, baking soda, and vinegar are two safe, effective ingredients for spot-treating carpet or whole-room carpet cleaning.
The one bonus ingredient that is optional is lavender essential oil. Lavender will not only add a lovely scent, but it can also help remove unpleasant odors.
In addition, essential oils do not stain the carpet or other fabrics like cooking oils do, so using essential oils on the carpet is OK.
However, if you prefer to leave them out, vinegar and baking soda will be just fine.
For removing stains from the carpet, I will use a small amount of sal suds, castile soap, or even liquid dish soap. (or in some cases, laundry detergent as you can see here).
These soaps are very effective when used with the other ingredients for a safe, natural carpet stain remover.
Full disclosure, this is more of a process than a recipe. The amount of ingredients is really going to depend on the size of the room being cleaned.
This homemade carpet cleaner can be used with a standard residential vacuum that is capable of vacuuming up small particles; no special equipment is required!
How to make carpet cleaner
Ingredients
Instructions
Lightly sprinkle baking soda mixed with 5-10 drops of lavender essential oil throughout the room—mix 1/2 a cup each of vinegar and water in a spray bottle.
Lightly mist the whole carpet, being sure not to overspray; you just want it slightly damp.
Let the mixture sit for about ten minutes and then vacuum the room using a fine particle vacuum. I use a shark vacuum for this, and it works great.
This is an excellent way to quickly clean, freshen, and deodorize the carpet. Great for spring cleaning!
homemade carpet stain remover for spot treatment
Follow the instructions below to get almost any stain out of the carpet. Works for getting nail polish, grease, coffee stains, and even ink out of carpet.
Ingredients
Sal Suds
Baking Soda
Vinegar
Lavender Essential Oil
Water
Instructions
STEP ONE: Dilute a tablespoon of sal suds in 1/4 cup of water and apply directly to the stain. Allow it to sit for five to ten minutes, then using a soft brush or cloth, gently work the solution into the carpet.
STEP TWO: Generously sprinkle baking soda over the top of the stain. Depending on the size of the stain, I like to mix 2 drops of lavender with every tablespoon of baking soda.
STEP THREE: Mix equal parts vinegar and water in a spray bottle and mist directly over the top of the baking soda. Let it sit for an additional five to ten minutes before scrubbing the mixture into the carpet with a clean cloth.
STEP FOUR: Dab the carpet clean with a fresh, damp cloth. Finally, vacuum clean.
For old tough stains, you may need to repeat the process.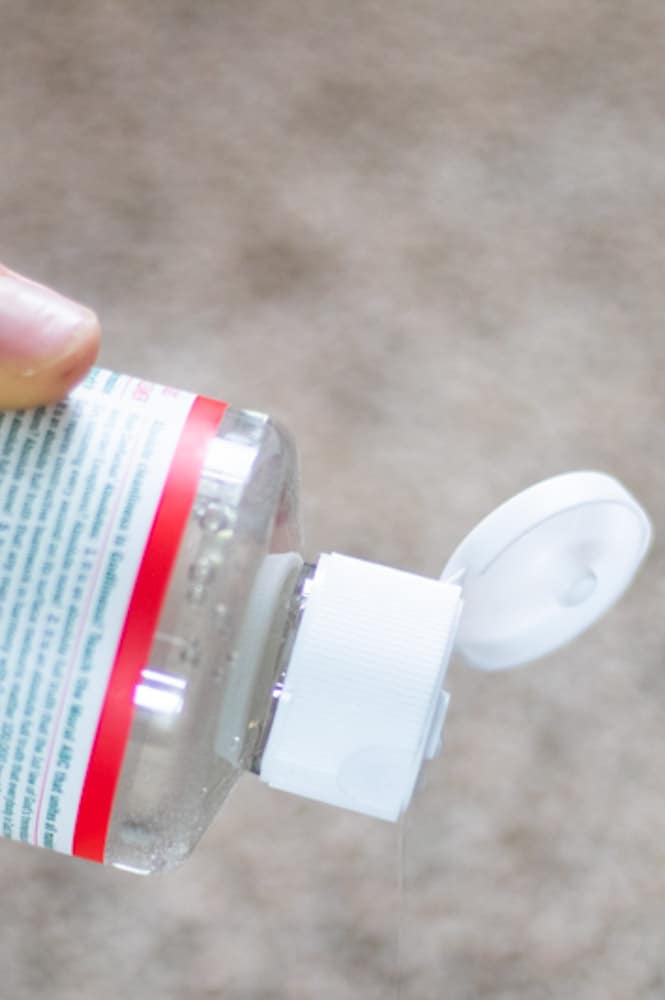 homemade carpet cleaner solution for steam cleaner
You can make a homemade carpet cleaning solution to reduce the number of toxins entering your home that works with most steam cleaners.
INGREDIENTS
1/4 cup vinegar
1 tablespoon hydrogen peroxide
1 teaspoon castile soap
10 drops lavender essential oils (optional)
warm water
INSTRUCTIONS
Add the ingredients (everything but the water) to the bottom of the carpet cleaner.
Top off with warm water.
Use as directed.
NOTES: It is always suggested to test a small area of carpet before doing a large area. I suggest doing this in a corner or in a closet, if possible.
More cleaning recipes for your home:
Homemade Carpet Cleaner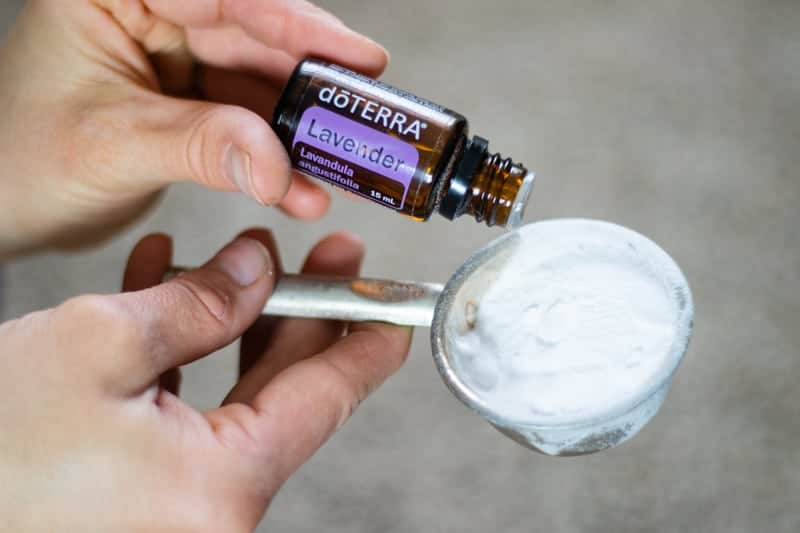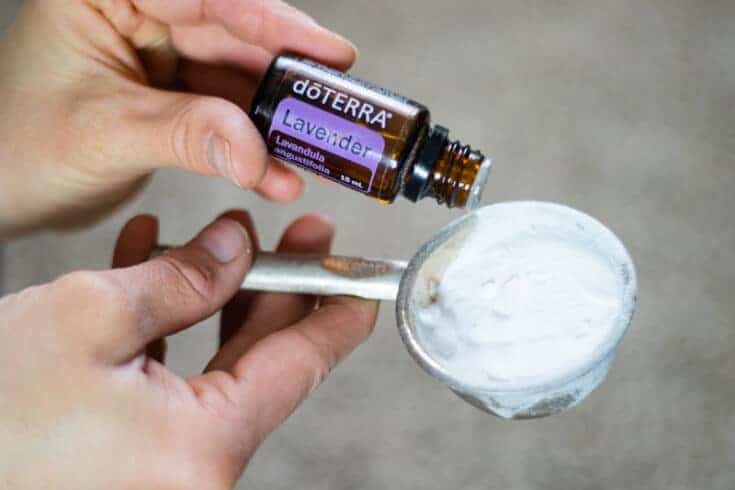 A gentle homemade carpet cleaner that leaves your carpet shining and fresh!
Materials
3/4 cup of baking soda
1/2 cup of vinegar
1/2 cup of water
10 drops lavender essential oil
Tools
Fine Partical Vacuum
Spray Bottle
Instructions
Mix lavender in with the baking soda and spread a thin layer throughout the room.
Combine vinegar and water in the glass spray bottle. Lightly mist over the top of the baking soda.
Let sit for about ten minutes and vacuum thoroughly with a fine particle vacuum.
Notes
These amounts work for a regular-sized bedroom. Adjust as necessary.
Spot test a small, inconspicuous area before treating the whole room.