Making your own carpet cleaner just got easier with this simple carpet cleaner DIY. If you have little ones or pets in the house, this homemade carpet cleaner is a must. Its made with all-natural ingredients, making it safe for everyone.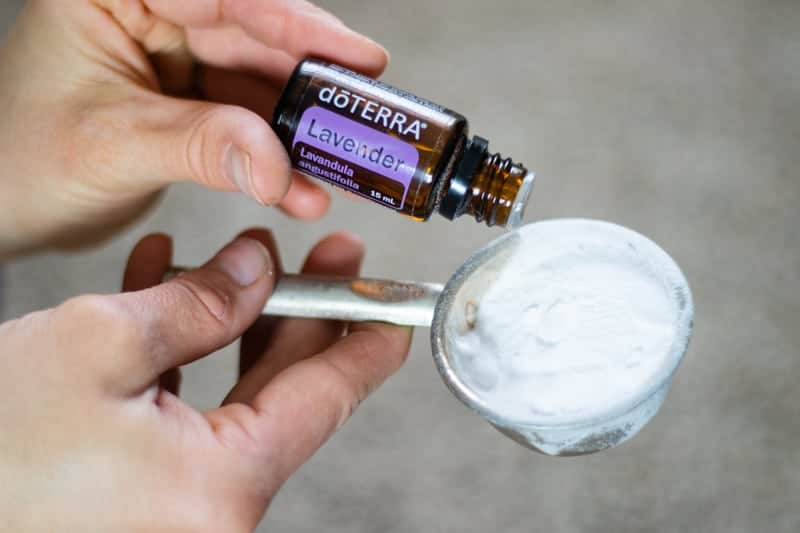 We have mostly tile and hardwood in our house, but we do have carpet in the bedrooms. I intentionally chose no carpet in high traffic areas, because of kids. I remember that the first apartment we lived at before kids had a light-colored carpet in the dining room. Seriously??
That was hard to keep clean with 2 adults; I couldn't imagine with kids or dogs. Having a spot carpet cleaner on hand is very important because the quicker you get to the stain, the more likely you can get it to come out.
This carpet cleaning hack is so easy to do and it really works well for getting stains out.
PIN IT FOR LATER
WHAT IS THE BEST DIY CARPET CLEANER?
This post contains affiliate links, which means I make a small commission at no extra cost to you. Get my full disclosure HERE.
Just like in most of my homemade cleaners, the first thing I get out when cleaning the carpet is baking soda and vinegar. Baking soda and vinegar are great at spot-treating the carpet or can be used to clean a whole room of carpet.
I also like to add lavender essential oil. Lavender will add a lovely scent and can help to remove odors. Essential oils do not stain carpet, or other fabrics like cooking oils do, so using essential oils on the carpet is OK. However, if you prefer to leave them out, vinegar and baking soda will be just fine.
For tougher stains, I will use a small amount of sal suds, castile soap, or liquid dish soap.
CARPET CLEANER DIY
This doesn't have much of a recipe, as it is just a process. The amounts of each ingredient you will need will really be determined by the size of the stain or room you are working on cleaning.
INGREDIENTS
Lavender essential oil (optional)
Vinegar
Water
SPOT TREATMENT
INSTRUCTIONS
STEP ONE: Apply a small amount of sal suds to the stain. You can add a tablespoon to a spray bottle of water to predilute it and then spray it on the area of concern. Allow it to sit for five to ten minutes and then rub it into the carpet with a clean cloth.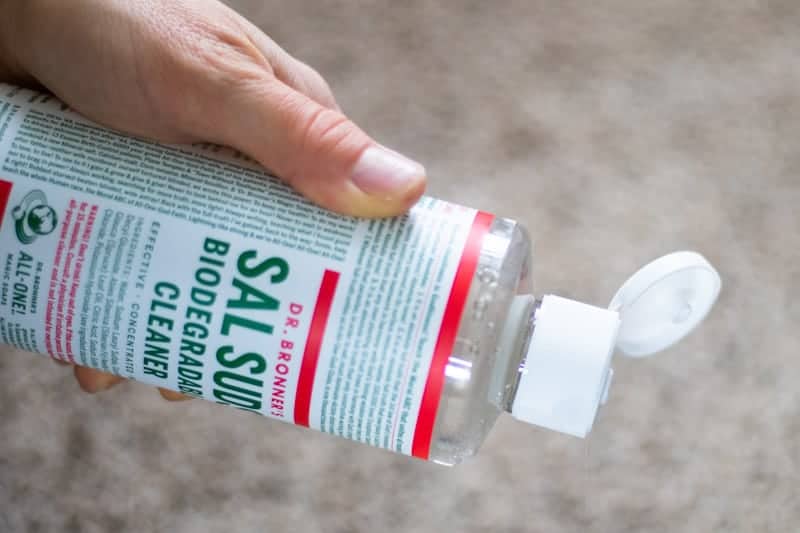 STEP TWO: Sprinkle the carpet with baking soda. If using essential oils, add the essential oils to the baking soda before sprinkling it on the carpet. I personally like to add about 10 drops of lavender essential oil to every 1/2 cup of baking soda that I use.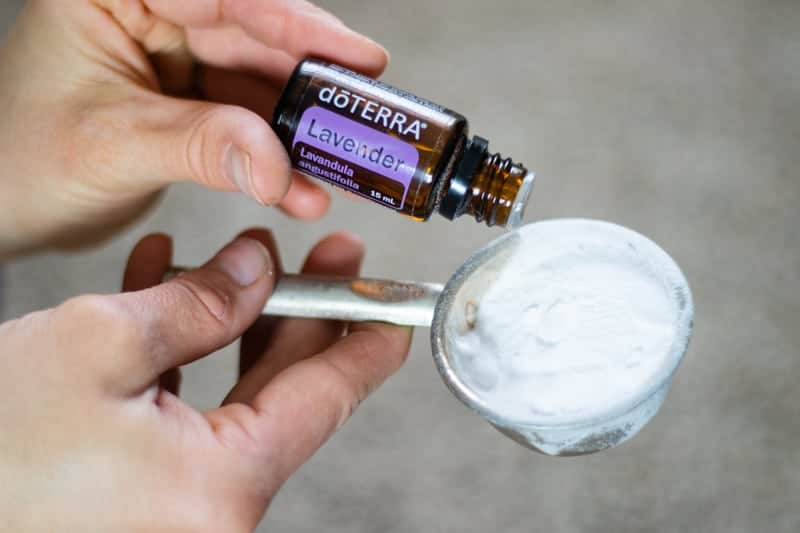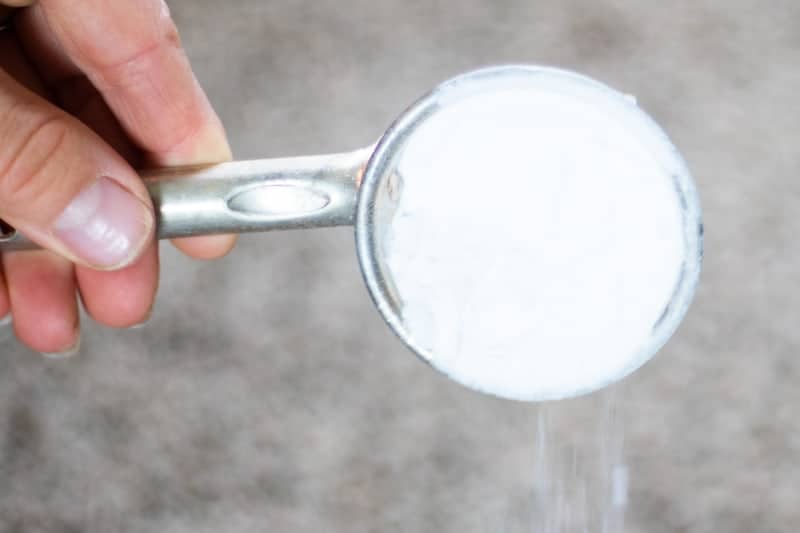 STEP THREE: Make a spray bottle with half vinegar and half water. Spray the mixture on the baking soda. Let the two sit together on the spot. After five to ten minutes, work the mixture into the carpet with a clean cloth.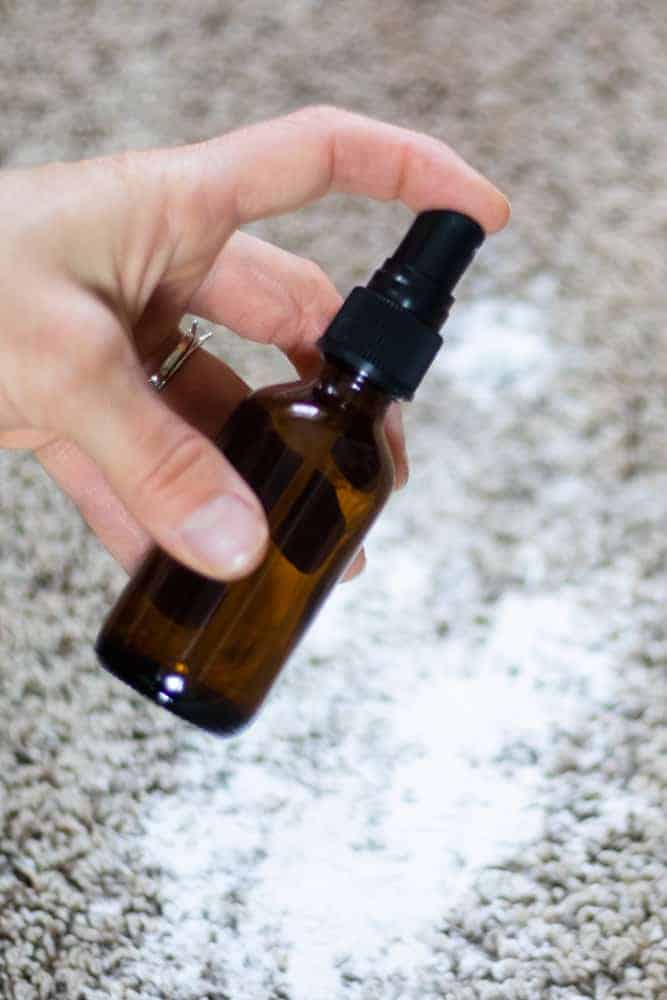 STEP FOUR: Wipe the carpet clean as best as you can with a cloth and then go over it with a vacuum. If needed, repeat the process a second time.
HOW TO USE HOMEMADE CARPET CLEANER
This homemade carpet cleaner can be used on the area of concern just as a spot treatment. If you need to refresh an entire room, you can do that too. For an entire room, skip the first step of using sals sud. Sal's sud is really good as a powerful stain remover and is very concentrated. Be sure not to use too much!
Lightly sprinkle baking soda, mixed with lavender essential oil if using, all over the room. Spray the baking soda with the vinegar and water mixture. Be sure not to overspray; you just want it damp.
Let the mixture sit for about ten minutes and then vacuum the room. This is a great way to clean, freshen, and to deodorize the carpet. Great for spring cleaning!
HOMEMADE CARPET CLEANING SOLUTION
You can make a homemade carpet cleaning solution if you are using a carpet cleaning machine.
INGREDIENTS
1/4 cup vinegar
1 tablespoon hydrogen peroxide
1 teaspoon castile soap
10 drops lavender essential oils (optional)
warm water
INSTRUCTIONS
Add the ingredients (everything but the water) to the bottom of the carpet cleaner.
Top off with warm water.
Use as directed.
NOTES: It is always suggested to test a small area of carpet before doing a large area. I suggest doing this in a corner or in a closet, if possible.
More cleaning recipes to try: