Homemade granite countertop cleaner is so easy to make, safe on natural stone, and works great! This is the best homemade granite cleaner and will help keep your countertops clean and shining. If you have granite in your home, you have to try this 3-ingredient all-natural cleaning spray.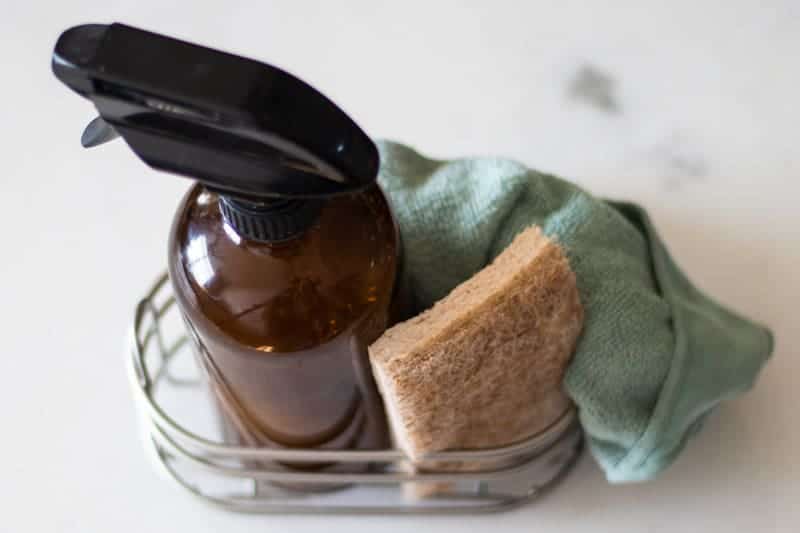 HOMEMADE GRANITE CLEANER
Homemade granite cleaner is made with ingredients safe to use on all-natural stone countertops, and it is so easy to whip up. You can even add essential oils for a fresh scent and extra shine.
Making homemade cleaning products is so simple and will save you a lot of time and money. Plus, you can ditch the mask because this homemade countertop cleaner is made with all-natural ingredients.
I have shared my DIY all-purpose spray, and even though I absolutely love it and use it for everything, it isn't safe for granite or other natural stones because it contains vinegar. This recipe is for anyone that has granite countertops in their homes and still wants a natural option.

WHAT CLEANERS ARE SAFE FOR GRANITE?
When cleaning granite and other natural stone, there are a few ingredients you will want to avoid. Anything with ammonia, vinegar, or bleach could cause damage to granite, marble, and other natural stones if used often.
Overusing harsh chemicals on natural stone can cause it to become dull and break down the sealant.
You will also want to avoid acidic cleaners that contain lemon or lime. However, it is ok to use lemon or lime essential oil because they do not contain citric acid. In fact, lemon is a great option as it is a very cleansing essential oil and can add shine.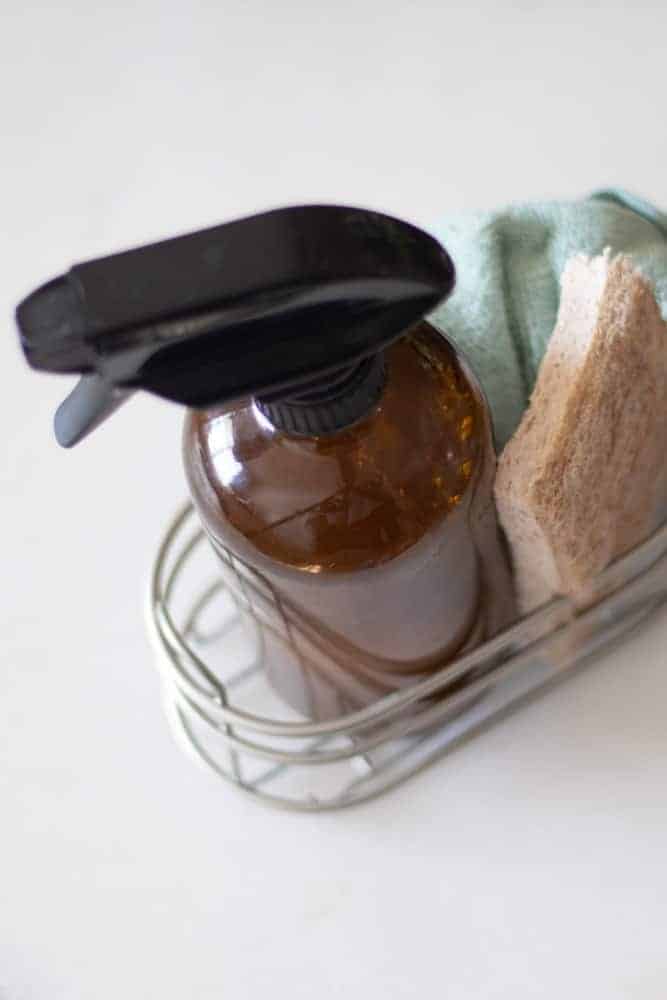 HOMEMADE CLEANING PRODUCTS FOR GRANITE
When making a homemade cleaner for granite, you can use rubbing alcohol, essential oils, and castile soap. All of these ingredients are safe for cleaning granite and will do the job!
This post contains affiliate links, which means I make a small commission at no extra cost to you. Get my full disclosure HERE.
RUBBING ALCOHOL
Rubbing alcohol or Isopropyl alcohol, especially ones that contain between 60% and 90% alcohol, are the best for cleaning. It works well at disinfecting the surface as well as cutting grease.
Mixing rubbing alcohol and water together in a spray bottle works well as a natural disinfectant. Add in a little essential oil for more cleaning properties and a fresh scent, and it will work well for killing germs.
Even though the environmental working group (EWG) gives isopropyl alcohol a B for safety, it does have a very strong scent and shouldn't be breathed in for long periods of time. Take caution when using this spray.
ESSENTIAL OILS
I love adding pure essential oils to my cleaners! Not only do they add cleansing and purifying properties, but it also adds that fresh, clean scent you are used to.
Citrus oils like lemon, wild orange, and lime are my go-to oils for cleaning. You can also use tea tree, lavender, or rosemary. Learn more about cleaning with essential oils here or here.
As I said earlier, it is OK to use citrus oils on granite countertops because they do not contain citric acid. Be sure to avoid lemon or lime juice as they can harm granite and other natural stones.
CASTILE SOAP
I love castile soap, and it is one of those things that I use for almost everything! You will find it in my foaming hand soap, DIY shower scrub, and my jewelry cleaner. Thankfully, it is very concentrated, and a little goes a long way. Even though I use it so often, I rarely ever have to buy it! Making your own cleaners will save you money!
It is a very gentle soap that is safe on skin, surfaces, and the environment. My favorite is Dr. Bronner's unscented soap. I like to use unscented soap, so I can use my own essential oils to create the scent I want.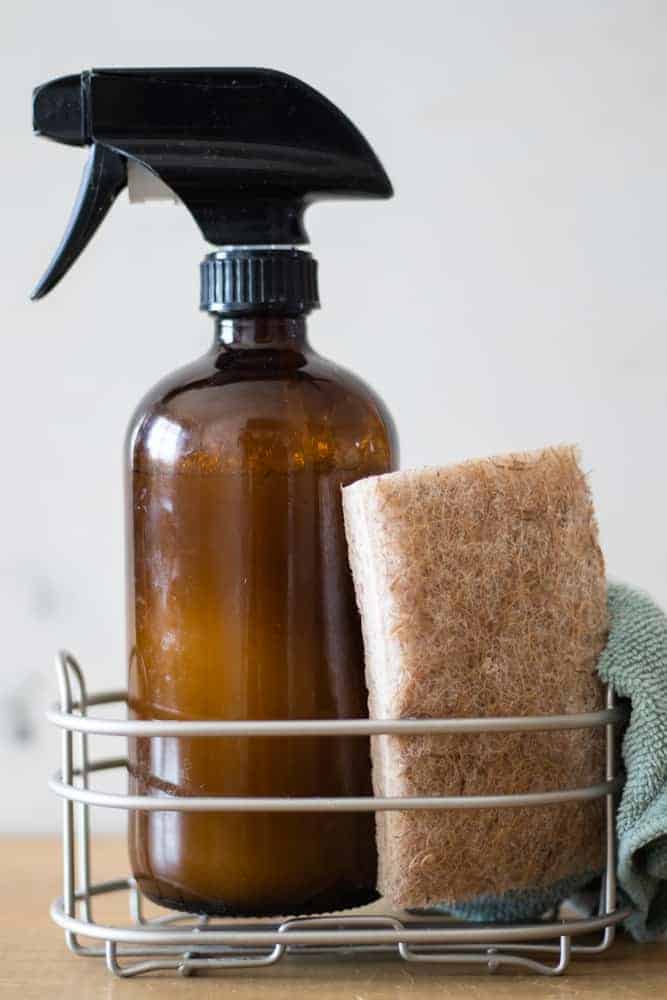 BEST HOMEMADE GRANITE CLEANER
The best homemade granite cleaner is made with rubbing alcohol, essential oils, castile soap, and water. It will leave your countertops germ-free and sparkling. And the best part, it is safe for your natural stone countertops.
You can even use this DIY cleaner on floors, vanities, mirrors, tables, and chairs. It really is all-purpose.
INGREDIENTS
INSTRUCTIONS
Pour the water, rubbing alcohol, and castile soap into a glass spray bottle.
Drop in the essential oils.
Put the lid on and secure. Shake well before each use.
HOW DO YOU CLEAN AND SHINE GRANITE COUNTERTOPS?
Shake your spray bottle before each use to make sure that the ingredients are well combined, and the essential oils are mixed into the solution.
Spray generously over the surface you want to clean. Wipe clean with a warm washcloth. Dry with a microfiber cloth for extra shine and to remove any streaks.
SHELF LIFE FOR HOMEMADE CLEANERS
This cleaner will last for a year when stored in a glass spray bottle with an airtight lid. It is best to store in a dark-colored glass spray bottle or keep it out of direct sunlight so the essential oils won't lose any potency.
More of My Favorite Cleaning Products
Homemade Granite Countertop Cleaner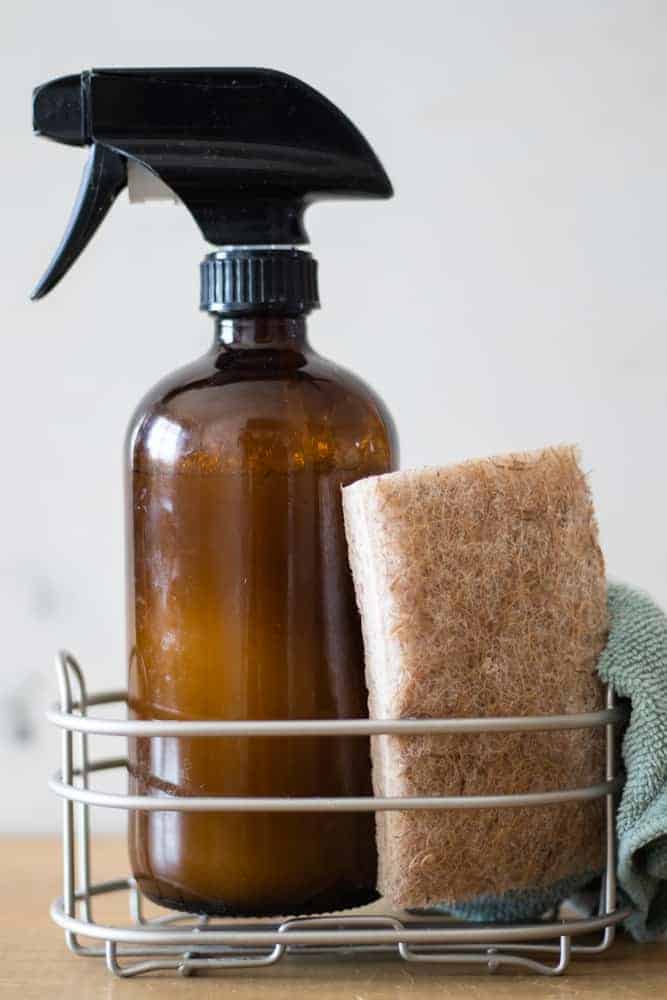 Additional Time
2 minutes
Materials
1 1/2 cup water
1/4 cup rubbing alcohol 
1 tsp Castile soap 
5 drops lemon essential oil 
5 drops wild orange essential oil
Instructions
Pour the water, rubbing alcohol, and castile soap into a glass spray bottle.

Add in the essential oils.

Put the lid on and secure. Shake well before each use.