Kids Diffuser Blends are perfect for adding a little scent to your home. These scented oils blend well in any type of diffuser and are safe for all ages.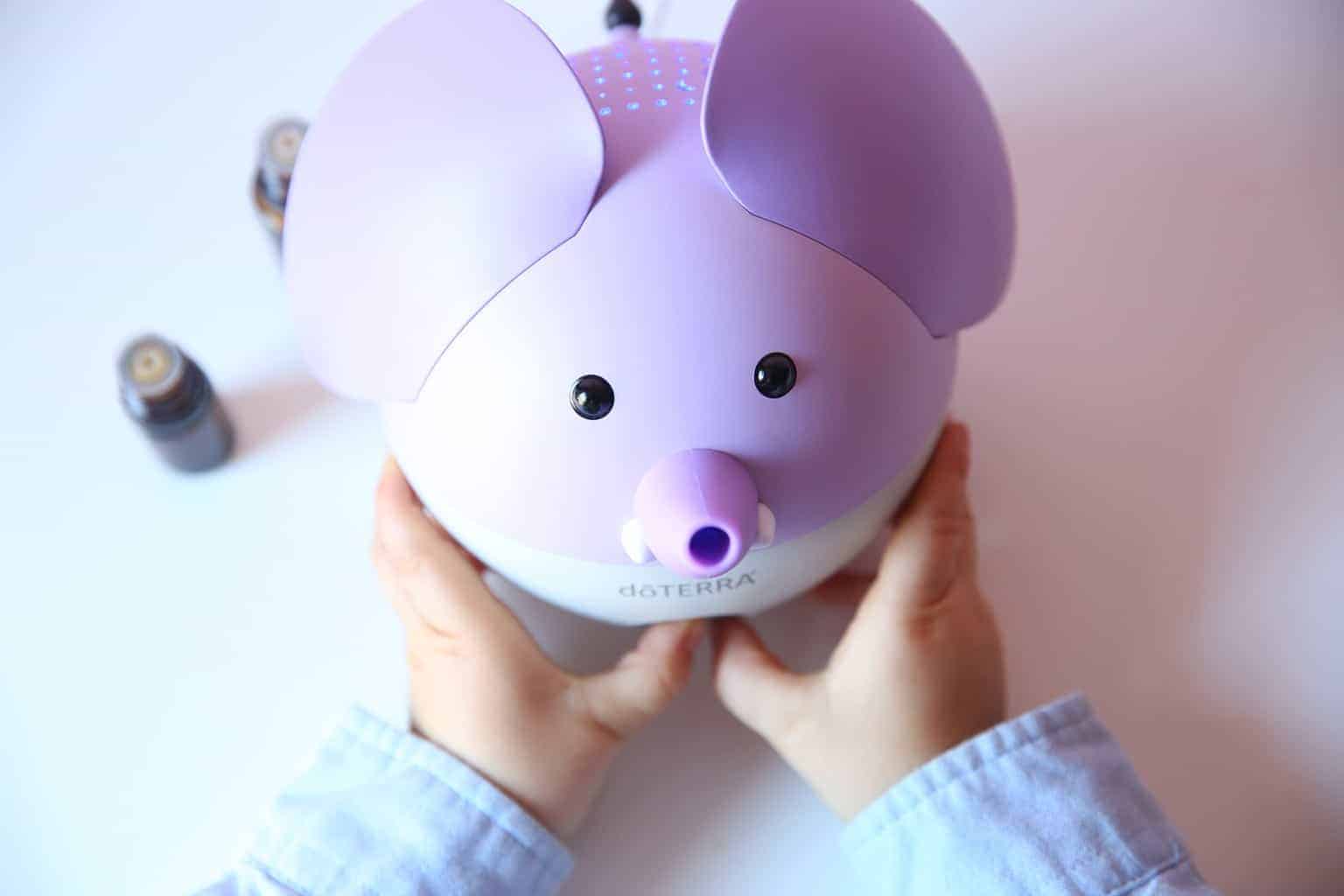 This post was published in December 2018 and updated in September 2022
Kids' diffuser blends come in many different scents, so there's something for everyone!
And depending on who you ask in our home, the diffuser is as important as the fragrance coming out of the machine!
With the wide variety of diffuser designs and lighting options, filling and diffusing oils will quickly become the highlight of your day.
Here are my favorite kids' diffuser blends that are easy to make and smell great.
Essential oil diffuser blends for kids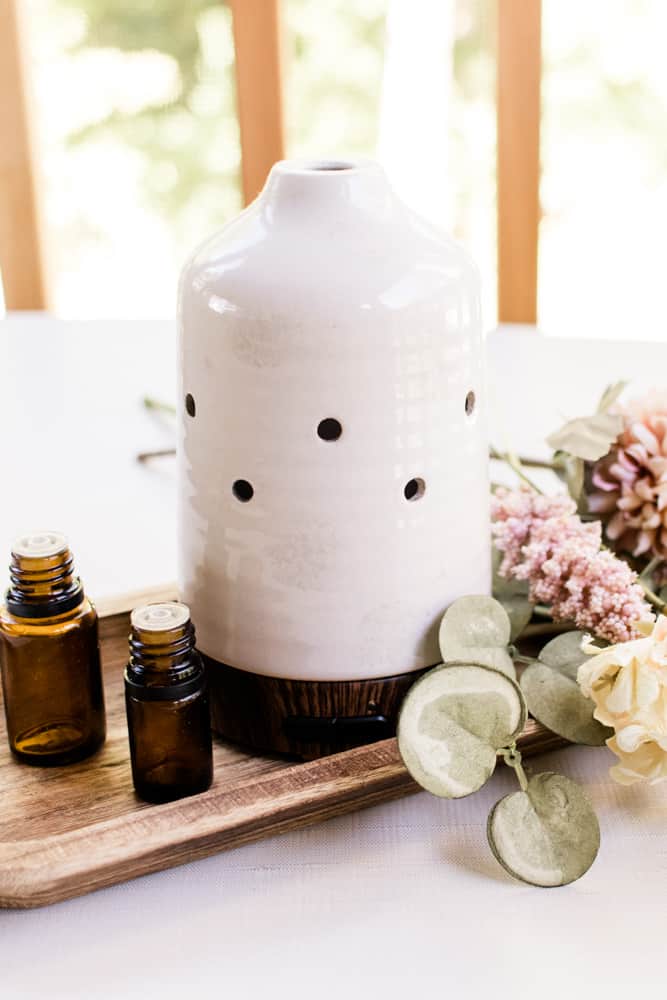 This post contains affiliate links, which means I make a small commission at no extra cost to you. Get my full disclosure HERE.
Sleep tight
Diffuse this oil blend for sleep to promote a restful, relaxing night. This is one of my favorite diffuser blends!
Homework time brain booster
After a long day of school, sometimes it can be hard to get children to sit down and focus on homework. Use this homework diffuser blend to help them concentrate on their daily assignments.
These oils can stimulate the brain, aid memory, and help the child stay on task.
Happy time air purifier
Use this air-purifying diffuser blend in the cooler months as houses get stuffy with the lack of airflow.
Tummy trouble
Calm your child's stomach whether they are dealing with tummy discomfort or nausea from motion sickness
Make this blend into wax air freshener melts and hang them in the car in time for your next road trip.
Cheerful energizer
Citrus and floral essential oils are excellent for mood support and positive feelings. Diffuse this simple essential oil diffuser blend to get the day started off right.
Emotion control
Wild orange and lavender pair well together to help soothe emotions and calm the nervous system. Diffuse this blend before bed, church, or school. Plus, these two smell amazing together!
Get the oils for any of these blends wholesale by signing up here.
How to use the diffuser
Add water to the diffuser fill line.
Add essential oils from one of the blends above.
Secure lid and set timer.
Or learn everything you need to know about diffusers here.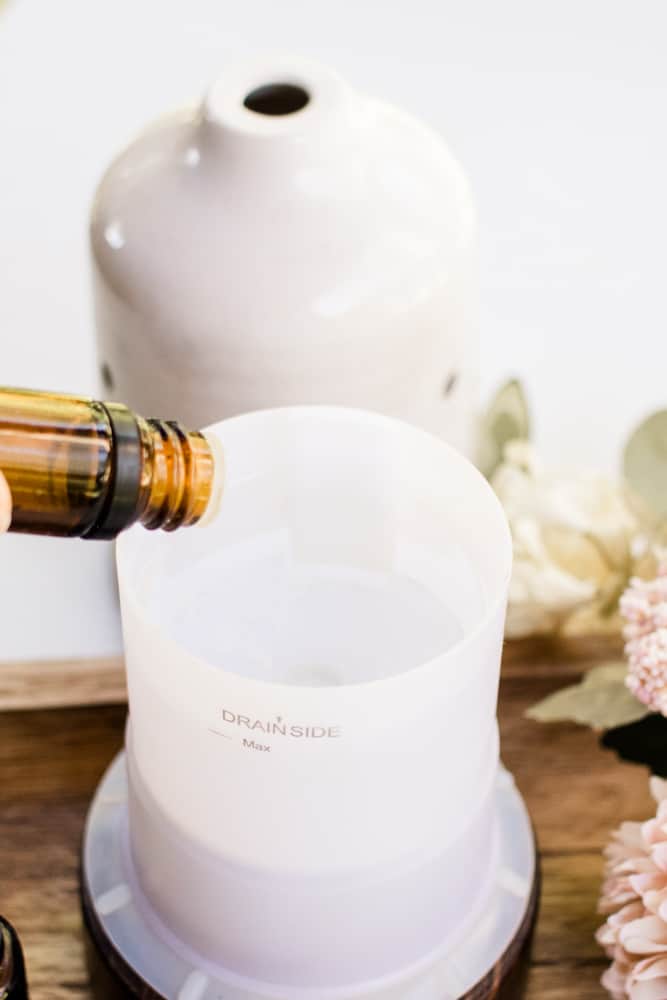 Diluting properly
Most diffusers need 4-6 drops of essential oils for a bedroom. Larger diffusers require more oils.
Use this chart to determine the number of drops to add to your diffuser.
Always start with less, and you can add more if needed.
200mL: 3-5 drops
300mL: 6-10 drops
400mL: 11-15 drops
500mL: 16-20 drops
Choosing the right diffuser
If you are anything like me, choosing a diffuser from the countless options can be overwhelming.
I try not to overthink it and follow a few simple guidelines:
Stick with a cool mist diffuser. Heat diffusers greatly diminish the therapeutic benefits of the oils.
Reservoir size. If you don't know what size to get, go with a 300mL diffuser.
Coverage time. Does it have a timer? How long will it run? Will it auto shut off when the reservoir runs dry?
Here are a few of my favorite diffusers:
Prolong the life of your diffuser by cleaning regularly. Check out this post on how to clean a diffuser.
Essential oil safety
Diffusing oils safely around kids or babies can be very safe if proper guidelines are followed.
Be mindful of the quality and sourcing of the brand you are using. For example, using organic, properly sourced oils with no added fillers can be very safe to use around your kiddos.
Always properly dilute oils, as they are very concentrated. You can learn more about diluting oils here.
Keep diffusers out of reach from little hands to prevent them from accidentally tipping and spilling the contents.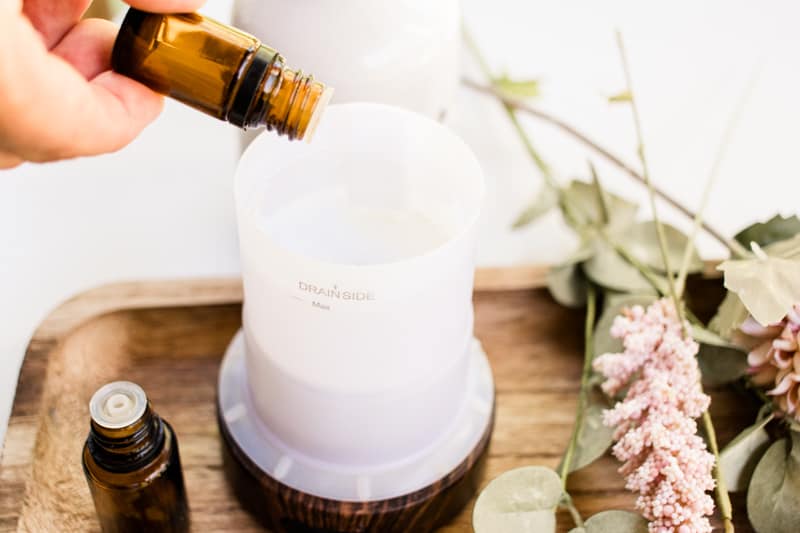 Key Takeaways
I hope you enjoyed these simple essential oil diffuser blends for kids.
Diffusing oils are so much more than a fresh, clean aroma! So whether your child needs to focus on homework, improve emotions, or simply needs help falling asleep, there is a blend here for you.
Do you diffuse essential oils for your kids? Which oil blends are your favorite? Let me know in the comments below!
Check out one of these posts next for more great oil ideas.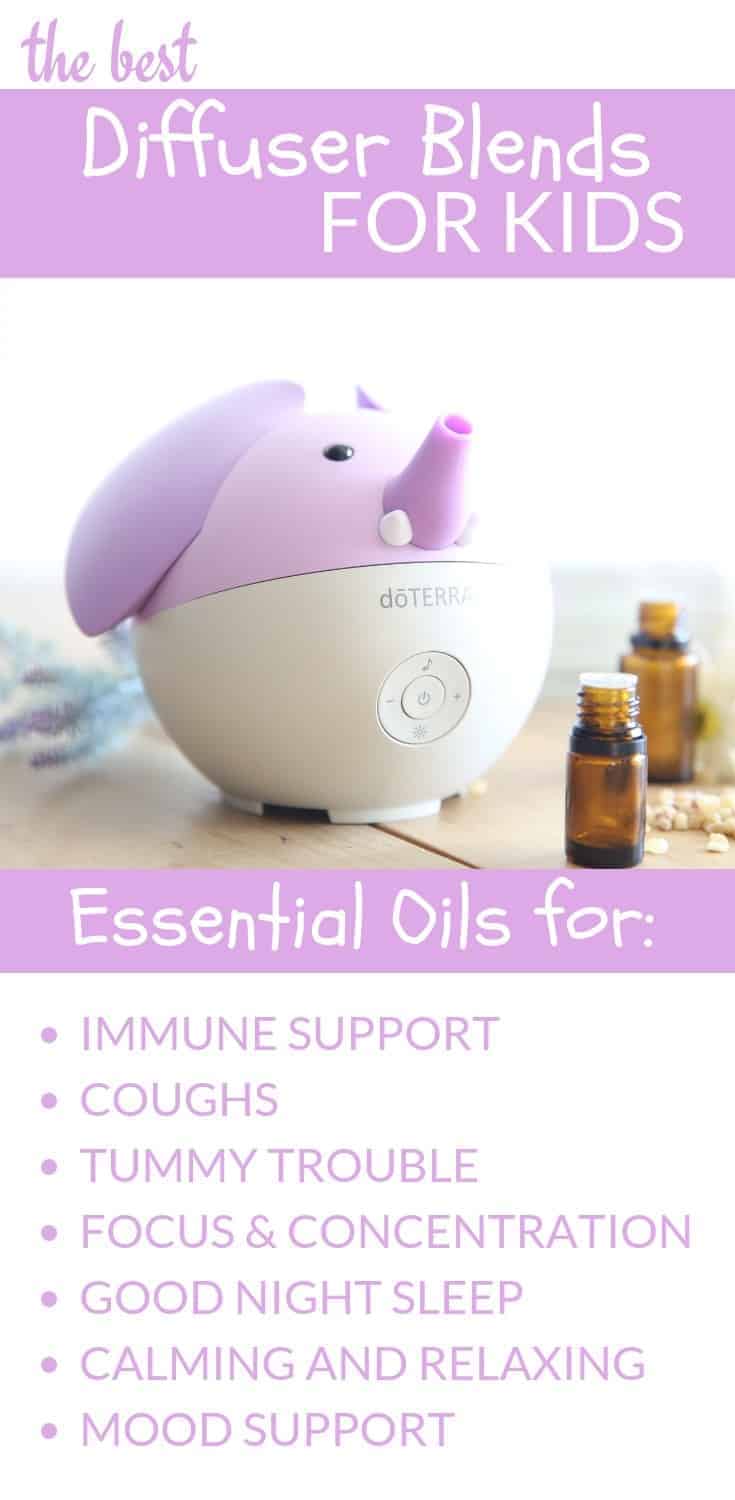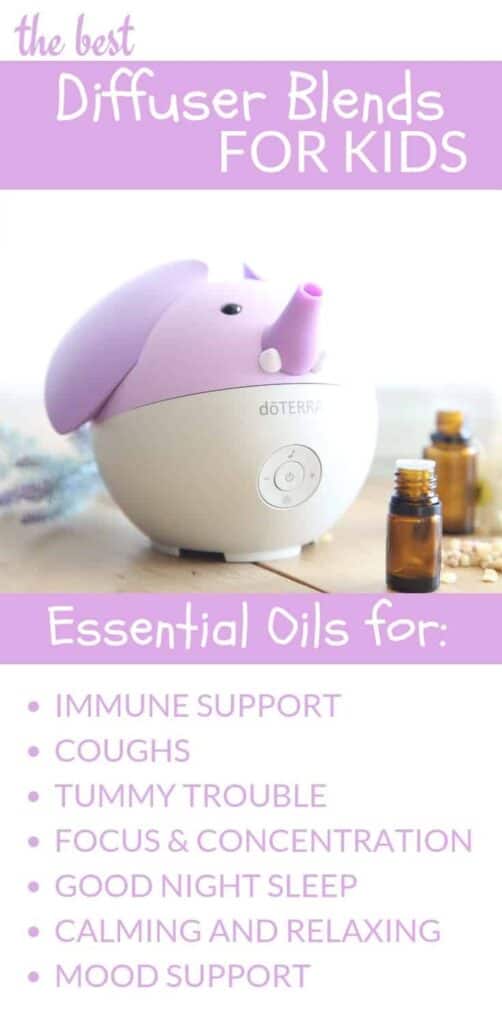 Yield: 300mL
Diffuser Blends for Kids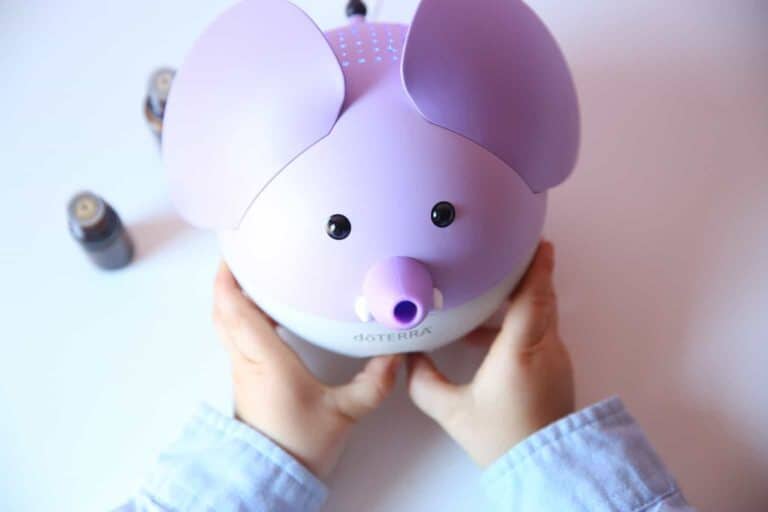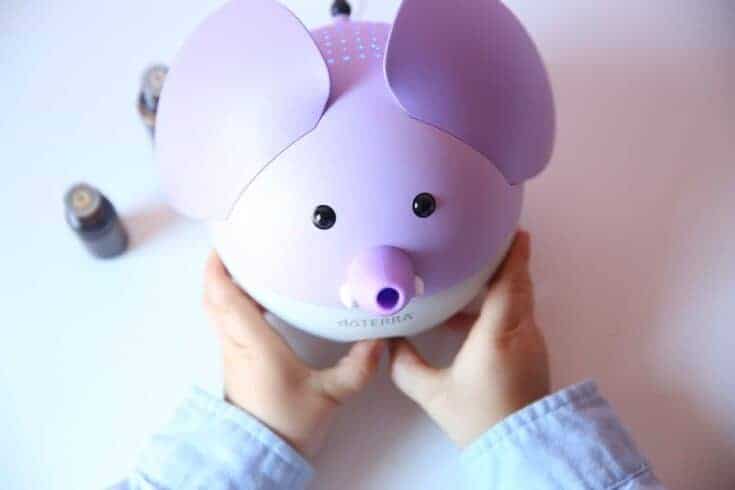 Check out my top 6 diffuser blends for kids!
Materials
Sleep tight blend
3 drops of lavender essential oil
2 drops of copaiba
1 drop of roman chamomile
homework brain booster blend
3 drops of peppermint
2 drops of rosemary
1 drop of frankincense
happy time purifier blend
2 drops of wild orange
2 drops of frankincense
1 drop of clove
tummy trouble blend
3 drops of ginger
2 drops of fennel
1 drop of peppermint
energizer blend
2 drops of wild orange
2 drops of bergamot
1 drop of lavender
1 drop of lemon
emotion control blend
3 drops of wild orange
3 drops of lavender
Tools
Instructions
Add water to the diffuser fill line.
Add in essential oils from one of the blends above.
Secure lid and set timer.