Essential oils can be very effective at changing the mood when used aromatically; below I share 5 essential oil diffuser blends for mood support.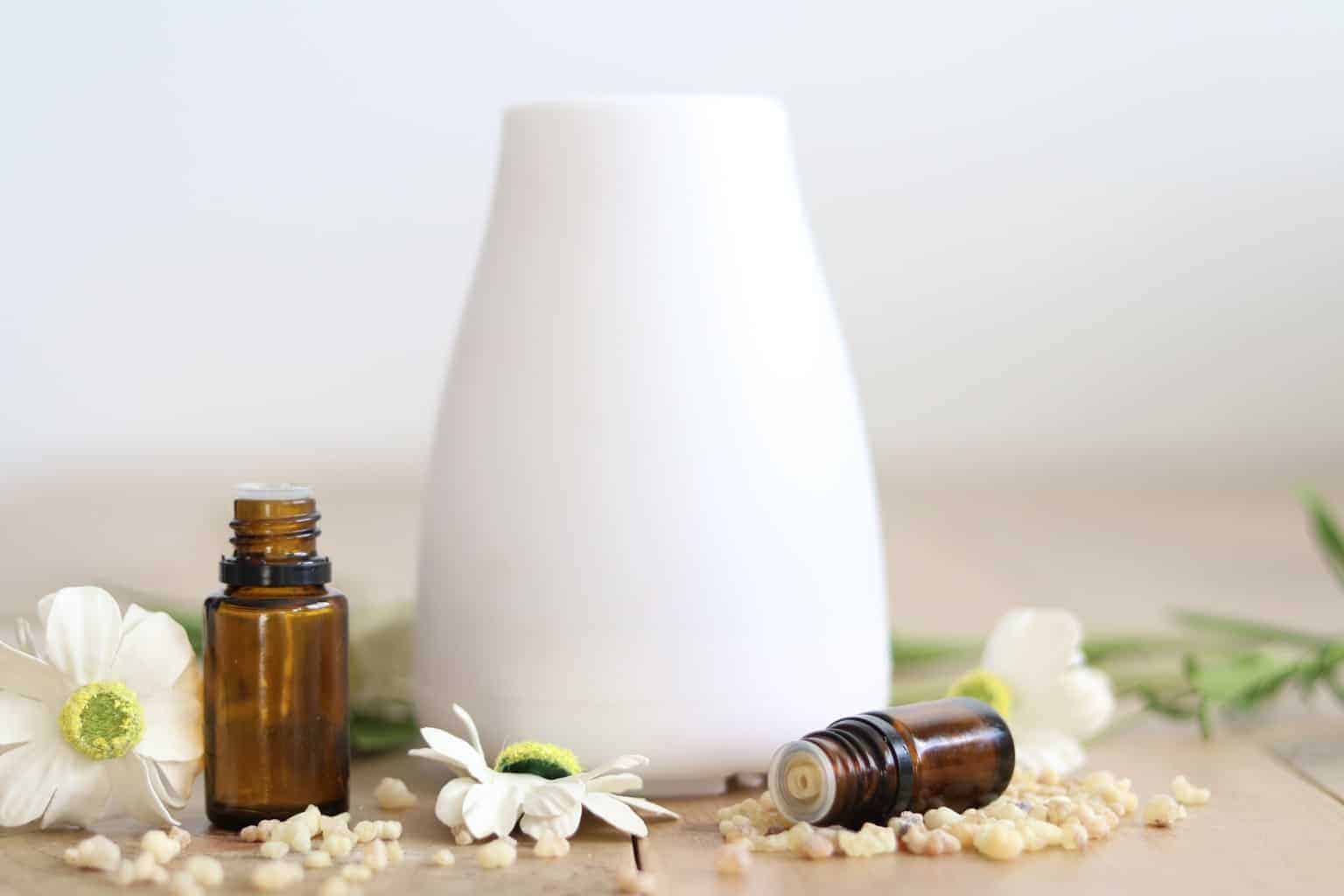 If you come to my house, 99% of the time you will find a diffuser going, if not 5 diffusers going! I love the fresh aroma of citrus oils all the way to the warm, spicy scent of cinnamon in the air. Not only do essential oils make a home smell nice, but they also can be used to support the mood.
Certain essential oils can help brighten one's mood, uplift one's spirit, and even promote natural energy! I am excited to share my favorite 5 essential oil diffuser blends for mood support.
HOW DO ESSENTIAL OILS WORK WITH THE BRAIN?
The science behind how essential oils work aromatically is fascinating. I'll be honest; when I first started using essential oils, I thought diffusers were mainly for scent and a good replacer for candles. The more I researched, the more I learned how amazing they could be for immune support, respiratory issues, and mood support.
Your sense of smell, also known as the olfactory system, is part of the sensory system that allows you to smell. As you inhale molecules out of the air, it goes through the nasal cavity and directly connects with the limbic system. The limbic system is known as the emotional brain. It is the part of the brain that affects emotions, stimulation, memory, and stress levels. It also plays a role in registering pleasure, pain, fear, and comfort. Has a certain smell ever brought back a memory? This is why!
Essential oil diffusers disperse tiny molecules of essential oils into the air. As you breathe the air, the oils are easily absorbed by the body. Every essential oil has a different chemical makeup, and each one has a particular thing it can do for your body and mood. When diffusing essential oils, you can use one oil or a blend of oils.
5 ESSENTIAL OIL DIFFUSER BLENDS FOR MOOD SUPPORT
HAPPY/UPLIFTING/BRIGHT
When I think about essential oils for mood support, my first thought is citrus oils. Citrus oils help cells return to their normal state and interrupt unhealthy stress responses. They naturally uplift the mood, give energy, and promote feelings of positivity.
When diffusing essential oils to make the mood happy, uplifted, and bright, you can choose a few of your favorite citrus essential oils!
3 drops lemon essential oil
2 drops lime essential oil
1 drop wild orange essential oil
STRESS/ANXIOUSNESS/OVERWHELMED
Because the limbic system is the part of the brain that controls stress levels and stimulation, inhaling essential oils can be very effective for relieving stress and anxiousness.
There are several essential oils blends that can be helpful for stress and anxious feelings, but again just choose a few of your favorites. Change it up and see what works best for you. Learn more about essential oils for stress and anxiousness here.
3 drops lavender essential oil
2 drops copaiba essential oil
1 drop bergamot essential oil
SAD/DEPRESSED/LONELINESS
Feelings of sadness can come about for many different reasons. A tragedy, feeling inadequate, or a sudden change. Sadness and depressed feelings can cause fatigue, loss of appetite, and loneliness. Essential oils can be inhaled to help combat these feelings.
3 drops ylang ylang essential oil
2 drops frankincense essential oil
1 drop Roman chamomile essential oil
ANGRY/MAD/FRUSTRATED
Feelings of anger or being mad can be caused by something, not going the way you plan, or frustration. Living in a busy world with so much stimulation, it can be easy for us to have these negative feelings. When your body is feeling tense and full of rage, stop, breathe, and inhale a calming essential oil that can soothe anger.
Fir essential oils, citrus essential oils, and floral oils can have great effects on the brain to control anger outbursts.
3 drops siberian fir essential oil
2 drops lavender essential oil
1 drop bergamot essential oil
NERVOUS/WORRIED/FEAR
Ahhh, this is a big one for me! Maybe it's a mom thing because I don't remember being like this before having children? Being a mom can be scary and cause you to worry over the silliest of things. I have spent many nights on google, worrying about something that ended up being nothing. Using essential oils that can promote feelings of calmness and work to calm the nervous system can be very helpful.
3 drops vetiver essential oil
2 drops lavender essential oil
1 drop rose essential oil
OTHER WAYS TO USE ESSENTIAL OILS FOR EMOTIONS
Though aromatherapy can be very effective for emotions, mood support, and stimulation, you can also use these blends topically.
Apply oils across the forehead, along the sides of the neck, and behind the ears to assist the mood.
You can also make a roller bottle by adding 15-20 of essential oils to a 10mL roller bottle and topping it off with a carrier oil.
Which blend are you most excited to try? Have you ever used essential oils for mood support? What worked best for you?
PIN IT FOR LATER
Follow along with our oily house:
Thanks for stopping by our oily house!