Learn how to clean diffusers effectively and safely. Frequently cleaning a diffuser is critical for maintaining and preserving the life of the essential oil diffuser.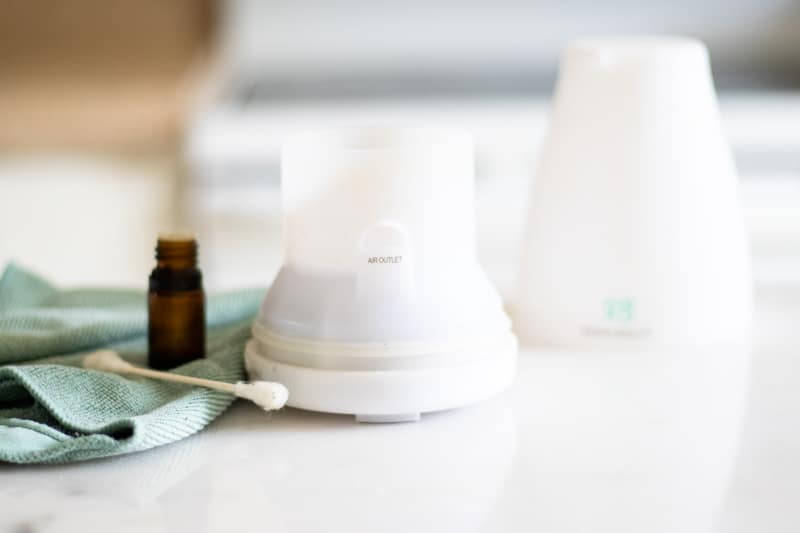 Diffuser cleaning is by no means a big project, nor should it be put off. In fact, it only takes a few minutes every couple of weeks to ensure your diffuser is running as it should.
Keeping your diffuser clean is crucial, not only for preserving the lifespan of the diffuser but also ensures you are not diffusing mold or other harmful particles into the air.
As a result, it is important to know how to clean a diffuser in the proper way to prevent damage and buildup.
Below, I'll cover how to clean the most popular diffuser types without causing damage to the fragile machines.
If you have a reed diffuser, learn more about those here.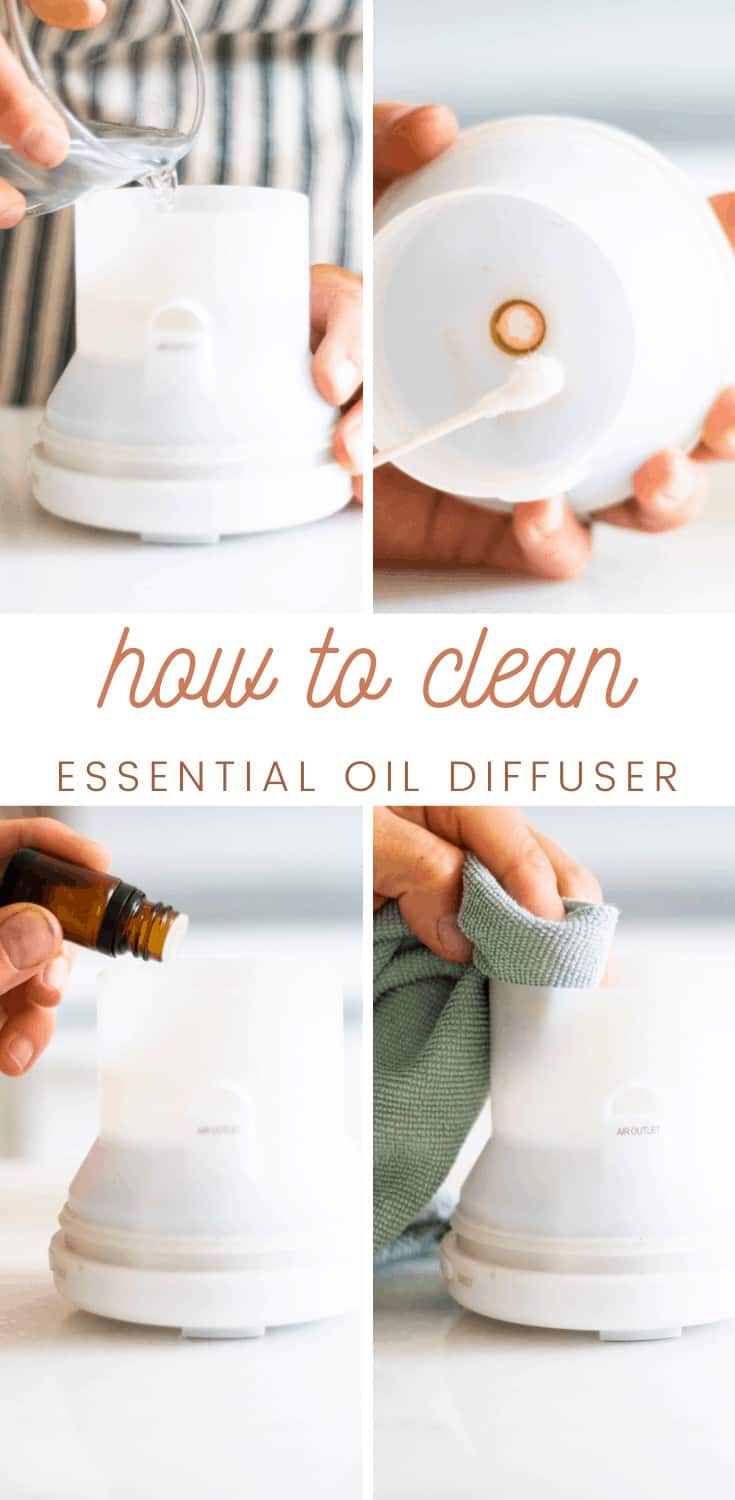 This post contains affiliate links, which means I make a small commission at no extra cost to you. Get my full disclosure HERE.
How to clean diffusers
As with all electronics, before performing any service to your diffuser, it must be turned off and unplugged.
NEBULIZER DIFFUSER
This type of diffuser is entirely safe and requires no heat or water. It uses pressurized air to release the essential oils into the air. While nebulizer diffusers are quiet, easy to use, and mess-free, they are not too common.
Cleaning a nebulizing diffuser is a pretty straightforward process:
Remove the glass reservoir from the wood base.
Carefully wipe down with a dry towel.
Add a few drops of alcohol into the glass reservoir.
Next, swirl the reservoir around gently until the inside of the reservoir is coated.
Rinse with water and allow to air dry.
ULTRASONIC DIFFUSER
An ultrasonic diffuser uses ultrasonic vibrations to break apart and disperse the essential oils into the air.
Because this type of diffuser uses water to disperse the essential oils into the air, it is often mistaken as a suitable replacement for a humidifier.
While this is the most popular type of diffuser, cleaning ultrasonic diffusers is the most involved of the three diffusers listed here.
How to clean an ultrasonic diffuser:
Fill the diffuser halfway up with water and add 1 tablespoon of white vinegar.
Turn the diffuser on and let it run for 15 minutes or until the mixture runs out. Fifteen minutes is plenty of time, but I usually forget and end up letting it run through.
Drain the diffuser completely.
You can use a q-tip with vinegar on the tip to clean around the edges and any tight nooks of the diffuser.
Rinse the diffuser with clean water and let it air dry.
HEAT DIFFUSER
Heat diffusers use heating elements to evaporate the essential oils gradually. Typically these types of diffusers have a tray to drop the essential oils onto and are placed over a heating element.
This is my least favorite kind of diffuser because when essential oils are heated up, they can lose their aromatherapy benefits.
To clean a heat diffuser:
Remove the tray that holds the essential oils from the heating element.
Wipe clean with a water and vinegar mixture to remove any buildup.
Allow to air dry before placing it back on the heating element.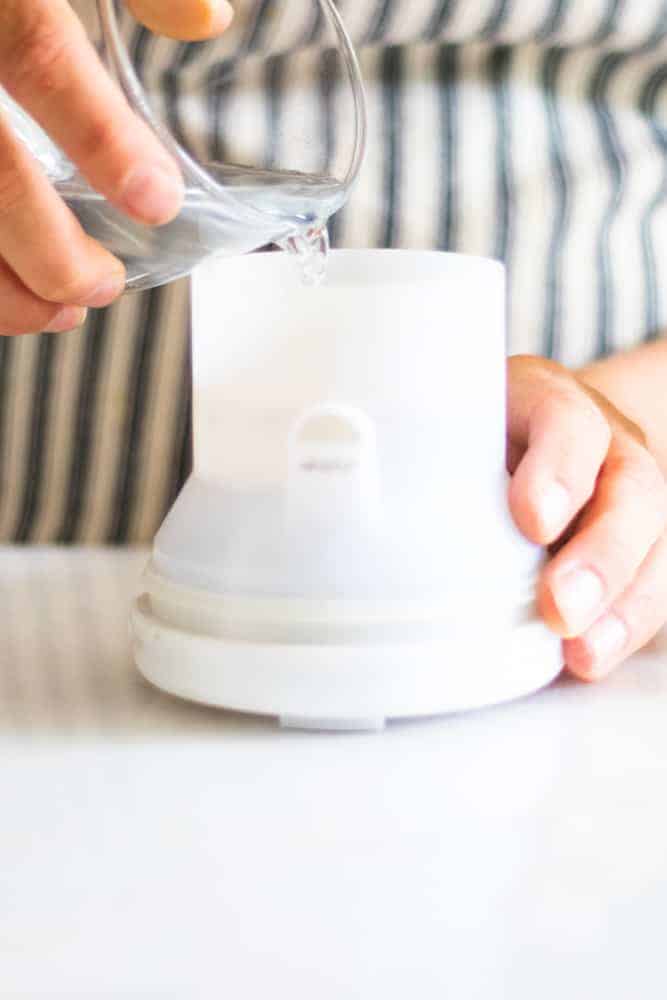 WHY YOU SHOULD CLEAN YOUR DIFFUSER
Cleaning a diffuser will prolong the life, prevent mold and reduce the amount of residue buildup. And since most diffusers require water, it is easy to get mold in the diffuser.
Even after running a complete cycle, there will usually be a little water left in the bottom, which can become murky, moldy, and mildewy.
Some essential oils are very thick, like cedarwood and vetiver, which can cause sticky residue and buildup along the sides and bottom of the diffuser. Left uncleaned, this will reduce the life of the diffuser.
Removing the old water and giving the diffuser a quick clean will ensure that the next time you run it, you are getting the maximum benefits from your oil diffuser.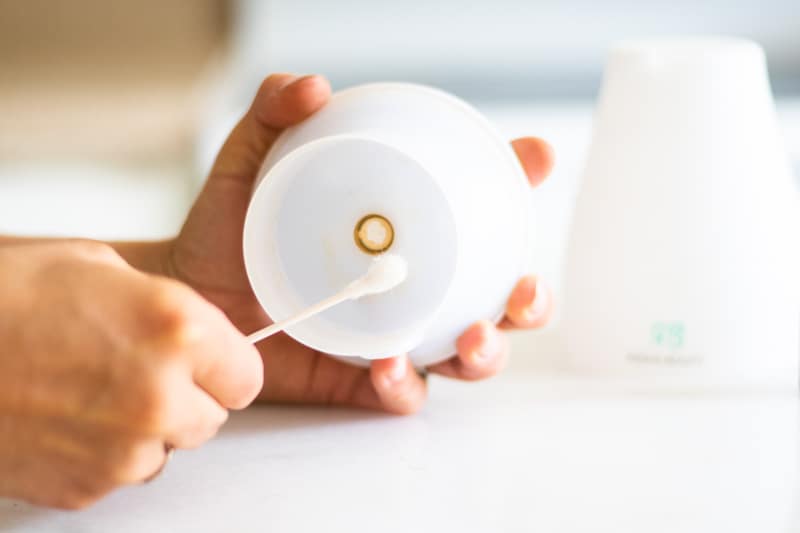 How often should I clean my diffuser?
For daily use, most diffusers would benefit from a weekly cleaning. After each use, I will dump out any leftover water and rinse it clean. Then a more thorough cleaning once a week, or as needed.
How to deep clean a diffuser
While deep cleaning diffusers may be over the top somewhat, it may be necessary for older, neglected diffusers.
You'll need vinegar, lemon essential oil, and a q-tip to clean a diffuser.
Unplug the diffuser and remove any remaining water.
Fill the diffuser to the fill line with a mixture of half water and vinegar.
Add 4-6 drops of lemon essential oil.
Allow the diffuser to run the entire cycle. If you don't like the smell of vinegar, place the diffuser in the bathroom and close the door to prevent it from smelling up the whole house.
When the diffuser run cycle is complete, take a q-tip, dip it in vinegar and clean around the edges and small areas of the diffuser.
Allow it to air dry completely.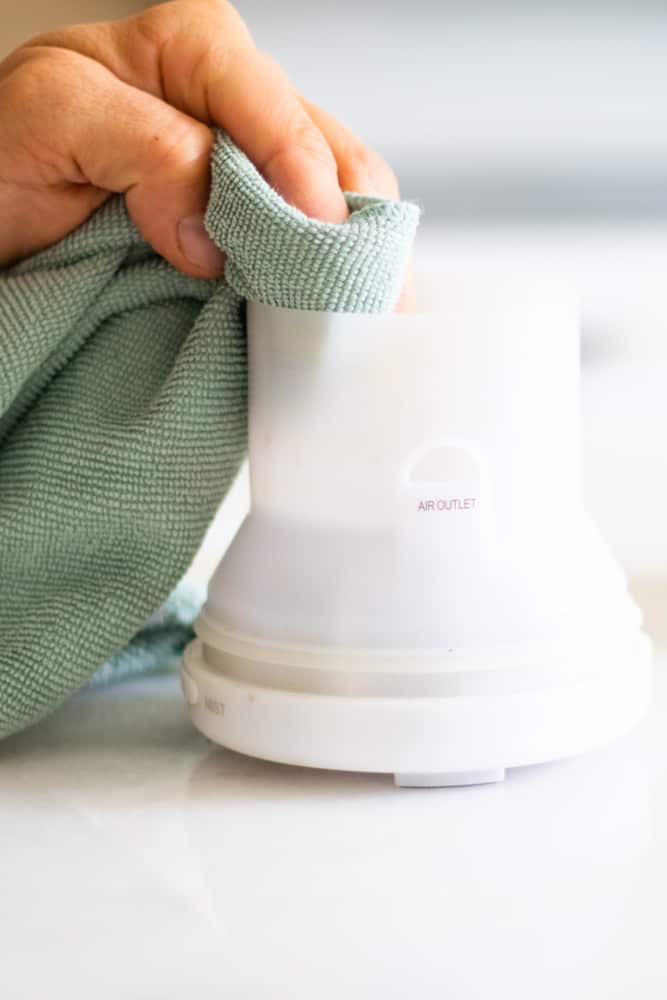 How to clean a diffuser with mold
The most effective natural approach to killing mold is baking soda and vinegar. However, I would not put baking soda into the diffuser or near the ultrasonic plate or heating element.
Combine equal parts vinegar and baking soda in a small bowl, then clean the mold spots with a q-tip dipped in the mixture, carefully avoiding the ultrasonic plates/heating element.
Wipe any remaining mixture out with a clean cloth, then fill the diffuser with a tablespoon of vinegar and the rest of the way with water and run through a full cycle.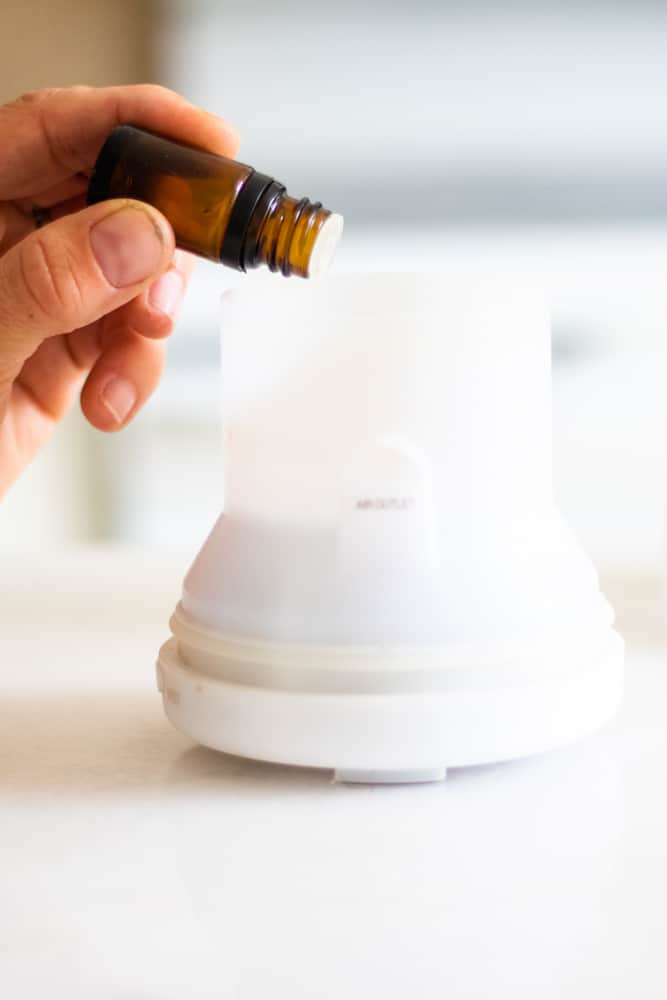 How to clean oil diffuser without vinegar
If you simply cannot stand the smell of vinegar, you can use rubbing alcohol as a substitute for cleaning the diffuser.
Dip a q-tip in rubbing alcohol and gently clean around the inside edges of your diffuser, avoiding the ultrasonic plate or heating element.
Next, add 1-2 drops of lemon essential oil to a damp cloth and wipe the inside of the diffuser clean. Rinse and air dry.
Wrapping up
It is important to clean your diffuser to ensure you are receiving the full benefits of your essential oils and to extend the life of your diffuser.
You should wipe down your diffuser after each use and clean the diffuser once a week.
The best way to clean your diffuser is with vinegar, water, lemon essential oil, and a q-tip.
The type of essential oil diffuser you are using will determine the best method for cleaning it. 
Understand how to use a diffuser for optimal results.
If you don't have a diffuser, get yours HERE.
Now that your diffuser is cleaned and ready, check out these diffuser blends!
How to Clean a Diffuser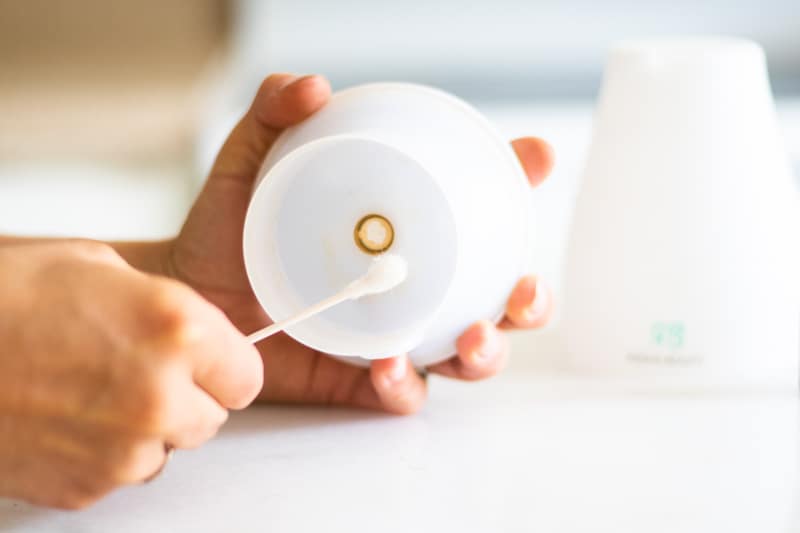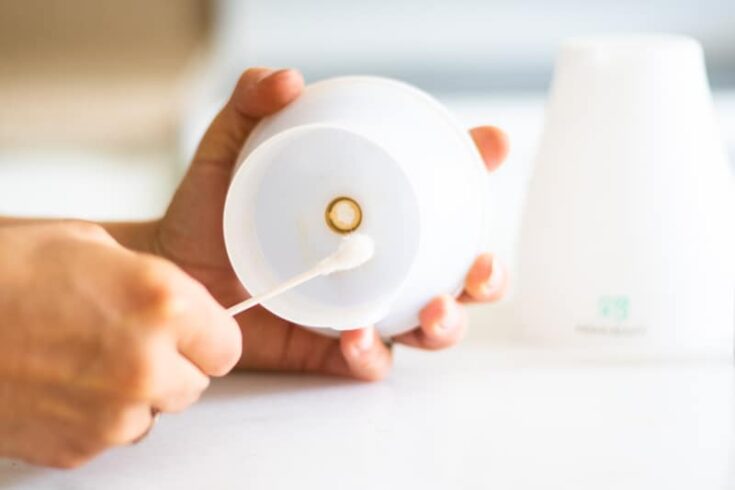 Keeping the diffuser clean is essential for a long-lasting, optimal-performing diffuser.
Instructions
Fill the diffuser halfway with water and add 1 tablespoon of vinegar.
Run diffuser for 15 minutes.
Drain the diffuser completely, then use a q-tip with vinegar to clean the nooks and crannies.
Rinse clean and air dry.