Homemade dish soap bars are made with simple ingredients and can effectively cut grease and grime. By using an organic soap base, no special tools are required for this simple 2 ingredient project.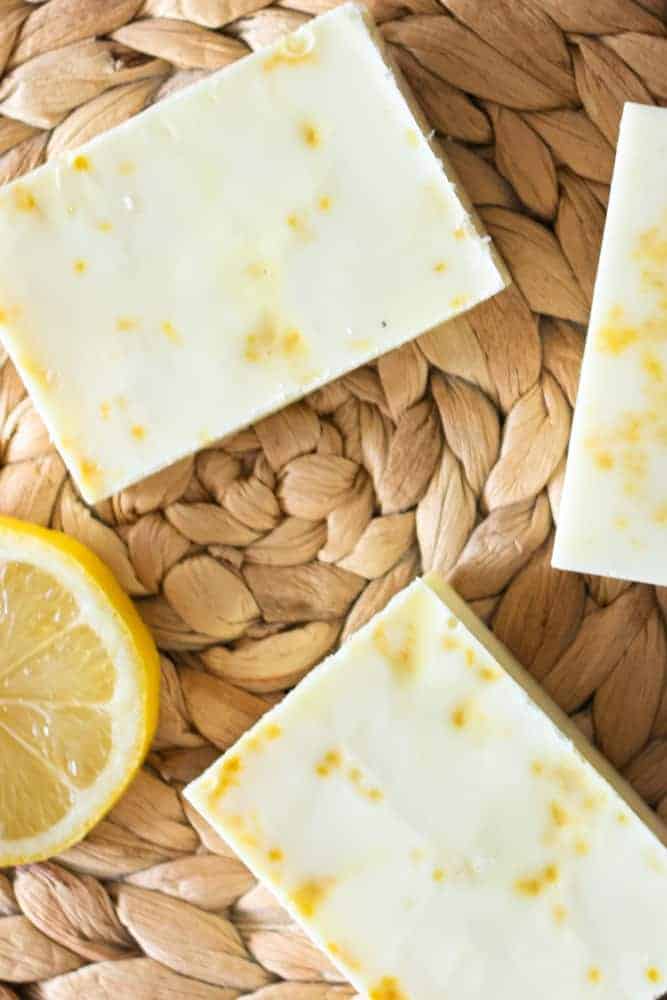 ALL-NATURAL DISH SOAP BAR
I find myself standing at the kitchen sink with my hands in warm soapy water far more often than I would like, ha! But seriously, doing dishes is that job that literally never ends, kind of like laundry. As soon as I catch up, it is time for the next meal.
I choose to do dishes the old fashion way, not because I think there is anything wrong with dishwashers. In fact, I even make my own dishwasher detergent; I just find handwashing easier. Because this is a constant job, having an all-natural dish soap that works is a must!
I have already shared my liquid dish soap recipe, and today I am going to show you how to make dish soap bars.
PIN IT FOR LATER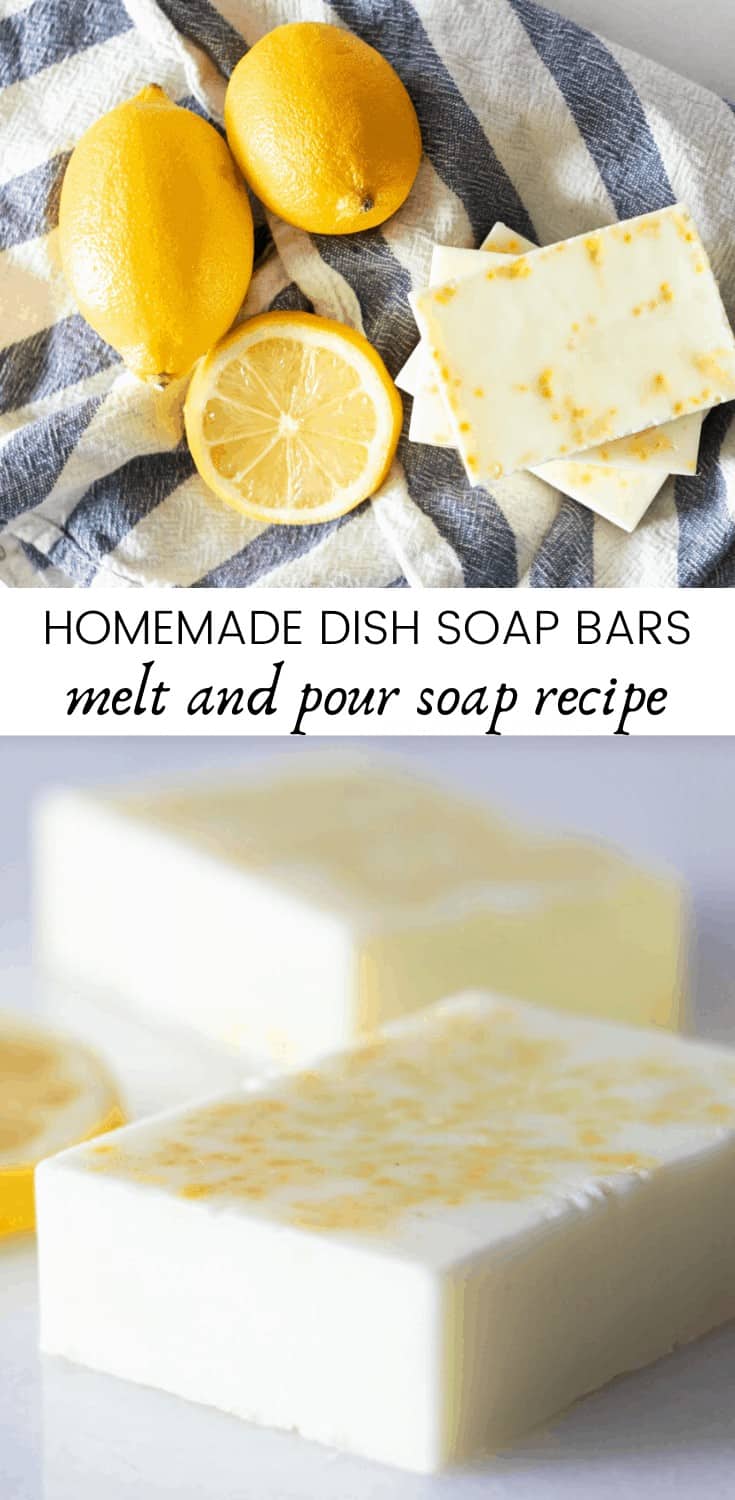 HOMEMADE DISH SOAP BARS
Buying dish soap from the store can be expensive and come packaged with extra plastic and toxins. Making your own dish soap will eliminate waste and make your home a little healthier.
Using a natural dish soap is so important because this is what you are using to clean the plates and utensils you put food on. I know this sounds obvious, but have you ever thought about that when you read the back of a dish soap label?
It is important to stay away from synthetics and fragrances when making dish soap and sticking to more natural options such as essential oils.
HOW TO MAKE ALL-NATURAL DISH SOAP BARS
I have been on a homemade "bar kick," and I am still going strong! 😉 Recently I shared how to make a shampoo bar and a homemade soap recipe. I used a melt and pour soap base for these, and I loved the way they turned out.
Melt and pour soap bars are very easy to do, and they don't require any lye or special soap-making equipment. However, you can still customize them any way you want by adding essential oils, dried herbs, flowers, or fruit zest.
For this all-natural dish soap bar, we will be using a melt and pour soap base, lemons, and lemon essential oil. You can use a different essential oil if you want, but lemon is my favorite. More on this below!
Stick to lemon essential oil instead of lemon juice in your soap bar. Melt and pour bars do not need extra liquid, and adding too much can keep them from setting properly. Lemon essential oil is very concentrated and you won't need much for the soap to have that lovely citrus scent.
This post contains affiliate links, which means I make a small commission at no extra cost to you. Get my full disclosure HERE.
MELT AND POUR SOAP BASE OPTIONS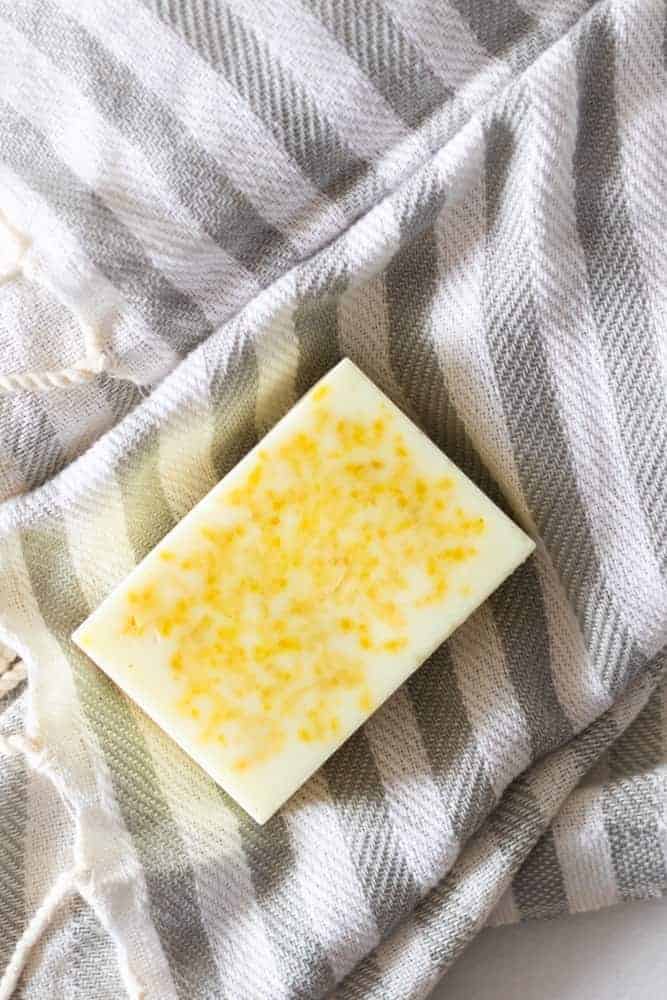 Shea butter melt and pour soap base
Organic oil clear glycerin soap base
Goats milk melt and pour soap base
Coconut milk melt and pour soap base
As you can see, there are lots of options when choosing a soap base. All of them will work similarly, and the recipe will remain the same.
HOW TO MAKE A LEMON DISH SOAP BAR

INGREDIENTS
INSTRUCTIONS
Cut the soap base into small chunks and place them into a double boiler.
Melt over medium heat. Stir occasionally with a wooden spoon.
While the soap base is melting, zest two lemons.
Remove soap base from heat. Add in lemon zest and essential oils.
Stir to combine all ingredients.
Pour into a soap mold.
Allow it to completely harden and then pop the soap out of the mold.
HOW TO USE DISH SOAP BARS?
You can use your dish soap bar a couple of different ways, depending on how many dishes you have to do and your personal preference.
Fill the sink with hot water and lather the soap into the water. You will notice it suds up really well!
Rub the soap bar onto a wet washcloth, set the soap aside, and use the cloth to wash the dishes.
Lastly, you can use the dish soap bar directly on the dish. Get the bar and dish wet and rub onto the dish. Scrub and rinse with warm water.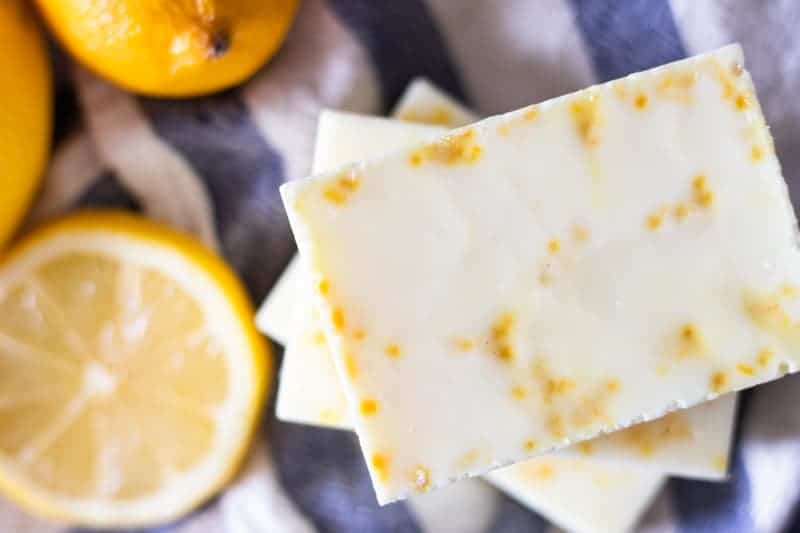 HOW LONG WILL HOMEMADE DISH SOAP LAST?
If stored properly, it can last up to one year. You will want to keep it in an airtight container in a very dry place. Keeping the bars dry will help them last longer. Avoid storing them under the kitchen sink, as it can get wet under there pretty easily.
You can make a double or triple batch at one time and store all of the bars in a glass storage container. Separate them with parchment paper or stack them in a gallon-sized zip-lock bag.
ESSENTIAL OILS FOR DISH SOAP
I love using citrus essential oils in the kitchen. They smell amazing, and they are full of cleansing and purifying properties. You can also use tea tree, lavender, or rosemary. Rosemary can be used as a natural preservative and can make your soap last even longer.
You can use orange zest and orange essential oil or lime zest and lime essential oil in place of the lemon if you prefer. Or you can use a combination of the three if you prefer. This is the fun part of making your own soap; you can choose exactly how you want it to smell.
Lemon essential oil is a natural degreaser, making it a great option for dish soap.
MORE SOAP BAR RECIPES
All-Natural Dish Soap Bar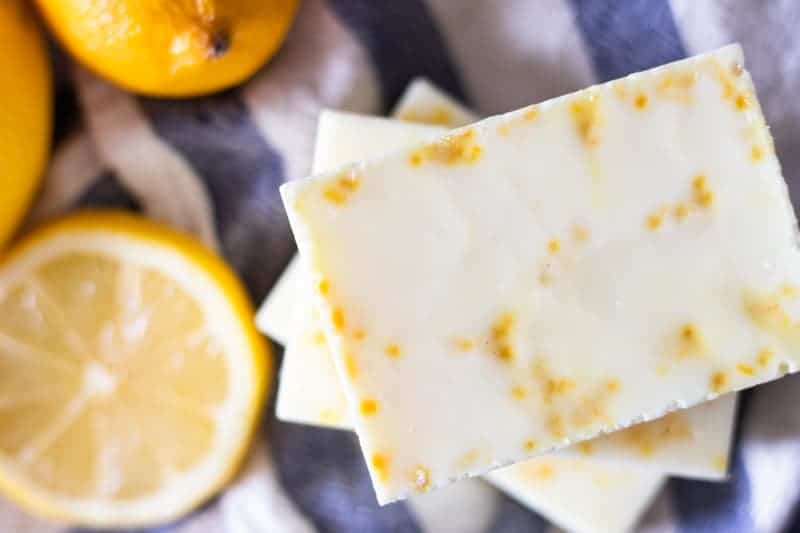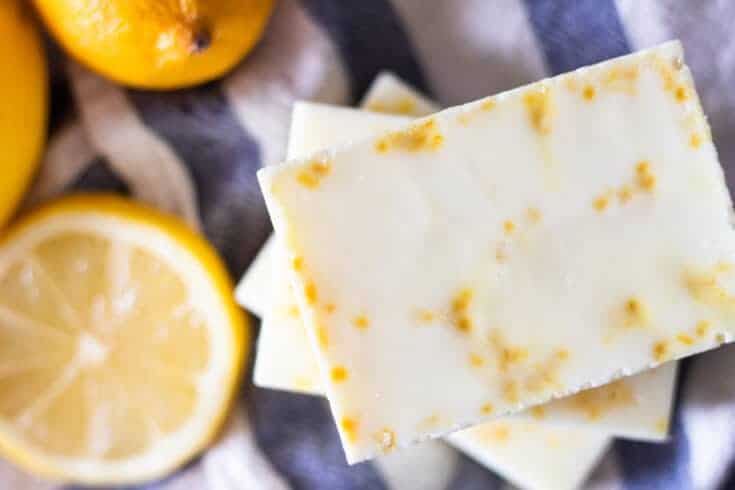 Additional Time
15 minutes
Materials
1 pound melt and pour soap base 
50 drops lemon essential oil
Zest of two lemons 
Silicone soap mold
Instructions
Cut the melt and pour soap base into small chunks and place them into a double boiler.

Melt over medium-heat stirring occasionally with a wooden spoon.

Once it is completely melted; remove from heat.

Add in lemon zest and lemon essential oil.

Pour into soap molds.

Allow it to completely harden and then pop the soap out of the mold.