With these simple recipes you can make DIY jewelry cleaner for all types of jewelry. These cleaners will leave your jewelry bright and shiny without having to go to the jewelers.
My mom called me the other morning asking me if I had a recipe for a jewelry cleaner. Of course I do mom!
I am not a big jewelry girl, and with the exception of my wedding rings, I don't wear anything else on a regular basis. My wedding rings stay on while I'm gardening, cooking, cleaning, and everything in between. They can get pretty dirty.
I used to take my rings to the jewelers to get them clean, but I just can't seem to find time for that anymore. This cleaner is simple to make and works great! I love getting the shine back and I especially love I can do it whenever I want without having to leave the house.
DIY JEWELRY CLEANER FOR ALL TYPES VIDEO
DIY JEWELRY CLEANER FOR ALL TYPES
This post contains affiliate links, which means I make a small commission at no extra cost to you. Get my full disclosure HERE.
DIAMONDS AND RUBIES
INGREDIENTS
1/2 warm water
1 tablespoon white vinegar
3 drops lime
3 drops lemon
1 drop melaleuca
Purchase my favorite essential oils HERE.
INSTRUCTIONS
Add all the ingredients to a small bowl and mixed well.
Soak the the jewelry in the solution for 5 minutes and remove. Scrub gently with a toothbrush if needed.
Air dry or dry with a soft, lent free cloth.
PERALS AND POROUS STONES
INGREDIENTS
1/2 cup warm water
1/4 teaspoon mild soap (I use unscented castile soap.)
2 drops melaleuca essential oil (optional)
INSTRUCTIONS
Add all the ingredients to a small bowl and mixed well.
Soak the the jewelry in the solution for 5 minutes and remove.
Air dry or dry with a soft, lent free cloth.
PRECIOUS METALS- GOLD AND SILVER
These types are metals are said to be alcohol safe and several sources say it is safe to soak these metals in a mixture of water and vinegar. Then scrub lightly with a soft bristle toothbrush and then pay dry with a soft cloth.
You can also use warm water and a soft, lint free cloth. Simply soak the jewelry in the warm water and then wipe it clean. Soaking the jewelry in the warm water will help to remove residue from lotions, soaps, and body oils.
HOW OFTEN SHOULD I CLEAN MY JEWELRY?
This really depends on how often you wear it and how dirty it gets. If you have a piece of jewelry that you only wear for special occasions and then take it off, it won't need to be cleaned very often.
For me, my rings can start to look dingy after a few weeks. I like to soak mine once a month. I love when they are freshly cleaned and shiny!
A LITTLE ON THE INGREDIENTS
ESSENTIAL OILS
Adding essential oils into the cleaner can be helpful to restore shine, cleanse, and purify. Lemon, lime, and melaleuca essential oils are the ones I stick to when cleaning jewelry.
Remember that essential oils are very potent and a little goes a long way. Adding just a drop or two will be plenty. If you are worried about adding essential oils to the cleaner you can leave them out of the recipe.
VINEGAR
White vinegar can be very great at keeping your jewels shinier longer. Soaking the jewelry piece in vinegar will help to remove dirt, grim, and take it from dull to shine in minutes.
Because of the acidic level, you need to be careful with vinegar. Most precious metals are safe to clean with vinegar.
MILD SOAP
A simple mild soap can be the best way to clean your jewelry at home. I prefer to use castile soap but you can also use dawn dish soap or other mild dish soaps.
Adding a few drops of soap with water can make an easy jewelry soak. Soaking the jewels in the water and mild soap will help to loosen dirt and make it easier to clean.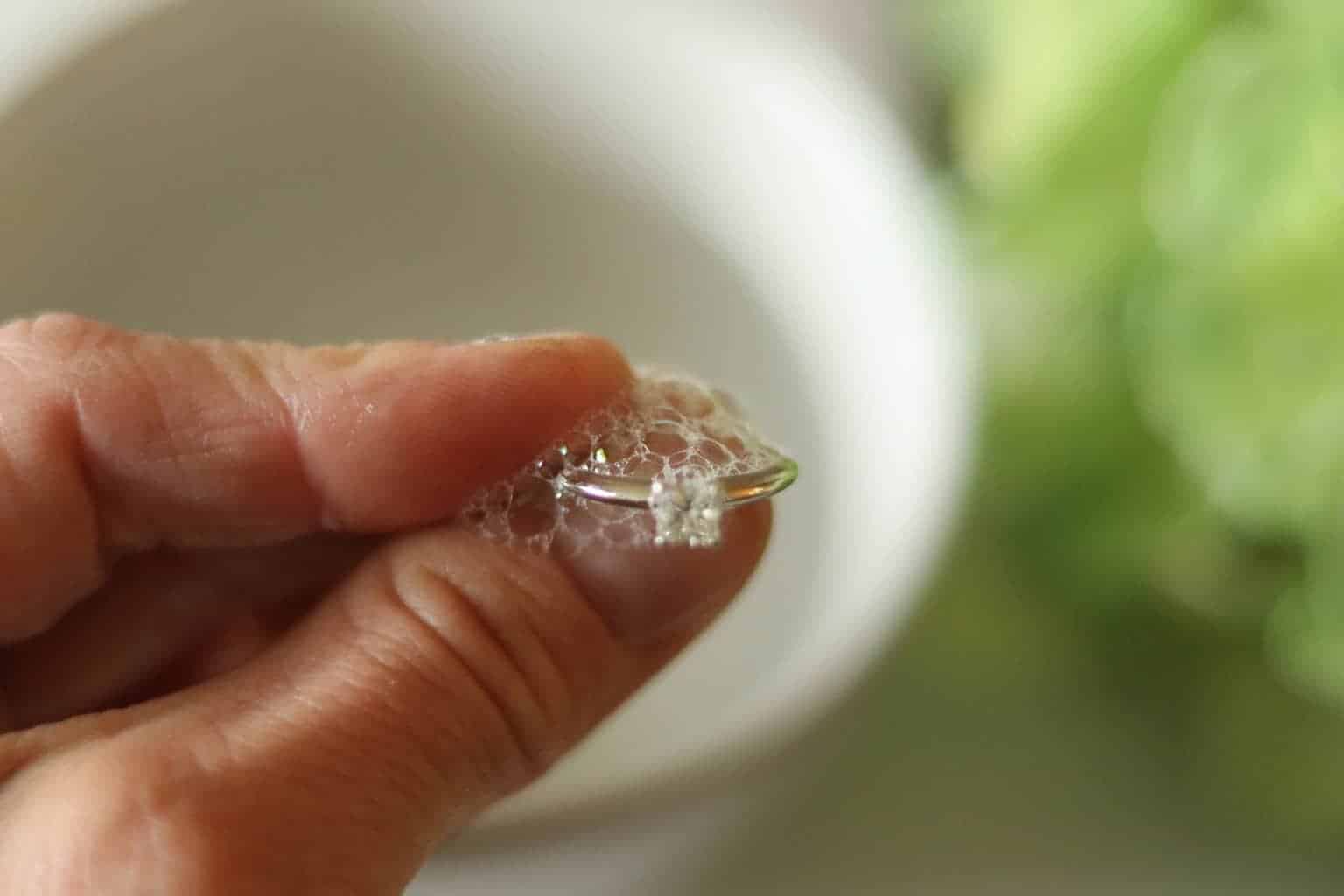 TOOTHBRUSH AND CLEANING CLOTH
When choosing a toothbrush to clean your jewelry with be sure to use a soft bristle. Scrub gently to avoid damage.
The cleaning cloth should be lent free and soft. You can find one HERE.
WATER
Stick to warm or cold water. You will want to avoid boiling or very hot water when cleaning your jewelry.
It isn't recommended to use boiling water, especially for gemstones, pearls, and diamonds, because if done improperly it can cause damage.
What are your favorite ways to clean your jewelry ar home? Or do you always get it done professional?
PIN IT FOR LATER