Cleaning your stainless steel range hood is a dirty job, but it doesn't have to be arduous!
Using simple, natural ingredients that you may even have stored in your cabinet already, you can restore your range hood to a prime, shiny clean condition.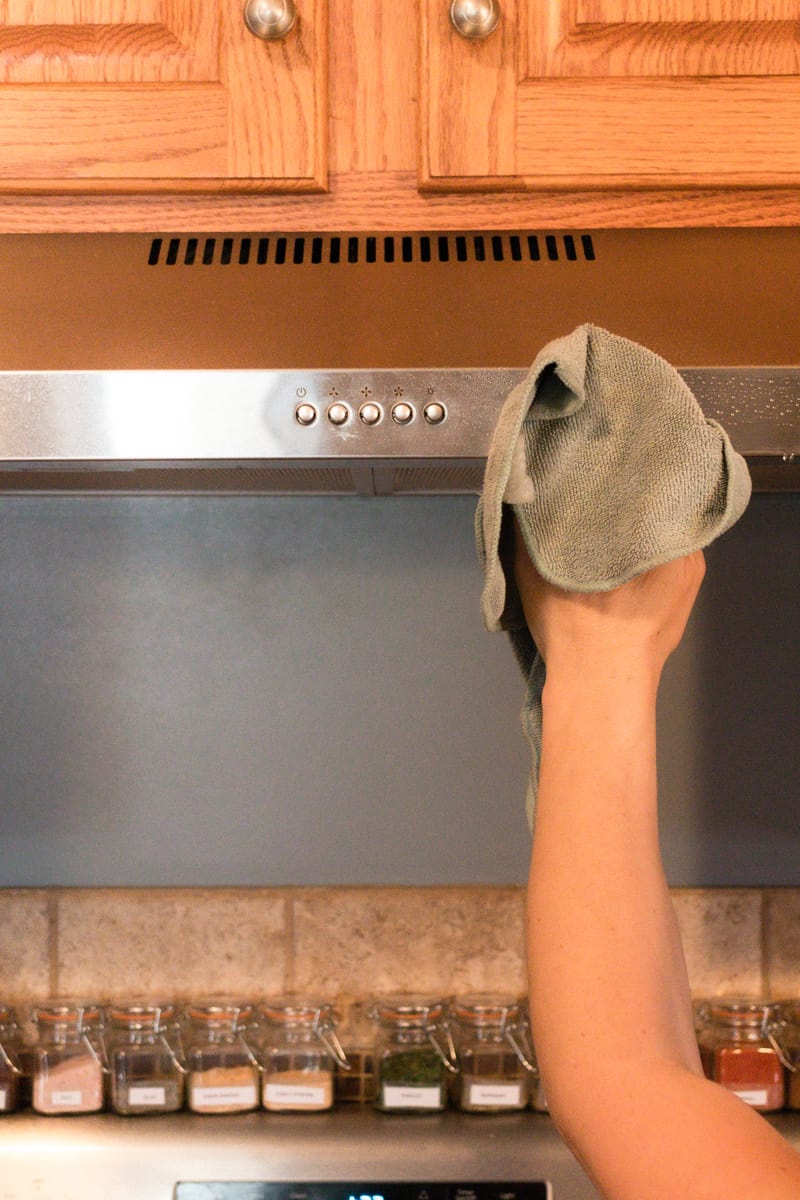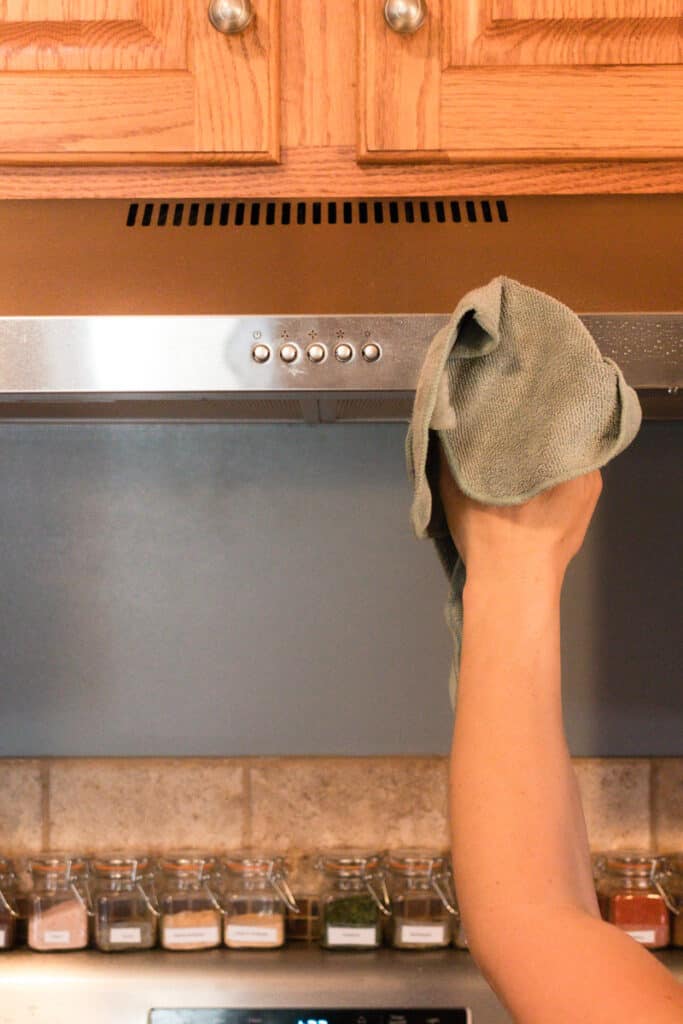 What is it about kitchen tasks that are just so grimy and grubby?! Don't believe me? Try cleaning your oven or scrubbing stains out of your grout!
There are those jobs we know need doing. Yet they get pushed to the bottom of the list – forgotten about until they get so bad you just can't ignore them anymore.
(Tell me it's not just me?) We're all human, I guess.
Why not take the pressure off and follow my guidance instead – that is, if you've got the looming question of how to clean a stainless steel range hood on your mind?
In this post, I'll explain an excellent method for how to clean a greasy range hood in an easy-to-follow way.
You won't need to buy anything upfront if you've got the essentials of white vinegar and soft cloths in your kitchen already.
Meaning this is a budget-friendly, hand-friendly and planet-friendly option for getting rid of a sticky stainless steel range hood, revealing a gleamingly clean hood underneath.
Let's get to work!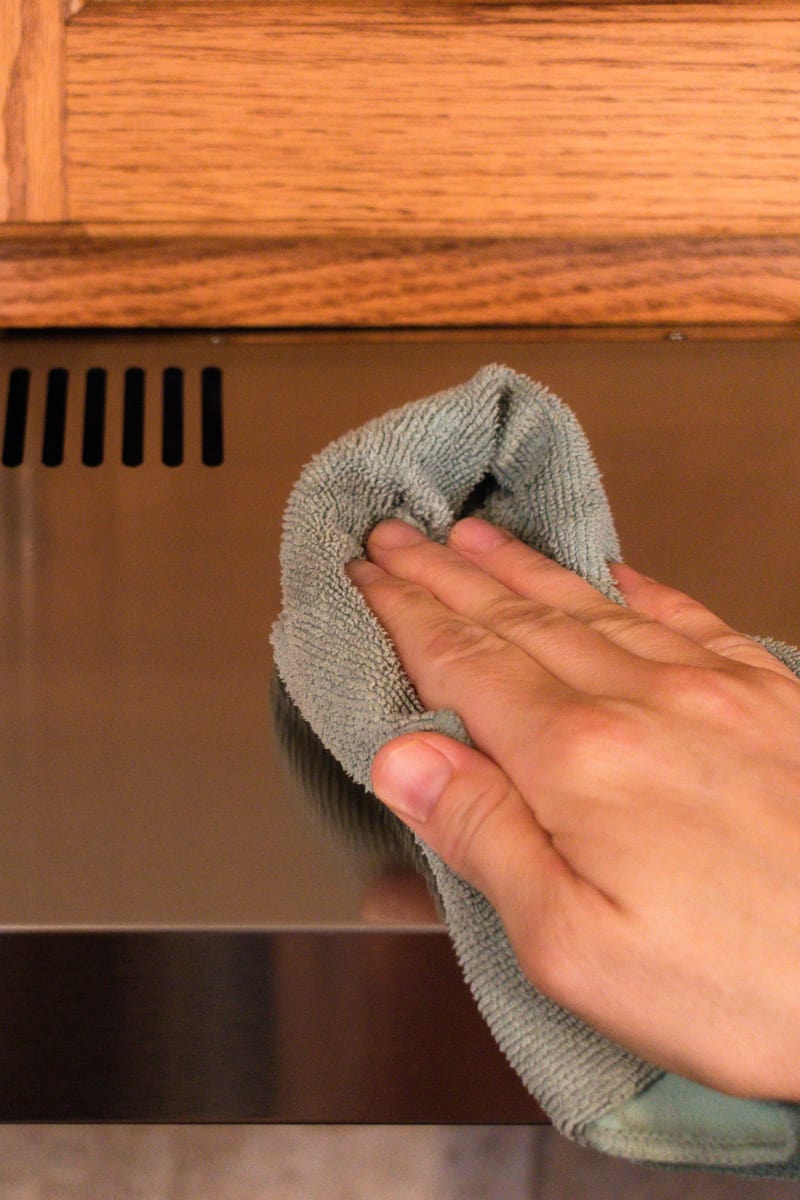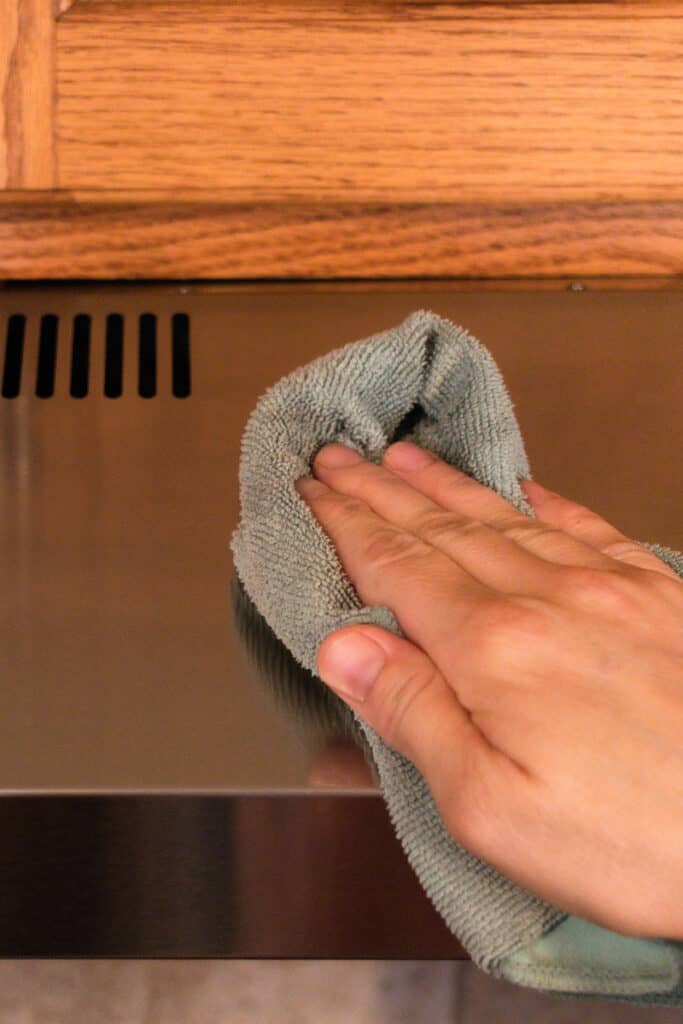 What is a range hood?
A range hood is used in the kitchen, usually placed above the oven or cooker, to absorb excess oils, steam, and fats from foods cooked on the stove.
Before we get into the details of cleaning a range hood, it's worthwhile noting that if you've not cleaned your hood in a while, it'll be downright grim.
So be prepared (and wear gloves!)
They come with a built-in fan or vent to absorb excess oils and fumes and funnel them out of the kitchen.
There are several elements to a range hood – including filters and the outer stainless steel casing.
All parts of the range hood need cleaning periodically to ensure it runs well and remains hygienic (and looks nice too.)
After all, you're eating the food you cook underneath it – so you'll surely want to keep it clean to avoid transferring unnecessary bacteria from old grease deposits.
Just to mention – we had a new range hood fitted only last month, and there's already a film of grease built up on it which goes to show how quickly they get grimy!
I actually began looking into how to clean it not long after we installed it, to keep it looking nice. I came across a lot of different options and ultimately ended up using a method similar to the Spruce.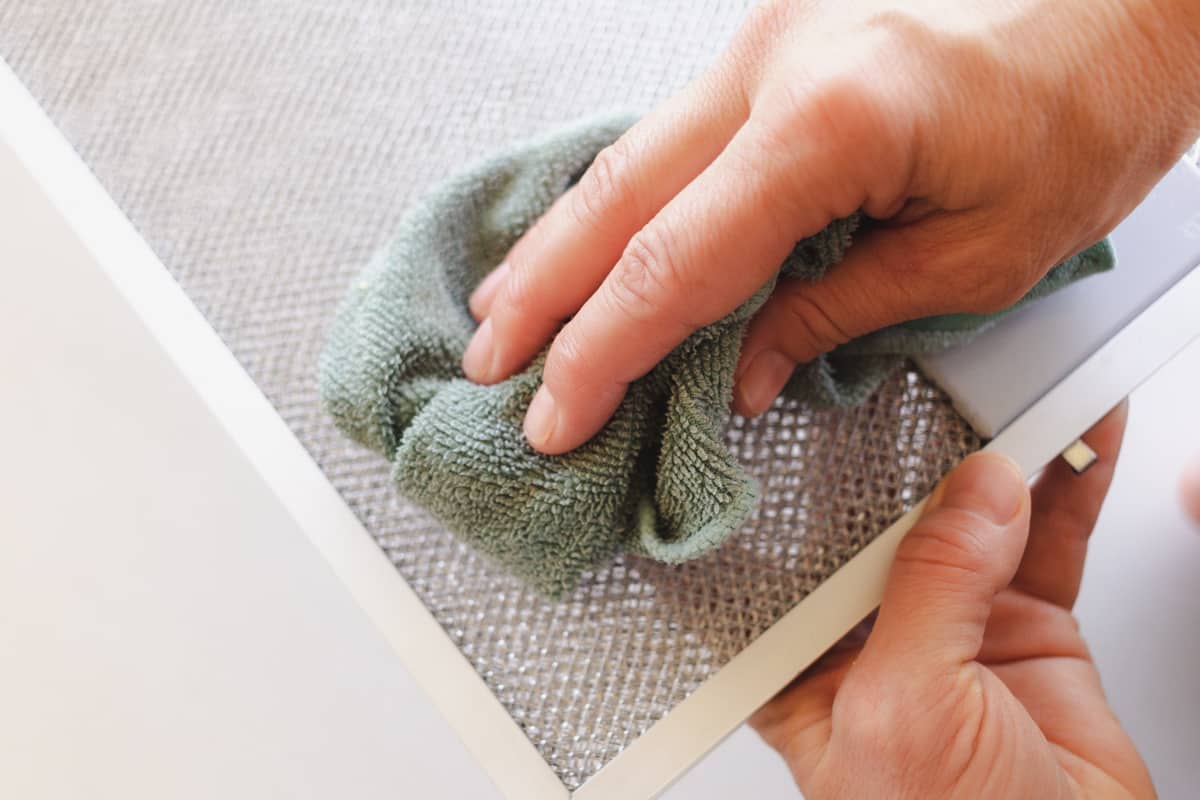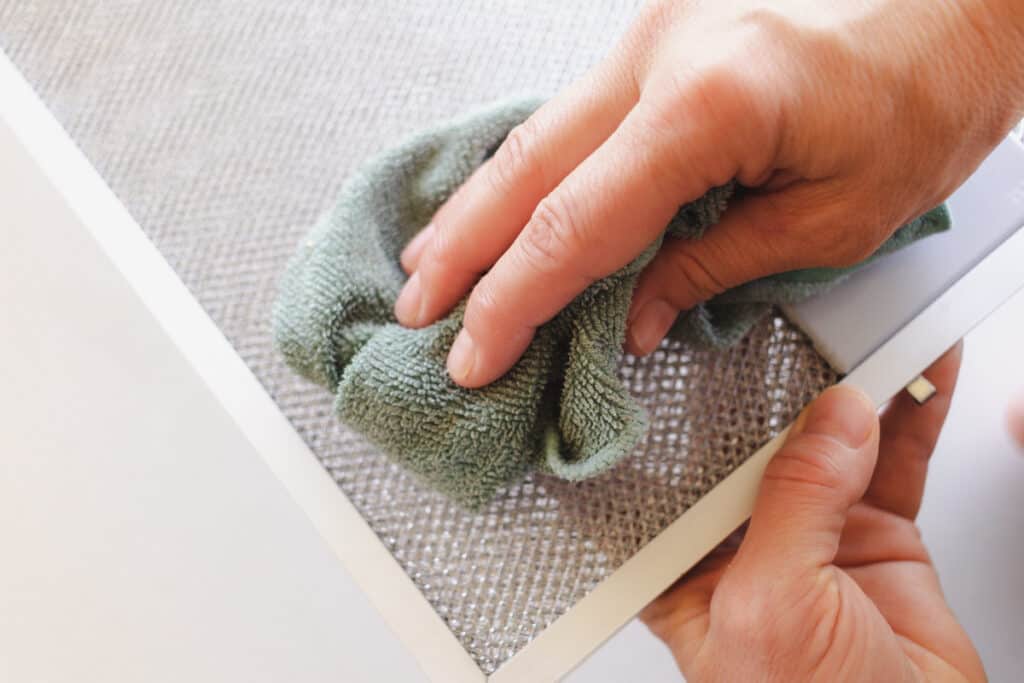 This post contains affiliate links, which means I make a small commission at no extra cost to you. Get my full disclosure HERE.
how to clean grease off stainless steel range hood
I have used both the methods outlined below and while both work quite well, my personal preference is the vinegar and water.
Vinegar is so versatile and is perfect for lifting grease on surfaces and leaving a non-streak finish.
cleaning method
For this cleaning method, you've got two options. One is simply using white vinegar with hot water, or the alternative uses dish soap.
Both work well, in my opinion, so I'd say use what you've got in your storage cabinet already.
Ingredients: (Choose one option)
1:1 white vinegar and hot water
Or
1/2 gallon of hot water and about a tsp of dish soap.
Instructions:
pre-clean
Remove the underhood filters and set them aside. We will work on the outer stainless steel body of the range hood first.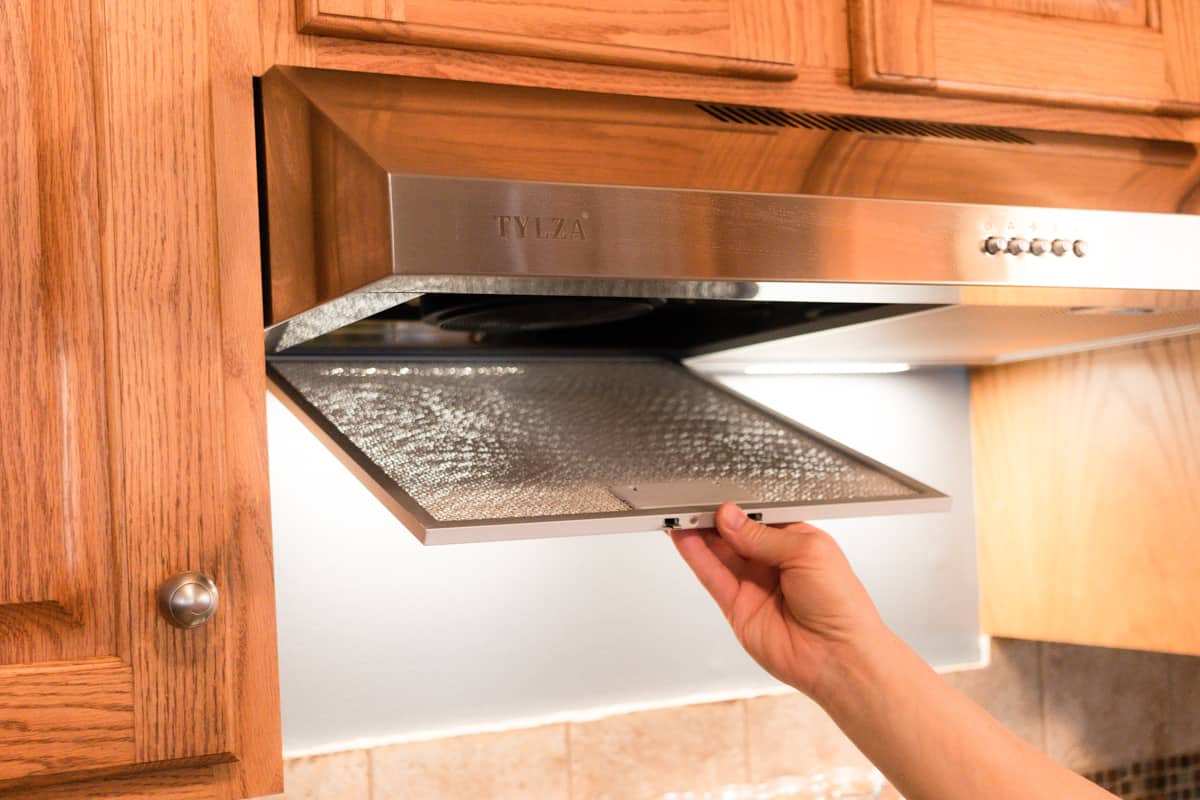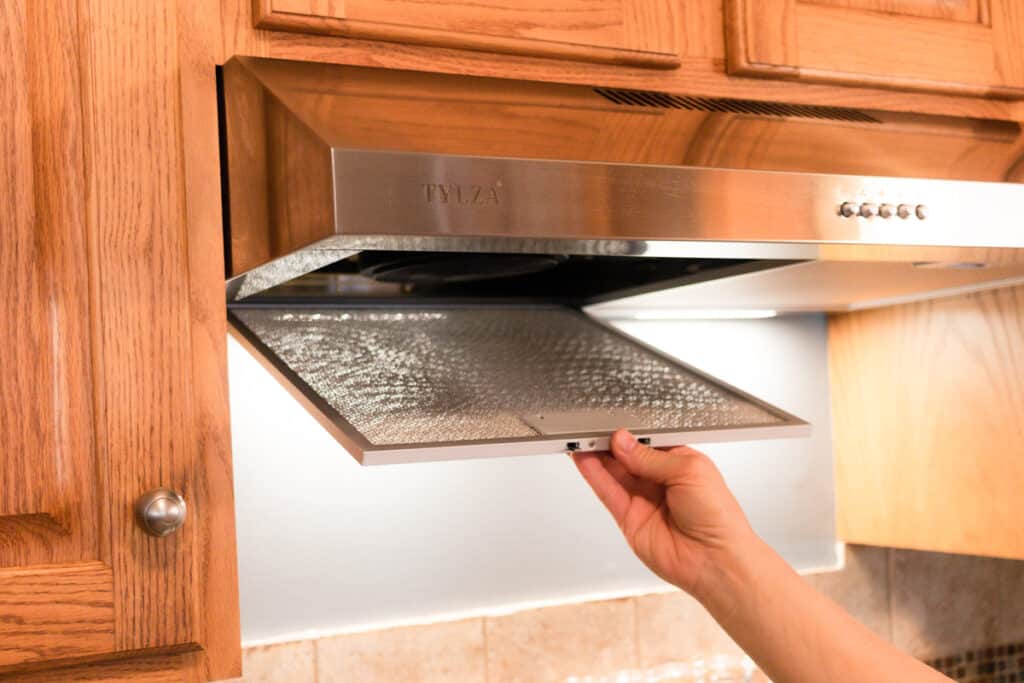 Things to be aware of before you start are not to use anything abrasive on stainless steel (metal scrubbing brushes are a big no-no) and to wipe over the body as gently as you can.
cleaning the stainless steel hood
Choose from either of the cleaning solution options above and dip a microfiber cloth into the chosen solution before rubbing in a gentle circular motion to lift any grease, focusing on the hood and the cover only.
Immediately wipe dry with a dry cloth or towel to prevent water stains. This also helps remove any excess grease left behind.
If the grease is really thick, you may need to wipe it over with the solution several times and dry it in between.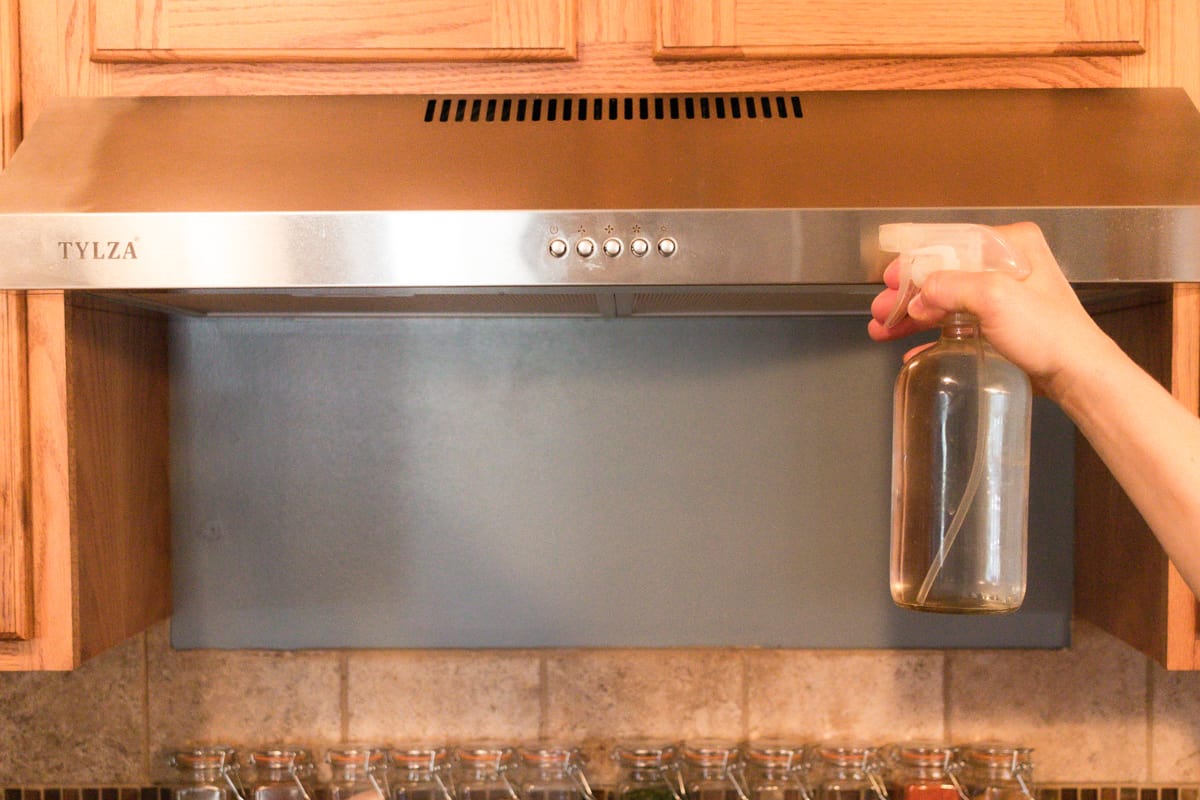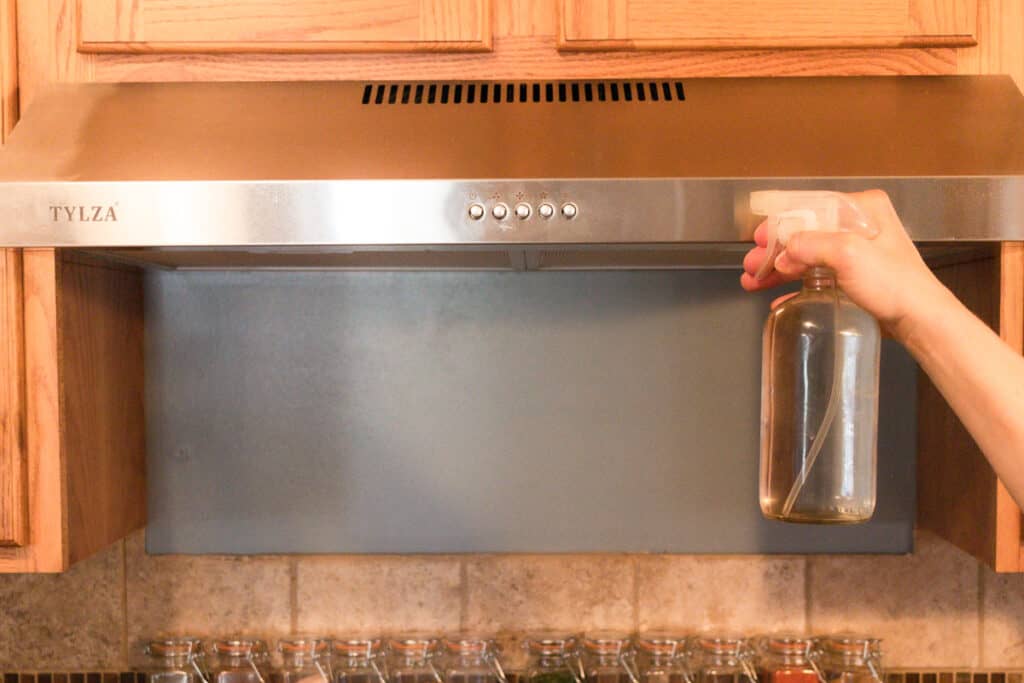 how to clean the range hood filters
Clean the filters using the same solution but grab a fresh, clean cloth.
If necessary, use a gentle scrubbing brush to work the cleaner into the filter. Just be gentle so as not to damage the filter. A scrubbing brush made with natural bristles works really well for this.
To finish, rinse the filters out with a hose or under the faucet, and leave them to dry before positioning them back into the hood.
If your filters are extremely greasy, you may want to take them outside to spray them off, to keep the grease out of the drain.
Some filters have disposable covers in them, which help capture grease and fumes when the hood is in use, so be aware of this and replace them as required.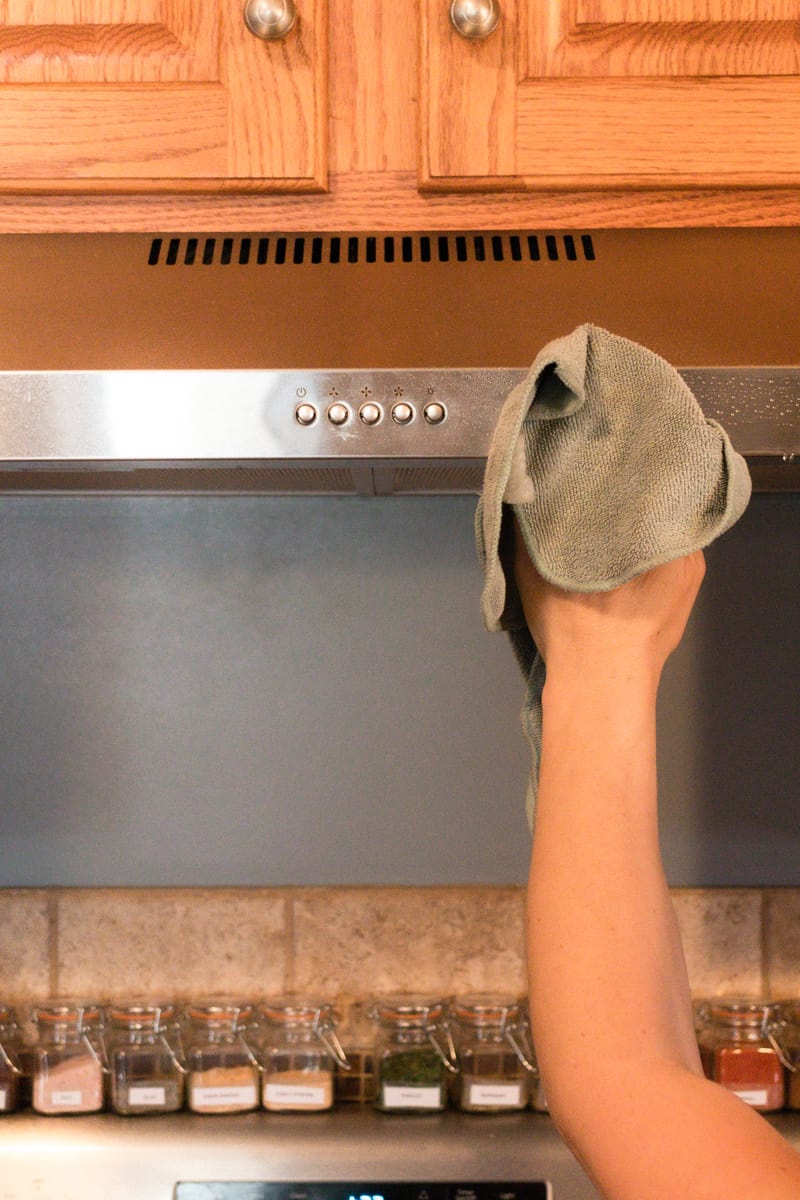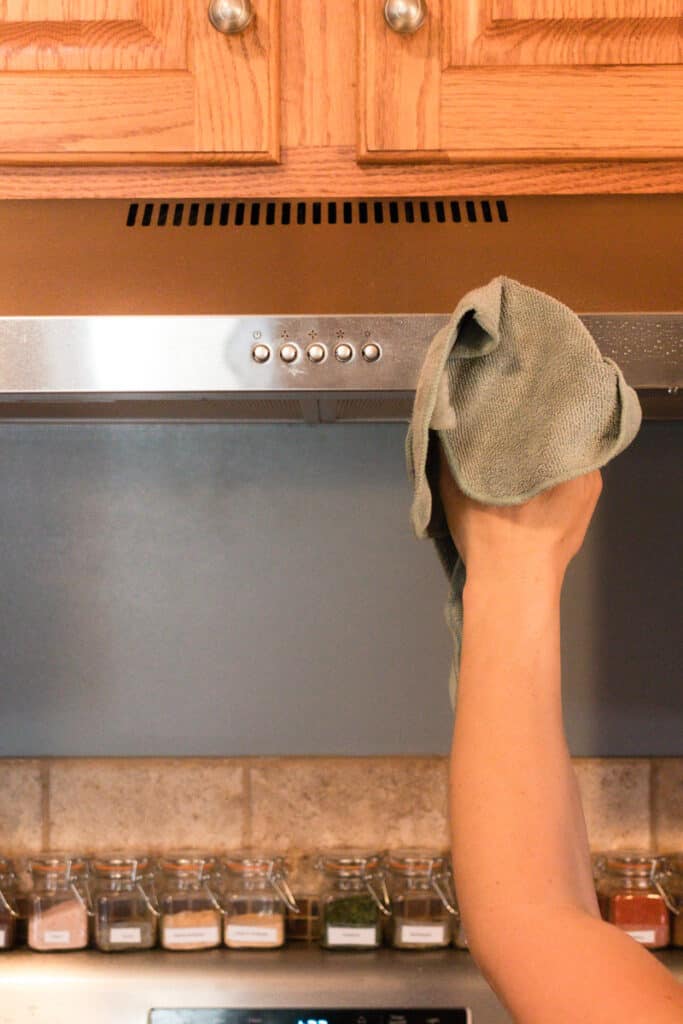 Frequently asked questions
How often should you clean your range hood? This is entirely your choice, but my advice is you never want to allow grease to settle thickly on a range hood.
This is a fire hazard and can be avoided if there is regular cleaning of the hood.
In the event of a super thick layer of grease which doesn't come away with this cleaning method, I would advise getting a professional in.
This will get your range hood back to its best condition, and then you can maintain it by cleaning periodically as needed.
Will vinegar remove sticky residue buildup? Yes, vinegar is an excellent option for removing sticky residue.
Soak a cloth or paper towel in the diluted vinegar, then lay it on the spot you are treating for several minutes before wiping it clean.
Can I use lemon juice instead of vinegar? Lemon juice is a great degreaser and can be substituted equally for vinegar.
Tips
For safety when cleaning your range hood, make sure to unplug the unit from the power socket and avoid any and all electrical components.
If the filters aren't terribly dirty, you can rinse them out in the sink; just avoid doing this if there's a ton of grease on the filters, as you don't want that going down the drain and clogging it up.
Very dirty filters can be soaked in the solution for 30 minutes before rinsing clean, which will help remove the grease buildup.
Cleaning a range hood is one of the dirtier in the kitchen! So be prepared. Wear gloves and an apron, and open your windows to help with ventilation and drying of the filters and hood.
If you have a vented system, you may want to check with a professional to see if cleaning the ducts is necessary.
And thats it! Cleaning your range hood is a rather straightforward process. As part of regular maintenance, it should take no more than 10 minutes out of your busy schedule!
If you found this post helpful, let me know by leaving a review or comment below! And if you love making your own cleaners, I recommend one of these next!
How to Easily Clean a Stainless Steel Range Hood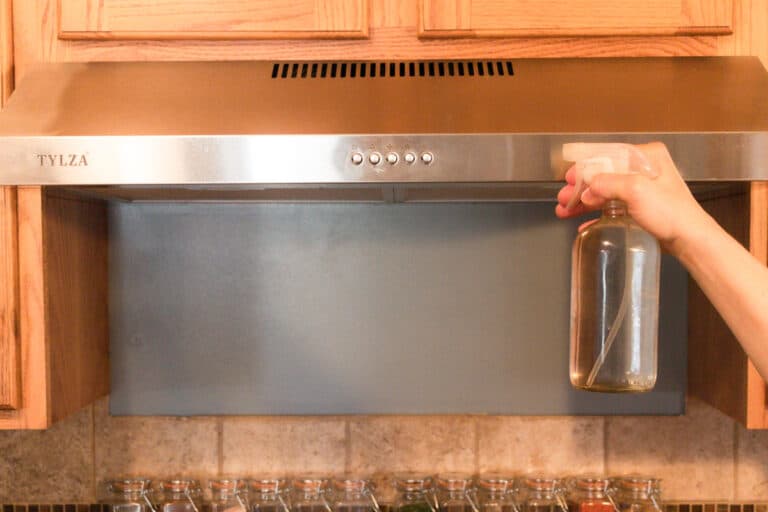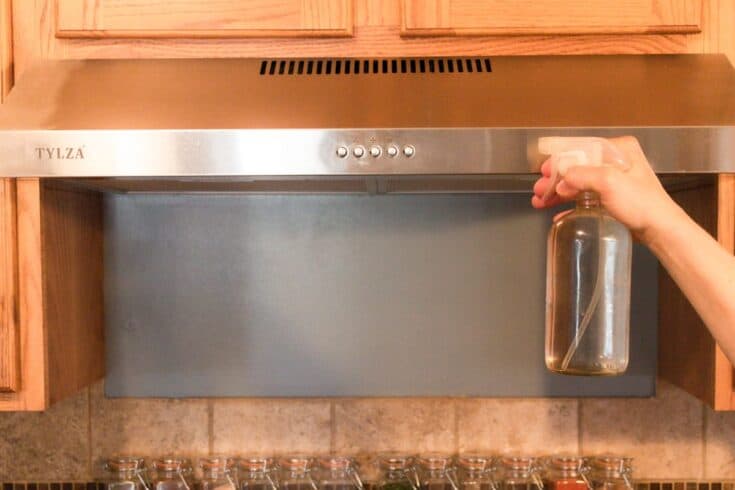 No need to go out and buy fancy products when you can do the job quickly and efficiently with a bit of vinegar and water solution! Clean your range hood today and have your kitchen looking spick and span in no time!
Materials
Vinegar Solution
1 cup of vinegar
1 cup of hot water
Soapy Water Solution
1/2 gallon of hot water
1 teaspoon of dish soap (or any degreasing soap)
Instructions
Remove the filters from the hood and set them aside.
Apply the degreaser, choosing from one of the options above. The vinegar and water solution works well in a spray bottle application, while the soapy water is best applied with a microfiber cloth.
Be sure to avoid any electrical components, including the fan. If possible, unplug the unit from the wall before beginning.
Wipe the hood clean using a clean, dry cloth.
If any stubborn spots remain, reapply the solution, and allow it to sit for several minutes before wiping it clean.
Follow the same steps to clean the filter by gently rubbing the degreaser into the screen, though you'll want to let it sit for 5-10 minutes before spraying it clean.
I would suggest taking the filter screens outside to spray clean, or else you chance clogging your drains with the grease.
Allow the filters to air dry before reinstalling them into the hood vent.