These DIY dishwasher soap pods are simple to make and work incredibly well. They are made with all-natural ingredients to help keep toxins out of your home.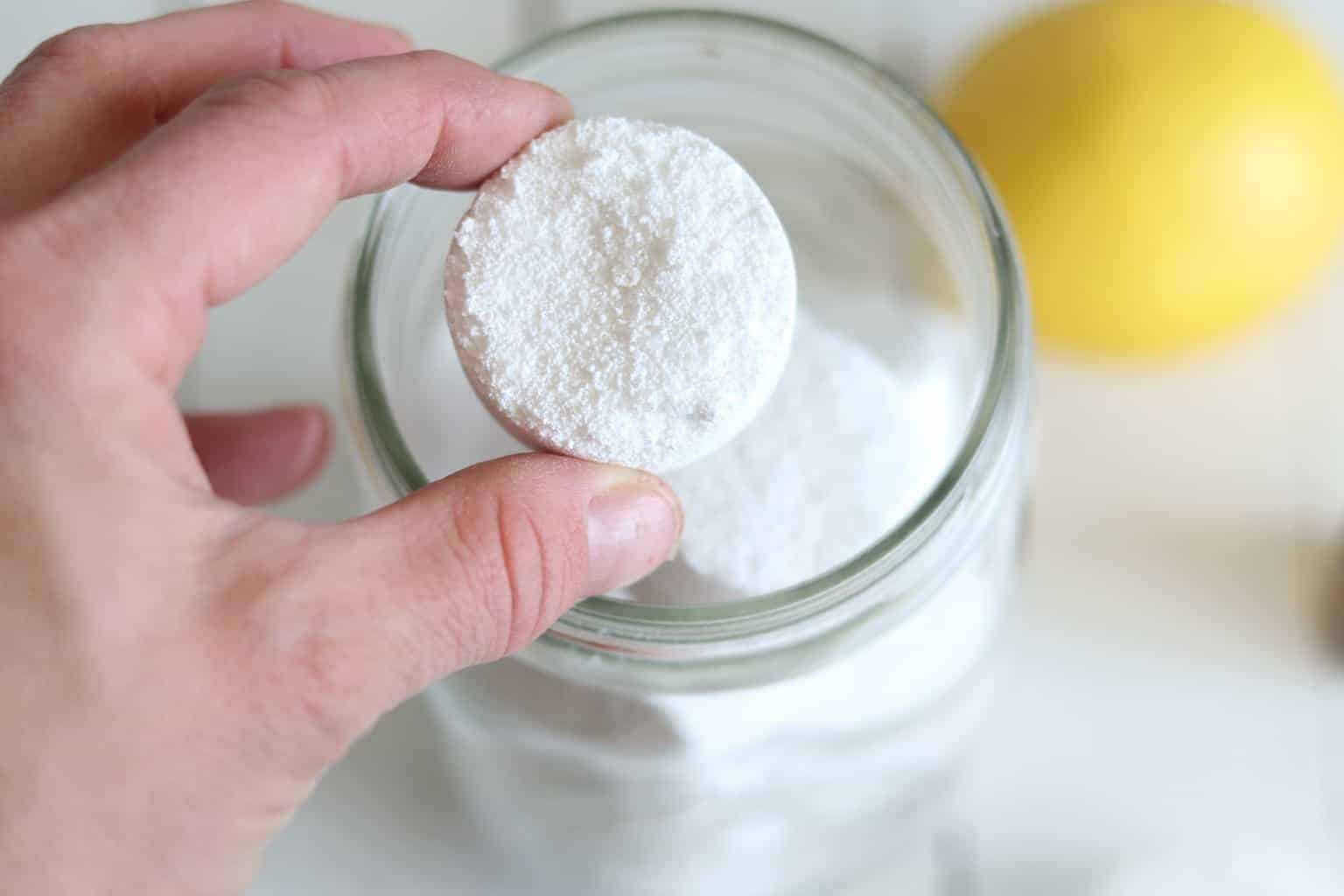 The dishwasher is full of dirty dishes, and you reach under the sink to grab a soap pod and realize you are out, has that ever happened to you before? The only thing worse than emptying the dishwasher is emptying dirty dishes out of it that still need to be hand-washed.
I have found myself in this position before, along with having a full load of dirty clothes and no laundry soap. Times like these leave me digging around to see what I can find in my house to make do. These little emergencies have brought me many new DIY recipes that I still use today!
The best part? These homemade products are always all-natural and usually work just as well as the real thing. Today, I am going to share a simple DIY dishwasher soap pod that actually works!
This post contains affiliate links, which means I make a small commission at no extra cost to you. Get my full disclosure HERE.
DIY DISHWASHER SOAP PODS
INGREDIENTS
INSTRUCTIONS
Mix all your dry ingredients in a medium-size mixing bowl.
Pour the vinegar over the dry ingredients. Once the bubbles go down, stir well.
Add lemon essential oil and stir well.
Transfer the mixture to an ice cube tray or silicone molds. Press the mixture down into the molds.
Allow the molds to sit overnight to make sure it is completely dry and then pop the mixture out of the molds. (If you are in a hurry and need it right away, you can put 1 tablespoon of powder into the dishwasher without it being dry, and it will still work just fine.)
HOW TO USE YOUR DISHWASHER PODS
Place one pod into the soap compartment per load. You can also add 1/2 cup of vinegar to the bottom of the dishwasher to prevent streaks and cloudy dishes. This is an especially good idea to do if you have hard water. It is optional and doesn't need to be done every load.
A LITTLE ON THE INGREDIENTS
WASHING SODA- Washing soda is sodium carbonate that is dissolved in water for washing and cleaning. It is a natural cleaner and can be used as a water softener. Washing soda is also neutralizing and eliminates odors.
BORAX- Borax has been used to disinfect, whiten, and kill mold and mildew for many, many years. It is used in all sorts of cleaning products, and it is very good at cutting grease and getting stains out.
EPSOM SALT– Most people, know epsom salt can be used to relieve sore muscles, but did you know it can be used as a natural household cleaner? It is really good at removing hard, cooked-on food from pots and pans.
VINEGAR– Vinegar will naturally disinfect your dishes while providing shine. Adding vinegar to your dish soap or dishwasher will prevent the dishes from coming out looking cloudy. Vinegar will be extremely helpful if you have hard water because it can remove that, along with leftover soap residue.
LEMON ESSENTIAL OIL– Lemon oil is very cleansing and purifying. It will add that clean scent to your dish soap and purify at the same time.
OTHER ESSENTIAL OILS YOU CAN USE
I love the fresh smell of lemon essential oil in the kitchen, but you can use other oils as well. Wild orange, lime, bergamot, and other citrus essential oils are more great oils to use because of their cleansing and purifying properties.
Melaleuca and doTERRA on guard are more essential oils that would be good for cleaning dishes. You can use a single oil, or you can blend a few together to make a different scent.
WHY HOMEMADE DISHWASHER PODS?
It's cheaper! These pods come out to cost less than 5 cents a wash!
It's natural! When you buy conventional dishwasher soap from the store, it will have a lot of ingredients that you won't be able to pronounce on the back. That is what I try to avoid.
It's better for the environment! Less plastic and packaging are involved when you make your own at home.
Have you ever made your own dishwasher pods before? How did they work? Did you add in essential oils? I would love to hear your recipes in the comments below!
PIN IT FOR LATER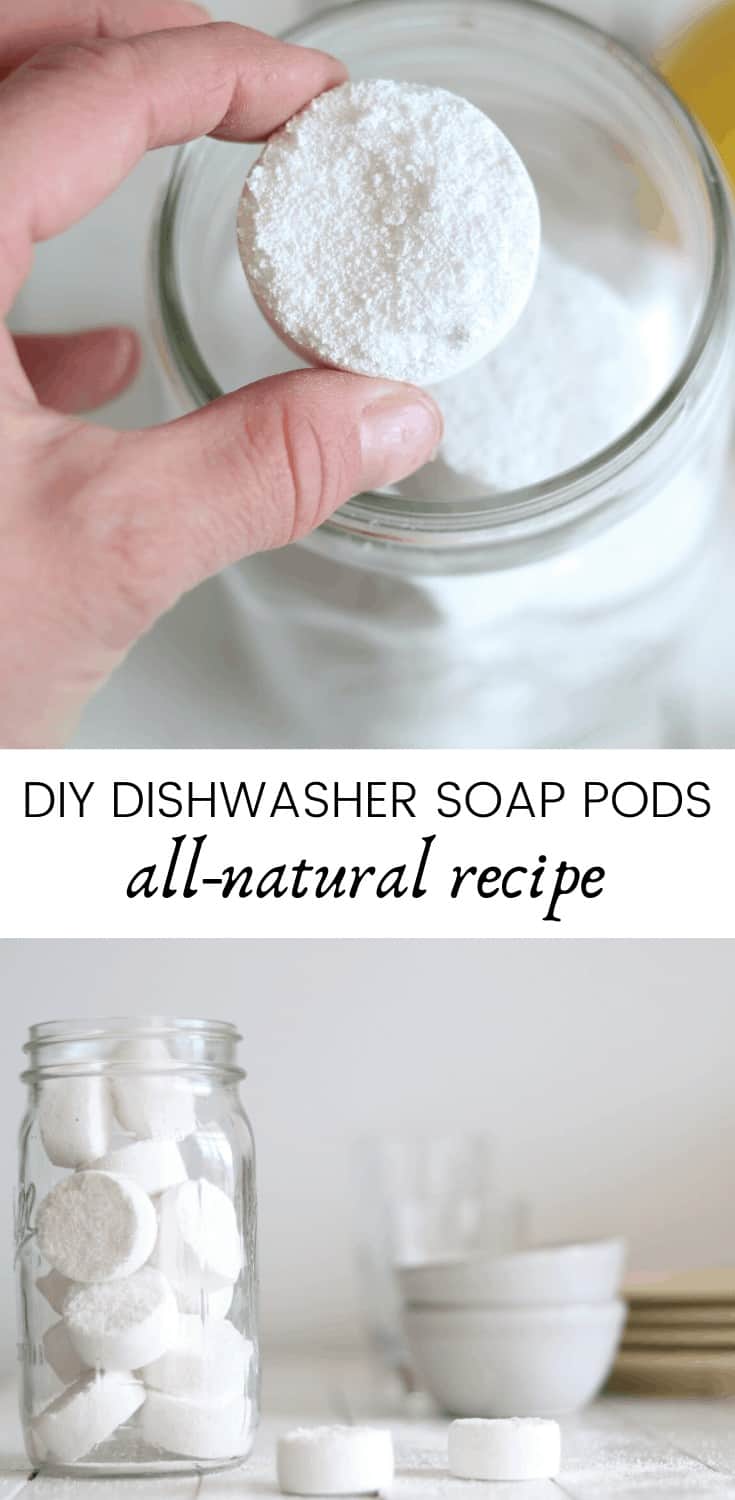 Follow along with our oily house:
Thanks for stopping by our oily house!