These DIY dishwasher tabs are both convenient and work incredibly well. Premade dishwasher pods are all-natural, suitable for tackling hard-to-clean dishes, and of course, eco-friendly.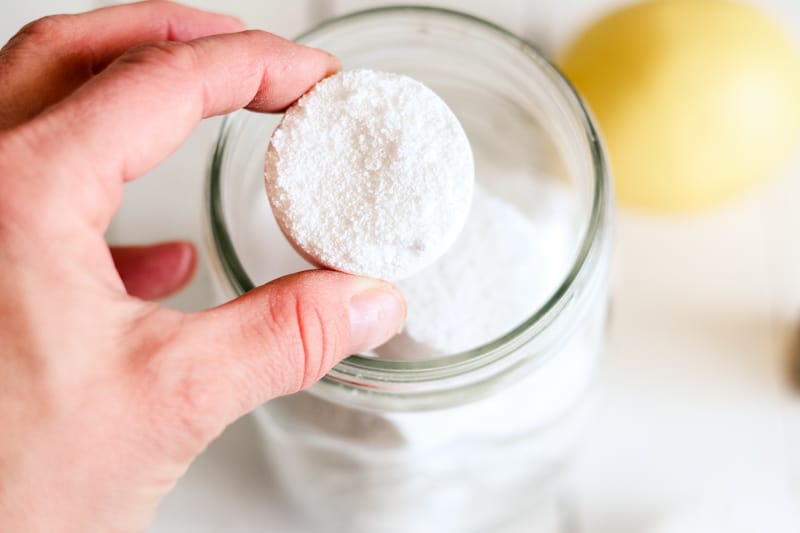 This post was originally published April 1, 2019
There is nothing worse than a dishwasher stacked full of dirty, grimy dishes only to realize there is no dishwasher detergent left to clean them with!
It looks like we'll have to resort back to the days of handwashing dishes. So roll up those sleeves and get lathering.
I have found myself in this position one too many times before. And to be honest, I don't mind handwashing dishes; I'd just like it to be on my terms, not after I have the dishwasher loaded with every intention to run it.
DIY dishwasher tabs
Dishwasher tabs, or pods, as they are often called, are about the most convenient little nuggets for washing dishes.
It's a matter of placing one tablet into the soap compartment and running the cycle. And by making your own dishwasher tabs, you can ensure it will be a natural, eco-friendly dishwasher detergent.
All homemade products on this website use simple, natural ingredients.
Today is no different; we'll be making homemade dishwasher detergent tabs that work just as well as conventional soap tablets and take no time to make.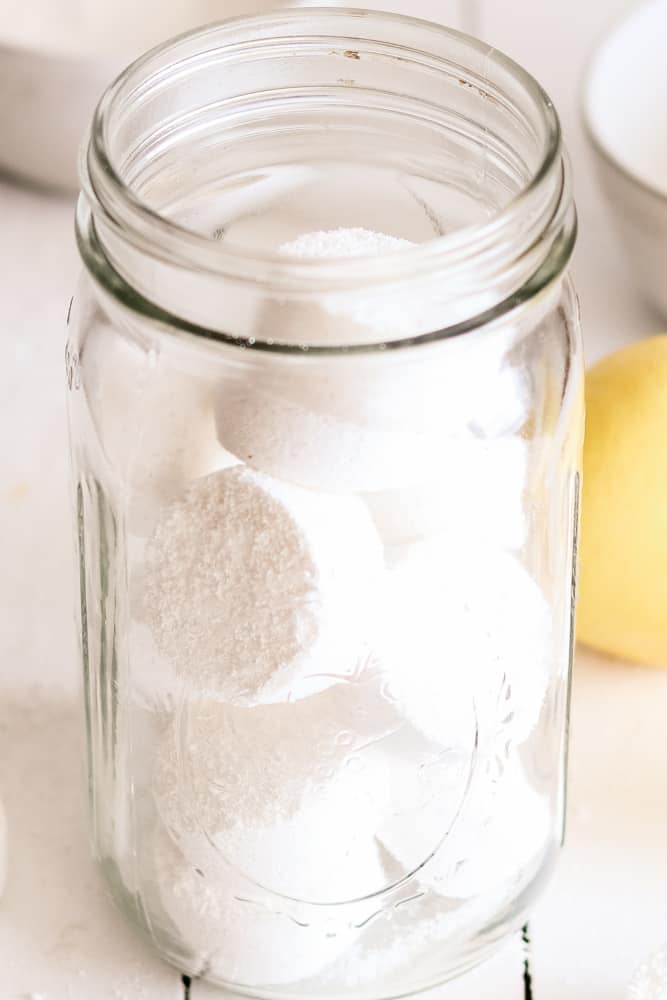 How to make dishwasher tablets
Making dishwasher tablets is about as easy of a DIY as it gets. It really is a matter of stirring together the ingredients and then letting them harden in a mold.
This post contains affiliate links, which means I make a small commission at no extra cost to you. Get my full disclosure HERE.
Tools to make things a little easier
You can make these dishwasher pods using old ice cube trays or silicone molds.
I prefer using silicone molds because they are just the right height to fit into most soap compartments, and the pods pop right out without sticking.
These are my favorite silicone molds.
For storage, use an airtight container.
Ingredients:
Washing soda
Borax
Epsom salt
Vinegar or lemon juice
Lemon essential oil
Instructions:
Combine the dry ingredients in a medium-size mixing bowl. Stir well.
Now, slowly add the liquid. If you opt for vinegar, you will get some bubbling action as the vinegar reacts with the washing soda, so don't be alarmed.
Once the bubbles subside, stir everything in well, then add the drops of lemon, stirring it in as well.
Finally, transfer the mixture into the molds, packing firmly with your thumb.
Allow the molds to sit overnight to make sure the pods are completely dry before popping out.
Do not rush this step. The dishwasher tablets must be completely dry, or they will crumble when removed from the molds.
Storage
Store in a heavy-duty plastic container that is safe for essential oils.
How to use dishwasher tabs
Place one pod into the soap compartment per load. If you have hard water, add 1/2 a cup of vinegar to the bottom of the dishwasher to prevent streaks and cloudy dishes.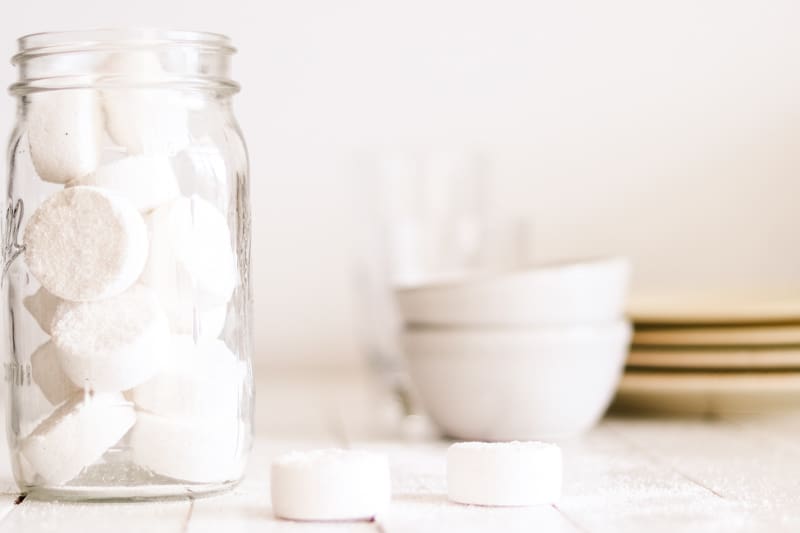 A little about the ingredients
WASHING SODA: Washing soda is a natural household cleaner used for a number of cleaning purposes, such as a stain remover or a laundry detergent. In addition, washing soda neutralizes and eliminates odors.
BORAX: Borax has been used to disinfect, whiten, and kill mold and mildew for many, many years. It is used in all sorts of cleaning products, and it is very good at cutting grease and removing stains.
EPSOM SALT: Yes, the same Epsom salts used to relieve sore muscles and aching joints.
Those same Epsom salts work incredibly well in a natural dishwashing detergent to remove hard, cooked-on food from pots and pans.
The salt also helps prevent hard water deposit buildup, which can negatively affect performance.
VINEGAR: Vinegar will naturally disinfect your dishes while providing shine. Adding vinegar to your dish soap or dishwasher will prevent the dishes from coming out looking cloudy.
In addition, vinegar is helpful in eliminating leftover soap residue or white streaks from hard water.
Learn how I use vinegar to get rid of the mildew smell from my washing machine.
LEMON ESSENTIAL OIL: Lemon oil is very cleansing and purifying. It will add that clean scent to your dish soap and purify it simultaneously.
Why homemade dishwasher tabs
Homemade dishwasher tabs use natural ingredients, so there is no worry about keeping potentially hazardous cleaners in the home.
This soap does not contain any phosphates making it a much better option for our waterways.
It's cheaper! These pods come out to cost less than 5 cents a wash!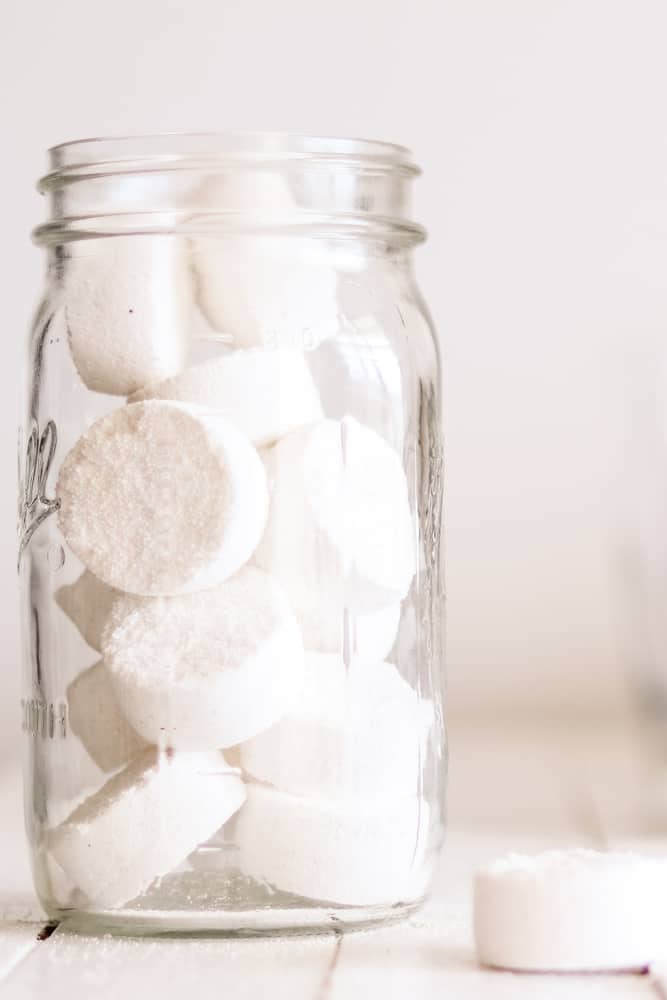 How to clean a dishwasher
It is important to clean a dishwasher, not just during the regular dish cycle. This is especially important to do before switching over to these homemade dishwasher pods.
Over time, mineral deposits will build up, caking the sides and racks of the dishwasher.
The added vinegar will help break down some of the buildups, but as many readers have pointed out, those minerals don't often get washed away but redistributed back onto the dishes causing white streaks or a light haze.
To prepare the dishwasher for the new pods, run a cycle with citric acid. 1/4 cup will be plenty for most households; use up to 1/2 a cup for really coarse buildup.
Simply add the citric acid to the bottom of the dishwasher and run it through a normal load.
Follow up by running another cycle with one of the dishwasher detergent pods. And that's it!
It may help to run a 1/2 cup of vinegar in the bottom of the dishwasher every couple of months to help prevent mineral buildup.
Have you ever made your own dishwasher pods before? How did they turn out? I hope you loved them. Be sure to let me know what you think in the comment section below!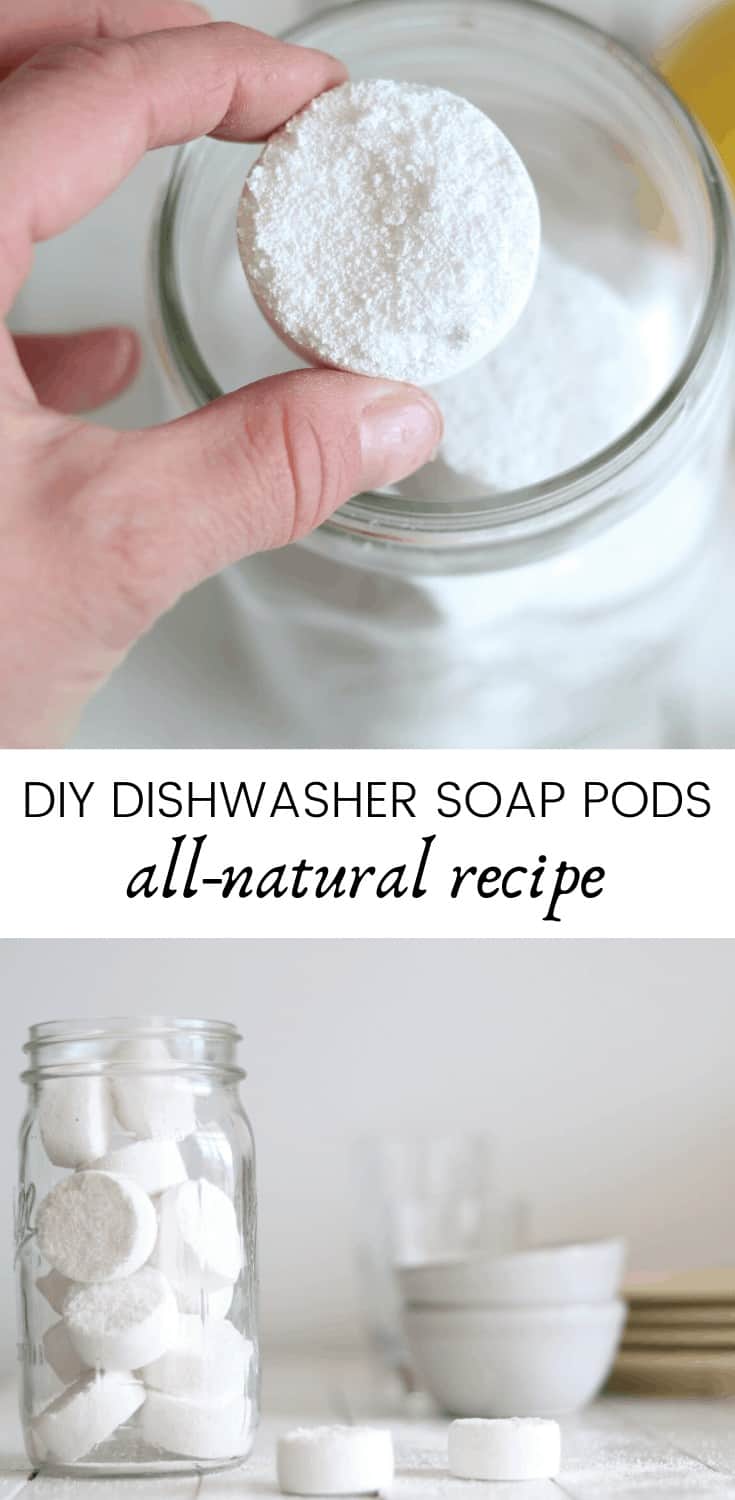 Some more of my favorite DIYs
DIY Dishwasher Tabs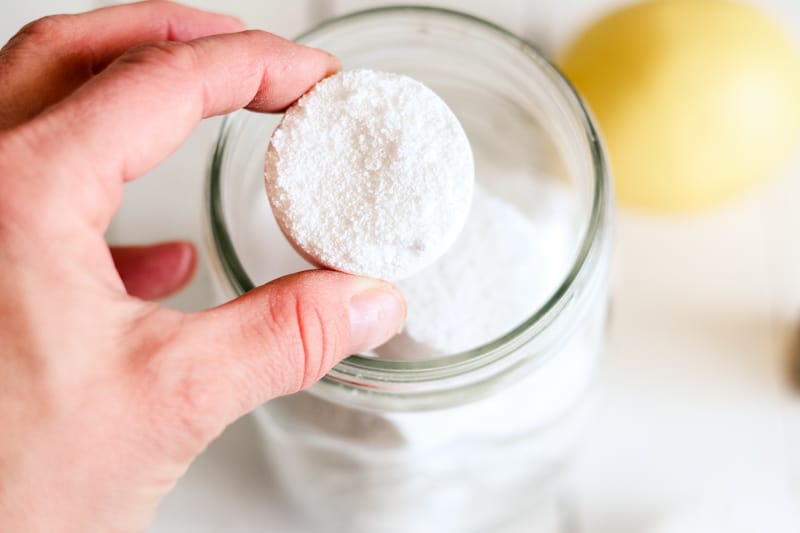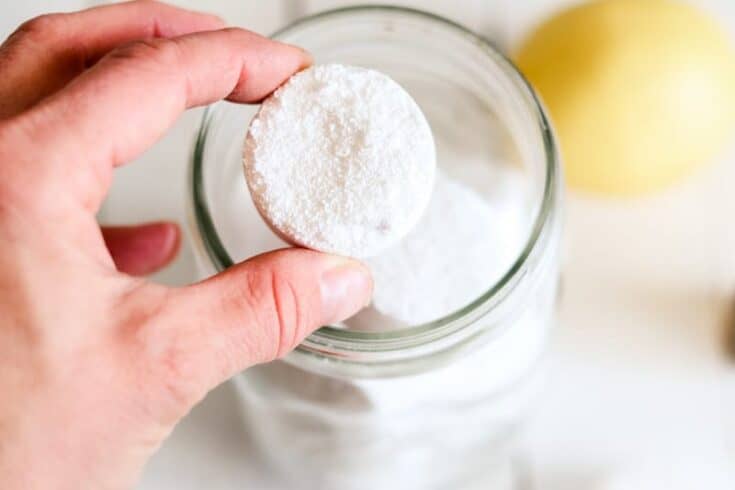 Homemade dishwasher soap pods are convenient, safe, and effective.
Materials
1/4 cup of vinegar or lemon juice
Tools
Heavy-duty plastic storage container
Instructions
Combine dry ingredients into a medium-size mixing bowl.
Slowly add the vinegar or lemon juice if using and stir in well. (the vinegar will bubble some as it reacts with the washing soda).
Add in the lemon essential oil and continue mixing until well combined.
Press the mixture firmly into each mold with your thumb until it's well compacted.
Allow the pods to harden for at least 24 hours before removing them from the molds.
Store in a cool, dry place.